How to make Cauliflower Rice
Learn how to make Cauliflower Rice with this easy step-by-step guide. With just 2 ingredients and less than 5 minutes, you could be eating a delicious and wholesome rice alternative immediately.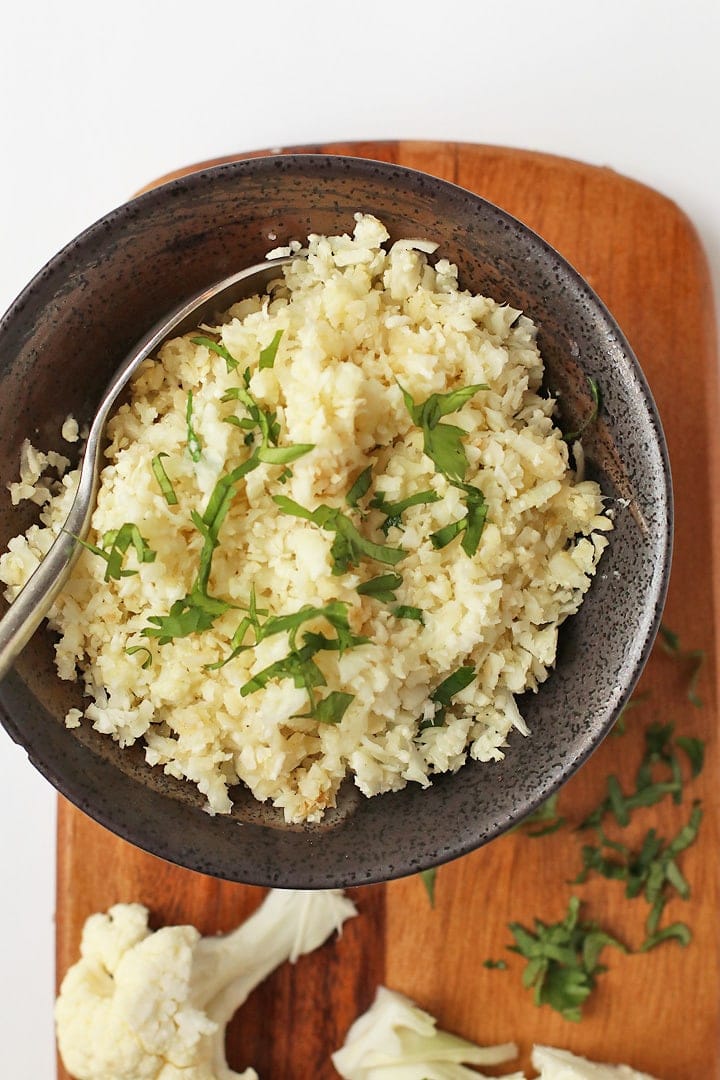 This post contains affiliate links. For more information, see my privacy policy.
Have you have tried cauliflower rice yet?
After recently learning that I needed to pay more attention to my carb intake, I have been experimenting with all sorts of substitutes for commonly eaten grains. I've been trying new foods such as collard wraps, zucchini noodles, sweet potato toast  and – you guessed it – cauliflower rice. And you know what? I've never felt better!
Since cauliflower rice has become a staple in my house, I figured I ought to share my "how to make cauliflower rice" guide today on the blog.
Spoiler Alert: It's super easy!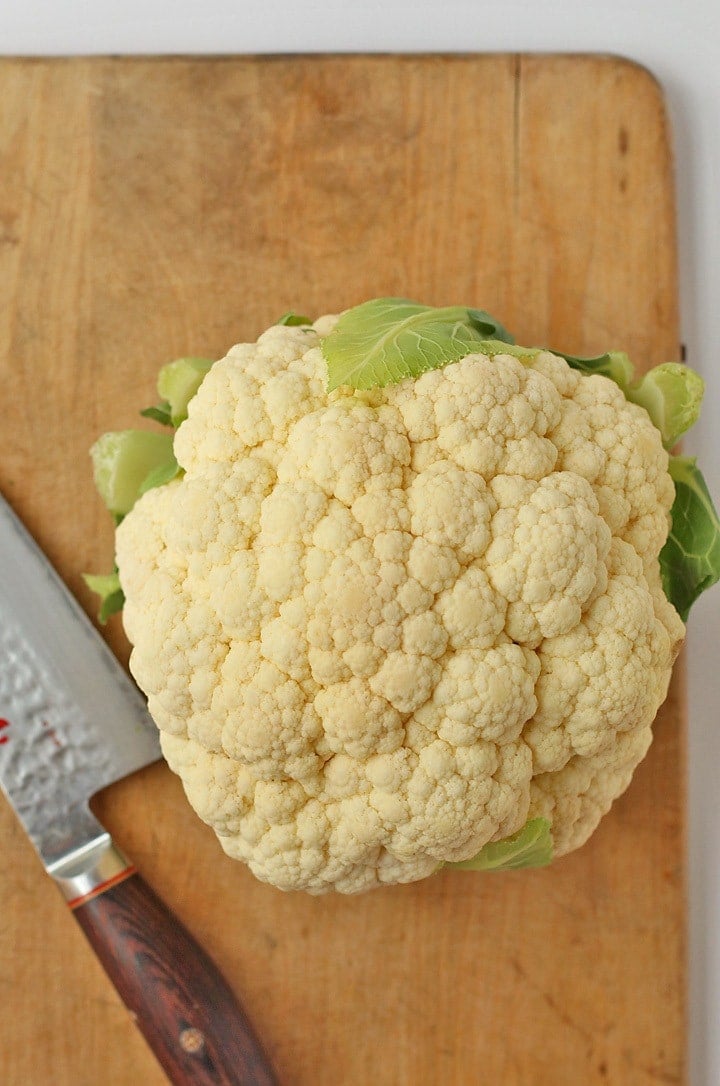 How to make cauliflower rice in 3 simple steps:
Step one – pick the perfect cauliflower
When picking out your cauliflower, look for one that is firm, creamy white, and with compact, tightly closed florets. Avoid cauliflower with open florets or dark brown spots. These are sure signs that your cauliflower is close to spoilage.
When I buy cauliflower, I always go for smaller cauliflower heads. I find they are firmest and freshest.
Note: a small cauliflower will make about 6 servings of cauliflower rice. Larger ones can make between 8 and 10 servings.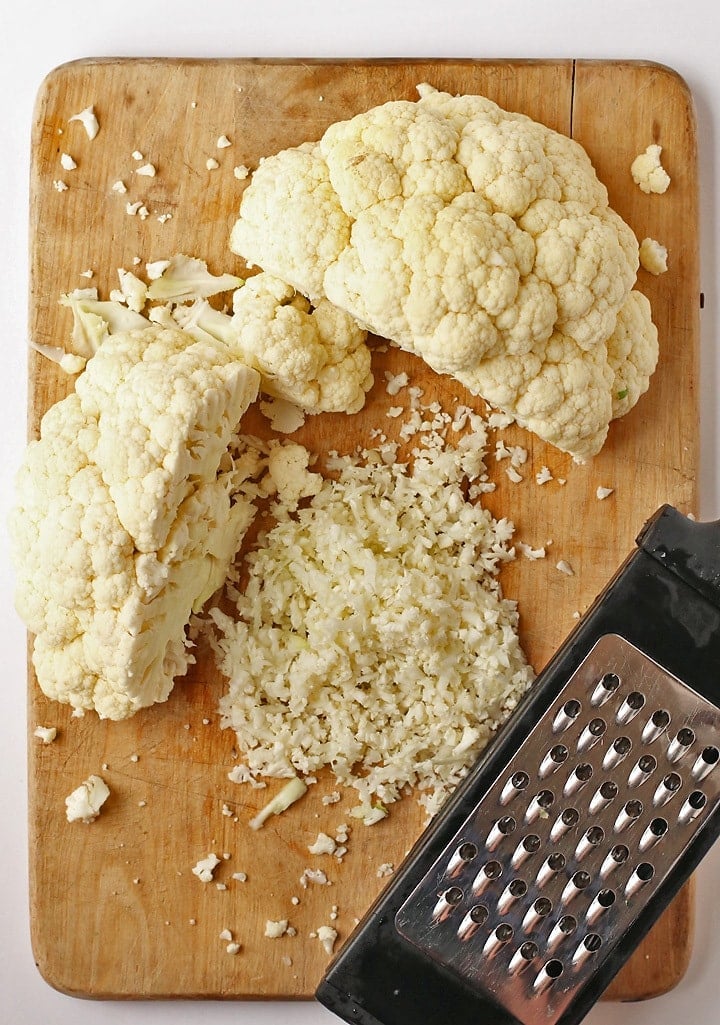 Step two – turn that cauliflower into rice
This is done by grating the cauliflower into rice-size pieces. For this step, you can either use a handheld box grater or your food processor with the shredding attachment in place.  I personally prefer a box grater as it gives you more control over the cauliflower and is easier to clean up.
To prepare your cauliflower, cut it into large pieces. If you found a small head, quartering the cauliflower should be fine. Press it through your box grater or food processor until you have small grain-like, rice-resembling pieces.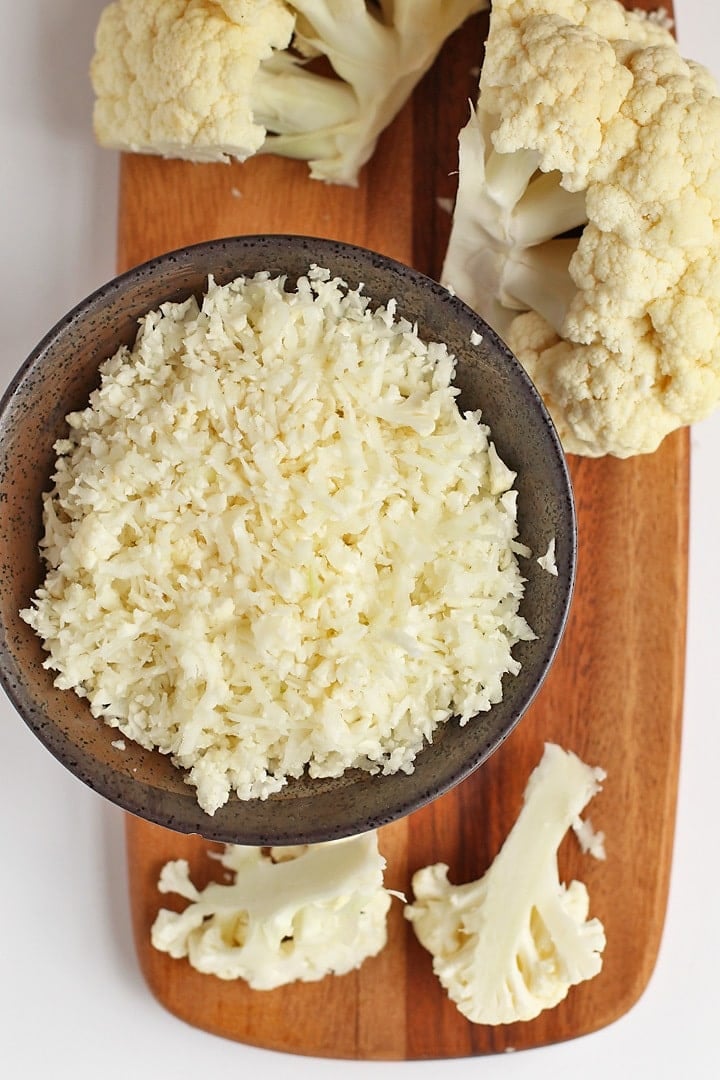 Step three – soften and season the cauliflower
To do this, put a little bit of oil in the bottom of a cast iron skillet. I choose heavy-bottom pans like cast iron for two reasons. First, when seasoned properly, they don't stick as easily as some pans. Less cauliflower rice stuck to the bottom means more for you! Second, and more importantly, cast iron heats up very fast and very hot. This allows a good even steam on the cauliflower rice making it soft and digestible in minutes.
Once the oil is hot, add the riced cauliflower along with a bit of salt. Stir it together, reduce heat, cover, and let steam for 4-5 minutes until cauliflower is tender. Test for doneness and taste to adjust seasonings.
That's it. Now you are ready to serve!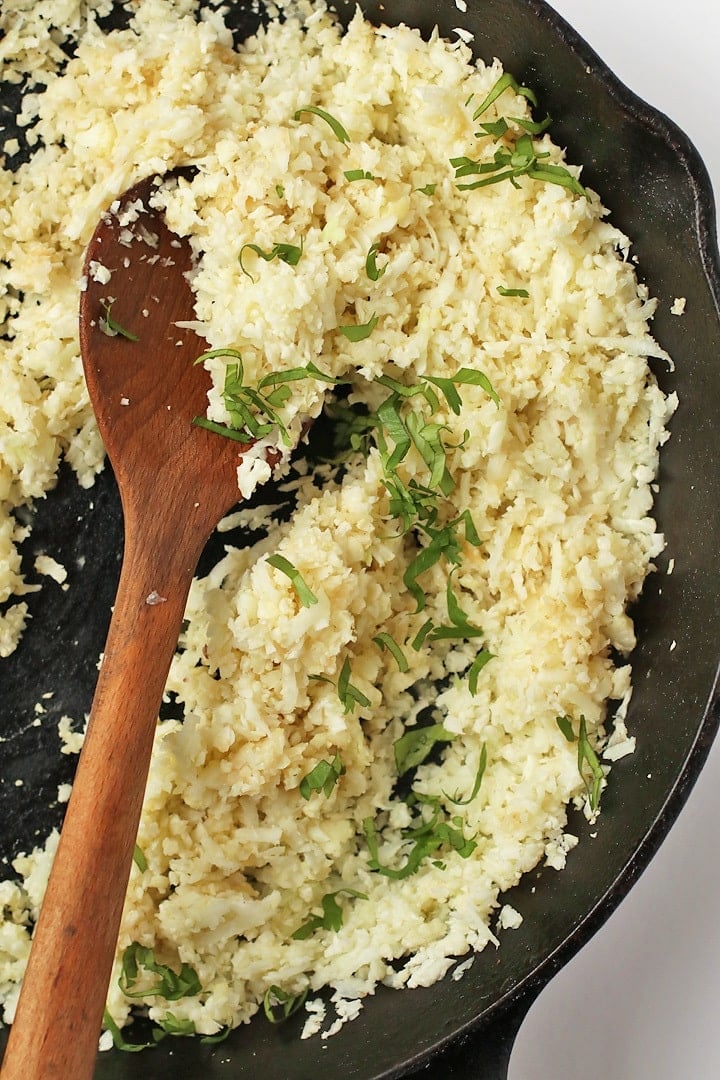 Serving and Storing riced cauliflower
Serve cauliflower as you would rice. A few of my favorite ways to use cauliflower rice are:
burritos
And so much more!
Once cooked, cauliflower doesn't store long. If you are going to have leftover cauliflower, store it in an airtight container before sautéing and seasoning. Store it in the refrigerator for up to 5 days. When you are ready to use – heat, season, and serve.
Benefits of Cauliflower Rice
As more and more people struggle to digest grains, cauliflower rice makes a great alternative to rice and other grains. It is:
gluten and grain free
low carb & low glycemic – cauliflower is between 0 and 15 on the glycemic index compared to rice which is around 74!
fewer calories – a cup of cauliflower rice is just 25 calories whereas a cup of brown rice is 218!
Quick to make – cauliflower rice can be made in about 5 minutes, far less time than it takes to cook rice and other grains.
There you have it. My step-by-step guide on how to make cauliflower rice! Are you ready to try it for yourself? Let's check out the recipe below.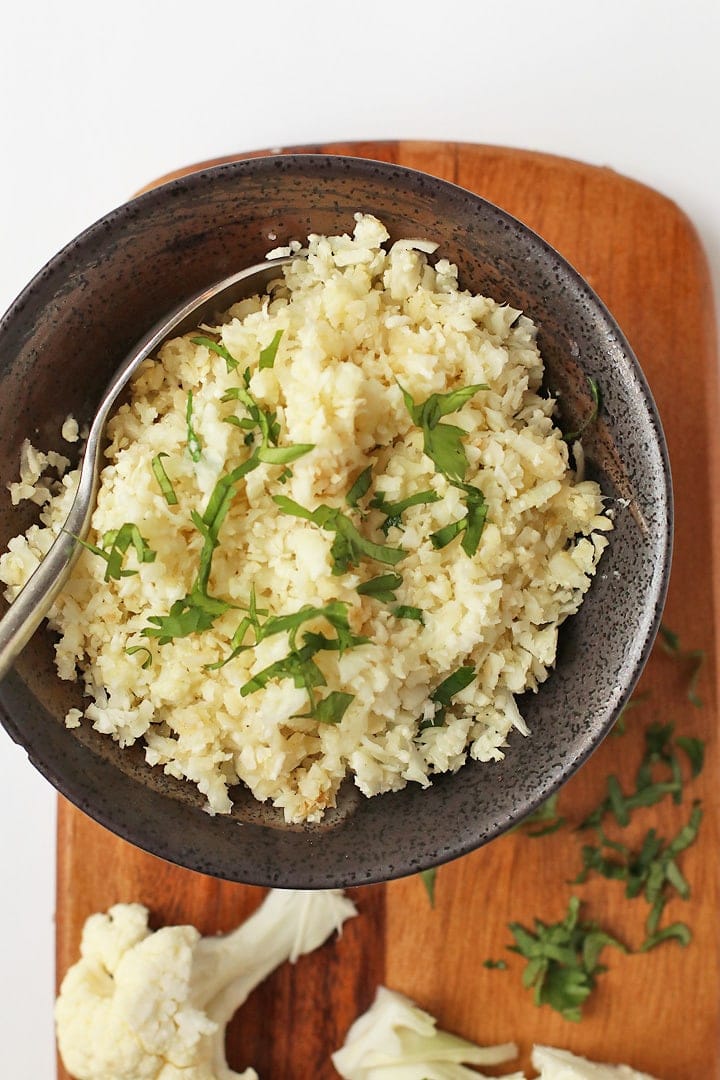 How to make Cauliflower Rice
Learn how to make Cauliflower Rice with this easy step-by-step guide. With just 2 ingredients and less than 5 minutes, you could be eating your own.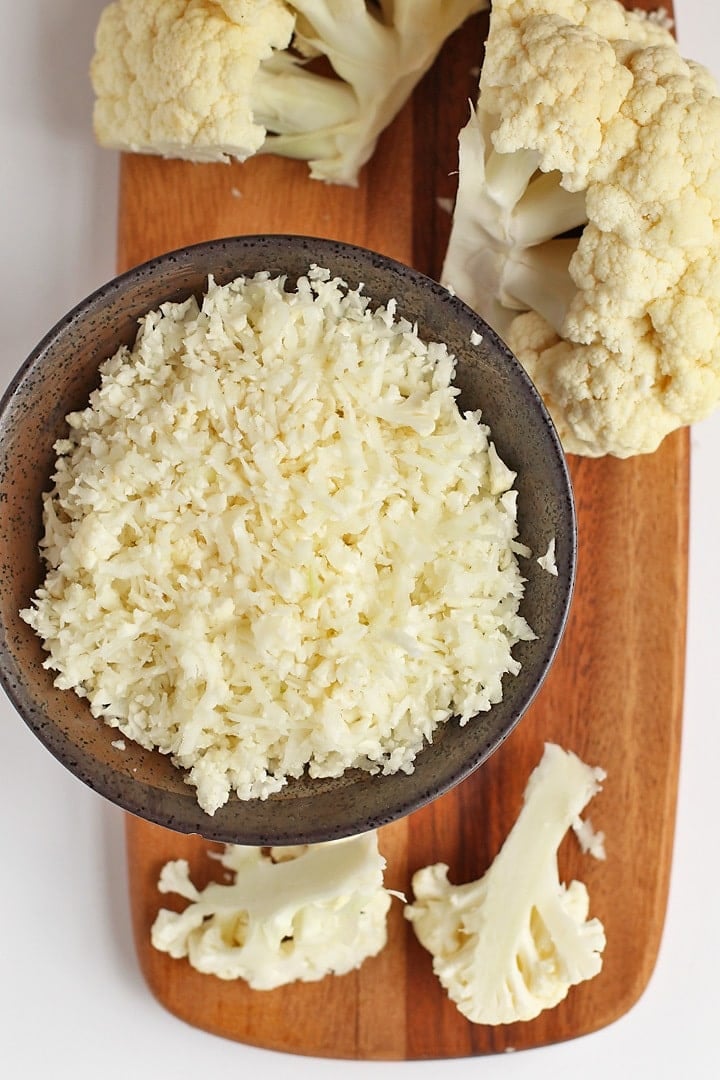 Course:
Main Course
Cuisine:
Vegan, Gluten-Free
Keyword:
How to make cauliflower rice
Servings
:
6
people
Calories
: 20 kcal
Author
:
Sarah McMinn
Ingredients
1

small head of cauliflower

1

tbsp olive oil

1/2

tsp salt
Instructions
Cut the cauliflower in half and cut out the stem and leaves. Cut each half again so that your cauliflower is quartered. You may need to cut into smaller pieces if you are using a food processor.

With your handheld grater or in a food processor with the shredder attachment, shred the cauliflower until you have small rice-sized pieces.

Heat olive oil in a large cast iron skillet over medium heat. Add shredded cauliflower and salt, lower heat, cover, and let steam for 4-5 minutes, stirring once or twice.

Once cauliflower rice is tender, remove from heat and serve as you would rice. Store in the refrigerator for up to 5 days.
Nutrition Facts
How to make Cauliflower Rice
Amount Per Serving
Calories 20
Calories from Fat 18
% Daily Value*
Fat 2g3%
Sodium 193mg8%
* Percent Daily Values are based on a 2000 calorie diet.
If you give this recipe recipe a try, snap a photo and share it on Instagram. Make sure to tag
@mydarlingvegan
so I can see your creations!