Vegan Taquitos with Jackfruit and Salsa Verde
These vegan taquitos are filled with jackfruit and salsa verde and dipped in a Southwest Ranch Dressing for a delicious Cinco de Mayo snack.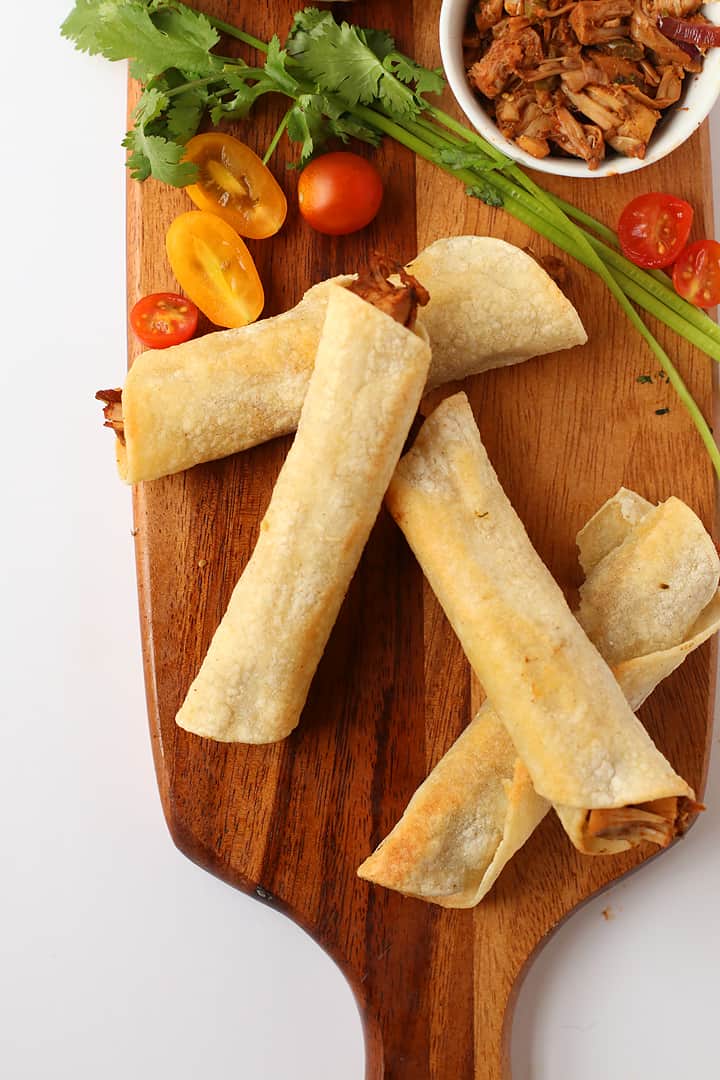 This post contains affiliate links. For more information, please see my privacy policy.
Did you know that this weekend is Cinco de Mayo?
That just snuck up on us, didn't it? With the weather being so chilly the past few weeks (I mean seriously cold!), I had kinda forgotten it was even spring. And now, somehow, it's almost May?!?
How did that happen?!?
I'm not sure what I can say (that I haven't already said at least seventeen thousand times before) about life moving WAY too fast, but I will say that I'm happy for May's arrival. Warmer and longer days are much needed after the rainy and chilly April that many of us have had. Summer is just around the corner and that gives us reason to celebrate. And so, let's do just that; let's celebrate by honoring Cinco de Mayo with Mexican-themed recipes all week long!
And we are going to start right here with these Vegan Taquitos.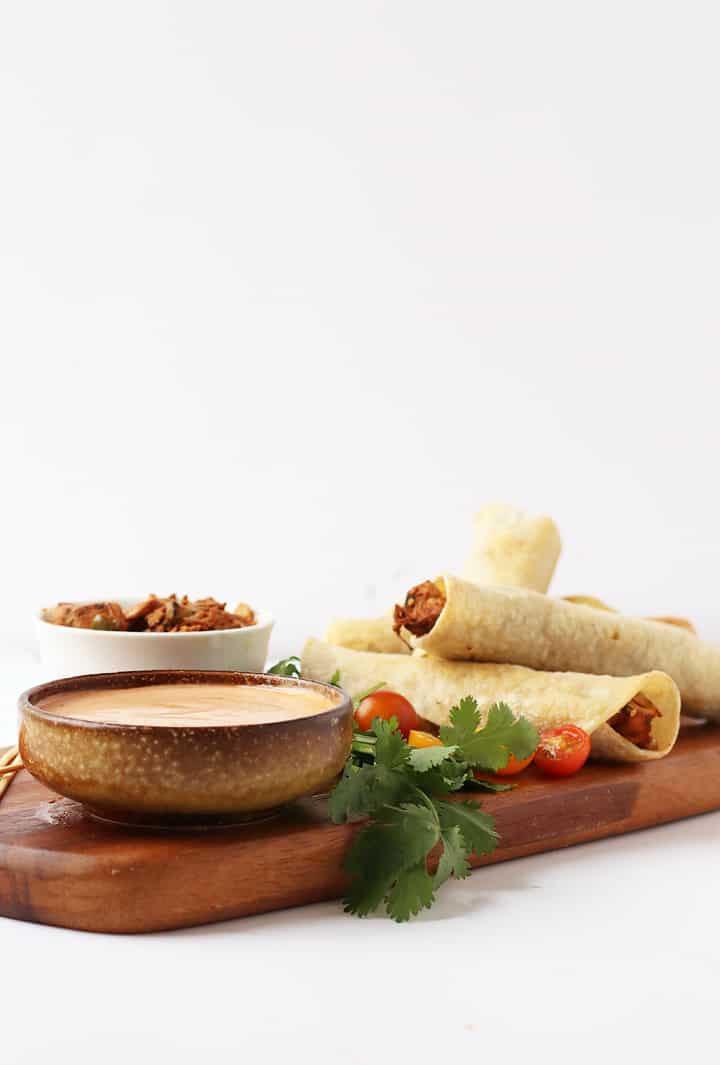 What are taquitos?
Taquitos are a traditional Mexican street food that is kind of like a meat roll-up. Traditionally made with beef, chicken, or pork, spices, salsa, and cheese, these fillings are rolled up tightly into a corn tortilla and fried.
For these vegan taquitos, I used my favorite whole food meat substitute. Yep, you guessed it. Jackfruit.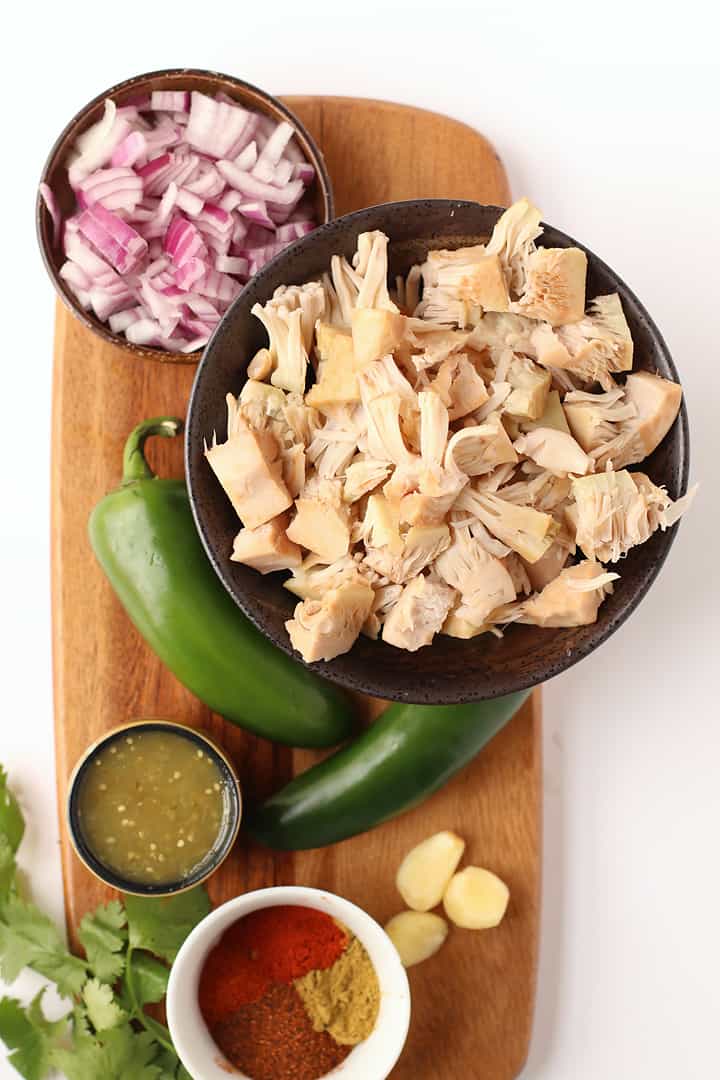 What is jackfruit?
Have you cooked with jackfruit yet? Every time that I do I have a renewed appreciating for this exotic fruit.
For those of you who are unfamiliar, jackfruit is a large green tropical fruit that, when green, has very little flavor. The stringy texture, however, is similar to that of chicken or pulled pork, making it one of the most popular whole food vegan meat substitutes. While some people buy jackfruit whole, I find getting it canned is the most convenient way to introduce jackfruit into your recipes.

How to prepare jackfruit
Drain and rinse the fruit.
Pat it dry with a kitchen towel.
Shred the jackfruit into small pieces.
Cook or sauté the jackfruit in your favorite spices
When buying in a can, jackfruit comes in small triangles. At the base of the triangle you'll find a thick core. To shred it, hold the core between your thumb and forefinger and gently press up while pressing into the fruit with your thumb. The tops will easily shred into what you see below.
Watch this video to see it for yourself.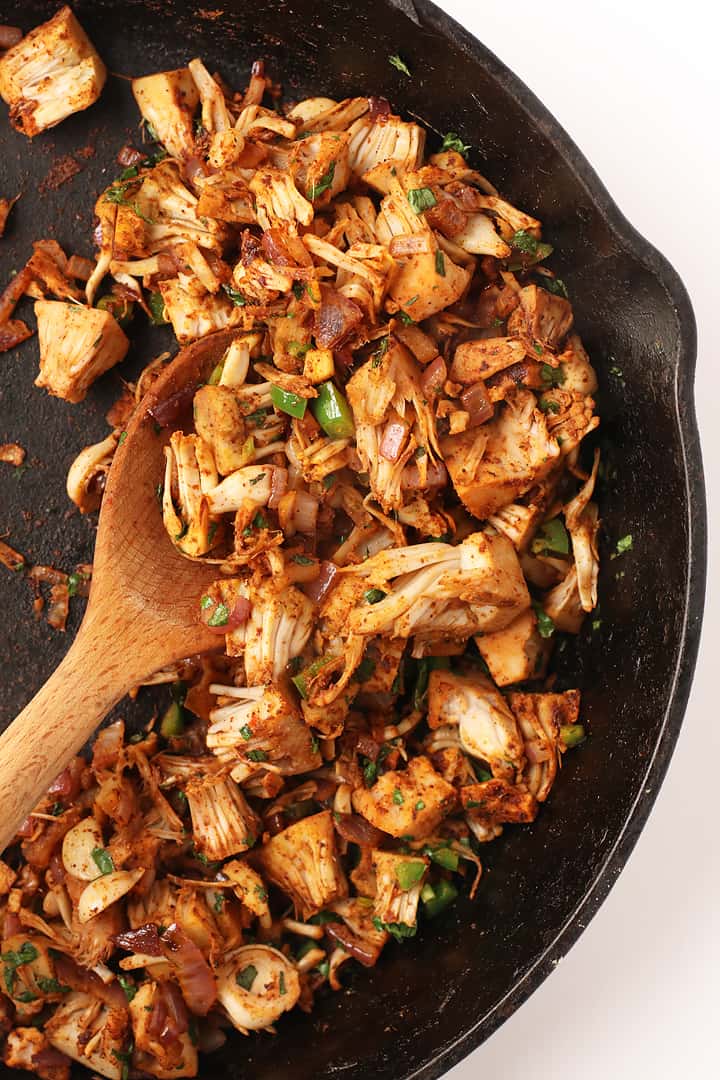 How to bake vegan taquitos
Traditionally taquitos are fried. However, to make these vegan taquitos a little healthier, I baked mine in an oven set to 400F. To bake them, make sure to lightly brush the top and sides with oil and place them in a preheated oven.
Can these vegan taquitos be made in an air fryer?
Yes! If you've got yourself an air fryer and are curious about how they would air fry up, then I would recommend setting your air fryer to 380 and frying them for 7-8 minutes. If you do try the air fryer method, please let us know how they turn out in the comment section.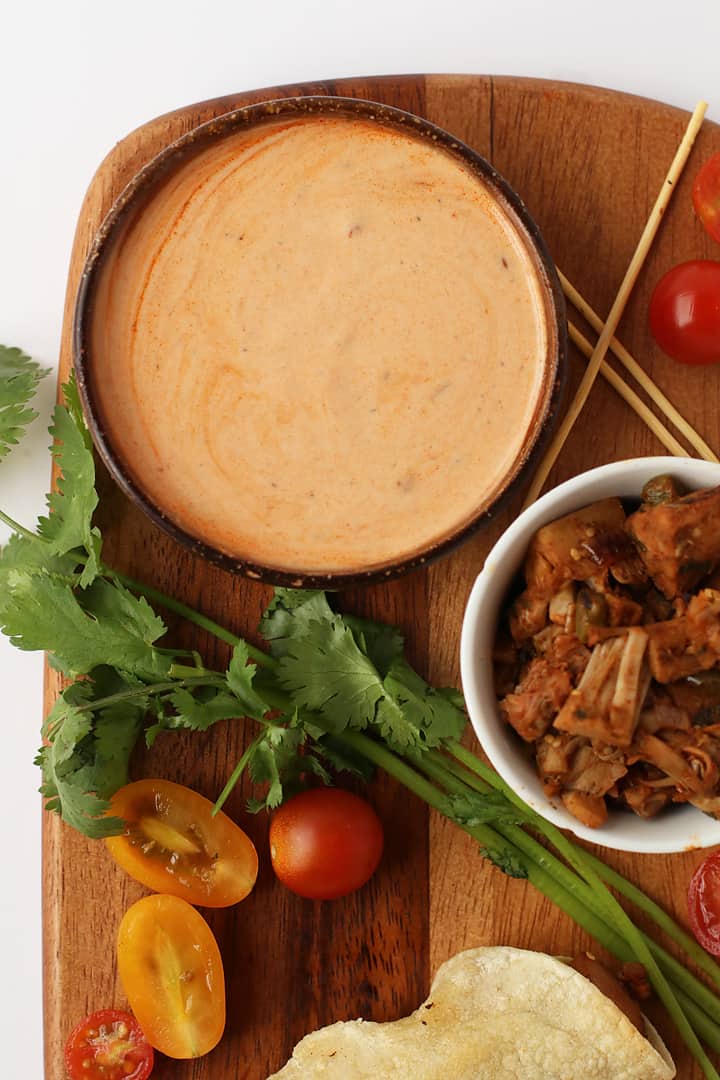 Tips on preparing the taquitos
Corn tortillas DO NOT like to be the tightly wrap. They scream, tear, and throw a huge fit over it. I tried several different brands to get the best roll and found that this brand did the best. Ultimately, however, your tortilla success will come from how you prepare the tortillas before hand. Don't skip the steaming step.
By which I means, wrapping the tortillas in a kitchen towel and zapping them in the microwave for 30-60 seconds until they are warm and pliable. If you don't have a microwave, you can wrap them in a towel and place them in a hot oven with a baking sheet filled with water underneath. This will give them the same steaming effect.
Serving and Storing Vegan Taquitos
These jackfruit taquitos should be eaten when hot. As they cool, they will start to get soggy and lose their crisp. Serve these taquitos with Creamy Chipotle Ranch as part of your vegan Cinco de Mayo celebrations.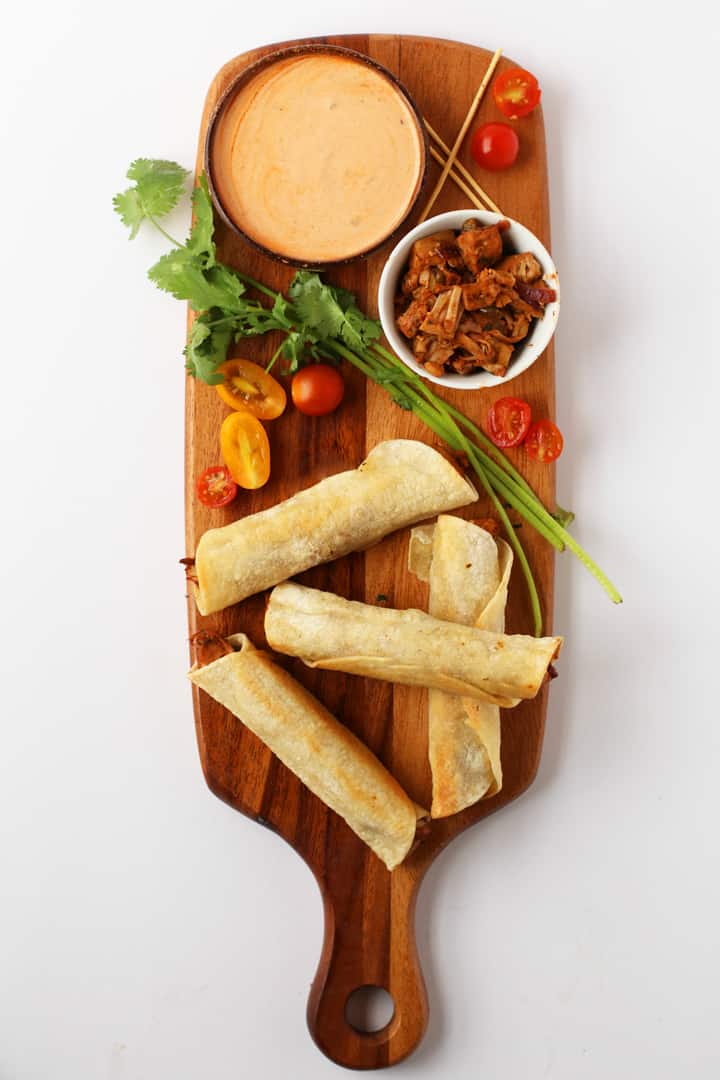 A quick recap
Sauté that jackfruit up with a few spices and onions, season it with salsa, wrap the filling tightly in those steamed tortillas, brush them with oil, and bake! And while they are baking, whip up a batch my Southwest Ranch Dressing for the perfect vegan taquito dipping sauce.
More vegan Cinco de Mayo recipes
There you have it. Let's take a look at the recipe card below.
Vegan Taquitos with Jackfruit
These vegan taquitos are filled with jackfruit and salsa verde and dipped in a Southwest Ranch Dressing for a delicious Cinco de Mayo snack.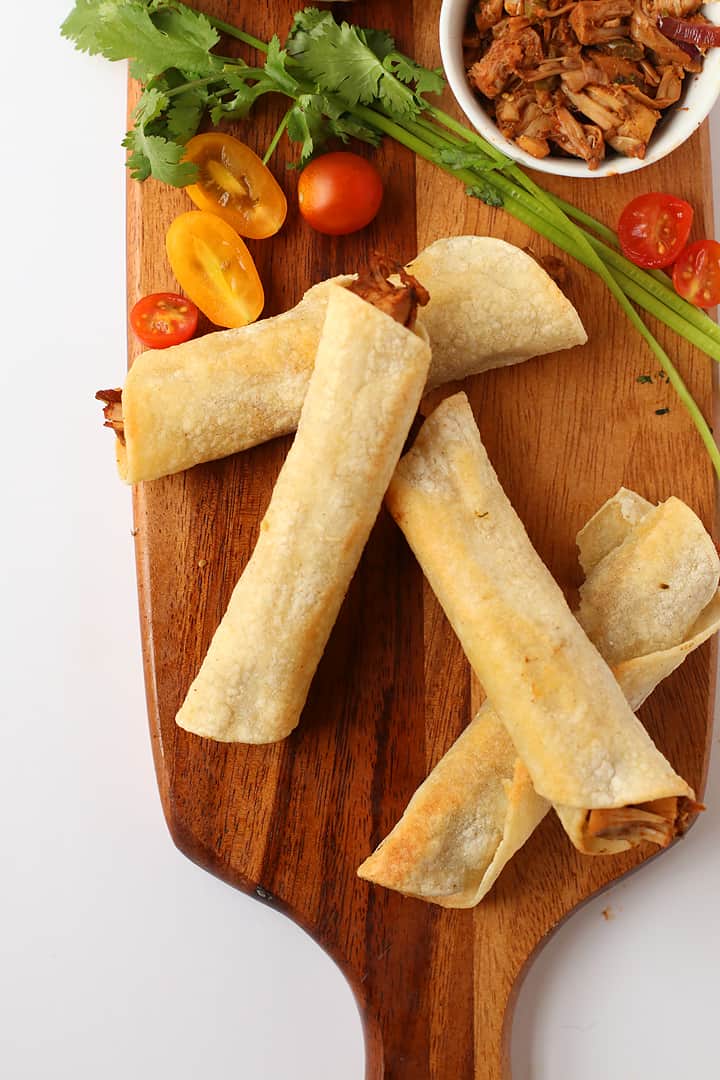 Course:
Side Dish, Snack
Cuisine:
Mexican
Keyword:
Vegan Taquitos
Servings
:
6
people
Calories
: 88 kcal
Author
:
Sarah McMinn
Ingredients
2

tbsp cooking oil, plus more for brushing

1

cup

white onion, diced

2

cloves garlic, minced

1

small jalapeño, seeded and diced

1

(20 ounce) can jackfruit, drained and patted dry

2

tsp chili powder

1

tsp cumin

1/2

tsp smoked paprika

1/4

tsp cayenne pepper

1/2

tsp salt

2

tbsp fresh cilantro, minced

1/4

cup

salsa verde, homemade or storebought

juice

of 1 lime

12

(8") corn tortillas

1/2

batch Chipotle Ranch Dressing
Instructions
Preheat the oven to 400 degrees F. Lightly oil a baking pan and set aside.

In a cast iron skillet, heat up oil over medium heat. Once the oil is hot, add onions and garlic and sauté until onions are translucent and fragrant about 5 minutes.

Add jalapeños, jackfruit, spices, and salt, stirring to evenly coat the jackfruit. Cook, over medium heat, until jackfruit begins to brown slightly around the edges, about 5 more minutes.

Remove from heat and stir in cilantro, salsa verde, and fresh lime juice.

While jackfruit is cooking, wrap your tortillas in a towel and heat in the microwave for 30-60 seconds until tortillas are soft and pliable.

Place about 3-4 tablespoons of jackfruit filling along the bottom third of the tortilla. Tightly wrap the tortillas, push a toothpick through the middle, and place them seam-side down on the prepared baking sheet. Repeat until all the filling is gone.

Brush the tops of each taquito with olive oil and bake for 15-20 minutes until golden brown and crispy.

While taquitos are baking, make the Chipotle Ranch according to these instructions.

Let taquitos cool slightly before serving.
Nutrition Facts
Vegan Taquitos with Jackfruit
Amount Per Serving
Calories 88
Calories from Fat 45
% Daily Value*
Fat 5g8%
Sodium 291mg13%
Potassium 81mg2%
Carbohydrates 5g2%
Vitamin A 450IU9%
Vitamin C 2.8mg3%
Calcium 16mg2%
Iron 0.5mg3%
* Percent Daily Values are based on a 2000 calorie diet.
If you give one of these recipes recipe a try, snap a photo and share it on Instagram. Make sure to tag
@mydarlingvegan
so I can see your creations!