Jackfruit Pulled Pork Sandwiches with Mango Avocado Salsa
You're going to love these Jackfruit Pulled Pork Sandwiches. Ciabatta rolls stuffed with BBQ Jackfruit and topped with Avocado Mango Salsa. Made in just 20 minutes. Vegan and soy-free!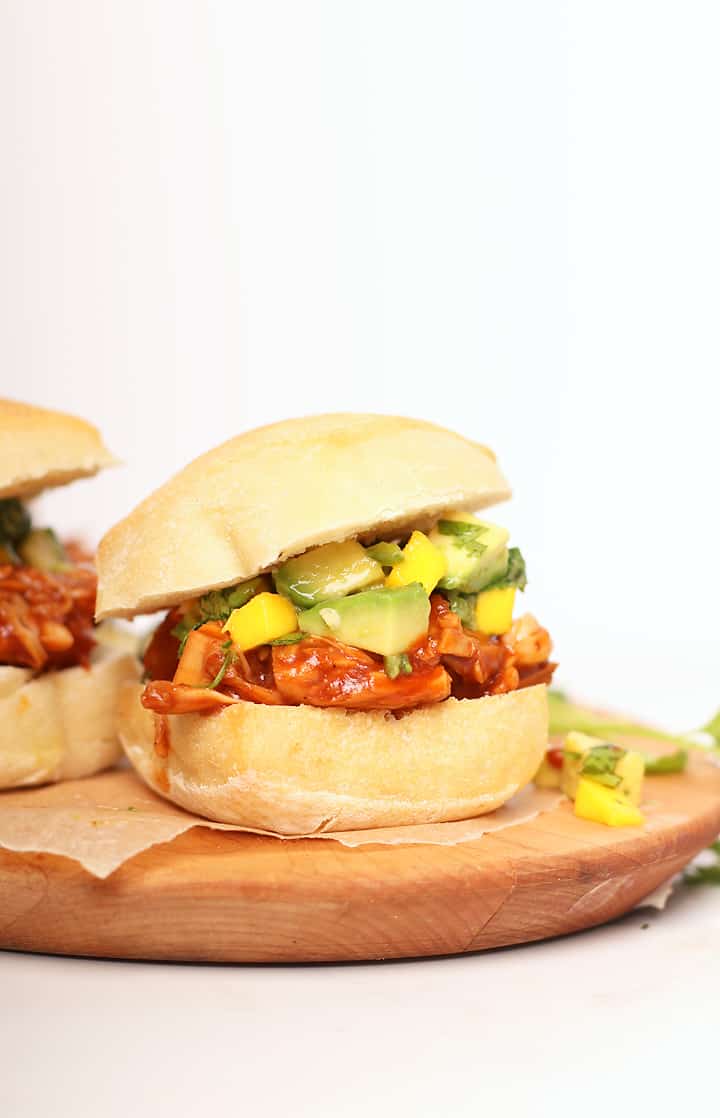 This post contains affiliate links. For more information, please see my privacy policy.
You may have noticed that I've been on a bit of a jackfruit kick recently. Most recently I shared these Buffalo Jackfruit and Cilantro Slaw Tacos because jackfruit tacos are INCREDIBLE. Then there was, of course, these Vegan Jackfruit Taquitos and this Jackfruit Tortilla Soup. Yum! But with all those vegan jackfruit recipes, this blog is still missing something. What is it?
Why, jackfruit sandwiches!
Of course, I immediately went to work remedying the situation. And I think you're going to be pleased. These BBQ Jackfruit Slides are packed with the sweet and tangy flavors of barbeque sauce and the creamy citrusy flavors avocado mango salsa for a sandwich that is simply delightful!
Let's take a closer look, shall we?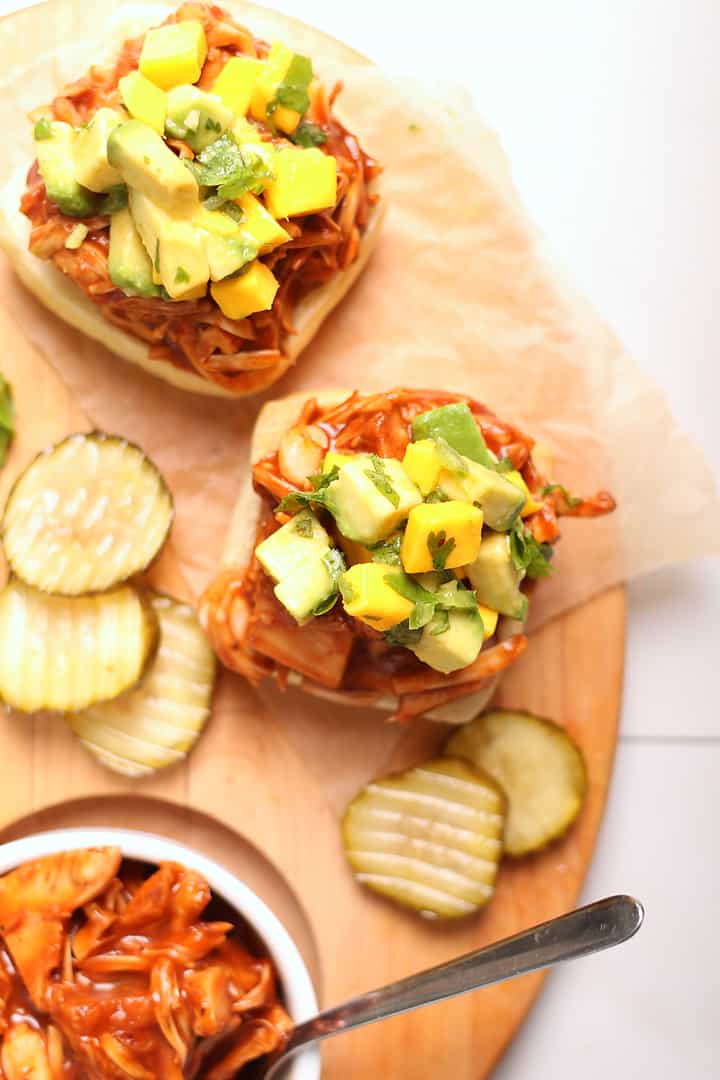 What is Jackfruit?
For those of you who are unfamiliar, jackfruit is a large green tropical fruit that, when green, has very little flavor. The stringy texture, however, is similar to that of chicken or pulled pork, making it one of the most popular whole food vegan meat substitutes. While some people buy jackfruit whole, I find getting it canned is the most convenient way to introduce jackfruit into your recipes.
How to prepare jackfruit
Drain and rinse the fruit.
Pat it dry with a kitchen towel.
Shred the jackfruit.
When buying in a can, jackfruit comes in small triangles. At the base of the triangle, you'll find a thick core. To shred it, hold the core between your thumb and forefinger and gently press up while pressing into the fruit with your thumb. The tops will easily shred into what you see below.
Watch this video to see it for yourself.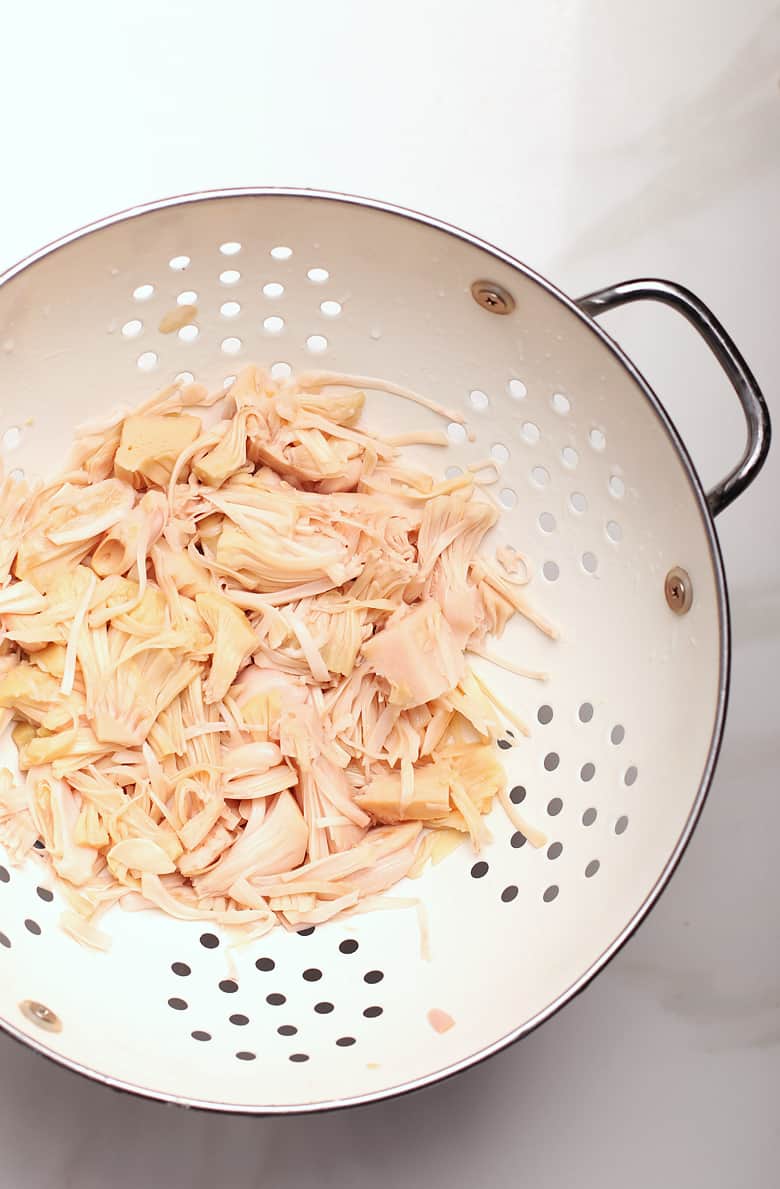 How to make BBQ Jackfruit
To make the bbq jackfruit pulled pork, we have to start by preparing our jackfruit above. Once you've patted it dry, set it aside while preparing your BBQ sauce.
Is BBQ Sauce vegan?
If you're going to store-bought route, make sure to check the ingredients of your BBQ sauces. While most store-bought BBQ sauce is vegan, that is not always the case. You can also, of course, make your own BBQ sauce which I prefer as it is cheaper and you have more control over how it tastes. If you do make your own, this recipe is the one that I recommend. It makes about 2 1/2 cups – you can either half the recipe or make it all and store the remaining sauce in the refrigerator for up to 7 days.
Now that we have our jackfruit prepared and our BBQ sauce selected, we just need to lightly sauté the jackfruit in a hot cast iron skillet. Once it starts to brown slightly, add the BBQ sauce and continue to cook until most of the liquid has absorbed.
Just look at that BBQ Jackfruit Pulled Pork. Yum!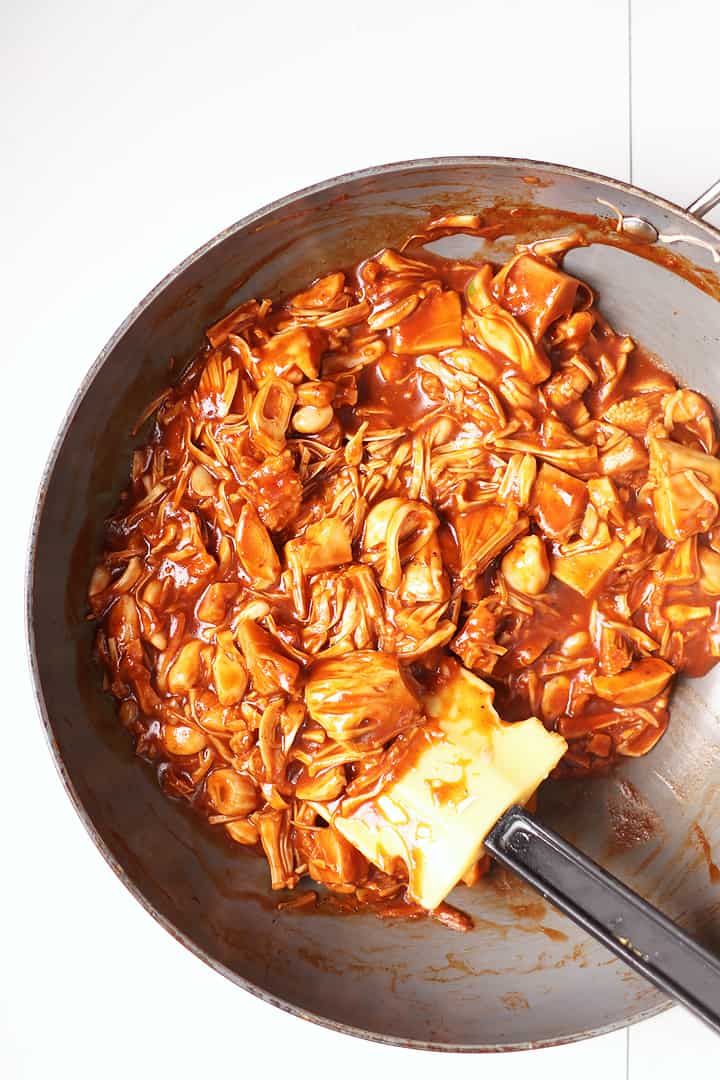 How to make Avocado Mango Salsa
I recently made this Avocado Mango Salsa for these Portobello Steak Tacos and ever since, I can't get enough! It's sweet, buttery, spicy, citrusy, and goes with just about everything.
Ingredients for Avocado Mango Salsa
Again, this salsa is made with just a few ingredients. I bet you could even guess them. The ingredients are:
Avocado
Mango
Jalapeño
Cilantro
Fresh Lime
Salt
To make the salsa, cube the avocado and mango. Throw it in a bowl and add diced jalapeño, minced cilantro, fresh lime, and salt. Mix, taste, and adjust seasonings.
This salsa can be stored in the refrigerator for up to 2 days. Other than these tacos, it is delicious with chips, on a salad, in burrito bowls, or just eaten with a spoon (that's my fave!).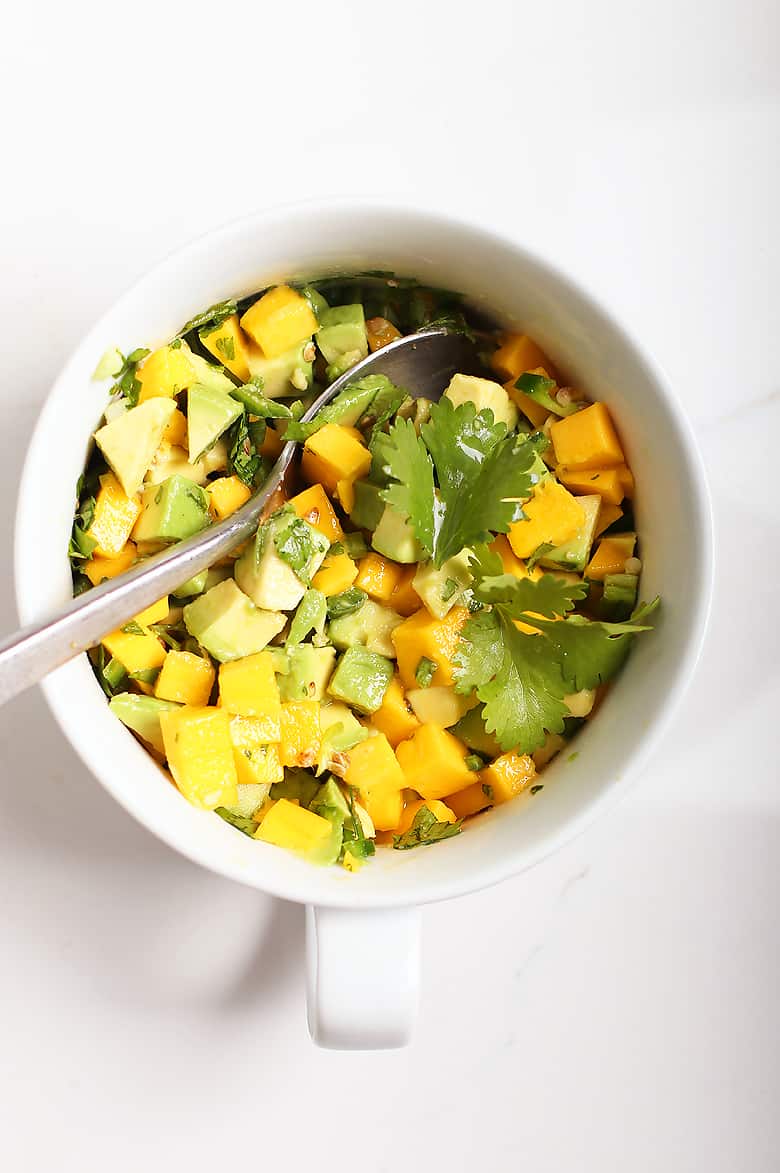 Assembling the Vegan Sliders
Now it's time to assemble our jackfruit sliders. These work best when the buns are slightly toasted. You can either do this in your oven on the broil setting or in your toaster. A light toasting prevents the buns from getting soggy.
With your buns toasted, add about 1/4 cup vegan pulled pork on the bottom of the bun. Top with about 2 tablespoons Mango Avocado Salsa and the top of the bun. Do this until all the BBQ jackfruit and salsa are used up. Depending on the size of your buns, this makes between 4 and 6 sandwiches.
Serving BBQ Pulled Pork Sliders
These sliders should be served shortly after they are made to prevent the buns from getting soggy. However, you can prepare the jackfruit pulled pork and avocado mango salsa several hours in advance. When ready to serve, gently reheat the pulled pork and assemble the sandwiches.
Serve as part of your summer potlucks or for your next party.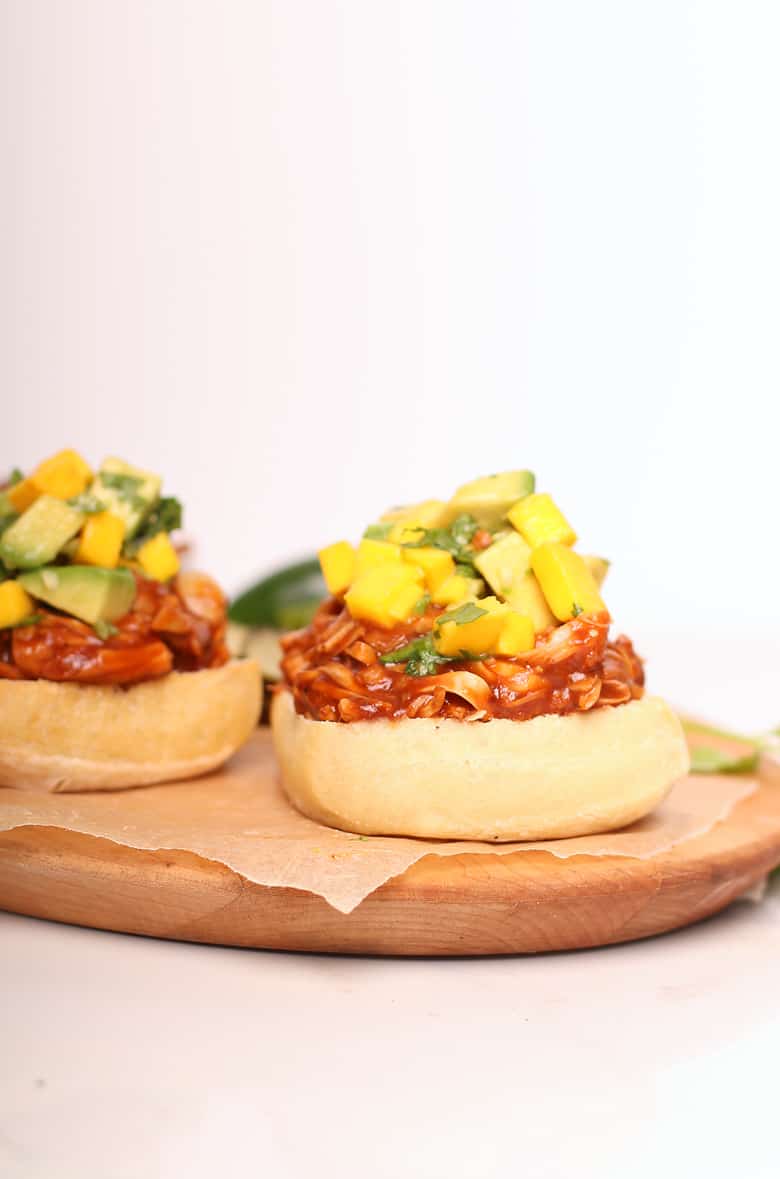 More vegan jackfruit recipes
Jackfruit is a really amazing food. It took the world by a storm the last few years and has become a wildly popular whole food meat substitute. Here are some of my favorite vegan jackfruit recipes:
But before you run off to check those out, let's take a look at these sliders below.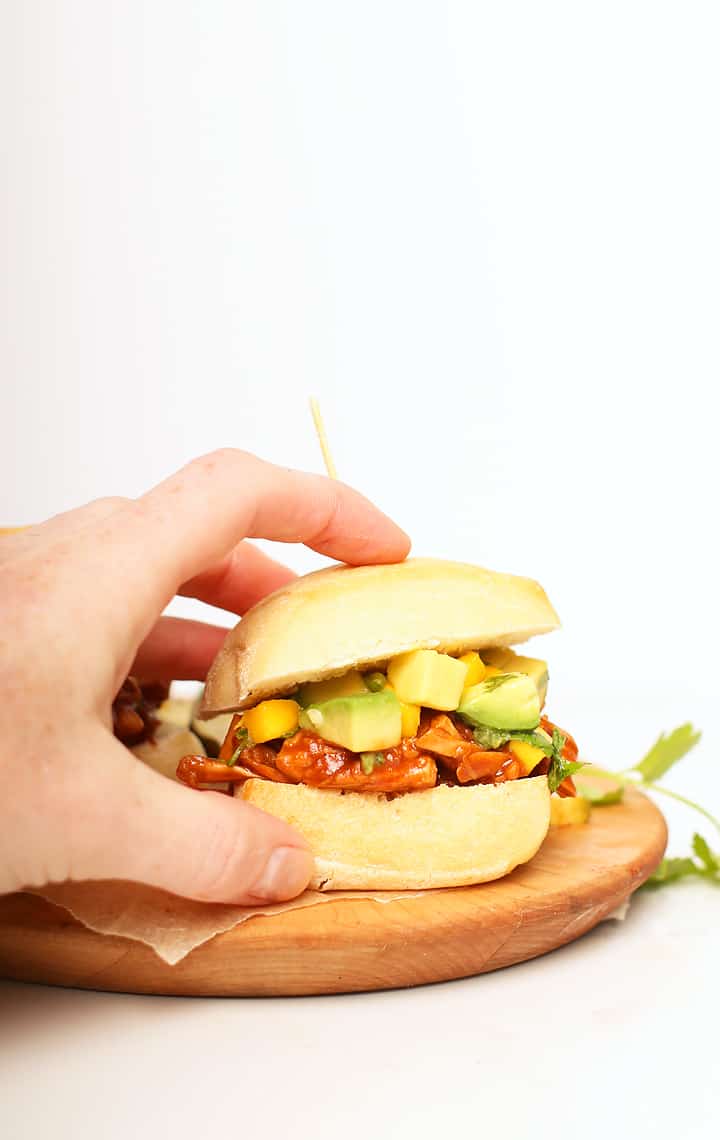 Jackfruit Pulled Pork Sliders with Avocado Mango Salsa
You're going to love these Jackfruit Pulled Pork Sandwiches. Ciabatta rolls stuffed with BBQ Jackfruit and topped with Avocado Mango Salsa. Made in just 20 minutes. Vegan and soy-free!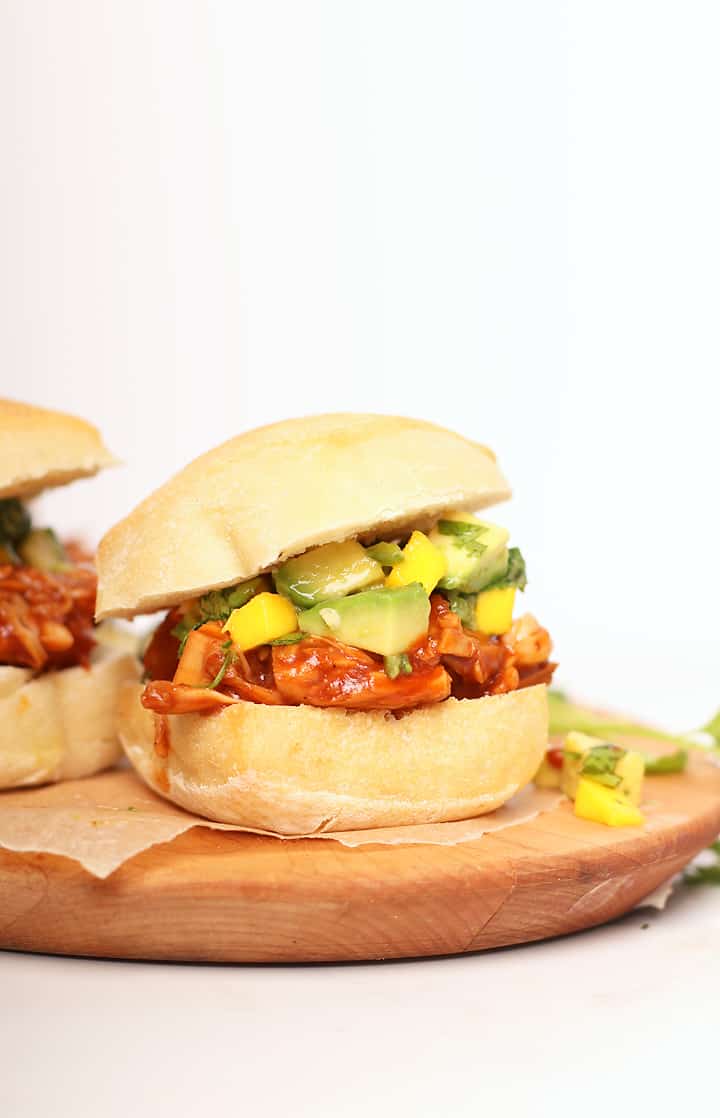 Course:
Main Course
Cuisine:
Vegan
Keyword:
Jackfruit Pulled Pork
Servings
:
6
sliders
Calories
: 232 kcal
Author
:
Sarah McMinn
Ingredients
Instructions
Drain and rinse the jackfruit through a colander. Shake out any excess water. Lay the jackfruit on a paper towel and pat dry. Using your fingers, press the jackfruit chunks and the base to fan out, pushing it into large shreds. See this video for a visual. Set aside.

Next make the mango avocado salsa by mixing together the avocado, mango, jalapeño, lime, cilantro, and salt. Taste and adjust seasonings.

Add avocado oil (or oil of choice) to a large skillet. Place over medium heat. Once the oil is hot, add the jackfruit and sauté, stirring often, for about 3 minutes until lightly browned. Add BBQ sauce and continue sautéing until most the liquid absorbs into the jackfruit. Remove from heat.

Set your oven to broil and lightly broil your ciabatta rolls, ensuring they don't burn. This will just take 2-3 minutes.

To assemble the sandwiches, place about 1/4 cup of jackfruit pulled pork on top of a ciabatta bun. Add about 2 heaping tablespoons of Avocado Mango and top with the bun. Serve immediately.
Nutrition Facts
Jackfruit Pulled Pork Sliders with Avocado Mango Salsa
Amount Per Serving
Calories 232
Calories from Fat 27
% Daily Value*
Fat 3g5%
Sodium 764mg33%
Potassium 111mg3%
Carbohydrates 46g15%
Protein 5g10%
Vitamin A 105IU2%
Vitamin C 0.2mg0%
Calcium 16mg2%
Iron 0.3mg2%
* Percent Daily Values are based on a 2000 calorie diet.
If you give this recipe recipe a try, snap a photo and share it on Instagram. Make sure to tag
@mydarlingvegan
so I can see your creations!