Ring in spring with these 15 Cinco de Mayo Recipes. All vegan and gluten-free, celebrate with food that everyone can enjoy. Breakfast, appetizers, drinks, dinner, and more, you will certainly find something perfect for your Cinco de Mayo festivities.
This post contains affiliate links. For more information, please see my privacy policy.
All week long we've been celebrating Cinco de Mayo and the beautiful spring weather with Cinco de Mayo recipes. We started with these Taquitos with Jackfruit and Salsa Verde. Later in the week, I shared my gluten-free Black Bean and Kale Enchiladas. Today, I'm rounding up all my favorite Cinco de Mayo recipes from the blog and sharing them with you! We've got rancheros, queso, nachos, enchiladas, tacos, margaritas, and so much more.
With so many options, I'm certain you'll find something to enjoy this Cinco de Mayo.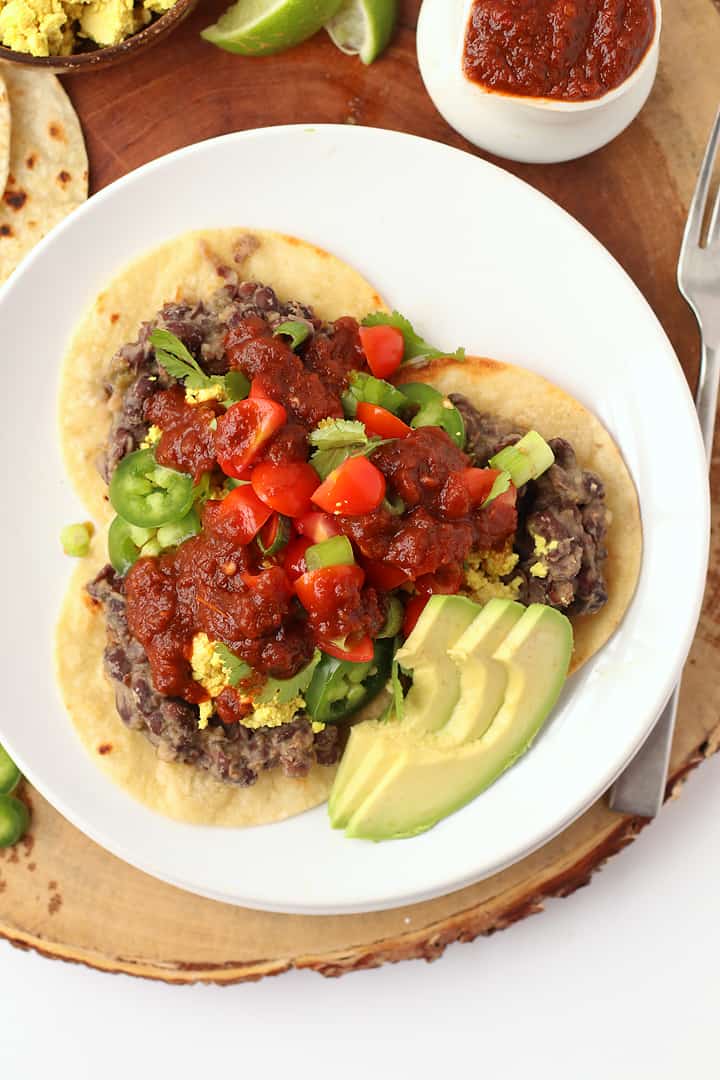 Huevos Rancheros
These Huevos Rancheros are the perfect way to start your Cinco de Mayo. Scrambled tofu, seasoned refried beans, spicy rancheros sauce, and fresh herbs and spices all on top of lightly fried corn tortillas. A breakfast to fill you up and satisfy!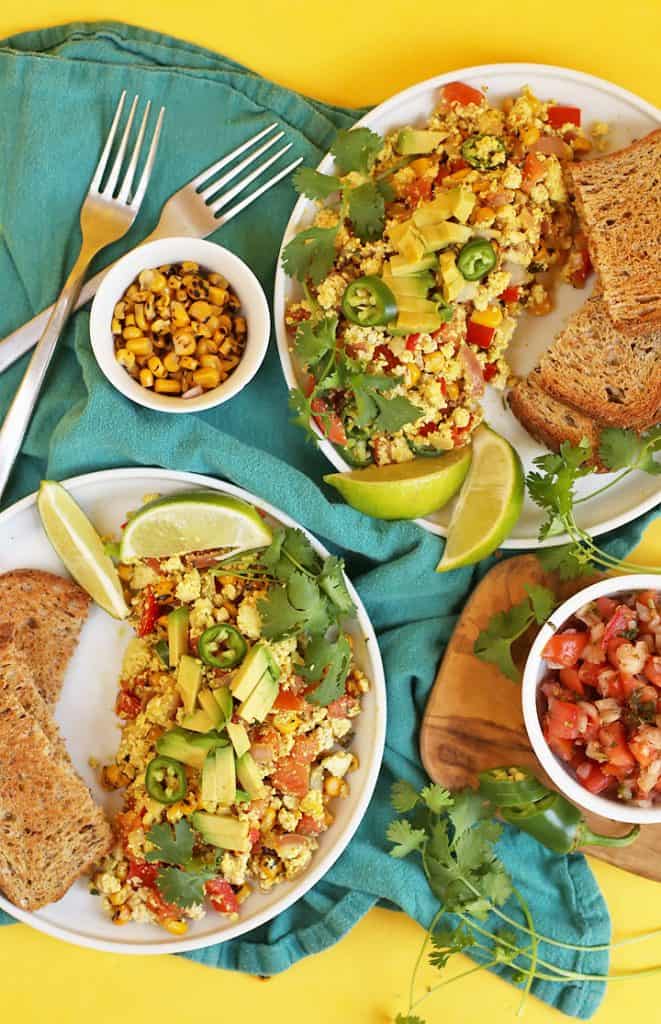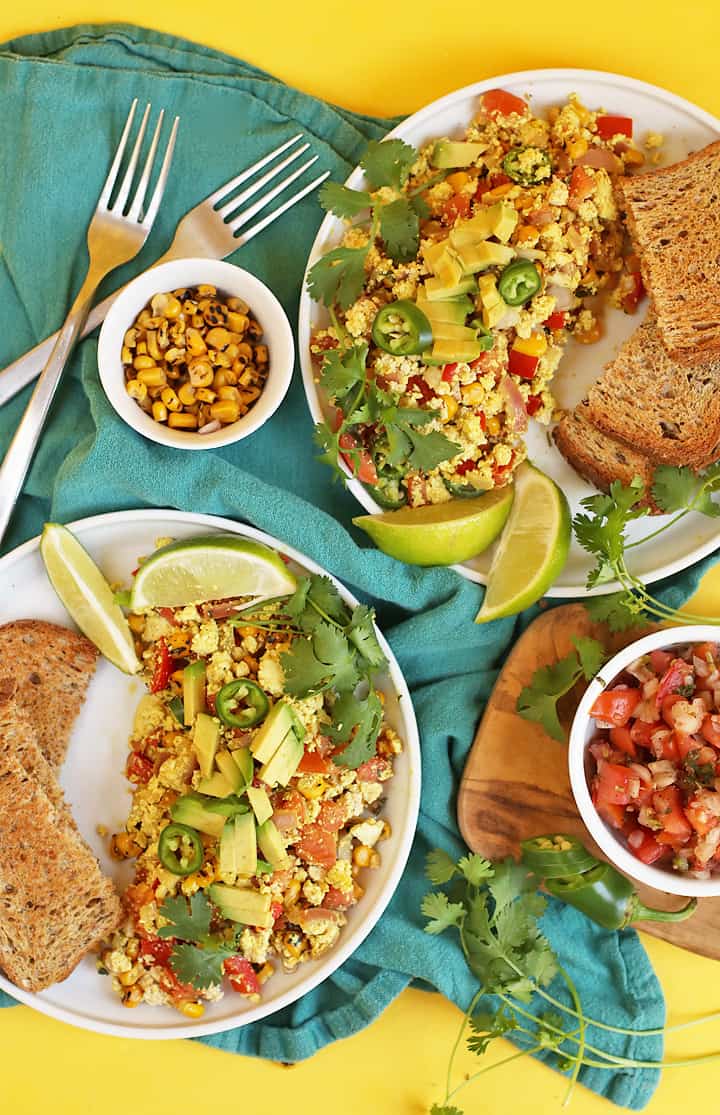 Mexican Tofu Scramble
Or start the day is with this vegan and gluten-free Mexican Tofu Scramble. A fresh scramble made with corn, pico de gallo, cilantro, tomatoes, and avocado. Not only is it delicious, but can be ready in just 15 minutes for a quick Cinco de Mayo breakfast.
Jalapeno Cucumber Margarita
And what's Cinco de Mayo without a margarita? Spice up your cocktail with this Jalapeño Cucumber Margaritas for a refreshing summer drink with a little bit of a kick. Invite over your friends and whip up a batch to get the party started.
Vegan Nachos
Even vegans eat nachos and you're going to love these homemade Vegan Nachos. Stacked a mile high with homemade guacamole, cauliflower queso, black beans, salsa, and more for a delicious gluten-free Cinco de Mayo party appetizer.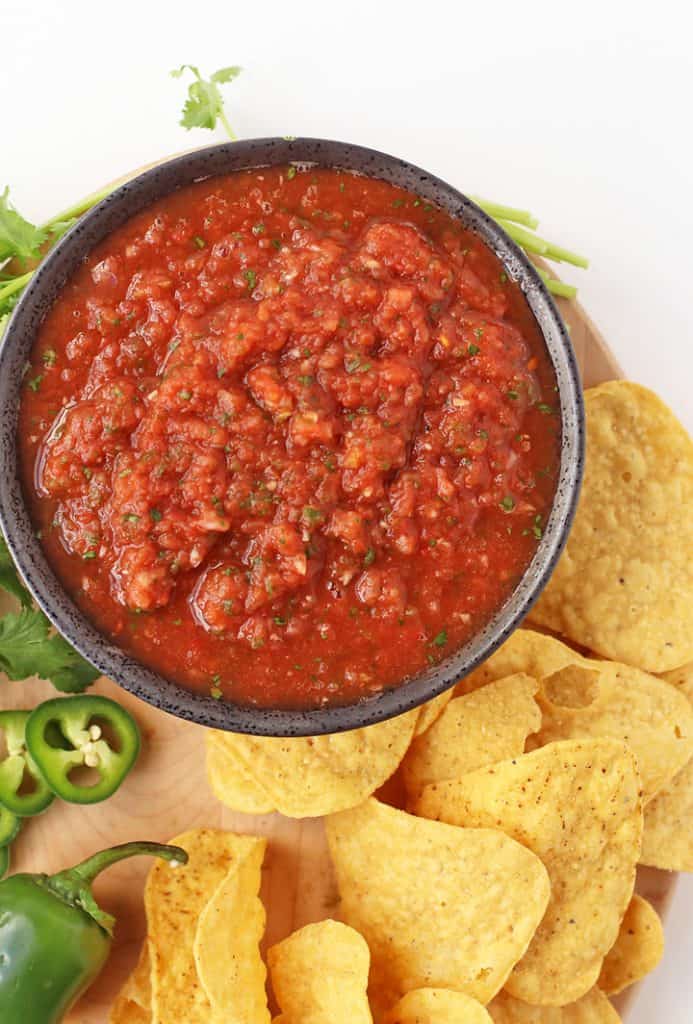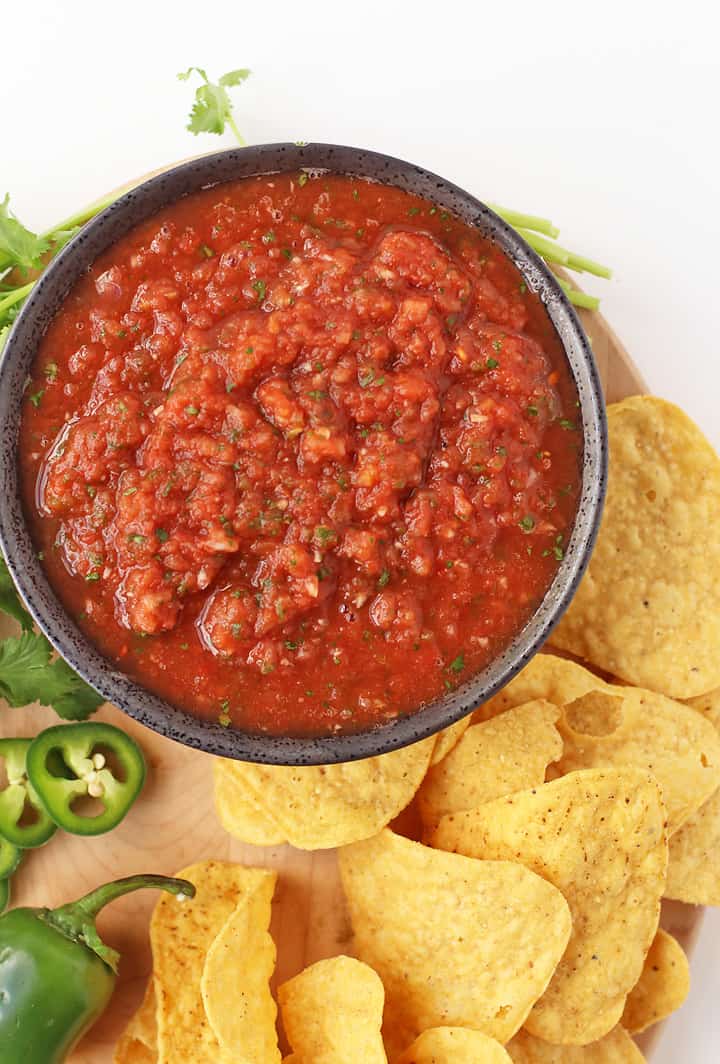 Easy Salsa
Speaking of salsa, make your salsa at home with this Easy Homemade Salsa recipe. Made with just 8 ingredients and in under 5 minutes, you'll never need to buy your salsa at the store again.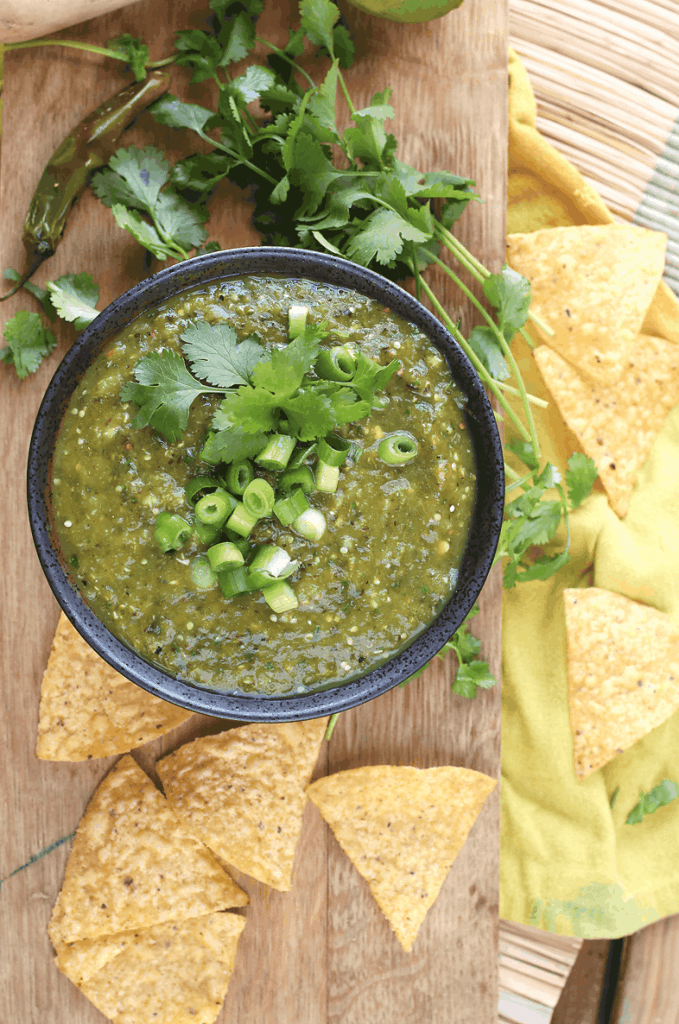 Salsa Verde
You can also make it green with this homemade Salsa Verde. Made with roasted tomatillos and poblano peppers for a refreshing, full of flavor dip to serve with your favorite chips.
Cauliflower Queso
No Cinco de Mayo party is complete without queso. This Cauliflower Queso is one of the best dairy-free alternatives. Made with sautéed cauliflower, raw cashews, nutritional yeast, and savory spices, this is a dip you'll want to dig into.
Guacamole
Then of course, you'll need to get your avocado fix with this Restaurant Style Guacamole. A blend of ripe avocados, onions, fresh herbs and spices, and lots of flavor, this traditional guacamole can be made in just 5 minutes!
Enchiladas Skillet
You're going to love this one pot, no fuss Vegan Enchiladas Skillet. Made with butternut squash and black beans this hearty gluten-free dinner is made in just 30 minutes for a quick Cinco de Mayo dinner.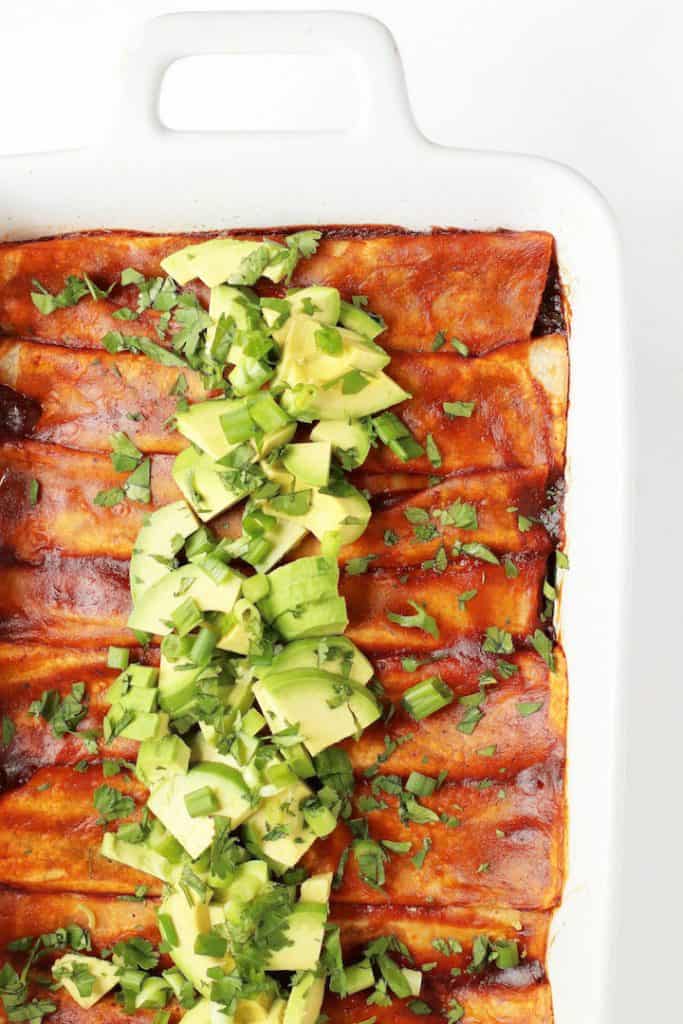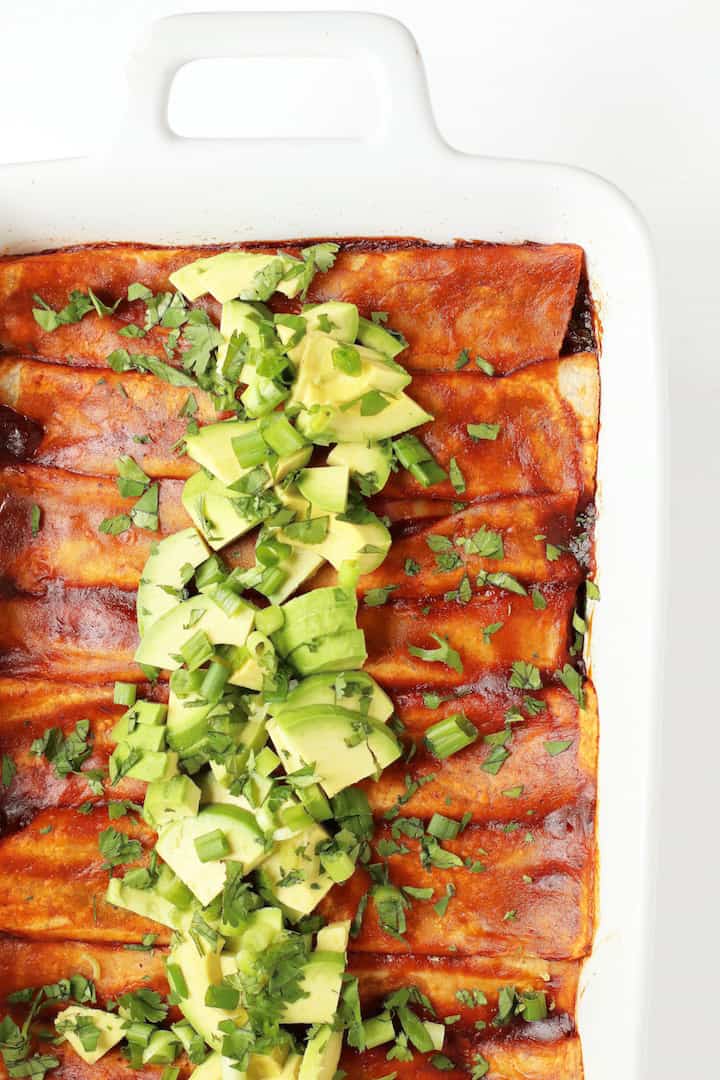 Gluten Free Enchiladas
Or try these Black Bean and Kale Enchiladas that are made with gluten free tortillas and topped with spicy enchiladas sauce and for a vegan and gluten free cinco de mayo recipe everyone can enjoy.
Fish Taco Bowls
Vegans can even enjoy fish with these Baja "Fish" Taco Bowls. The fish is made from heart of palm, seaweed, and spices that is formed into patties and beer-battered. Combined with Baja cabbage slaw, seasoned corn, and creamy Baja sauce, these refreshing bowls scream "Cinco de Mayo".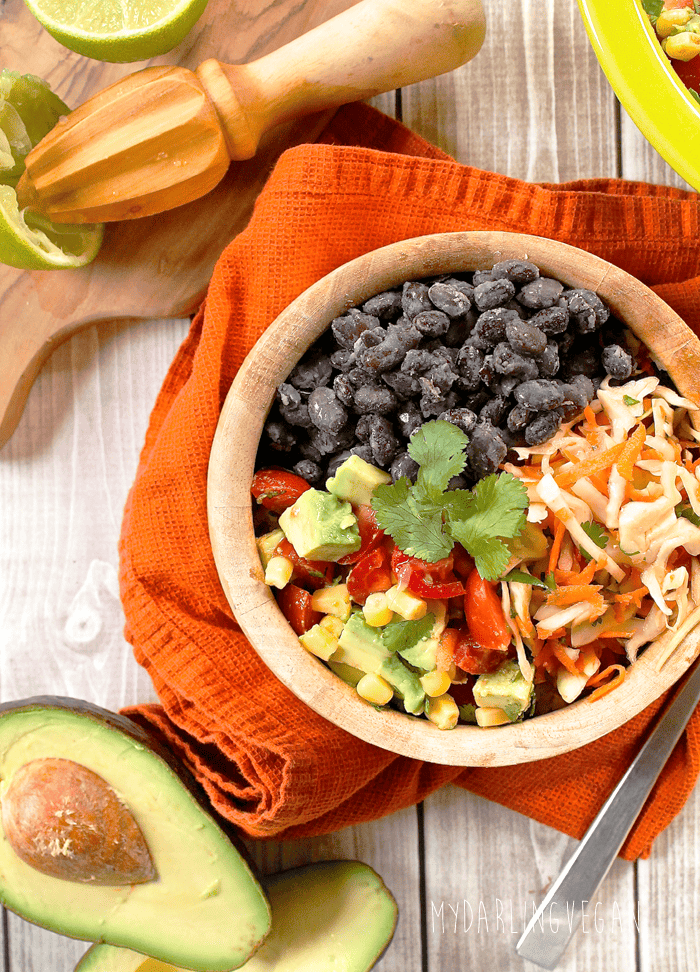 Burrito Bowls
These Deconstructed Burrito Bowls are filled with cabbage carrot slaw, a corn avocado salad, spicy black beans and topped with a cream cashew dressing for a simple and hearty Cinco de Mayo dinner.
Tortilla Soup
This vegan Tortilla Soup is made with seasoned jackfruit, black beans, corn, and crispy corn tortillas for an easy and delicious soup that can be made in just 30 minutes.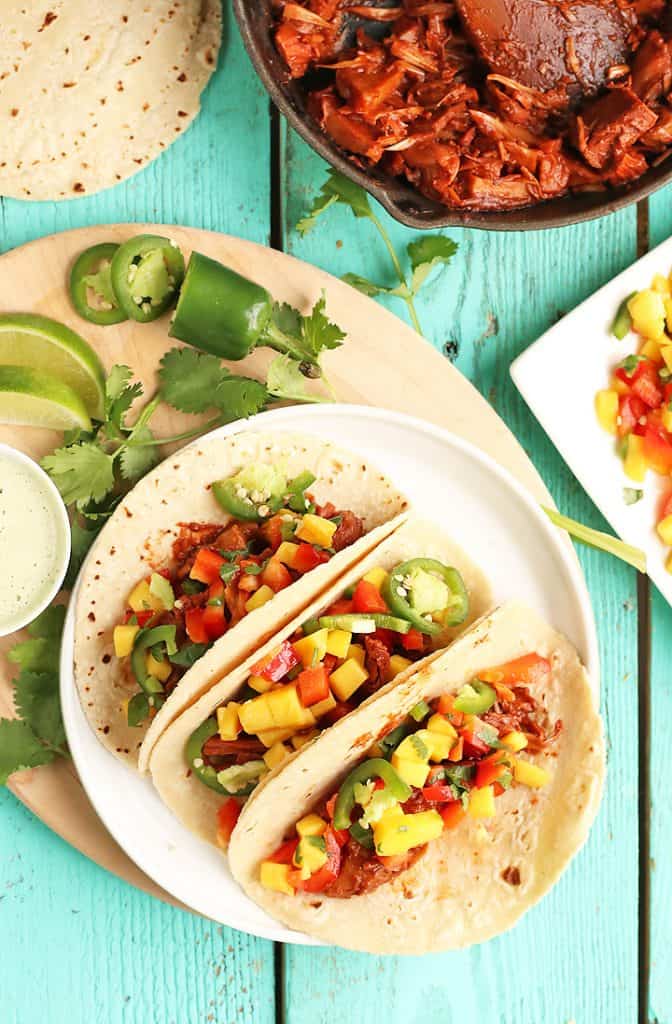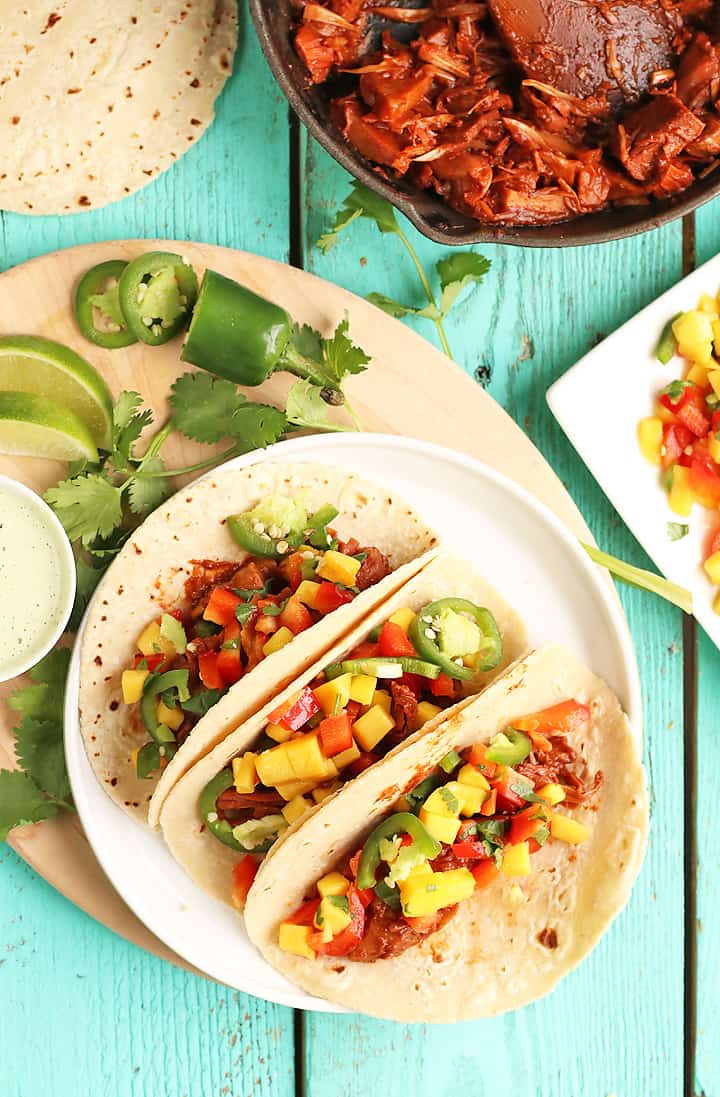 Jackfruit Tacos
Everybody loves tacos! These BBQ Jackfruit Tacos with Mango Salsa are a delicious vegan and gluten-free Cinco de Mayo recipe filled with sweet and tangy flavors of BBQ jackfruit and topped with a refreshing and spicy mango salsa. Yum!
Jackfruit Taquitos
These Jackfruit Taquitos are filled with jackfruit, salsa verde, and spices and dipped in a Southwest Ranch Dressing for a delicious Cinco de Mayo snack everyone will enjoy.
There you have it. 15 vegan Cinco de Mayo Recipes. If you give one of these recipe a try, let us know what you think in the comments below. Or snap a photo and share it on Instagram. Make sure to tag @mydarlingvegan so I can see your creations!
Written by My Darling Vegan