Vegan Quiche w/ Onions and Shiitake Mushrooms
This Caramelized Onion and Shiitake Mushroom Quiche makes the perfect addition to your holiday brunch table. It starts with a pastry pie crust that is filled with savory tofu filling and baked to perfection.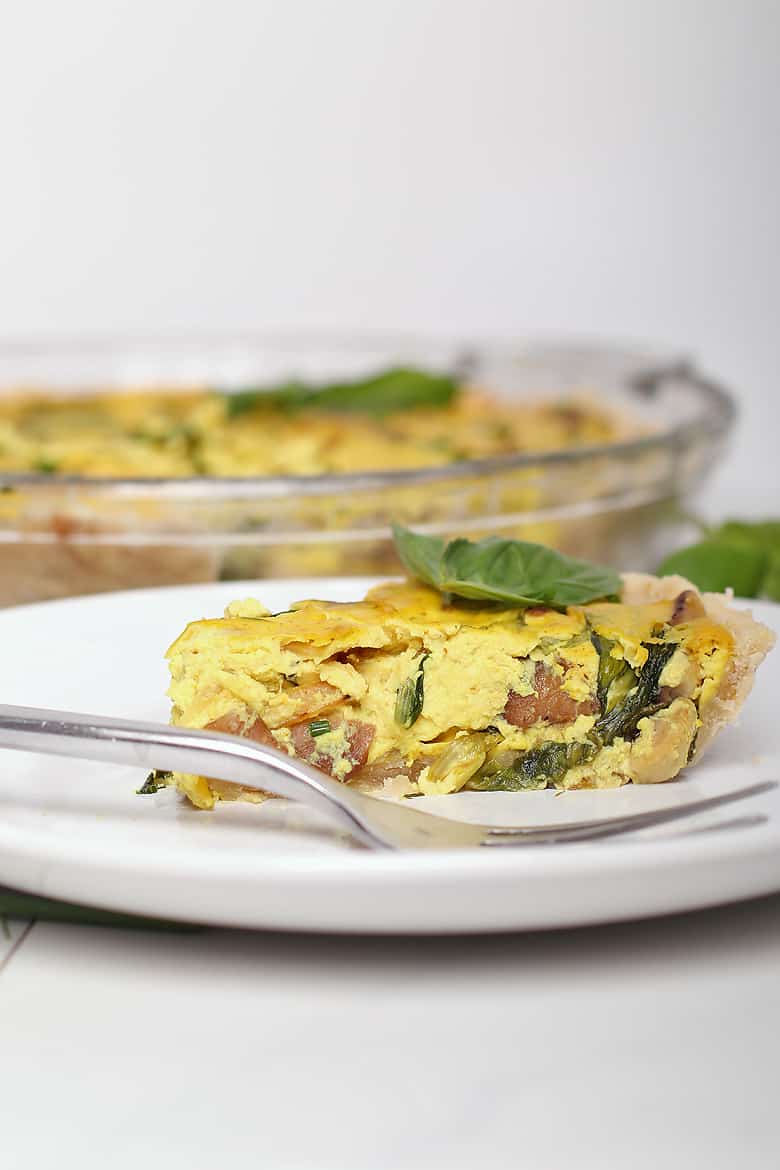 This post is sponsored by Inspired Greens. All opinions, as always, are 100% mine.
This post contains affiliate links. For more information please see my privacy policy.

With Christmas and New Years Day just around the corner, it's time to turn our attention towards holiday brunch recipes! What better way to kick of these most glorious of days than with a big, decadent, vegan brunch? My holiday brunch table is typically filled with cinnamon rolls or scones, roasted potatoes and vegetables, a tofu scramble or quiche, cut fruit, and of course, a pitcher of Bloody Marys.
Breakfast is, after all, the most important meal of the day.
This year, to decorate our holiday tables, I'm introducing a new recipe – a simple vegan quiche filled with caramelized onions, shiitake mushrooms, and butter lettuce that is baked inside a flaky pie crust for a festive brunch addition.
Sound good? I thought so.
How to make the perfect vegan quiche:
If you haven't made a vegan quiche before, it might sound intimidating. Fear not! Vegan quiches are actually quite simple and yet, the result is so impressive. Let's take this step by step.
Step one: make the perfect pie crust
Tips for making the perfect pie crust
First of all, let me say, there is NO shame in buying pie crust. Most well-stocked grocery stores carry vegan frozen pie crust and most of the time that is what I opt for. If you go the pre-made pie crust route, the rest of this pie comes together in about 15 minutes!
For those of you making your own pie crusts, there are a few tricks I've learned:
Use chilled butter when making the pie crust. Chilled butter will stand up against the heat of the oven and keep its shape.
Add just enough water to allow your pie crust to come together. We don't want overly moist crusts. Wetter pie crusts are easier to work with, but the drier it is, the flakier (aka, more delicious) your pie crust will be.
Thoroughly spray your pie pan with oil so that your pie crust does not stick to the pan.
Chill your pie crust before putting it in the oven. This allows the butter to re-firm and prevents it from melting too quickly in the oven.
This recipe requires you to par-bake your crust. When par-baking, first poke holes in the bottom of the pie crust with a fork. This keeps the pie crust from rising in the oven.
Pretty straight forward, right? And again, if you're looking to save on time, a store-bought pie crust is ALWAYS available.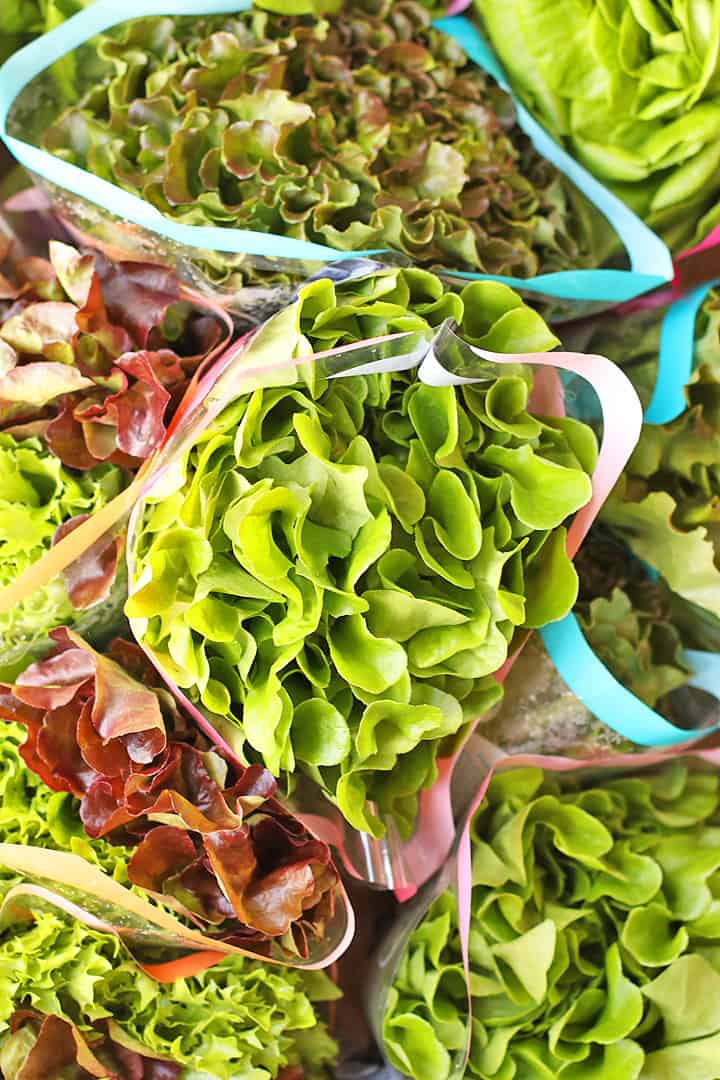 Step two: sauté the veggies
Making the filling for a vegan quiche is a two-part process. First, we have to sauté our vegetables. Then we will make our tofu base.
I couldn't think of anything more decadent and festive than a delightful combination of sweet caramelized onions, savory shiitake mushrooms, and tender Butter Leaf Lettuce.
Lettuce, you say. Why yes, I recently started cooking with lettuce and have been appreciating it's subtle flavors. Lettuce is not simply the background to salad anymore. When lettuce is cooked down it brings out the sweet and bitter flavors of the leaves, making it a delicious part of this vegan quiche.
And because I wanted to use the finest ingredients, I went with Inspired Greens for the freshest and tastiest lettuce available!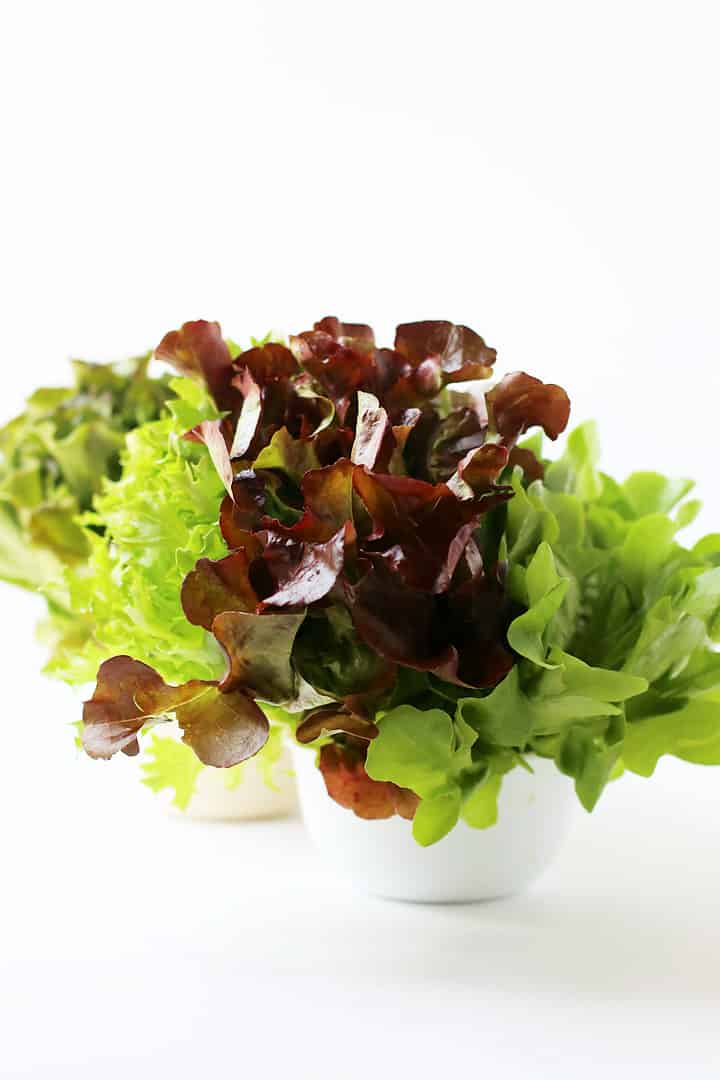 Inspired Greens is a company based in Alberta, Canada.
They are dedicated to providing food that supports a healthy lifestyle. Inspired Greens grows 6 varieties of living lettuce (that means they grow and harvest the lettuce in small compostable pots for extra freshness) in a greenhouse year-round. They are committed to growing without pesticides and feeding their plants only clean Canadian water.
Because they harvest living lettuce, you can buy it from the store – compostable pots intact – place it in a jar of water and store it in your refrigerator for lettuce that will last much longer than the lettuce you'll find in bags! I love Inspired Greens because less lettuce goes to waste and I know I am eating some of the healthiest, top quality lettuce I buy find at the store.
Plus, good news for those of us in the PNW. Inspired Greens just became available in Albertsons throughout Oregon and Washington! Make sure to check them out during your next trip to the grocery store.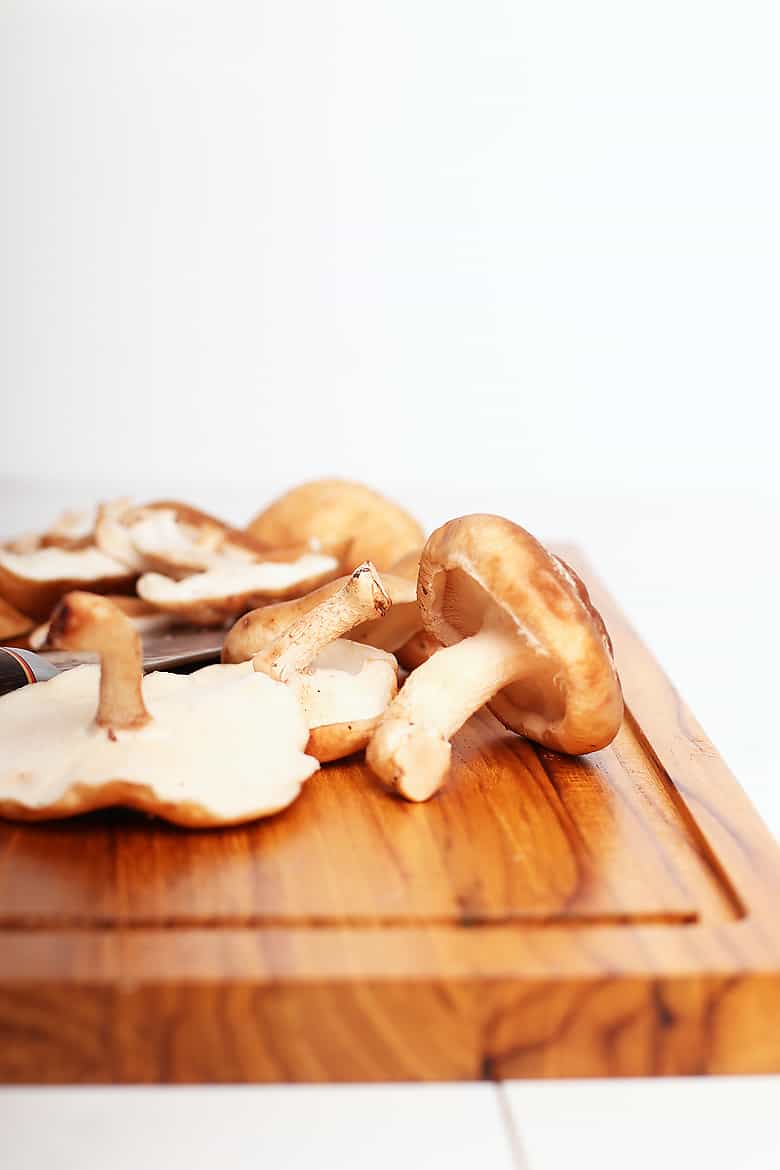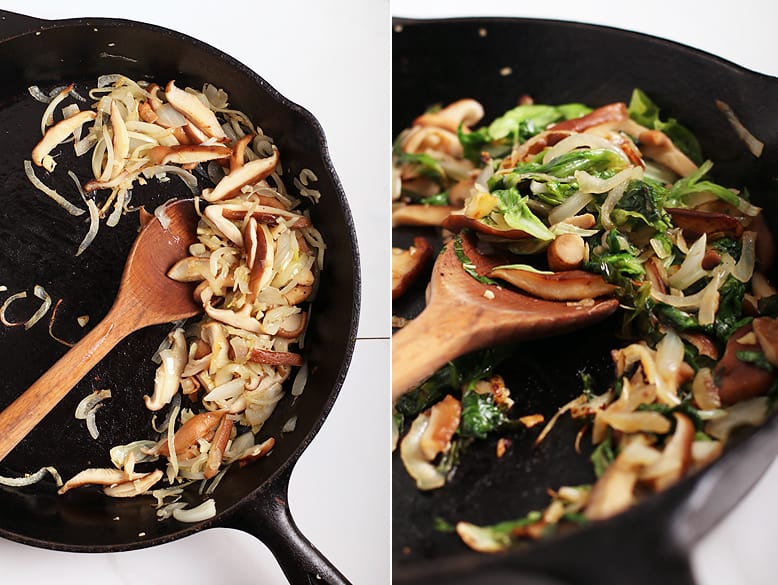 To accompany the sweet and bitter flavors of cooked Butter Leaf Lettuce, I added caramelized onion and shiitake mushrooms. The caramelized onions add a rich sweetness to the filling while the shiitakes give it a meaty savoriness that pairs perfectly with the tender lettuce leaves and cheesy tofu filling.
How to caramelize onions
Caramelizing onions is a method of slow cooking the onions to allow all the sweetness to be released. To do this, onions are sautéd with olive oil (you could also use non-dairy butter) over low heat until they are tender, golden brown, and super sweet. It's a slow sauté that takes about 15 minutes.
Once your onions are caramelized, add the garlic and shiitake mushrooms and sauté until mushrooms are golden, tender, and fragrant. At this point, add the fresh lettuce and cook it until the leaves are shiny and wilted.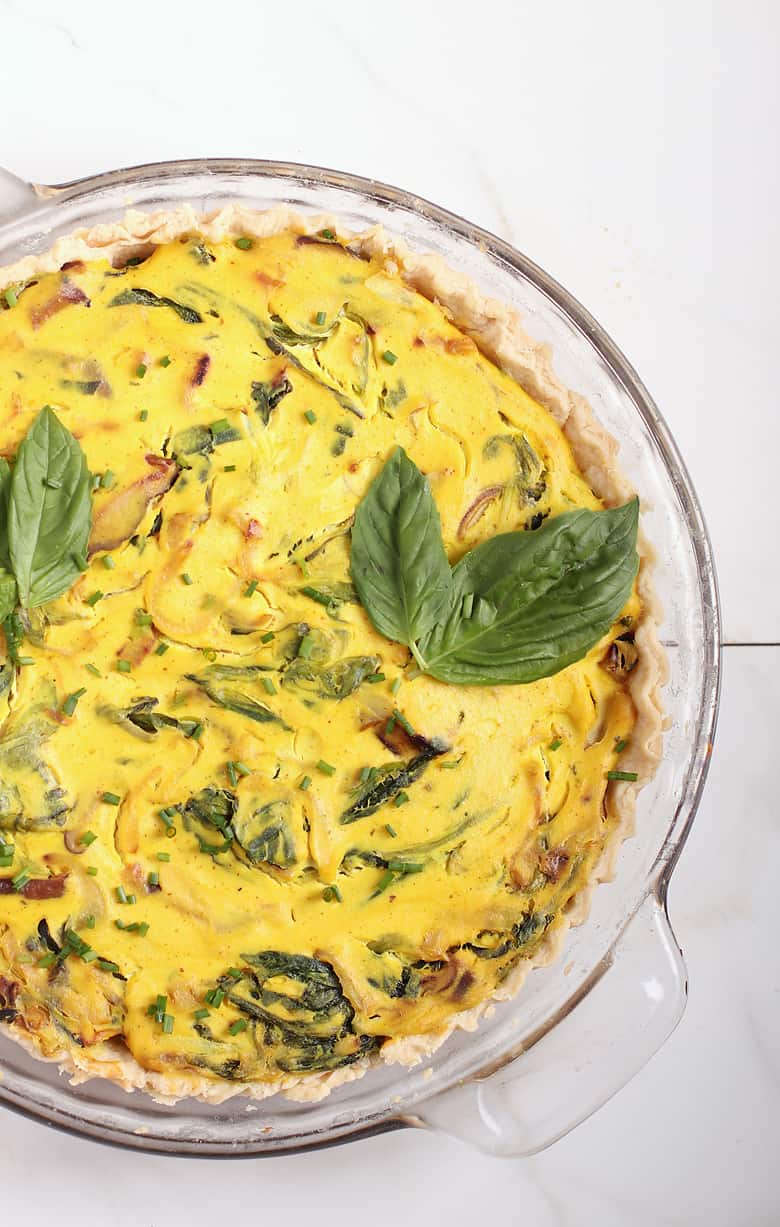 Step three – make the tofu "egg' base.
For this vegan quiche recipe, I use firm tofu. You want it to have structure while still being soft enough to blend completely smooth.  Because tofu is fairly bland, it makes a great base for this quiche. All we need is to add some quiche-like flavors, such as:
nutritional yeast
lemon juice
dehydrated onion
and salt
You can also add turmeric to give it an eggy color or black salt to give your tofu an eggy flavor. These ingredients, along with some flour (for structure) and non-dairy milk (for creaminess) are combined in a food processor until the filling is silky smooth.
Step four: bake the vegan quiche
Now, all we have to do is bake. First, combine our tofu filling with are sautéed veggies. Once the vegetables are evenly distributed, scoop the filling into the prepared pie crust, smooth over the top, and bake until the quiche is firm and golden brown.
Remove from oven and let cool 20 minutes before slicing.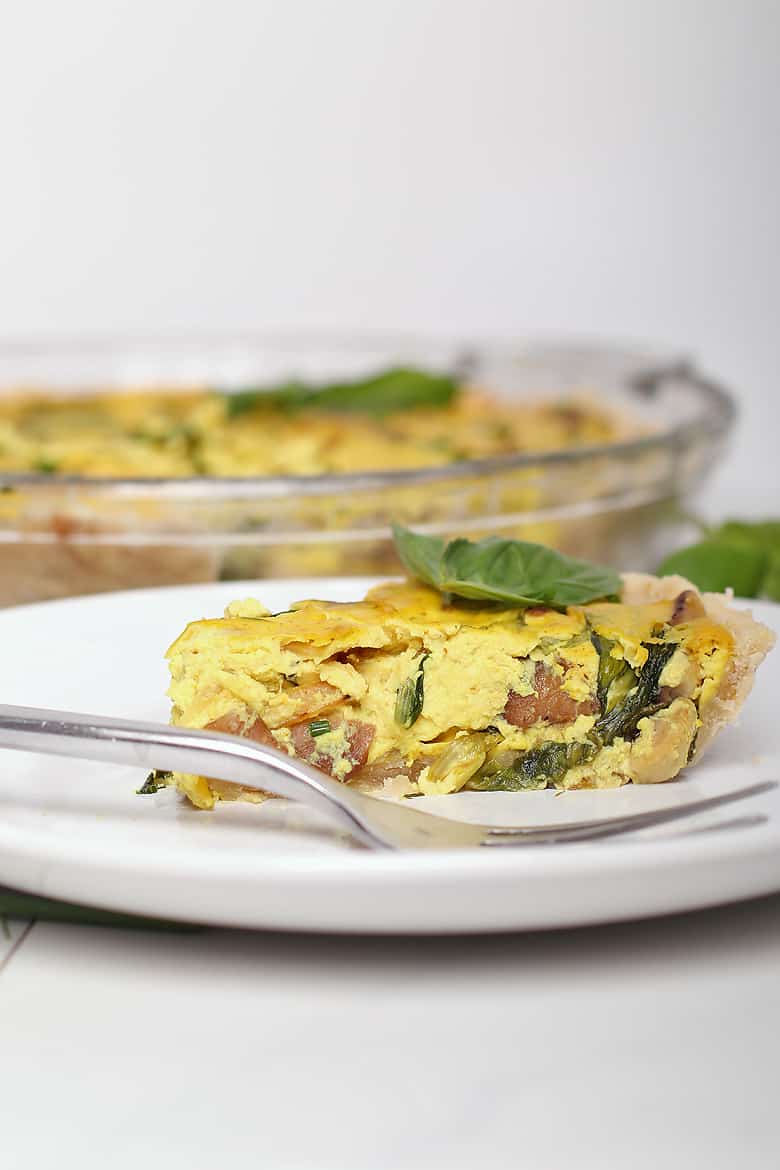 Tips and Tricks for the perfect vegan quiche
To save time, buy a store-bought vegan pie crust which can be found in the freezer section at most well-stocked grocery stores.
The filling can be made up to 1 day ahead of time. Store it in the refrigerator until ready to assemble.
If you want to make mini quiches, this recipe should fit 12 muffins molds.
Blend your tofu until completely smooth so that you have a silky smooth consistency.
Make sure to let quiche cool 20 minutes before slicing into it. Otherwise, it will fall apart.
Leftover quiche can be stored in the refrigerator for up to 3 days.
Sound delicious? Let's grab a couple of heads of Butter Leaf Lettuce at your local store and whip up this vegan quiche today.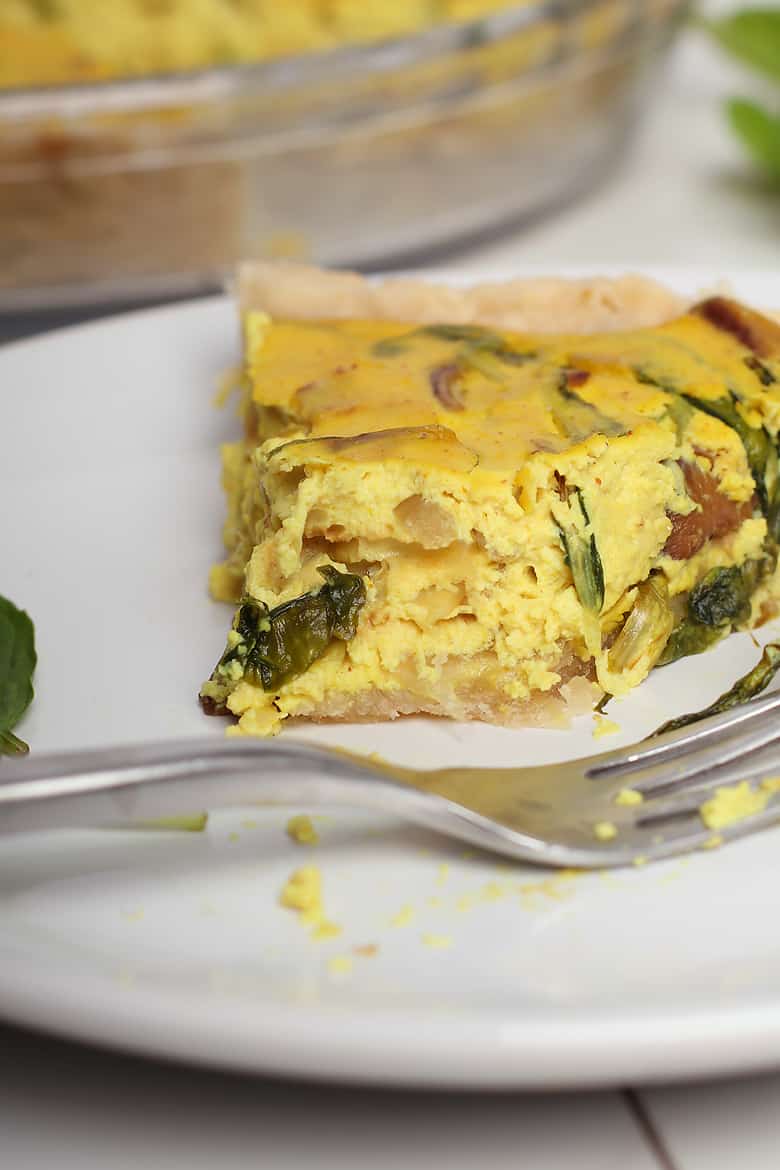 Caramelized Onion and Shiitake Mushroom Vegan Quiche
This Caramelized Onion and Shiitake Mushroom Vegan Quiche with butter lettuce make the perfect addition to your holiday brunch table. With a pastry pie crust and filled with savory tofu filling, this quiche is sure to impress!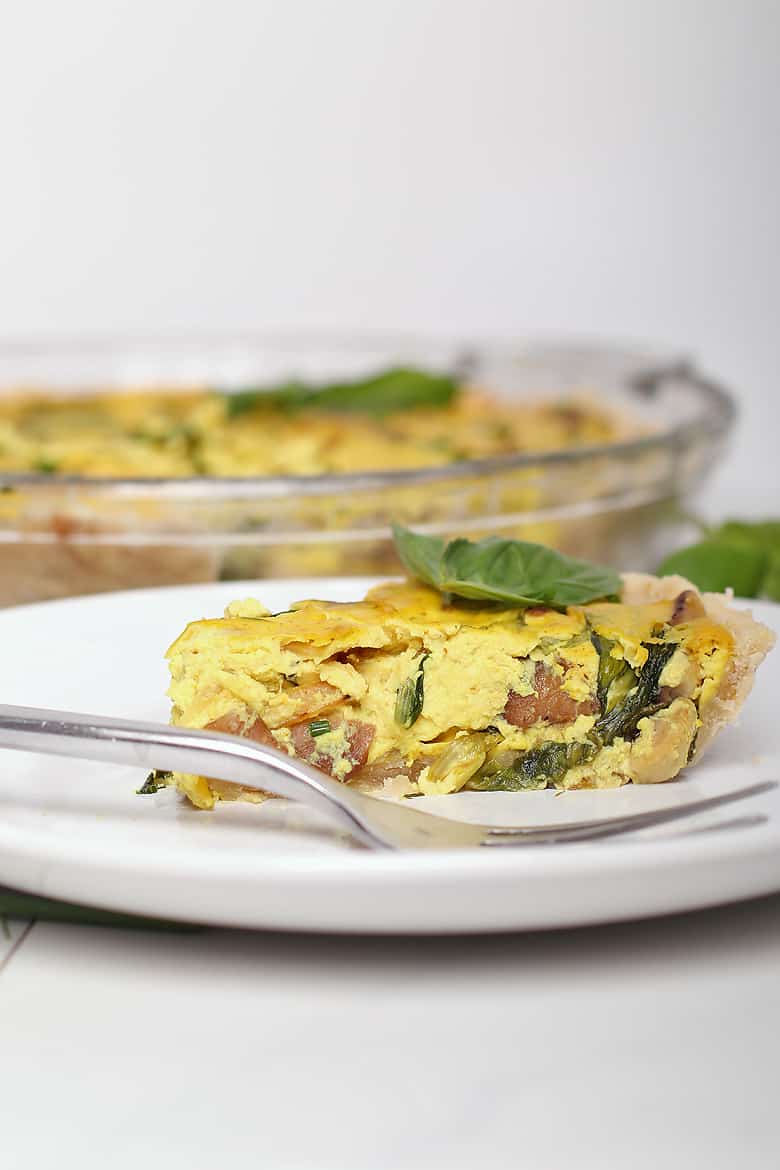 Course:
Breakfast
Cuisine:
Vegan
Keyword:
vegan quiche
Servings
:
8
people
Calories
: 248 kcal
Author
:
Sarah McMinn
Ingredients
Quiche Pie Crust
1 1/2

cup

all-purpose flour

1/2

tsp. salt

1/2

cup

vegan butter, I use Earth Balance

2-3

tbsp. ice cold water
Instructions
Spray one 9" pie pan and set aside. Preheat the oven to 350 degrees F.


To make the crust, combine flour and salt in a bowl. Add non-dairy butter in small chunks and with a pastry cutter or your fingers, cut into the dough until it resembles small pea-sized pieces (a few larger ones are okay). Add cold water and turn over onto a floured surface to bring together. It will be pretty dry but should stick together when pressed between your fingers.

Press into the prepared pie pan. Poke holes in the bottom of the crust with your fork and chill the crust for 10 minutes. Once chilled, remove from refrigerator and bake for 10 minutes. Set aside to cool while making the filling.

To make the quiche filling, heat 1 tablespoon of oil over low heat. Add sliced onions and sauté to caramelize until golden and fragrant (this takes about 10 minutes). Add garlic and shiitake mushrooms and sauté another 5 minutes, stirring frequently. Once mushrooms are golden brown, add lettuce and cook for 1 minute until lettuce is wilted. Remove from heat and set aside.

In a food processor or blender combine tofu, nutritional yeast, 2 tablespoons non-dairy milk, flour, onions, lemon juice, sea salt, and turmeric (if using) until smooth, scraping down the sides as necessary. You may need to add an additional tablespoon of milk to get your mixture smooth. Transfer to a bowl. Add mushroom/onion mixture and fresh basil. Stir everything together until vegetables are evenly incorporated. Season with pepper and adjust seasonings to taste.

Spoon filling into chilled pie crust, smoothing over the top. Bake for 40-45 minutes until the top has browned slightly and the quiche is firm when wiggled.

Remove from oven and allow the quiche to cool for 20 minutes before slicing. Serve warm.
Nutrition Facts
Caramelized Onion and Shiitake Mushroom Vegan Quiche
Amount Per Serving
Calories 248
Calories from Fat 99
% Daily Value*
Fat 11g17%
Sodium 340mg15%
Potassium 493mg14%
Carbohydrates 28g9%
Protein 7g14%
Vitamin A 4510IU90%
Vitamin C 6.5mg8%
Calcium 56mg6%
Iron 3.3mg18%
* Percent Daily Values are based on a 2000 calorie diet.
If you give this recipe recipe a try, snap a photo and share it on Instagram. Make sure to tag
@mydarlingvegan
so I can see your creations!