Snowball Cookies with Toasted Pecans
The ultimate Christmas cookie, these Snowball Cookies with toasted pecans are a melt-in-your-mouth buttery shortbread coated in powdered sugar. Perfect for a holiday gift or sweet treat at your next party.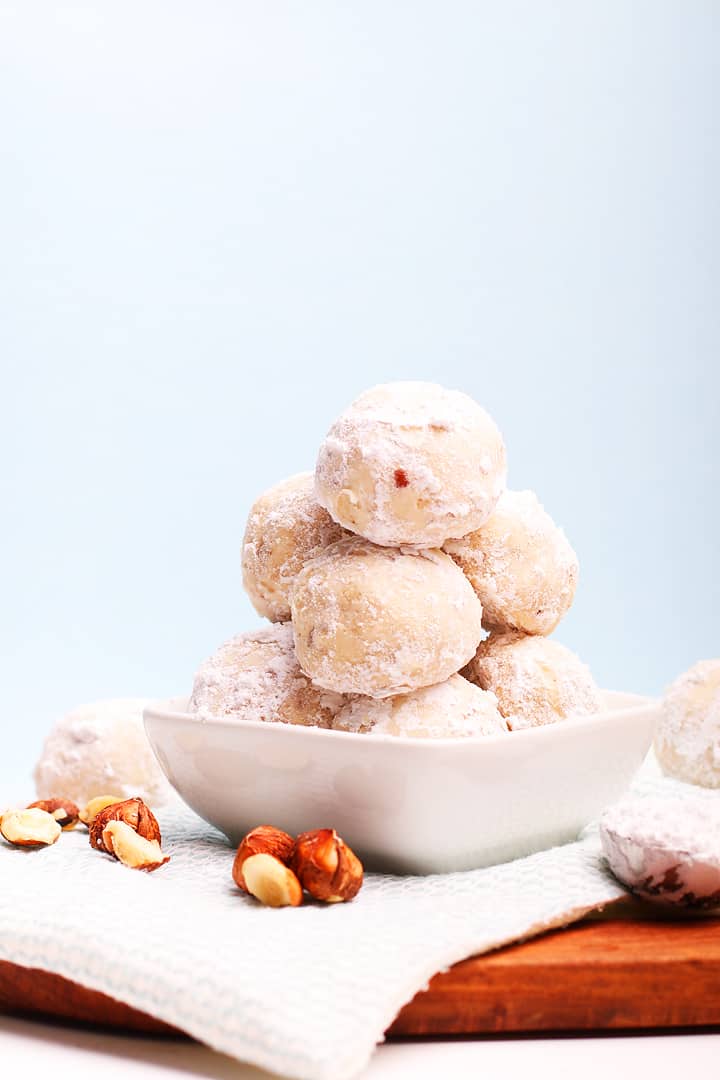 This post contains affiliate links. For more information please see my privacy policy. 
By now my freezer is starting to look a lot like Christmas.
With Red Velvet Crinkle Cookies, Chocolate Truffles, and Eggnog Cheesecake Thumbprints, it's pretty sweet up in there. And now it is time to make room for more. I've got one of my favorite Christmas cookies of ALL-TIME today: it's these Snowball Cookies, aka Mexican Wedding Cookies, aka Russian Tea Cakes.
I grew up with these cookies every Christmas. My mom would make a big batch early in December and freeze them so that we could enjoy them slowly throughout the Christmas Season. Despite all the sugar and chocolate of other cookies, I always went for the soft, buttery, melt-in-your-mouth, Snowball Cookie.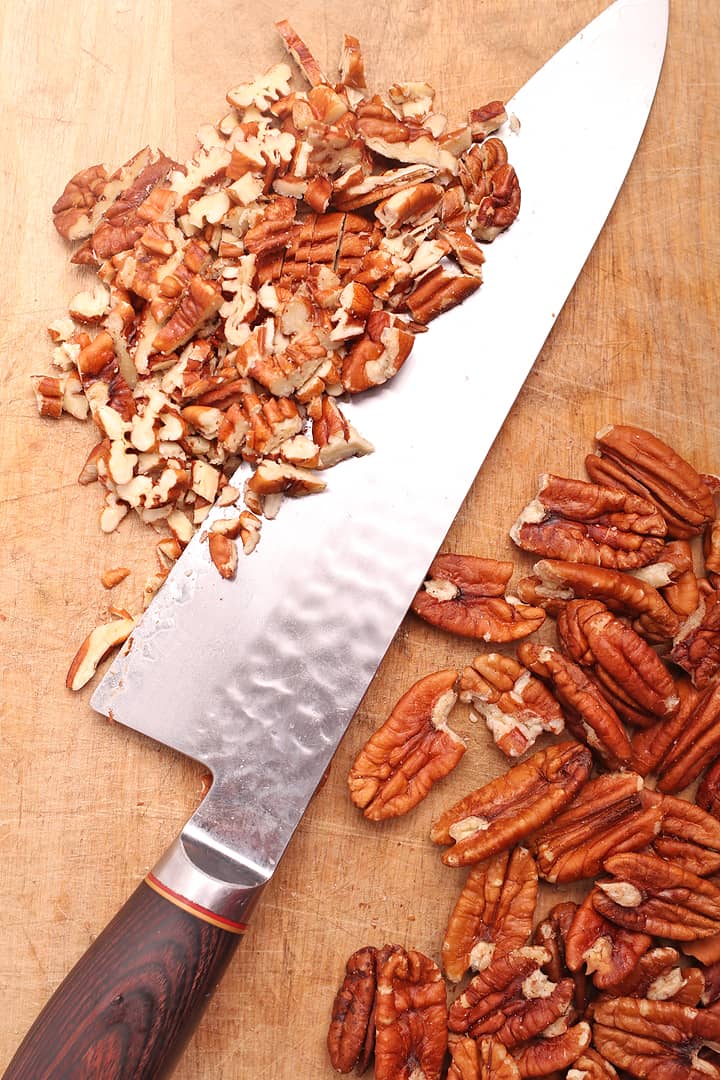 What is a Snowball Cookie?
Snowball Cookies are a cookie with many names. They are commonly referred to as Mexican Wedding Cookies. Growing up, at my house we called them Sandies. They can also be called Russian Tea Cakes, Pecan Balls, and Pecan Melt-aways. And I'm sure that's only the tip of the iceberg. While there are subtle differences between some of these cookies (such as the type of sugar used or the cookie's shape), this cookie of many names is a buttery shortbread that is filled with finely chopped nuts – usually pecans – and rolled into powdered sugar covered balls.
So while the rest of the world figures out a name for them, I figure we ought to whip up a batch to enjoy!
The Ingredients in a Snowball Cookie
One of the great things about these cookies is they have only a few ingredients. The ingredients are:
Sugar
Flour
Butter (in this case, vegan butter)
Vanilla Extract
Pecans (or Hazelnuts)
That's it! As always, when working with such few ingredients, it's important that we use the highest quality. For that reason, I suggest using Miyoko's cultured vegan butter for this recipe. This award-winning vegan butter is truly the best vegan butter on the market. Its taste and texture is identical to dairy-based butter and will give you the complete melt-in-your-mouth feel of these cookies.
If you can't find Miyoko's butter at your local grocery stores, I would suggest Earth Balance as the next best alternative. Or you could just pick up a copy of her cookbook, and make your own incredible vegan butter.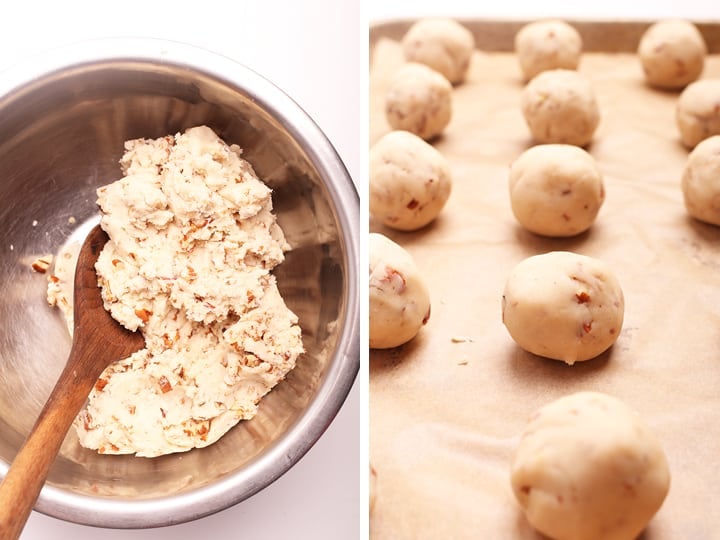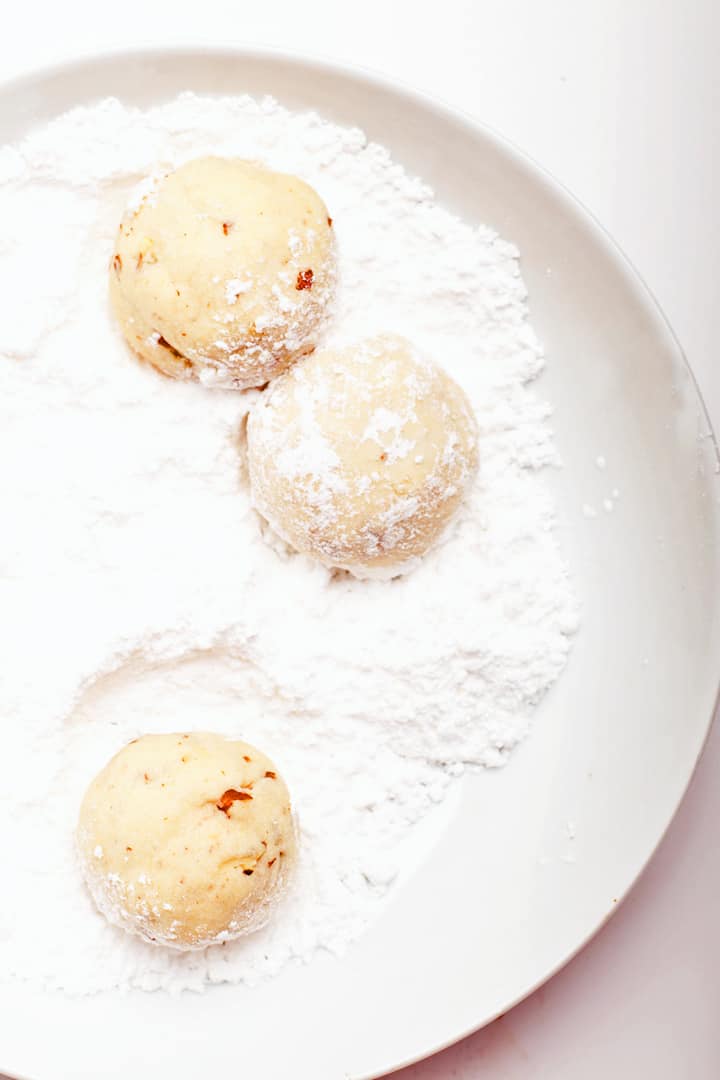 You also want to think about sugars when picking out the ingredients for these Snowball Cookies. These cookies have both granulated sugar and powdered sugar. I am commonly asked, especially around this time of year, if sugar is vegan. So commonly, in fact, that I wrote a comprehensive guide to answer that question.
For this recipe, I choose Wholesome Sweetener's products. Not only are of Wholesome Sweeteners sugars are vegan, that's including their powdered sugar and brown sugar, they are also organic, fair trade, and 100% identical to non-vegan sugars. Sweet deal!
Lastly, we want to make sure we have high-quality nuts. The most common choice of nut for these cookies is pecans. Pecans are soft, have full flavor, and pair perfectly with the butteriness of this cookie. However, I have also made these cookies commonly with hazelnuts and almonds. Whichever you choose, make sure to get the freshest, highest quality.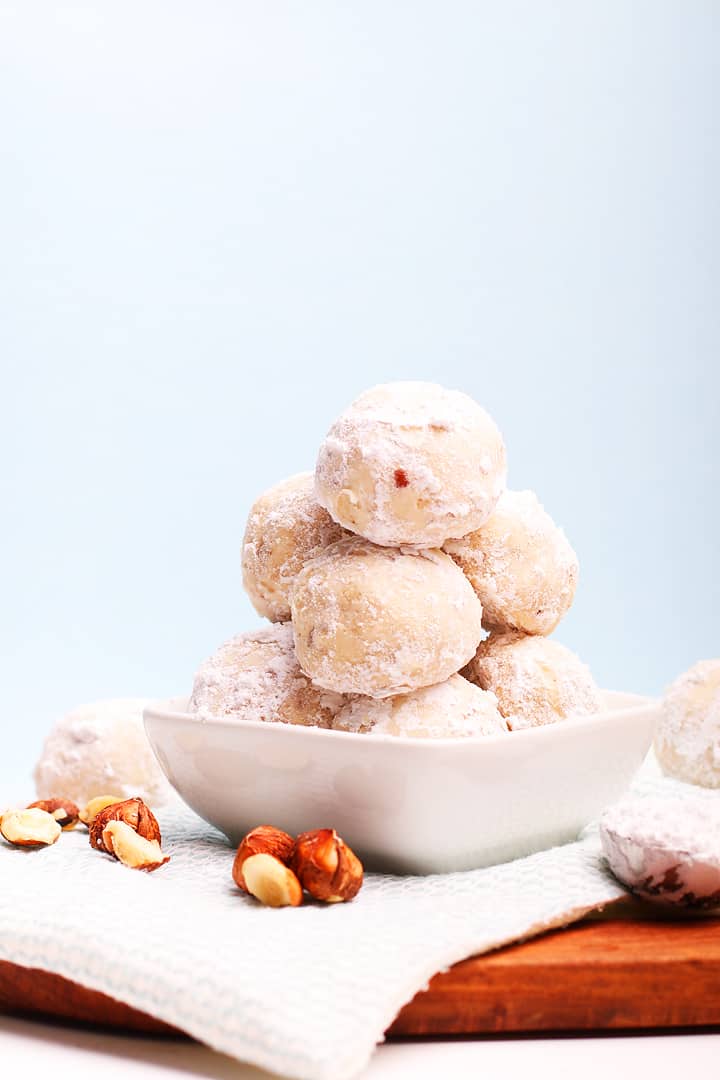 With our ingredients picked out, it's time to make these Snowball Cookies
How to Make Snowball Cookies
I'm sure it's no surprise to you that these cookies are very simple to make.
First, make your dough. Beat the butter, sugar, and vanilla extract in a stand-up mixer until the butter is light and fluffy. Next, add the flour and mix until it's just combined. Finally, add your finely chopped nut. The nuts will likely stick to the bottom of your mixing bowl, so I find that this step is best done by hand.
Next bake the cookies. Shape the dough into balls about 2 tablespoons big and place them on a parchment-lined baking sheet. Bake the cookies for 25-30 minutes at 300 until the cookies are firm. To check for doneness, cut a cookie in half. The cookie should be fairly crumbly and cooked all the way through.
Lastly, coat them in powdered sugar. To finish, let the cookies cool completely on a wire rack. Once they are cool, place them in a large ziplock bag along with the powdered sugar and toss them to coat. Alternatively, you can place the powdered sugar in a shallow bowl and roll the cookies to coat.
That's it! So easy.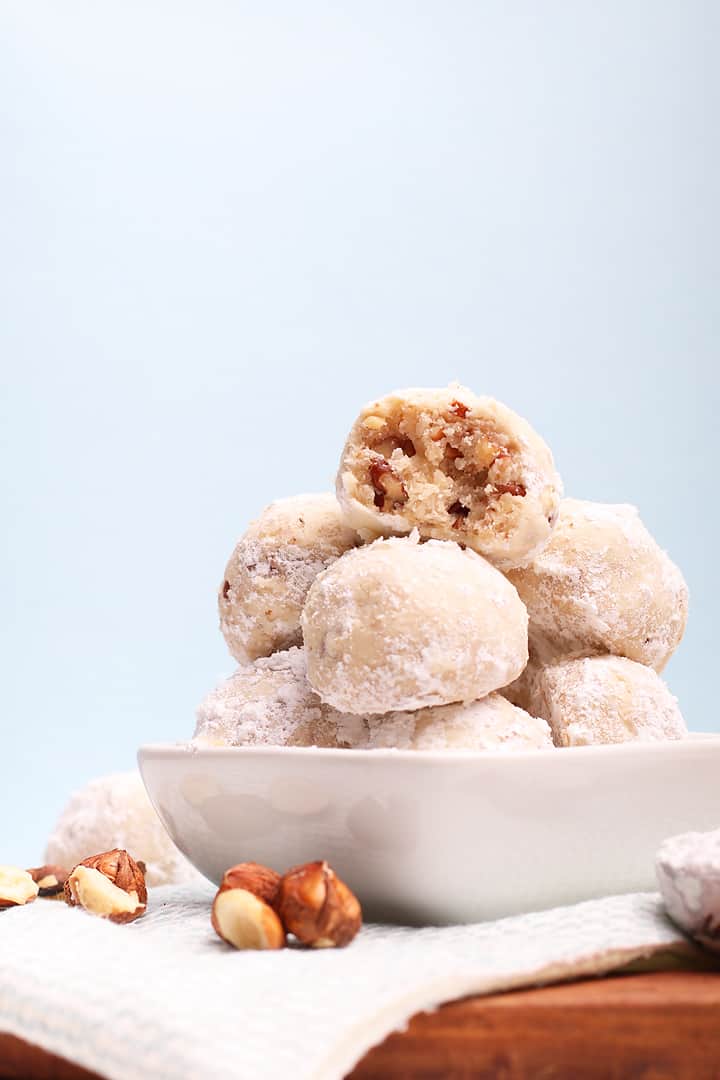 Tips and Trick for making the PERFECT Snowball.
Use high-quality ingredients, especially when choosing your vegan butter.
Start with cold butter. This will help the cookies keep their shape while baking.
Do not over-mix the batter. Mix it until the flour is just incorporated as to not developed too much gluten.
Bake a low temperature. We want the insides of these cookies to bake fully for their shortbread texture.
Let cookies cool completely before coating them in powdered sugar. If the cookies are still warm, the sugar will melt.
Store cooking in an airtight container at room temperature for up to 5 days or in the freezer for up to 2 months.
That's it. The perfect vegan snowball cookie (aka, my FAVORITE Christmas cookie of all). Ready to try it for yourself. Let's check out the recipe below.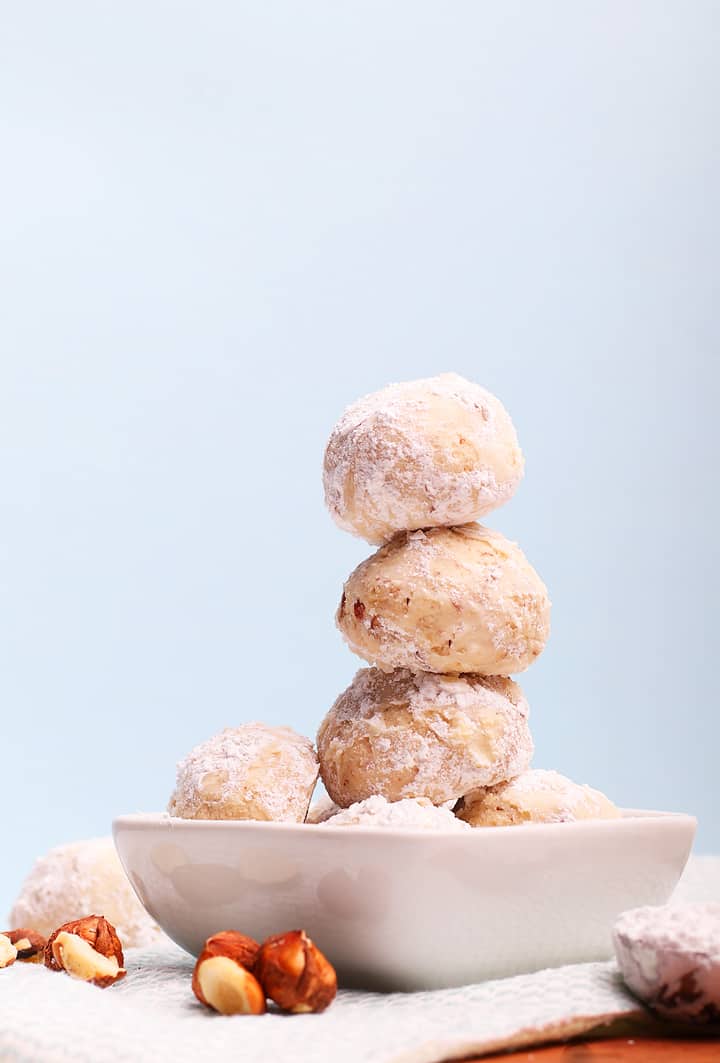 Snowball Cookies
The ultimate Christmas cookie, these Snowball Cookies with toasted pecans are a melt-in-your-mouth buttery shortbread coated in powdered sugar. Perfect for a holiday gift or sweet treat at your next party.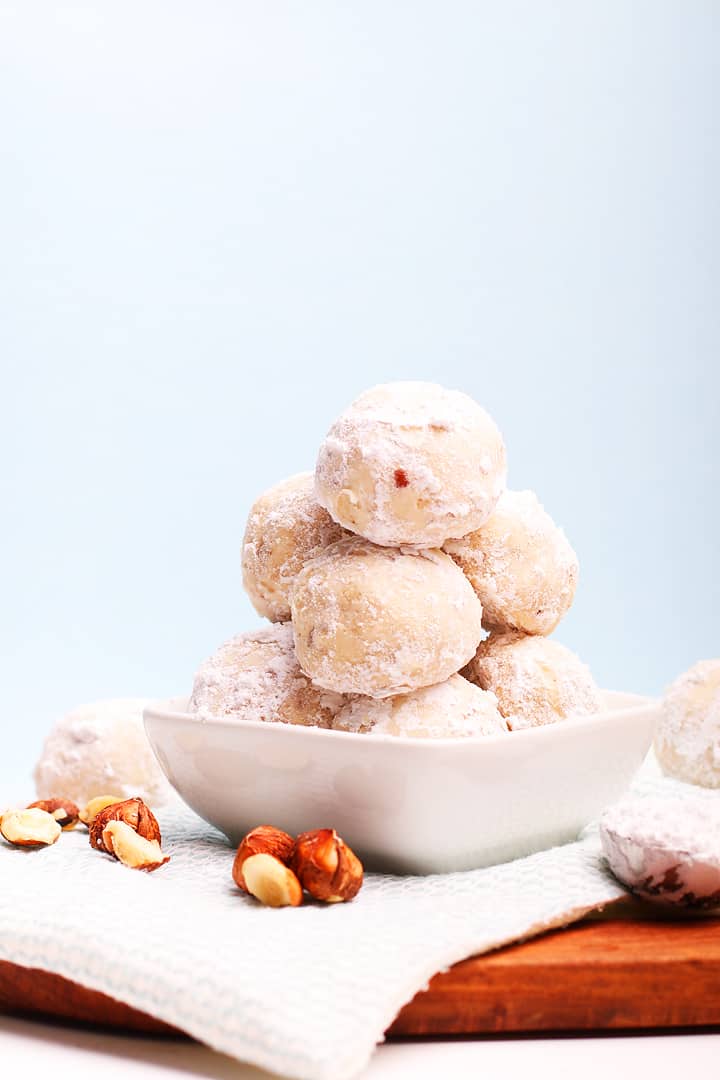 Course:
Dessert
Cuisine:
Vegan
Keyword:
Snowball Cookies
Servings
:
18
cookies
Calories
: 199 kcal
Author
:
Sarah McMinn
Ingredients
Instructions
Preheat the oven to 300 degrees F. Line 2 baking sheets with parchment paper and set aside.

In a stand-up mixer, using the paddle attachment, cream vegan butter, sugar, and vanilla until light and fluffy, scraping down the sides as needed. Add the flour and mix until combined.

Mix in the finely chopped pecans. You may need to finish folding the nuts in by hand as some of them get stuck in the bottom of the bowl.

Roll dough in balls about 1 heaping tbsp big. Place on baking sheet and bake for 25-30 minutes. Check for doneness by cutting one in half to ensure that it's cooked all the way through. Transfer cookies onto a wire cooling rack and allow to cool completely.

Place powdered sugar in a large ziplock bag with about 6 cookies at a time. Shake it around until cookies are completely coated. Repeat until all cookies are coated. Alternatively, you can place the powdered sugar in a shallow bowl and roll the cookies to coat.

Serve or store in an airtight container for up to 5 days. Cookies can be stored in the freezer for up to 2 months.
Nutrition Facts
Snowball Cookies
Amount Per Serving
Calories 199
Calories from Fat 108
% Daily Value*
Fat 12g18%
Sodium 81mg4%
Potassium 40mg1%
Carbohydrates 20g7%
Protein 1g2%
Vitamin A 485IU10%
Vitamin C 0.1mg0%
Calcium 6mg1%
Iron 0.8mg4%
* Percent Daily Values are based on a 2000 calorie diet.
If you give this recipe recipe a try, snap a photo and share it on Instagram. Make sure to tag
@mydarlingvegan
so I can see your creations!