Make your Bloody Mary's from scratch with this homemade Bloody Mary Mix – a combination of sweet and savory to get your morning started off right.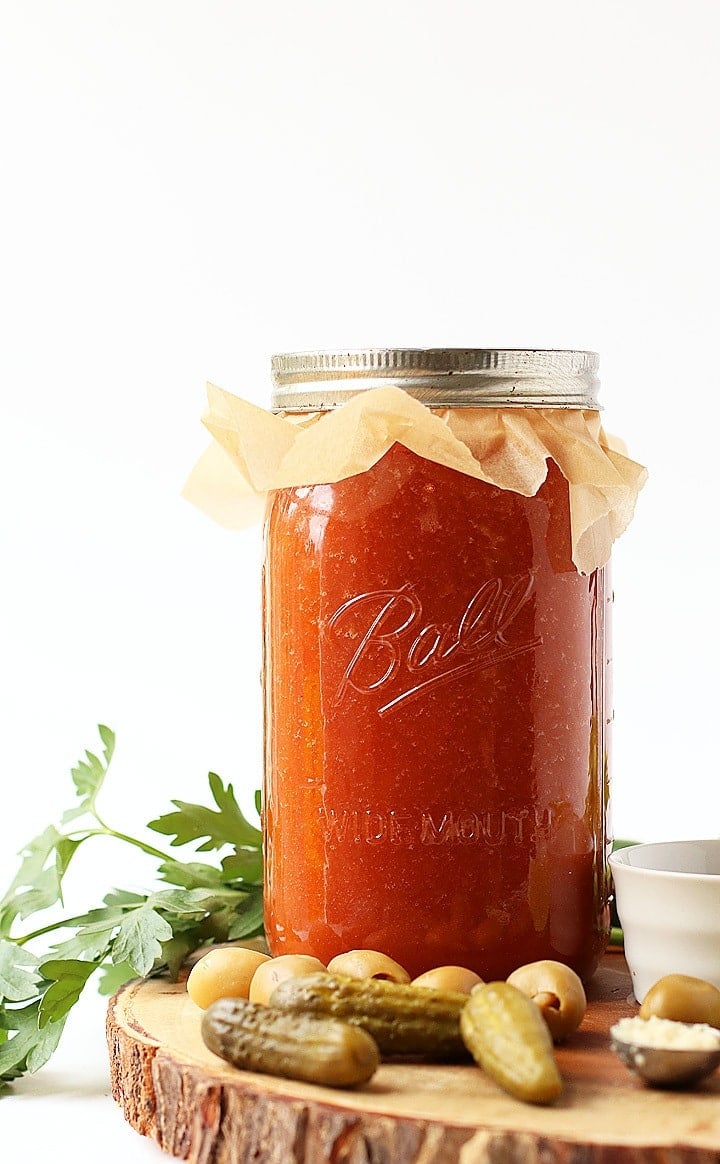 This post contains affiliate links. For more information, check out my privacy policy.
We are half way through summer and I think we could all use a cocktail.
So far this summer has been incredibly good as it's been filled with trips, fun days at the beach, friends, and a whole lotta sunshine. Yet, it has been equally difficult as it is also filled with fighting kids and too many tantrums, constant chatter, and the boredom the comes with single parenting.
So whether we are toasting to great times or drinking away the summer slump, I suggest we whip up a batch of this Bloody Mary Mix and raise our glasses…
to summer!
I'm not going to lie, making your own Bloody Mary mix is pretty exciting.
It's easy. It's versatile. And if you do it right, you'll end up with a fresh veggie-packed cocktail. In truth, I'm not sure I've made my Bloody Mary mix the same way twice. Being highly flexible with the ingredients you have on hand, Bloody Mary mix requires tomato juice, a bit of spice, some sour, some salty, a lotta fresh veggies, and a little bit of creativity.
Mix, taste, and adjust as you go.
When I have all the ingredients on hand this particular recipe, however, is my favorite. Filled with strong flavors and fresh herbs, this Bloody Mary mix has it all. And with so many different things to do with Bloody Mary mix, I highly recommend we get some blending up ASAP.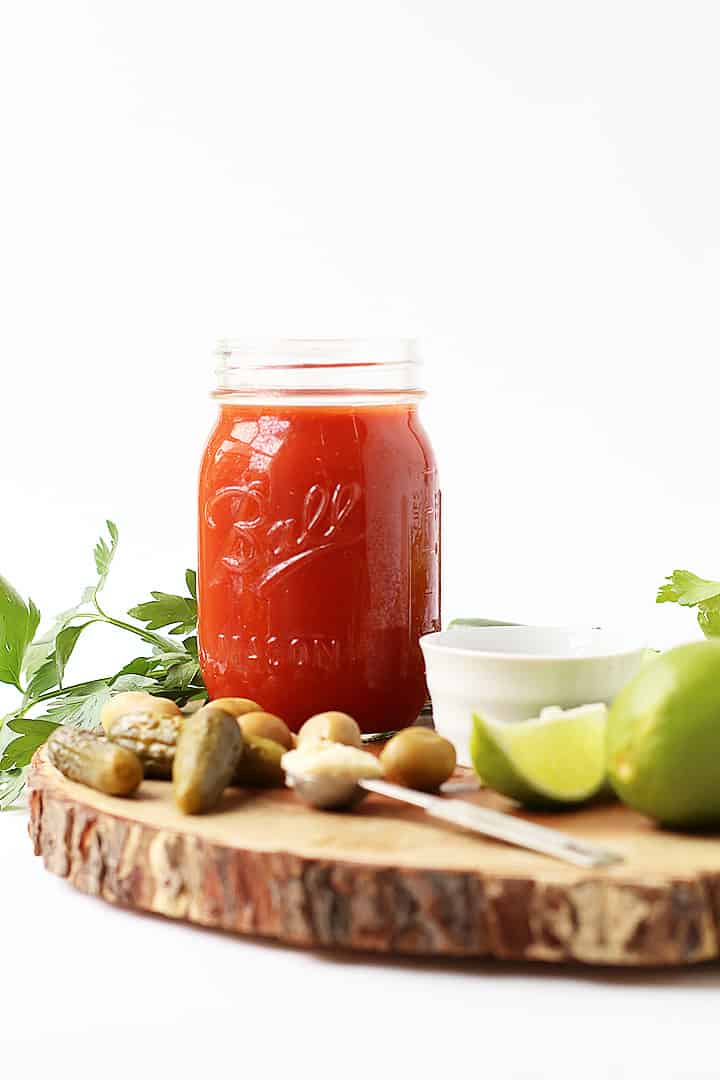 What are these different things we can do with Bloody Mary mix?
First, Bloody Mary mix makes a wonderful gift. Whether you're gifting for a birthday, house warming party, or simply to say, "I appreciate you", package up your homemade mix in a 64 ounce mason jar and give it with love.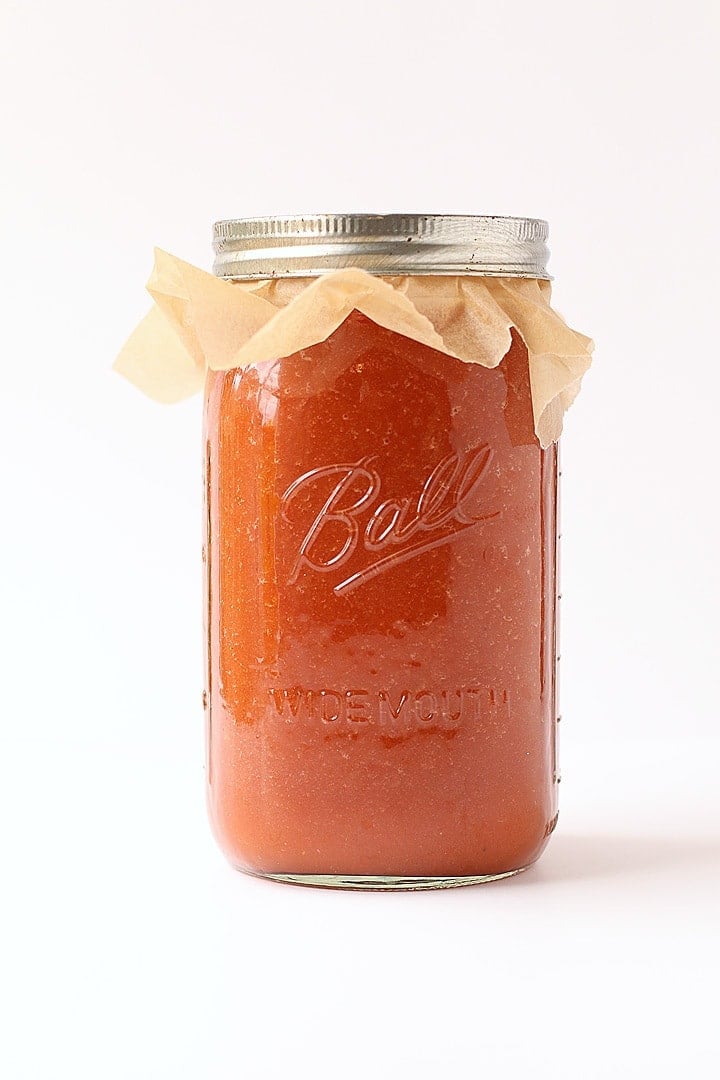 You can also, of course, add a little vodka to your Bloody Mary mix, pour it in a glass, and top it with your favorite garnishes to serve at your next brunch party.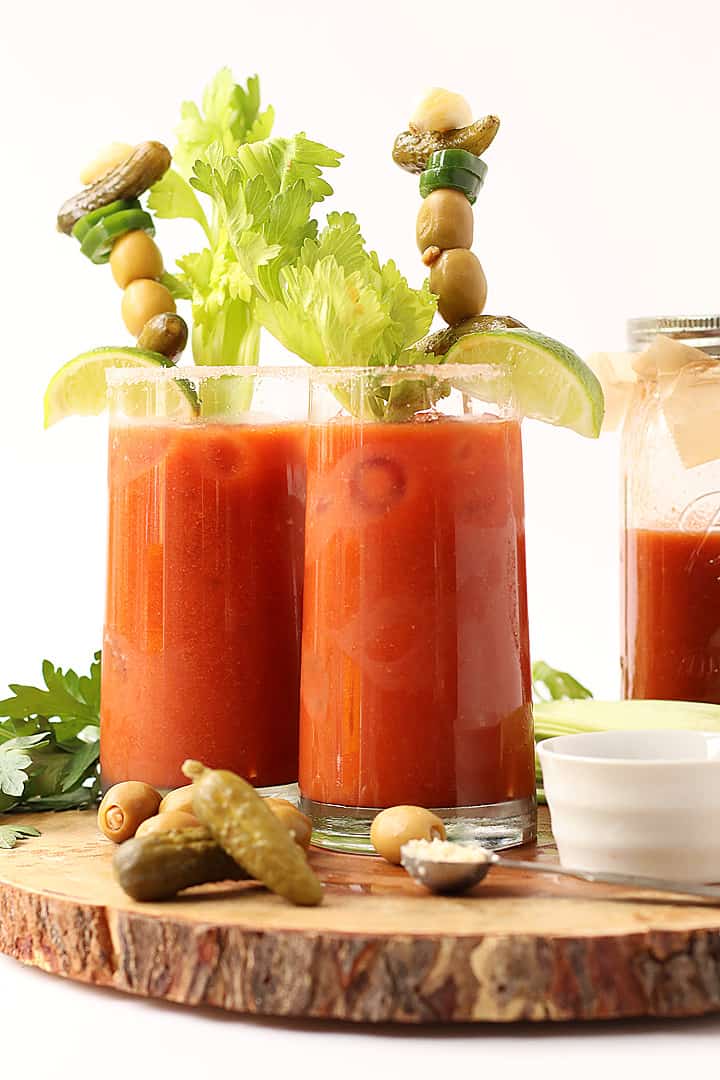 Or omit the vodka and drink this Bloody Mary mix straight for a healthy morning beverage that is packed with essential vitamins and minerals such as Vitamin C, Vitamin B, potassium, and tons of antioxidants. You might even find that your kids enjoy a glass.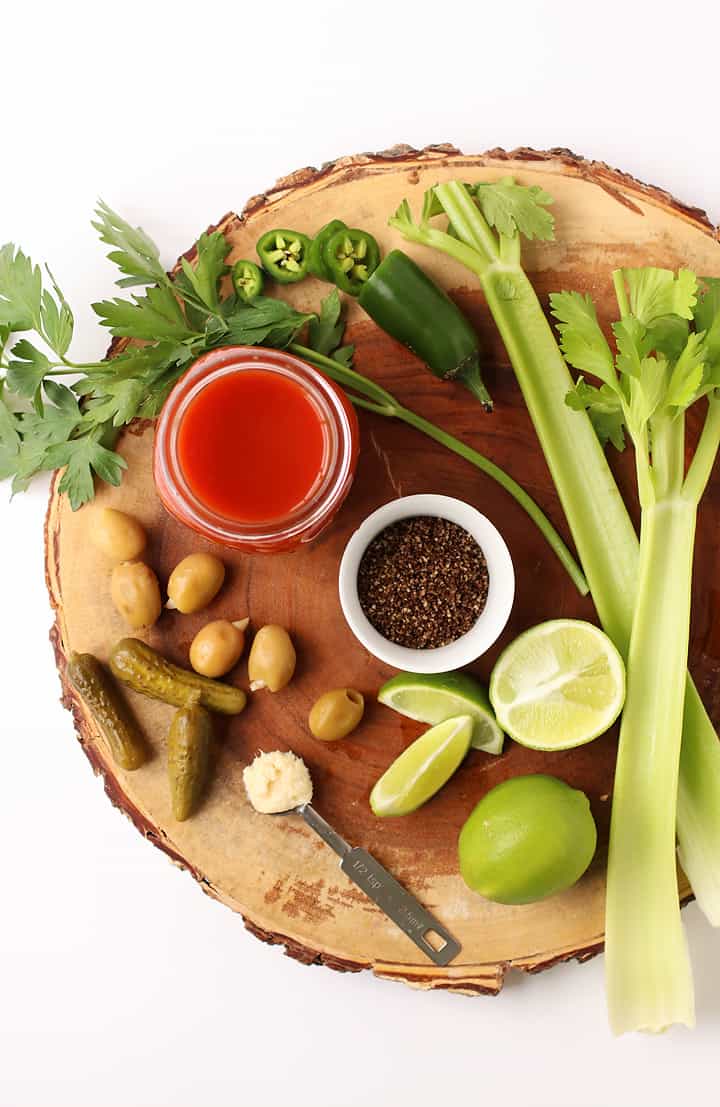 So many things to do!
Whatever you choose to do, I highly recommend you start the second half of summer by planning some upcoming adventures, reciting calming mantras (specifically for parents, like me, with little ones), and mixing up a batch of this Bloody Mary mix to keep in your refrigerator.
You won't regret it.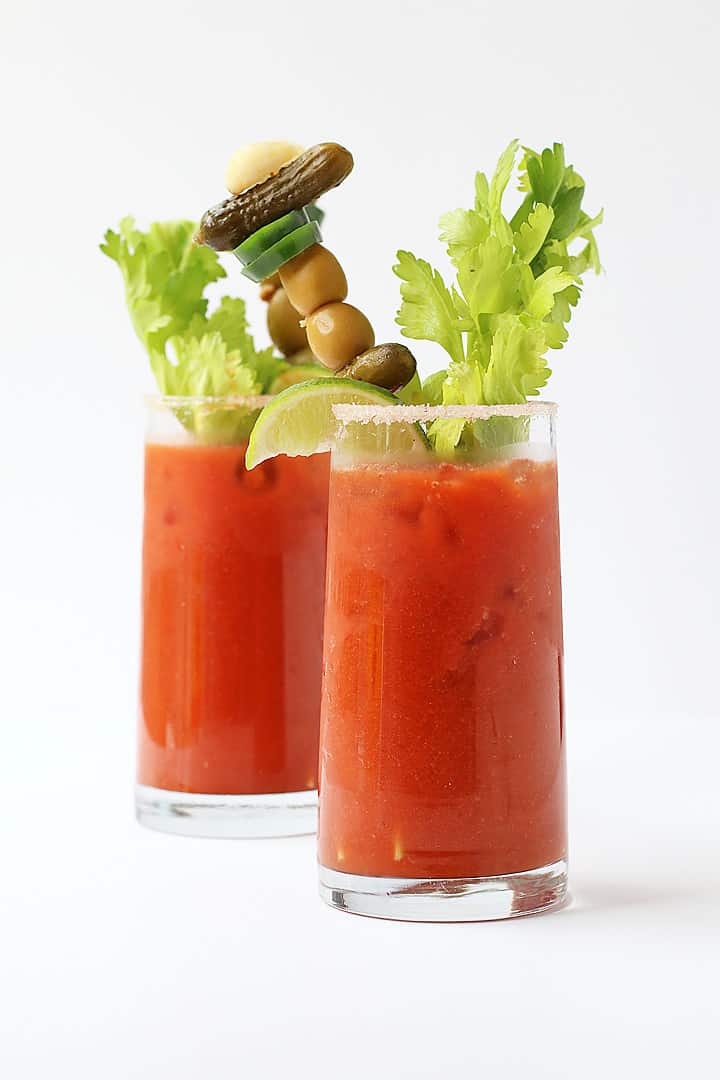 Bloody Mary Mix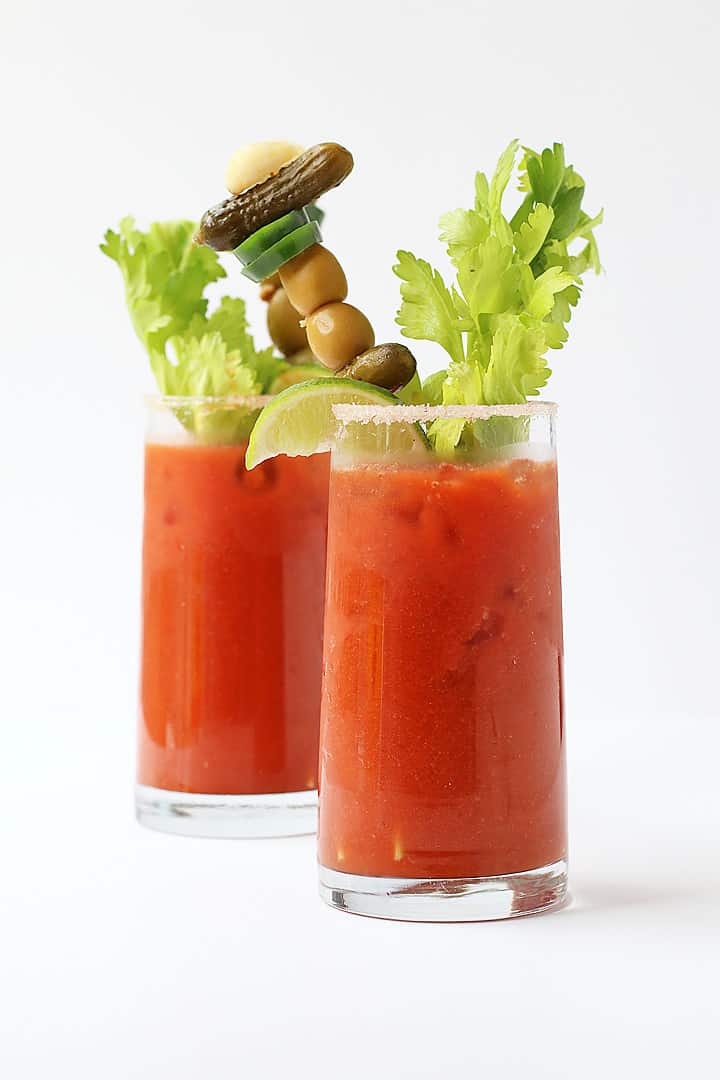 Make your Bloody Mary's from scratch with this homemade Bloody Mary Mix - a combination of sweet and savory to get your morning started off right.
Instructions
In a blender, combine all the ingredient and blend until smooth. Pour into an airtight container, such as a 64 ounce mason jar, cover and refrigerate for at least 2 hours.

To serve, salt the rim of each glass. Fill glasses with ice, 2 ounces of vodka, and top with Bloody Mary Mix. Garnish with pickles, celery, and olives.

Enjoy the mix within 2 weeks.
Nutrition Facts
Bloody Mary Mix
Amount Per Serving
Calories 28
% Daily Value*
Sodium 471mg 20%
Potassium 312mg 9%
Total Carbohydrates 6g 2%
* Percent Daily Values are based on a 2000 calorie diet.
If you give this recipe a try, let us know what you think in the comments below. Or snap a photo and share it on Instagram. Make sure to tag @mydarlingvegan so I can see your creations!