A vegan Pound Cake that is so rich and decadent no one will believe it's vegan. Topped with a lemony glaze for a delightful sweet morning or midday snack.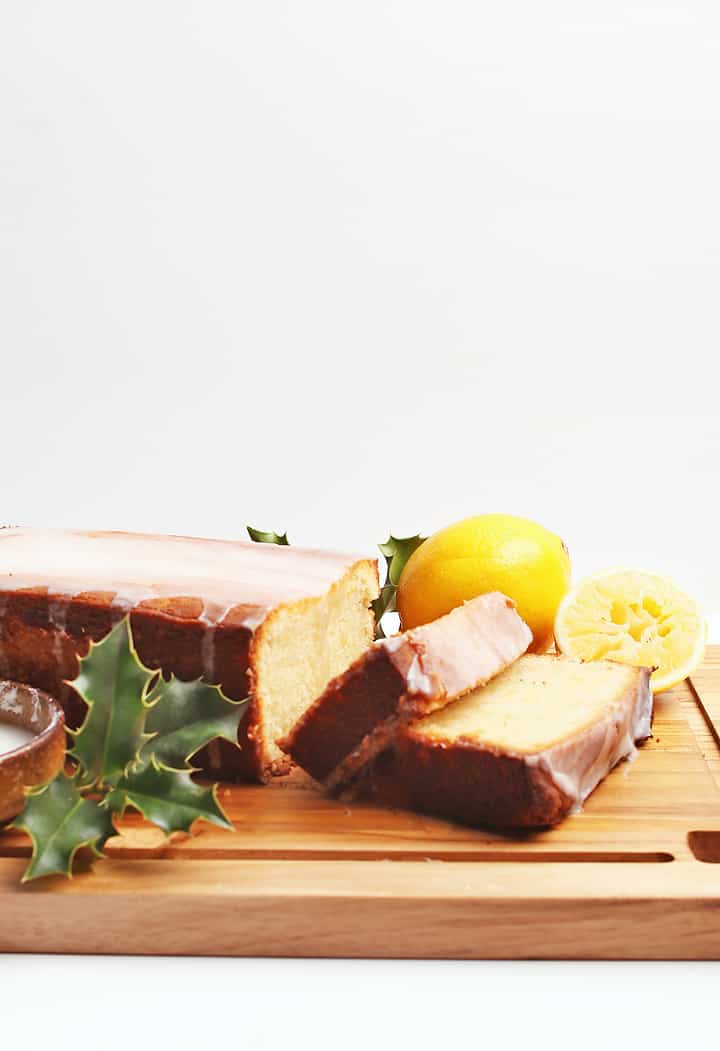 This post contains affiliate links. For more information read my privacy policy.
Christmas is less than a week away!
And that means I've got just 2 more recipes before the end of the year. After that it's time for some 30 day cleansing so before that happens, I must sneak in at least one more decadent recipe this holiday season. And decadence is just what I've got for you. This Vegan Pound Cake is a remake of one of my first recipe for the blog. The original recipe was an Orange Poppy Seed Pound Cake. I have since re-tested and updated the recipe to make it easier, tastier, richer, and overall better.
However, if you came here looking for the Orange Poppy Seed Pound cake, you can still access it here.
But I think you're going to love this new and improved vegan pound cake recipe. I omitted the commercial egg replacers, switched oils, adjusted the leavening agents, and pumped up the flavor so that you get a rich, vibrantly lemon, buttery, decadent vegan pound cake that makes the perfect dessert or snack at the last of your upcoming holiday parties.

MY LATEST VIDEOS
Let's take a closer look.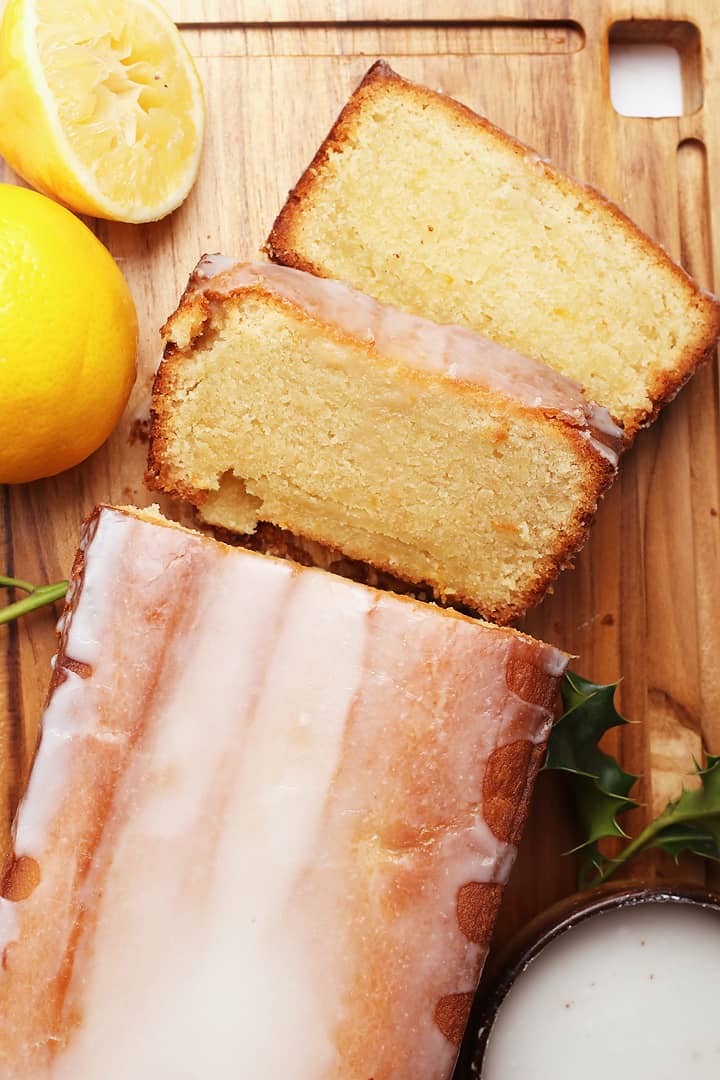 What is a pound cake?
Traditionally pound cake is made from combining equal parts butter, flour, sugar, and eggs. Over time the ingredients in a pound cake have gotten more complex. It is now common to add extracts (such as lemon or vanilla) and/or fruit, swap out some of the butter for sour cream, and even add a few teaspoons of baking powder to make the cake lighter and less dense.
My modern take on a pound cake has made many of these adjustments.
How to make vegan pound cake:
First we need to find the perfect egg replacer.
Since traditional pound cake is made with a pound of eggs, we need to find the best egg replacer for this recipe. Eggs typically work both as a binder and a leavener in pound cake and originally my vegan pound cake relied on commercial egg replacers which I now prefer NOT to use because they a) can be hard to find and b) are made with all kinds of unpronounceable ingredients, and c) can be vastly different from each other, reacting to a recipe differently which leads to too much variation in the end result.
Now my egg replacer of choice for vegan pound cake is a combination of sour cream and baking powder. Together these ingredients works as a binder and leavener the cake is moist and light. Together this combination makes a rich and decadent cake while keeping it light and delightful.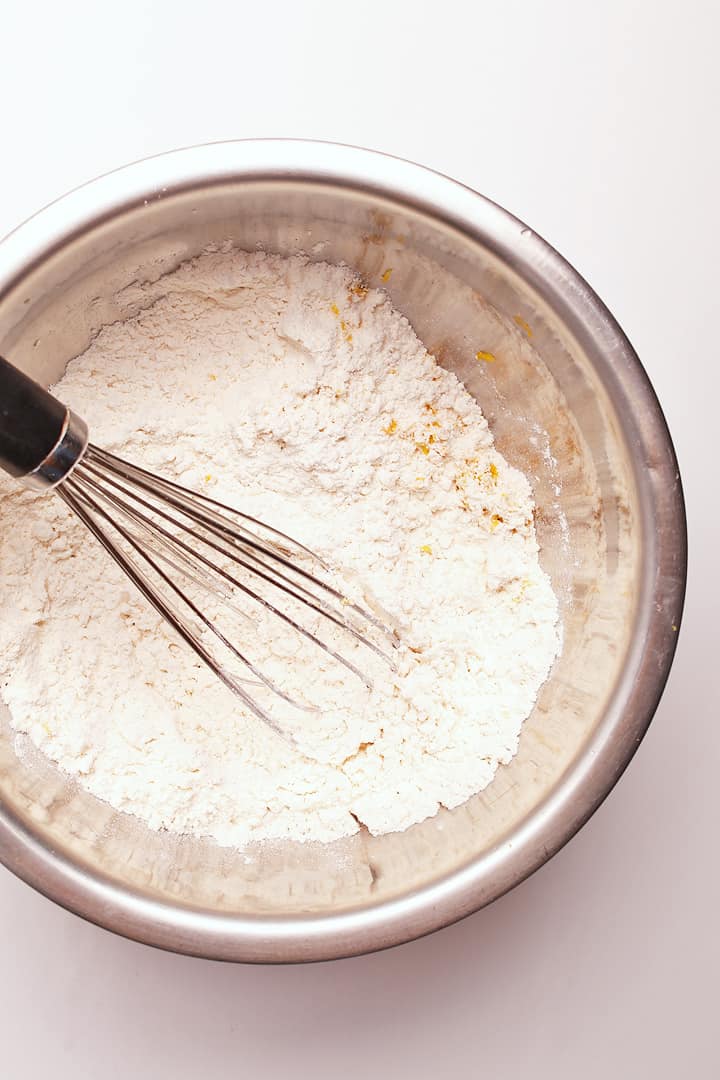 Second we mix together the ingredients.
In one bowl, mix together the dry ingredients. That's the flour, salt, and baking powder. Next, the vegan butter, sugar, and lemon zest get beat in a stand-up mixer.
Let's pause for a moment and talk about Stand-up mixers.
If you don't have a stand-up mixer in your kitchen, I highly recommend one. I have had mine for 15 years. I use in nearly weekly and it's never once given me a problem. It makes baking SO much easier and it comes with so many attachments, I can make meringues, breads, and cakes by flipping a switch.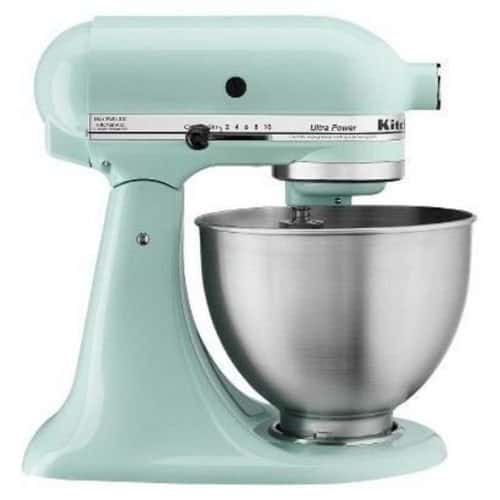 Because it's almost Christmas, now might be the time to add a Stand-Up Mixer to your wishlist. This is the one I use and, like I said, I absolutely love it!
Okay, back to the pound cake.
Once the butter and sugar is beat, we slowly add the sour cream. At this point the batter might curdle a bit and that's okay. It will come back together when the flour is added. Next we are going to finish the cake by alternating the dry and wet ingredients into the batter.
Why alternate wet and dry ingredients?
Good question! By alternating we are making sure the batter stays as tender as possible. By adding all the liquid ingredients first, the butter would start to separate from everything. Yet, adding all the dry ingredients first would cause the batter to get thick and require over-mixing in order for it so even out. And, as we know, over-mixing results in a gummy glutenous texture – not what we're looking for in a pound cake.
So with a lightly mixed batter, we we can pour it into a prepared loaf pan and bake!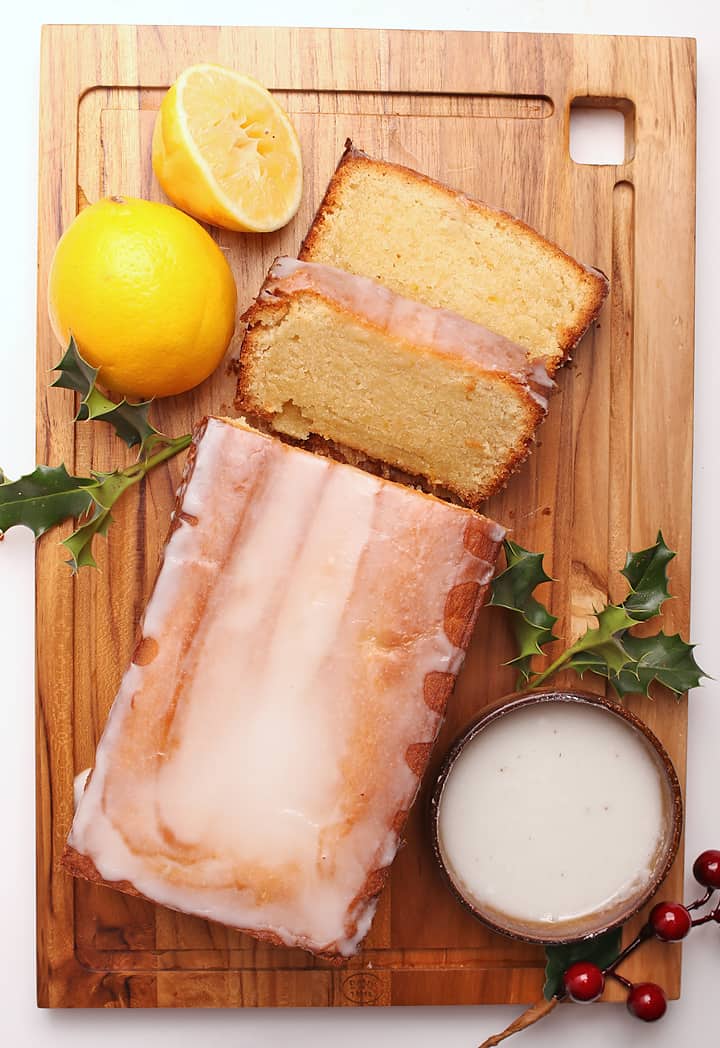 Tips and Tricks for the perfect vegan pound cake
Don't over-mix the batter. By alternating the dries and wets into the batter, we are ensuring the batter does not get over-mixed and gummy
Generously spray your loaf pan. We do not want any of this delicious cake sticking to it's edges
Bake until a toothpick inserted in the middle comes out clean. If the cake starts to get dark around the edges, you can cover it in tin foil to bake the last 10 minutes.
Let the cake cool at least 30 minutes in the loaf pan before turning it onto a wire cooling rack to cool completely. Let the pound cake cool completely before pouring on the glaze. Otherwise the glaze will melt off.
Pound cake can be stored, tightly wrapped, at room temperature. You can also freeze this pound cake for up to 1 month. Take it out the day before to let it thaw.
Want variation? Make my Orange Poppy Seed Pound Cake by swapping out the lemon juice/zest with orange and adding 1 1/2 tbsp of poppy seeds to the dry ingredients
I think that's it! Are you ready to try this vegan pound cake for yourself? Check out the recipe below.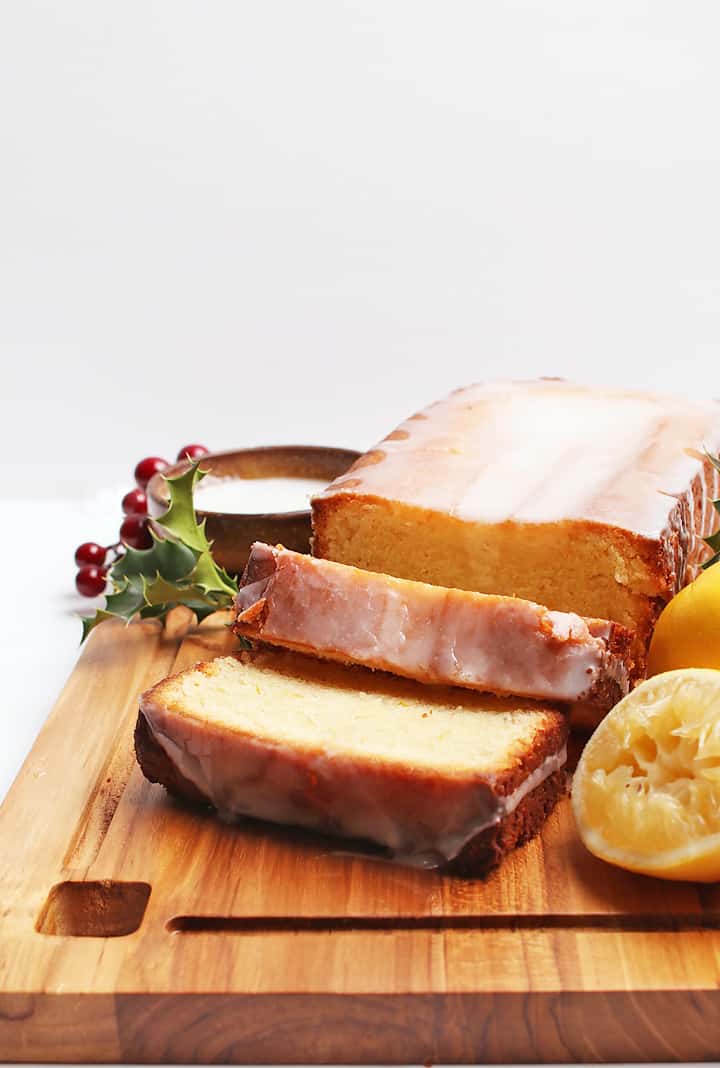 Vegan Pound Cake with Lemon Glaze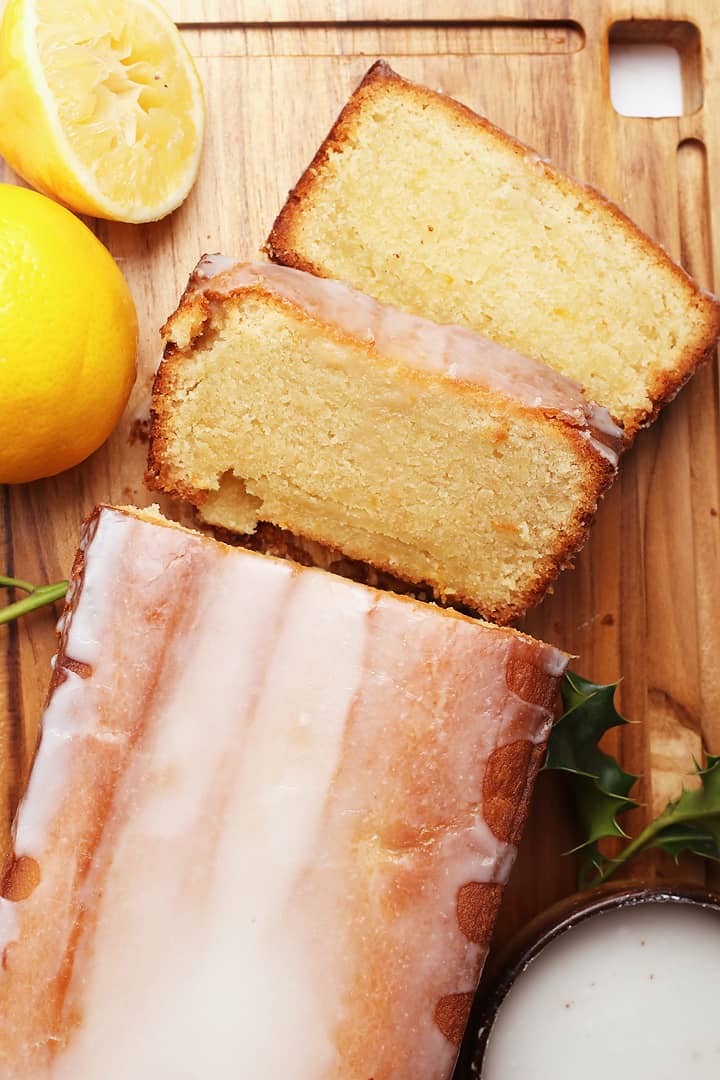 A vegan Pound Cake that is so rich and decadent no one will believe it's vegan. Topped with a lemony glaze for a delightful sweet morning or midday snack.
Keyword:
Orange Pound Cake
Ingredients
Vegan Pound Cake
2

cups

all-purpose flour

1

tbsp

baking powder

1/2

tsp

salt

1/2

cup

vegan butter

1

cup

granulated sugar

1

tbsp.

finely grated lemon zest

3/4

cup

vegan sour cream

2

tbsp.

coconut oil

1

tbsp.

lemon juice
Lemon Glaze
1

cup

powdered sugar

1-2

tbsp

lemon juice
Instructions
Preheat the oven to 350 degrees F. Spray 1 loaf pan and set aside.

In a medium bowl mix together flour, baking powder, and salt. Set aside.

In a

stand up mixer

or an electric handheld mixer, beat together the butter, sugar, and lemon zest until light and fluffy. With the motor running, add vegan sour cream, scraping down the sides as necessary. Mixture will appear to have separated at this point, but it will come back together.

Alternating wets (oil and lemon juice) and dries (flour mixture) add in three batches, scraping down the sides as needed, ending with the flour mixture until it just comes together. Do not over-mix.

Pour batter into prepared loaf pan and smooth top. Bake until cake is golden brown (about 50-55 minutes), and a tooth pick comes out clean when inserted in the middle. Remove from oven and let cool for 30 minutes. Flip out onto wire racks and allow loaf to cool completely.

To make lemon glaze, combine powdered sugar and lemon juice until smooth and pourable. Pour over cooled loaf pan. Glaze will harden as it cools. Keep at room temperature, tightly wrapped, for up to 3 days.
Nutrition Facts
Vegan Pound Cake with Lemon Glaze
Amount Per Serving
Calories 296
Calories from Fat 99
% Daily Value*
Total Fat 11g 17%
Sodium 230mg 10%
Potassium 123mg 4%
Total Carbohydrates 47g 16%
Protein 2g 4%
* Percent Daily Values are based on a 2000 calorie diet.
If you give this recipe a try, let us know what you think in the comments below. Or snap a photo and share it on Instagram. Make sure to tag @mydarlingvegan so I can see your creations!