Vegan Cranberry Orange Scones
Wake up this Christmas morning with these delightfully sweet and tart Vegan Cranberry Orange Scones topped with Orange Glaze. So good; you won't believe they are vegan!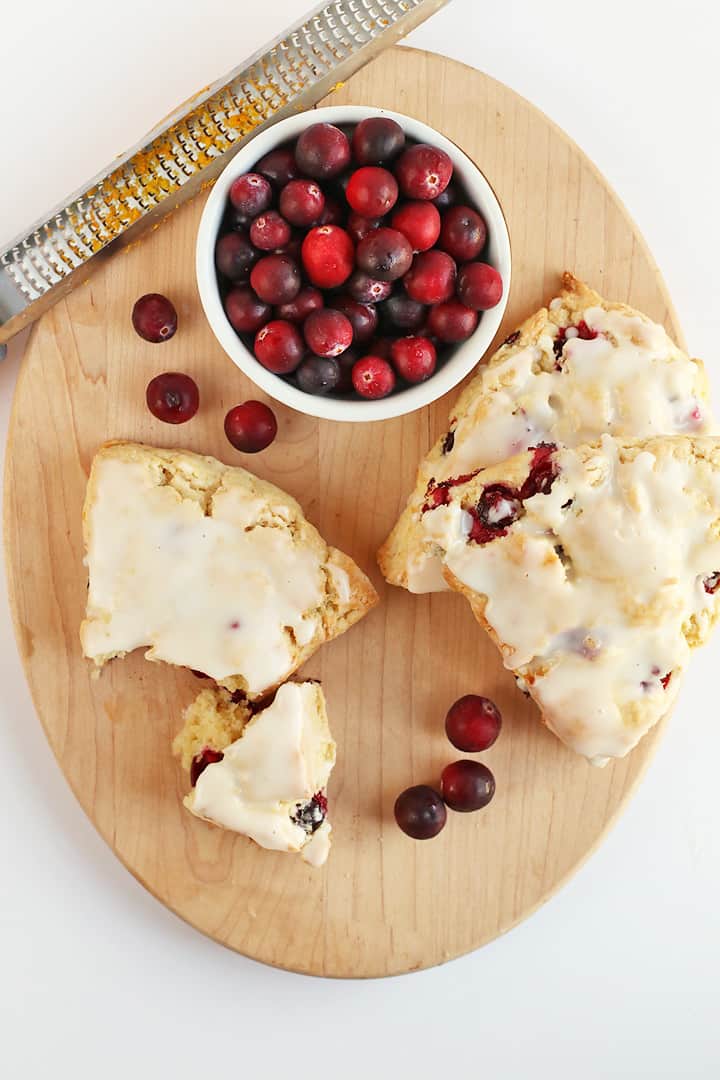 This post contains affiliate links. For more information read my privacy policy.
Happy Monday, friends!
Last weekend was a festive one. It started off on Friday with a trip to the theater to watch a Christmas-themed play with a friend. On Saturday I continued the tradition of decorating the Christmas tree with my kids. My parents came into help (and by help I mean bringing me a tree so I didn't have to figure out how to fit one in my small car without a roof rack). We listened to Christmas music, ate cookies, and put lights and ornaments around the tree.
The next day, I dropped Eden off at a birthday party and spent the afternoon doing a little Christmas shopping with Nash. We ended the weekend snuggling up with Christmas movies and popcorn.
It was wonderful weekend.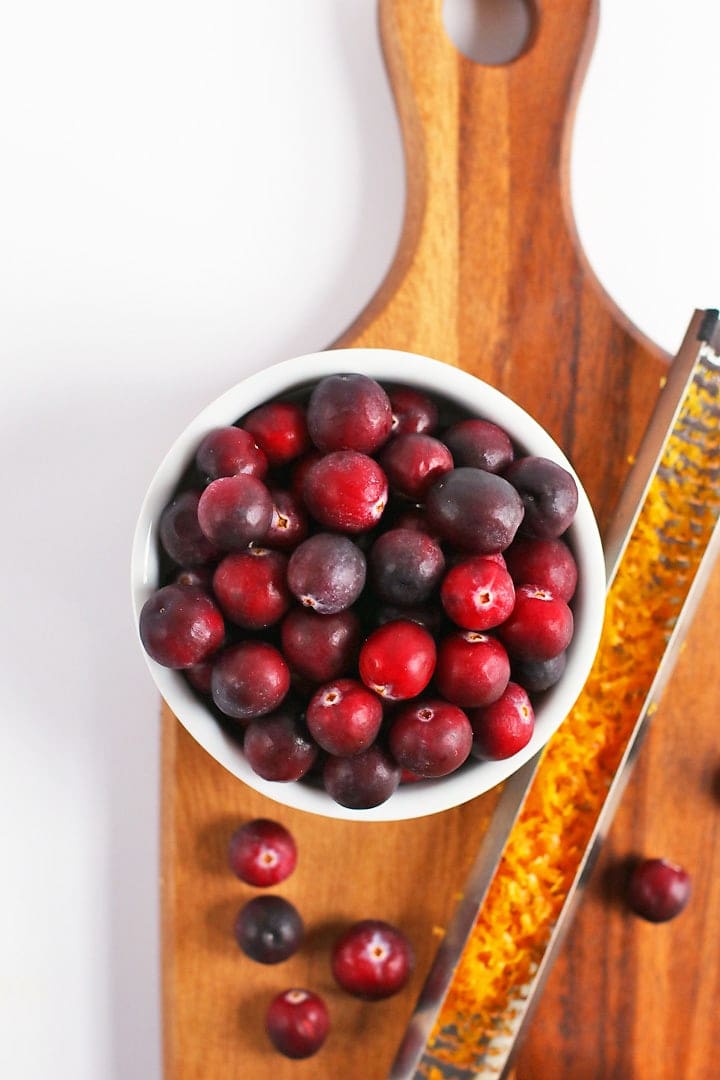 Today, I'm keeping up the holiday spirit by sharing a new recipe with you. These Vegan Cranberry Orange Scones are a delicious pastry for this season and might just be the perfect way to wake up on Christmas morning.
Like many of my scone recipes on the blog, I made these cranberry orange scones for years when I worked as a professional baker. Every year, around this time, we would start making an Orange Cranberry Scone. For weeks it became one of the most popular items we sold. Up in the bakery's kitchen, I would make batches upon batches of them but, since it was a non-vegan bakery, I never got to experience the Christmas scone everyone seemed to love so much.
This year I decided it was time to give it a try. So I made my own vegan version and…
It was delicious!
Ingredients for vegan scones
The key to a perfect scone is finding that perfect buttery and flaky texture without making it too dry. To do this, we must choose our vegan ingredients carefully.
Butter – Using high-quality vegan butter is a must. The butter must not melt too quickly in the oven (like many kinds of margarine do) while having a sweet buttery taste. The two butter alternatives I recommend are Earth Balance Buttery Sticks or Miyoko's Cultured Butter. 
Cream – Most traditional scone recipes use cream to give the scone its rich flavor. Non-dairy milk simply won't replace the fat and creaminess in the same way. For that reason, I use canned lite coconut milk. It is thick, rich, and adds a nice subtle flavor to these blueberry scones. However, if you can't eat coconut, I recommend using a quality unsweetened non-dairy creamer rather than milk.
Eggs – When it comes to replacing eggs, I suggest using chickpea flour. Because of its high protein content, chickpea flour gives the scones structure without being too crumbly. It also is completely flavorless meaning it won't affect the taste of the scones itself (unlike some other vegan egg replacers).
Can regular flour be swapped for chickpea flour?
Every time I post a recipe that calls for chickpea flour, I inevitably get the question if regular flour can work instead. In most cases, it can't. Chickpea flour is uniquely dense in protein and works as an egg replacer in a way that all-purpose flour cannot. You should be able to find chickpea flour at your grocery store – look in the bulk or alternative flours section. If you can't find it, you can always pick it up online.
Now that we have our ingredients, let's take a look at this recipe.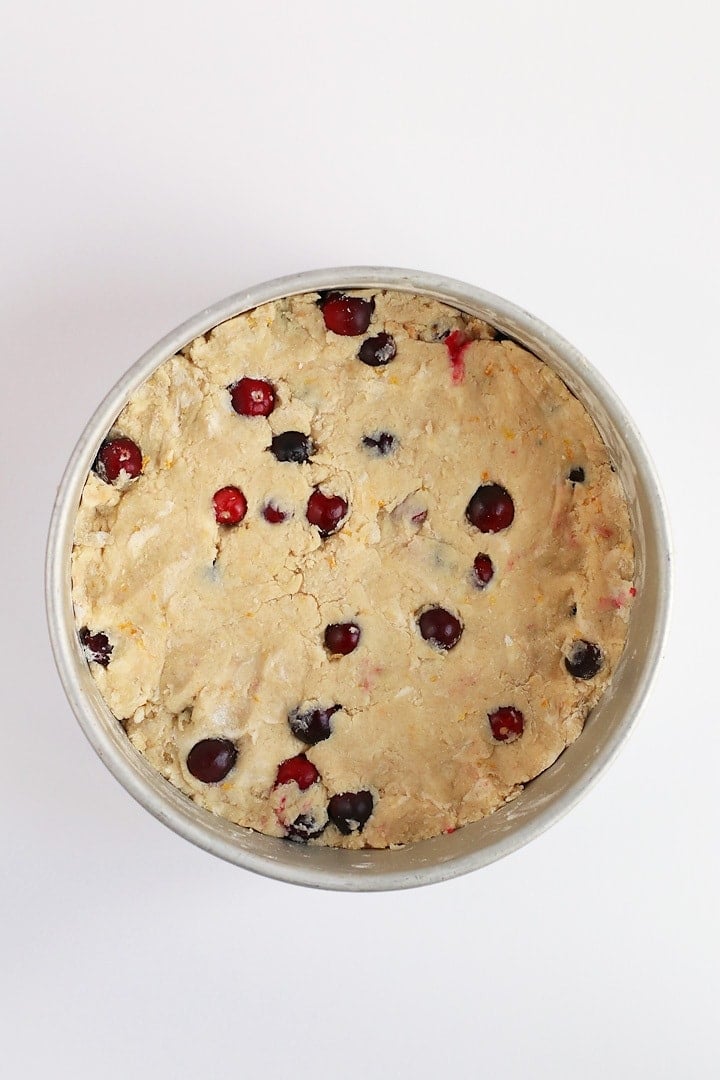 How to make vegan scones
Like most of my recipes, this vegan scone recipe is super simple to make! It's a matter of mixing, shaping, and baking.
Step one – Combine the dry ingredients
The first step in making your Cranberry Orange Scones is combining the dry ingredients together in a large bowl. I also add my orange zest at this point to ensure that it is thoroughly mixed throughout.
Once your dry ingredients are well combined, cut in the vegan butter. You can use a pastry cutter or your fingers to spread the butter throughout the flour mixture so that it resembles a fine crumb.
Step two – Add the wet ingredients
In a separate bowl combine your vegan cream and chickpea flour, whisking vigorously until the chickpea flour is dissolved. It should be a thick egg-like consistency. Add the vanilla extra and combine the wet ingredients with the dry.
The dough will be kind of dry. This is necessary for getting a flaky pastry. Work the dough with your fingers until it is evenly hydrated. Only add more liquid if it feels like it's not sticking together when pressed between your fingers.
Step three – bake the scones
Stir in the cranberries to the dough and transfer it to a floured 8″ cake pan. I learned this step in my many years as a baker. By pressing it into a cake pan you ensure a perfect circle. More importantly, this step allows you to press the dough together so that it holds together better in the oven.
Once the dough is evenly pressed into the pan, turn it out onto a floured surface and cut it into 8 equal pieces. Place the cranberry orange scones on a parchment-lined baking sheet. Brush them with extra vegan cream or non-dairy milk and bake for about 20 minutes, until they are golden brown and flaky.
Once they are out of the oven, top them with lemon glaze and serve.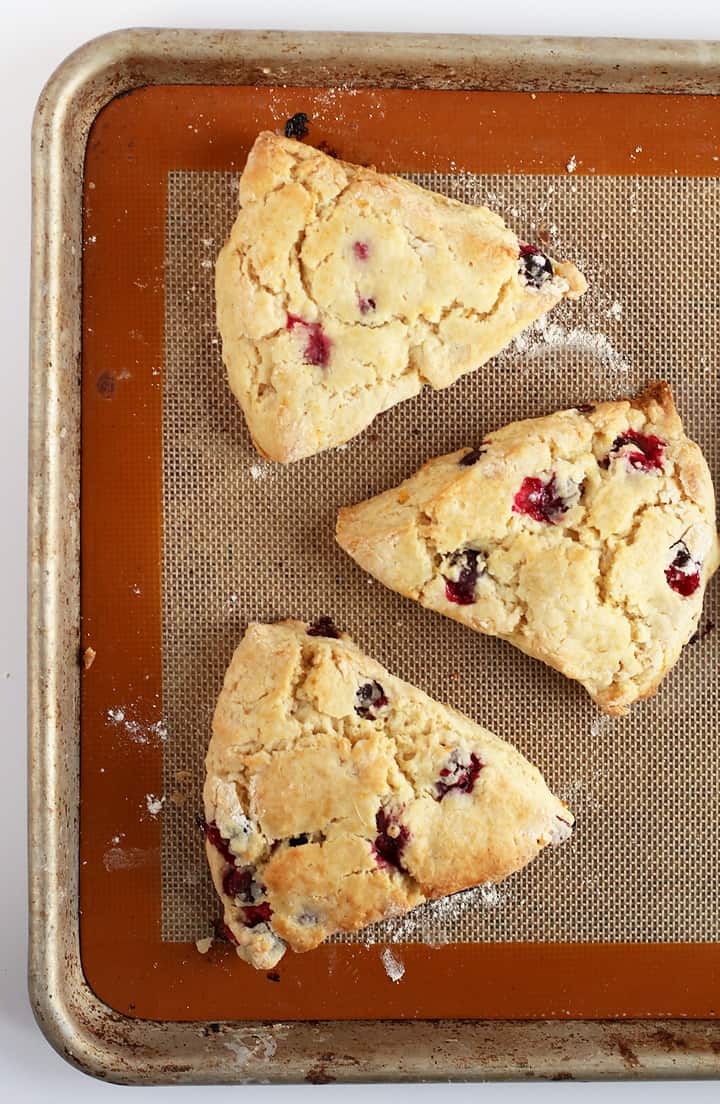 Tips for making the perfect vegan scones
I use vegan creamer rather than non-dairy milk for a richer pastry. For those of you who don't typically buy vegan creamer, my creamer of choice is Wildwood Soy Creamer. It's not sweet like other vegan creamers tend to be and I have had many people agree with me that it's the best on the market. But if you already have a favorite vegan creamer, follow your heart!
I also use chickpea flour for this recipe. This serves as a binder (aka egg replacer). Chickpea flour has a strong flavor when raw (do not try the dough!) but it bakes perfectly as a protein-rich egg-like binder that creates the perfect crumb for this scone. I highly recommend picking some up. If you'd rather not, you can check out my guide for vegan egg replacers for other ideas.
I prefer using fresh cranberries as frozen ones can sometimes bleed into the dough and make it turn pinkish. However, if you are making these off-season, frozen ones will work just fine. I've also seen recipes using dried cranberries rather than fresh. They tend to be a bit sweeter and might be the way to go if you want something a little less tart.
Follow these simple guidelines and you'll find yourself with a beautiful golden brown scones, crispy on the outside and flaky in the middle, just like a scone should be.
Serving and storing vegan scones
These scones can be served immediately with some Christmas Sangria or a Chai Tea Latte. Uneaten scones can be stored in an airtight container at room temperature for up to 5 days. You can also store unbaked scones in the freezer for up to 2 months. When ready to bake, bake them following the instructions below.
More vegan scone recipes
Do you love vegan scones as much as I do? Check out some of my other favorite vegan scone recipes below.
But before you go, let's take a look at the recipe below.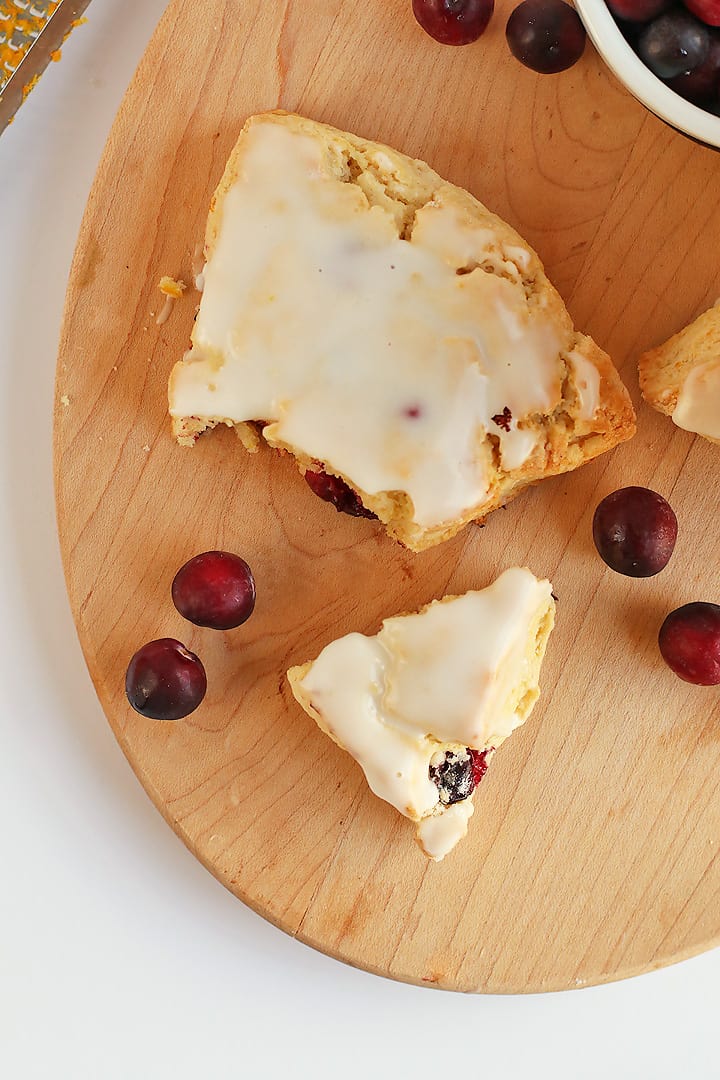 Vegan Cranberry Orange Scones
Wake up this Christmas morning with these delightfully sweet and tart Vegan Cranberry Orange Scones topped with Orange Glaze.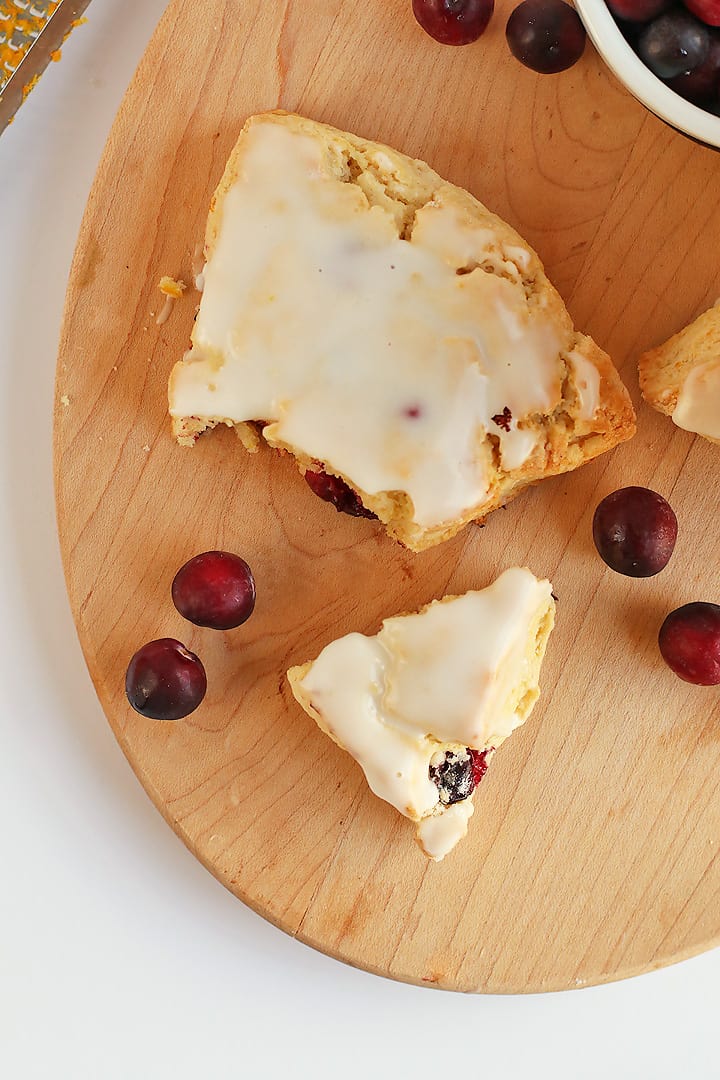 Course:
Breakfast, Snack
Cuisine:
French, American
Keyword:
Cranberry Orange Scones
Servings
:
8
people
Calories
: 334 kcal
Author
:
Sarah McMinn
Ingredients
Cranberry Orange Scones
2

cups

all-purpose flour, plus more for flouring surfaces

1/2

cup

granulated sugar

1

tbsp baking powder

1/2

tsp salt

1/2

cup

vegan butter, I use Earth Balance
zest of one large orange

3/4

cup

vegan creamer, plus more for brushing

3

tbsp chickpea flour

1

tsp vanilla extract

1

cup

fresh cranberries
Orange Glaze
1

cup

powdered sugar

2-3

tbsp fresh orange juice, as needed
Instructions
Preheat the oven to 425. Line a baking sheet with parchment paper or silicone baking mat and set aside.

In a small bowl combine flour, sugar, baking powder, salt, and orange zest.

Cut butter into small pieces and add it to the dry ingredients. Mix in with a pastry cutter or your fingers until a fine crumb has formed.

In a small bowl or liquid measuring cup combine creamer and chickpea flour, stirring vigorously until chickpea flour has completely dissolved. Stir in vanilla extract. Add wet ingredients to the dry ingredients, stirring to combine.

With a wooden spoon or your hands, fold in the cranberries.

Flour the bottom of an 8" cake pan and press dough evenly into the pan to shape. Flip onto a floured surface and cut into 8 equal pieces. Place scones on prepared baking sheet. Brush with a light layer of creamer and bake for 20-25 minutes until tops are golden brown.

While scones are baking combine ingredients for glaze, adding juice slowly to the powdered sugar until desired consistency is reached. It should be slightly thick but thin enough to easily dip scones into the glaze.

Remove scones from oven, let cool for 10 minutes, then dip tops in glaze before letting cool completely. Serve or store in an airtight container for up to 5 days.
Nutrition Facts
Vegan Cranberry Orange Scones
Amount Per Serving
Calories 334
Calories from Fat 90
% Daily Value*
Fat 10g15%
Sodium 252mg11%
Potassium 259mg7%
Carbohydrates 56g19%
Protein 4g8%
Vitamin A 645IU13%
Vitamin C 5.4mg7%
Calcium 103mg10%
Iron 1.9mg11%
* Percent Daily Values are based on a 2000 calorie diet.
If you give this recipe recipe a try, snap a photo and share it on Instagram. Make sure to tag
@mydarlingvegan
so I can see your creations!