Just because you're vegan, doesn't mean you have to miss out on a good taco! Here are some of my favorite vegan taco recipes. From classics like Baja "Fish" Tacos to new favorites like Buffalo Jackfruit, there is something for everyone.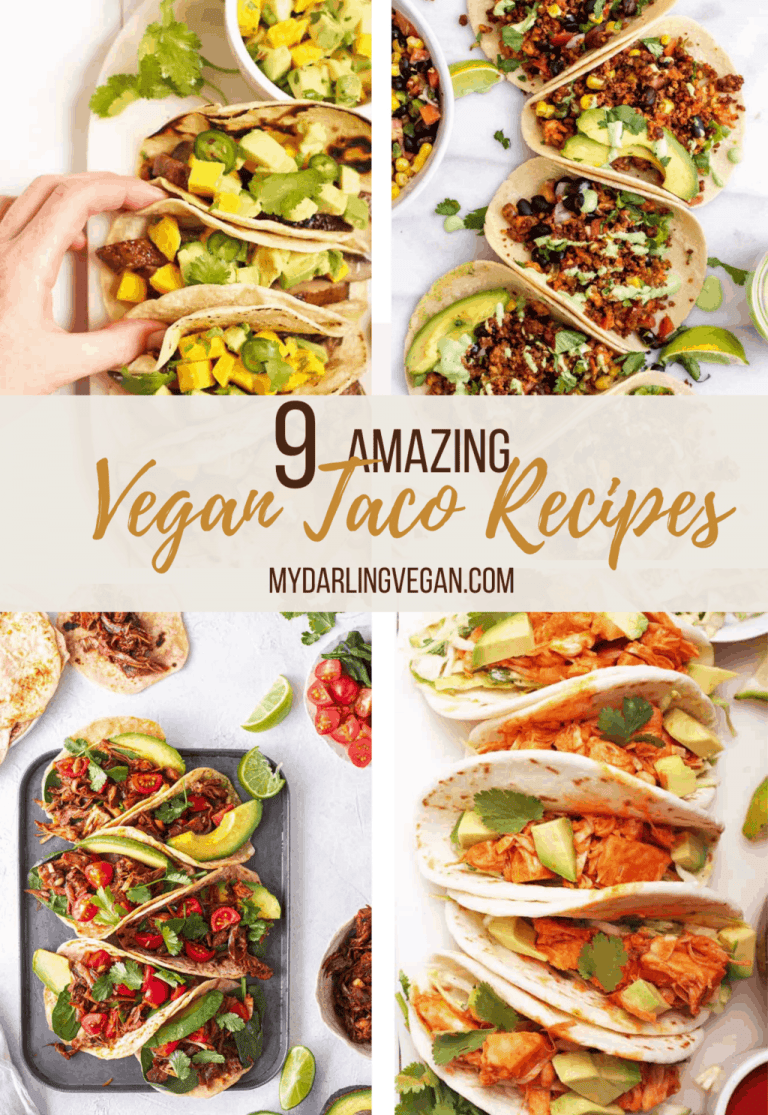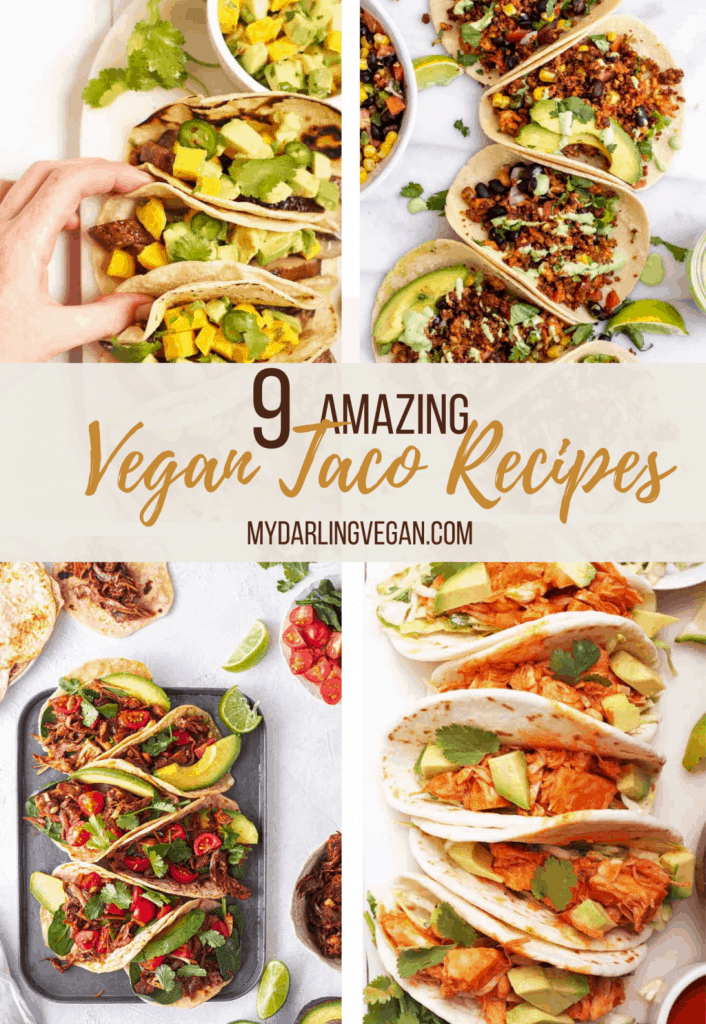 Disclosure: This post may contain affiliate links.
It's Vegan Taco Time, my friends!
At our house, we have Taco Tuesday every week. We all love Taco Tuesday and secretly (or not so secretly) I wish we could have tacos every night of the week. Most weeks we do fairly traditional tacos with Beefless Ground Beef from Trader Joes, beans, tomatoes, etc.
But every once in a while we step up our taco game and offer something truly special. Here are 9 of my favorite vegan taco recipes from around the internet. Most of them are gluten free or can easily be made gluten free and all of them are 100% delicious!
---
Frequently Asked Questions
What kind of taco shell should I use?
All of these recipes will have recommended taco shells however, you can feel free to use corn and flour interchangeably. While some recipes may be better suited for one type, feel free to adjust for your diet.
What kind of vegan cheese should I use?
Many of my favorite taco recipes skip the cheese altogether by supplementing with a deliciously creamy sauce. You will also find recipes that use homemade cheese or cheese sauce.

If you want to add vegan cheese to any of these recipes or are looking for ways to veganize your own favorite recipes, I recommend using either Follow Your Heart or Violife shreds. Also, make sure to check out my Complete Guide to Vegan Cheese for more ideas.
What is jackfruit?
Several of these recipes call for jackfruit. For those of you who are unfamiliar, jackfruit is a large green tropical fruit that, when green, has very little flavor. The stringy texture, however, is similar to that of chicken or pulled pork, making it one of the most popular whole food vegan meat substitutes.

While some people buy jackfruit whole, I find getting it canned is the most convenient way to introduce jackfruit into your recipes.
---
Vegan Taco Recipes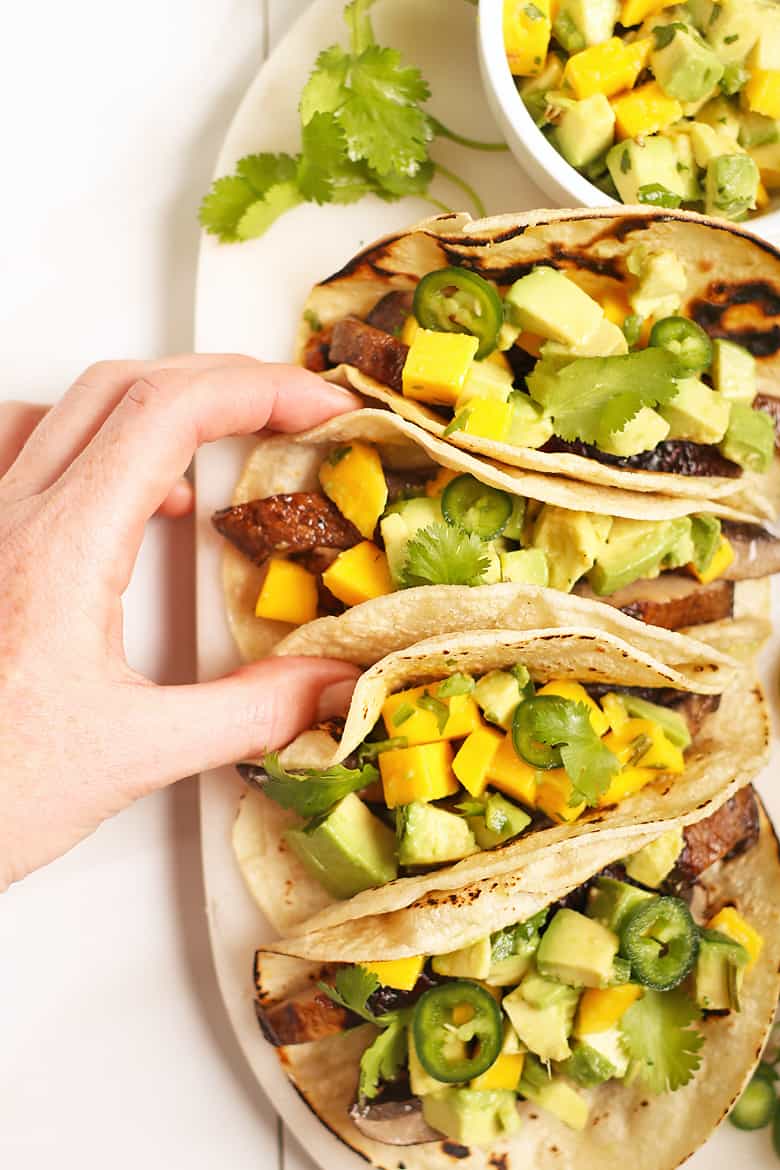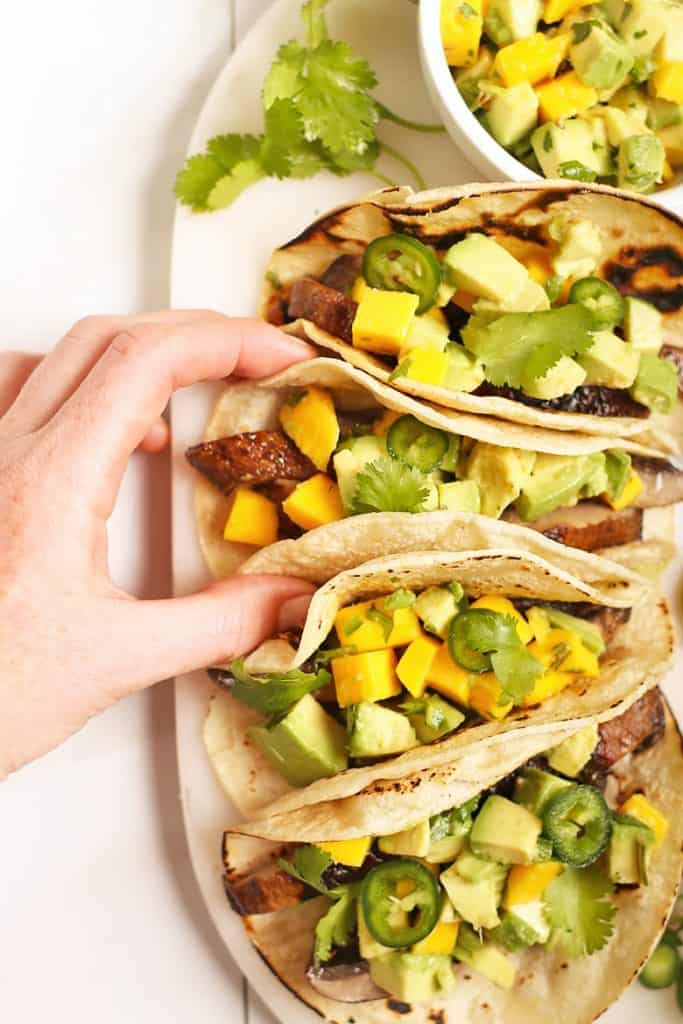 Mushroom Tacos with Mango Avocado Salsa
Lighten up with these mushroom tacos. Made with grilled portobello steaks and avocado mango salsa, these vegan and gluten-free tacos are the perfect light meal.
Recipe »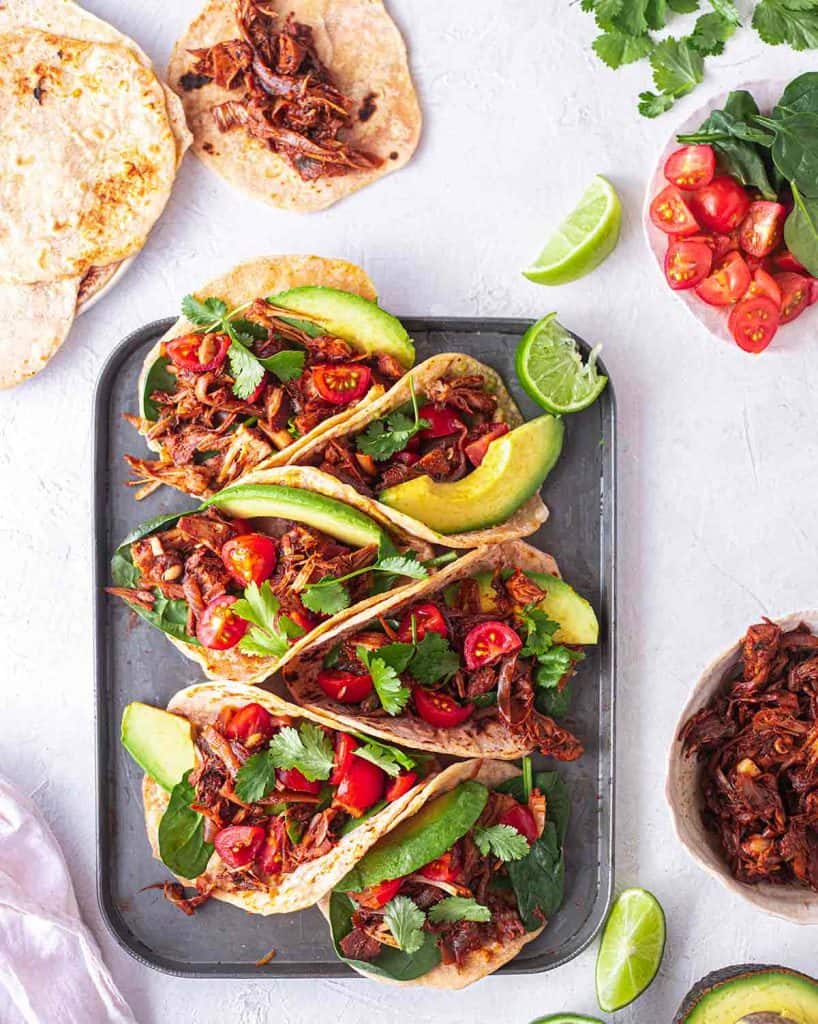 BBQ Jackfruit Tacos
Photo Credit Rainbow Nourishment
Saucy BBQ Jackfruit Tacos! These simply vegan tacos are filled with smoky BBQ jackfruit and topped with fresh tomatoes and avocado for an easy weeknight meal. Make your own homemade tortillas for the freshest possible flavor!
Recipe »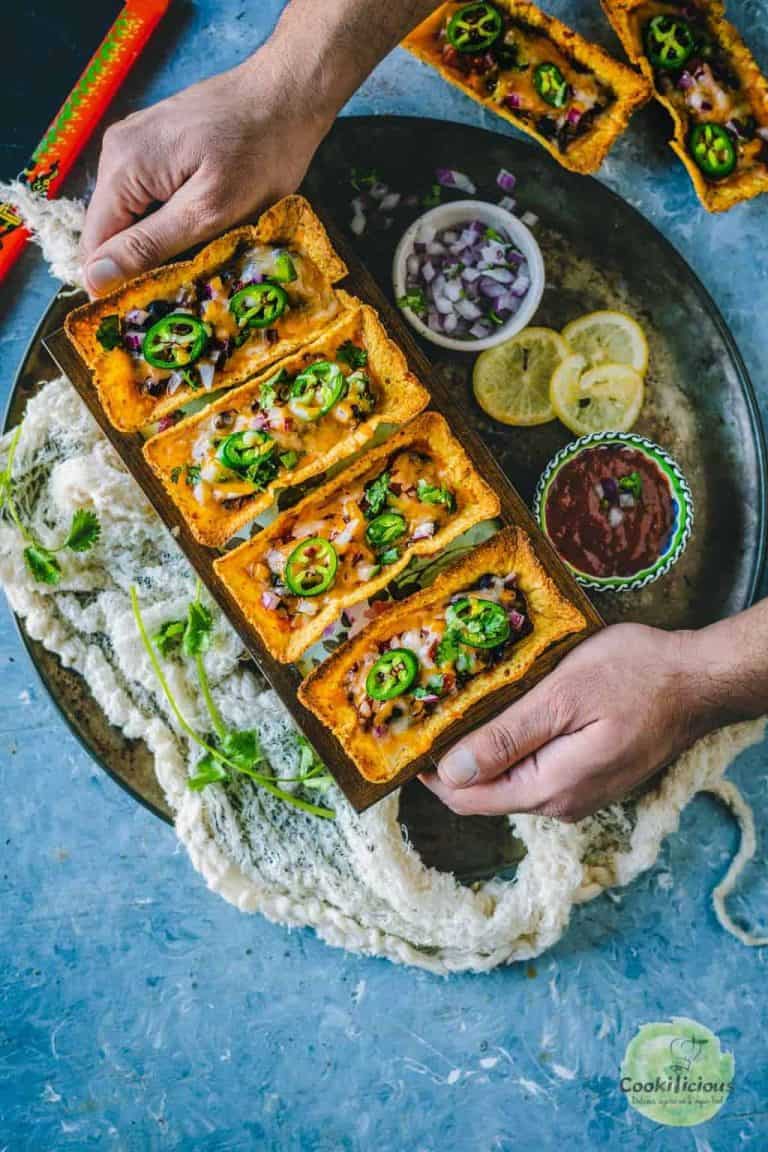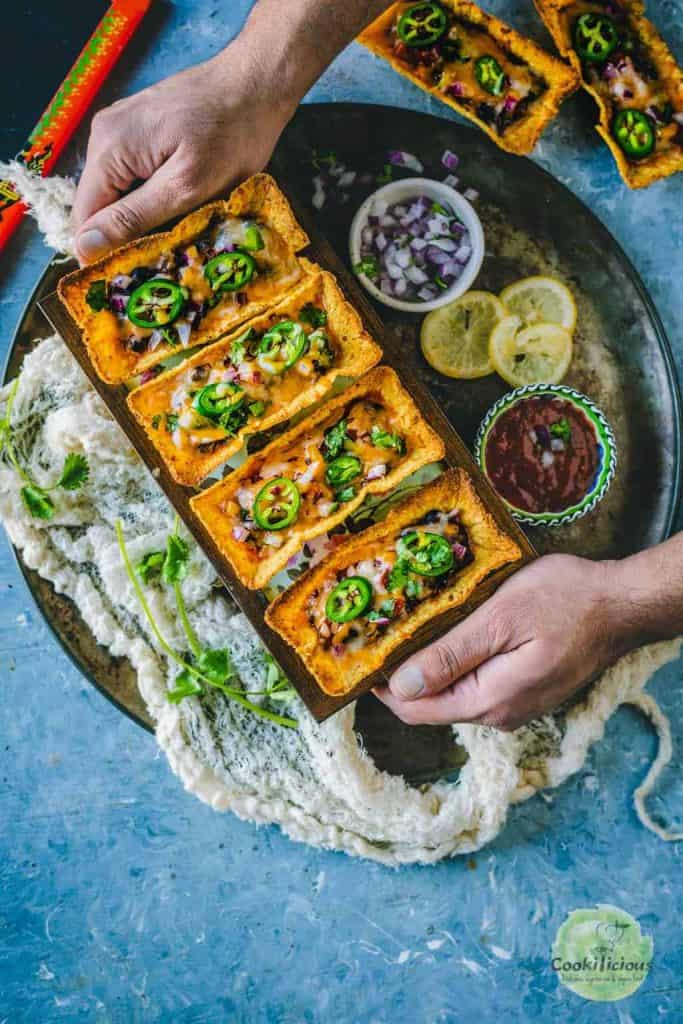 Instant Pot Black Bean Taco Boats
Photo Credit: Cookilicious
These vegan taco boats are a fun twist on taco night that everyone is going to love. These black bean tacos are easy, delicious, packed with flavor, and oh so satisfying for a delicious vegan and gluten-free meal.
Recipe »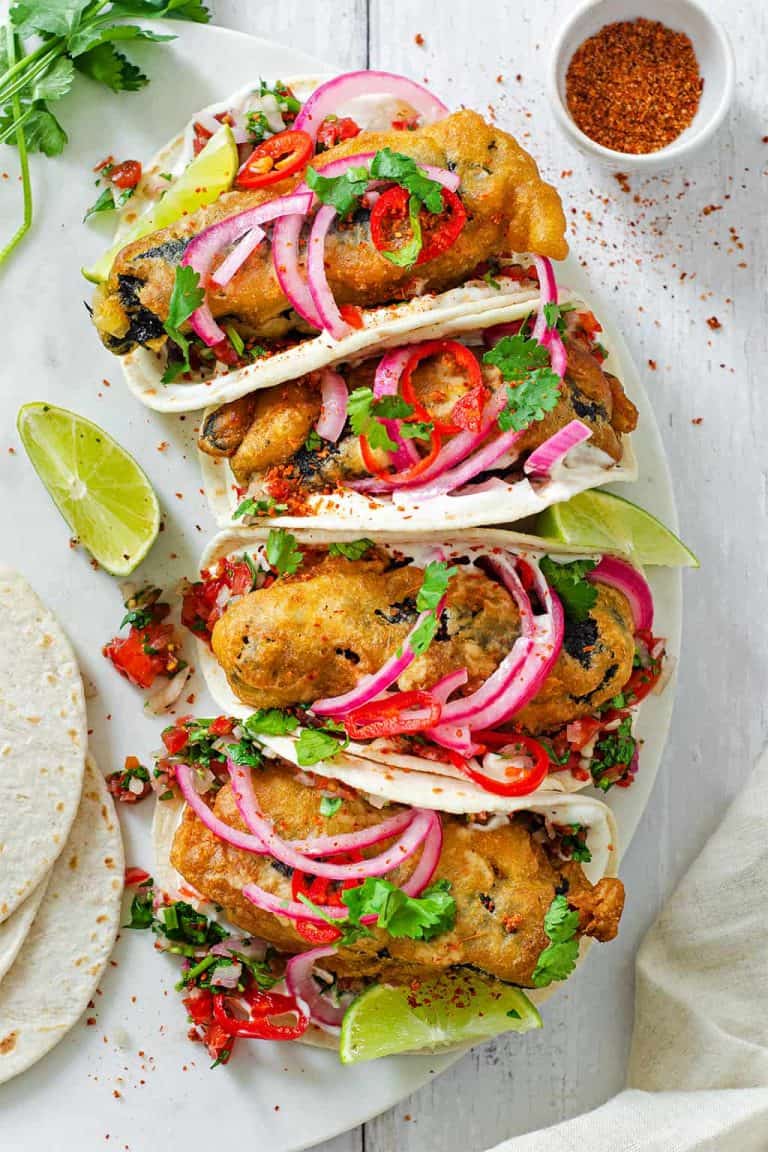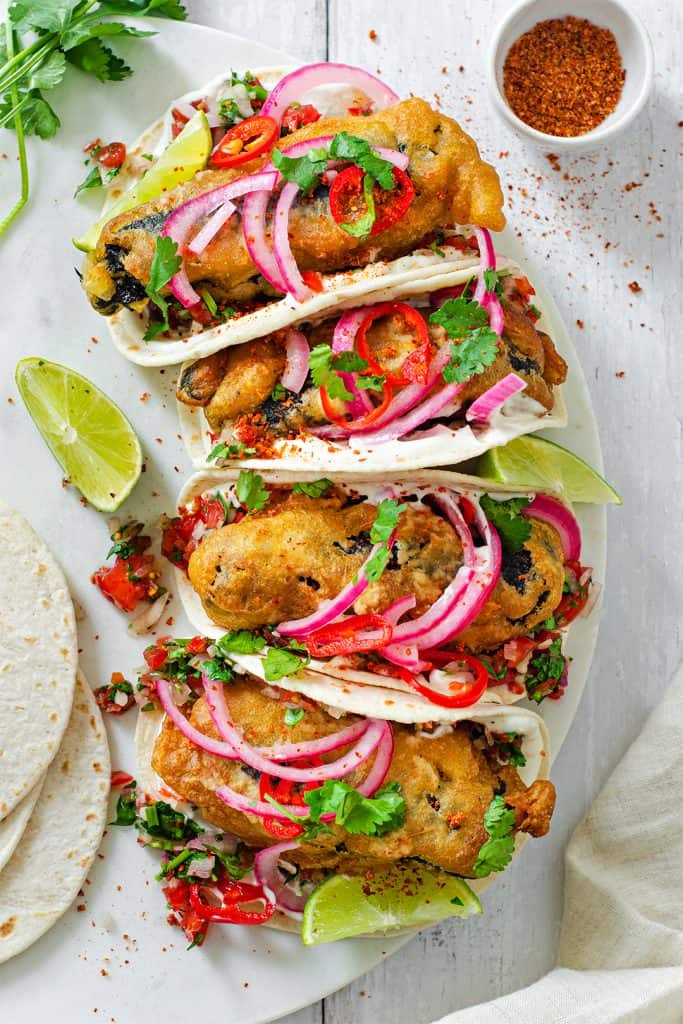 Vegan Baja "Fish" Taocs
Photo Credit: Lovely Jubley
These Vegan Baja "Fish" Tacos use breaded and fried banana blossom. Serve it with homemade vegan sour cream and pico de gallo for a classic taco...veganized.
Recipe »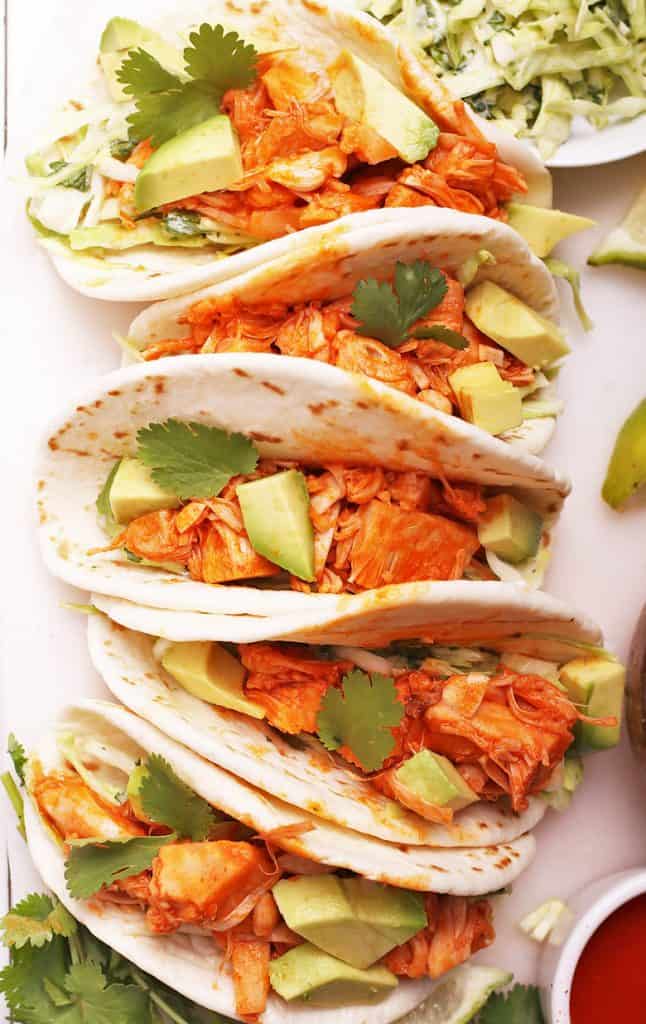 Vegan Tacos with Buffalo Jackfruit and Cilantro Cabbage Slaw
Lighten up with these incredible vegan tacos. Made with buffalo jackfruit, cilantro cabbage slaw, and fresh avocado, these tacos are something to get excited about! Made in just 20 minutes for an easy and delicious vegan meal.
Recipe »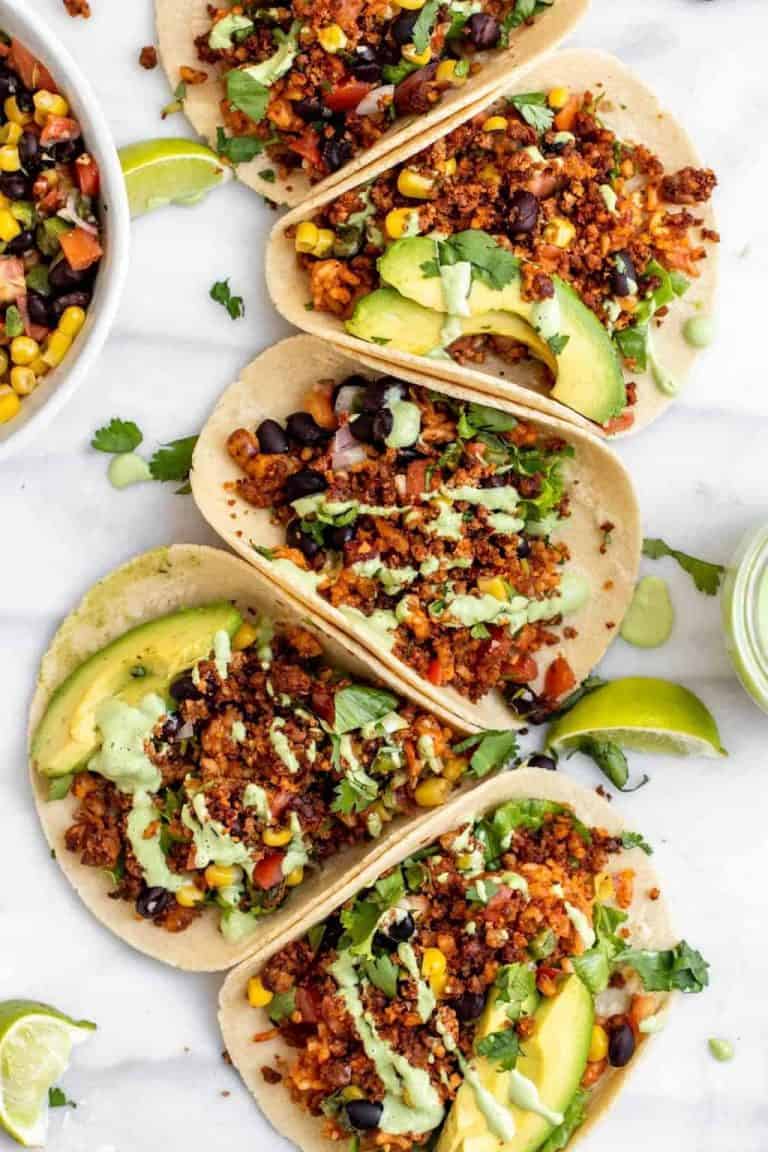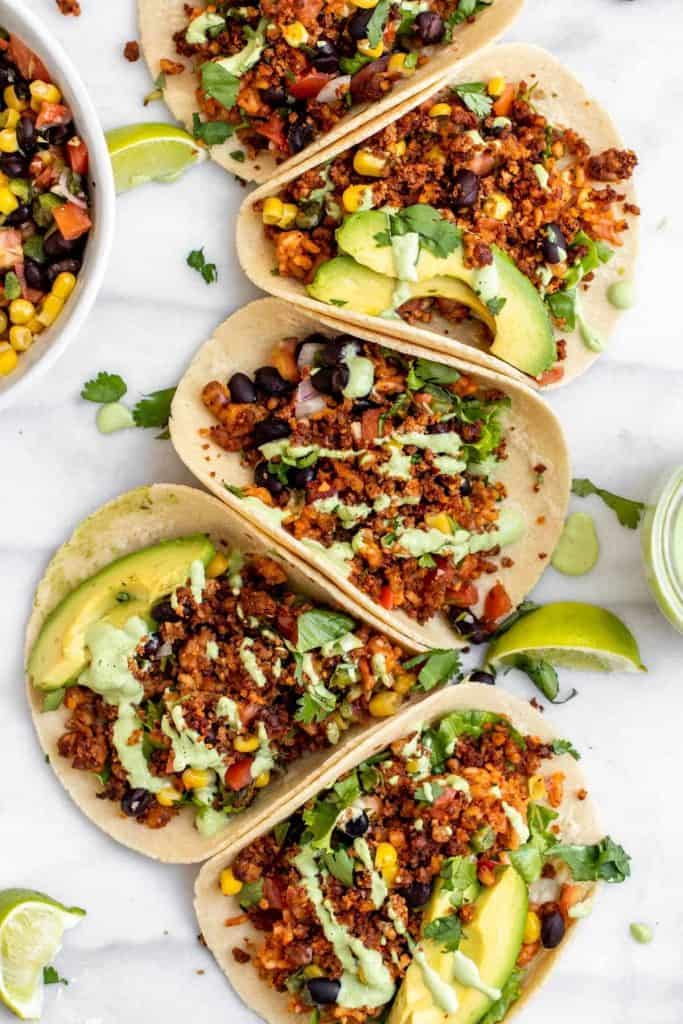 Vegan Tofu Tacos
Photo Credit: Eat with Clarity
You're going to love these Mexican inspired vegan tofu tacos! They are made with simple ingredients and yet bursting with flavor with every bite! Vegans and meat eaters alike will love these tacos.
Recipe »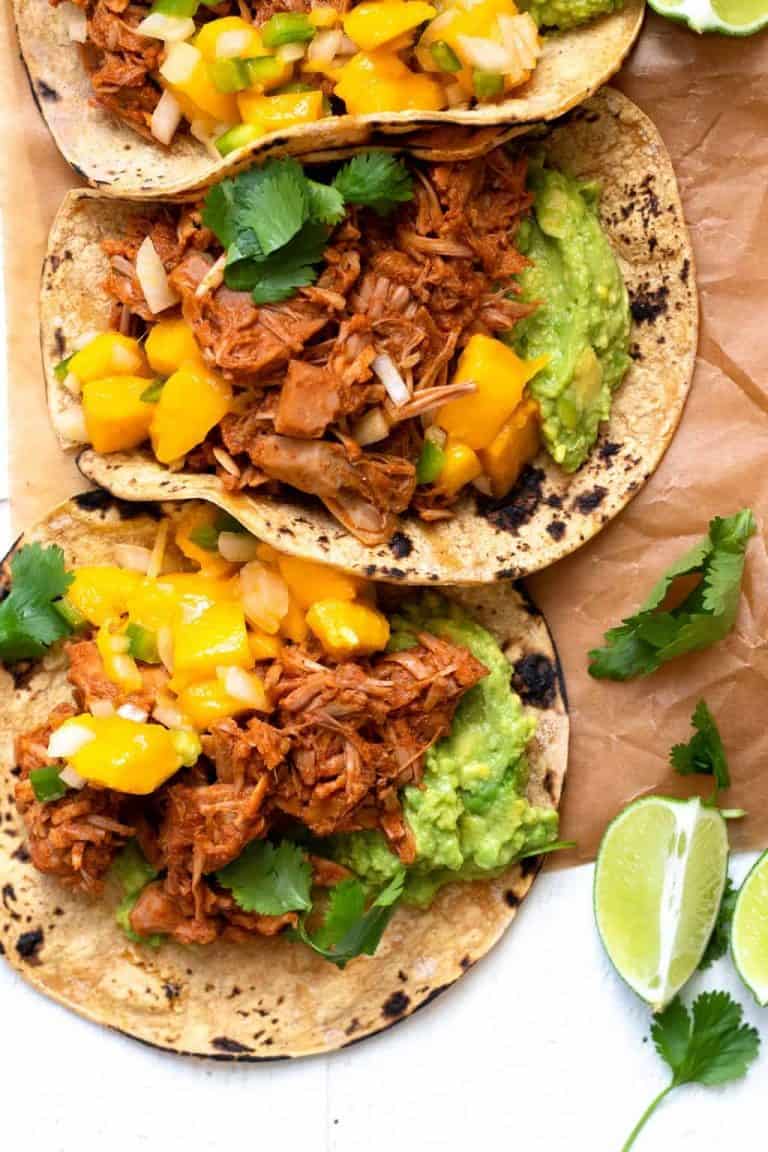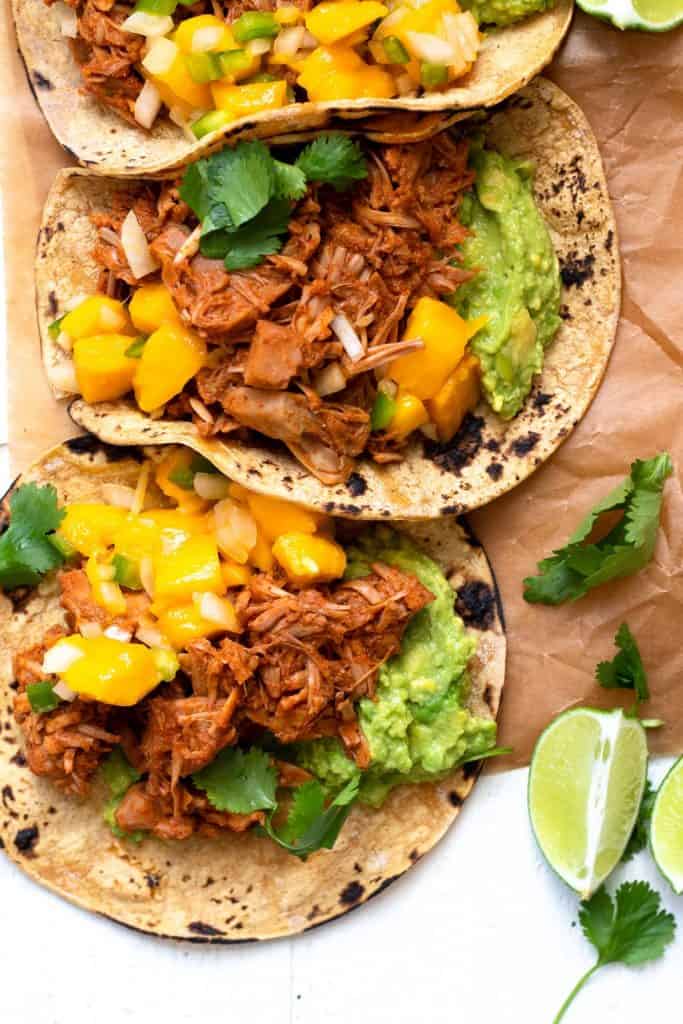 Jackfruit Carnitas Tacos with Mango Salsa
Photo Credit: Home Cooked Roots
Enjoy these juicy carnitas tacos made with perfectly seasoned jackfruit. Cook them in a slow cooker for rich flavor and ultimate ease! All topped with fresh and zesty mango salsa.
Recipe »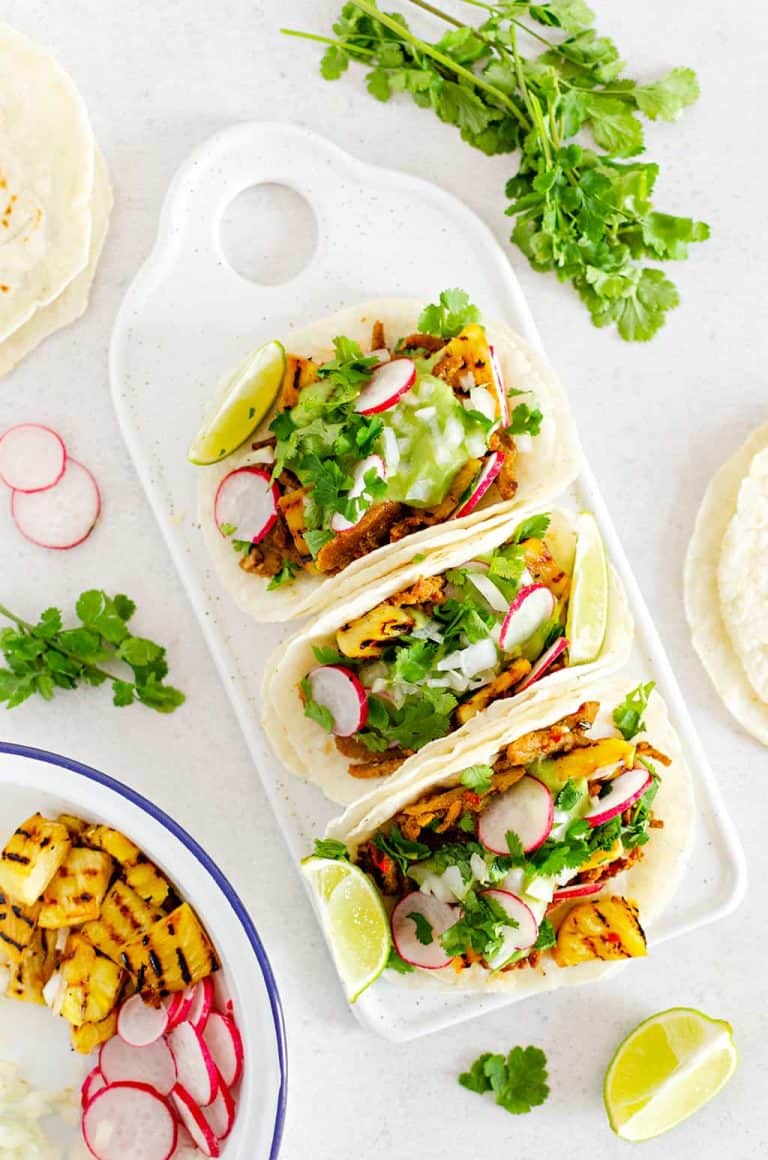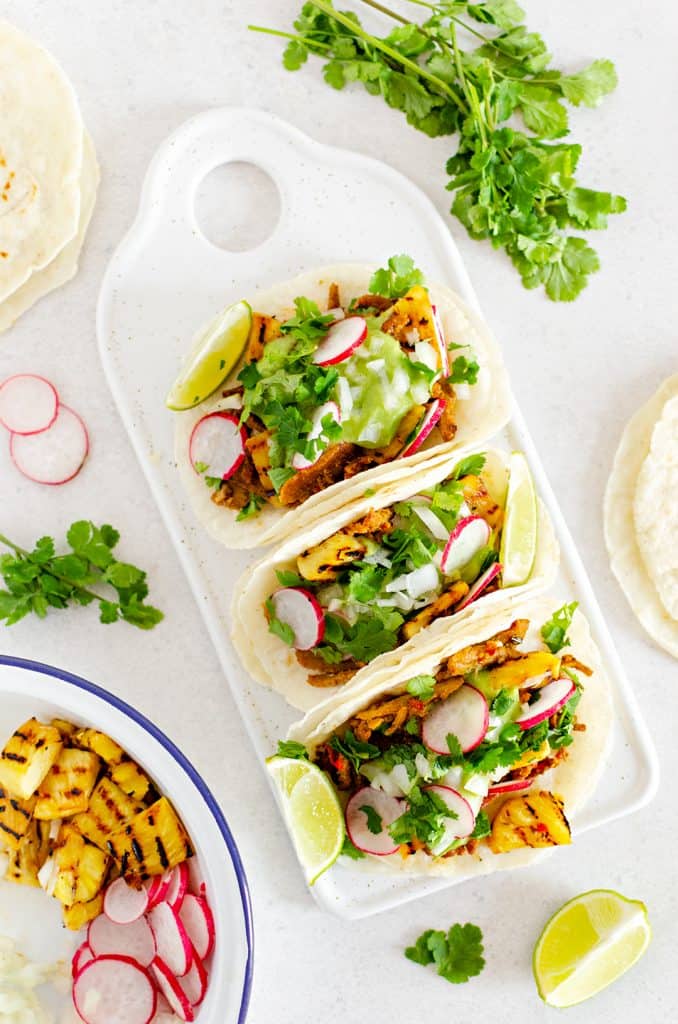 Vegan Al Pastor Style Tacos
Photo Credit: Lovely Jubley
These delicious Al Pastor Tacos are made with vegan shawarma, homemade salsa, and grilled avocado to a street-style taco that everyone will absolutely love.
Recipe »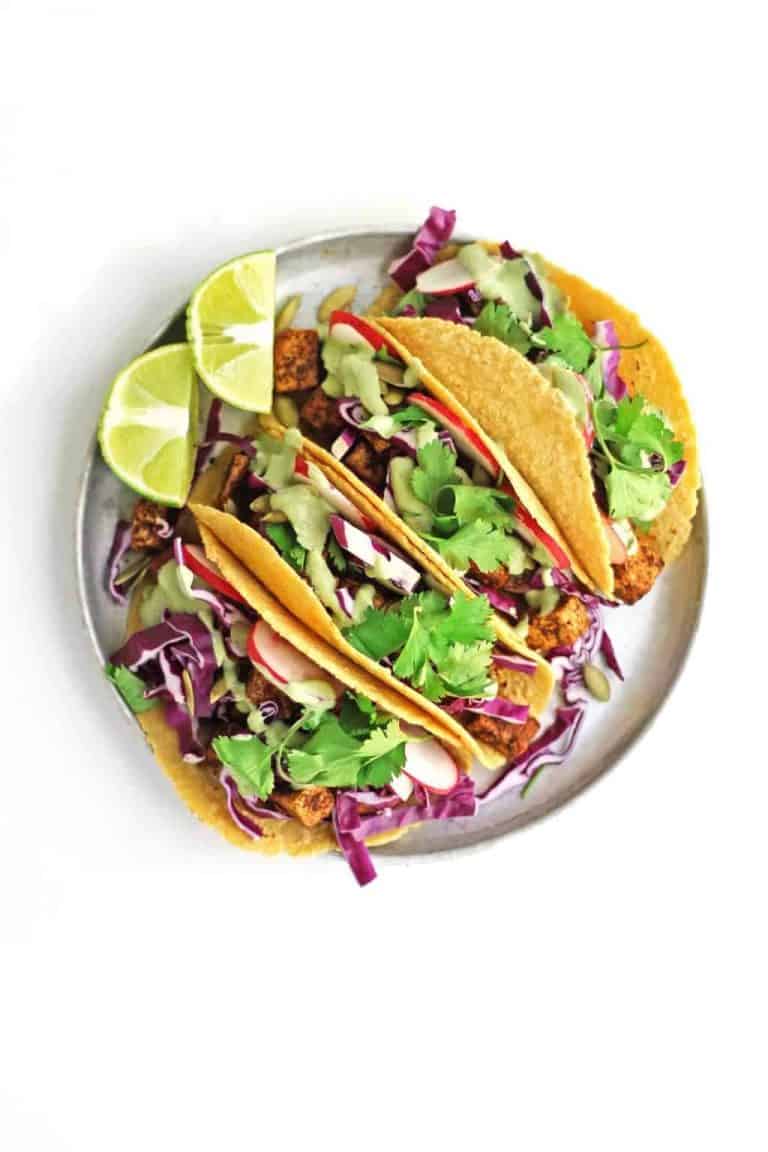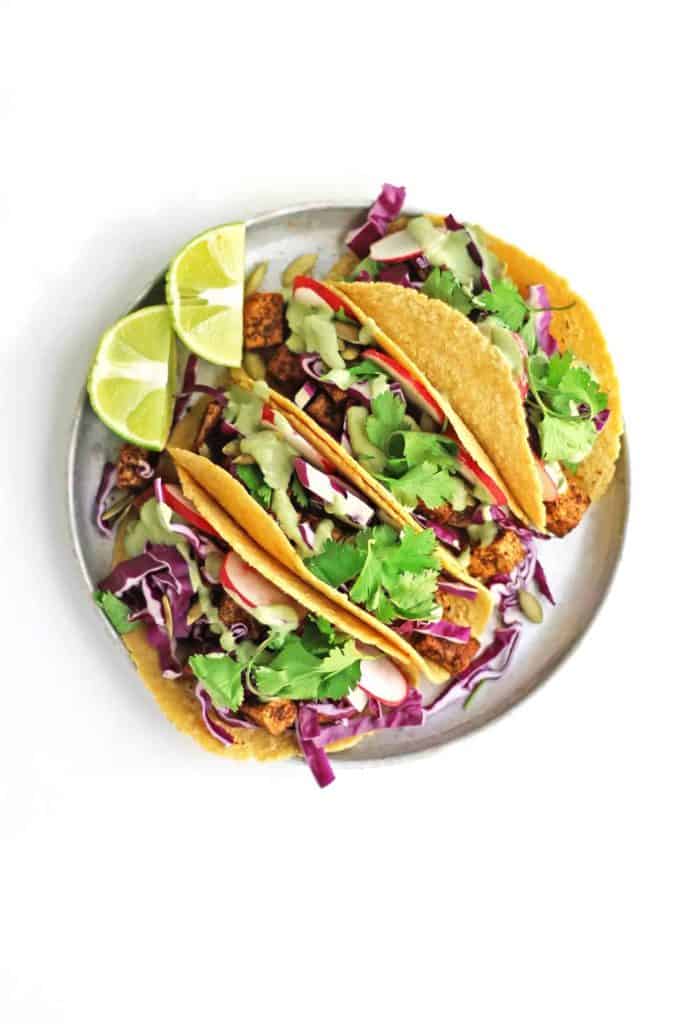 Crispy Tofu Tacos with Spicy Cilantro Crema
Photo Credit: Rhubarbarians
These tacos have it all! Easy, pan-fried tofu topped with cabbage, cilantro, and a homemade spicy cilantro sauce for an easy vegan and gluten-free meal.


Recipe »
More Vegan Recipe Roundups
That's it! 11 incredible vegan taco recipes. Now let's get cooking!
If you give one of these recipes recipe a try, snap a photo and share it on Instagram. Make sure to tag
@mydarlingvegan
so I can see your creations!