11 Incredible Vegan Donut Recipes
11 of the best vegan donuts you've ever seen! With chocolate, citrus, and the flavors of maple and cinnamon, these donut recipes will have you covered year-round!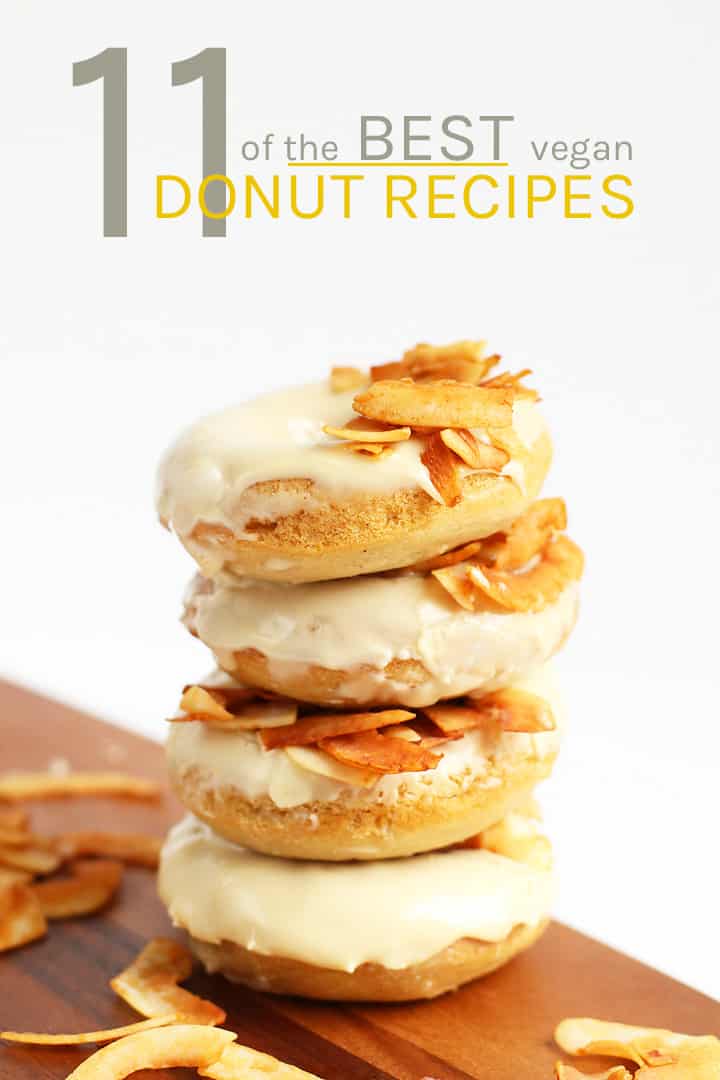 This post contains affiliate links. For more information, please see my privacy policy.
You know how much I love vegan donuts, right?
It just doesn't get much better than a warm soft pastry with a sweet, melt-in-your-mouth glaze. And, for all you fellow donut lovers out there, the good news is that vegan donuts are not hard to make! We already know that replacing eggs is no problem so it's just a matter of having the right equipment and some awesome recipes.
---
Recommended Equipment
Most importantly, you will need a couple of doughnut pans. With a donuts pan you can make all the baked donuts you want this fall.
It's also nice to have is a good piping bag. When baking donuts (rather than frying) the batter is soft like cake and will need to be piped in the donut pans. You can get reusable piping bags or one-use plastic bags. Either way, they are super cheap and nice to have on hand.
In addition, you'll need basic kitchen equipment such as a mixing bowl, utensils, and a wire cooling rack. (<<affiliate links)
Check out the full list of my recommended kitchen tools and gadgets.
---
Vegan Donut Recipes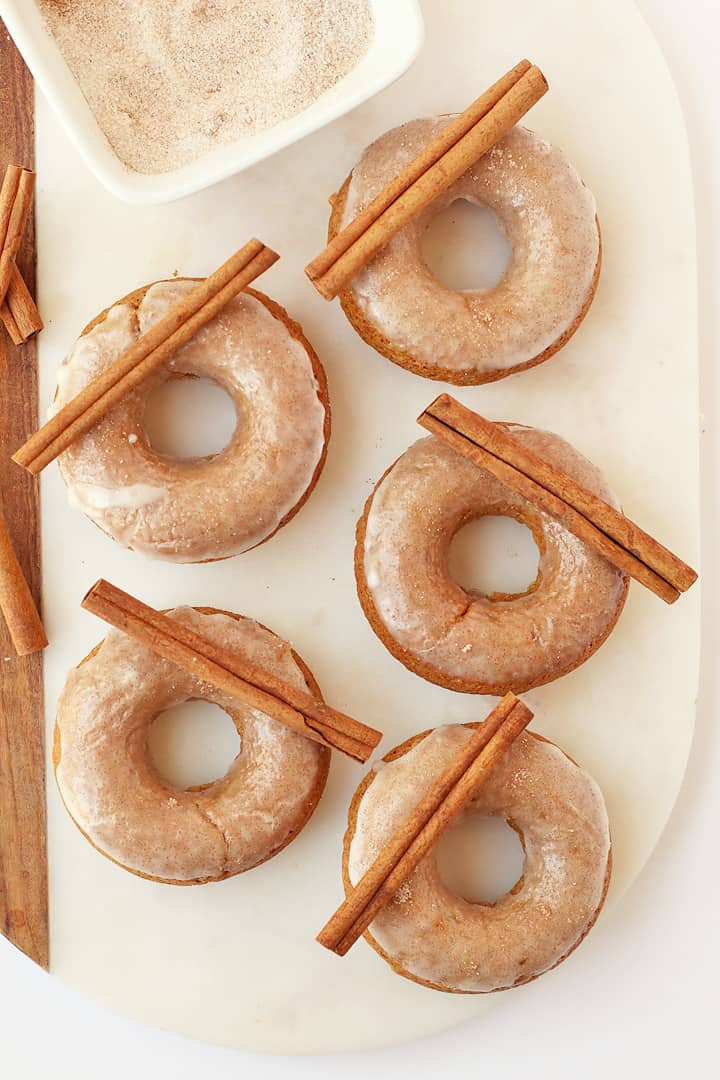 Baked Apple Cider Doughnuts
Photo Credit: My Darling Vegan
Packed with cinnamon, nutmeg, and allspice, these vegan Baked Apple Cider Doughnuts are a perfect way to welcome in the fall. Made in just 20 minutes for the perfect autumnal treat.
Recipe »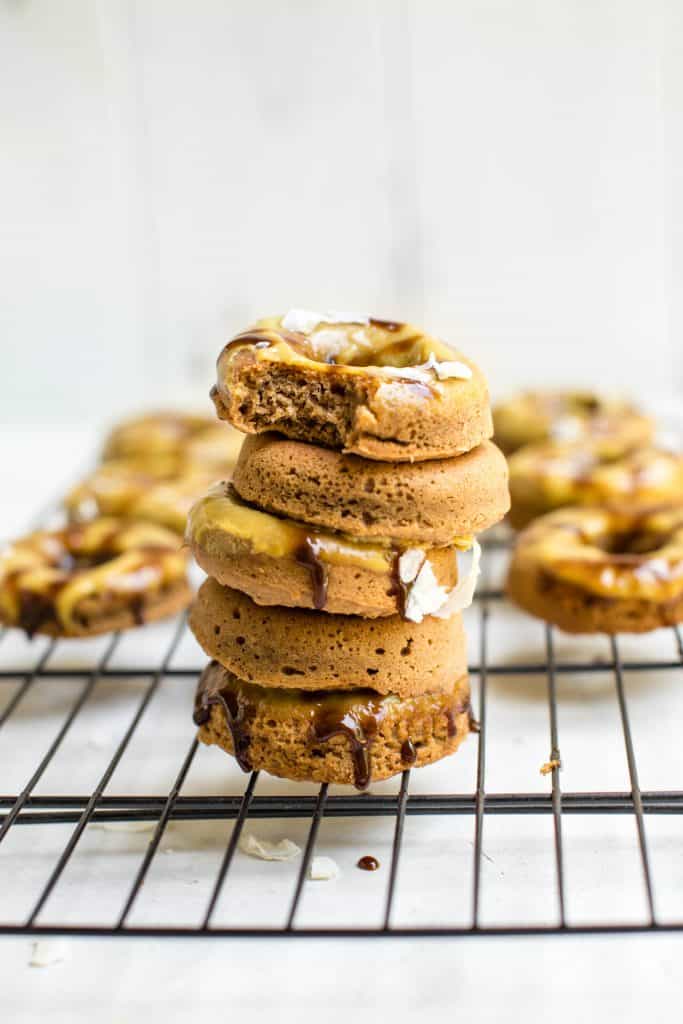 Toasted Coconut Baked Donuts
Photo Credit: From My Bowl
Fluffy and tasty, these Toasted Coconut Baked Donuts are topped with a Mango and Salted Caramel Glaze and are a perfect healthier dessert option! Vegan & Gluten-Free.
Recipe »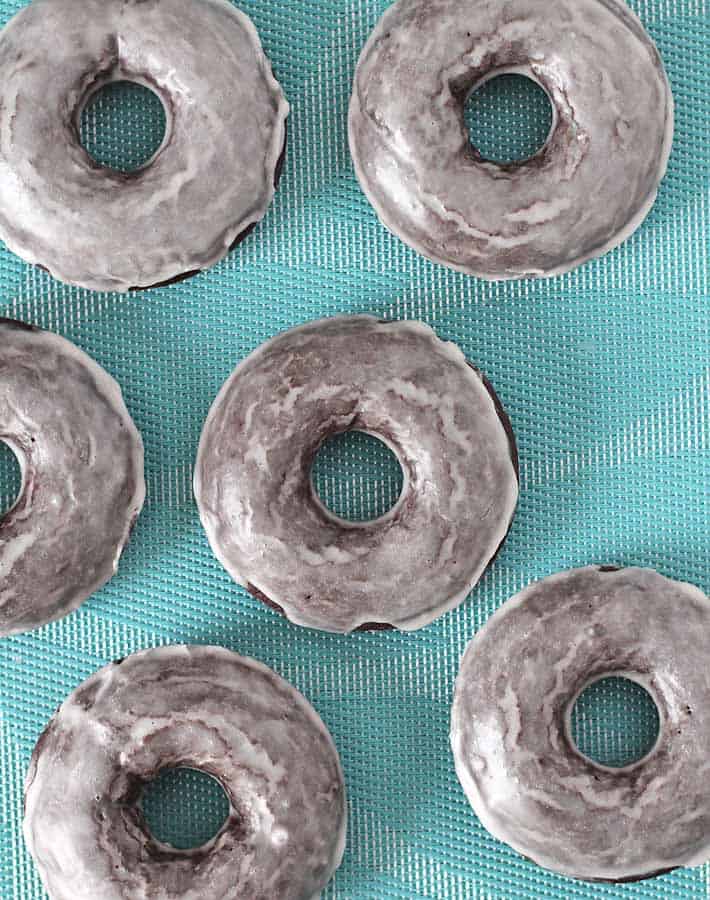 Vegan Gluten-Free Baked Chocolate Doughnuts
Photo Credit: Delightful Adventures
Vegan Gluten Free Baked Chocolate Doughnuts that are soft, fluffy, and sweet. The crackly sugary glaze makes them extra perfect…so perfect, you'll want to make them over and over again!
Recipe »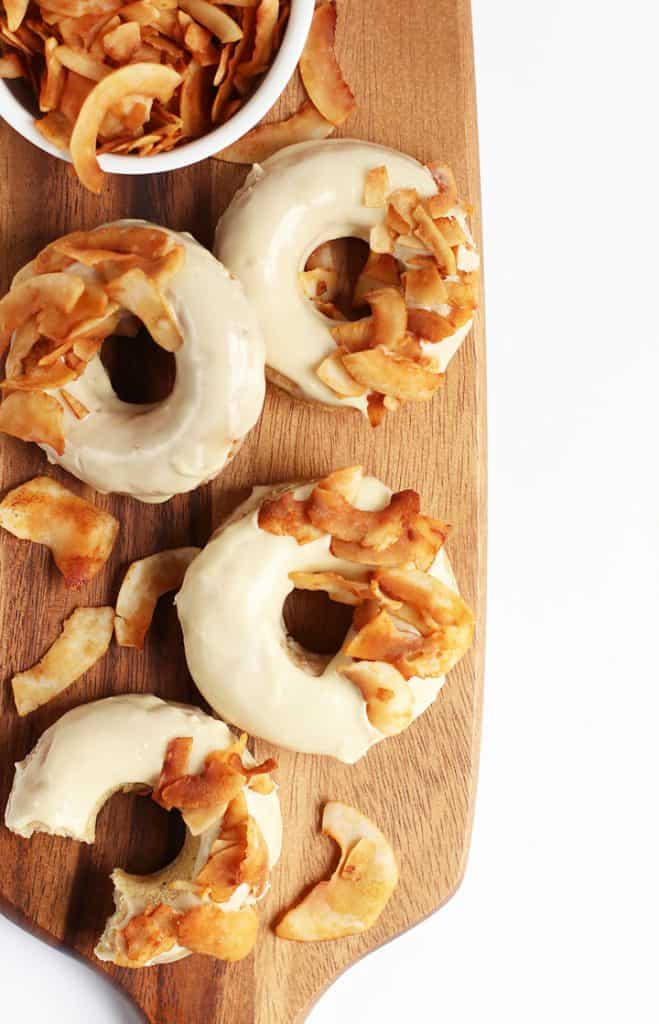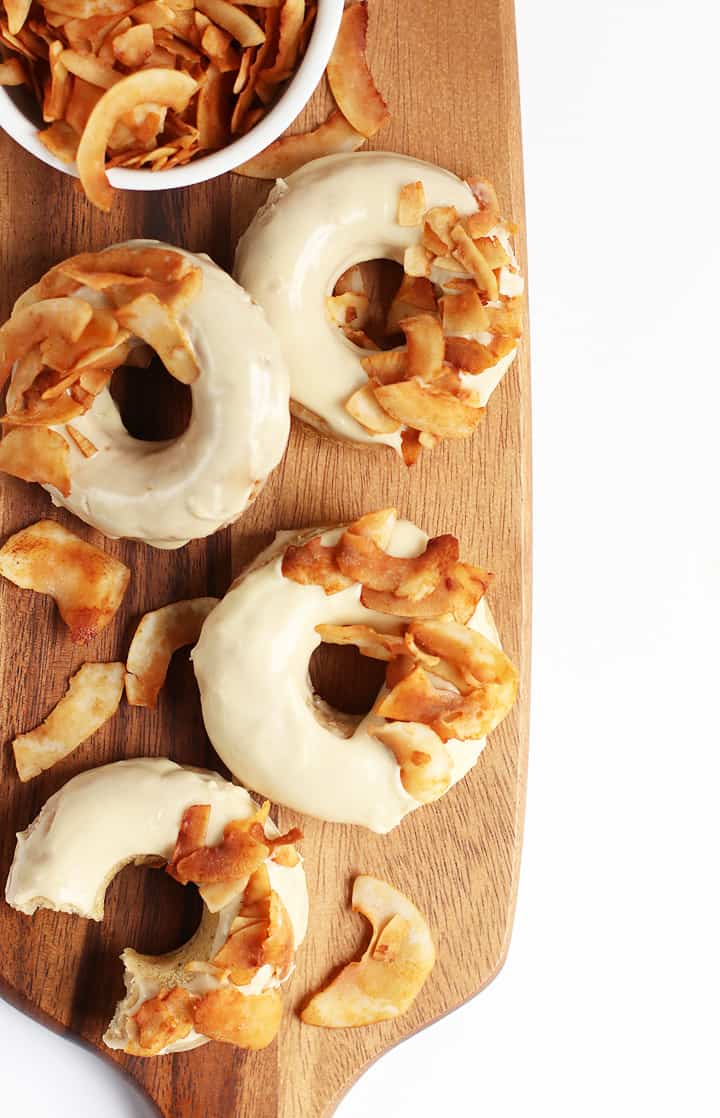 Vegan Maple Bacon Doughnuts
Photo Credit: My Darling Vegan
These vegan Maple Bacon Doughnuts are lightly baked and finished with a sweet maple glaze and crispy coconut bacon for a delicious morning pastry.
Recipe »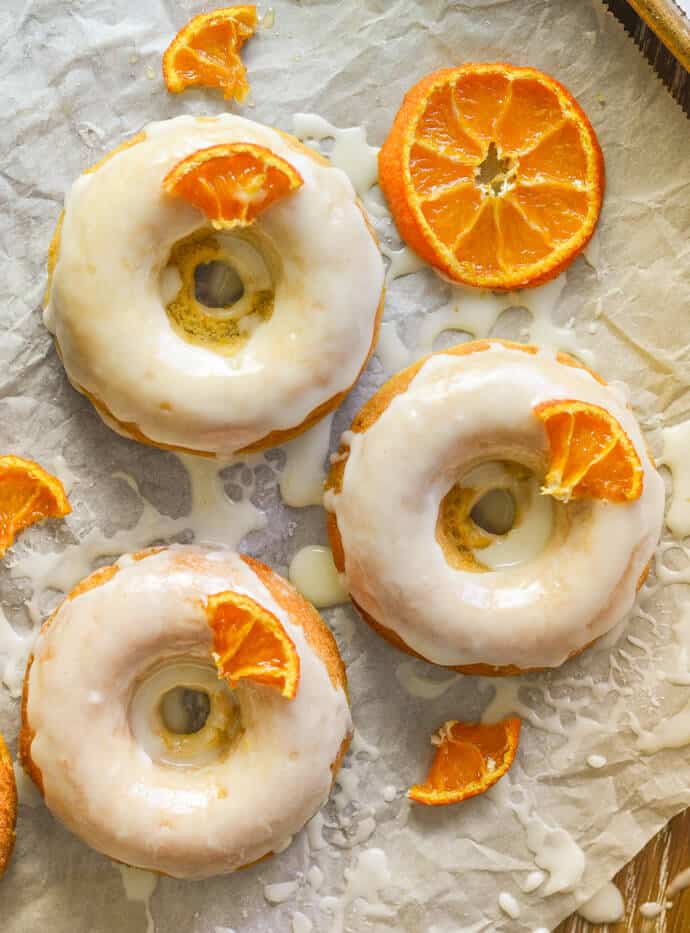 Sticky Orange Olive Oil Baked Doughnuts
Photo Credit: A Virtual Vegan
Light, fluffy, and incredibly moist, these Orange Olive Oil Baked Donuts are a real taste sensation. The pungent, fruity oil balances perfectly with the orange & the sticky glaze finishes them off perfectly!
Recipe »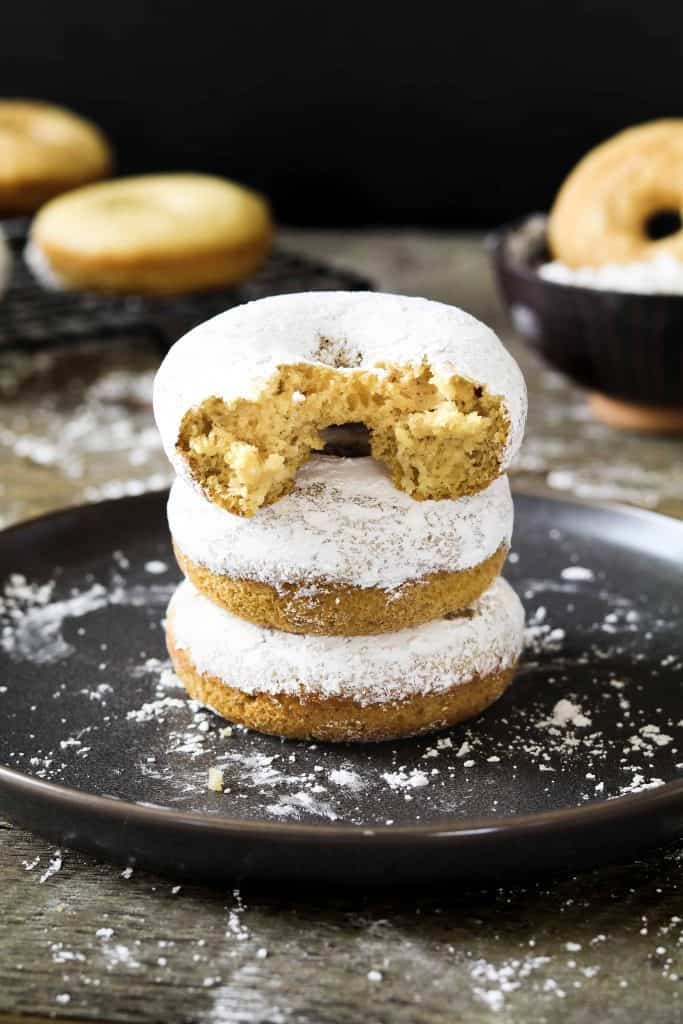 Vegan Powdered Donuts
Photo Credit: Vegan Huggs
A lighter take on a classic, these Vegan Powdered Donuts are baked to golden perfection and frosted with fluffy sugary goodness.
Recipe »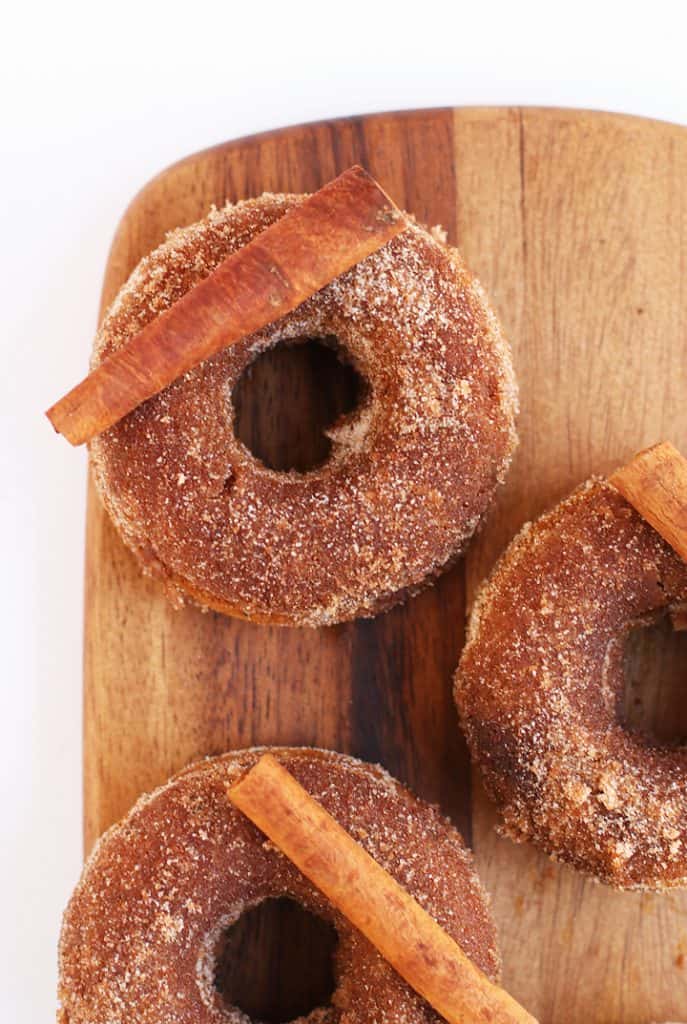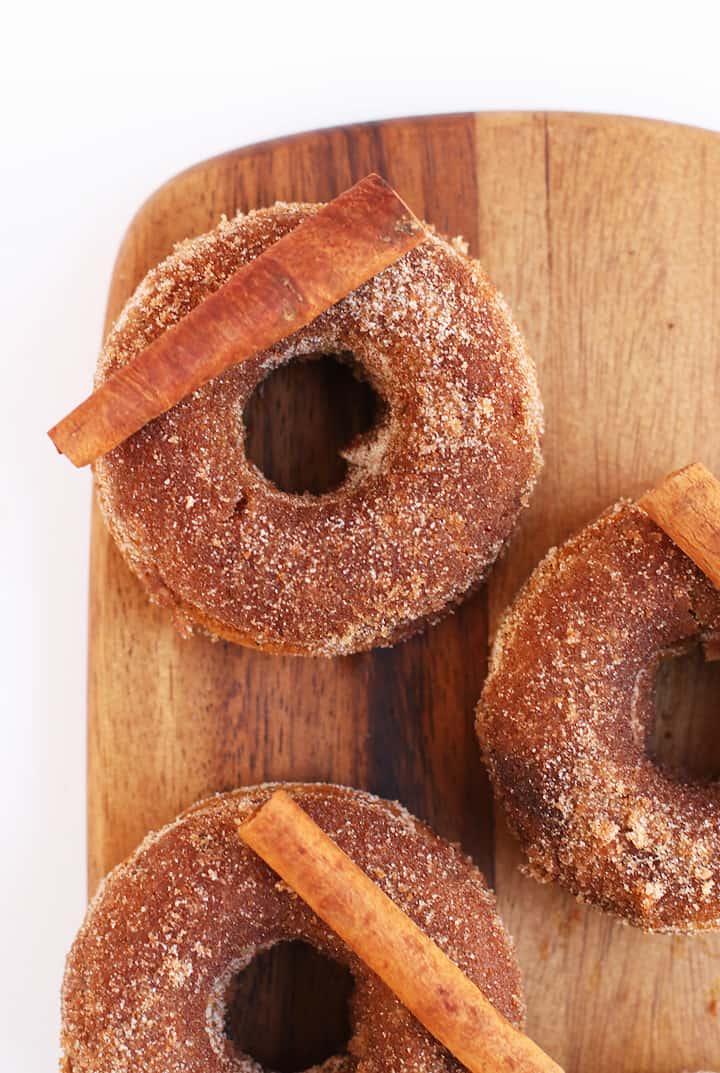 Vegan Cinnamon Doughnuts
Photo Credit: My Darling Vegan
Start your morning with these delicious and tender vegan Cinnamon Doughnuts. Bursting with flavor to wake you up for the day.
Recipe »
Vegan Chocolate Hazelnut Doughnuts
Photo Credit: Vegan Heaven
These vegan donuts with chocolate glaze and hazelnuts are pure decadence! But they are baked, therefore, super fluffy and oil-free! Have some of these goodies!
Recipe »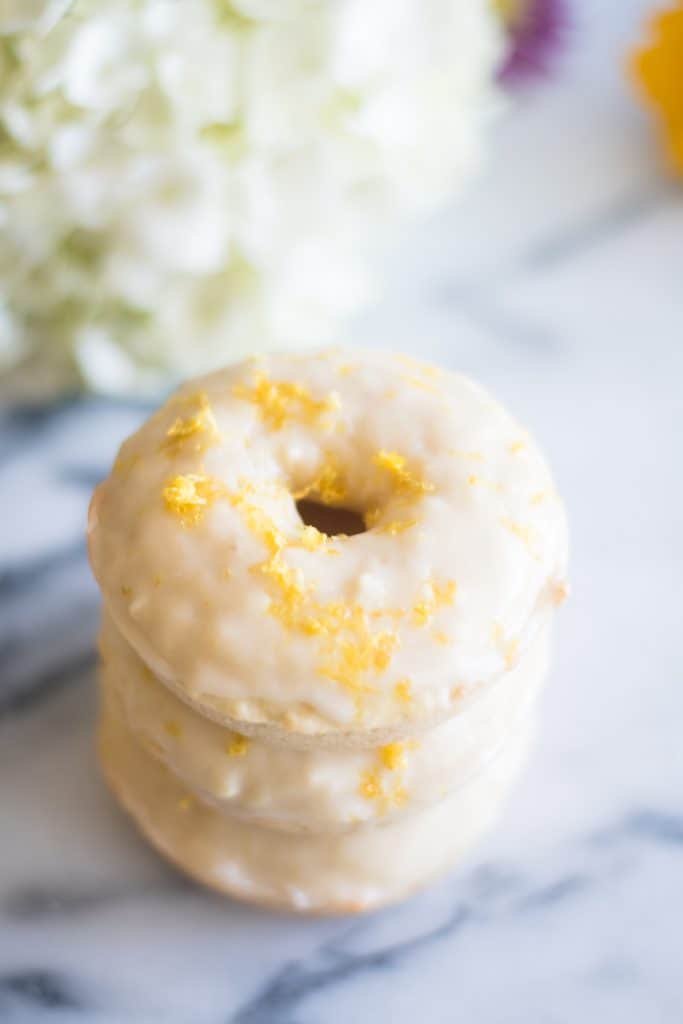 Baked Lemon Donuts
Photo Credit: Thyme and Love
These Baked Vegan Lemon Donuts are like a soft and fluffy lemon drop that melts in your mouth and makes you feel warm and cozy! Topped with a sweet and zesty lemon glaze, these incredible donuts just scream spring!
Recipe »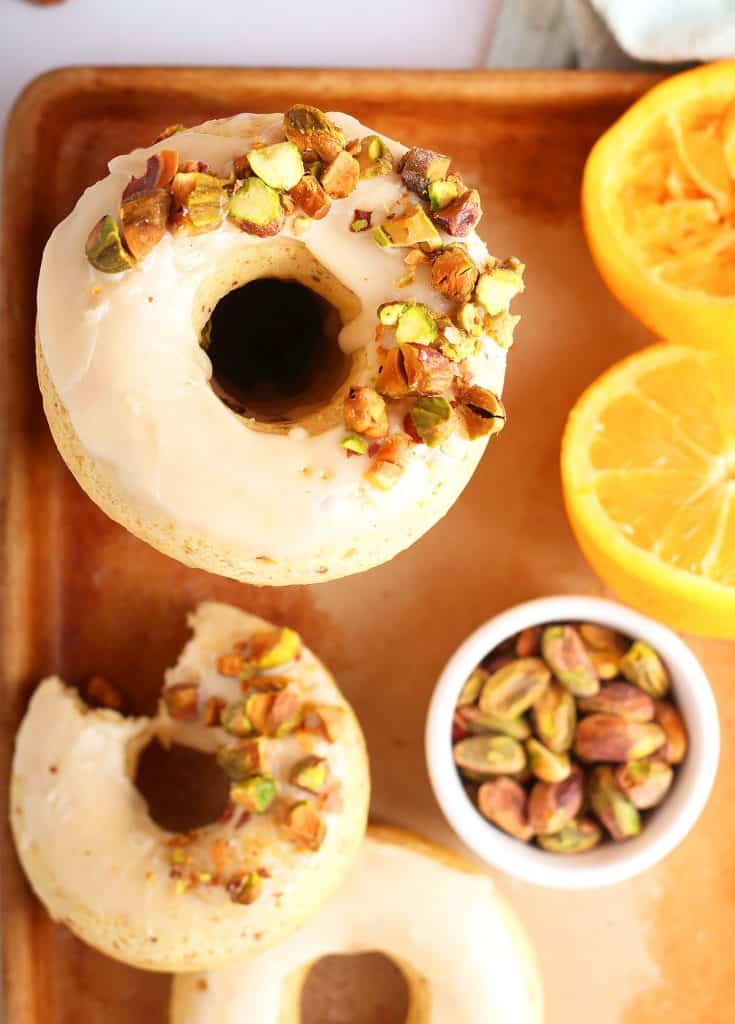 Coconut Orange Doughnuts
Photo Credit: My Darling Vegan
Enjoy these springtime vegan Orange Pistachio Doughnuts. They are topped with orange glaze and chopped pistachios for a delicious morning pastry or midday snack. Made in under 25 minutes!
Recipe »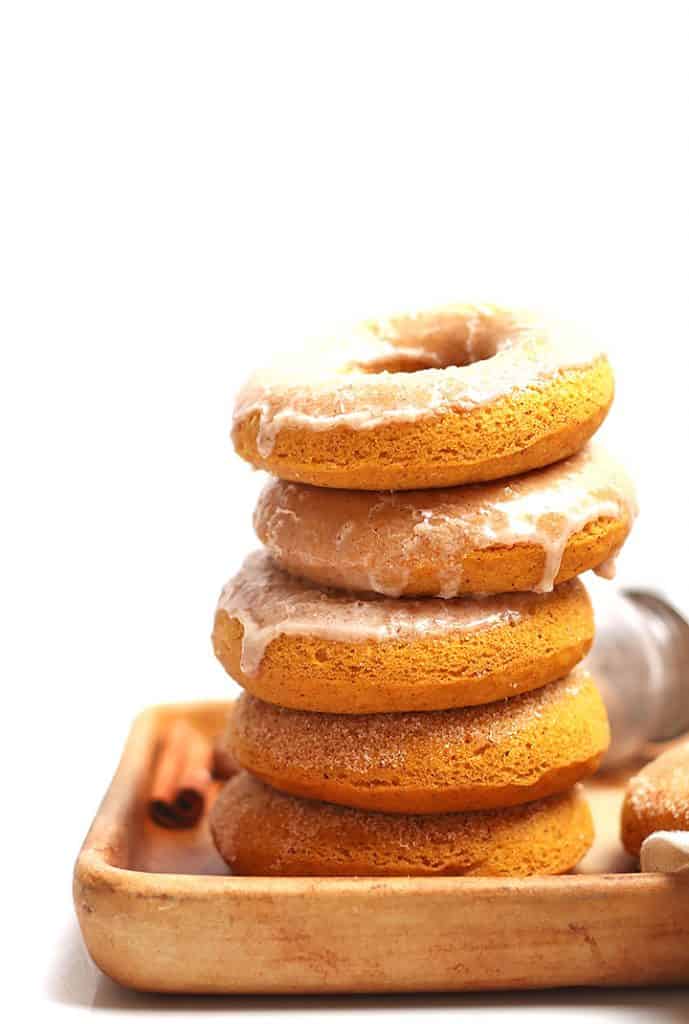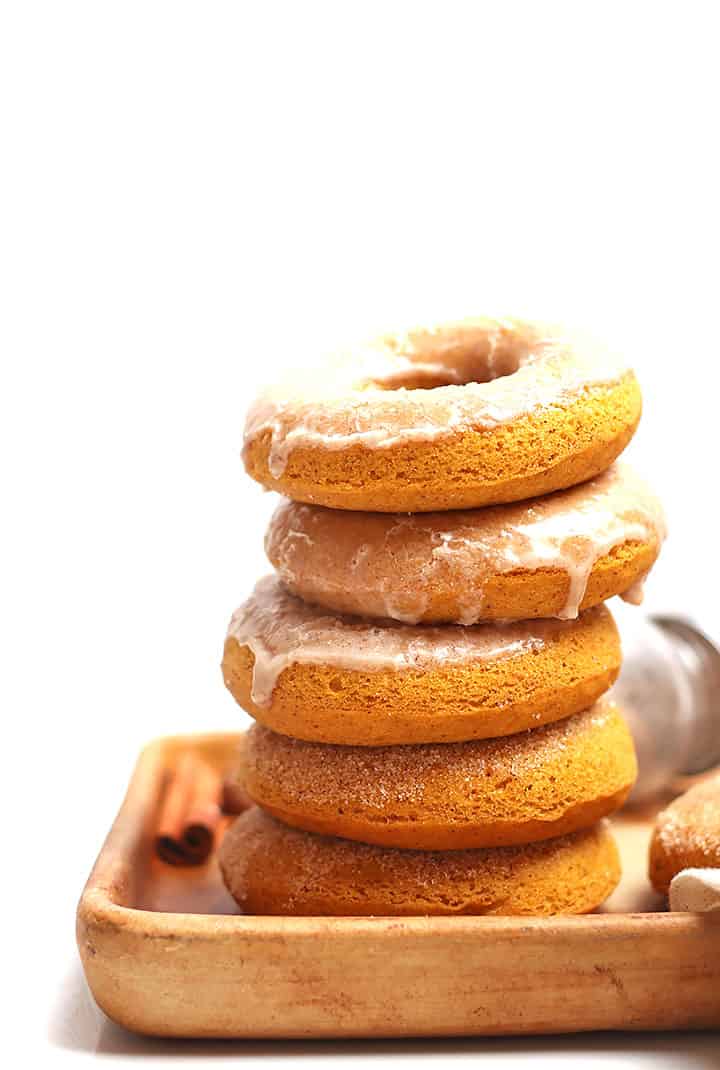 Vegan Maple Pumpkin Donuts
Photo Credit: My Darling Vegan
Fall into fall with these delicious vegan pumpkin donuts. Sweetened with maple syrup and topped with cinnamon-spiced glaze, these vegan pastries are the perfect fall sweet treat!
Recipe »
---
Serving and Storing
Doughnuts can be eaten immediately or stored in an airtight container at room temperature for up to 4 days. They can also be frozen for up to 2 months. When ready to eat, pull them out of the freezer and let them thaw at room temperature for 2-3 hours.
Tips and Tricks
Generously spray the donut pan before piping in the batter to ensure the donuts do not stick to the pan.
The most accurate way to measure flour is to spoon it into your measuring cup, leveling it off with the back of a knife.
Take care not to overmix the batter. Overmixed batter becomes tough and gummy.
For cleanest results, pipe in the batter with a piping bag.
Let the donuts rest in the pan for 5 minutes before flipping them onto a wire cooling rack. Let donuts cool completely before dipping them in the glaze to prevent the glaze from melting or donuts from falling apart.
Frequently Asked Questions
Can I omit the oil?
Sure. If you would like to make any of these recipes oil-free, simply swap out the oil for additional applesauce at a 1:1 ratio.
Can I make these recipes gluten-free?
For sure! For gluten-free doughnuts, I recommend using a 1:1 baking blend .
I don't have a doughnut pan. Would these work as muffins?
Yes! I have made several of these recipes into muffins. I prefer using a mini-muffin pan for these as they do tend to be a bit sweeter than muffins. (<<affiliate link)
---
More Vegan Recipe Round-ups
Written by Sarah McMinn
If you give one of these recipes recipe a try, snap a photo and share it on Instagram. Make sure to tag
@mydarlingvegan
so I can see your creations!