Vegan Maple Bacon Doughnuts
These vegan Maple Bacon Doughnuts are lightly baked and finished with a sweet maple glaze and crispy coconut bacon for a delicious morning pastry.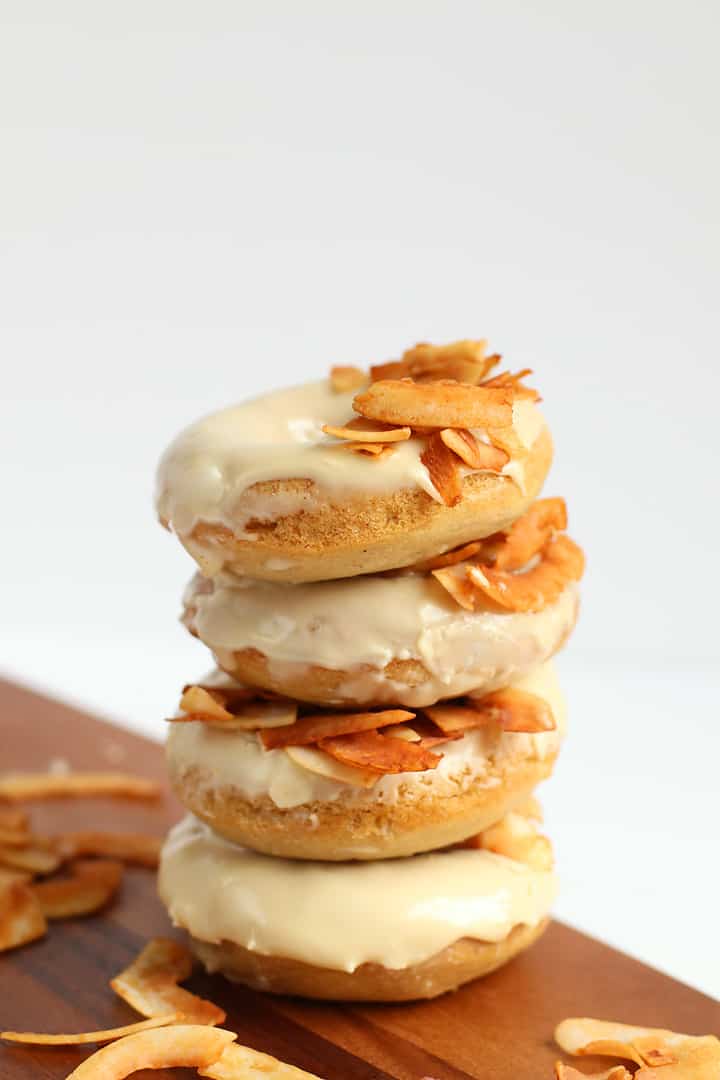 This post contains affiliate links. For more information please see my privacy policy.
Why has it been over 2 years since I last made a doughnut recipe for the blog!?
My last doughnut recipe was in April of 2015 and it happens to be the last recipe I wrote before going on my 1 and a half year hiatus. Huh, perhaps I have answered my own question as to why there has been such a doughnut drought up in here as of late.
But fear not my darling friends; that is all about to change!
I have returned with doughnuts and this recipe is possibly my favorite one so far. These vegan Maple Bacon Doughnuts are everything you would hope a morning pastry to be: soft, sweet, salty, and seasoned to perfection!
Let's take a closer look.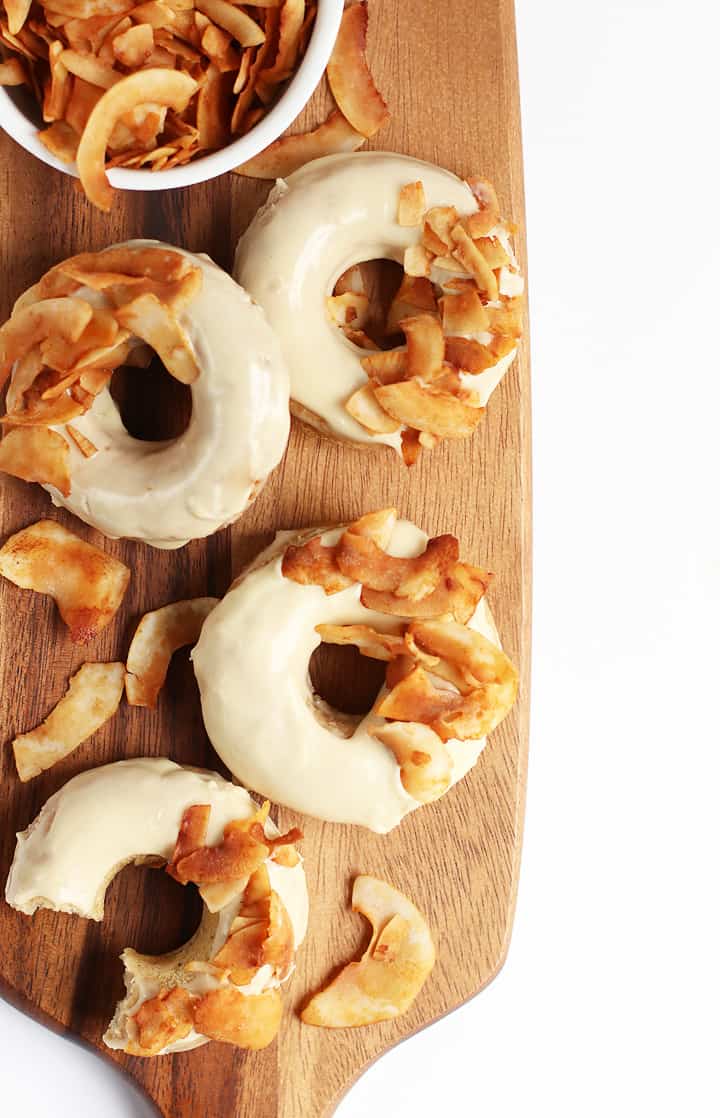 How to make vegan baked donuts
Making baked donuts is incredibly easy and satisfying. However, in order to make our own homemade vegan baked donuts, we first need to get ourselves a donut pan.
This is the one I use.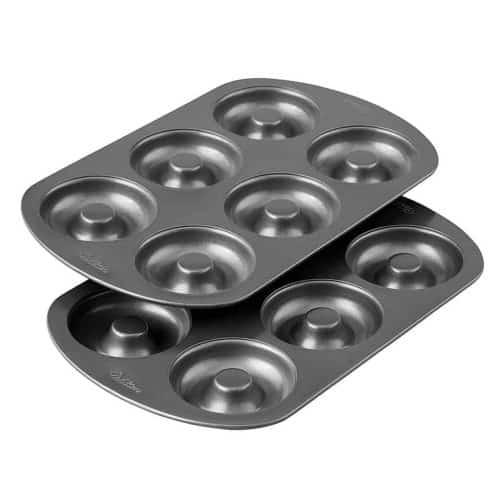 I love my donut pan because it is:
Totally affordable. Just $13.50 for 2 on Amazon.
And, more importantly, a kitchen tool I use ALL THE TIME. With a donut pan, you can make all the baked donuts you want this fall, such as:
So grab one today. I don't want you missing out on donut season!
---
How to make Vegan Maple Donuts:
These maple donuts are so straight-forward it's nearly impossible to get them wrong. The process is simple. Let's take a step-by-step look.
Step one – Make the batter
First, mix your dry ingredients together. That's your flour, salt, and spices.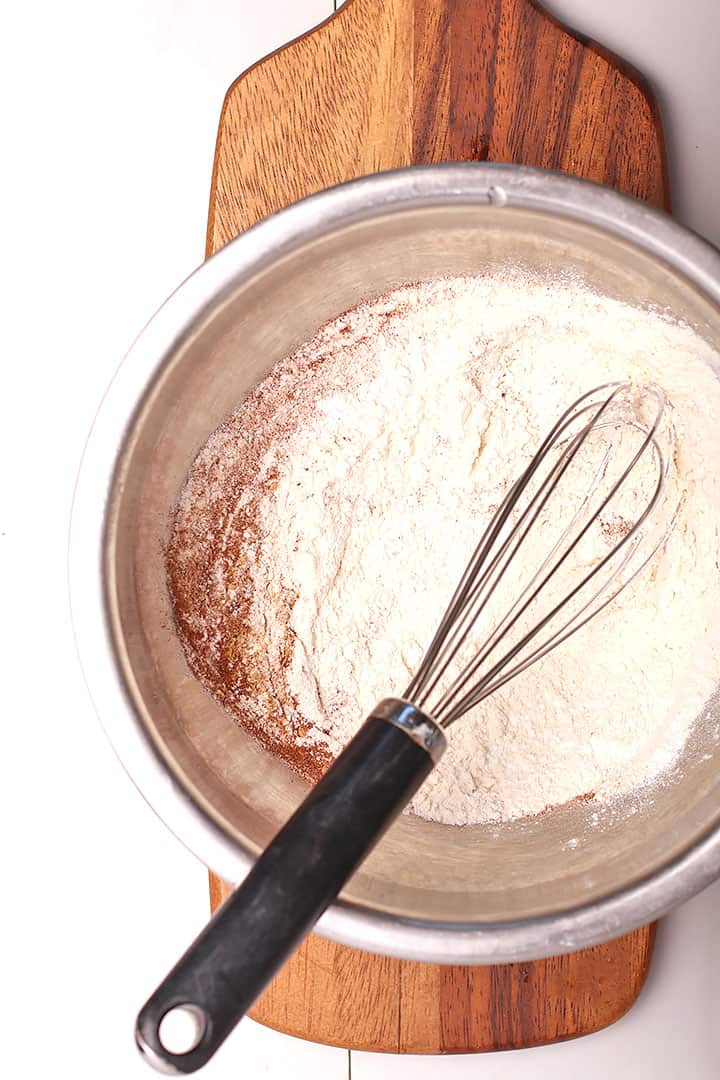 In a separate bowl whisk together your wet ingredients. That's the sugars, sour cream, coconut oil, and vanilla extract. Add the wet ingredients to the dry and mix until just combined. You don't want to over mix or your doughnut will become tough and gummy.
Don't worry about lumps – a few lumps are just fine.
Step two – Pipe your batter into your prepared donut pan.
The batter will be soft, so a piping bag is the best option here. If you don't have one, you can make a makeshift piping bag by pouring your batter into a ziplock bag, cutting off the tip, and piping from there.
Fill your donut molds mostly to the top.
Step three – bake the vegan donuts
Bake the maple donuts for just about 15-18 minutes. When done the dough should spring back when gently pressed. You can also check for doneness by inserting a toothpick into the donut. A clean toothpick means you're good to go!
Once the donuts are ready, pull them out of the oven. Let them rest 5 minutes before flipping them onto a wire cooling rack. Let the donuts cool completely before dipping them into your glaze or sprinkling them with cinnamon sugar.
This cooling time is necessary otherwise the donuts might crumble and the glaze will definitely melt off.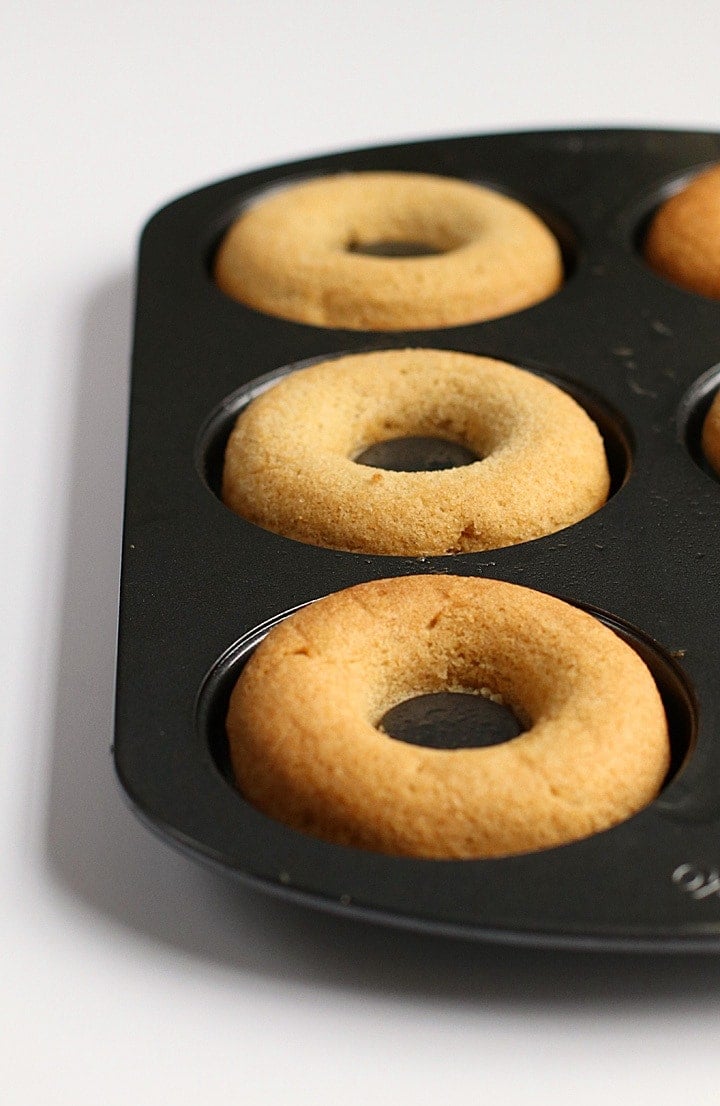 How to make vegan bacon
A few weeks back we talked about bacon on the blog and all the wonderful ways you can eat bacon as a vegan.
Among the many foods that can substitute for bacon is coconut chips. Coconut makes a great bacon choice where you need a thin, crispy, bacon-like alternative. Coconut works best when replicating bacon bits or bacon-kissed pastries. It absorbs the flavors of liquid smoke and maple syrup and crisps up perfectly.
For these doughnuts, coconut is definitely my bacon of choice.
To make the coconut bacon, whisk together the liquid ingredients in a small bowl. Add the coconut chips and toss them together so that the coconut chips are completely coated.
Spread the coconut chips onto a baking sheet and bake for 15-20 minutes, stirring occasionally, until the coconut chips are crispy and very fragrant. Keep a close eye on the coconut bacon; it will burn quickly!
Remove the coconut bacon from the oven and allow it to cool to room temperature before using.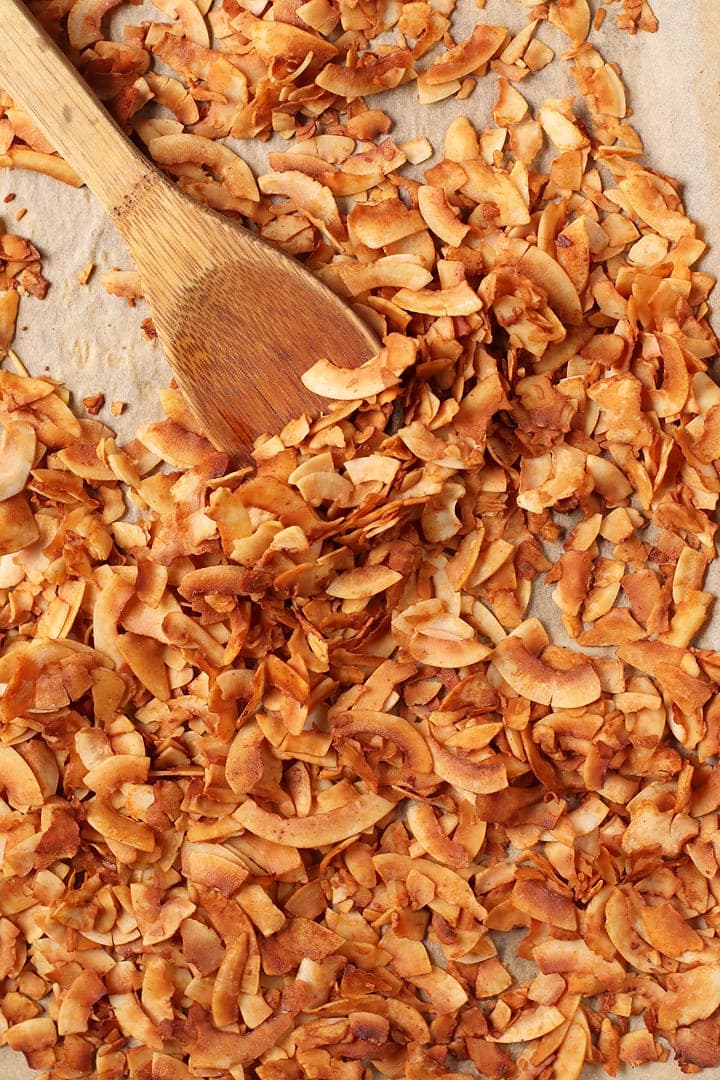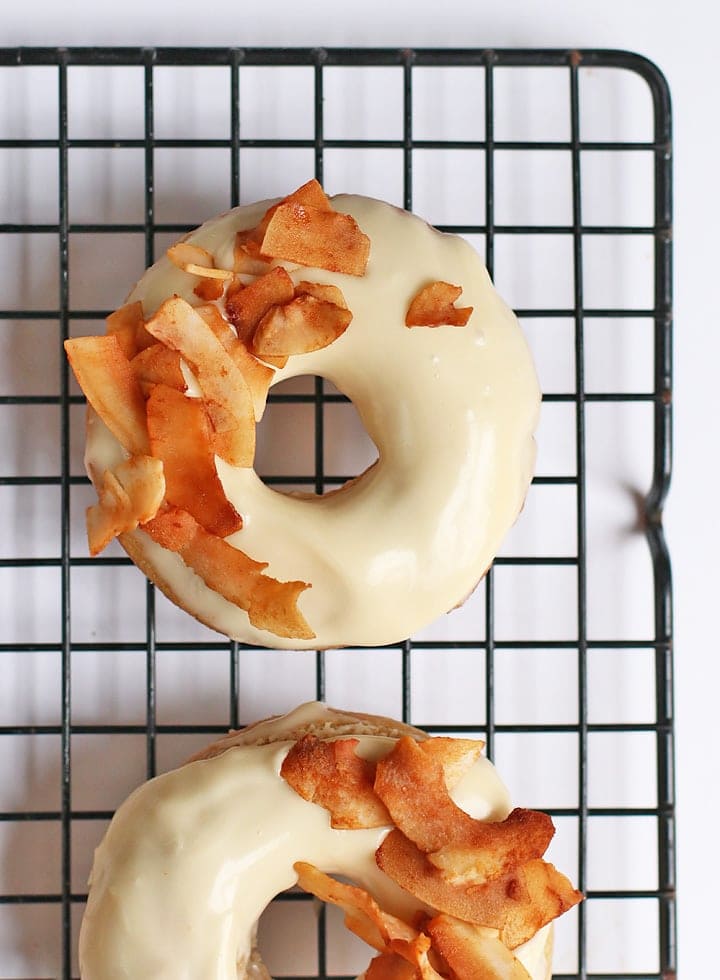 Tips for making the perfect vegan baked donuts
Generously spray the donut pan before piping in the batter to ensure the donuts do not stick to the pan.
Take care not to overmix the batter. Overmixed batter becomes tough and gummy.
For cleanest results, pipe in the batter with a piping bag.
Let the donuts rest in the pan for 5 minutes before flipping them onto a wire cooling rack. Let donuts cool completely before dipping them in the glaze to prevent the glaze from melting or donuts from falling apart.
---
Serving and Storing Pumpkin Baked Donuts
Donuts can be eaten immediately or stored in an airtight container at room temperature for up to 4 days.
Serve donuts for breakfast or a midday snack. These donuts pair perfectly with my Chai Tea Latte.
That's all you need to know about making the perfect vegan donuts. Now, let's get baking!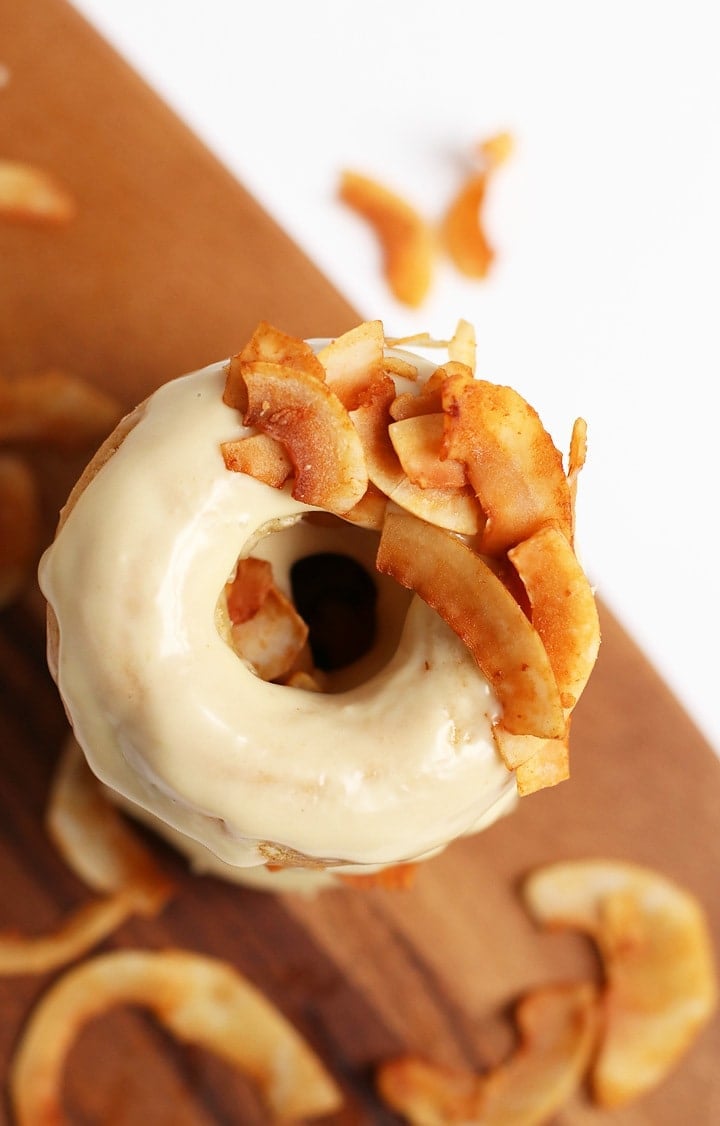 Vegan Maple Bacon Doughnuts
These vegan Maple Bacon Doughnuts are lightly baked and finished with a sweet maple glaze and crispy coconut bacon for a delicious morning pastry.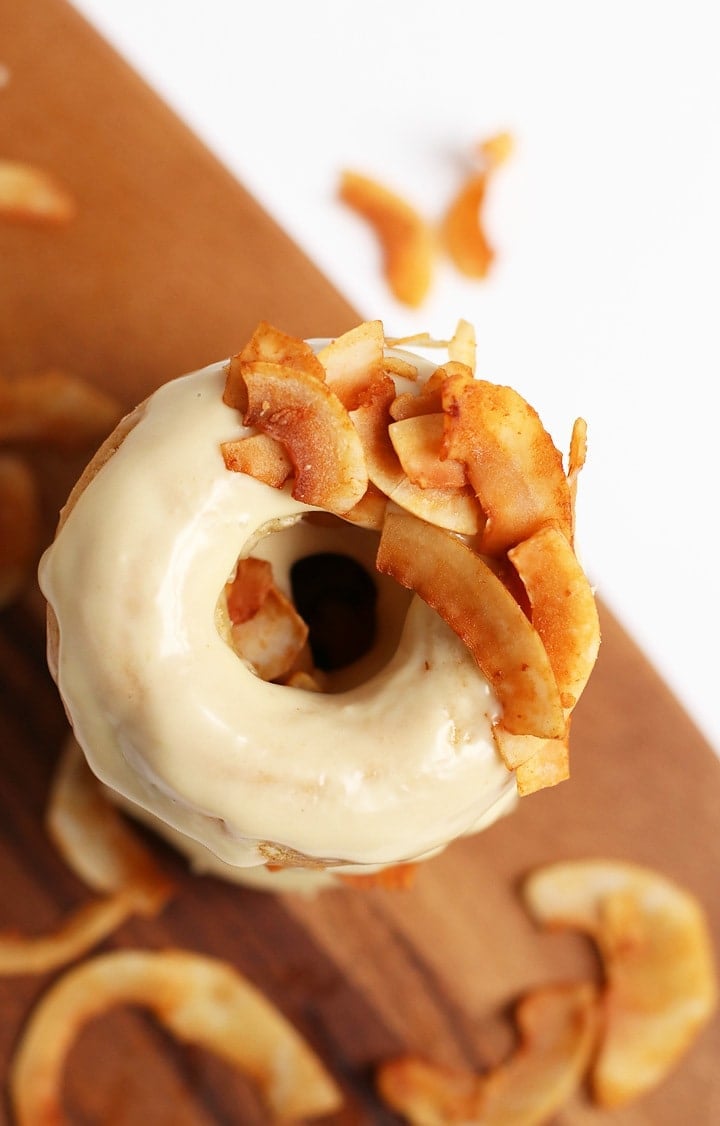 Course:
Breakfast, bread
Cuisine:
American
Keyword:
Maple Bacon Doughnuts
Servings
:
12
Calories
: 225 kcal
Author
:
Sarah McMinn
Ingredients
Instructions
Preheat the oven to 325.
In a small bowl combine soy sauce, maple syrup, liquid smoke, and salt. Place coconut chips in a larger bowl and toss with maple syrup/soy sauce mixture.

Lay in a single layer on a baking sheet and bake for 15-20 minutes, stirring occasionally. Keep a close eye on the coconut to prevent burning. Remove from oven and set aside to let cool while making the doughnuts.

Turn oven up to 350 degrees. F. Grease two doughnut pans. In a small bowl whisk together soy milk and apple cider vinegar. Set aside to allow milk to curdle.
In a large bowl combine flour, baking powder, baking soda, cinnamon, and salt.
Add brown and white sugar, sour cream, oil, and vanilla to soy milk mixture. Whisk together.
Slowly pour wet ingredients into the dry. Mix together until a uniform batter has formed.

With a piping bag, pipe the batter into prepared doughnut pans so they are about 2/3rd full, each. Bake for 12-15 minutes.

Remove from oven and let cool for 10 minutes before flipping out onto cooling racks to let doughnuts completely cool.
While doughnuts are cooling, mix together the ingredients for the glaze. Add maple syrup slowly until the glaze is pourable but still thick.
Dip doughnuts into glaze and top immediately with coconut bacon.
Serve immediately or store in an airtight container for up to 3 days.
Nutrition Facts
Vegan Maple Bacon Doughnuts
Amount Per Serving
Calories 225
Calories from Fat 72
% Daily Value*
Fat 8g12%
Sodium 268mg12%
Potassium 128mg4%
Carbohydrates 35g12%
Protein 2g4%
Vitamin A 40IU1%
Vitamin C 0.7mg1%
Calcium 53mg5%
Iron 0.9mg5%
* Percent Daily Values are based on a 2000 calorie diet.
If you give this recipe recipe a try, snap a photo and share it on Instagram. Make sure to tag
@mydarlingvegan
so I can see your creations!