Strawberry season is upon us! Let's celebrate with these 11 Refreshing Vegan Strawberry Recipes. Everything from Classic French Toast Breakfast to Strawberry Shortcake Dessert, there is a recipe for everyone.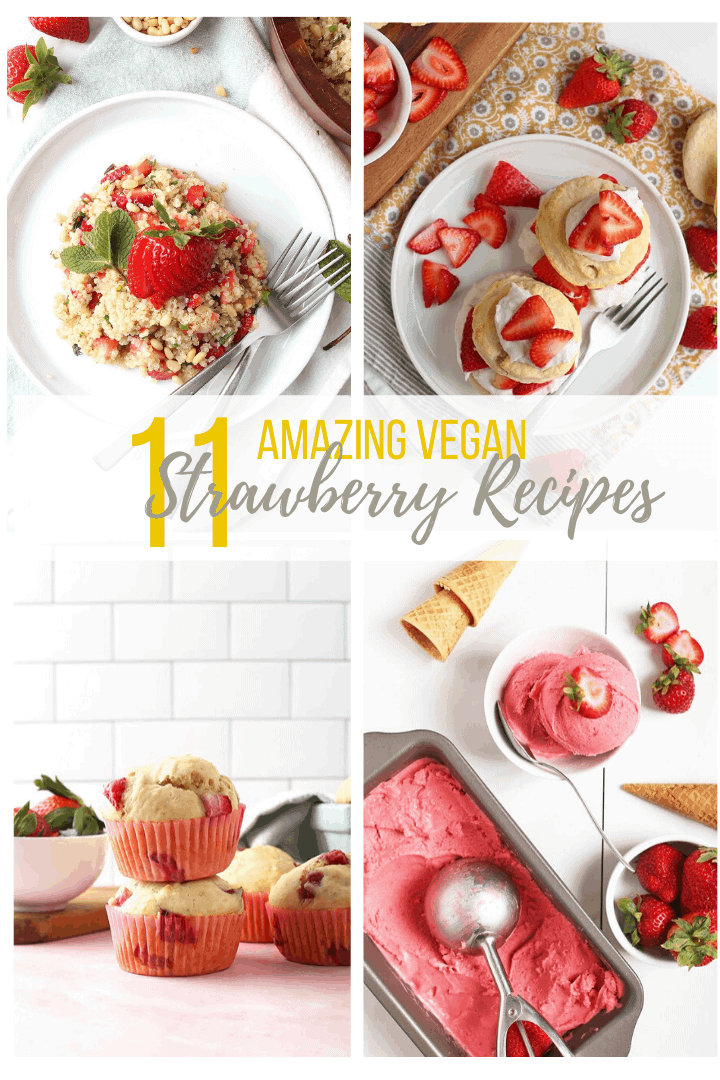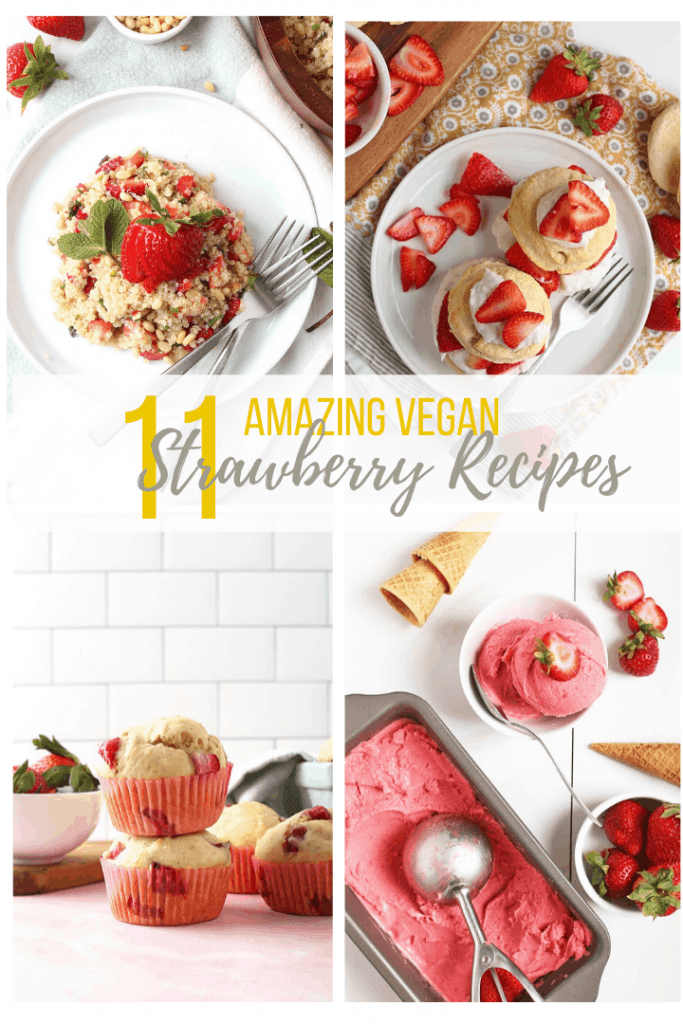 There are many things I love about living in the Pacific Northwest. For example, in under 2 hours, you can get to the mountains, the oceans, the dessert (okay, that's more like 3 hours), and endless waterfalls. It is always lusciously green and, because of that, we have some of the most beautiful gardens.
Then, of course, there are the strawberries. Oregon strawberries are among the best, and when the strawberry season begins, I am eagerly out in the fields, filling my basket.
Because we only get fresh Oregon strawberries for about 3 weeks out of the year, I aim to pick as many as possible. Then, when I get home from an epic picking session, I start to preserve.
What do I make with my strawberries? Strawberry salsa, canned pie filling, and, of course, homemade strawberry jam. That means freshness all year round!
---
Tips on Preserving Strawberries
There are a variety of ways you can preserve your strawberries. Here are a few that I recommend.
Canning: With a canner, you can make strawberry pie filling, strawberry jams and jellies, compote, and much more!
Freezing: To freeze strawberries, you mush first wash and pat the berries dry. Destem them and slice them into small pieces. Lay them in a single layer on a baking sheet and let them freeze all the way through before transferring them to freezer bags. Frozen strawberries are great in oatmeal, baked goods, and smoothies.
Dehydrating: To dehydrate strawberries, follow the cleaning steps outlined above. One they are cleaned and dry, place them in single layers on your dehydrator and dehydrate until the moisture has been pulled out, about 8 hours. Store the dehydrated strawberries in an airtight container in a cool dark place.
Baking: You can also use your strawberries in baked goods that you can later freeze. I often make a batch of Strawberry Muffins and stick them in my chest freezer to be enjoyed in the months to come.
---
Vegan Strawberry Recipes
Now let's take a look at 11 of my favorite vegan strawberry recipes on My Darling Vegan. You'll find recipes for breakfast to dessert and everything in between.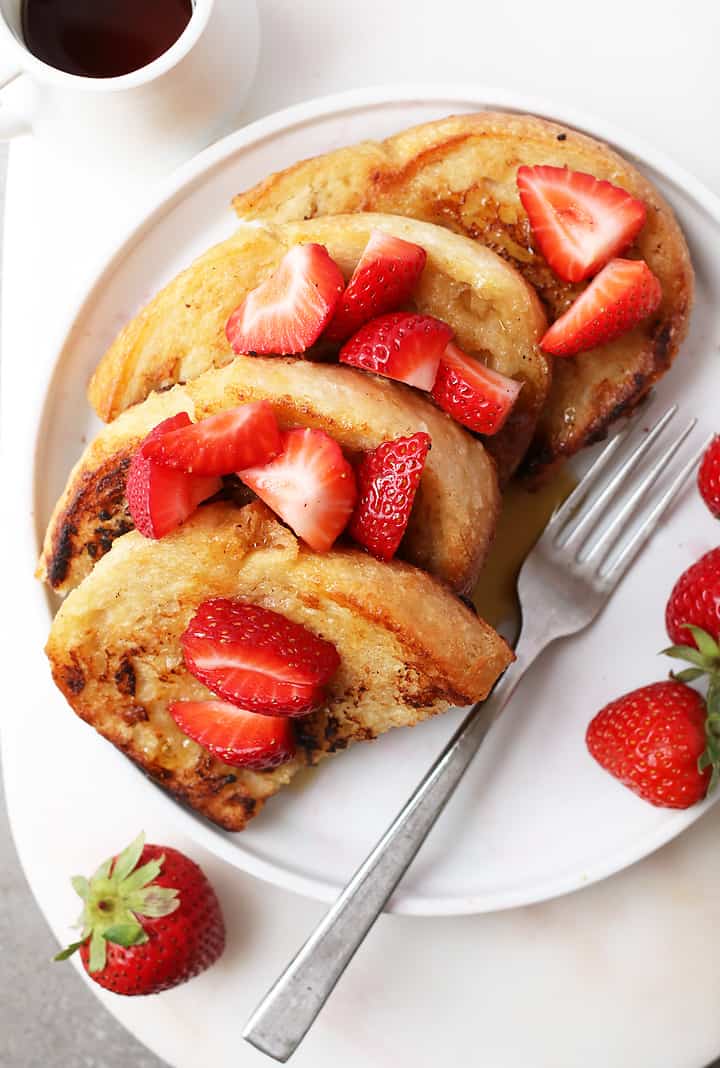 Classic Vegan French Toast
This Classic Vegan French Toast is made even better without eggs. Made with chickpea flour and soy milk, this vegan brunch recipe will certainly impress.
Recipe »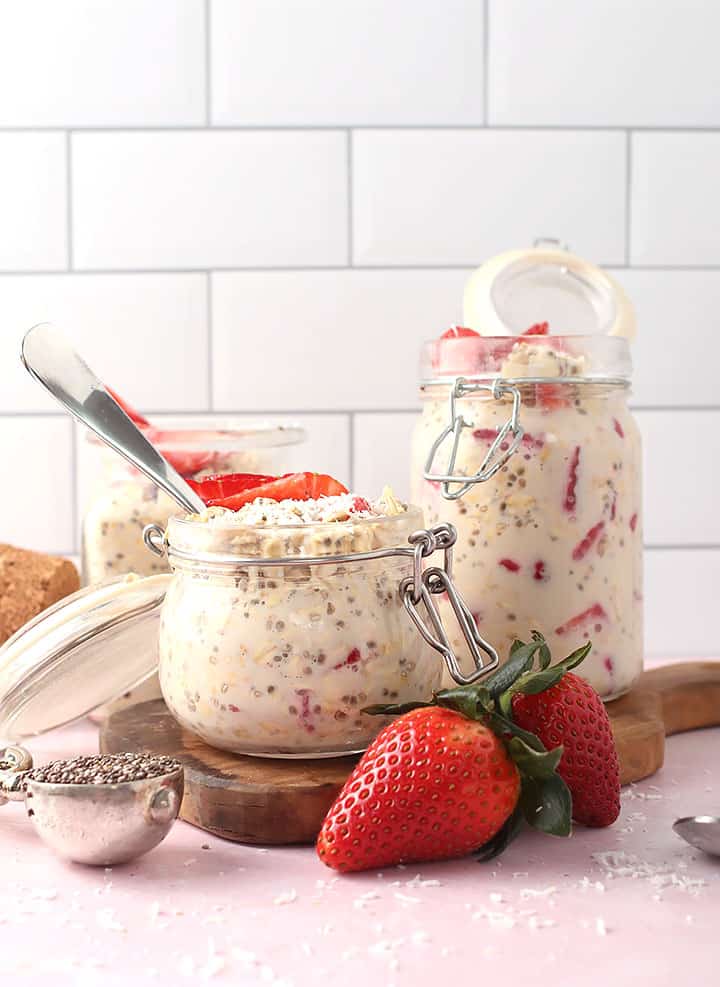 Strawberry Overnight Oats
Wake up to this delicious grab-and-go breakfast. These vegan Strawberry Overnight Oats are a hearty, sweet, satisfying, and wholesome meal. Throw them together in just 5 minutes for a quick and easy breakfast all week long.
Recipe »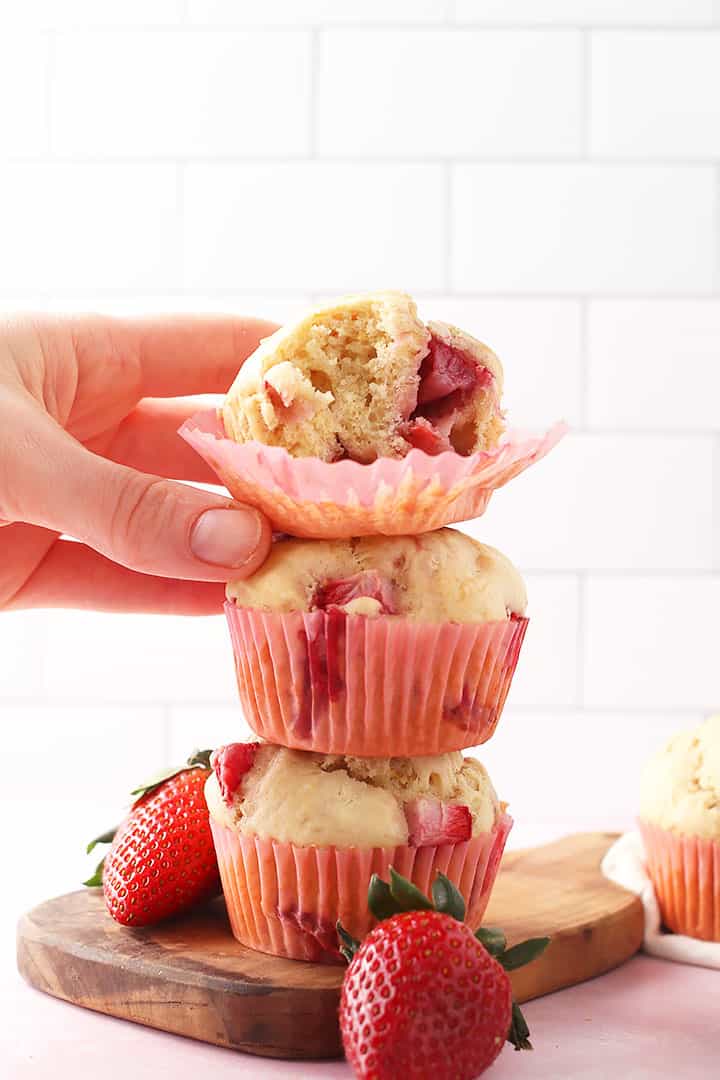 Vegan Strawberry Muffins
Wake up to something special. These vegan strawberry muffins are perfectly tender and moist for a fresh and seasonal breakfast pastry or daytime snack. Made with a hint of lemon to take these muffins to the next level.
Recipe »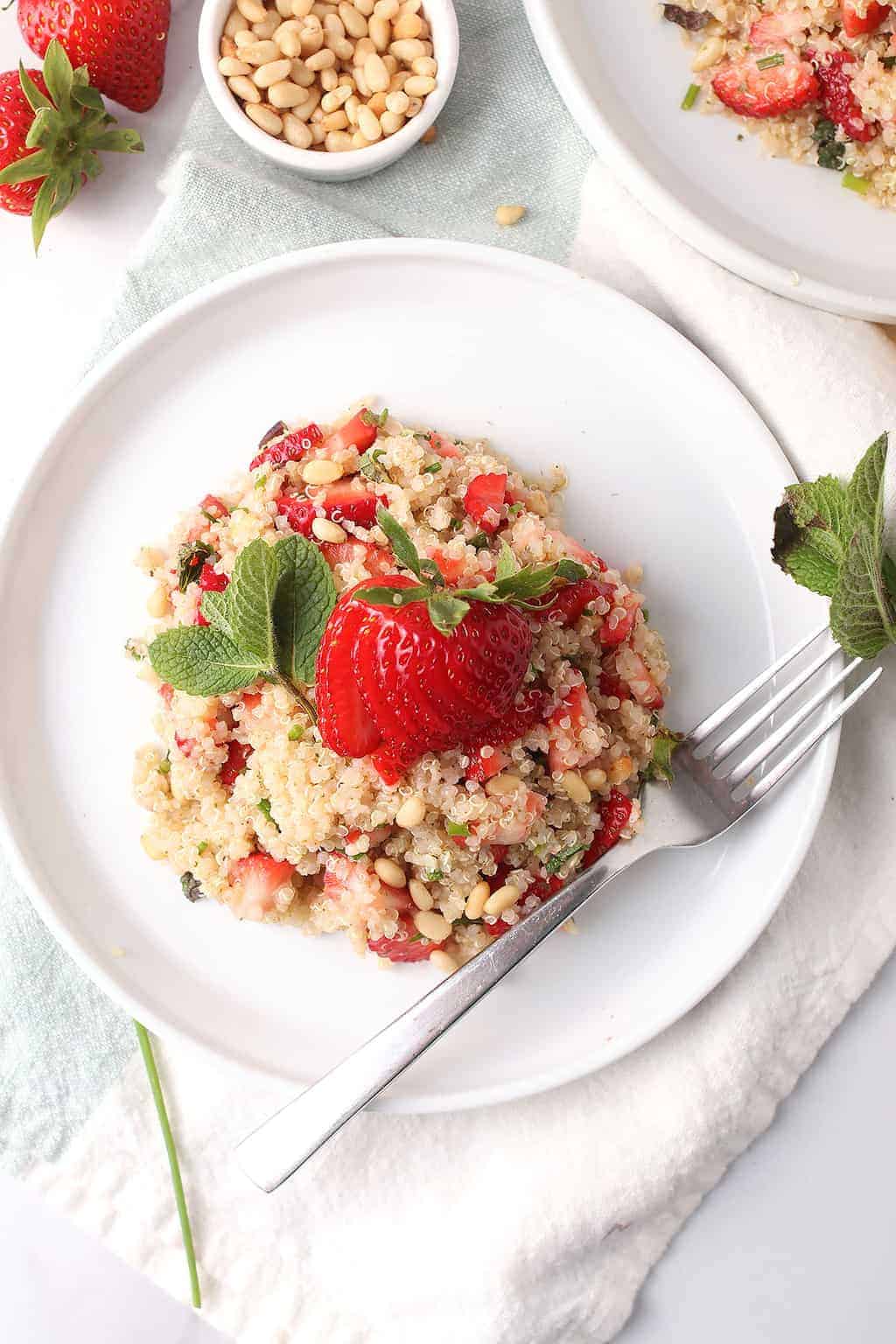 Vegan Quinoa Salad with Strawberries and Lemon Vinaigrette
You're going to love this delicious Strawberry Mint Vegan Quinoa Salad. It is tossed with homemade Lemon Vinaigrette for a simple and refreshing cool summer salad. Serve it at your next vegan potluck or BBQ.
Recipe »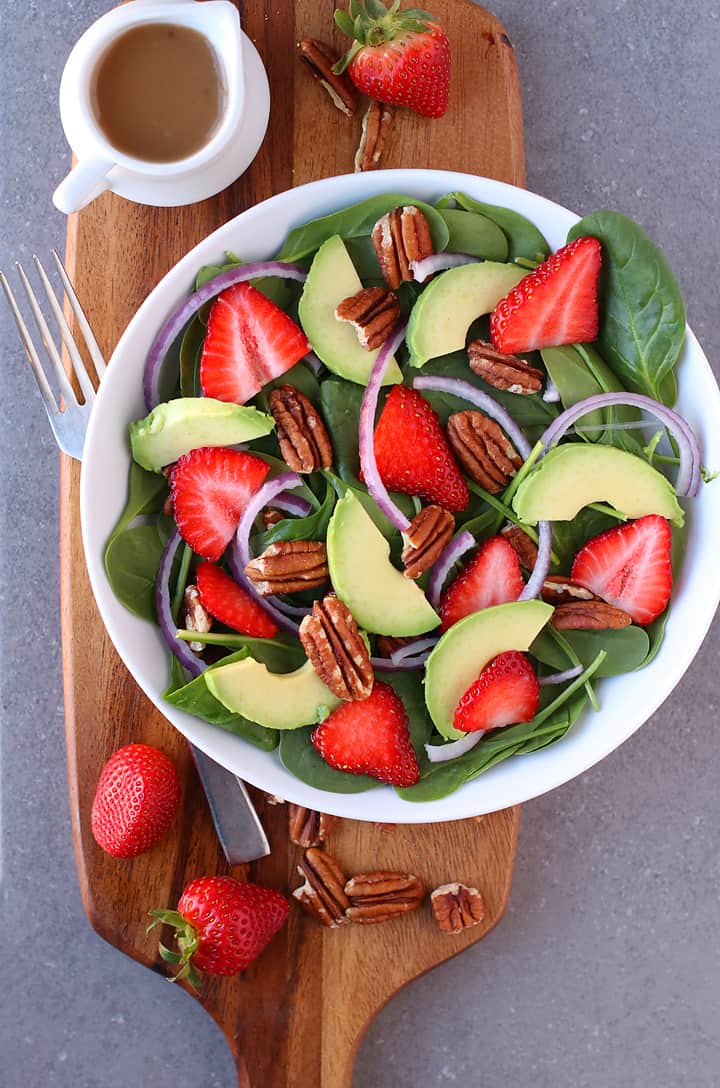 Spinach Strawberry Salad
Welcome in spring with this Spinach Strawberry Salad with Balsamic Vinaigrette for a refreshing salad that celebrates the sweetness of the season.
Recipe »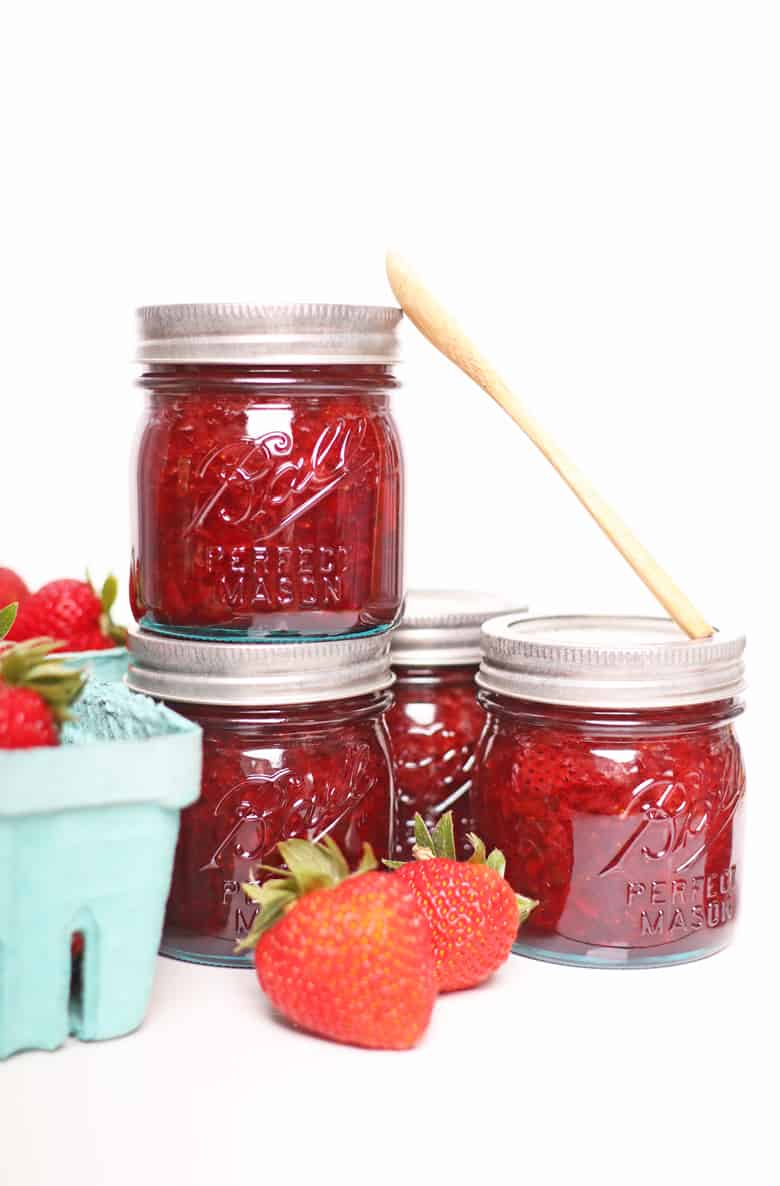 Homemade Strawberry Jam
It's strawberry season! Time to pick all those berries and make some jam. Homemade jam is easier than you think. With the right equipment, you can make fresh, delicious jam in under an hour. Makes the perfect spread, filling, or homemade gift.
Recipe »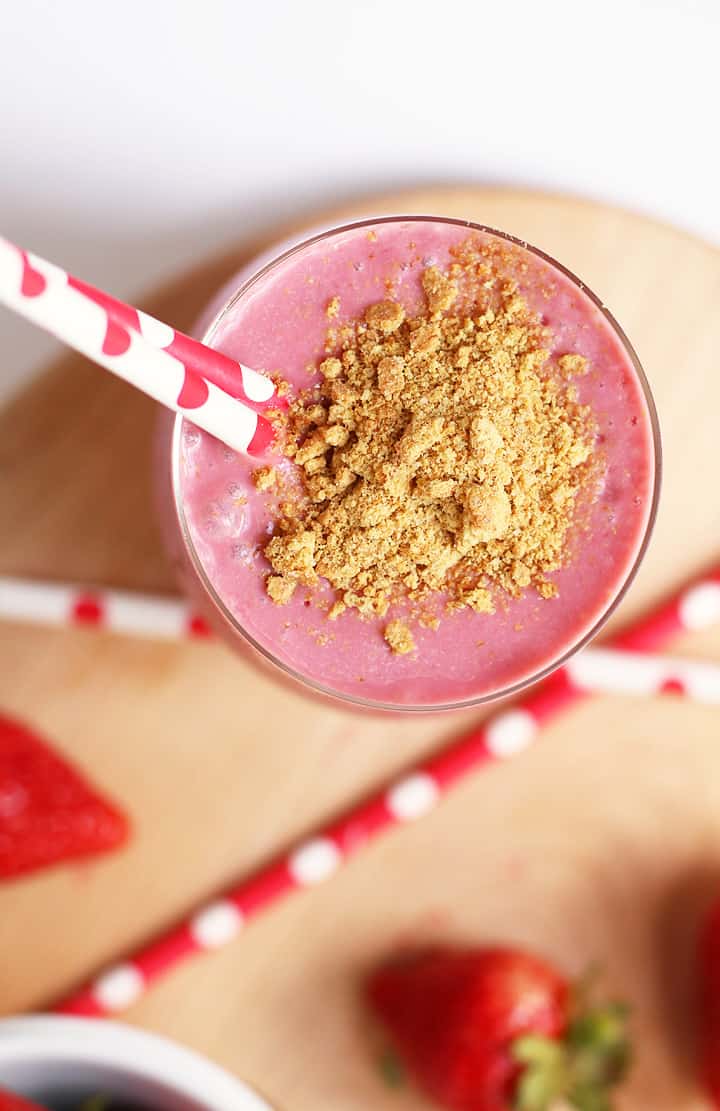 Strawberry Cheesecake Smoothie
This Strawberry Cheesecake Smoothie is made with frozen strawberries and bananas and vegan cream cheese for a decadent morning treat.
Recipe »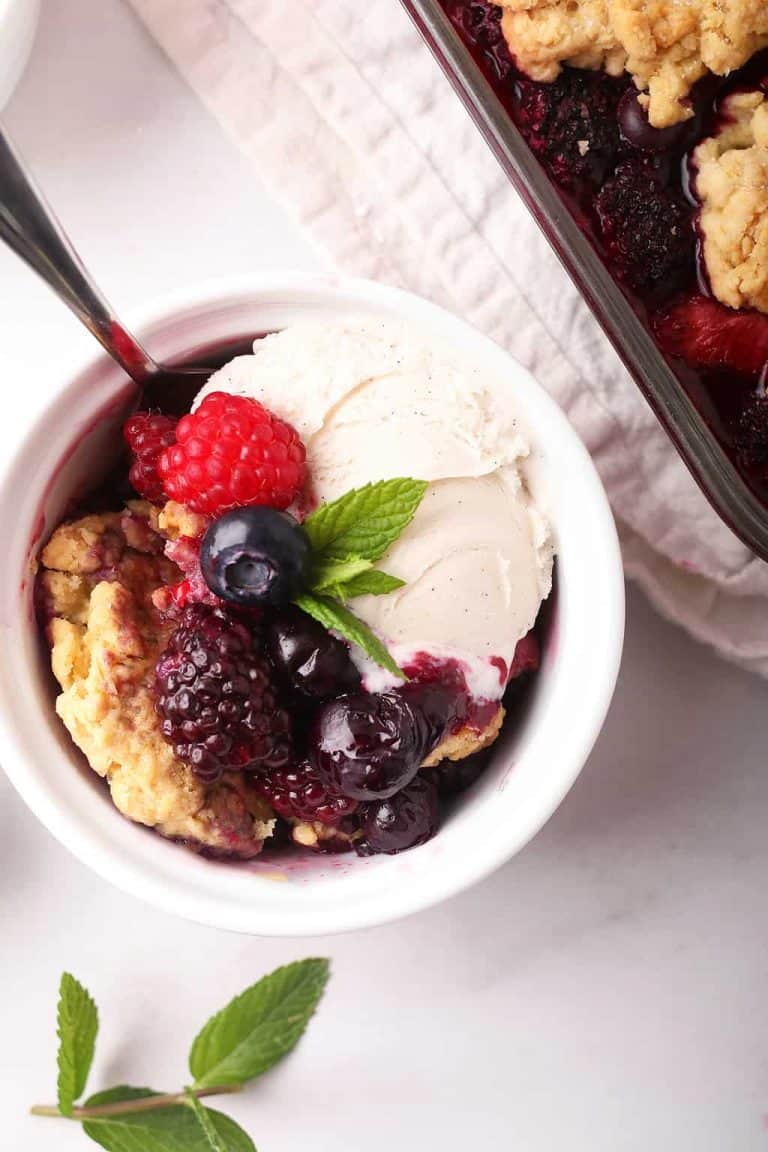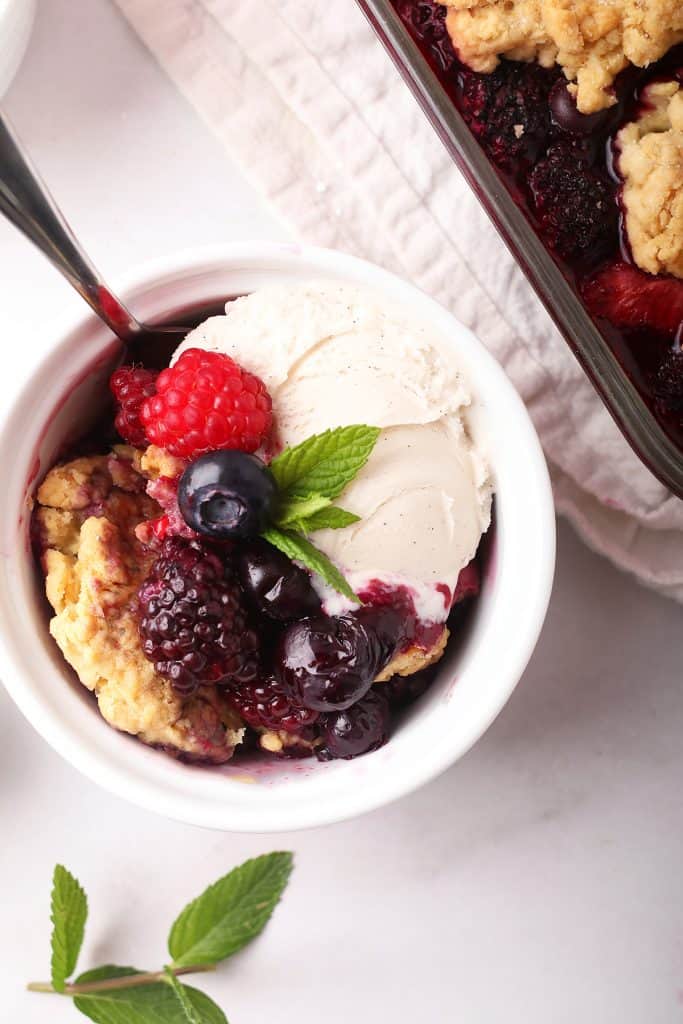 Mixed Berry Cobbler
This mixed berry cobbler is an easy and delicious dessert for your backyard barbecues this summer. Serve it with homemade ice cream for a creamy and refreshing sweet treat.
Recipe »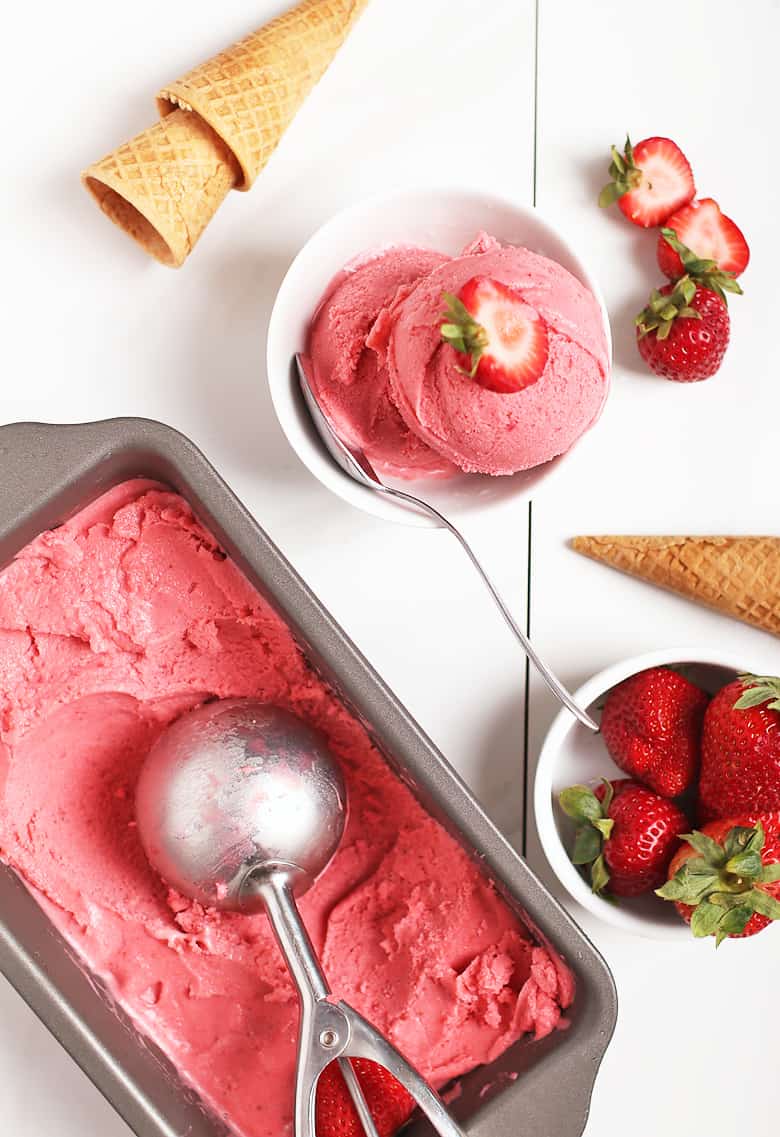 Vegan Strawberry Ice Cream
Make your own dairy-free ice cream at home with this vegan strawberry ice cream. Made with just 5 ingredients for a delicious and refreshing summertime dessert.
Recipe »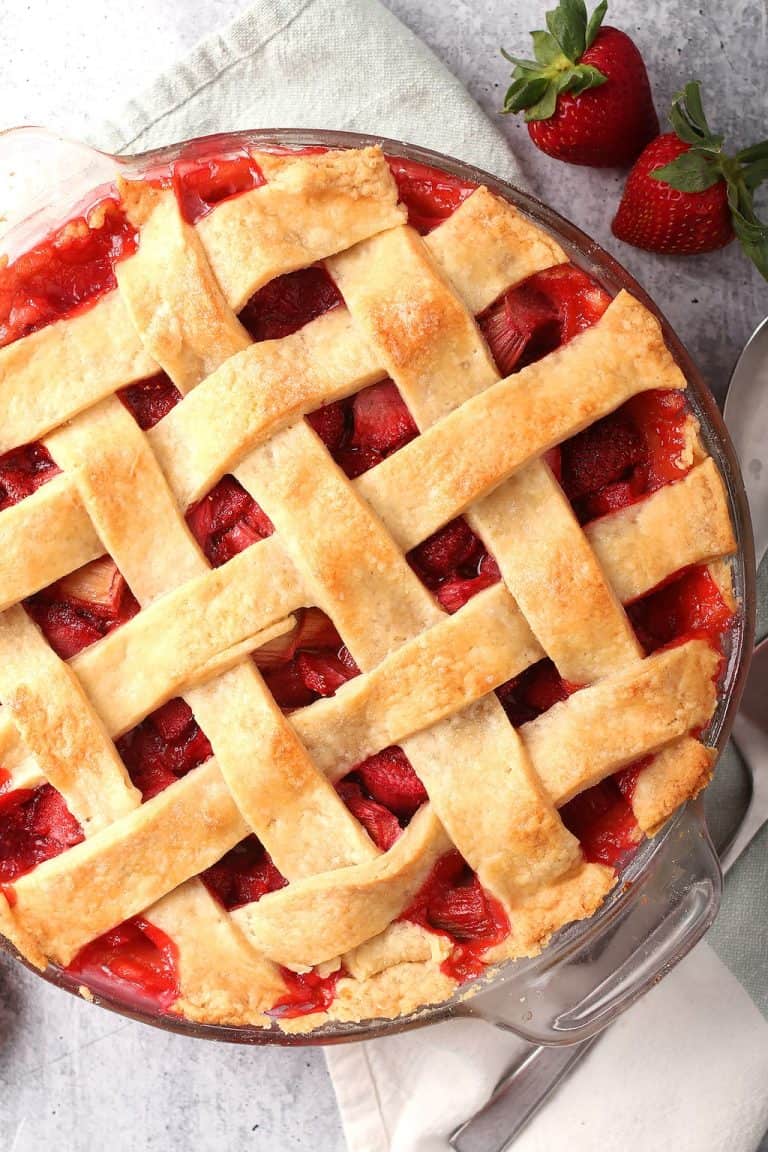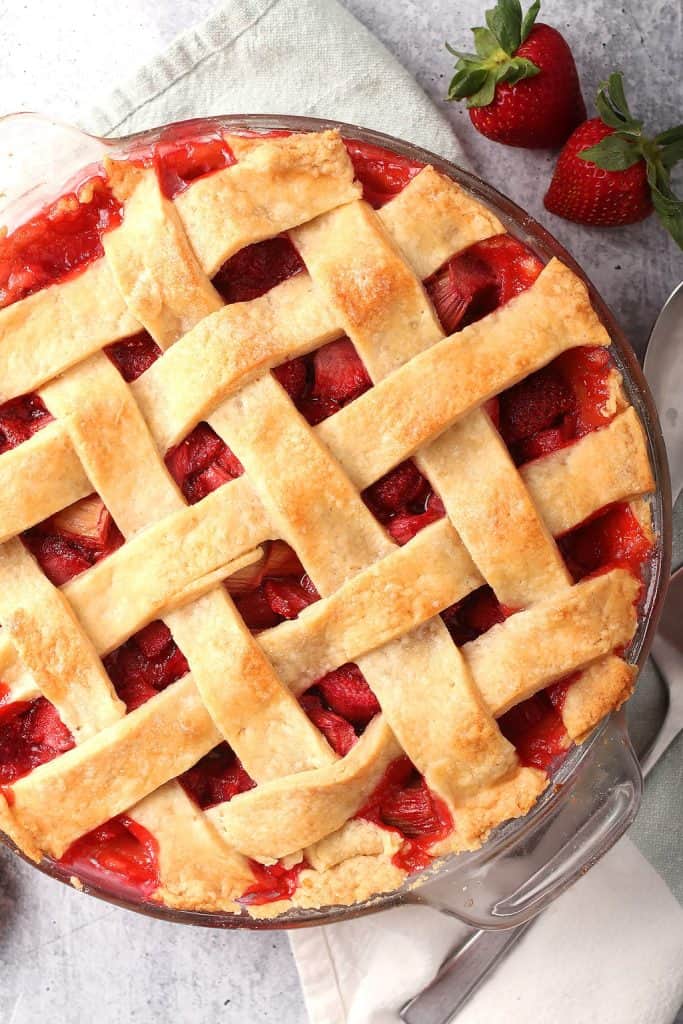 Disclosure: This post may contain affiliate links.
Vegan Strawberry Rhubarb Pie
This classic vegan strawberry rhubarb is the perfect sweet and tart filling baked inside a buttery crust. The filling can be made in advance for a quick and easy summer dessert the whole family will love.
Recipe »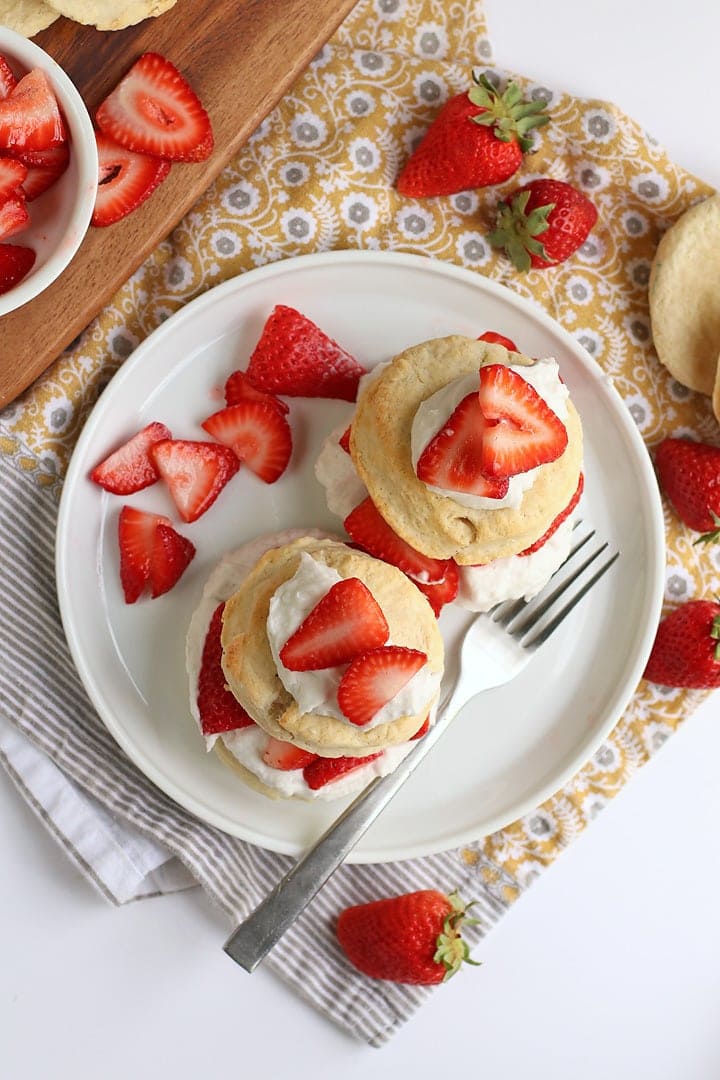 Vegan Strawberry Shortcake
This simple Vegan Strawberry Shortcake is made with cream biscuits, fresh strawberries, and coconut whipped cream for an easy springtime dessert.
Recipe »
More Seasonal Recipe Roundups
Do you have more vegetables growing in your garden? Make sure to check out these vegetable roundups as well:
That's it! 11 DELICIOUS ways to use strawberries. What is your favorite strawberry recipe? Tell me in the comments below.
Written by Sarah McMinn
If you give one of these recipes recipe a try, snap a photo and share it on Instagram. Make sure to tag
@mydarlingvegan
so I can see your creations!