Finding dairy substitutions may be the biggest obstacle for people wanting to eat a vegan diet. Here is your complete guide to dairy alternatives. With so many store bought and homemade options, going vegan has never been easier!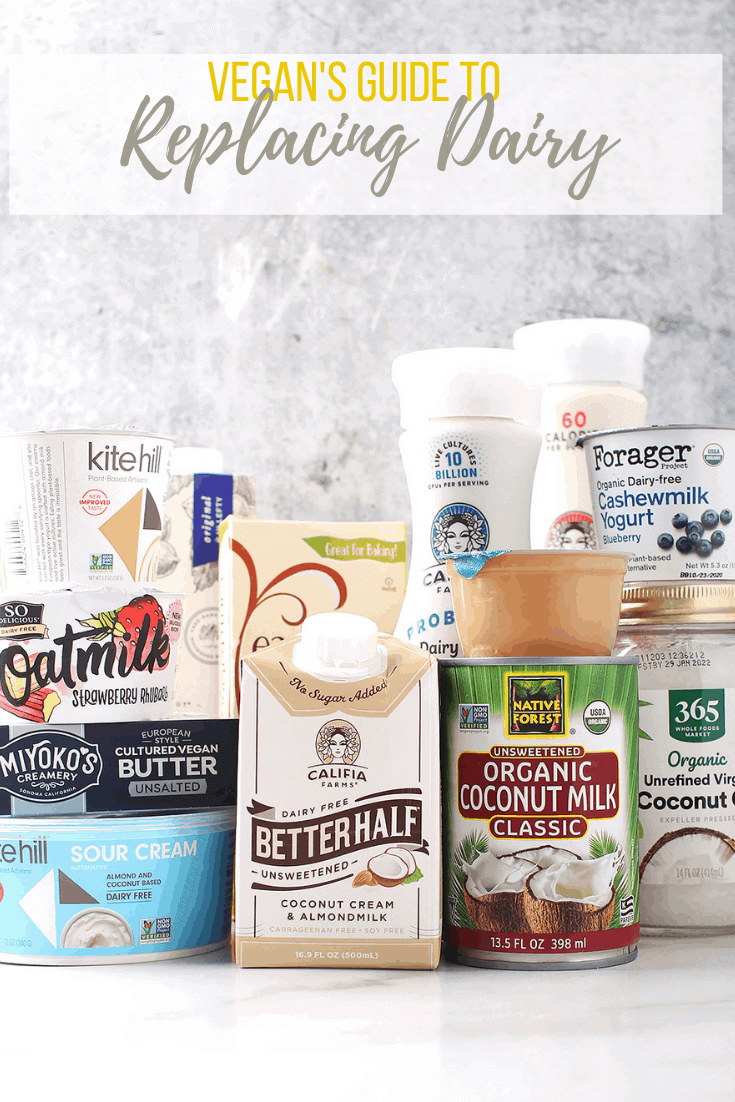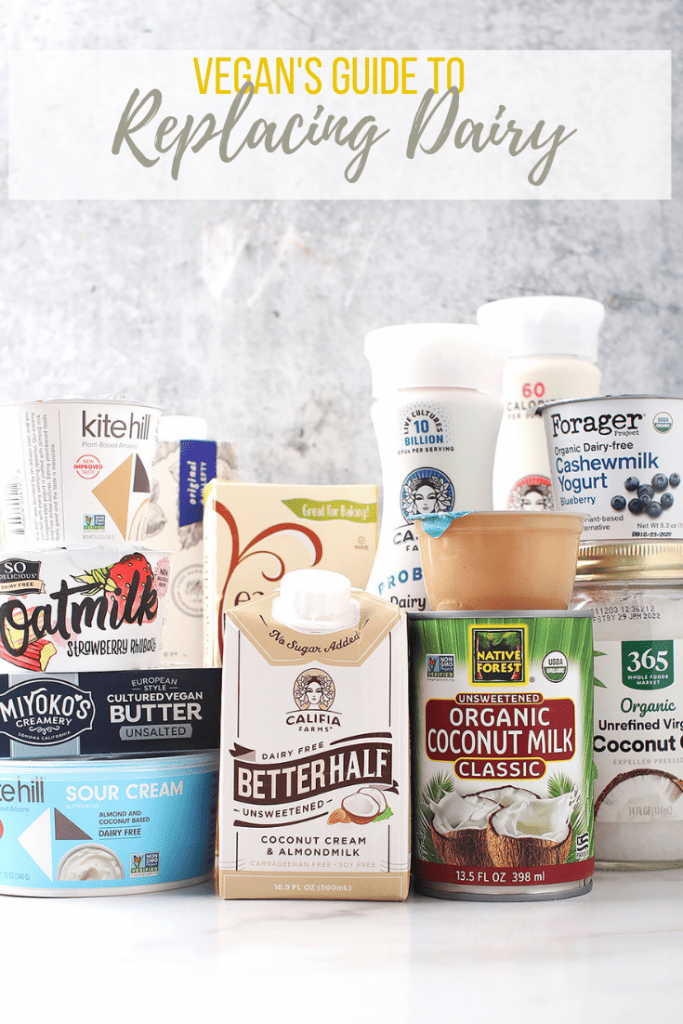 Disclosure: This post may contain affiliate links.
It's the ULTIMATE guide to replacing dairy!
Dairy is one of the hardest thing to give up when you're switching over to a plant-based diet. AND it is one of the best things to give up. Dairy wreaks havoc on our bodies, it's a horrifically cruel industry, and it is destroying our planet.
If you are ready to ditch the dairy, then I have good news for you. There are so many amazing plant-based options out there that don't require you to compromise on taste or texture!
This vegan guide breaks down the different types of dairy and then highlights the best store bought and homemade varieties. Learn how to make delicious dairy free alternatives at home and find out how to spot the best ones at your local grocery stores.
---
Non-Dairy Milk and Cream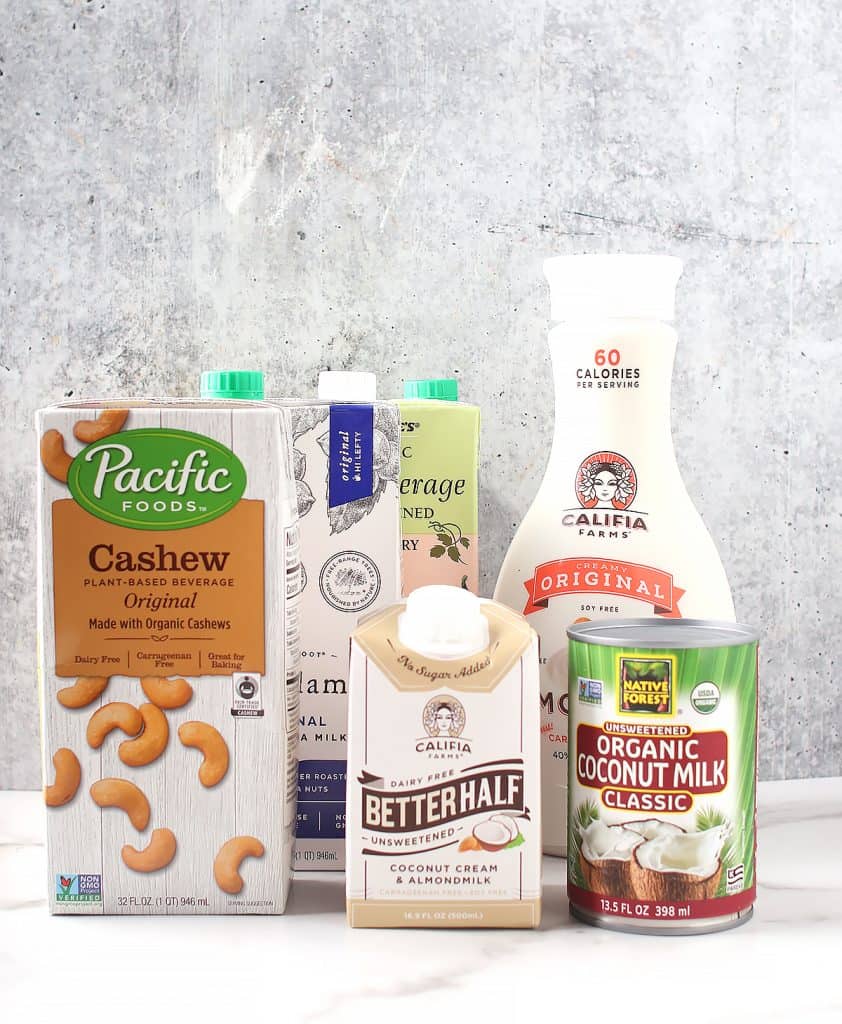 When people think of milk, they are often referring to cows milk - an animal product NEVER meant for human consumption. While it can be hard for people to let go of what they might perceive as the ultimate comfort food, they will find that removing it from their diets will make them feel so much better!
And more good news?
Non-dairy milk is on the rise! And there are a TON of milk alternatives that work perfectly for drinking, eating, cooking, and baking.
Soymilk
Soymilk is my milk of choice. It is thick, creamy, and has a subtle flavor that makes it the perfect replacement. When mixed with vinegar, soymilk curdles into a delicious "buttermilk" alternative which is great for muffins, pancakes, and quick breads. Soymilk is one of the most popular non-dairy milk of choice and can be found at most grocery stores, coffee shops, and even restaurants around the country.
Pros: Non-GMO soy milk is sustainably sourced, neutral in flavored, rich in nutrients, and curdles better than any other milk.
Cons: Plant based eaters end up eating a lot of soy. Too much soy can cause bloating and discomfort.
Cashew Milk
Cashew milk is thick, creamy, and relatively flavorless, making it most similar to cow's milk. It is great for the base for custards and ice creams as well as for drinking or enjoying with oatmeal or cereal. Cashew milk can be a bit harder to find than soymilk but should still be in most large, well-stocked grocery stores.
Pros: The consistency and flavor is most similar to cows milk, making it an easy transition for people making the switch.
Cons: Cashew milk is more expensive than other non-dairy milks and does not work for people with nut allergies.
Oat Milk
With nuts, soy, and dairy being three of the top common allergens, oat milk emerges as a leading allergy-friendly milk. While you can find it at most well stocked grocery stores, it is one of the easiest non-dairy milk alternatives to make at home. Oat milk can be made with 4 ingredients in under 5 minutes.
Pros: Oatmilk is allergy-friendly, sustainably sourced, and is one of the most affordable milk options on the market.
Cons: Oatmilk has a strong oat flavor. It works well in oatmeal and cookies but is less desirable for drinking and cooking.
Almond Milk
Almond milk is a slightly sweet, slightly nutty popular non-dairy milk replacement. You can find almond milk nearly everywhere, including your local grocery stores, coffee shops, and favorite restaurants. Almond milk is super easy to make at home requiring only 2 ingredients!
Pros - Almond milk is neutral favored and highly versatile.
Cons - Almond milk is not sustainably sourced and creates other problems, like water shortage, in areas that it is grown.
Coconut Milk
Coconut milk comes in two forms: canned and boxed. Canned coconut milk is one of the richest milk alternatives on the market. It is a great replacer for heavy cream and half & half. It is great for vegan ganache and homemade ice cream. Boxed coconut milk is a substitute for cow's milk. It is made for drinking. It has a strong flavor so is best suitable for people who love the flavor of coconut.
Pros - With a similar fat content to cream, it is a delicious replacement to heavy cream without any extra added ingredients or being overly processed.
Cons - Coconut milk has a strong coconut taste and it should only be used when a subtle coconut flavor is desired.
Other Milk Alternatives
There are a variety of other nondairy milk options that I use less frequently. Those include:
Hazelnut - Strong in flavor, creamy, and delicious in chai lattes and hot chocolate. Also a great alternative in hazelnut-based desserts.
Macadamia - Super thick and creamy with a slightly nutty flavor. Also great in warm beverages, such as matcha lattes.
Hemp - Earthy hemp flavor with tons of health benefits. Great in smoothie bowls and creamy pasta.
Rice - Lightweight and subtle flavor. I rarely use rice because of its consistency. However, it is a great alternative for those with nut or soy allergies.
Flax - Also lightweight and relatively flavorless. Full of health benefits and a great allergy friendly alternative.
When it comes to non-dairy milk, it really comes down to preference and dietary restrictions. Once you find your non-dairy milk of choice, you can use it as a substitution in nearly any recipe.
---
Non-Dairy Butter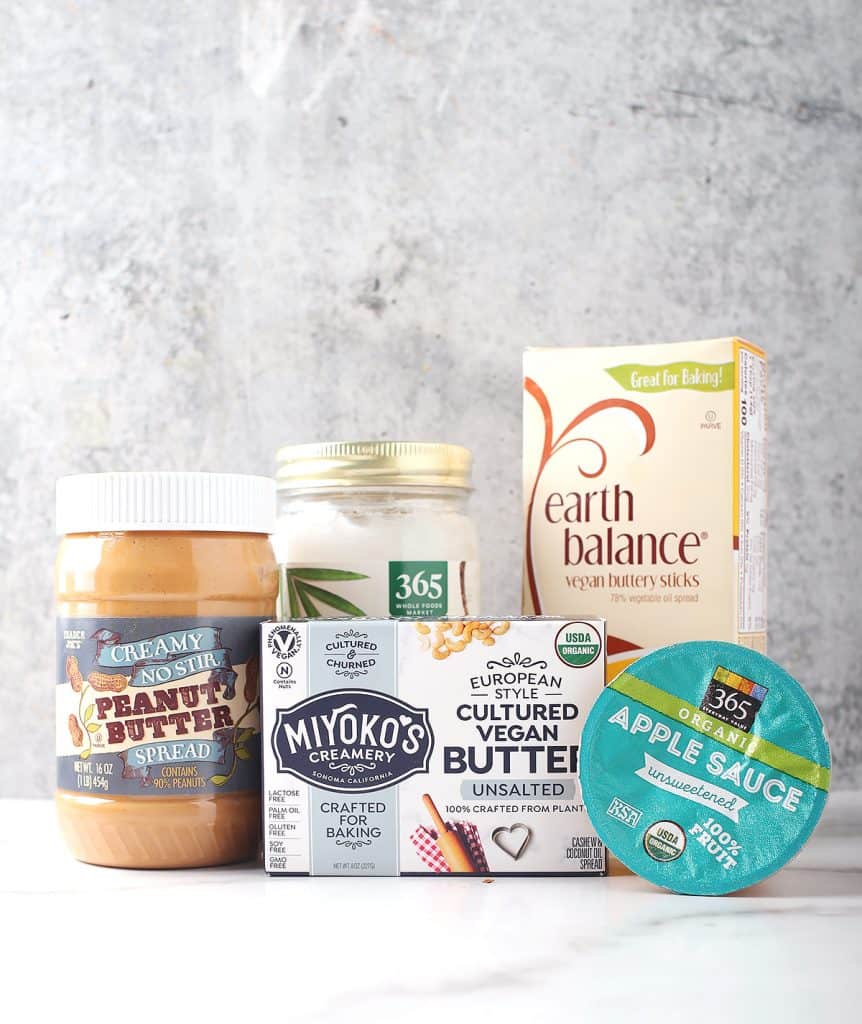 Butter is used in a variety of ways in baking and cooking. Butter can be whipped, melted, and cut into your recipes. Fat adds richness, tenderness, and flavor to both your sweet and savory dishes.
And there are some amazing butter alternatives!
Whether you are trying to replicate cow's milk butter or find low and no fat alternatives to butter, there are some great options. Store bought vegan butter has become amazing over the past several years and, not only that but now you can make your own gourmet butter at home.
Commercial Vegan Butter
I almost exclusively buy commercial vegan butter for my baking. Two brands that I recommend are Earth Balance and Miyoko's Creamery. These kinds of butter are high-quality with similar melting points of dairy butter and rich buttery flavor.
However, any non-dairy butter will do. Look for margarine (which by definition uses vegetable fat instead of animal fat) but make sure to read the ingredients. Some brands of margarine are not vegan.
Homemade Vegan Butter
Making a spreadable, whip-able, and super tasty vegan butter at home is not as hard as you might think! Homemade butter alternatives are made with a handful of easy-to-find ingredients that can be whipped together in just about 5 minutes! The pros of homemade vegan butter are that it is more affordable, more versatile, and made without questionable ingredients (like palm oil).
Butter Alternatives
Coconut Oil - For a less processed alternative, coconut oil works in some recipes as a butter alternative. This works in recipes that call for melted butter or soft butter, such as cookies and muffins. It also is great for homemade pie crusts. However, it would not work in buttercreams, pound cake, or other recipes that rely heavily on the taste and texture of butter
Nut Butters - A variety of nut butter can work in certain baked good recipes such as cookies, muffins, and quick breads. Nut butter provides healthy fats and nutrients to the recipe. However, they do add additional flavor. Use nut butter only when that flavor compliments your product. Cashew butter is the most neutral-flavored but when desired, almond, peanut and hazelnut can add amazing taste and texture to your baked goods. (<<affiliate link)
Avocado - Like nut butter, avocado is a nutritious alternative. It provides healthy fats and extra nutrients. Use it at a 1:1 ratio in your baked goods. Avocado is relatively neutral-flavored and should not be detectable in your treats.
Fruit/Veggie Puree - Fruit and veggie purees such as applesauce, pumpkin puree, and smashed bananas are a low-fat alternative to butter than you can use in place of melted butter. Use it at a 1:1 ratio in your baked goods. Some fruit and veggie purées are strong in flavor and should be used only when the flavor compliments the overall product.
Oil- For savory recipes, oil can replace butter for sautéeing and frying. You can also use oil in some baked goods that call for melted butter such as pancakes and muffins. However, if the recipe calls for solid butter, use a store bought vegan butter or solid coconut oil instead.
---
Cultured Dairy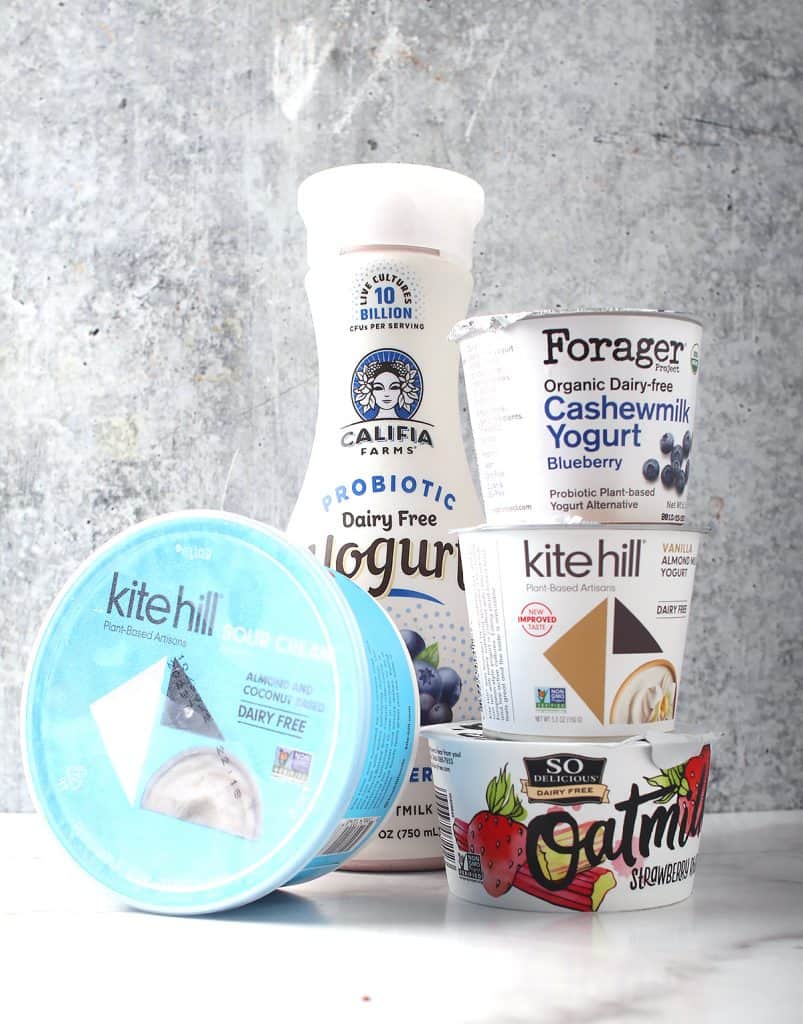 Fermented, or cultured milk products are dairy foods that have been fermented with lactic acid bacteria. The fermenting process adds health benefits to dairy, increases the shelf-life, and provides a unique tanginess that compliments your baking and cooking.
Foods like sour cream, yogurt, buttermilk, and kefir are all examples of cultured dairy. And they are easy to make vegan!
There is a variety of store bought brands that specialize in fermented dairy and (and they are so good!). You can also easily make homemade cultured dairy at home with just a handful of ingredients.
Sour Cream
Vegan sour cream is both easy to find and easy to make at home. Most store bought vegan sour cream is just as good as its dairy counterpart. I recommend either Follow Your Heart and Tofutti. You can also easily make homemade sour cream that is affordable, versatile, and delicious!
Yogurt
Vegan yogurt is everywhere! My favorite brands are Kite Hill and Ripple. You can find vegan yogurts that are made out of nuts (most commonly almonds) pea protein, soy, oats, and cultured coconut, making it suitable for any dietary restrictions. Or make it at home with just 2 simple ingredients!
Buttermilk
Buttermilk is used to create tenderness, flavor, and rise to your baked goods. And it's super easy to make My favorite method is combining soy milk with vinegar. You will need 1 teaspoon of apple cider vinegar for every cup of soymilk. Soymilk curdles into a delicious "buttermilk" alternative which is great for muffins, pancakes, and quick bread. While other non-dairy milk alternatives will do, soy milk curdles better than most.
Kefir
Kefir is a fermented milk drink that is similar to a thin yogurt. It is filled with probiotics, protein, and important vitamins and minerals. Califia Farms has a great drinkable kefir that I highly recommend. You can also make homemade vegan kefir with any type of non-dairy milk and kefir grains. Try making homemade kefir in the instant pot for a super simple recipe!
---
Vegan Cheese Replacements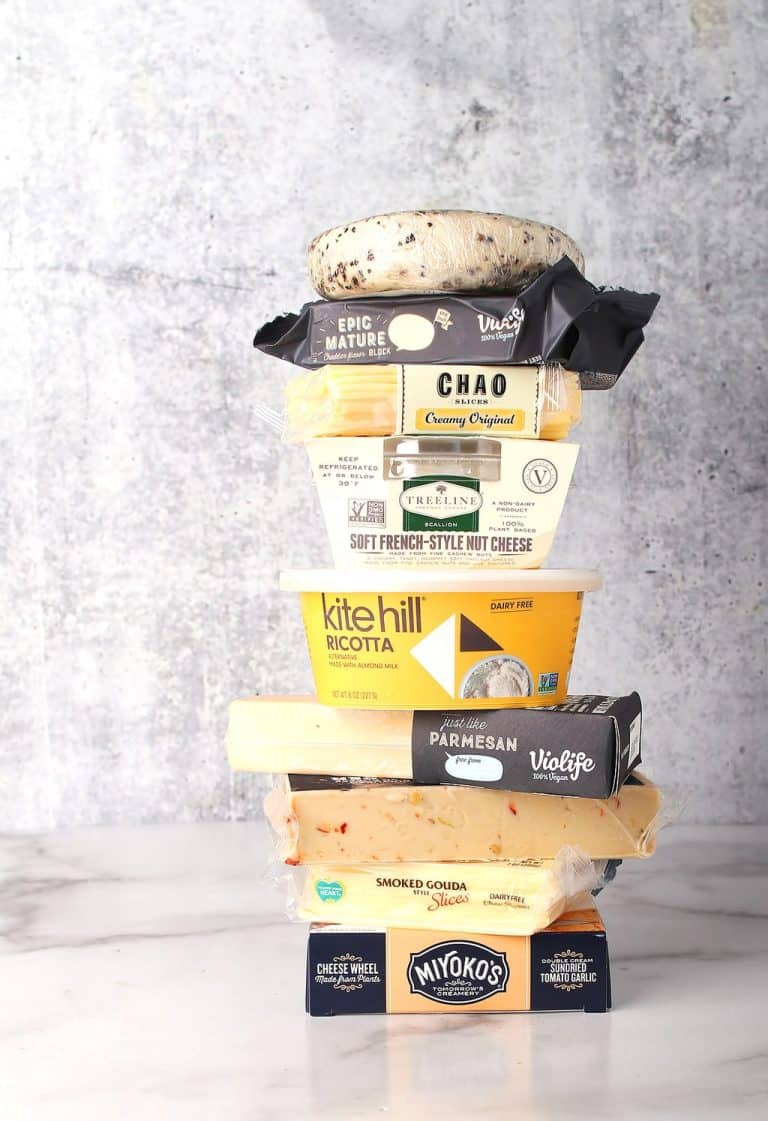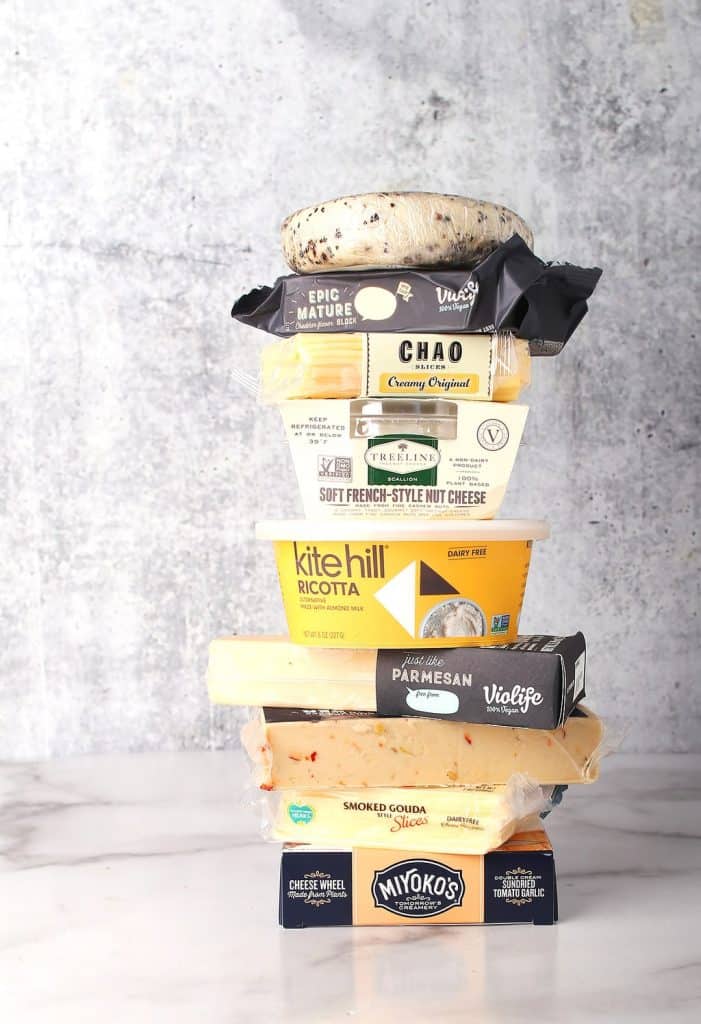 Cheese is, perhaps, the hardest thing to give up when you're switching over to a plant-based diet. Who hasn't heard someone say, "But I could never give up cheese!"
I get it. Cheese is loved by all.
Because good vegan cheese is so important, I've created a separate article covering EVERYTHING you need to know about the topic. Check out The Vegan's Guide to Substituting Cheese for all your cravings.
---
More Vegan How-To Guides
Looking for more? Make sure to check out these handy guides. And get all my tips and tricks in my vegan resource section.
If you're new to veganism, make sure to check out my Beginners Manual to Going Vegan and the Vegan Starter Kit.
Written by Sarah McMinn
If you give one of these recipes recipe a try, snap a photo and share it on Instagram. Make sure to tag
@mydarlingvegan
so I can see your creations!