Rich and delicious, this vegan cookie dough ice cream is made from raw cashews and cashew milk. The ice cream is churned into a creamy base and filled with chocolate chip cookie dough chunks in every bite.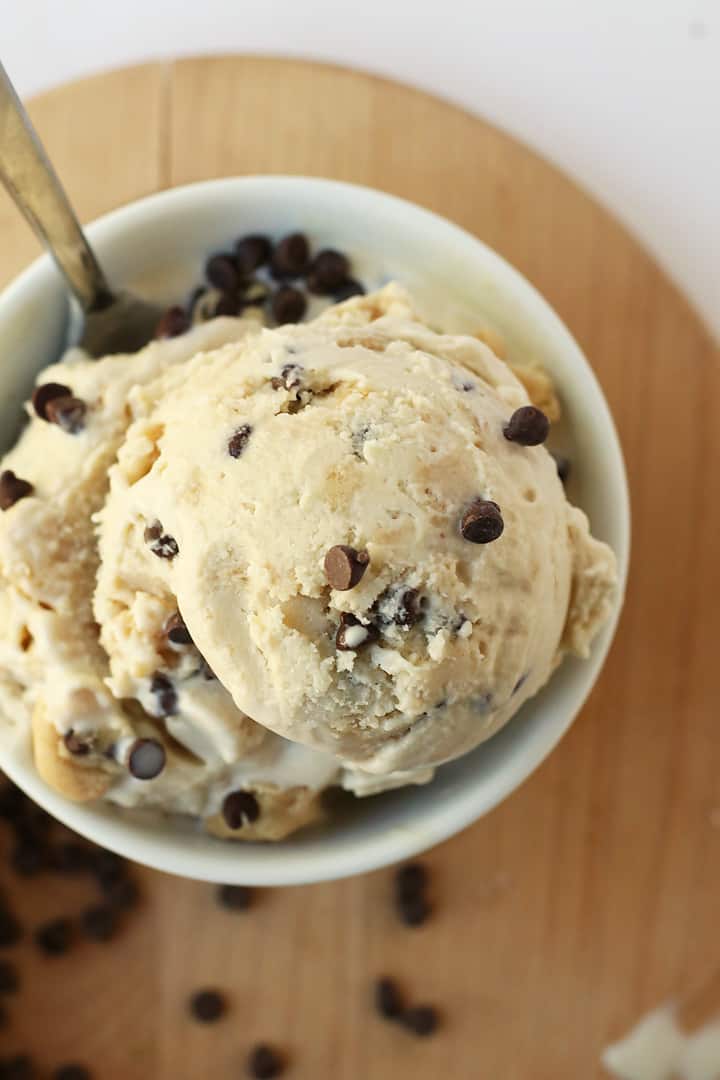 This post contains affiliate links. For more information, please see my privacy policy.
Friends, it's my first ice cream recipe of the season!
If you know me at all, you know that I am a HUGE fan of homemade ice cream and for the past 6 summers I've been sharing my favorite recipes with you on the blog. Search my archives and you will find recipes for pistachio ice cream, turkish coffee ice cream, snickerdoodle ice cream, and so much more. But before you go looking for them, stick around for a moment so I can tell you about today's flavor – the one to kick of the 2018 ice cream season.
Today, I am sharing with you one of my favorite ice cream recipes from childhood – vegan cookie dough ice cream – a rich and creamy cashew-based custard filled with sweet and salty chocolate chip cookie dough pieces in every single bite.
I can't think of a better way to kick off the season.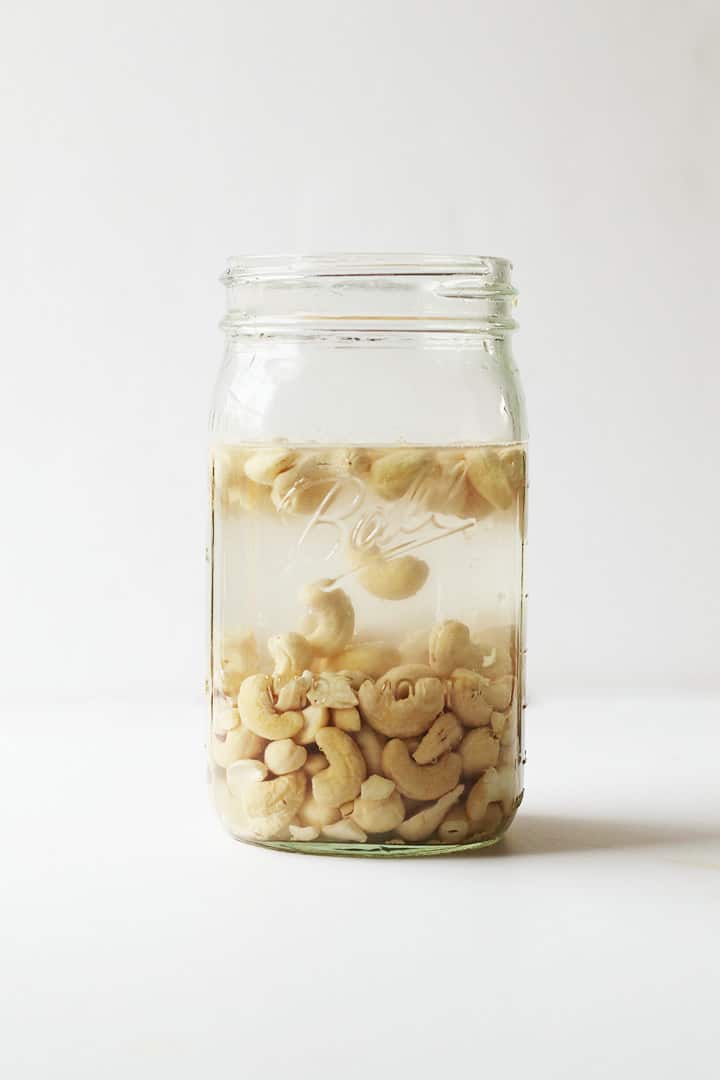 I love cashew based ice creams because:
if you have a Vitamix or similarly high-powered blender, cashew based ice creams are incredibly simple to make. No heating, cooking, or finicky thickening required. Just blend until completely smooth and chill.
cashews are a soft nut with a natural creamy and fatty consistency making it rival with whole cream, egg yolks, and other dairy-based custards for one of the creamiest ice creams available.
cashews are also relatively flavorless. Unlike coconut milk (which is also a great base for ice cream), cashews don't bring any of their own flavor, taking on the flavors of whatever you please.
of the many health benefits cashews provide. You CAN have your cake (uh, ice cream) and eat it too!
All you have to do is blend the cashews with some non-dairy milk, a bit of sweetener, a little of this, and a little of that until you have a completely smooth custard that you can churn it up into a creamy and oh-so-rich ice cream.
Just look at that churn.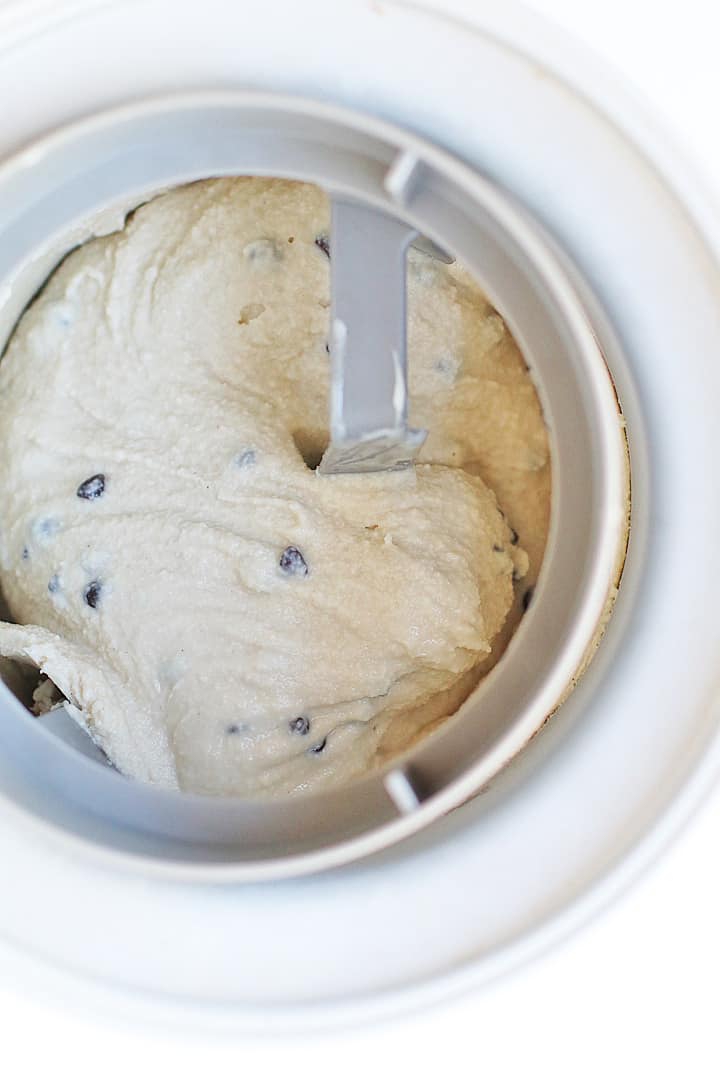 For the cookie dough, I used a variation of my Classic Vegan Chocolate Chip Cookies recipe. I omitted the baking soda and divided the recipe by 1/4th, swapped out regular chocolate chips for mini (better for the bite sized pieces) and…
voila…
a sweet and salty dough filled with mini chocolate chips for the best vegan cookie dough ice cream I've had.
It doesn't get much better than that!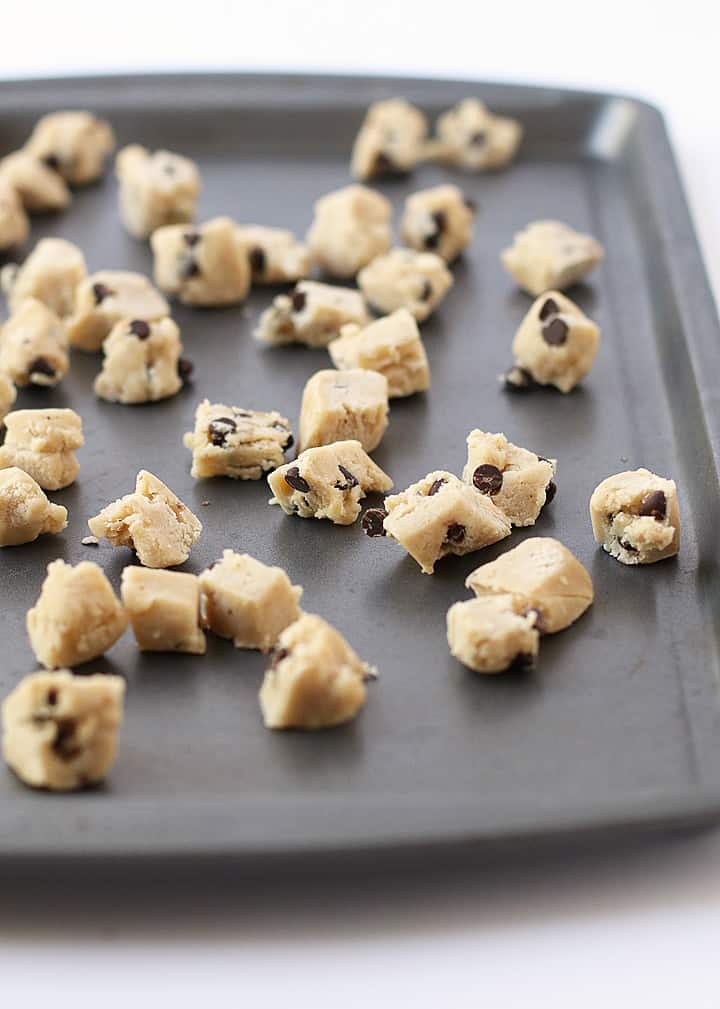 If you don't have an ice cream maker yet, I HIGHLY recommend you get one. I've been using this one for the past 5 years and I love it. It is compact and makes the perfect creamy ice cream every time! In 5 years and MANY hours of use, I have never had a problem with it.
However, if it's not realistic for you to buy an ice cream maker right now, here is a method to make a creamy custard without the machine. It basically involves freezing the custard in a shallow dish then blending it in a food processor before refreezing. You won't get quite the same creaminess, but it works in a pinch!
There you have it! Vegan Cookie Dough Ice Cream. Surprisingly simple and shockingly good.
This rich, creamy, chocolate chip cookie dough ice cream is the perfect way to kick off the 2018 ice cream season. Tell me, what flavors would you like to see come out of My Darling Vegan's kitchen this year? I'd love to give your suggestions a try!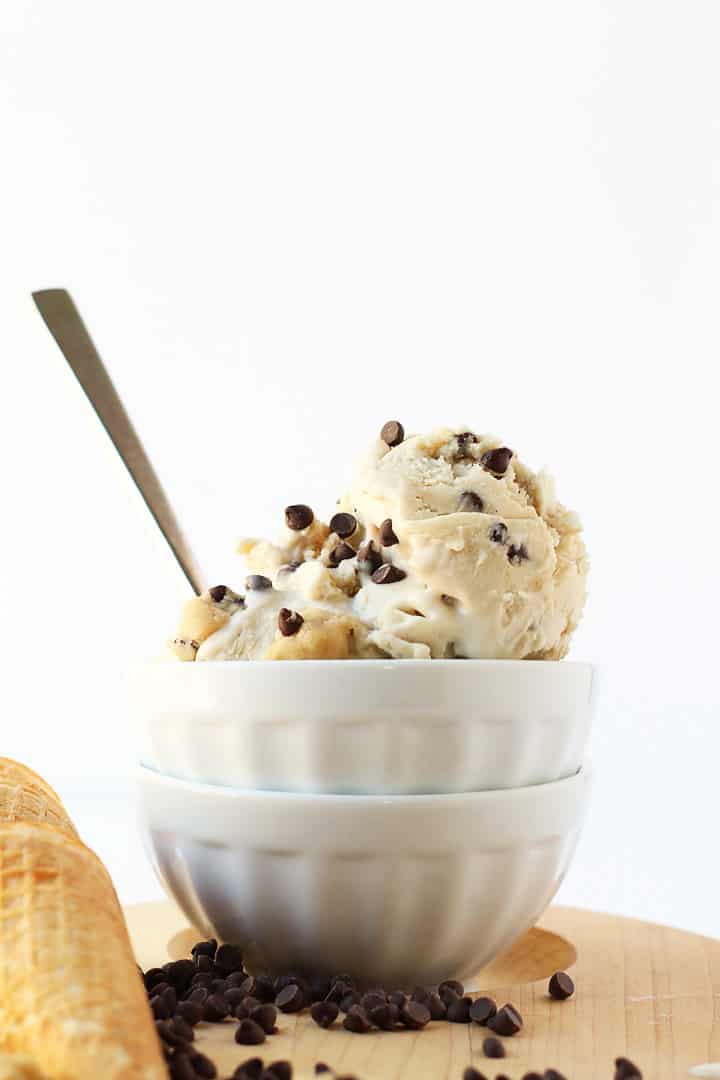 Vegan Cookie Dough Ice Cream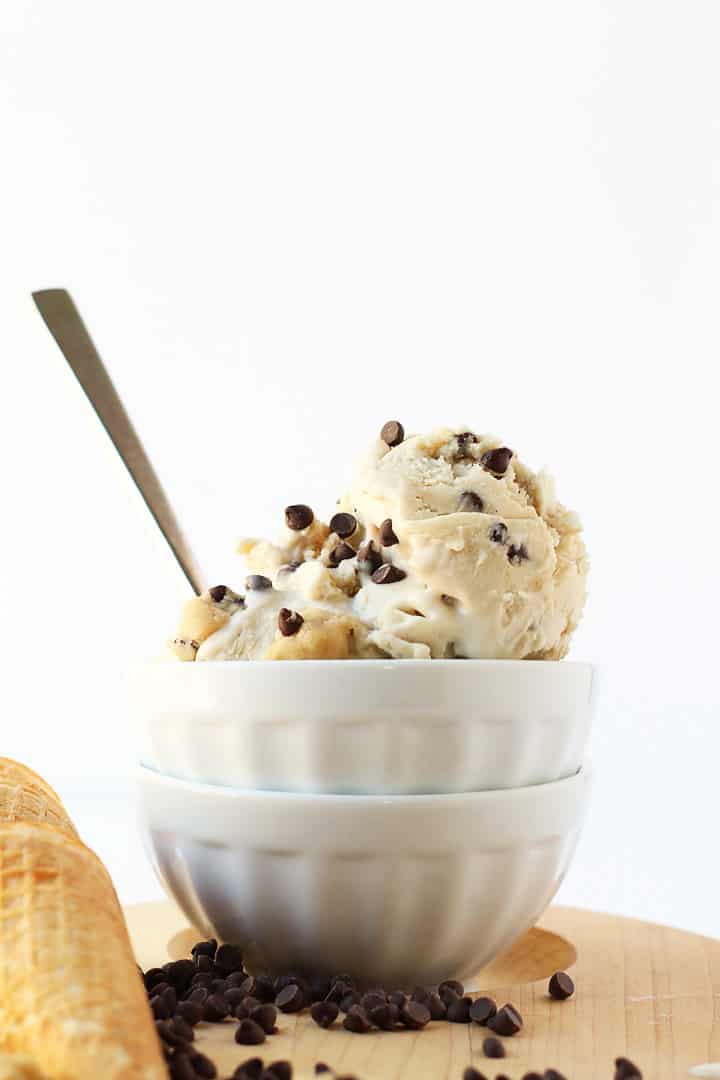 Rich and delicious, this vegan cookie dough ice cream is made from raw cashews and cashew milk. The ice cream is churned into a creamy base and filled with chocolate chip cookie dough chunks in every bite.
Keyword:
Vegan Cookie Dough Ice Cream
Ingredients
Cookie Dough
3

tbsp

brown sugar

2

tbsp

white sugar

2

tbsp

coconut oil,

melted

1/4

tsp

salt

2

tbsp

apple sauce

1/2

cup + 1 tbsp

all-purpose flour

1/4

cup

mini chocolate chips
Instructions
Add all the remaining ice cream base ingredients EXCEPT the mini chocolate chips and blend together until well combined - about 2 minutes.

Transfer to a shallow container, cover in plastic wrap, and place in the refrigerator to let the ice cream base chill all the way through (about 2 hours).

While ice cream base is chilling, make your cookie dough. Stir together sugars and coconut oil together in a small bowl until evenly mixed. Add apple sauce and vanilla extract, stirring to combine. Once combined, sift in flour and mix until an even dough has formed. Fold in the chocolate chips.

Roll dough into a long, thin log and cut into 1/4" pieces. Place pieces on a baking pan and freeze for at least 20 minutes.

When ice cream base is chill, transfer it to the frozen base of your ice cream maker and churn the ice cream according to manufacturer's instructions. Once it is thick and creamy and resembles soft serve, add 1/2 cup mini chocolate chips and frozen cookie dough chunks. Churn for 30 seconds more or until chocolate chips and cookie dough is evenly distributed.

Transfer it to a loaf pan, cover, and place in freezer. Allow ice cream to freeze all the way through, about another 2 hours.

To serve, remove from freezer and allow ice cream to thaw for 10 minutes before scooping.

Store in an airtight container in the freezer for up to 2 weeks.
Nutrition Facts
Vegan Cookie Dough Ice Cream
Amount Per Serving
Calories 346
Calories from Fat 153
% Daily Value*
Total Fat 17g 26%
Cholesterol 2mg 1%
Sodium 162mg 7%
Potassium 146mg 4%
Total Carbohydrates 42g 14%
Protein 5g 10%
* Percent Daily Values are based on a 2000 calorie diet.
If you give this recipe a try, let us know what you think in the comments below. Or snap a photo and share it on Instagram. Make sure to tag @mydarlingvegan so I can see your creations!