Wake up to these easy Vegan Pancakes. Light, fluffy, and slightly sweetened with maple syrup, this is a breakfast worth getting out of bed for. Ready in 10 minutes.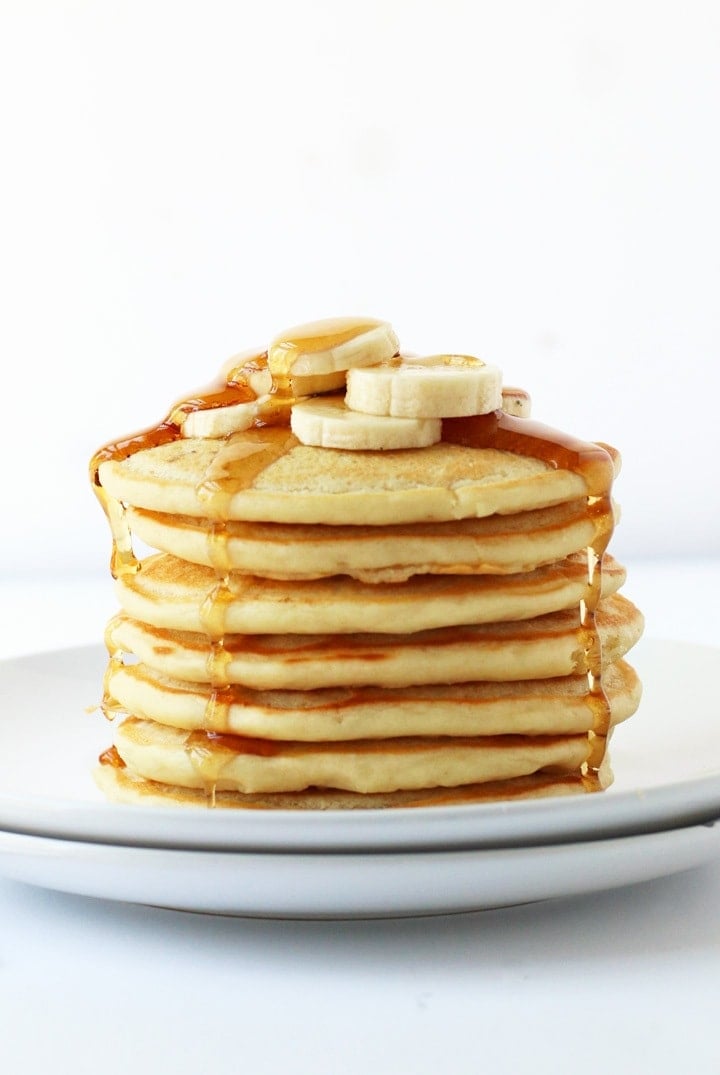 This post contains affiliate links. For more information please read my privacy policy.
It's pancake time!
Vegan pancakes, to be exact. I'm not much of a pancake eater myself (I ALWAYS prefer a savory breakfast over sweet) but I am a pancake-maker expert. For the past 5 years I have been making pancakes almost weekly for my kids who believe there is no better way to wake up than with a plate full of pancakes.
I have tried many different pancake recipes but have struggled with the perfect vegan pancake. Either to doughy or cakey or flat or sweet. But after years of perfecting one singular recipe, I am finally ready to share it with you.
Let me introduce these perfect vegan pancakes.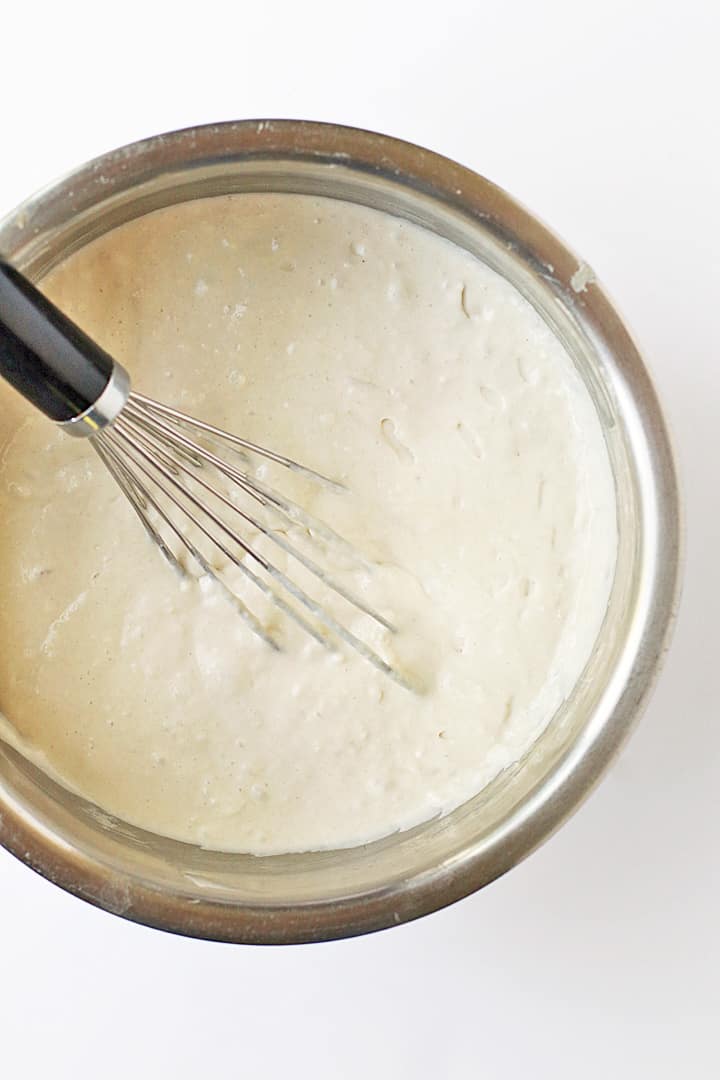 I like this vegan pancake recipe because it
doesn't have any strange egg replacers. Just relies on the binding powers of soy milk and oil and the rising powers of baking powder.
doesn't use refined sugar. It's sweetened with maple syrup, folks!
has the perfect golden crust with a delightful rise.
is nearly fool-proof. I've even been teaching my 6 year old how to make this recipe and it turns out perfect every time!
has the best flavor and texture I've ever had in vegan pancakes.
Let's take a closer look.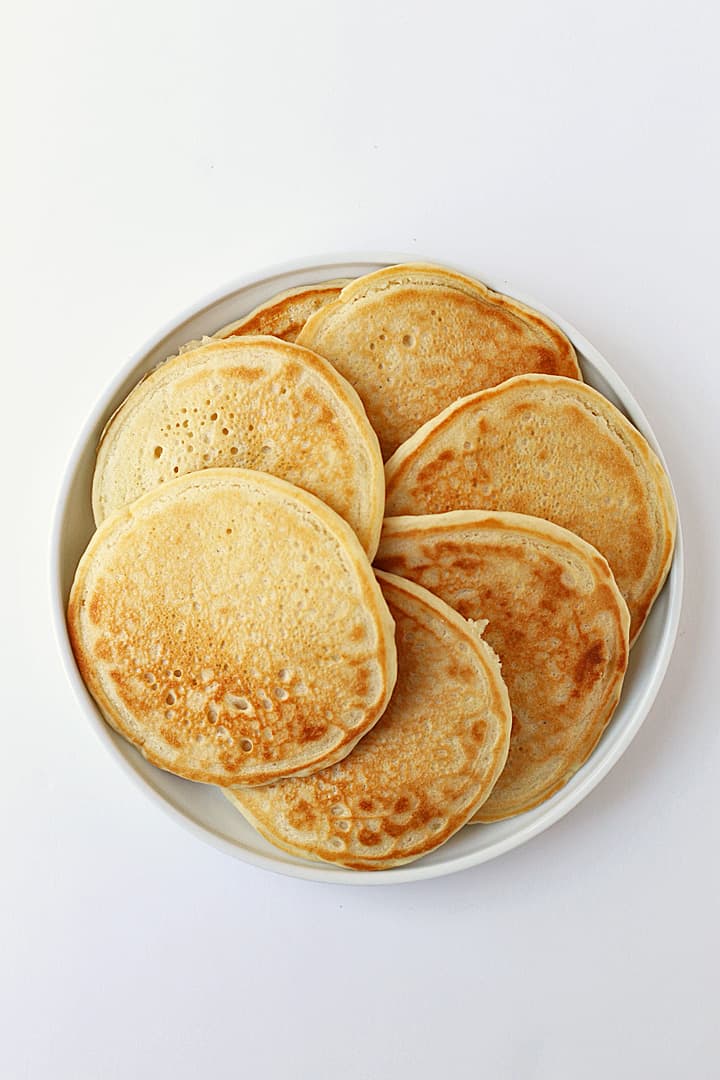 How do we make these pancakes perfect?
Let me tell you!
Step One: Make your "Buttermilk"
The soy milk and apple cider vinegar are mixed together to get a milk that closely resembled buttermilk. It becomes thick and curdled and gives the slightly tangy taste of buttermilk as well aids to the rise of the pancakes. This is key when taking out the eggs of the pancakes which also do the same thing. I have had experience with other milks curdling, specifically almond and coconut milk, but they never curdle quite as well as soy. So while you can try other milks, I do recommend soy.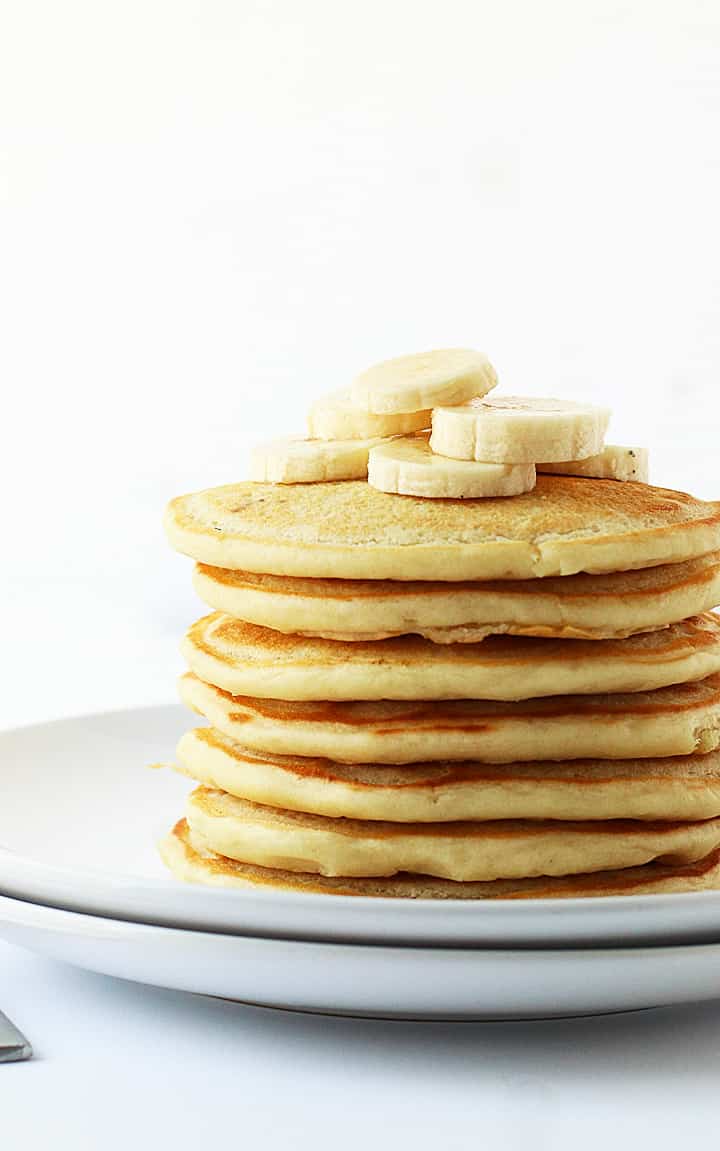 Step Two: Combining the Ingredients
Combine your dry ingredients – that's your flour, baking powder, salt, and spices – in a large bowl and set aside.
Once your milk has curdled, transfer it into a separate bowl and add the remaining wet ingredients to it – that's the water, coconut oil, maple syrup and vanilla extra.
Fold the wet ingredients into the dry, mixing gently, until a thick uniform batter has formed.
Step three: Cooking the Pancakes
Once your pancake batter is made, it's time to cook them!
Getting an even cook on your pancakes is crucial. You want to get both sides of the pancakes lightly golden and crispy while making sure that the center is cooked. This can be difficult so it's important to be able to get your temperature just right. I have found that setting my electric griddle to 375F has given me the best results.
While an electric griddle is not completely necessary for pancakes, I highly recommend one. Electric griddles are fairly cheap. This is the one I use: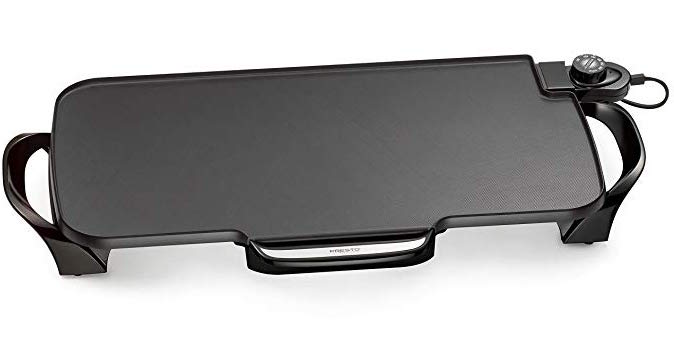 which is under $40 on Amazon and it's something I use nearly weekly!
With the electric griddle, I can make these pancakes in 2 batches pancake (rather than a couple at a time) and get the luxury of setting the temperature to exactly what I want. That means not having to worry about the pancakes burning or cooking unevenly. However, if you don't have an electric griddle, you can do this on a skillet. It may involve trial and error in terms of getting the right temperature.
Make sure to generously spray your preheated griddle and pour about 1/4 cup of batter onto the griddle per pancake, leaving about 2 inches between each one. Cook the pancakes until they start to bubble, flip and cook the remaining side until the pancake has risen slightly. This should take 3 to 4 minutes per side.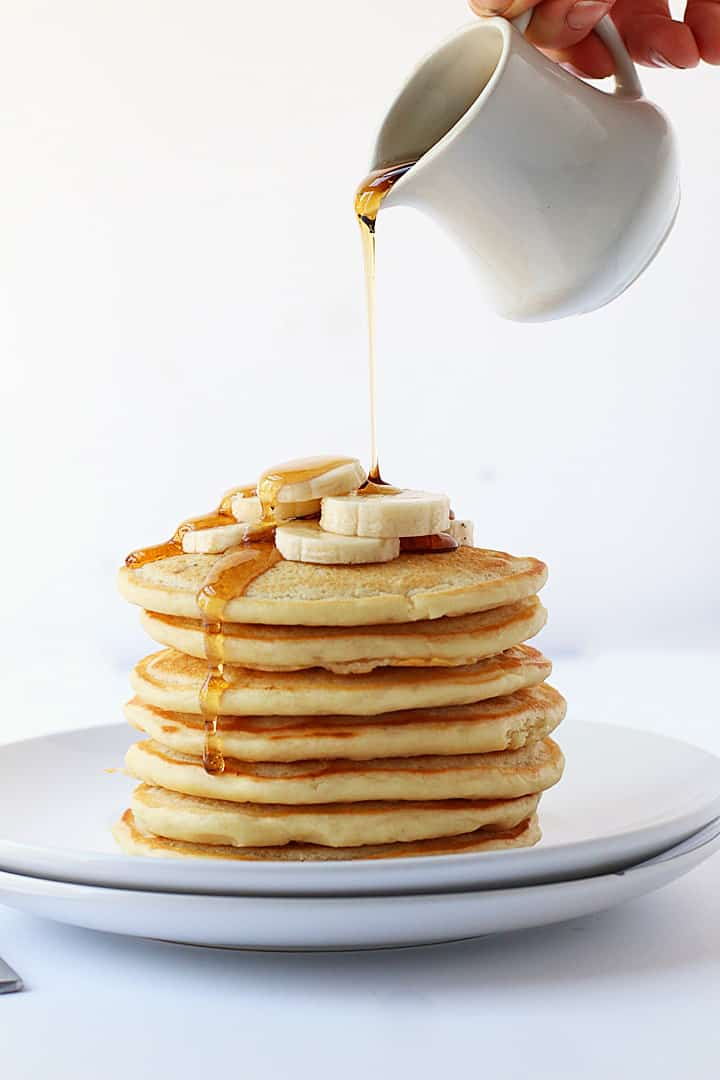 Recipe Notes
1.Take care that these pancakes are not over-mixed. I've never quite understood the appeal of blender pancakes because in the process the gluten gets overworked and becomes tough. By hand, you can be careful when you're adding your wet ingredients to the dry to mix only as much as necessary – a few lumps are always okay. The less you mix, the more tender and delicate the texture of the pancake will be.
2. Make sure the griddle is preheated and spray between each batch. This is important in getting that golden crispy outside. When the batter hits the hot oiled griddle, it should immediately starts to form a crust which gives the pancake it's perfect texture while also preventing it from spreading.
Serving and Storing the pumpkin pancakes
Serve the pancakes immediately with fruit or berries and maple syrup.
If you do have left over pancakes, you can tightly wrap them in plastic wrap and store them in the refrigerator for 2-3 days. Gently reheat them in the oven or microwave to enjoy.
Ready to give it a try yourself? Let's check out the recipe below.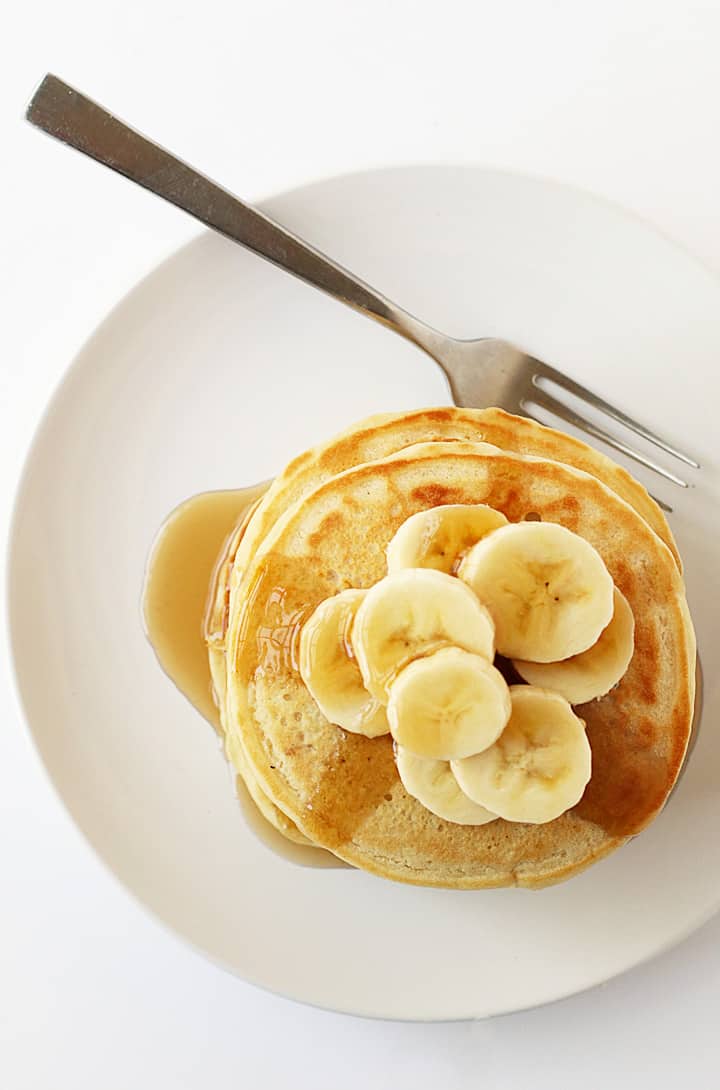 Easy Vegan Pancakes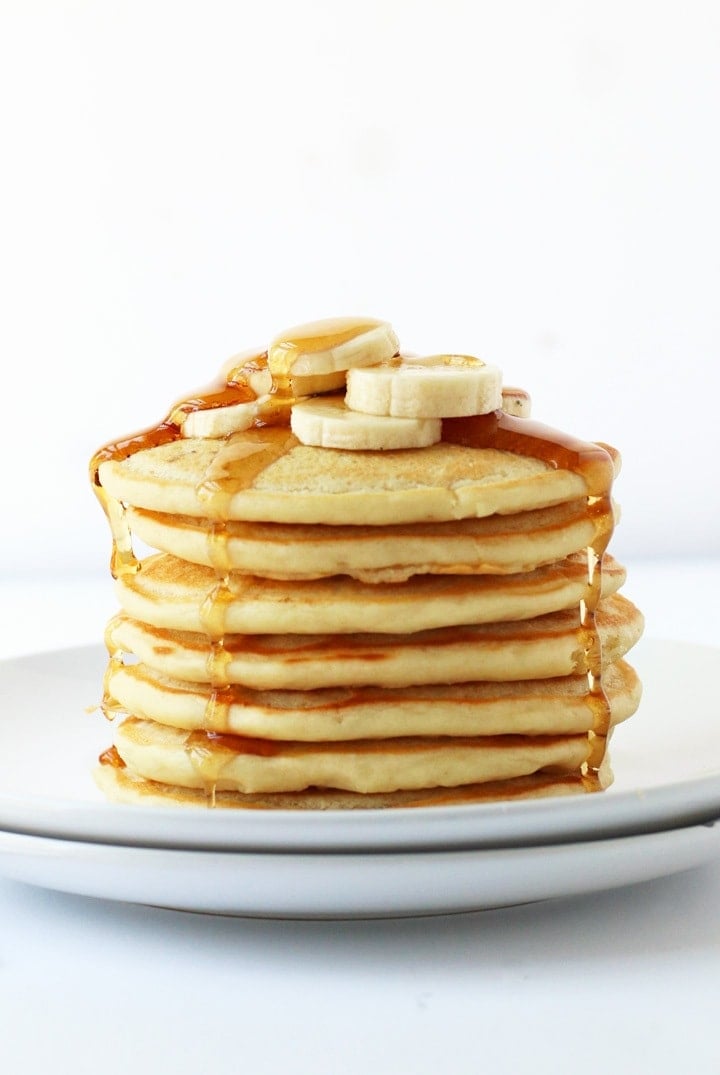 Wake up to these easy Vegan Pancakes. Light, fluffy, and slightly sweetened with maple syrup, this is a breakfast worth getting out of bed for. Ready in 10 minutes!
Instructions
In a small bowl combine soy milk and apple cider vinegar. Whisk together and set aside to let curdle.

In a separate bowl stir together the flour, baking powder, and salt.

Once soy milk is curdled, whisk in melted coconut oil, maple syrup, and vanilla extract.

Add the wet ingredients to the dry and whisk together until most the lumps are gone.

Spray pancake griddle with cooking spray. With a ice cream scoop or 1/4 measuring cup, pour batter on griddle. It should spread into about a 5" circle. Repeat until griddle is filled.

When pancakes begin to bubble on the top (about 3 minutes), gently flip it over and bake on the other side until pancake has risen to about double the height.

Remove pancakes and respray griddle before panfrying the 2nd batch. Repeat until all the batter is gone.

Serve with maple syrup and fruit of choice.
Nutrition Facts
Easy Vegan Pancakes
Amount Per Serving
Calories 115
Calories from Fat 36
% Daily Value*
Total Fat 4g 6%
Sodium 89mg 4%
Potassium 164mg 5%
Total Carbohydrates 16g 5%
Protein 2g 4%
* Percent Daily Values are based on a 2000 calorie diet.
If you give this recipe a try, let us know what you think in the comments below. Or snap a photo and share it on Instagram. Make sure to tag @mydarlingvegan so I can see your creations!