Vegan Spring Rolls with Sweet Potato Noodles
Vietnamese-style vegan spring rolls made with sweet potato noodles and ginger peanut tempeh for a light and refreshing plant-based gluten-free meal. Made in just 20 minutes!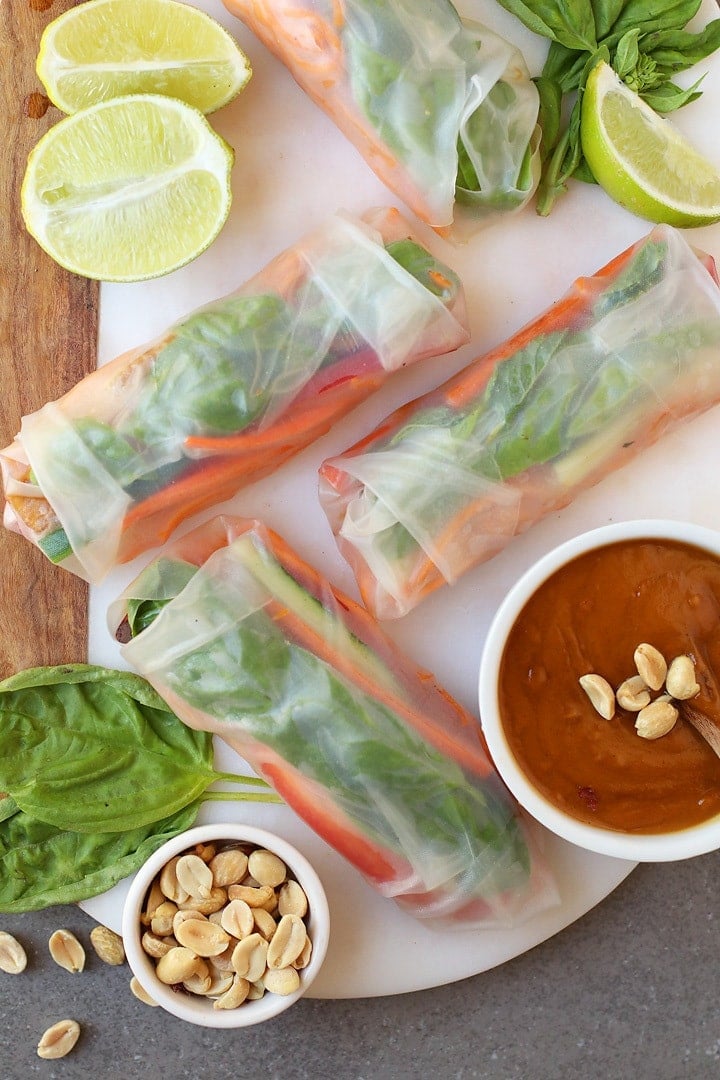 This post contains affiliate links. For more information, please see my privacy policy
Remember those sweet potato noodles from last week?
Well, now that I'm thoroughly enjoying the art of spiralizing sweet potatoes, I am constantly dreaming up new recipes that use these glorious noodles. You'll start seeing some of them pop up here and there and today is no exception; I've got my first (well, second) sweet potato noodle recipe for y'all.
Vegan Spring Rolls with Sweet Potato Noodles!
Let's take a closer look.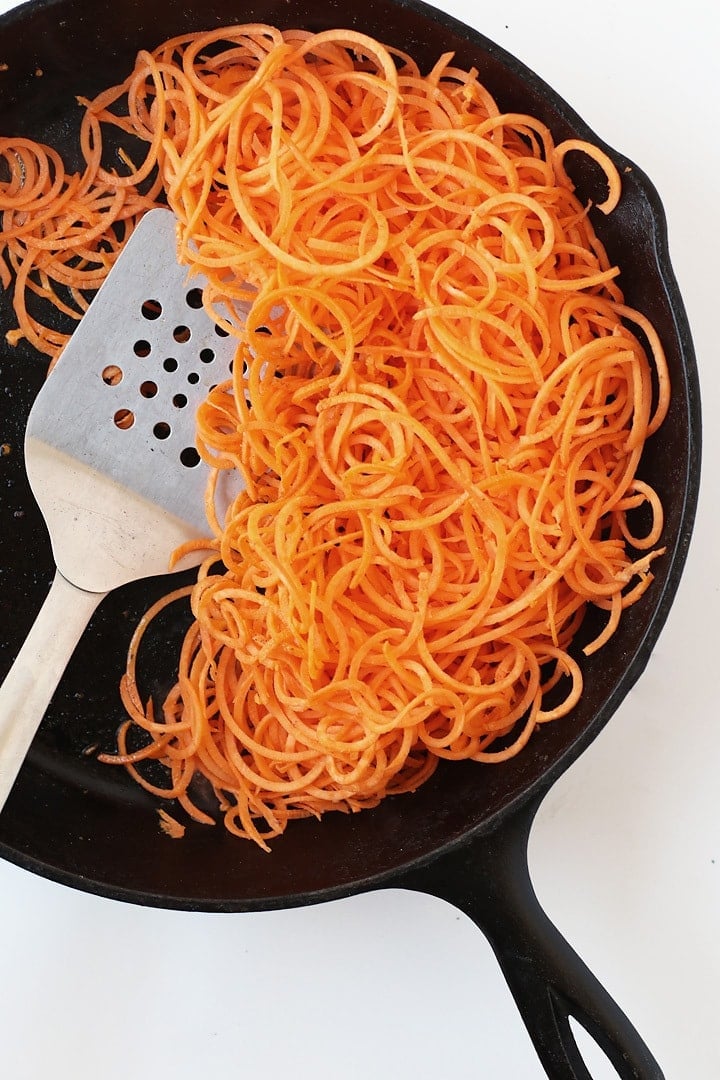 I've been making Vietnamese spring rolls for years. After first discovering these rice paper wrappers at my local grocery store and realizing that they, too, can be made at home, I started experimenting right away. Vietnamese spring rolls are traditionally filled with vegetables, protein, noodles, and fresh herbs. The good news is that spring rolls are incredibly versatile, meaning you can mix and match as you please.
Common ingredients for spring rolls are:
Vermicelli Noodles
Tofu
Avocado
Mango
Lettuce
While I love spring rolls that are stuffed full of vermicelli noodles, I wanted to make a healthier (lower glycemic) version. And so, for these vegan spring rolls, I used…you guessed it… sweet potato noodles. These noodles provide more flavor, nutrients, a delicious crunch, and beautiful color that makes these spring rolls something truly special.
Read by how to make sweet potato noodles here.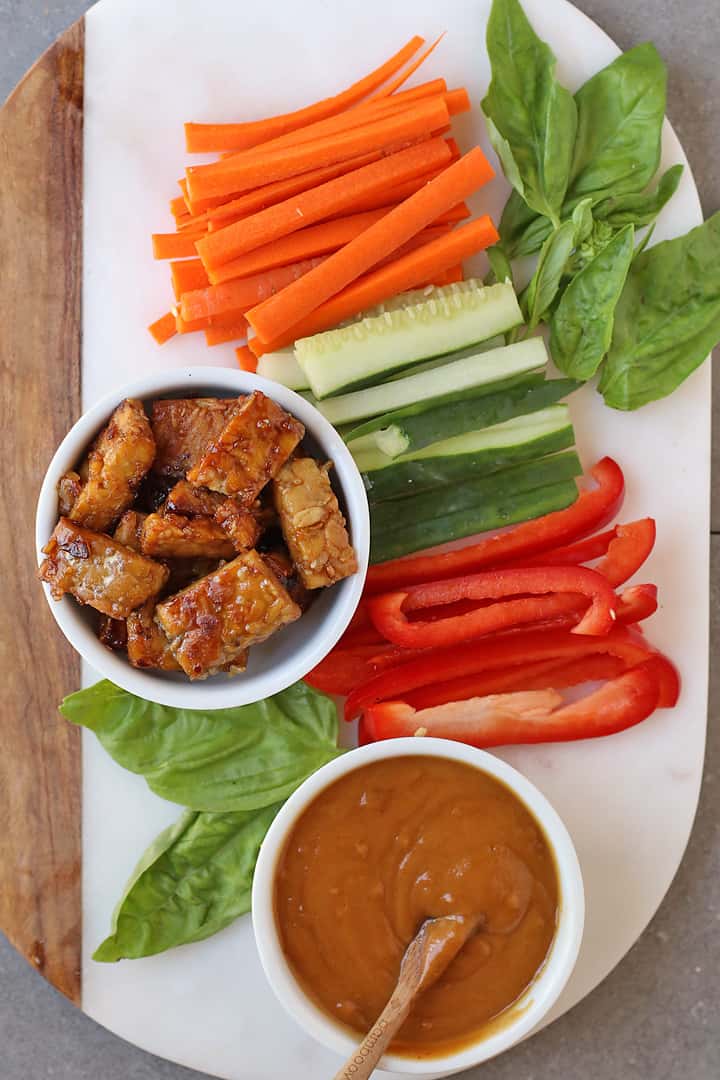 How to make vegan spring rolls:
Once you have chosen your fillings, chop them up. The vegetables should be chopped into matchsticks. If you're using avocado or mango, slice those thin as well. De-stem your fresh herbs while keeping them whole. Your protein source (in this case, tempeh) and noodles should already be prepped so that everything can be placed within arms reach.
Fill a shallow pie pan with warm water and place it next to your fillings. Add one single rice paper wrapper to the water and let it soak for 15-20 seconds until it is pliable but not too soft. If it's too soft, the paper will likely tear when rolling.
Lay your pliable rice paper wrapper on a dry surface. Place a layer of sweet potato noodles on the bottom 1/3, leaving about 1″ on either side to fold in. Top noodles with remaining ingredients.
Fold both sides over the filling as snuggly as you can. Then fold up the bottom (see image below) so that it tightly fits over the fillings. From there, slowly roll up, as snuggly as possible, until the rice paper is completely rolled up.
Set aside to dry and repeat with remaining spring rolls.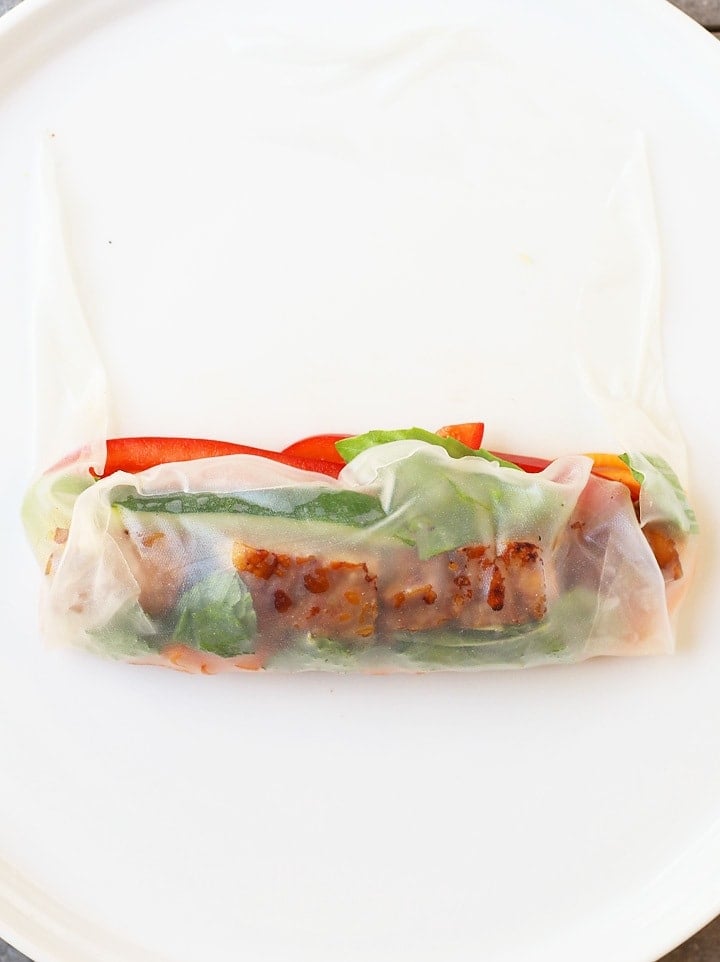 Tips and Tricks for the Perfect Spring Rolls
I've had lots of torn spring rolls in my days. Just remember:
Don't soak too long. It's okay if the paper fills a little stiff still when taking it out of the water. It will continue to soften as it sets.
Leave lots of room to fold side and bottom when placing the filling.
Don't fill so full that you can't snuggly roll.
And, most importantly, if you get a tear, don't sweat it. It will still be delicious.
Serve spring rolls with homemade peanut sauce and fresh lime.
Serving and Storing vegan Spring Rolls
These spring rolls should be eaten shortly after they are made. As they sit, the wrappers will start to get tough and hard to chew.
Serve these vegan spring rolls with Spicy Peanut Sauce alongside my Vegan Pad Thai, Thai Red Curry, Pumpkin Peanut Curry, or just enjoy them on their own for a light meal.
If you have leftover spring rolls, wrap them tightly in plastic wrap and store them in the refrigerator for up to 3 days. Uneaten Thai Peanut Sauce can be stored in the refrigerator for up to 7 days.
Ready to give it a try? Let's take a look at the recipe card below.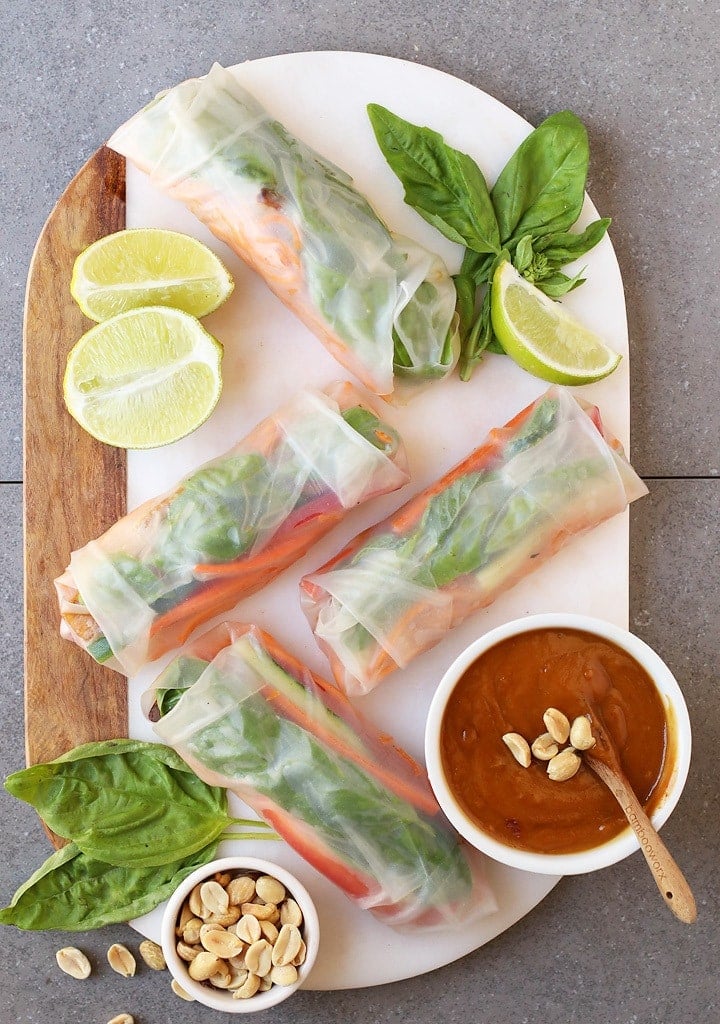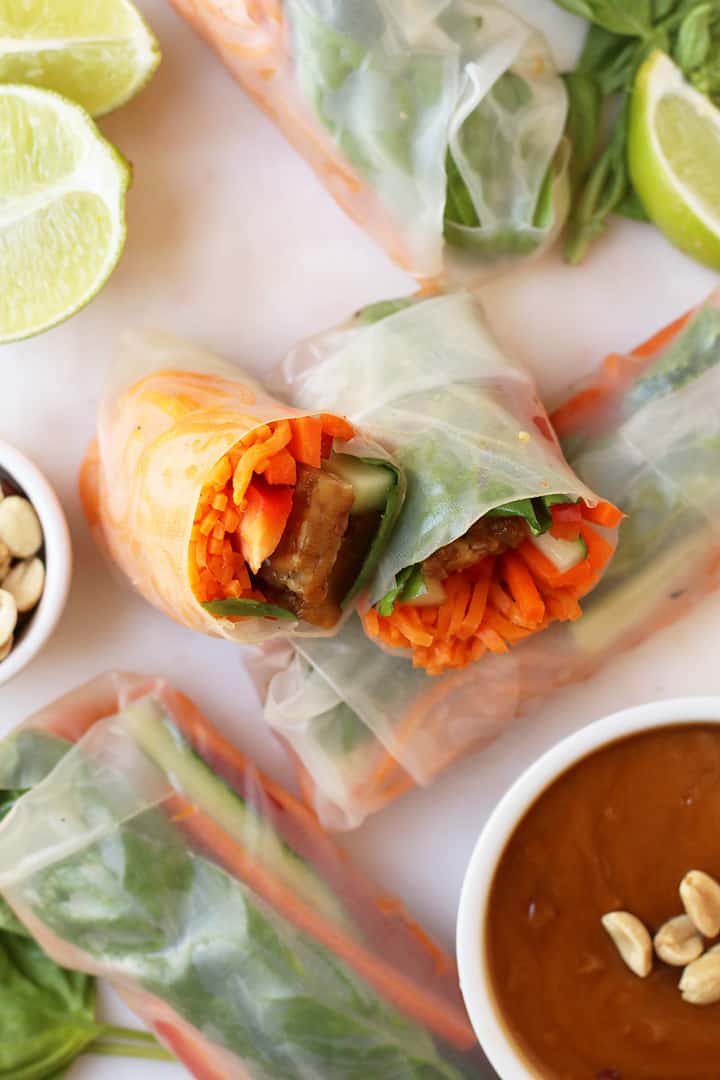 Vegan Spring Rolls with Sweet Potato Noodles
Vietnamese-style vegan spring rolls made with sweet potato noodles and ginger peanut tempeh for a light and refreshing plant-based, gluten-free snack. Made in just 20 minutes!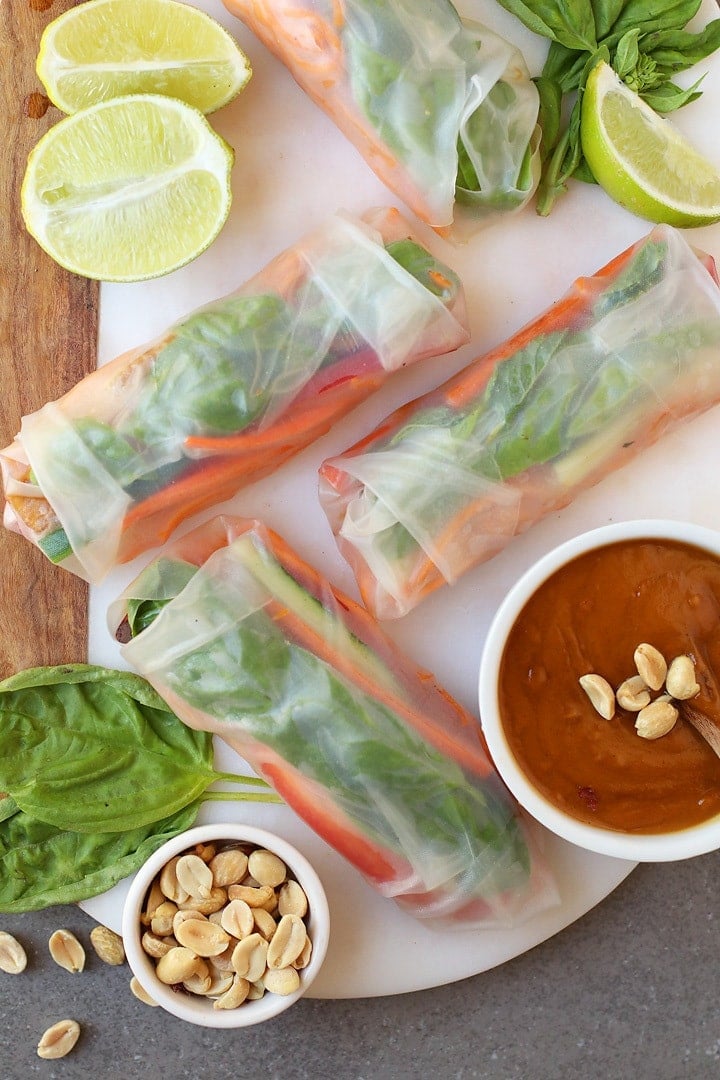 Course:
Appetizer
Cuisine:
Vietnamese, Vegan
Keyword:
Vegan Spring Roll
Servings
:
6
spring rolls
Calories
: 152 kcal
Author
:
Sarah McMinn
Ingredients
1

small sweet potato

2

tbsp sesame oil, divided

4

oz

tempeh

2

tbsp soy sauce

1

tbsp maple syrup

1/2

small cucumber, cut into 2-3" matchsticks

1/2

small carrot, cut into 2-3" matchsticks

1/2

red bell pepper, cut into 2-3" matchsticks

1/4

cup

loosely packed fresh basil

1/4

cup loosely packed fresh mint

1

batch Thai Peanut Sauce
Instructions
Peel the sweet potato. Then using your spiralizer with its smallest blade, spiralize the sweet potato into thin noodles.

In a large skillet, heat 1 tbsp of sesame oil over medium heat. Add sweet potato noodles and lightly sauté for 3-4 minutes until the noodles are deep orange in color and soft enough to bite into. Remove from heat and set aside.

Wipe clean the skillet and heat the remaining sesame oil over medium heat. While oil is heating, cut the tempeh into 1"x1/2" rectangles. Add tempeh to hot oil - it should sizzle when they drop - and sauté for 4-5 minutes, stirring occasionally, until tempeh is browned. Add soy sauce and maple syrup and continue to sauté until all the liquid has absorbed. Remove from heat and set aside to cool.

Prepare your vegetables. De-stem the mint and basil but keep it whole.

To make the rice noodles, fill a shallow pie dish with warm water. Place one rice paper wrapper in the water for 15-20 seconds until the wrapper is pliable but not so soft that it rips.

Place pliable wrapper on a dry surface. On the bottom 1/3 of the wrapper, place 1 small handful of sweet potato noodles leaving 1" on each side. Top with 2-3 pieces of sautéed tempeh, vegetables, and herbs.

Fold in the sides and the bottom over the filling. Then wrap the spring roll as tightly as you can without ripping. Set aside and continue with the remaining 5 spring rolls.

Serve immediately with Thai Peanut Sauce or wrap in plastic wrap and place in the refrigerator until ready to serve.
Nutrition Facts
Vegan Spring Rolls with Sweet Potato Noodles
Amount Per Serving
Calories 152
Calories from Fat 63
% Daily Value*
Fat 7g11%
Cholesterol 1mg0%
Sodium 449mg20%
Potassium 165mg5%
Carbohydrates 16g5%
Protein 6g12%
Vitamin A 1040IU21%
Vitamin C 13.4mg16%
Calcium 35mg4%
Iron 1.3mg7%
* Percent Daily Values are based on a 2000 calorie diet.
If you give this recipe recipe a try, snap a photo and share it on Instagram. Make sure to tag
@mydarlingvegan
so I can see your creations!