Vegan Thai Green Curry with Tofu
This vegan Thai Green Curry with Tofu is filled with fresh green vegetables and pan-fried tofu for an easy healthy and delicious weeknight meal.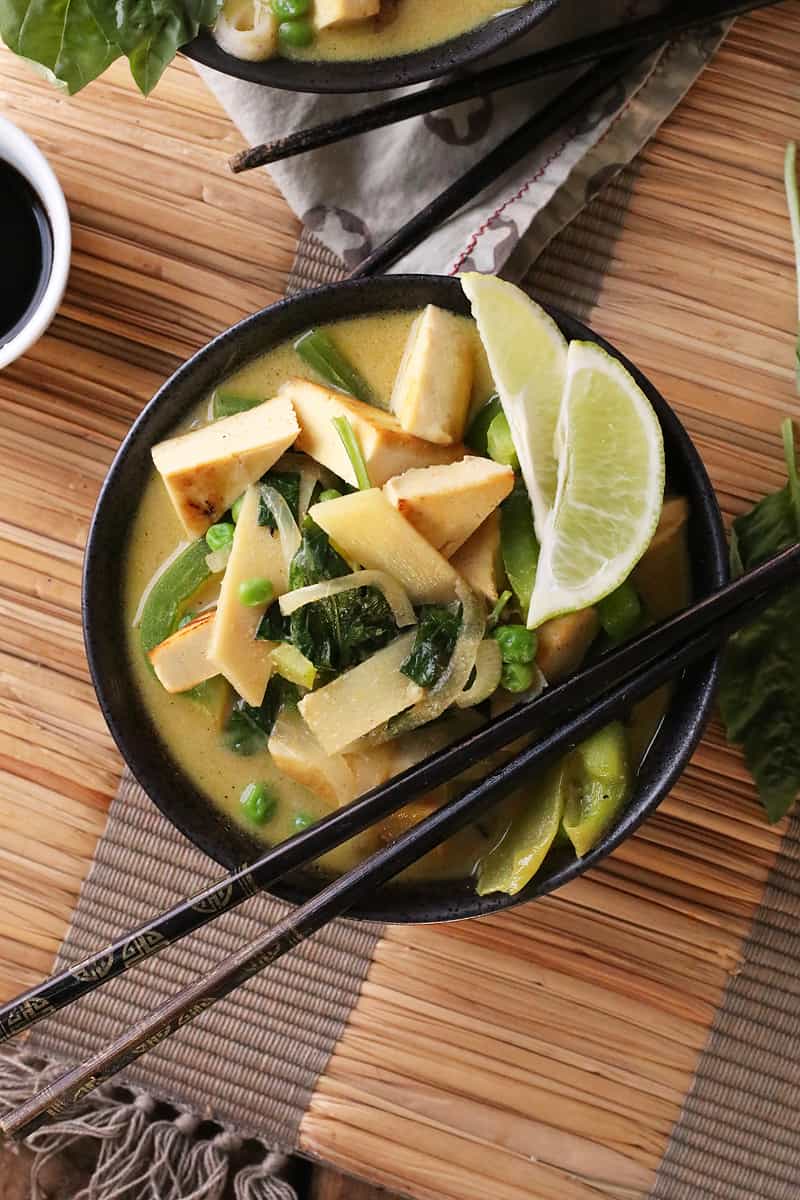 The first time I ate Thai food was in 2001.
I was 19-year-old kid who had spent most of the last 10 years in the suburbs of Chicago where my idea of ethnic food was the Chicken Fajitas as Chilis and Asia food fell into one simple category: Chinese Food. Okay, okay, I'm exaggerating a little but the point is I was embarrassingly uncultured at the time I went off to college.
Fortunately, I met many people who had lived outside of small towns and suburbs who were eager to teach me the ways of the world. (I know. I am stereotyping). And about a year into college I learned one of the most significant worldly lessons to date: There's a thing. It's called Thai food. Eat lots of it. You see, a friend had convinced me to let him take me out and although most of the evening went horribly wrong, it was the night I fell in love…
with Vegan Thai Green Curry.
Yes, it was love at first bite.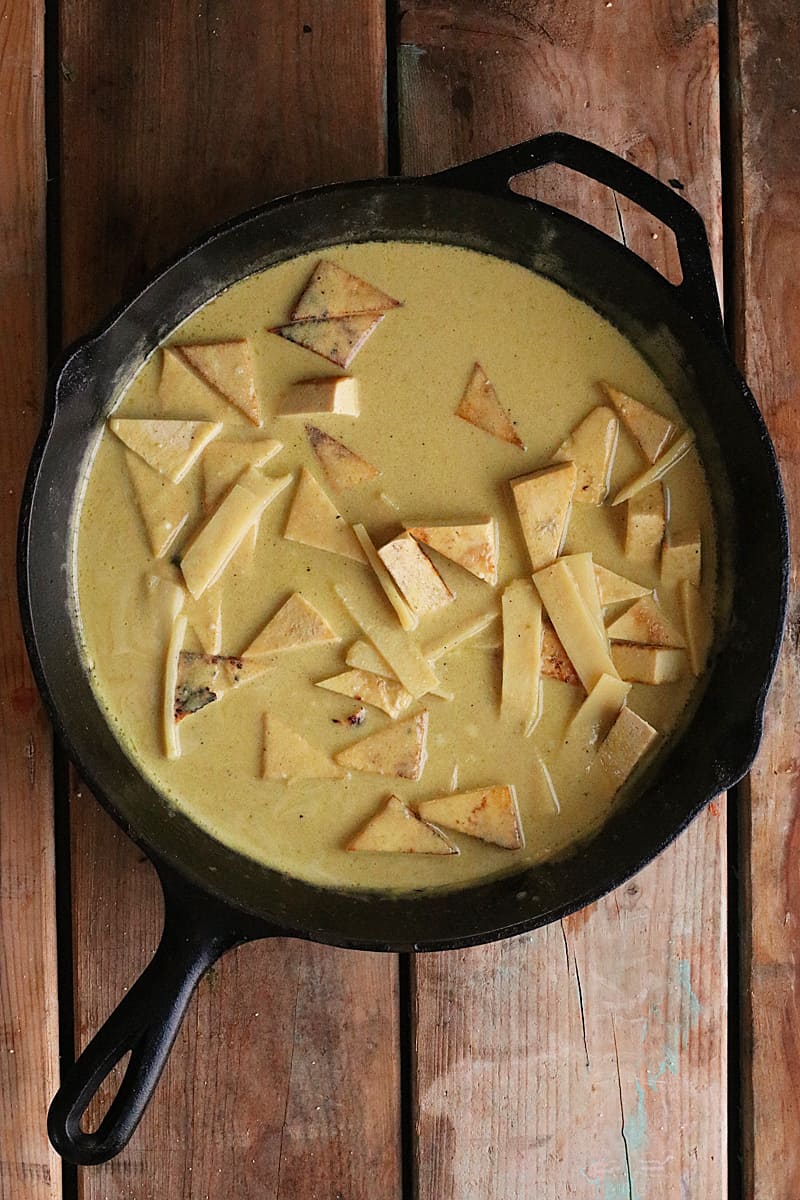 Since then, for the past decade and a half, I have explored the many amazing flavors and textures of Thai food. I love all the curries and noodles; I can't get enough! I've even shared a couple of recipes here on the blog, such as my Pumpkin Peanut Thai Curry and Easy Pad Thai but Vegan Thai Green Curry has always had a special place in my heart.
---
INGREDIENTS FOR THIS THAI GREEN CURRY:
For this green curry recipe you will need:
Let's take a closer look at some of these ingredients.
---
WHAT KIND OF CURRY PASTE SHOULD I USE?
For this recipe, I choose green curry paste. Green curry paste is a fiery blend of green chilis, garlic, ginger, green onions and lots of spices; it's amazing! You can find it at your local grocery stores in the International aisle or on Amazon. This is the brand that I use.
The heat of green curry will vary from brand to brand, so I recommend adjusting the curry paste as you go.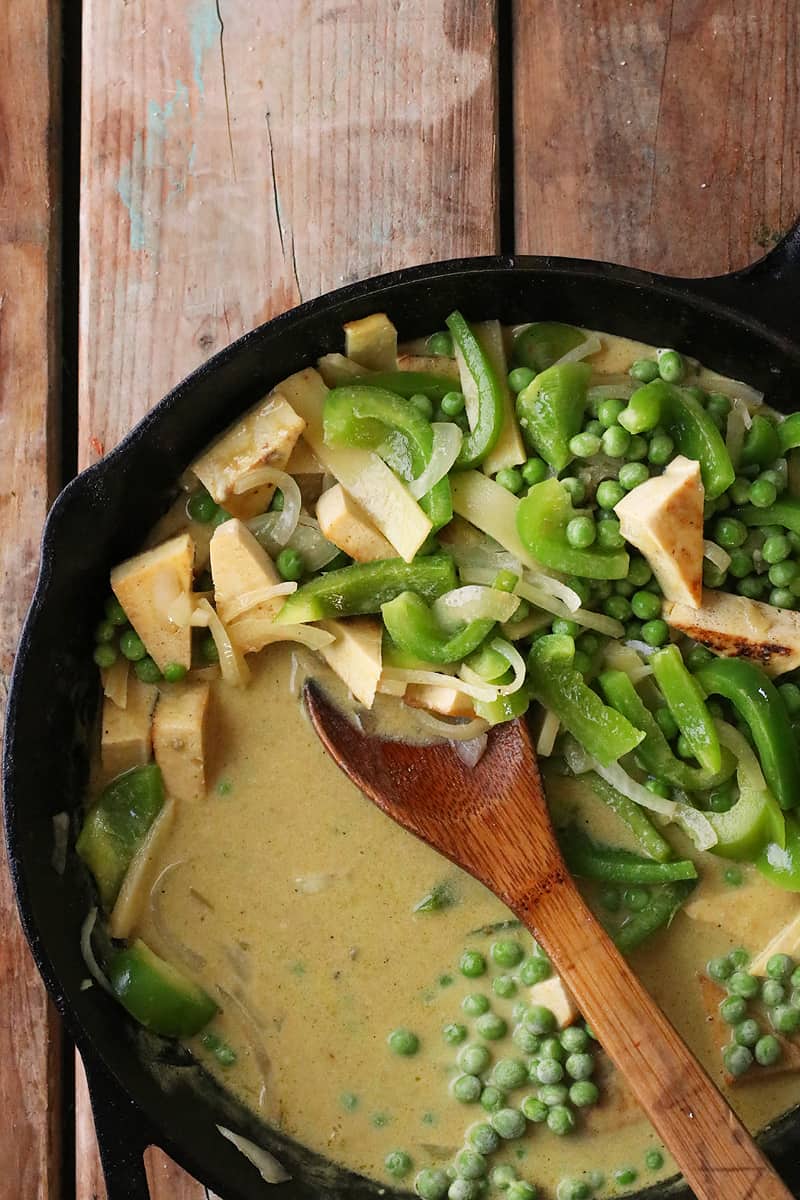 BEST TOFU FOR THAI CURRY
For this recipe, look for extra-firm tofu that is not water-packed, such as Trader Joe's High-Protein Tofu or Super Firm or Sprouted Tofu. These types of tofu do not have excess water and do not need to be pressed.
If you have to use water-packed tofu make sure to press as much water as you can out of it first by using a tofu press or a weighted, towel-lined cutting board. Press the tofu for at least 1 hour.
---
HOW TO MAKE THE PERFECT CRISPY TOFU: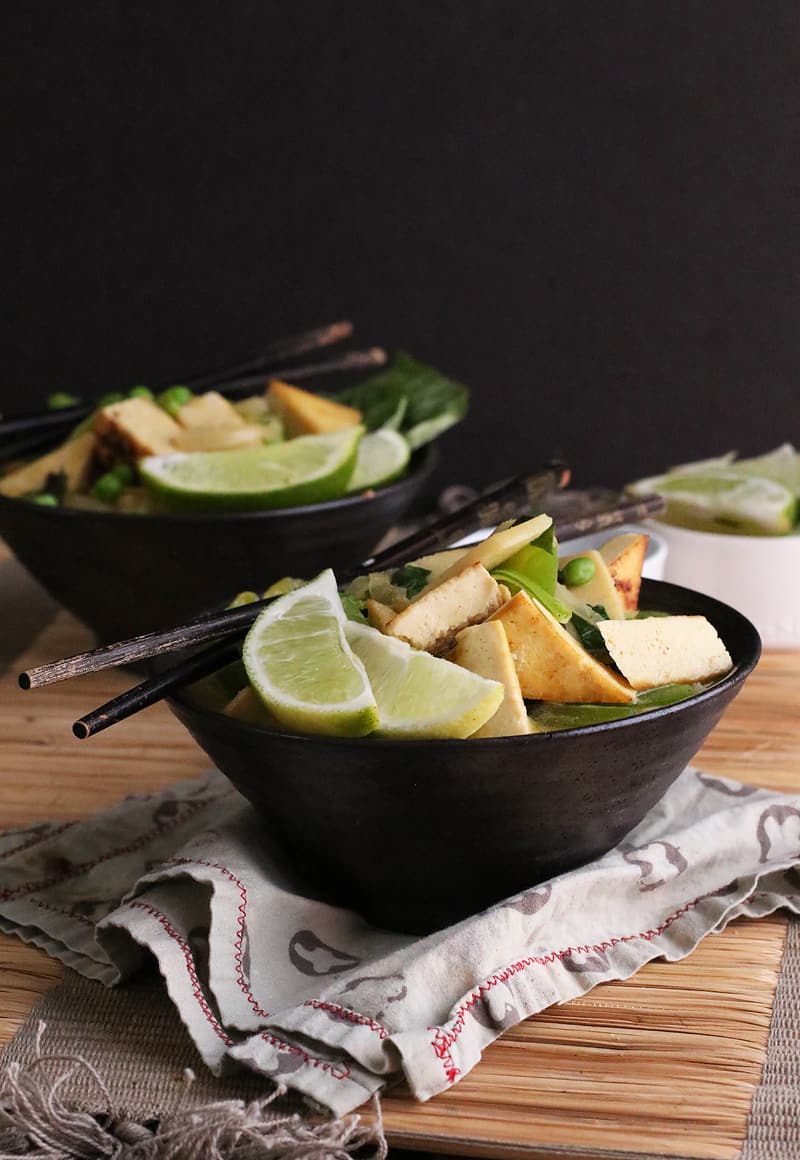 FREQUENTLY ASKED QUESTIONS ABOUT THAI GREEN CURRY
IS THIS CURRY RECIPE GLUTEN-FREE?
Yes it is!
IS THIS THAI NOODLE SOUP KETO-FRIENDLY?
Sure! Just swap out the rice for cauliflower rice.
HOW DO I STORE THAI RED CURRY?
You can store leftover curry in an airtight container in the refrigerator for up to 3 days. To eat leftovers, gently reheat the stir fry over the stove or in the microwave.
---
VARIATIONS OF THAI GREEN CURRY
---
MORE VEGAN CURRY RECIPES
Do you love curry recipes as much as I do? Then you should check out these recipes below:
But before you go, let's take a look at the recipe card below.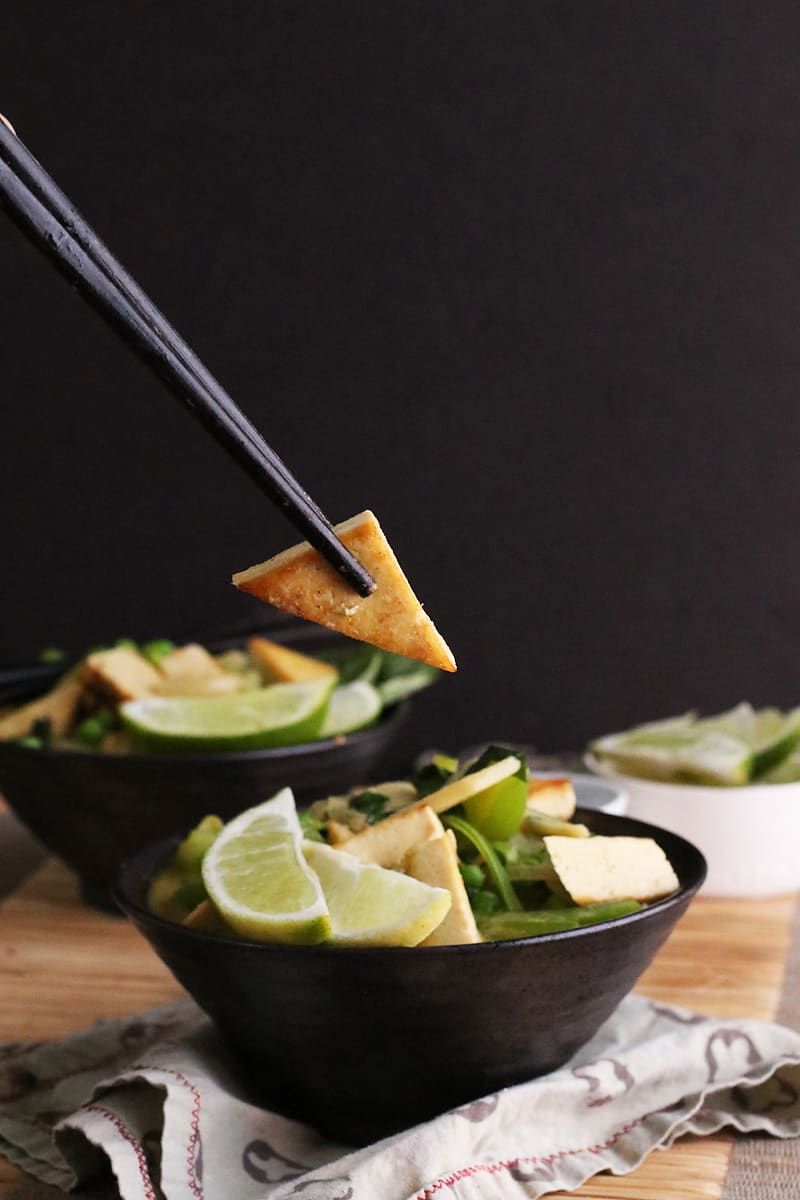 Vegan Thai Green Curry
This vegan Thai Green Curry with Tofu is filled with fresh green vegetables and pan-fried tofu for a easy healthy and delicious weeknight meal.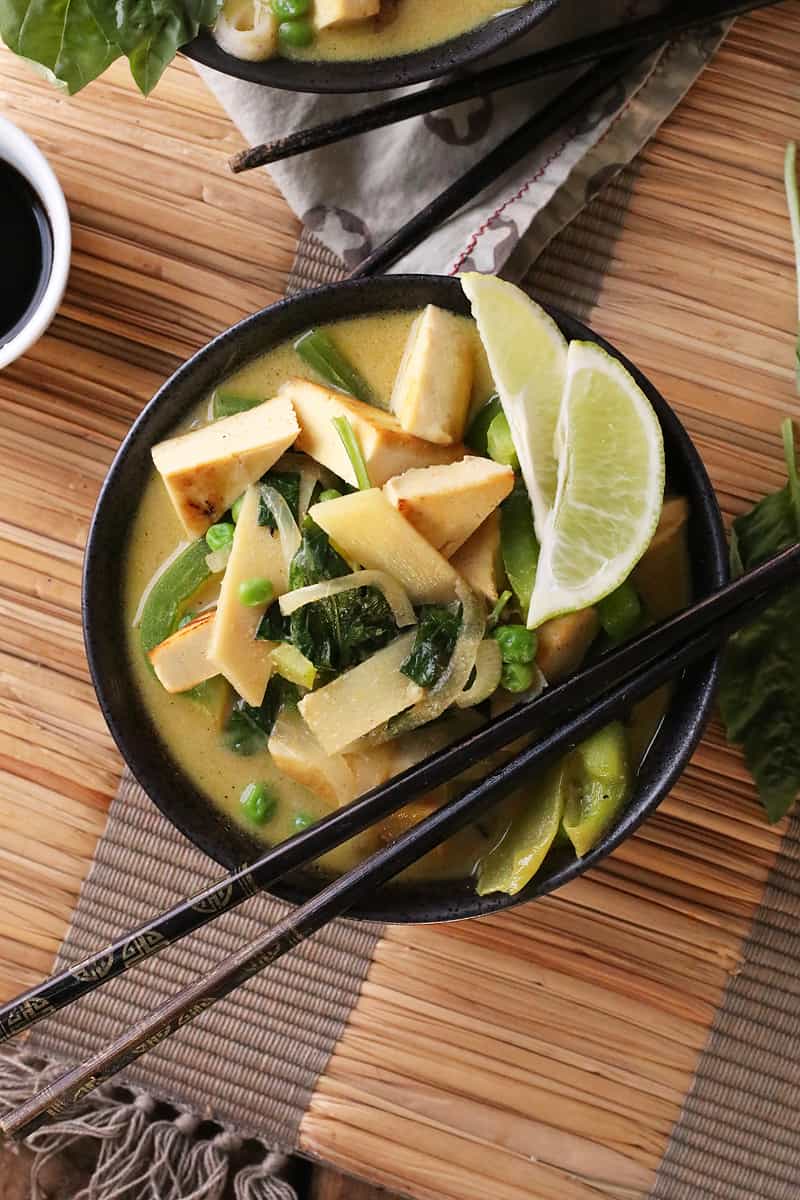 Course:
Main Course, Main Dish
Cuisine:
Thai
Servings
:
2
servings
Calories
: 621 kcal
Author
:
Sarah McMinn
Ingredients
Serve with
fresh lime wedges
Thai basil
cooked rice or rice noodles
Instructions
In a large cast-iron skillet heat up 2 tablespoons of coconut oil over medium-high heat. Cut tofu in 1/2" thick triangles and place in hot oil. Lightly fry on each side for 2-3 minutes. Transfer tofu to a plate and set aside.

In the same skillet, heat remaining oil and reduce heat to medium. Add onions and peppers and sauté until tender and cooked partially, through about 5 minutes. Transfer to the plate with tofu.

Keeping heat at medium add green curry paste, coconut milk, and vegetable broth to the empty skillet. Stir until curry paste is dissolved. Bring to a boil, reduce heat, and simmer for 5 minutes. Add tofu and vegetable back to the skillet with the coconut milk/broth mixture and simmer for another 5 minutes.
Stir in Thai basil, maple syrup, vegan fish sauce (if using) and salt to taste. Remove from heat.
Serve over rice or rice noodles with fresh basil and lime wedges.
Nutrition Facts
Calories Per Serving:
621
% Daily Value
If you give this recipe recipe a try, snap a photo and share it on Instagram. Make sure to tag
@mydarlingvegan
so I can see your creations!