Thai Quinoa Salad with Sesame Peanut Sauce
This Thai Quinoa Salad is made with tri-color quinoa, fresh vegetables, and spicy peanut sauce for a delicious and healthy vegan and gluten-free meal.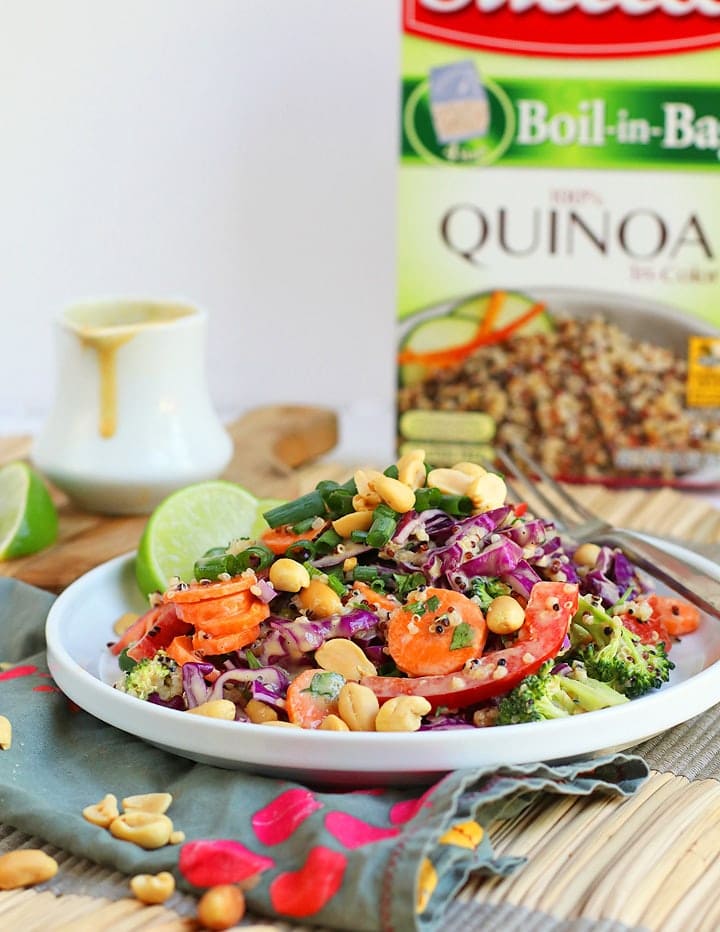 This is a sponsored post written by me on behalf of Success®. I received a box of Success® Tri-Color 100% Quinoa to facilitate this post. All thoughts and opinions are 100% mine.
This post contains affiliate links. For more information please see my privacy policy.

My friends, how is it possibly August?
The last two months of summer flew by which means that in a few short weeks, school will start up again and, with both kids in school for the first time ever, big changes are coming my way. I'm both excited and afraid of what this school year is going to bring. I mean both kids in school for the first time ever. That is incredible! I've been talking about this moment for what seems like years because I, for the first time ever, will finally get to spend the time on this blog and business that it's needed for a while; this will no longer be a nights and weekends job for me.
But this transition also means that life is going to get a bit hectic as we all transition into new phases and I learn how to juggle single parenting, full-time work, and the needs of 2 school-aged kids. And so, as this big transition draws near, I am searching for ways to simplify every day.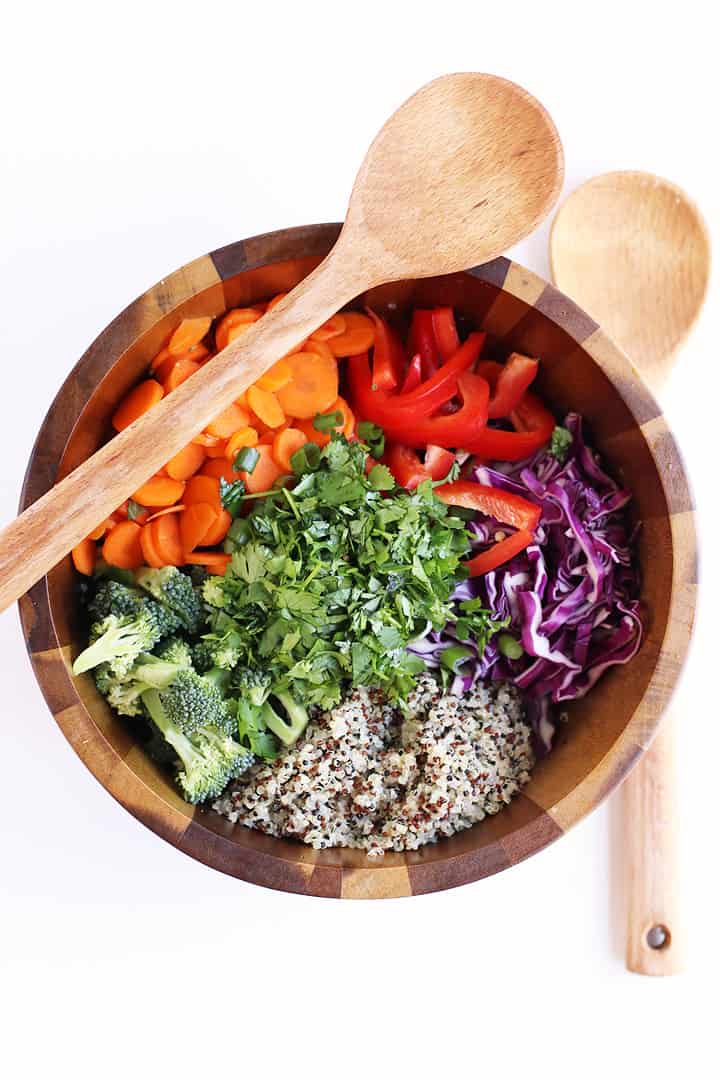 How to Make Simple Weeknight Meals
Streamlining my weekly meals is always one of the first steps in simplifying. As a 2x business owner and single parent, I've already been doing this for years. Here are several of my simplifying tricks:
Wholesome EASY breakfasts. I've talked about my struggle with breakfast Basically any kind of prep you can do the night before, the better your morning will be. My family's go-to breakfast is a variation of these overnight oats. They are nutritious, easy, a literal grab-and-go breakfast. When you're ready to switch it up, consider this avocado toast.
Prep lunch the night before. This might be a no-brainer but I'm keeping it here because it's the single most important thing I can do to make my mornings run smoother. I can't be running around trying to find my daughter's missing shoe, my son's missing backpack, dressing, eating breakfast, ensuring 3 sets of teeth get brushed, AND trying to pack lunches in the morning. I also pack my own lunch the night before. Even though I work from home. I can easily forget to eat (I know, I'm a food blogger, I have no excuse) so I usually pack up leftovers or prep a simple salad and stow it away for my lunch the next day.
Weekly Meal Planning. This takes some upfront work at the beginning of the week but it makes grocery shopping and dinner planning throughout the week so much easier. If you're looking for a helpful and healthy meal plan, check out the options over at Oh My Veggies.
Find no-compromise shortcuts foods that save on both prep and clean-up time. And that's why I almost always use Success® Tri-Color 100% Quinoa when I'm making grains for dinner. A no measure, no mess technique that keeps dinners easy and simple with no compromise to taste or health.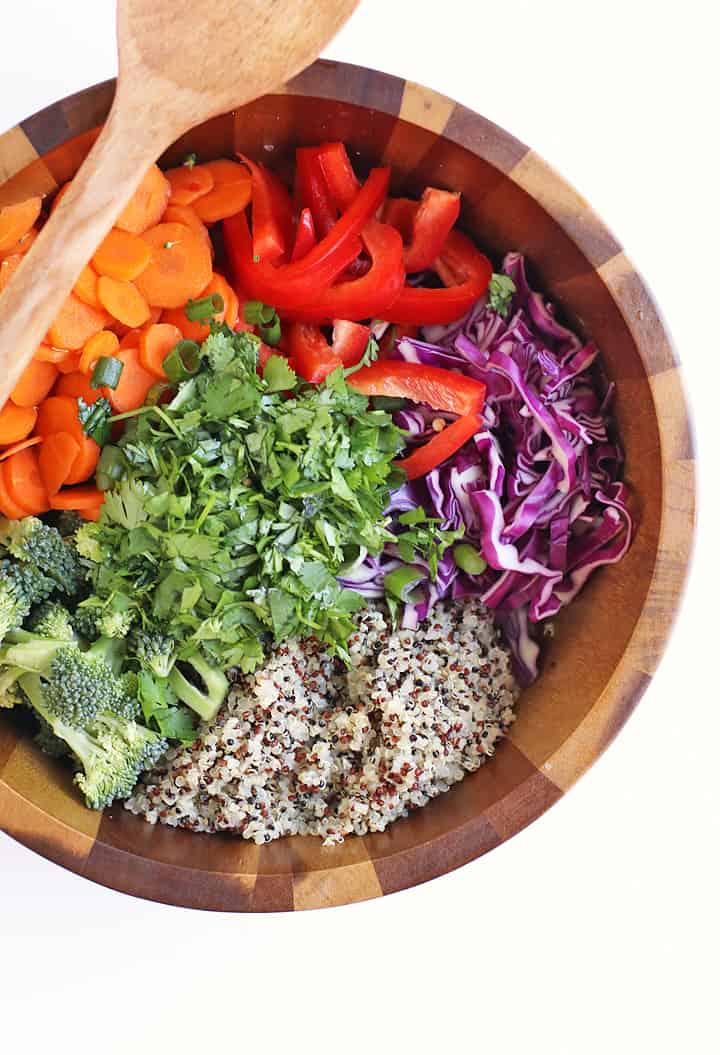 What is Success Quinoa?
Success Quinoa uses a revolutionary boil-in-a-bag technique that delivers the perfect fluffy texture and nutty flavor in just 10 minutes. Each box of Success Quinoa comes with 4 BPA-free bags of uncooked quinoa and that's it; no ingredients added. To prepare it, the quinoa is submerged in water and boiled in the bags (as you probably gathered) for just 10 minutes.
The results?
A perfectly textured, deliciously flavored quinoa that cooks perfectly every time!
I love Success Quinoa because:
Blends white, red, and black quinoa for complete protein
Pre-portioned in a BPA-free, recyclable bag
A gluten-free whole grain that offers a great source of fiber
Provides the perfect fluffy texture and nutty flavors
Makes fresh and wholesome meals simple with no measure, no mess
My friends, Success is in the bag®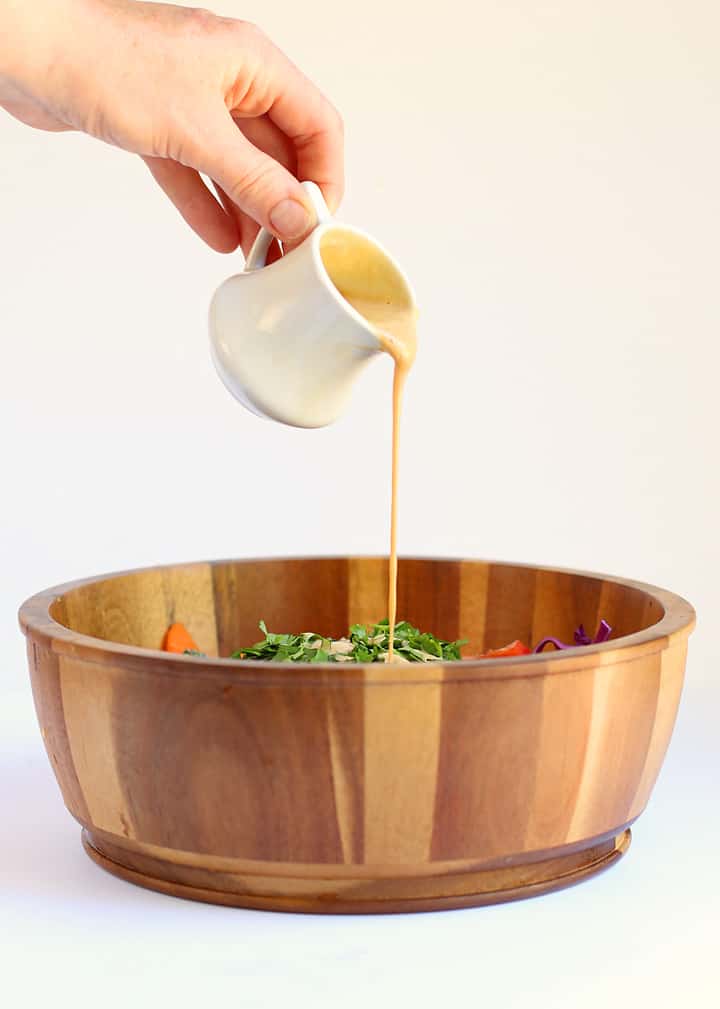 How to make Thai Peanut Salad
Because Sucess makes it so easy, this vegan quinoa salad can be made in just about 15 minutes.
Step One – While the quinoa boils, chop all of your herbs vegetables. That's the:
Red Cabbage
Bell Peppers
Broccoli
Carrots
Green Onions 
Cilantro
Step Two – Set them aside while you whip up a batch of this famous Thai Peanut Sauce.
Step Three – Once the quinoa is done, remove it from the bag, fluff it with a fork, and toss everything together. Sprinkle on a few peanuts and serve.
That's it! So easy.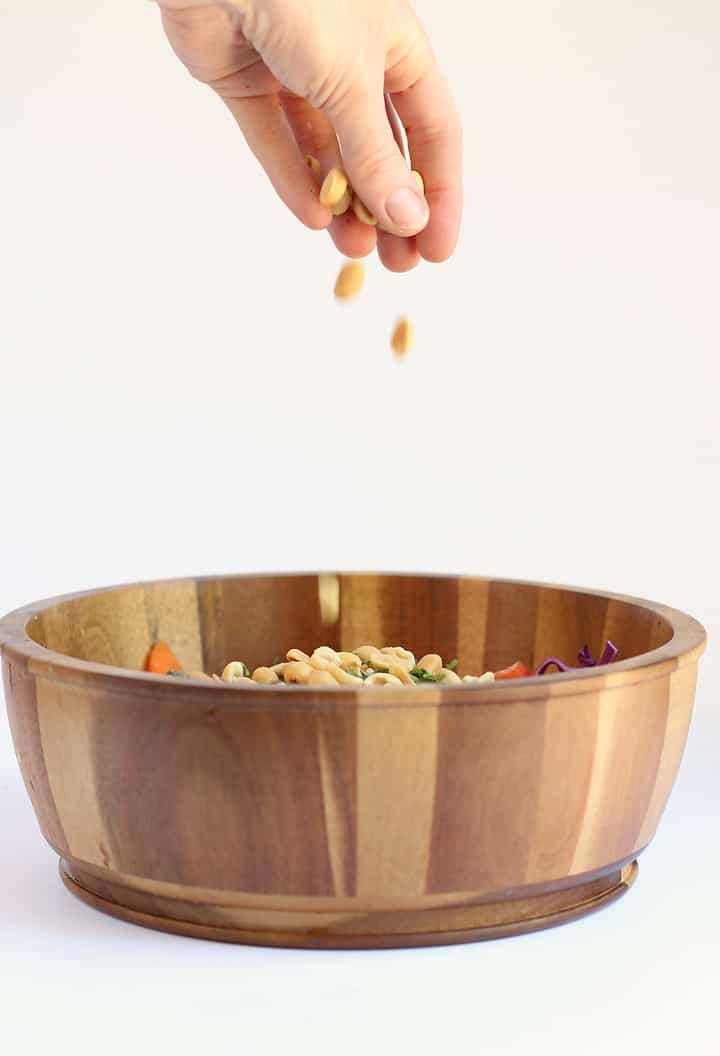 Serving and Storing Thai Quinoa Salad
Feel free to adjust the vegetables to your liking.
For a hearty meal, add some protein. Peanut tempeh or tofu both go well.
Once the peanut sauce is tossed in, this salad should be served immediately. If you want to make this salad in advance, make it up to 1 day in advance and toss the salad dressing in right before serving.
Leftover salad can be stored in an airtight container in the refrigerator for up to 2 days.

This Thai Quinoa Salad with Sesame Peanut Sauce is one of my current go-to meals. It is a fresh and hearty salad filled with crunchy vegetables, a wonderful combination of flavor, and lots of fiber and protein. Better yet, it can be made in just about 15 minutes for delicious lunch or dinner salad; the perfect solution for all you very busy people.
More Quinoa Salad Recipes
Want some more ideas for quick quinoa salads? Here are a few of my favorites:
But before you go, let's take a look at this incredible Thai Peanut Quinoa Salad below.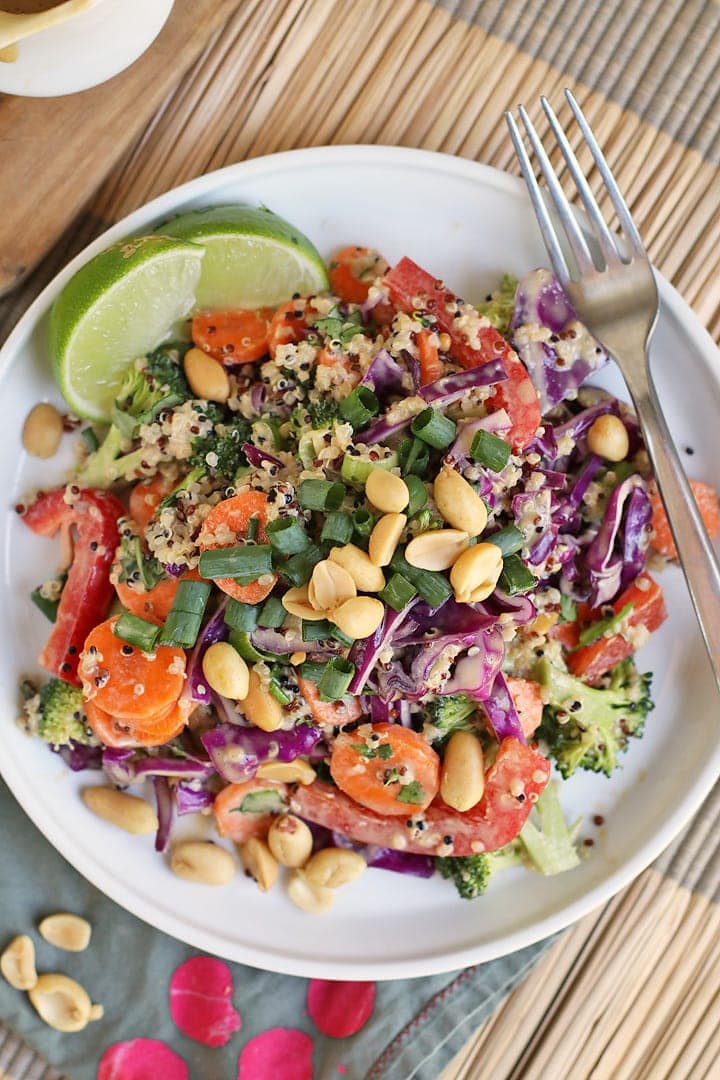 Thai Quinoa Salad
This Thai Quinoa Salad is made with tri-color quinoa, fresh vegetables, and spicy peanut sauce for a delicious and healthy vegan and gluten-free meal.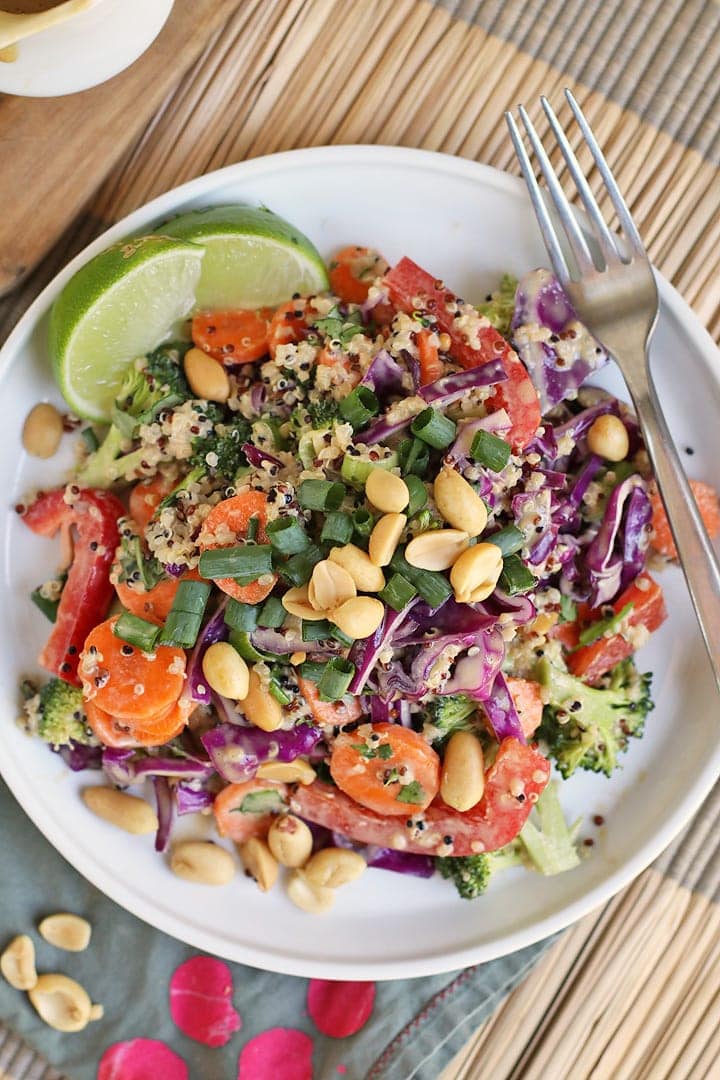 Course:
Main Course, Main Dish, Salad
Cuisine:
Thai
Keyword:
Thai Quinoa Salad
Servings
:
4
Calories
: 262 kcal
Author
:
Sarah McMinn
Ingredients
Thai Peanut Salad
2

cups

red cabbage, shredded

1 1/2

cups

broccoli florets, chopped

1/2

large red bell pepper, thinly sliced

1

large carrot, chopped

3

green onions, chopped

1/4

cup

cilantro

1

batch Sesame Peanut Sauce, recipe follows

1/4

cup

roasted peanuts
Instructions
Prepare the Success Quinoa according to packaged instructions.
While the quinoa is boiling, chop the cabbage, carrots, bell peppers, broccoli, cilantro, and green onions. Set aside.
Combine all the ingredients for the peanut sauce in a small blender and blend together until smooth.
With tongs or a slotted spoon, remove the quinoa from boiling water. Cut open the bag and let it cool for 10 minutes.
Place quinoa in a large bowl and add prepared vegetables. Toss with peanut sauce and roasted peanuts.
Serve immediately or store in an airtight container in the refrigerator for up to 3 days.
Nutrition Facts
Thai Quinoa Salad
Amount Per Serving
Calories 262
Calories from Fat 171
% Daily Value*
Fat 19g29%
Sodium 653mg28%
Potassium 515mg15%
Carbohydrates 15g5%
Protein 9g18%
Vitamin A 3880IU78%
Vitamin C 77.9mg94%
Calcium 64mg6%
Iron 1.6mg9%
* Percent Daily Values are based on a 2000 calorie diet.
This is a sponsored post written by me on behalf of Success®. I received a box of Success® Tri-Color 100% Quinoa to facilitate this post. All thoughts and opinions are 100% mine. 
If you give this recipe recipe a try, snap a photo and share it on Instagram. Make sure to tag
@mydarlingvegan
so I can see your creations!