Vegan Gluten-Free Chocolate Chip Cookies
These Gluten-Free Chocolate Chip Cookies are made with quinoa flour for a wonderful gluten-free twist on an American classic cookie. Sprinkle with coarse sea salt for a delightfully sweet and salty treat.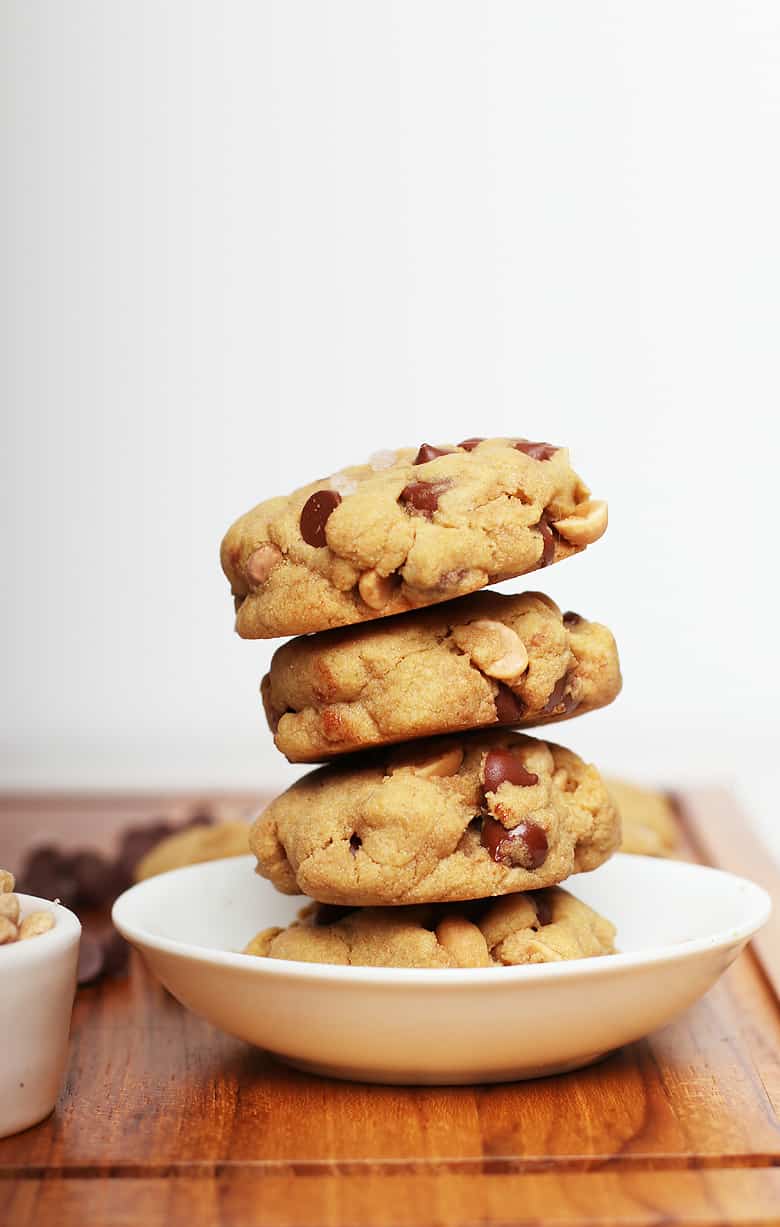 This post contains affiliate links. For more information, please see my privacy policy.
Originally posted 9/20/2014. Last updated 4/8/2019
It's Gluten-Free Cookie time, my friends!
I originally posted this recipe as part of Vegan Mofo back in September of 2014. That's nearly 5 years ago! For the entire month of September, I went through the alphabet creating recipes that highlighted an ingredient for each letter. It was 26 recipes in 30 days!
These vegan gluten-free chocolate chip cookies were created for the letter "Q". Why? Because these amazing cookies are made with quinoa flour for a soft and fluffy gluten-free cookie that is one of the best. These chocolate chip cookies have no weird aftertaste, no difficult combination of flours, and have a perfect pillowy cookie texture.
I think it's about time we take another look at these vegan chocolate chip cookies.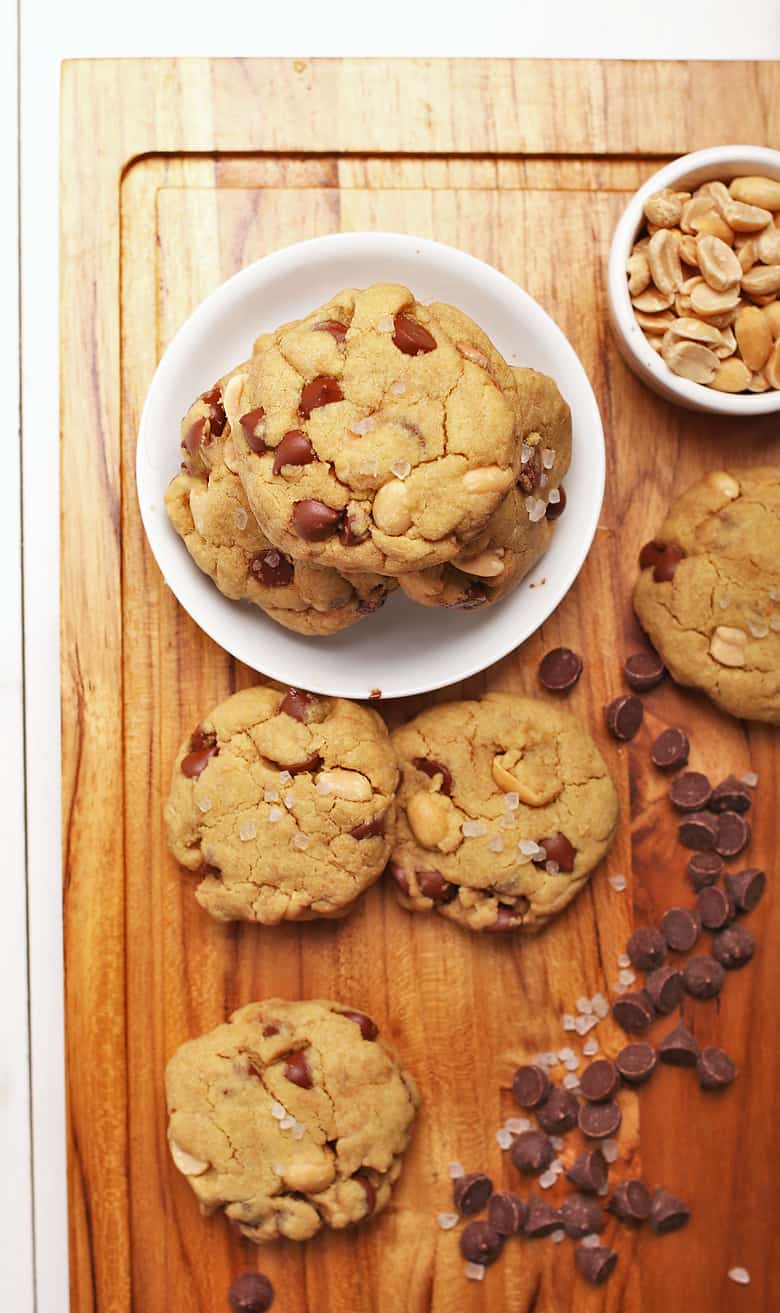 I love these Gluten-free Chocolate Chip Cookies because, they
are soft and pillowy with a lightly crisp outside and melt-in-your-mouth chocolate in every bite.
are super easy to make – can be thrown together in one bowl and just about 5 minutes.
use no strange, hard-to-pronounce vegan ingredients.
contain no palm oil or margarine of any kind in this recipe.
are 100% gluten-free and vegan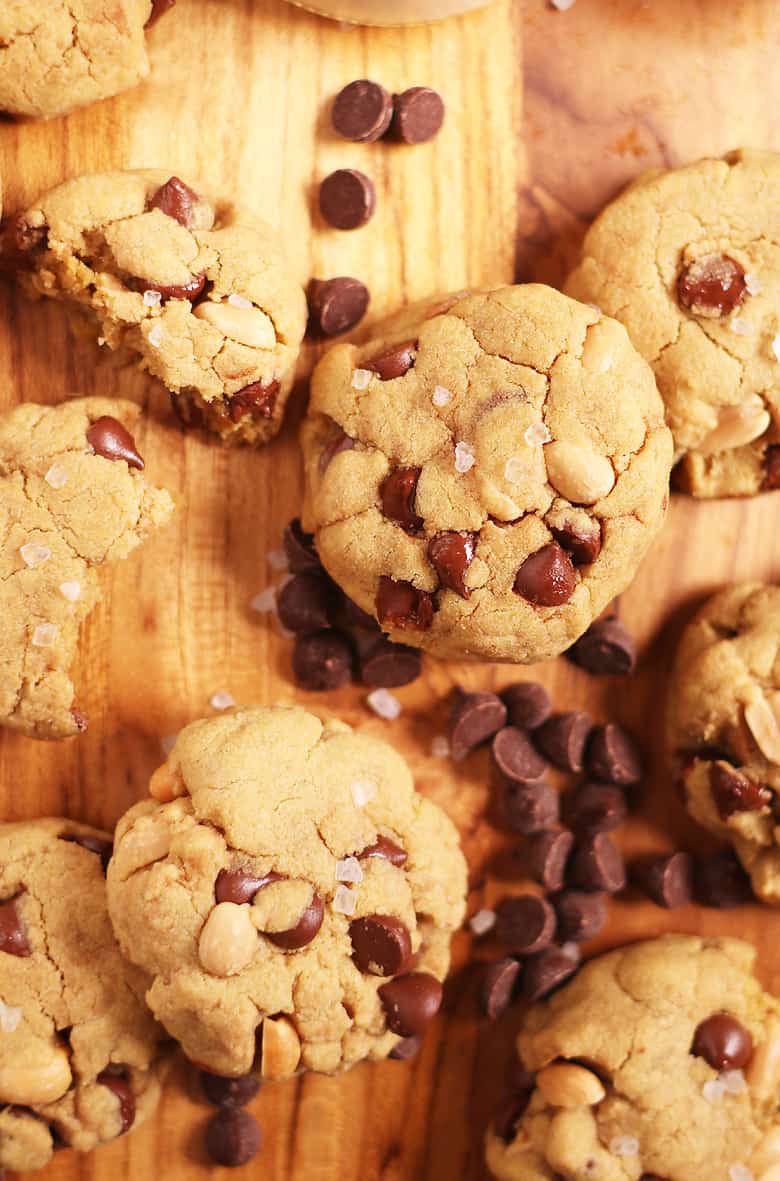 Why quinoa flour makes the best gluten-free cookies
It's hard to believe quinoa flour can make such amazing gluten-free cookies. Because quinoa flour is high in protein (like bread flour) it will bake similarly resulting in a delicious melt-in-your-mouth, ultra soft cookie. Rather than finding a replacement gluten-free flour that uses a lot of starches and hard-to-pronounce ingredients, quinoa flour has one simple ingredient: quinoa.
Yes, it's simply ground quinoa into a fine baking flour.
You can find quinoa flour at most well-stocked grocery stores and natural grocery stores. You can also pick it up online.
Can quinoa flour be swapped 1:1 with all-purpose flour?
Good question! I have found that swapping quinoa flour for all-purpose works in some of my recipes. I can successfully swap it out in my Vegan Chocolate Chip Cookies and Vegan Peanut Butter Cookies. However, more simple recipes (that rely on just a few ingredients) have a harder time with the swap.
Do note that even in the cookies that can be swapped for quinoa flour, the texture will change. Quinoa flour cookies tend to be softer and pillowy rather than chewy and dense.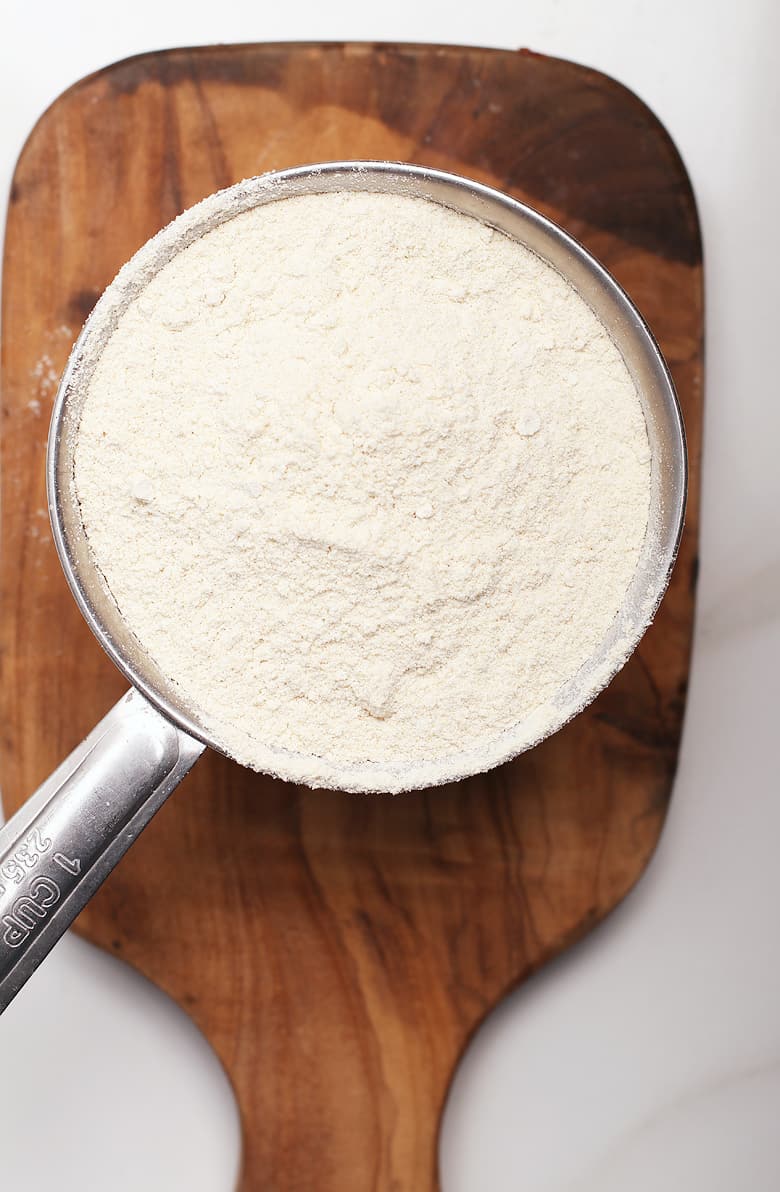 How to make gluten free chocolate chip cookies
Step one – Mix together your ingredients.
Start by mixing together the quinoa flour with the baking soda, powder, and salt.
In a separate bowl combining your melted coconut oil, brown sugar, and flax egg. Sift your dry ingredients into your oil/sugar mixture. With a wooden spoon, mix them together until a thick dough forms. Do not over-mix.
Now it's time for the best part – fold in those chocolate chips!
Where to buy vegan chocolate chips
I get a lot of questions on how/where to find vegan chocolate chips. Trader Joes, Whole Foods, and Target all have their own line of vegan chocolate chips but if you aren't near any of them and your local grocery store doesn't carry their own brands, here are a few to look out online.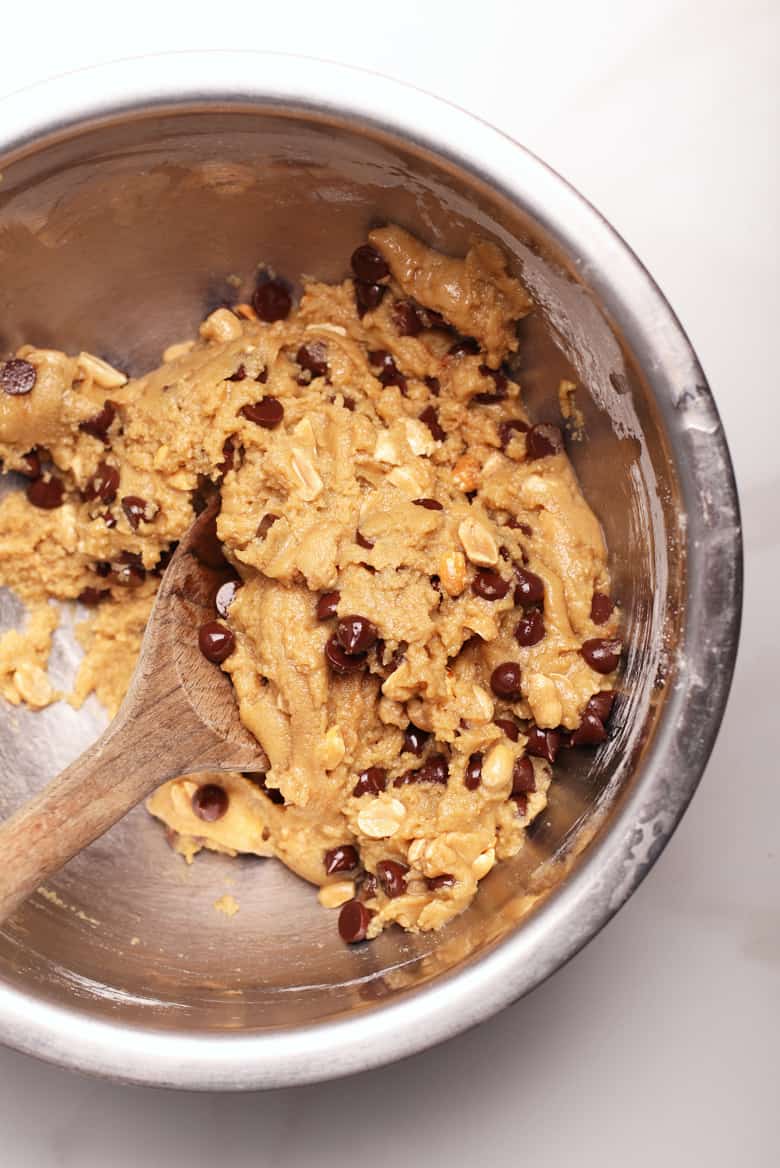 Step two – Bake the cookies
Baking the cookies just right is essential for getting that perfect vegan gluten-free chocolate chip cookie – a  delicate crispy edge with a delightfully soft, melt-in-your-mouth center. In order to get the perfect chocolate chip cookie texture here are my tips.
Tips for baking the perfect chocolate cookies
Use parchment paper or a silicone baking mat. Placing these between the baking sheet and your cookies will not only prevent sticking, but it will also encourage the cookies to bake faster on the outside giving you that soft and chewy middle.
Bake cookies at a slightly higher temperature than normal (375 F). This also will encourage the edges to bake faster creating a light shell around all that chewiness.
Bake for less time. I always recommend taking your cookies out when they are slightly underdone. Cookies will continue to bake on the baking sheet as they cool. You can tell cookies are done when they are slightly brown and flattened but still have soft gooeyness on the inside.
Remove from oven and let the cookies cool at least 5 minutes on the cookie tray before transferring them to a wire cooling rack. This is the final touch in creating that perfect chewy texture.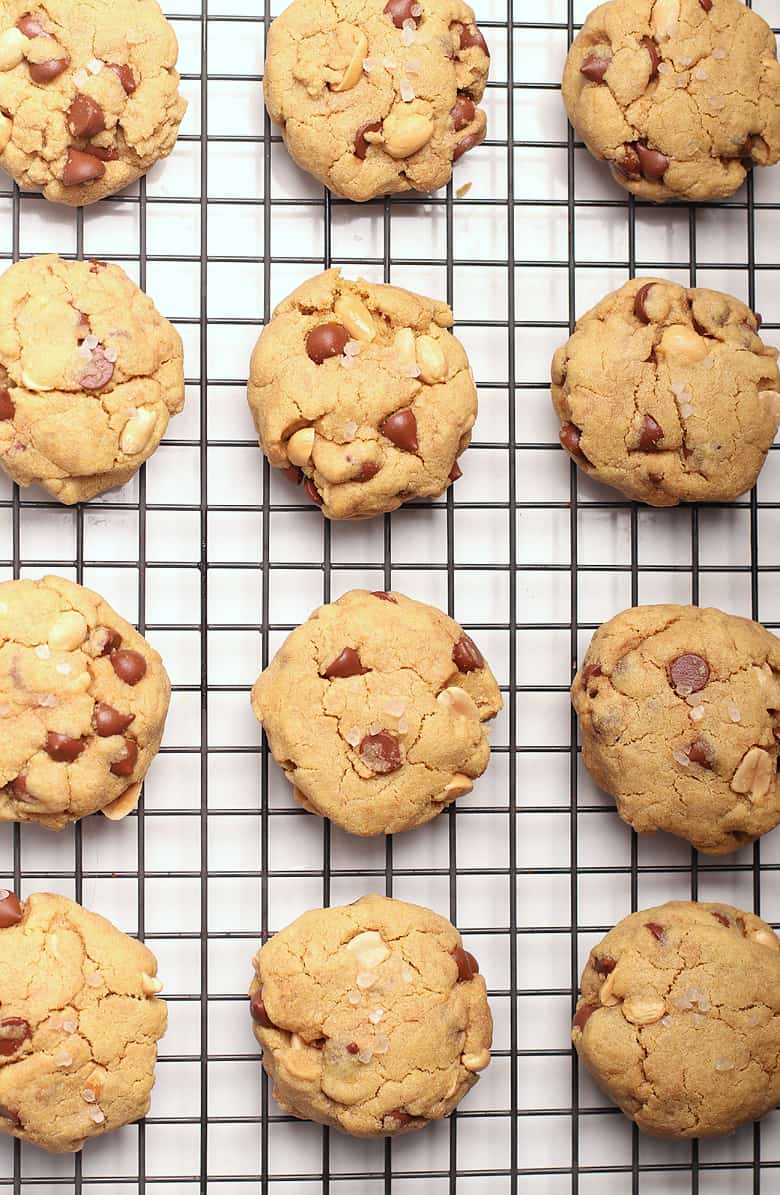 Serving and Storing Gluten-Free Chocolate Chip Cookies
If you would like, sprinkle some quality coarse salt on the cookies before baking. The combination of chocolate and salt is perfection.
Let these cookies cool 5 minutes before transferring to a wire cooling rack. When they come out of the oven they are fairly crumbling. They will harden as they cool.
These cookies can be served immediately or you can first let them cool completely. Leftover cookies can be stored in an airtight container at room temperature for up to 5 days.
Can you freeze these vegan cookies?
Yes, you can store the dough in the freezer for fresh baked cookies every day! To do this, roll the cookie dough into balls and place them on a baking sheet in the freezer. Let the cookie balls freeze completely, at least 2 hours, before transferring them into a large ziplock bag to be stored for up to 2 months. This way you can pull out a couple of cookies at a time to bake as you please!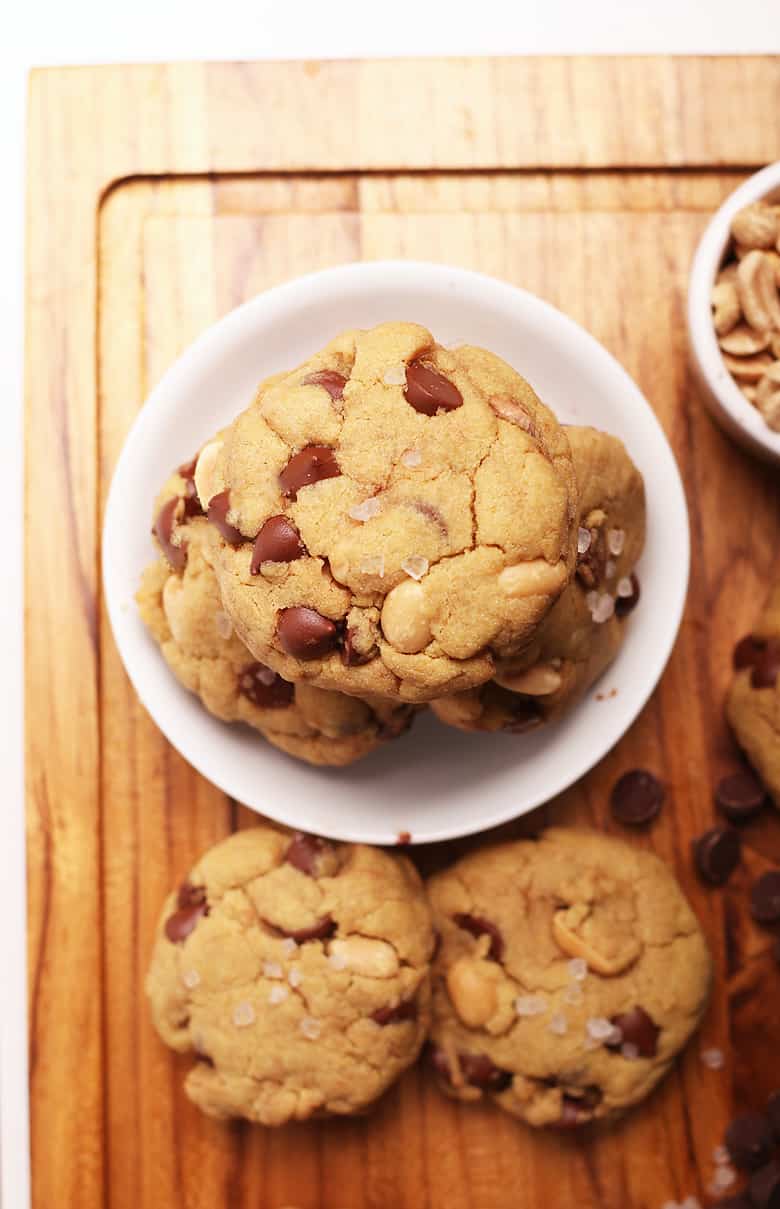 More vegan cookie recipes:
If you know anything about me, then you know I love my cookies. Here are a few of my favorite vegan cookie recipes:
More gluten-free cookie recipes
And a few of my favorite vegan and gluten-free cookie recipes: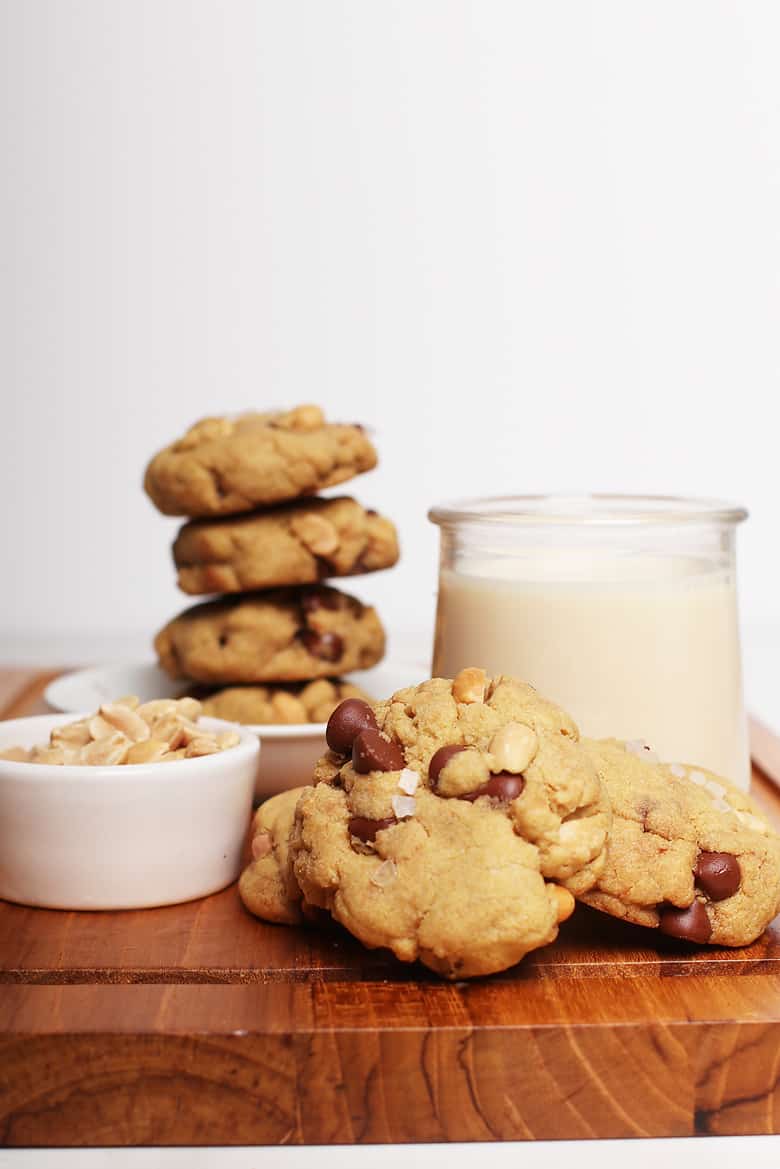 Gluten-Free Chocolate Chip Cookies
These Gluten-Free Chocolate Chip Cookies are made with quinoa flour for a wonderful gluten-free twist on an American classic cookie. Sprinkle with coarse sea salt for a delightfully sweet and salty treat.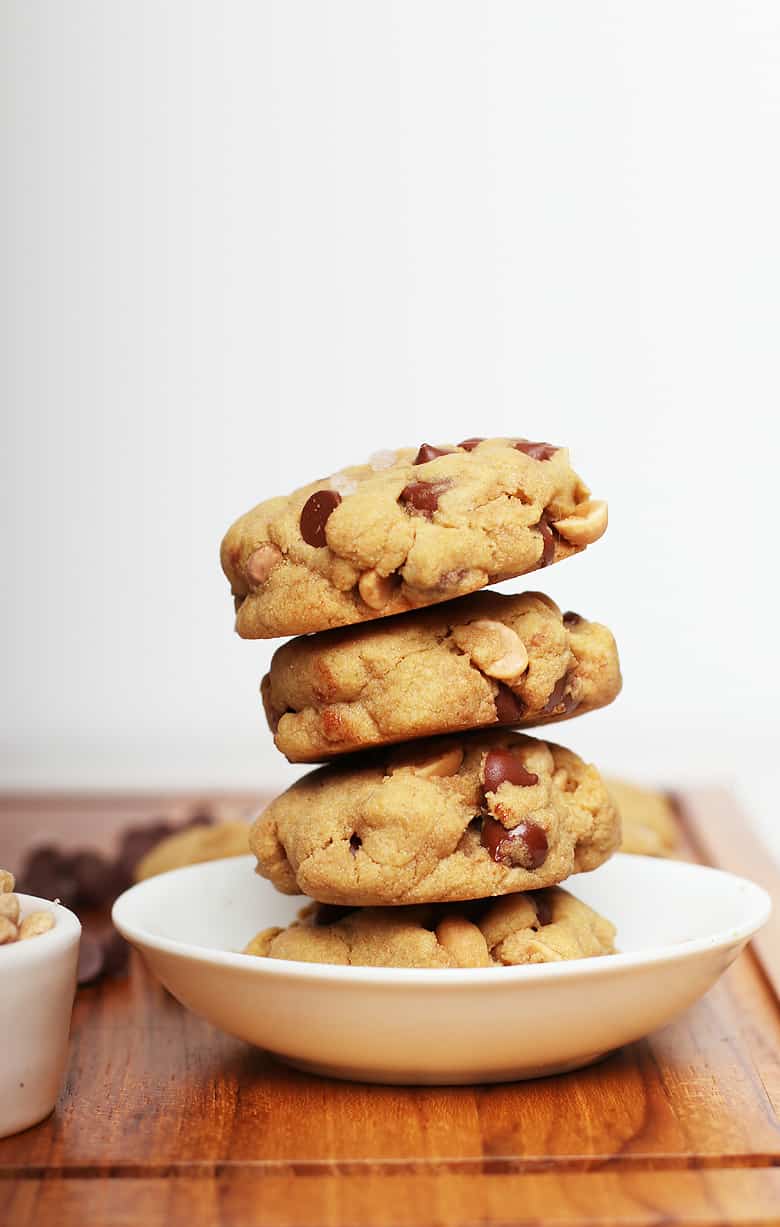 Course:
Dessert
Cuisine:
Gluten-Free, Vegan
Keyword:
Gluten-Free Chocolate Chip Cookies
Servings
:
12
cookies
Calories
: 196 kcal
Author
:
Sarah McMinn
Ingredients
Instructions
Preheat the oven to 350F. Line two baking sheets with parchment paper and set aside.

In a mixing bowl combine the quinoa flour, baking soda, baking powder, and salt.

In a separate bowl, whisk together the coconut oil, sugar, and flax or chickpea flour egg. Add the peanut butter and vanilla extract and stir to combine.

Gently fold the dry ingredients into the wet. Once fully incorporated stir in the chocolate chips and peanuts.

Scoop cookies onto the baking sheet (about 2 tablespoons per cookie), flatten slightly and sprinkle a little sea salt on each cookie. Bake for 8 minutes until slightly brown on the edges. They will feel slightly underdone but will continue to harden while they cool.

Let cool 5 minutes on the baking sheet then transfer to wire racks to cool completely.
Recipe Notes
To make a flax egg combine 1 tablespoon of ground flax seeds with 3 tablespoons of water. Whisk together until thick and gelatinous.
It's very important that the quinoa flour is superfine, for this reason, I recommend using store-bought rather than grinding your own.
Adapted from Ambitious Kitchen
Nutrition Facts
Gluten-Free Chocolate Chip Cookies
Amount Per Serving
Calories 196
Calories from Fat 99
% Daily Value*
Fat 11g17%
Sodium 113mg5%
Potassium 71mg2%
Carbohydrates 20g7%
Protein 3g6%
Calcium 33mg3%
Iron 1.2mg7%
* Percent Daily Values are based on a 2000 calorie diet.
If you give this recipe recipe a try, snap a photo and share it on Instagram. Make sure to tag
@mydarlingvegan
so I can see your creations!