AMAZING Ginger Molasses Cookies
You won't be able to resist these sweet and spicy Ginger Molasses Cookies. Made in under 25 minutes (+ chill time) for the perfect fall treat. But beware, these cookies are highly addictive!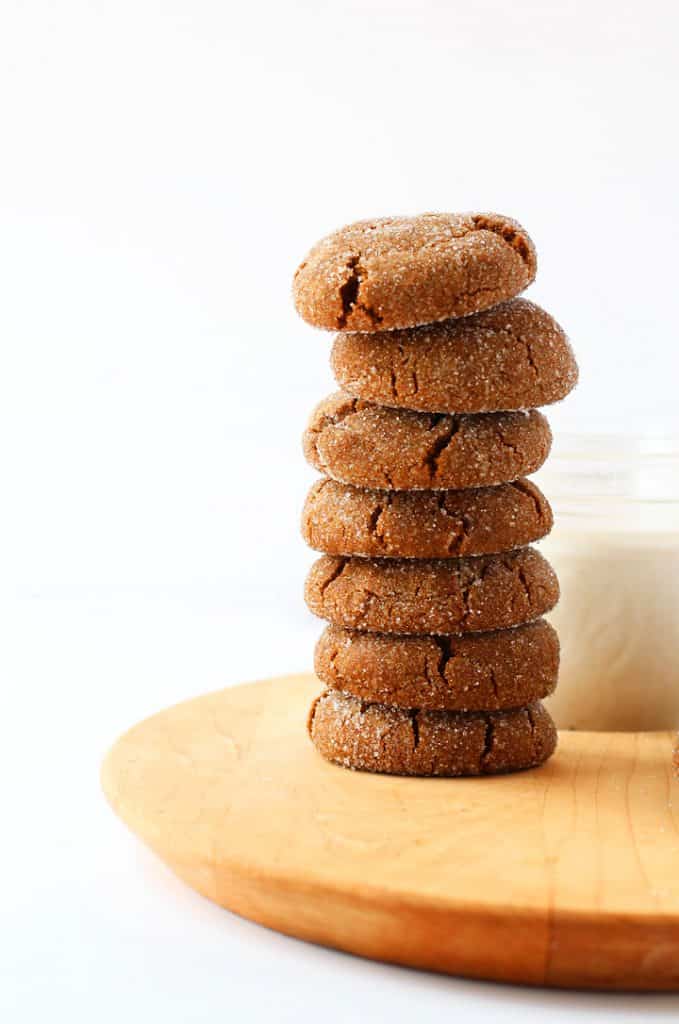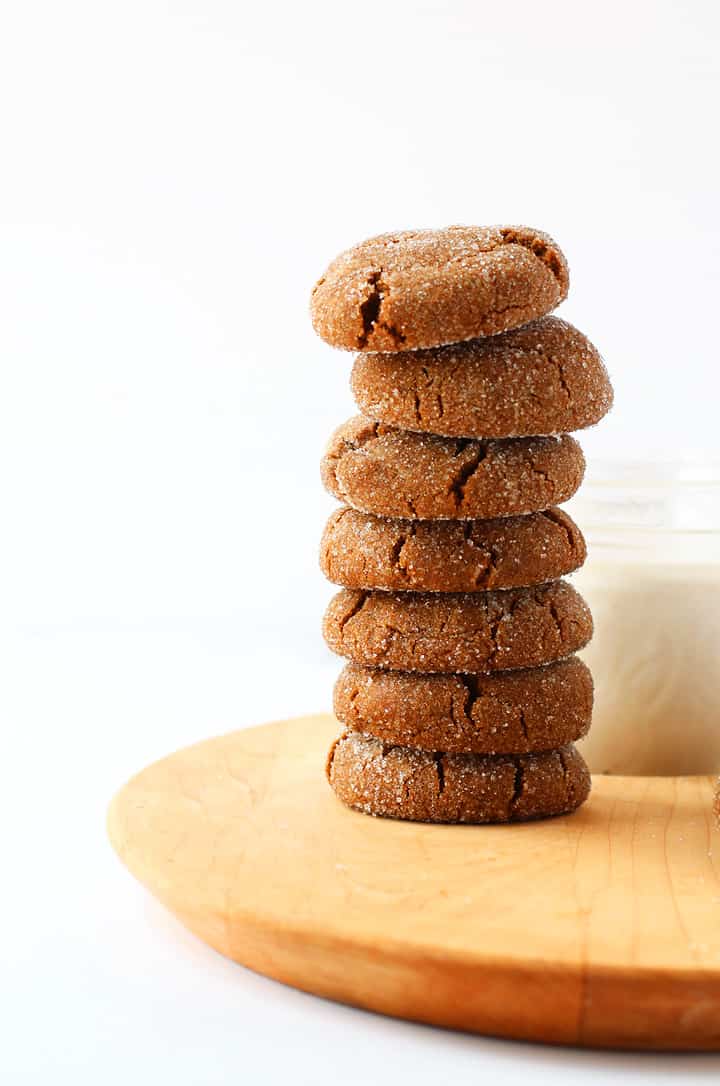 This post contains affiliate links. For more information read my privacy policy.
Originally published 6/12/2013. Last updated 9/19/2018
This fall I'm taking some time to go back through some of my favorite My Darling Vegan recipes from the archives and give them some MUCH NEEDED love. Over the next couple of months, I'll be re-sharing some of YOUR favorite recipes new and improved. Oh, don't you worry. I will also have NEW recipes for each week.
Make sure never to miss a recipe by signing up for my newsletter.
To start us off, I am re-sharing one of my VERY FIRST recipes today.
Ginger Molasses Cookies!
I love these Ginger Molasses Cookies and I think you will too.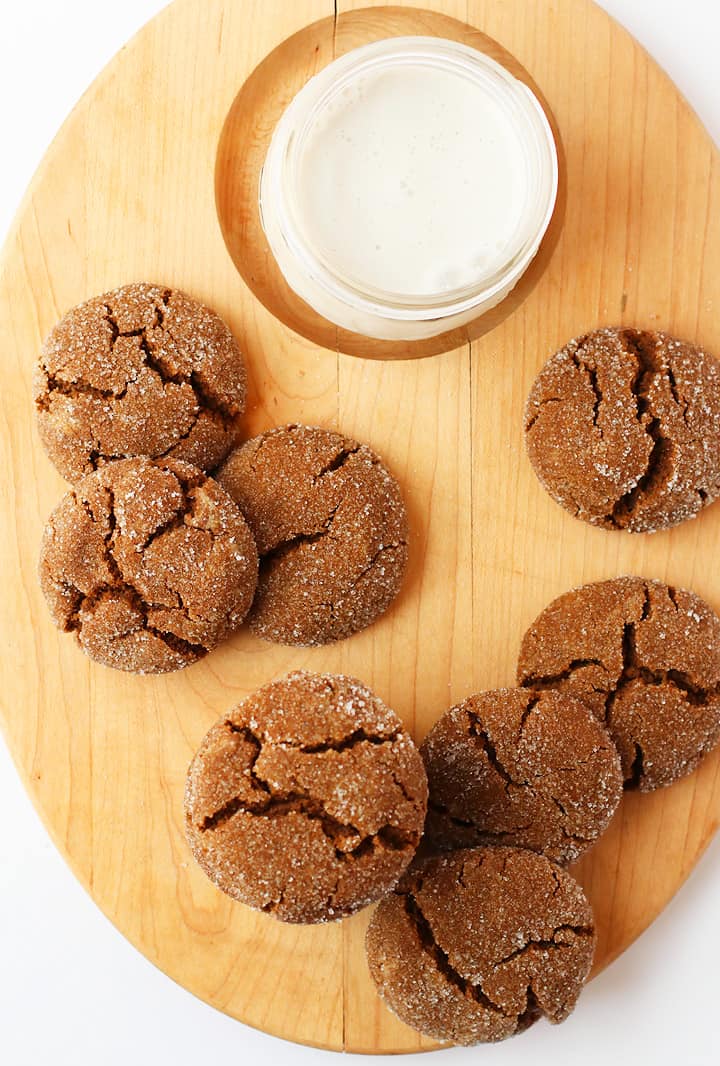 What are Vegan Molasses Cookies?
Imagine a chewy molasses cookie meets a ginger snap and you've got yourself a ginger molasses cookie. It's a soft, slightly chewy, slightly cakey, sweet and spicy cookie that is perfect to pair with your afternoon matcha lattes or herbal teas. In other words, the perfect fall cookie.
So good!
How to make a Ginger Molasses Cookie:
Do you remember those vegan snickerdoodles from the other week? The process is very similar.
Step One – Mix together the dry ingredients.
That's the flour, baking powder, baking soda, spices, and salt. Whisk them together until the spices are well blended into the flour.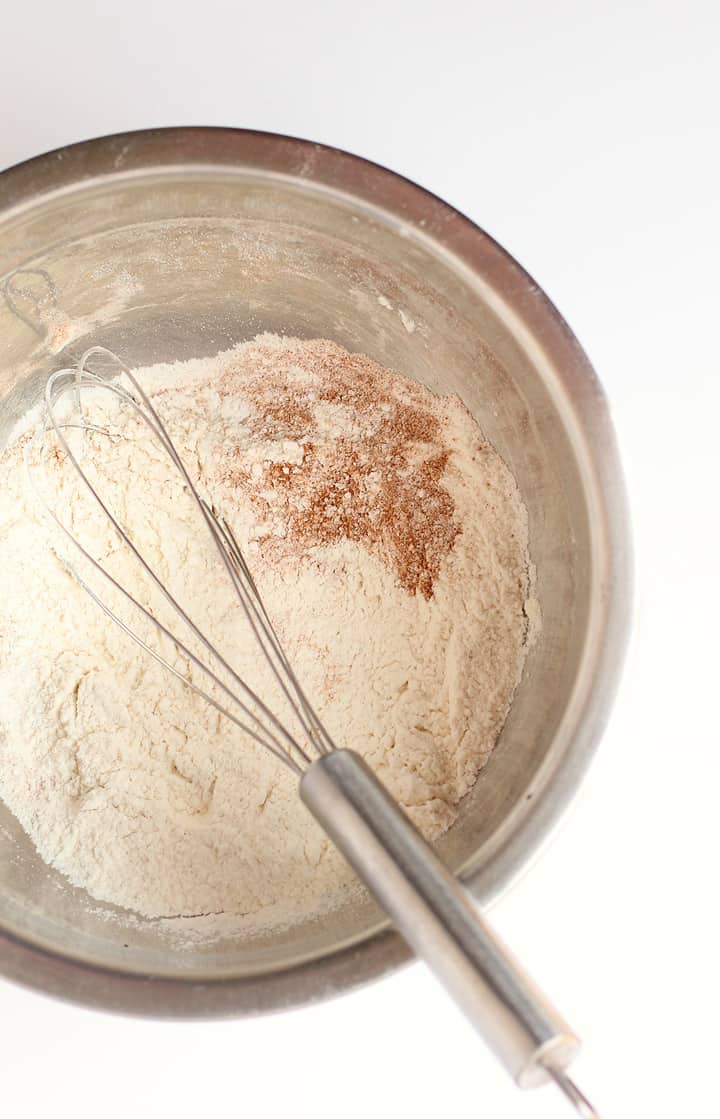 Step two – Whip the butter and sugar.
Whip the sugar and butter until they are light and fluffy. Next, add the oil and molasses. Fortunately for us, the combination of oil and molasses act as the binder (egg replacer) and we don't need any other egg substitutions for this vegan cookie recipe.
Once they are added, the dough will start to look curdled. Don't worry about this. When the dry ingredients are added, the dough will sort itself out.
Step three – add the dry ingredients
Add the dry ingredients until they are just combined. Be careful not to overmix or the dough will become gummy and dense. Once the flour and spices have completely incorporated, turn off the mixer. Wrap the dough in plastic wrap and chill for one hour.
Step four – bake the cookies
Once the dough has chilled, roll it into balls about 1 rounded tablespoon big and coat them with granulated sugar. Place them on a parchment-lined baking tray and bake for 10 – 12 minutes. Cookies should feel slightly underdone when pulled from the oven. They will continue to bake on the baking tray.
Allow them to continue to cook on the baking sheet outside of the oven for 5 minutes before transferring them to a wire cooling rack.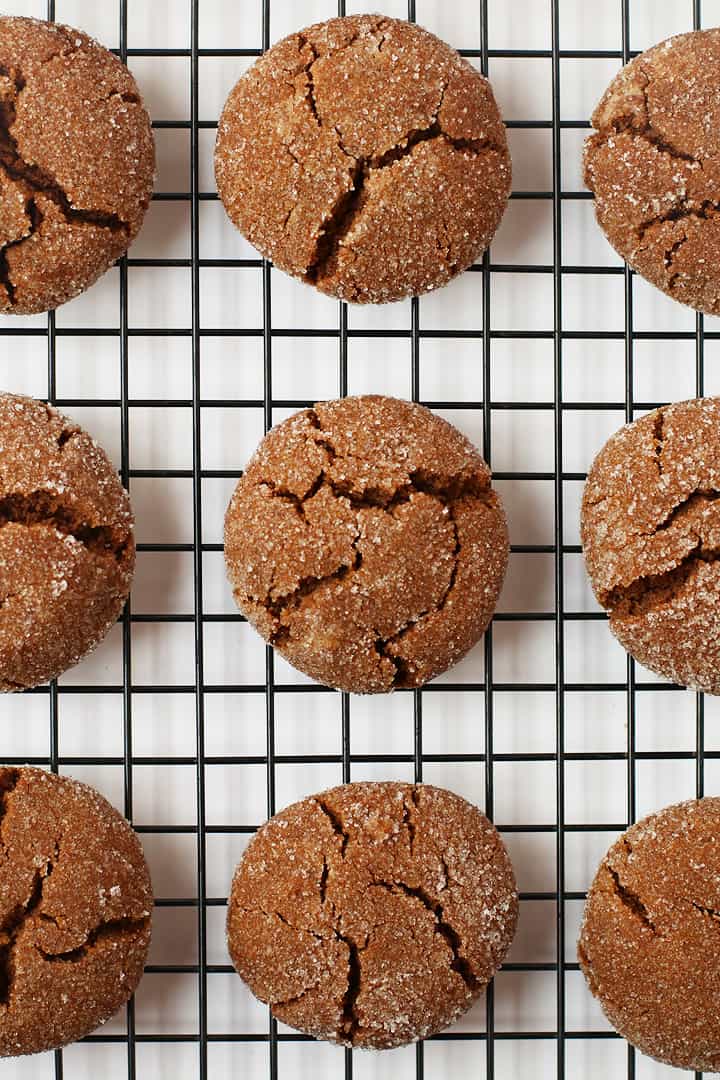 Wait, is granulated sugar vegan?
I get this question a lot! Enough that I've written a comprehensive guide on it. The short answer is: sometimes. Make sure to look for sugar that is labeled organic, natural, unrefined, or vegan.
Chewy Cookies v. Cakey Cookies
By pulling out the cookies when they are slightly underdone, you are giving the cookie that delicious chewy inside.
As I've mentioned before, I LOVE chewy cookies, but if you are looking for a more cakey texture, you can alter this recipe in a few ways.
Add an extra 1/4 cup of flour
Substitute granulated sugar for brown sugar
Bake the cookies for a few minutes longer. Closer to the 13-minute mark.
I've tried both, and despite my affinity to chewy cookies, I love them either way. And, more importantly, I think you will, too.
Serving and storing vegan molasses cookies
These cookies can be eaten right out of the oven or stored in an airtight container at room temperature for up to 5 days. If you don't plan on eating them right away, the extra dough can be frozen for fresh cookies when the craving hits.
To do this, roll all the dough into balls. Place them on a baking sheet in the freezer to freeze all the way through. Once frozen, transfer your cookie dough into a large ziplock bag and return to the freezer. You can store the cookies this way for up to 2 months. When you're ready to bake, remove from freezer, roll in sugar, and bake!
However, I don't foresee a lot of leftovers with these Ginger Molasses Cookies. They are the epitome of fall – sweet, spicy, warm, comforting, and 100% satisfying and they are also highly addictive.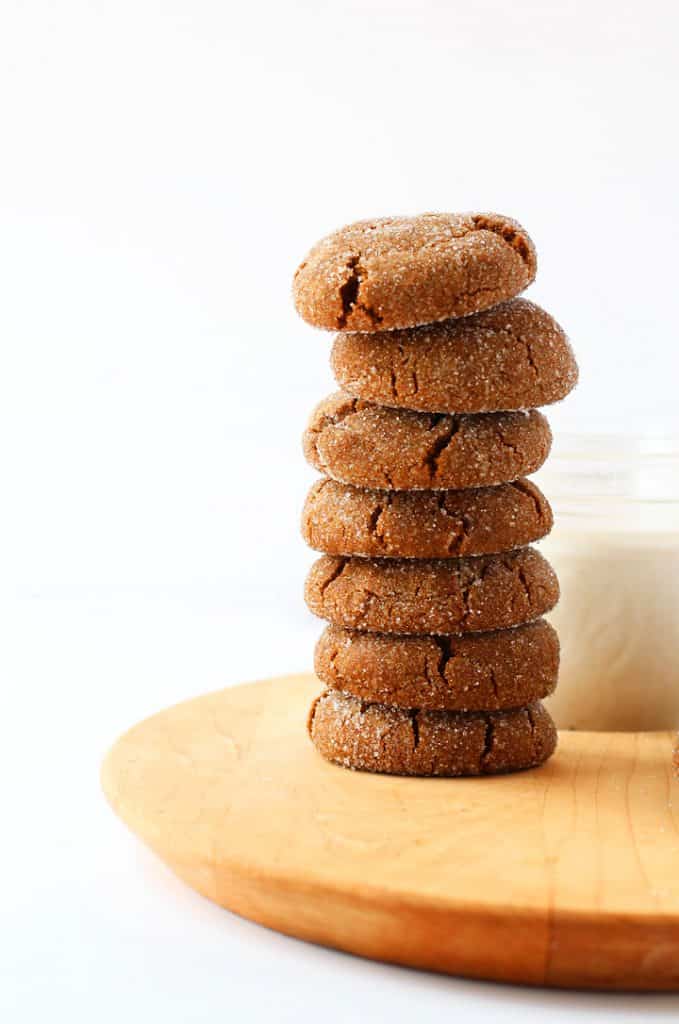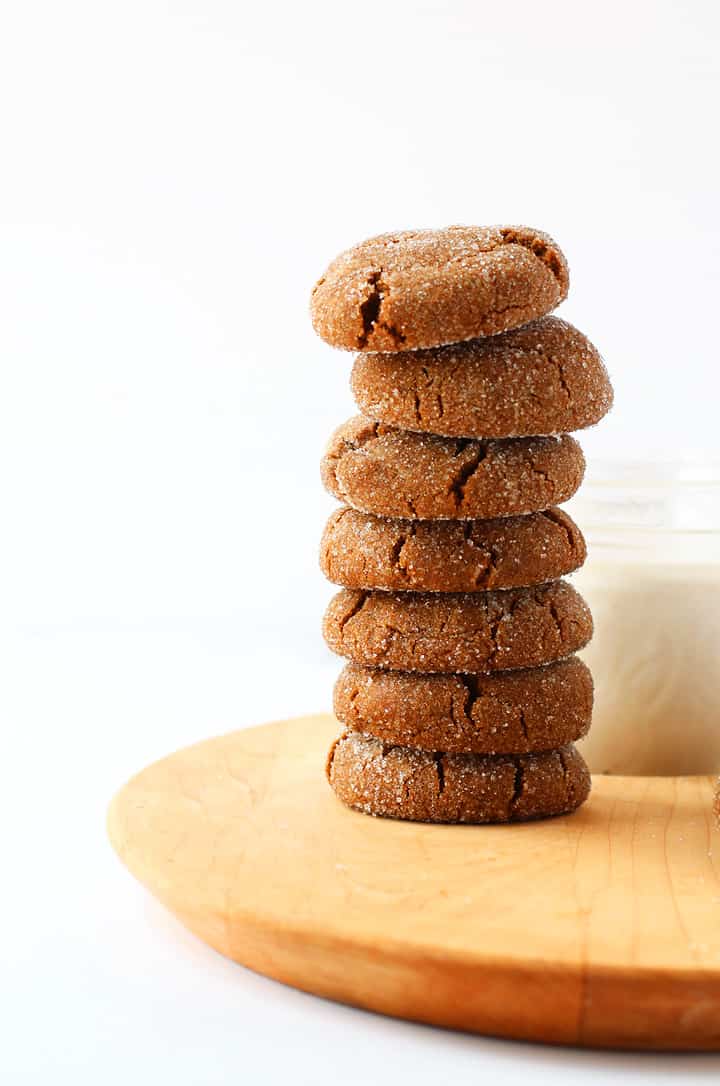 Ginger Molasses Cookies
You won't be able to resist these sweet and spicy Ginger Molasses Cookies. Made in under 25 minutes (+ chill time) for the perfect fall treat. But beware, these cookies are highly addictive!
Course:
Dessert
Cuisine:
Vegan
Keyword:
Ginger Molasses Cookies
Servings
:
24
cookies
Calories
: 148 kcal
Author
:
Sarah McMinn
Ingredients
Instructions
In a small bowl combine flour, baking soda and powder, spices, and salt. In a separate bowl or stand up mixer beat vegan butter and sugar until light and fluffy. Add oil and molasses and mix to combine. In several batches add the dry ingredients until a dough begins to form. Be careful not to over-mix.

Wrap dough in plastic wrap and chill for at least one hour.

Preheat oven to 350 degrees F. Line a baking sheet with parchment paper and set aside.

Place rolling sugar in a small bowl. Spoon out 1 rounded tablespoon of dough and roll into a ball. Coat with sugar and place the prepared baking sheets. Repeat with remaining dough, leaving about two inches between cookies.

Bake for 10-13 minutes until the edges begin to firm. Remove from oven and allow to cool for 2-3 minutes. They will continue to harden as they cool. Transfer to cooling rack and allow to cookies to cool completely.
Recipe Notes
Store these cookies in an airtight container at room temperature for up to 3 days. Alternatively, you could freeze the dough according to this method. 
Nutrition Facts
Ginger Molasses Cookies
Amount Per Serving
Calories 148
Calories from Fat 45
% Daily Value*
Fat 5g8%
Sodium 161mg7%
Potassium 98mg3%
Carbohydrates 23g8%
Protein 1g2%
Vitamin A 180IU4%
Calcium 27mg3%
Iron 0.9mg5%
* Percent Daily Values are based on a 2000 calorie diet.
If you give this recipe recipe a try, snap a photo and share it on Instagram. Make sure to tag
@mydarlingvegan
so I can see your creations!