Ultra-Chewy Vegan Chocolate Cookies
These ultra-fudgy, super chewy, vegan chocolate cookies are made even better with melt-in-your-mouth chocolate chips in every bite. Made in under 30 minutes for a DELICIOUS vegan cookie. Beware, these cookies are highly addictive!
This post contains affiliate links. For more information please see my privacy policy.
Look at that tower of ultra-fudgy double chocolate vegan cookies! Does it make your mouth water?
I should tell you that these cookies became wildly popular at my house, competing with my Ginger Molasses Cookies and Vegan Oatmeal Cookies for the BEST COOKIE OF ALL TIME! Yes, that was said.
This recipe is inspired by a vegan cookie from one of my favorite restaurants. Sadly, the restaurant closed down last fall. As soon as I heard the news, I set to work recreating some of my favorite recipes from that place – starting with these Double Chocolate Cookies. I think you're going to love these ultra chewy, super fudgy vegan chocolate cookies. They are packed with melt-in-your-mouth chocolate in every bite for a cookie that is easy to fall in love with.
But beware, they are highly addictive!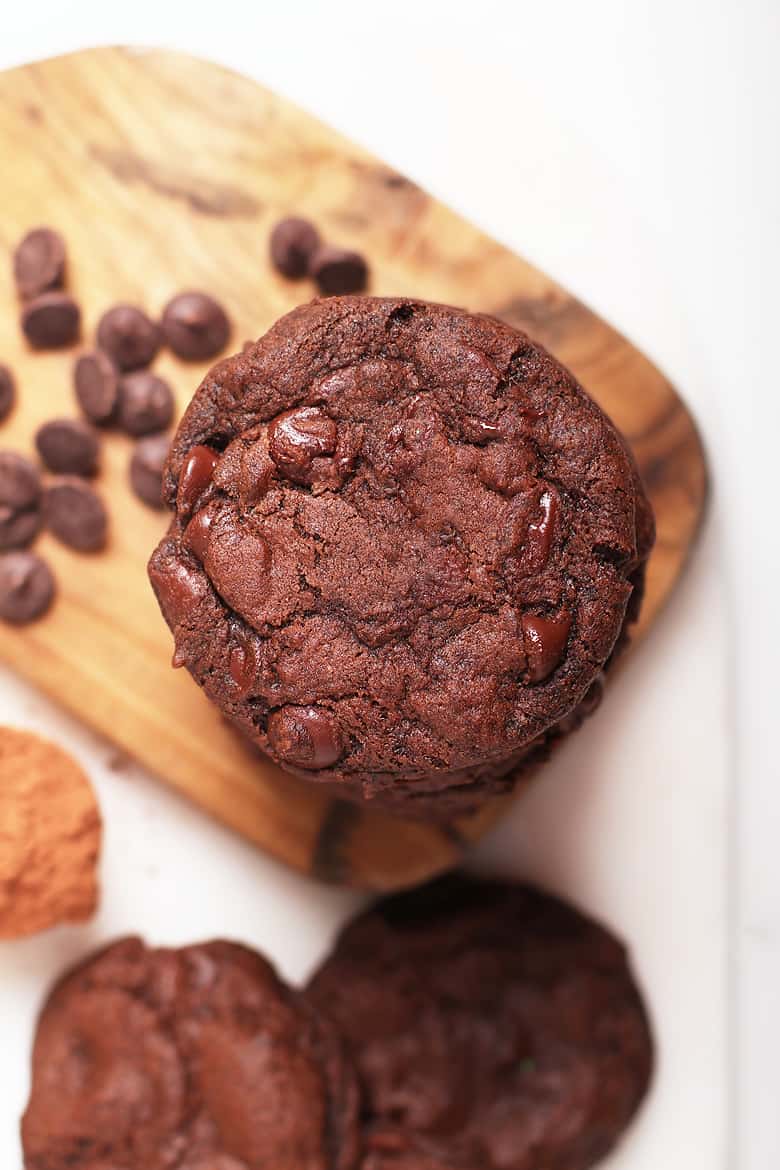 How to make vegan chocolate cookies:
These vegan chocolate cookies are a mix between my Chocolate Crinkle Cookies and Classic Chocolate Chip Cookies. They have a similar texture to that of the chocolate chip cookie with a little of the crinkle's fudgy chewiness. Then packed with chocolate chips, there is a burst of chocolate in every bite.
And the great news is they are no harder to make than any of my other cookies.
Step One – Mix together the dry ingredients.
That's the flour, cocoa powder, cornstarch, baking soda, and salt. Because these cookies are made without eggs, the cornstarch is the secret to keeping them puffy without spreading too much in the oven.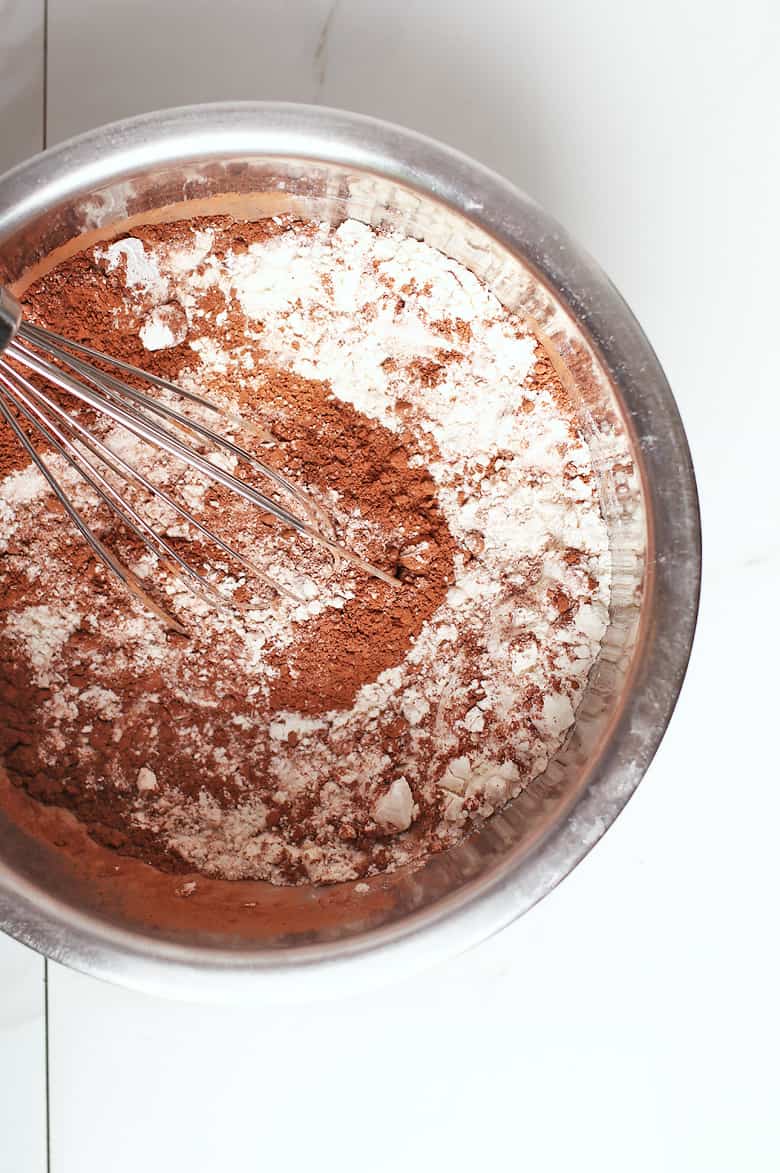 Step two – In a stand-up mixer, beat the butter and sugar.
Whip the sugar and butter until they are light and fluffy. Next, add the applesauce and vanilla extract. The applesauce acts as the binder (egg replacer). You can't taste the applesauce but if you would prefer a different kind of egg replacer, check out my complete guide on replacing eggs to get a few more ideas.
Once these are added, the dough will start to look curdled. Don't worry about this. When the dry ingredients are added, the dough will sort itself out.
Let's pause for a moment and talk about Stand-up mixers.
If you don't have a stand-up mixer in your kitchen, I highly recommend one. I have had mine for 15 years. I use in nearly weekly and it's never once given me a problem. It makes baking SO much easier and it comes with so many attachments, I can make meringues, bread, and cakes by flipping a switch.
Now might be the time to add a Stand-Up Mixer to your wish list. This is the one I use and, as I said, I absolutely love it!
Back to the cookies…
Add the dry ingredients until they are just combined. Be careful not to overmix or the dough will become gummy and dense. Throw in the chocolate chips at the very end and, once they are incorporated, remove the dough from the mixer.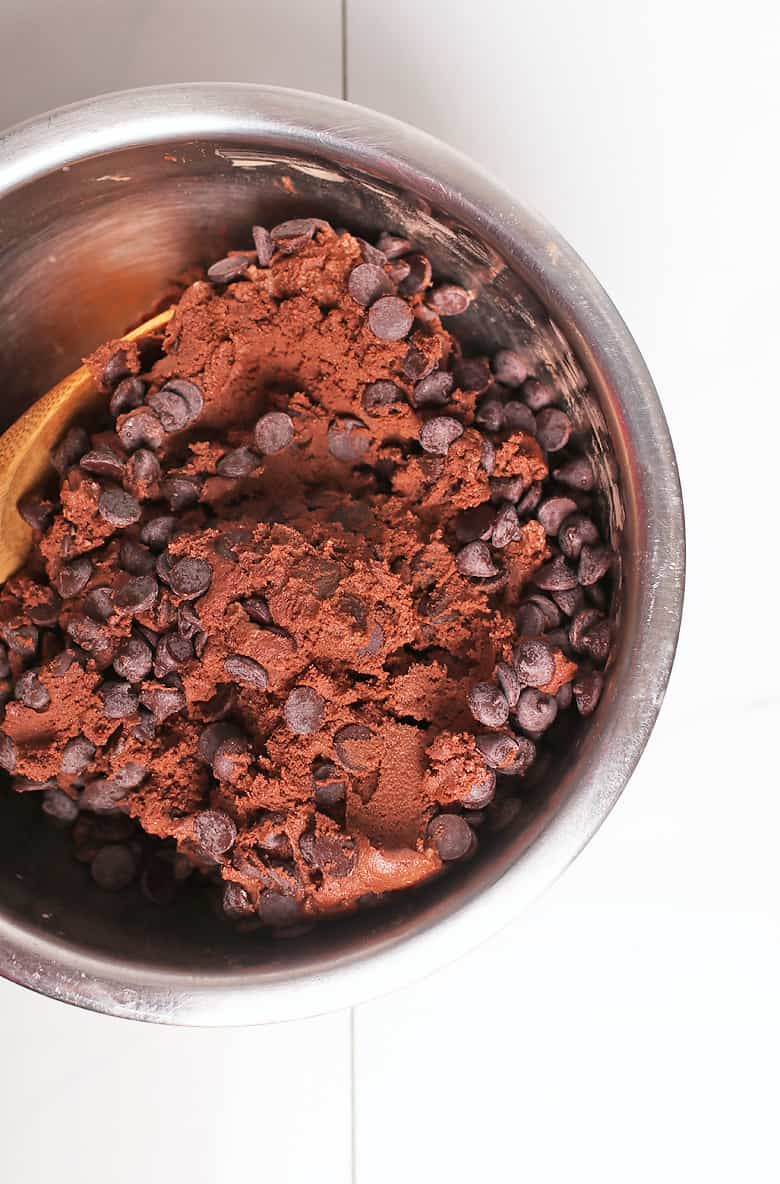 Step three – scoop and bake
I prefer using a small cookie scoop for this part. Cookie scoops allow all the cookies to be even with minimal mess. Scoop the cookies onto the tray, about a dozen per tray, and press down slightly before placing them in the oven.
Bake the cookies for about 10 minutes. Remove from the oven when the edges have just started to set and the centers are still slightly underdone. This is key for the chewiness of these vegan chocolate cookies. Once they have cooled about 5 minutes on the baking sheet, they can be transferred to a wire cooling rack to cool completely.
That's it! So easy.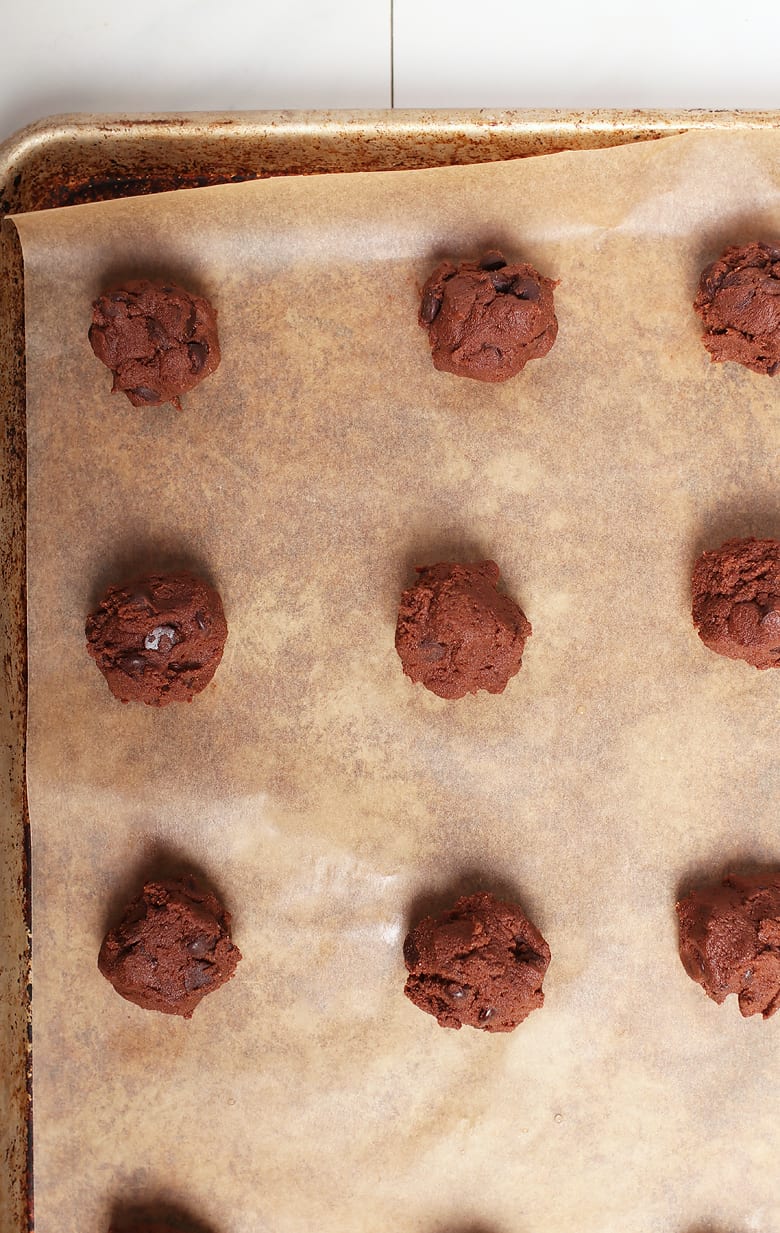 Tips and Tricks for making the PERFECT double chocolate cookies:
These vegan chocolate cookies are fairly straight forward. In fact, they are nearly fool-proof. Here are a few things to keep in mind when making these cookies.
Do not overmix the dough. Overmixing encourages the gluten to develop making your cookies gummy and dense.
After you add the applesauce and vanilla extract, your dough may start to look curdled. Fear not! This is normal. Once you add the dry ingredients, the dough will sort itself out again.
Pull cookies out when they are slightly underdone. I found 10 minutes to be the perfect baking time. They will continue to harden as they cool, giving you a crispy outside with a deliciously fudgy and chewy center.
Once cookies are completely cool, they can be stored in an airtight container at room temperature for up to 5 days. Raw dough can also be frozen for up to 2 months.
If you only want to make only a few at a time, you can store the remaining dough in the freezer. To do this, roll all the dough into balls. Place them on a baking sheet in the freezer to freeze all the way through. Once frozen, transfer your cookie dough into a large ziplock bag and return to the freezer. You can store the cookies this way for up to 2 months. When you're ready to bake, remove from freezer and bake!
Among the reasons I love these Vegan Chocolate Cookies:
These cookies have been a staple in my house for the past few years and I think once you give them a try you'll love them too. Here's why:
I always have all the ingredients on hand
This recipe uses just one bowl, a mixing spoon, and a baking tray
They are moist, delicious, and so full of chocolate-y goodness
More vegan cookie recipes
If you know anything about me, then you know I love my cookies. Here are a few of my favorite vegan cookie recipes:
There you have it! Beautiful, chewy vegan chocolate cookies. Let's take a look at the recipe card below.