An easy Vegan Pasta Salad with olives, cherry tomatoes, and red onions all tossed in a Red Wine Vinaigrette for a quick and simple 20 minute meal.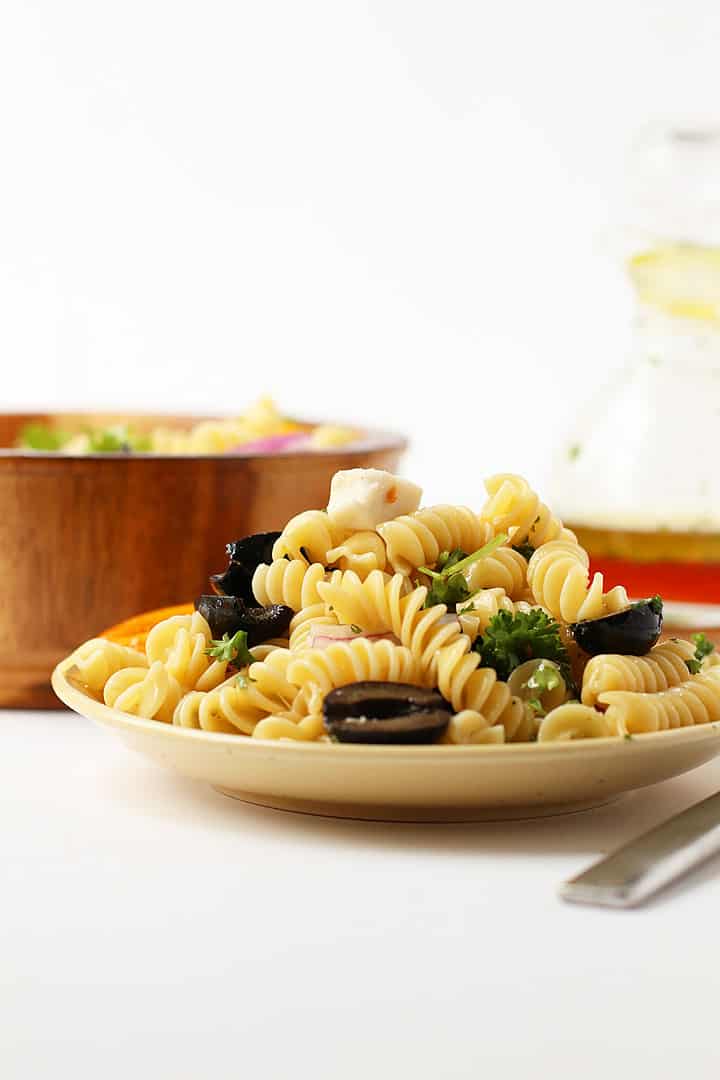 This post contains affiliate links. For more information, please see my privacy policy.
Happy Monday, friends!
I am writing this post to you from 50,000 feet in the air while traveling from my home in Portland, Oregon to a dear friend's home in Brooklyn, New York. When I land there will be reuniting with 4 of my closest friends who have known AND loved me for the past 18 years. I smile with anticipation!
However, I work quite far ahead when creating the content for My Darling Vegan so by the time YOU are reading this, I will have returned from New York, spent a week back at home before getting on another plane that will have taken me to England where I will have wandered the English countryside for a week, flown back to Portland where I am currently getting ready for a quick trip to LA with my dad to see the Cubs play the Dodgers. Oh, the excitement!
So time, I suppose, is a bit relative this high in the air.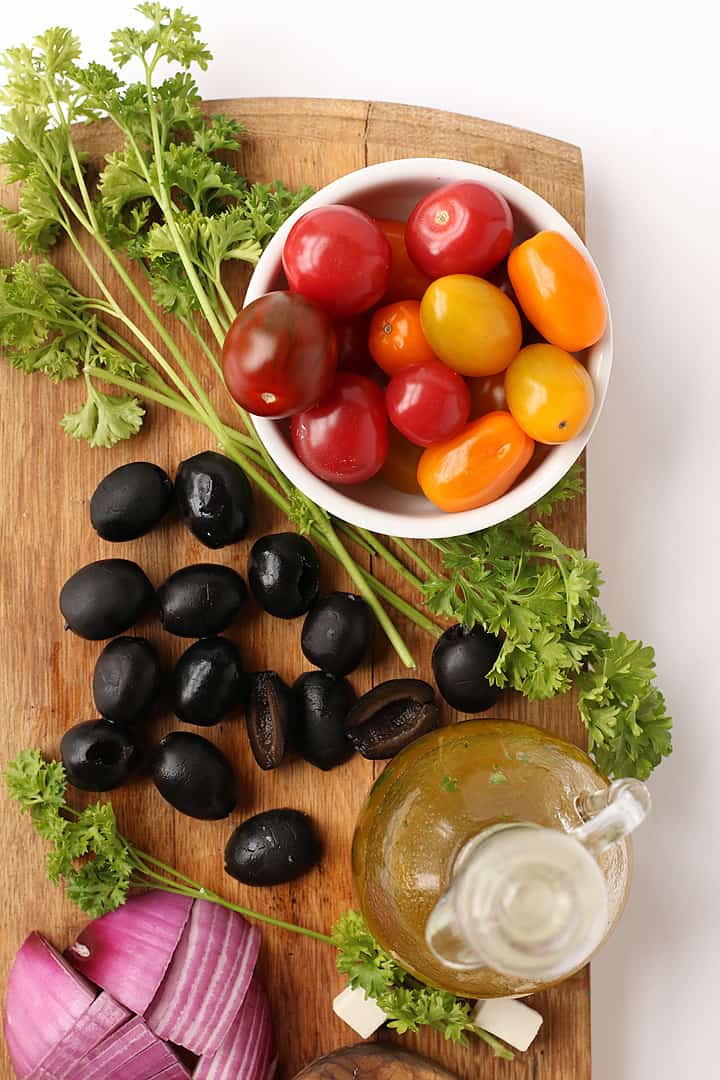 Regardless, here we are. And while I'd love to keep talking about all my traveling coming up in the next month (or that came up this past month, from where you stand), I am really here to talk about food. This vegan pasta salad, to be exact.
Vegan pasta salad is one of my favorite summer meals.
Why? I'm glad you asked!
Pasta salad is incredibly versatile. Change it up for a different salad every day of the week.
It is also easy to make. Less time in the kitchen = more time to adventure!
Speaking of adventuring, vegan pasta salad makes a great food to bring along on all those hikes, picnics, and beach trips.
This meal is light, yet filling; perfect for summer.
And doesn't require the oven. This is a huge plus on those 100 degree days that are becoming far too familiar.
So, you see, you really can't go wrong with a good pasta salad.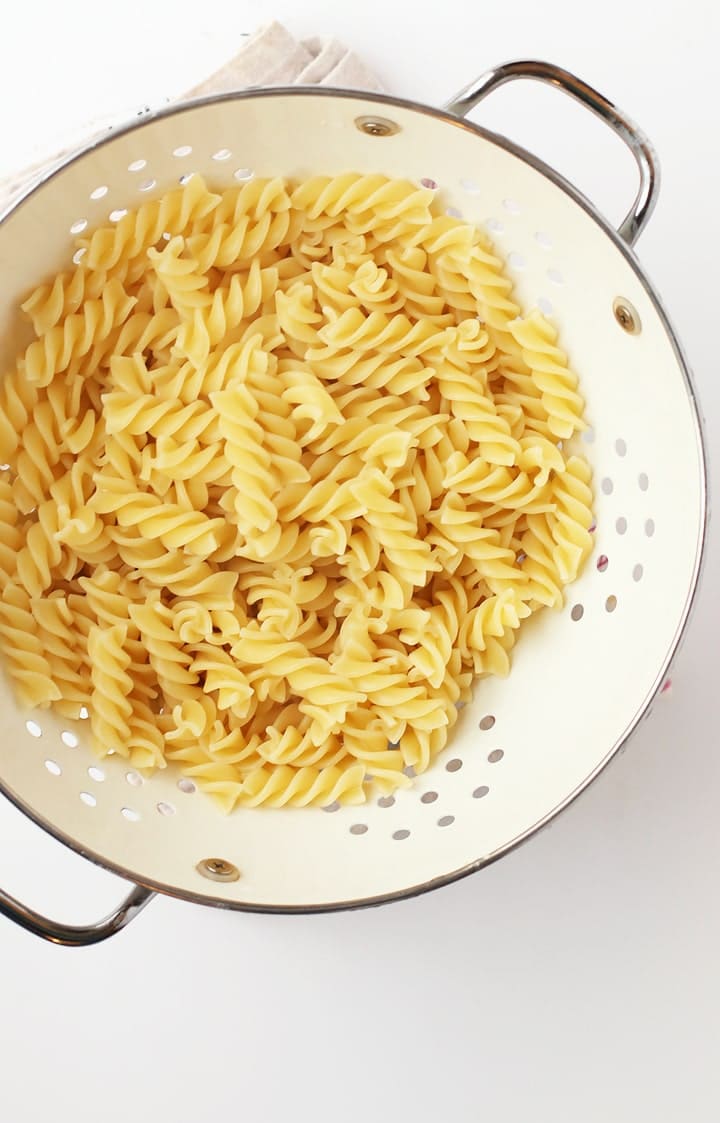 If you're familiar with my blog, then you know that I rarely make recipes that ask for vegan meat and dairy substitutions. I'm not a huge fan of most vegan substitutions and would rather create recipes that rely on the complex flavors and textures of vegetables. There's a reason it's called a plant-based diet, afterall. However, there is a definite time and place for slightly more processed foods and this vegan pasta salad is one of them. Enter: vegan mozzarella cheese.
For this recipe I used Miyoko's Mozzarella Cheese.
Miyoko's products are hands-down the best plant-based cheese and butters I have ever had. Not only is the taste and texture superior to any other vegan cheese on the market, the products are made with whole, plant based foods. For example, the ingredients in this mozzarella are: filtered water, coconut oil, cashews, tapioca, agar, salt, and cultures. With those few simple ingredients, the most amazing, meltable, spreadable cheese is created and it's one I feel great about including in this recipe. If you haven't tried Miyoko's yet, I highly recommend it. You can find their cheeses at natural grocery stores, online, and at Whole Foods.
This post in NOT sponsored by Miyoko's. I am just a huge fan.
If you have another vegan mozzarella cheese you like, please use it. Or, you can omit the cheese altogether if you are truly not a fan of plant-based cheeses.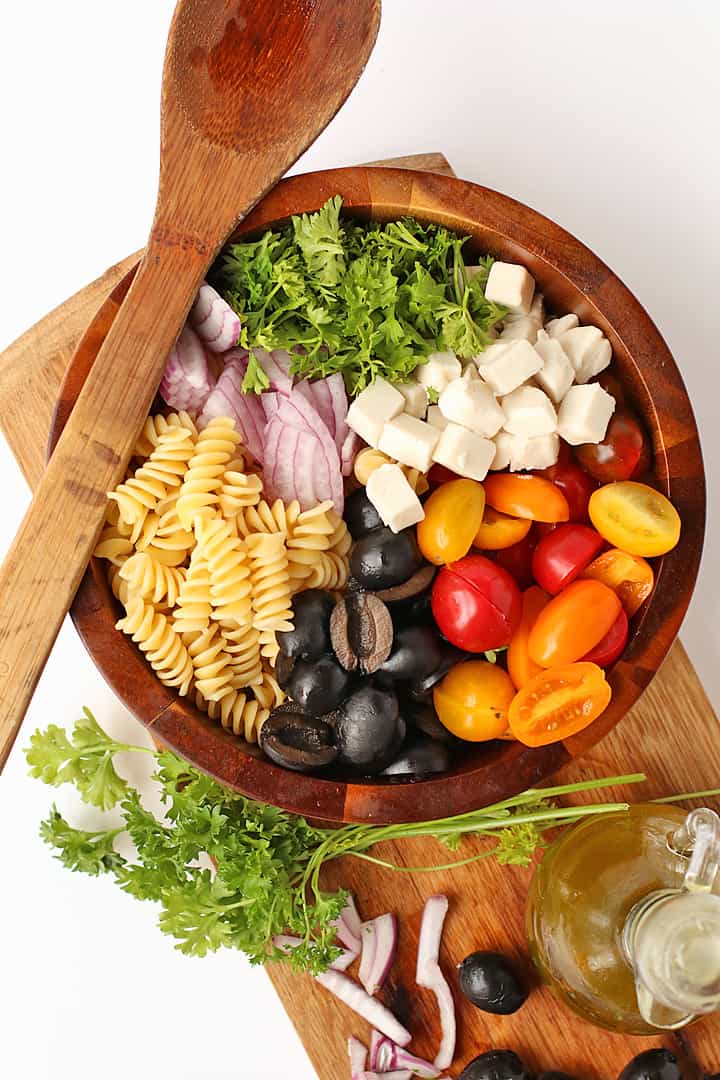 To dress this salad I made a Red Wine Vinaigrette.
It's an easy combination of red wine vinegar, olive oil, a little sweetener, and salt and pepper. I experimenting with adding some herbs, both dried and fresh, but found that I preferred the vinaigrette simple and straightforward.
Pro Tip: It is best to toss the pasta in the vinaigrette as soon as the noodles are strained and rinsed in cold water. The oil in the dressing prevents the pasta from clumping together as it cools. Once the dressing is mixed into the pasta, you can take your time when adding the remaining ingredients.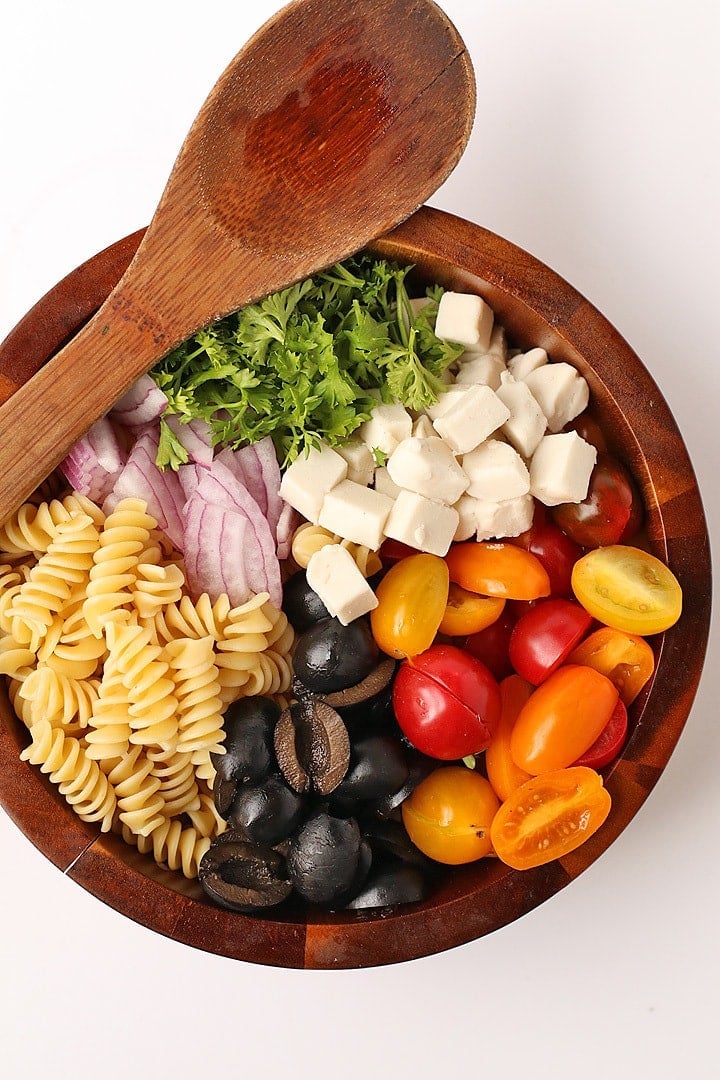 This vegan pasta salad is zesty, sweet, sour, and refreshing.
You can make it in just 20 minutes for a salad that gives you at least 6 servings of a filling and refreshing meal. It lasts for up to 5 days in the refrigerator, making it the perfect salad to have on hand when you're looking for a grab-n-go meal to keep you fueled for your day of adventure.
Because, really, adventures is what summer's all about.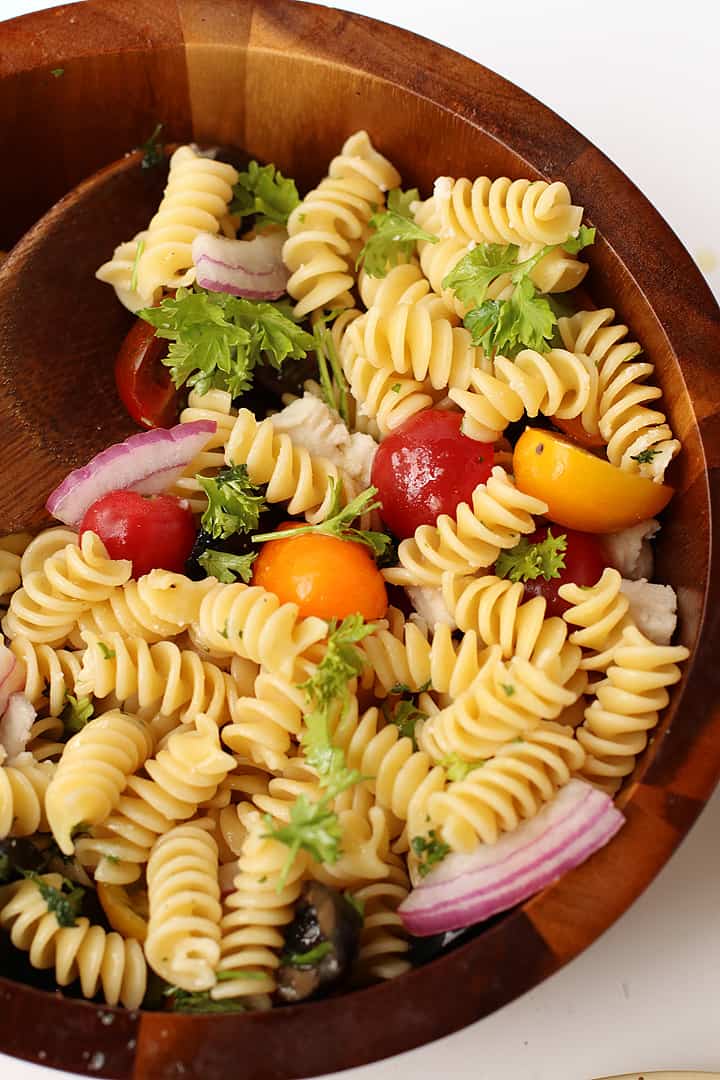 Vegan Pasta Salad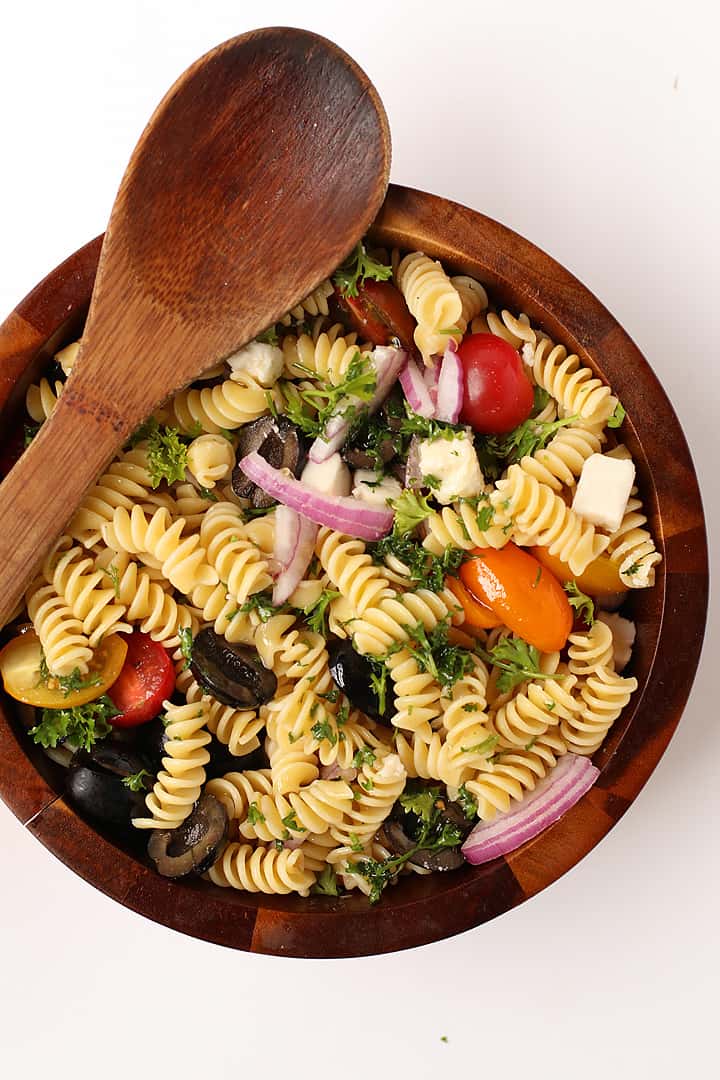 An easy Vegan Pasta Salad with olives, cherry tomatoes, and red onions all tossed in a Red Wine Vinaigrette for a quick and simple 20 minute meal.
Keyword:
Vegan Pasta Salad
Ingredients
12

ounces

Fusilli Pasta

1

cup

cherry tomatoes,

halved

1/2

cup

black olives,

halved

1/4

cup

red onions,

thinly sliced

1/2

cup

vegan mozerella,

cubed

2

tbsp

fresh Italian Parsley,

minced

1/4

cup

extra virgin olive oil

2

tbsp

red wine vinegar

1

tsp

maple syrup

salt and pepper,

to taste
Instructions
Cook the pasta according to package instructions.

In a small blender, combine the olive oil, red wine vinegar, maple syrup, and salt and pepper. Blend until olive oil is well incorporated and set aside.

When pasta is al dente, strain the pasta through a colander and rinse with cold water until the pasta has cooled.

Transfer to a salad bowl and immediately toss pasta with red wine vinaigrette to avoid pasta from clumping together. Add remaining ingredients and stir to combine.

Serve immediately or store in an airtight container in the refrigerator until ready to serve.
Nutrition Facts
Vegan Pasta Salad
Amount Per Serving
Calories 347
Calories from Fat 117
% Daily Value*
Total Fat 13g 20%
Sodium 276mg 12%
Potassium 197mg 6%
Total Carbohydrates 47g 16%
Protein 8g 16%
* Percent Daily Values are based on a 2000 calorie diet.
If you give this recipe a try, let us know what you think in the comments below. Or snap a photo and share it on Instagram. Make sure to tag @mydarlingvegan so I can see your creations!