A rich and creamy Coconut Milk Ice Cream made with just 5 ingredients for an easy homemade vegan and gluten-free ice cream treat.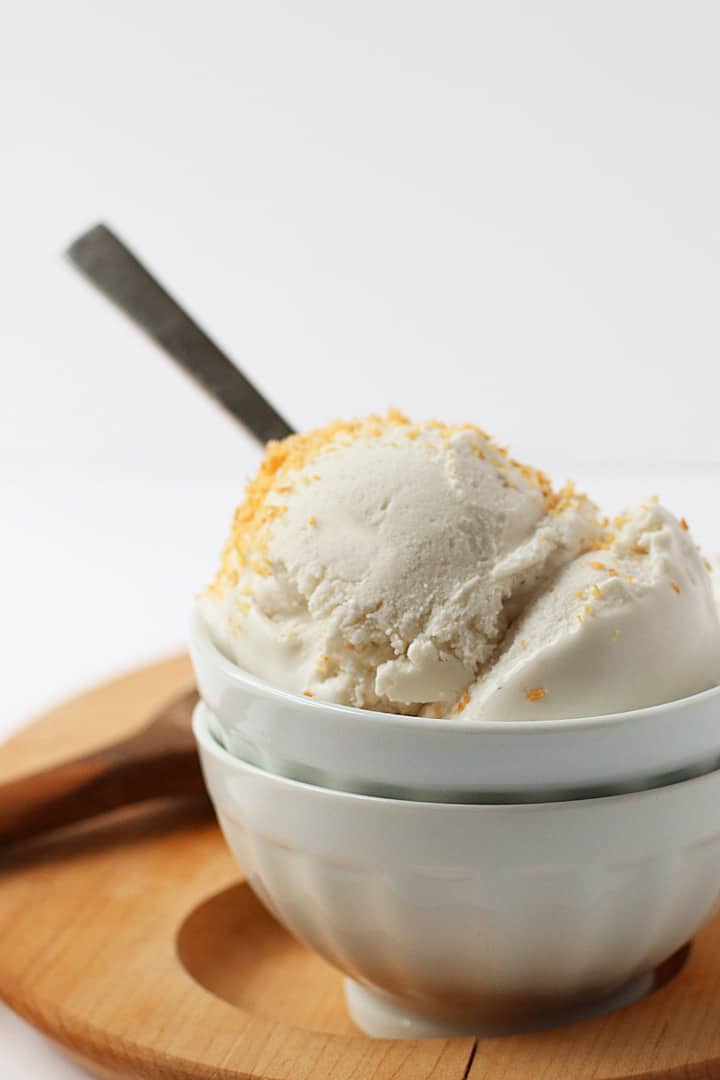 This post contains affiliate links. For more information, please see my privacy policy.
Hey friends!
I have returned home from my travels! After two back-to-back trips, first to New York City and second to England, I have to say it is good to be home! Dare I say, there are few better feelings IN THE WORLD than that feeling of falling asleep in your own bed after several adventures weeks of travel? Wouldn't you agree?
As I settle back into my Portland home, I eagerly look forward to summer. This past weekend the kids and I started creating our annual summer bucket list. These bucket lists always look pretty same from year to year: beach trips, camping trips, berry picking, bike riding. This year, I've added a few new ones to my list. Most notably, or perhaps I should say relevant, making homemade ice cream together.
And we're going to start with this creamy coconut milk ice cream.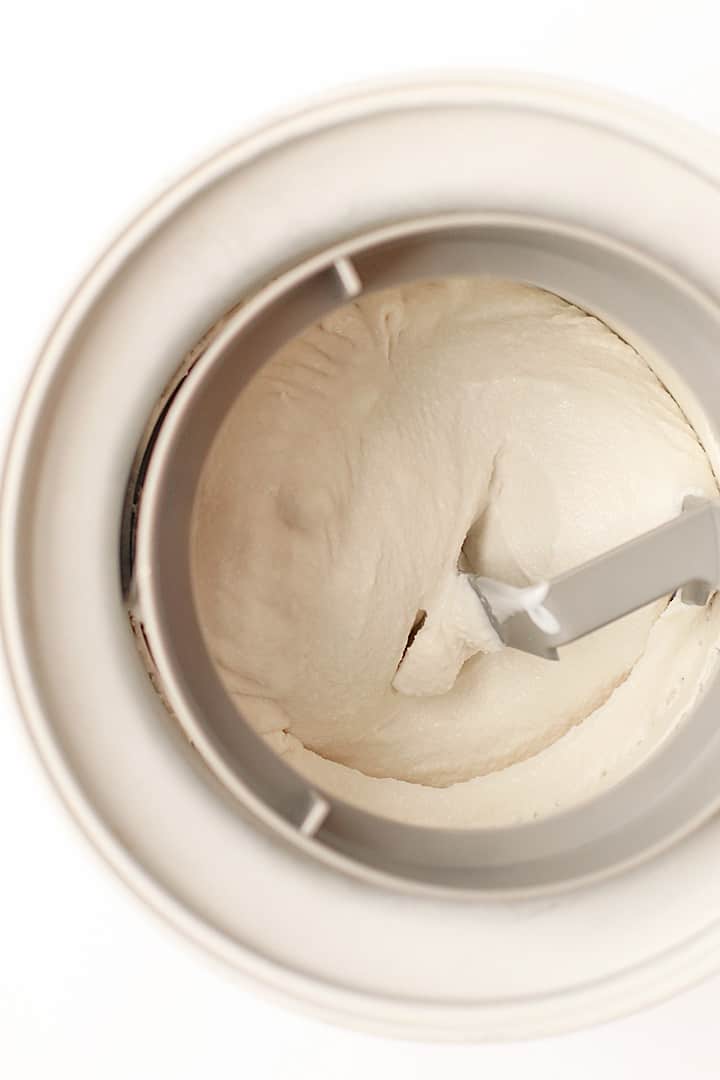 Let's take a look at this 5-ingredient Coconut Milk Ice Cream.
I have experimented with a lot of different bases for vegan ice cream. Among the options are frozen banana, cashews, fresh coconut meat, and coconut milk. When coconut enhances the flavor of the ice cream (rather than distracting from it) it is my one of my favorite option for a vegan ice cream base. Full fat coconut milk is rich, thick, and similar in consistency to the heavy creamer that is typically used in ice cream. Therefore, when made right, it has the most similar texture to that of cow's milk ice cream.
And because it is so delicious all on it's own, I decided to create an ice cream that celebrates the pure flavor of coconut with just 5 simple ingredients.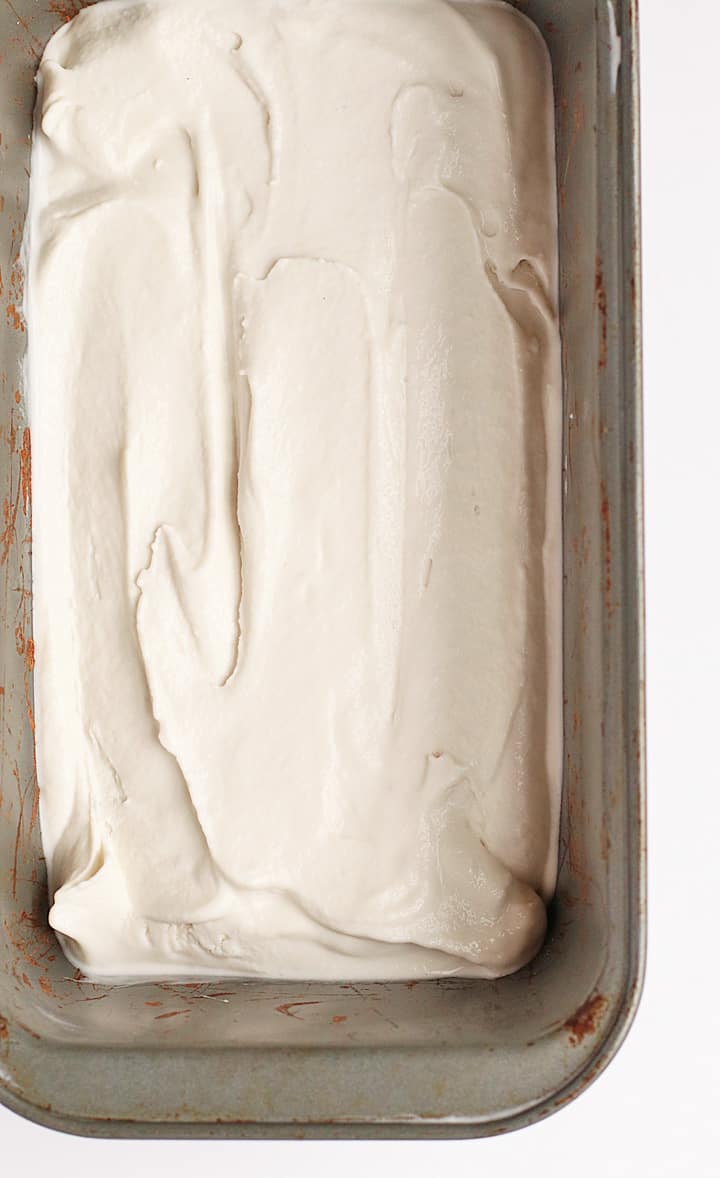 What are the Coconut Milk Ice Cream ingredients? I'll tell you!
So easy, you probably already have them at home!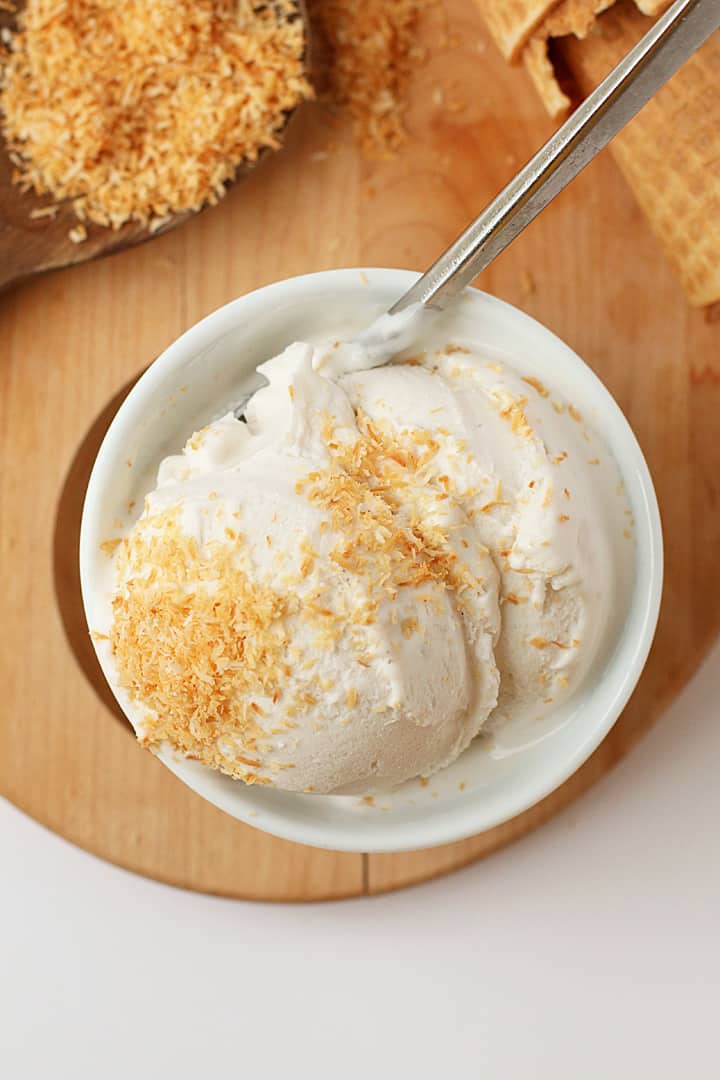 Now, let's talk about homemade ice cream.
For those of you who are new to the idea of making your ice cream at home, it's a whole lot easier than you might think. While it takes some forethought (making time for freezing and chilling) it uses very little technique to get that perfectly rich and creamy consistency. All you need is a recipe (which I've got for you) and an ice cream maker.
If you don't have an ice cream maker, I HIGHLY recommend you get one. I've been using this one for the past 5 years and I love it. It is compact and makes the perfect creamy ice cream every time! In 5 years and MANY hours of use, I have never had a problem with it.
Note: this image contains an affiliate link.
Let's take a closer look at how to make this 5-ingredient Coconut Milk Ice Cream.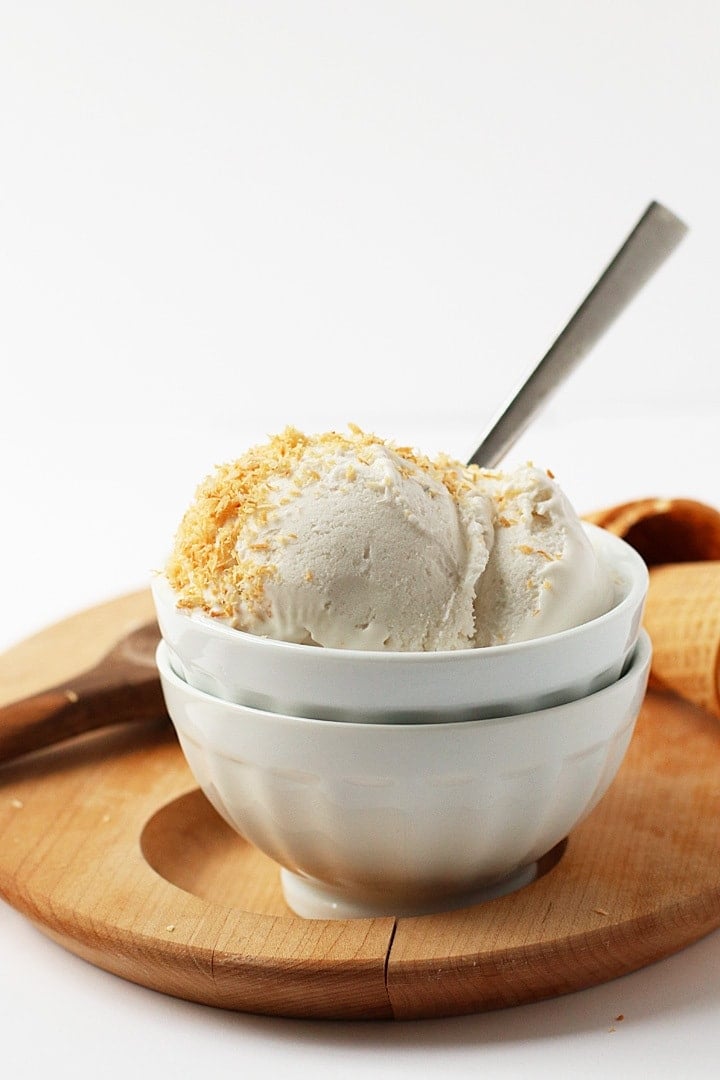 Coconut Milk Ice Cream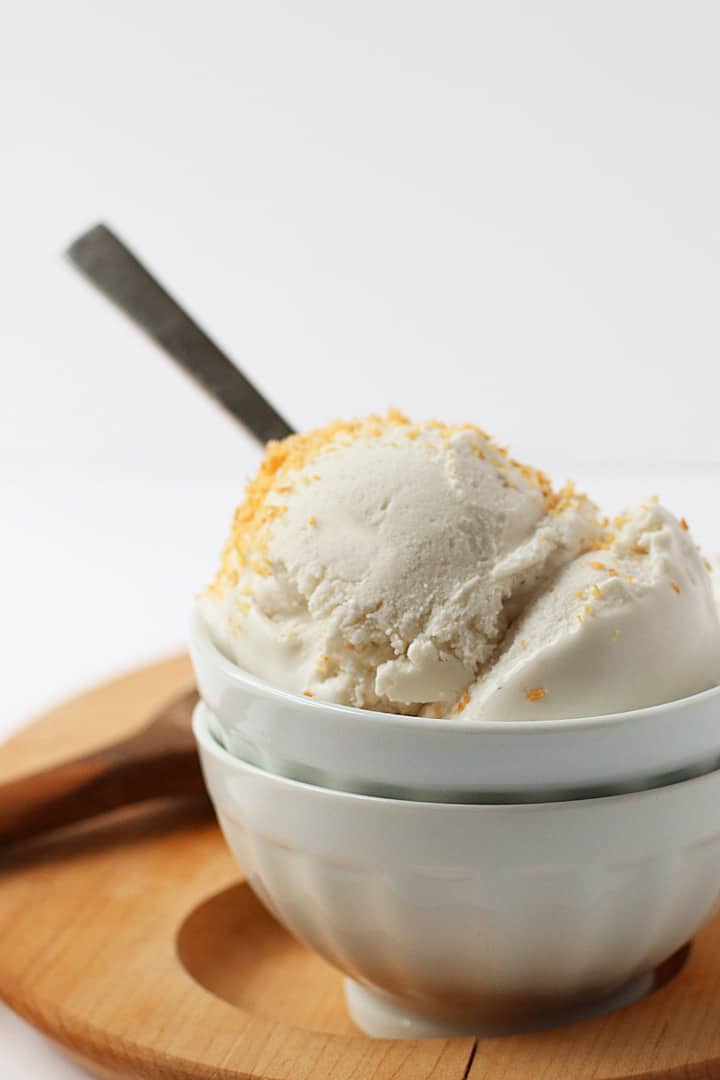 A rich and creamy Coconut Milk Ice Cream made with just 5 ingredients for an easy homemade vegan and gluten-free ice cream treat.
Keyword:
Coconut Milk Ice Cream
Instructions
The night before place the bowl of your ice cream maker in the freezer to freeze all the way through.

Measure out 1/2 cup of coconut milk and set aside.

Add remaining coconut milk, sugar, and salt to a small sauce pan. Place over medium heat and whisk until sugar is dissolved.

Stir in the cornstarch to the reserved 1/2 cup coconut milk until well combined.

Add cornstarch/coconut milk mixture to the sauce pan and bring to a boil, stirring frequently.

Boil for 5 minutes, stirring frequently, until the cornstarch is completely cooked and ice cream base has thickened. Transfer to a shallow container, cover, and refrigerate for at least 4 hours.

Add chilled ice cream base to frozen ice cream bowl and churn according to manufacturer's instructions. Church until it becomes thick and resembles soft serve.

You can serve now or transfer to a pint size container and store in the freezer until ready to serve. Allow 5-10 minutes to thaw when removing from freezer.

Serve with toasted coconut, optional
Nutrition Facts
Coconut Milk Ice Cream
Amount Per Serving
Calories 326
Calories from Fat 243
% Daily Value*
Total Fat 27g 42%
Sodium 113mg 5%
Potassium 280mg 8%
Total Carbohydrates 22g 7%
Protein 2g 4%
* Percent Daily Values are based on a 2000 calorie diet.
If you give this recipe a try, let us know what you think in the comments below. Or snap a photo and share it on Instagram. Make sure to tag @mydarlingvegan so I can see your creations!