These vegan Lemon Bars are made with a buttery shortbread crust and filled with an easy Meyer lemon curd for the perfect sweet and sour treat.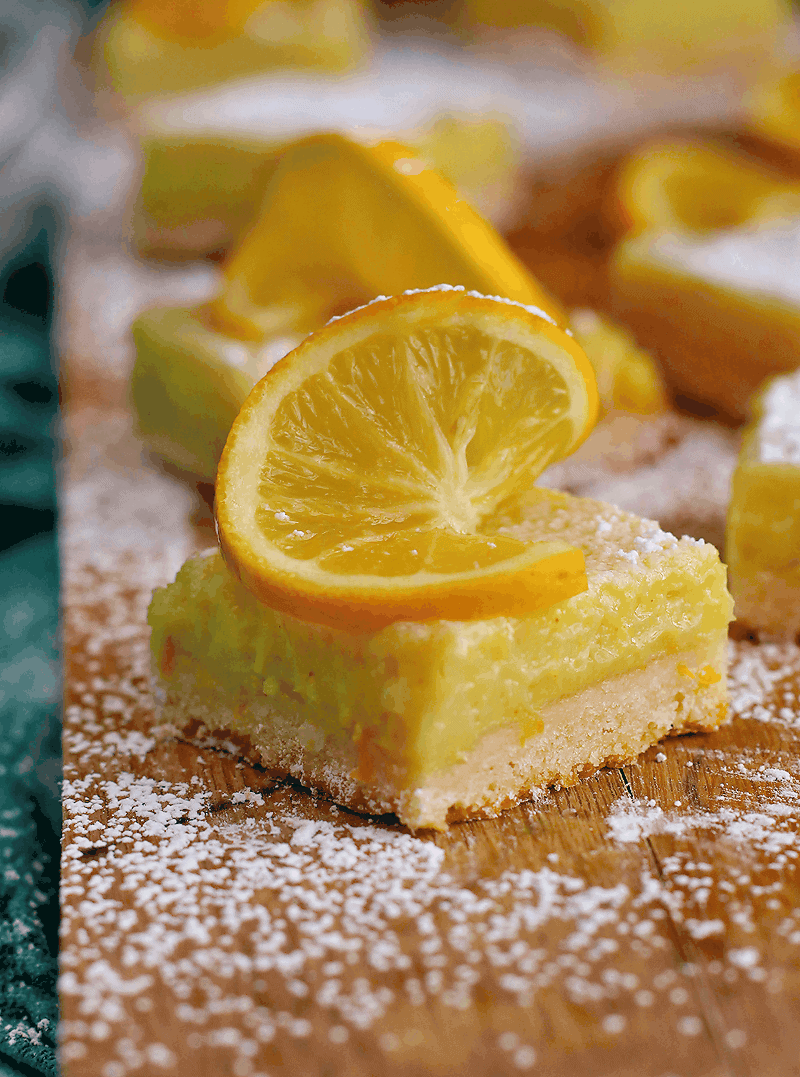 This post contains affiliate links. For more information read my privacy policy. 
Have you ever wondered what exactly a Meyer lemon is?
Besides noticing that they fill up the produce aisles in late winter with their vibrant yellowish-orange color, I didn't know much about them.  So, being forever curious, I decided to do a little research. Meyer lemons, it turns out, are native to China and is thought to be a cross between a regular lemon and a mandarin orange that are deep in color and flavor. Sweeter than regular lemons, some people will eat Meyer lemons by the slice.
And, most interesting of all, the fruit was introduced to the United States in 1908 – the last year the Cubs won the World Series for the next 108 years making it the longest drought in American Sports History, to be finally broken November 3, 2016, in one of the most epic games in world series history.
But I digress…
Meyer lemons, everyone!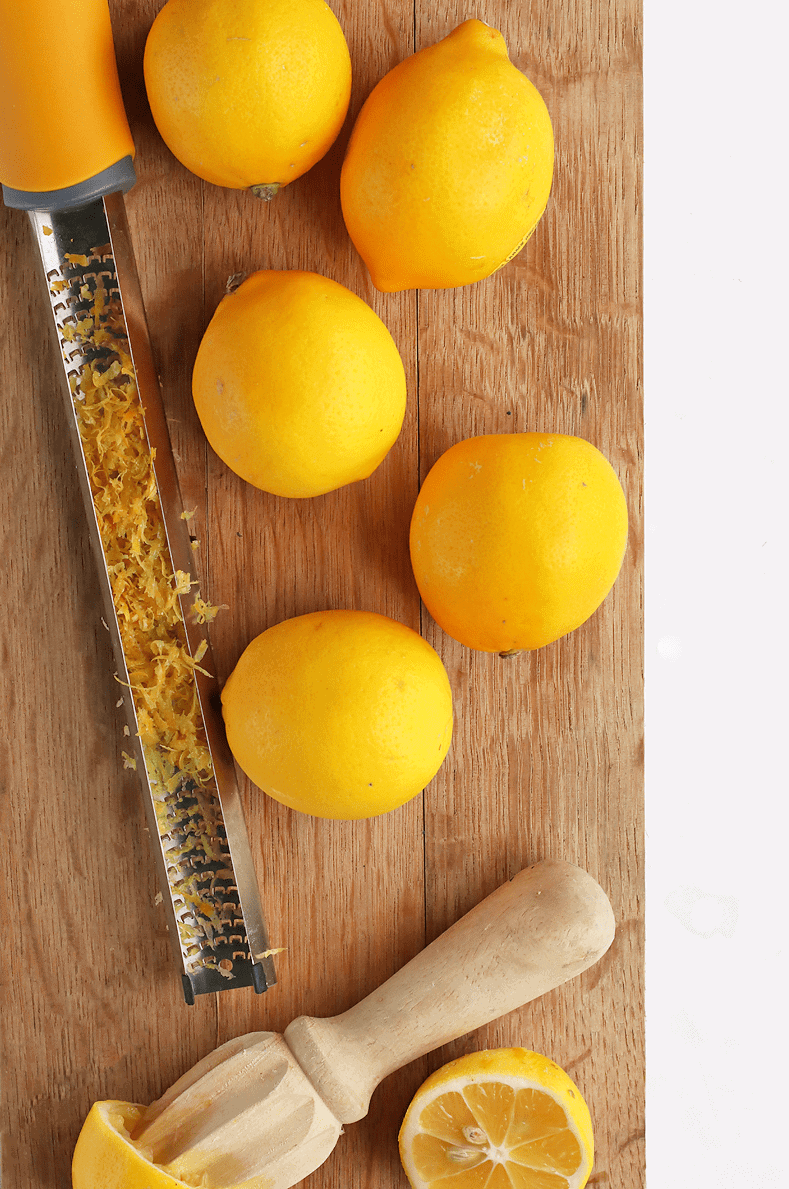 Today I am not only talking about Meyer lemons and Cubs baseball, however. It gets even better. I know, hard to imagine.
But wait for it…
With my lemons, I made these vegan Lemon Bars for a sweet and tart, easy vegan dessert that celebrates these last winter days and the spring that is almost here.
Ingredient for Vegan Lemon Bars
For these lemon bars, you only need a handful of ingredients. You will need:
vegan butter
granulated sugar
  all-purpose flour
extra-firm silken tofu
 lemons
powdered sugar
cornstarch
vanilla extract
Best Egg Replacer for VEGAN Lemon Bars
Lemon bars are traditionally made from a lemon custard (or lemon curd) base. For these vegan Lemon Bars, I used silken tofu for the lemon curd base. There are lots of ways to make a plant-based custard and rarely do I go the tofu route but in this recipe, silken tofu is the perfect custardy texture. It's also a pretty fool-proof method for vegan custards, no experience necessary!
Plus tofu has no strong flavor, soaking up the citrus and sweet of these bars and making these the classic lemon bars we all know and love.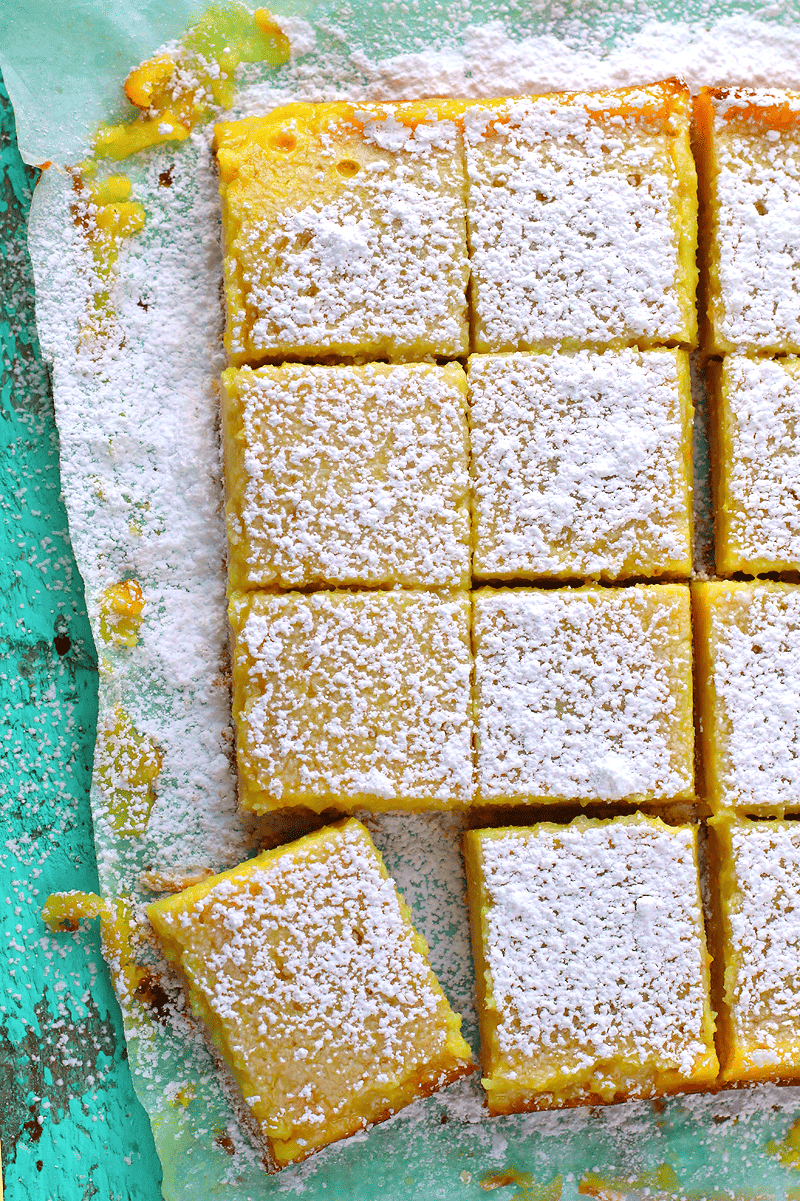 WHAT IS SILKEN TOFU?
Every once in a while I get a reader who is unfamiliar with silken tofu. Unlike regular tofu, silken tofu has a creamy texture making it the perfect egg replacer for creamy pies such as Vegan Pumpkin Pie and Chocolate Cream Pie as well as custard-based desserts such as Chocolate Mousse and Classic Vegan Cheesecakes.
When blended, it incorporates completely with the other ingredients giving the recipes a thick and creamy (pudding-like) consistency without adding any strang tastes.
DO I HAVE TO USE SILKEN TOFU?
Yes, for recipes that call for silken tofu, you do. Unfortunately, regular tofu just won't work. With regular tofu, you will end up with a grainy base with tofu chunks that just never break down. It's not good. Believe me, I've made this mistake.
WHERE TO FIND SILKEN TOFU
Regular tofu is in the refrigerated section at your local grocery stores, but don't be fooled! Vacuum-packed silken tofu is shelf-stable so it is typically found on the shelf, often in the International aisle near the Asian foods. Look for a box that looks like this.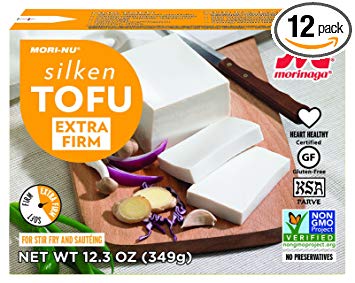 Make sure to buy firm or extra firm; this is important for getting the correct pudding-like texture. If you can't find it at your local grocery store, you can always pick some up online.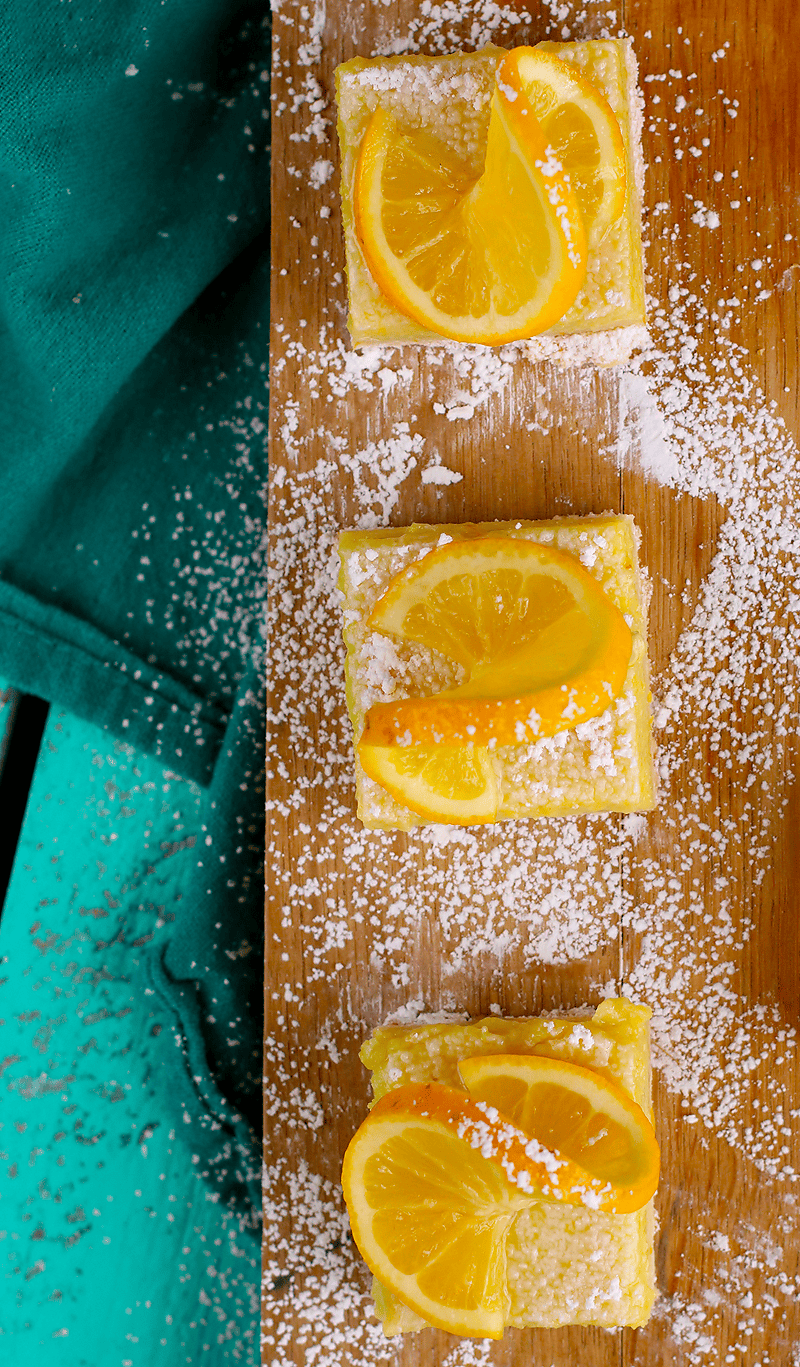 SERVING AND STORING VEGAN LEMON BARS
Serve these lemon bars chilled with fresh powdered sugar.
For best results, lemon bars should set up for at least 1 hour although, it can be eaten within 30 minutes for making. Leftover lemon bars can be tightly wrapped in plastic wrap and stored in the refrigerator for up to 5 days.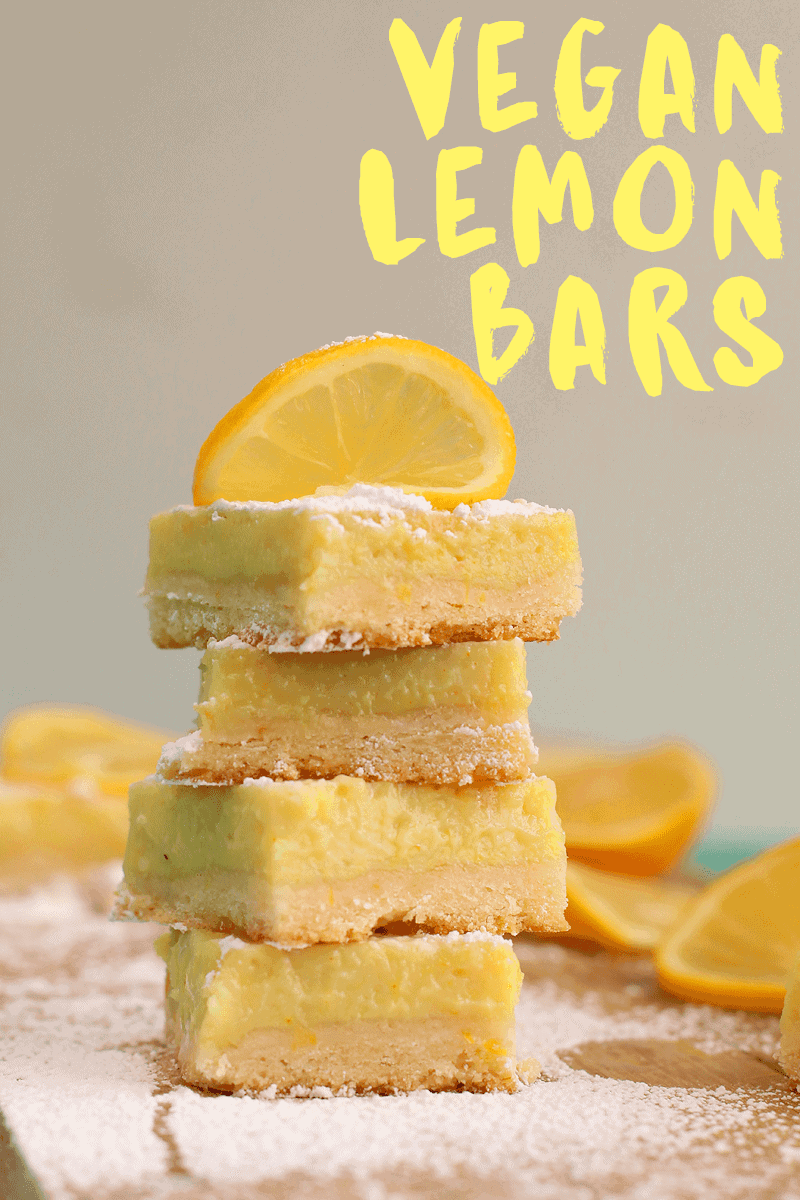 Wanna see the recipe in action? Check out the video below!
Vegan Lemon Bars
These vegan Lemon Bars are made with a buttery shortbread crust and filled with an easy Meyer lemon curd for the perfect sweet and sour treat.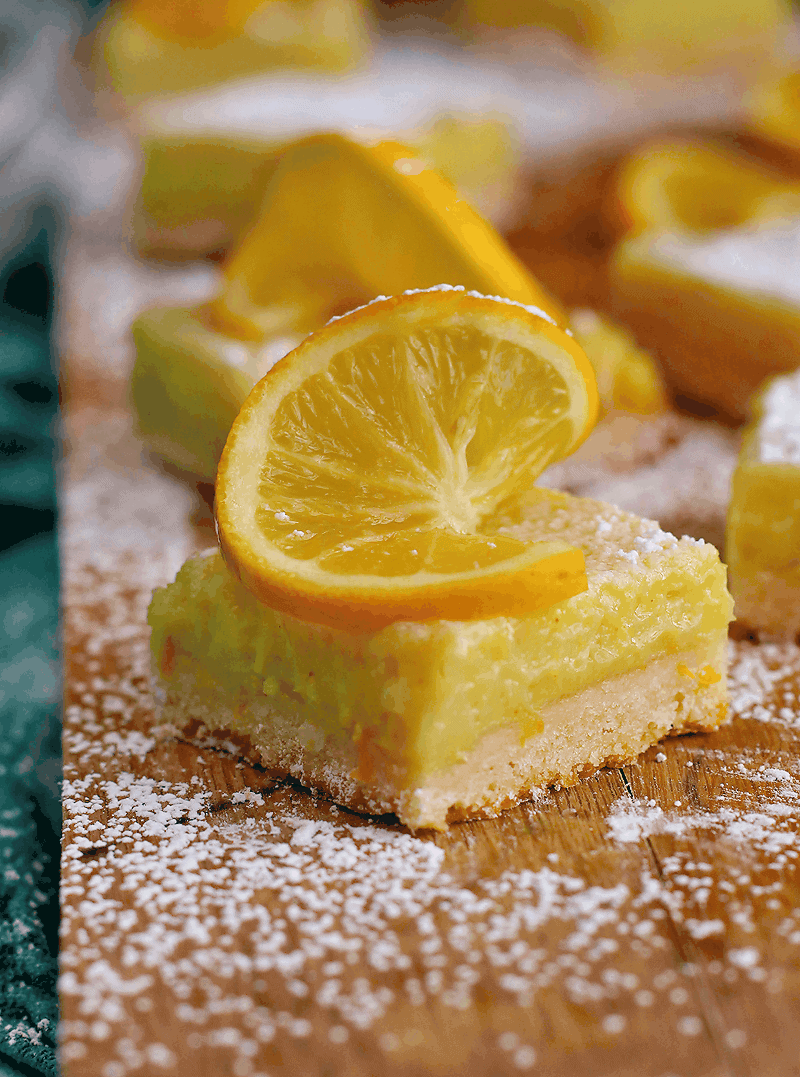 Course:
Dessert
Cuisine:
American
Keyword:
Vegan Lemon Bars
Servings
:
9
Calories
: 252 kcal
Author
:
Sarah McMinn
Ingredients
Instructions
To make the crust
Preheat the oven to 350 degrees F. Line an 8x8 square baking pan with parchment paper and set aside.
In a stand-up mixer with the paddle attachment, beat the butter, sugar, and lemon zest together until smooth and creamy. Add flour and mix until well incorporated.

Press the dough into the prepared pan and bake for 20 minutes until light golden brown. Remove from the oven and let cool for at least 15 minutes.
To make the Lemon Curd
In a food processor combine tofu, lemon juice, zest, and granulated sugar and process until smooth and creamy, scraping down the sides as necessary.
Add the powdered sugar, cornstarch, and vanilla extract and process again until combined.

Pour into cooled crust and bake for another 25-30 minutes until the lemon curd has set.

Let cool at room temperature for 20 minutes and then place in the refrigerator to cool all the way.
Dust with powdered sugar or candied lemon slices just before serving.
Nutrition Facts
Vegan Lemon Bars
Amount Per Serving
Calories 252
Calories from Fat 72
% Daily Value*
Fat 8g12%
Sodium 81mg4%
Potassium 14mg0%
Carbohydrates 43g14%
Protein 1g2%
Vitamin A 480IU10%
Vitamin C 0.6mg1%
Calcium 2mg0%
Iron 0.6mg3%
* Percent Daily Values are based on a 2000 calorie diet.
If you give this recipe recipe a try, snap a photo and share it on Instagram. Make sure to tag
@mydarlingvegan
so I can see your creations!