This vegan molten lava cake is unbelievably decadent and surprisingly simple to make. In under 30 minutes, you could be cutting into one of these cakes yourself.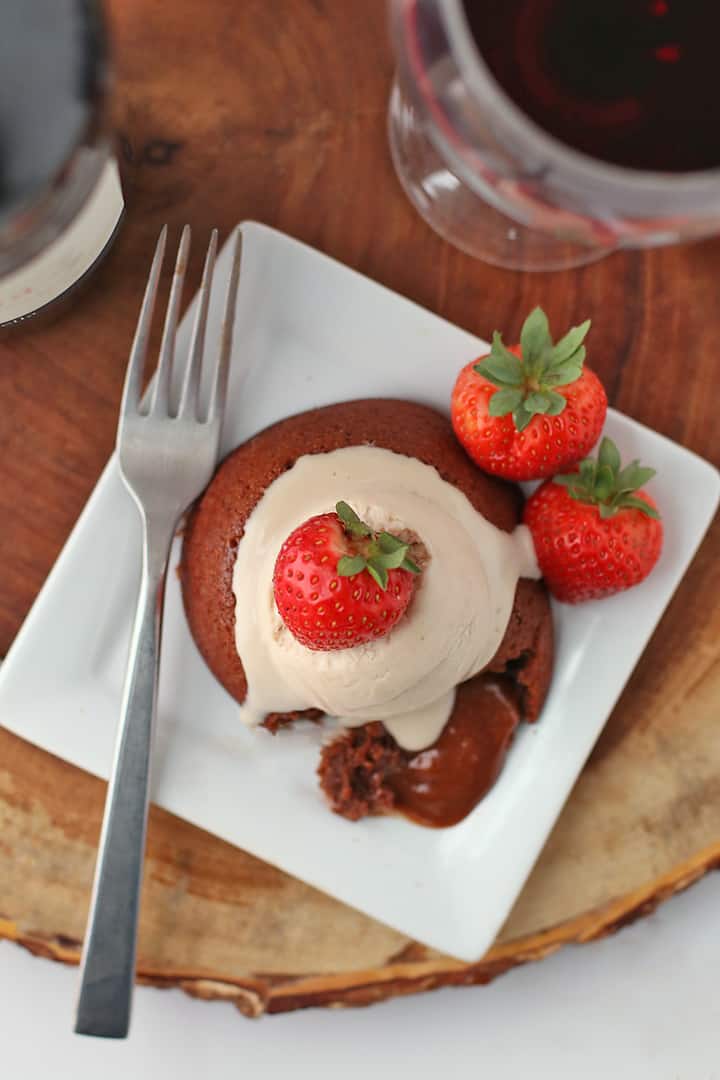 This post is sponsored by Querciabella. All opinions are 100% mine.
This post contains affiliate links. For more information, check out my privacy policy.
Let's talk about Valentine's Day for a moment.
For most of my life, I haven't been a huge fan of the holiday.  I find, however, that as I get older I have started to love Valentine's Day. Even the years I'm unattached, it warms my heart to be surrounded by the decadence, romance, and fanciness all around me. It's a day worth celebrating.
Today I'm going to take you through my idea of a decadent, romantic, and fancy dinner that might just be perfect for your vegan Valentine's Day this year. And if you haven't guessed it yet, the meal ends with this vegan Molten Lava Cake.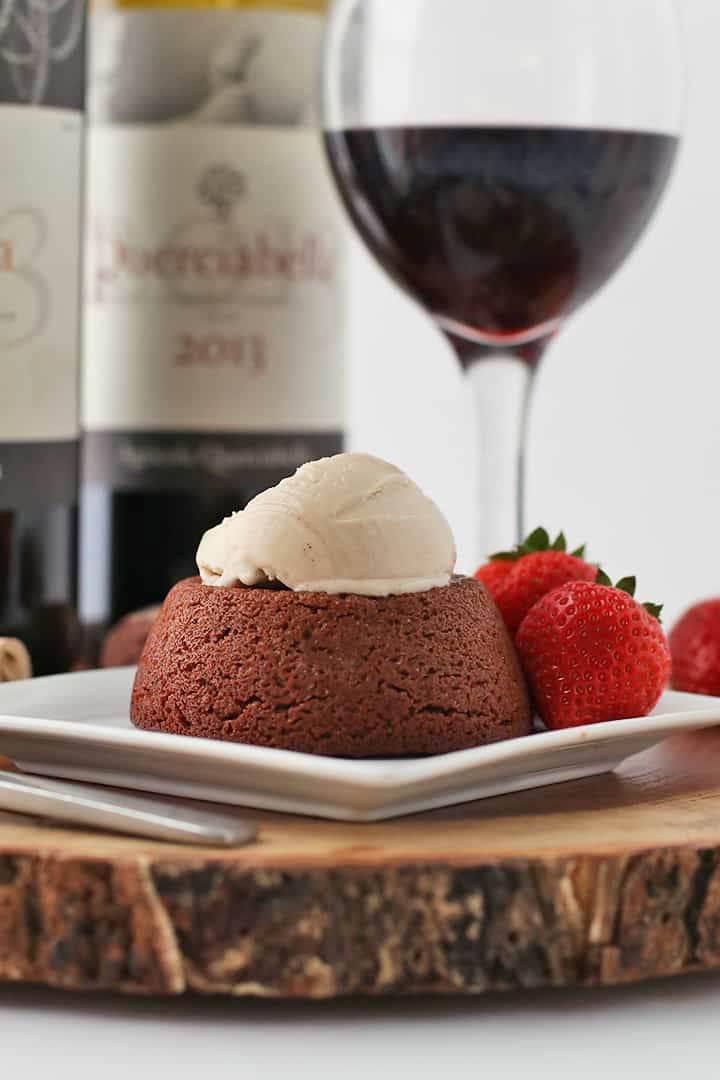 But before we get too ahead of ourselves, let's take a step back and start at the beginning.
Any good meal should start with good wine and that's why for my ideal romantic dinner, I would open up a bottle of Querciabella Chianti Classico. Querciabella is a winery with vineyards throughout Tuscany that makes some of the finest Italian wine I've tasted. Taking on the responsibility to walk gently on the earth and to care deeply for its creatures, Querciabella practices sustainability throughout the whole wine-making process.  Not only is the entire winery vegan, not allowing the use of animal by-products in any stages of the winemaking process from grape growing to winemaking (which is surprisingly unusual), they also have been certified organic since the late 80s and have practiced biodynamic farming for nearly the last 2 decades.
For those of you who don't know (as I did not until very recently) biodynamic farming is a way of maintaining a balanced ecosystem with healthy soil, giving high-quality nourishment to the grapes without disturbing the rest of nature through a holistic view of agriculture. It acknowledges the interconnectedness of everything in the universe including the earth, the life on the earth, and the stars and moon in the sky above. This process protects the earth from the massive damage that winemaking can cause while simultaneously producing a high-quality wine that stands out among the rest.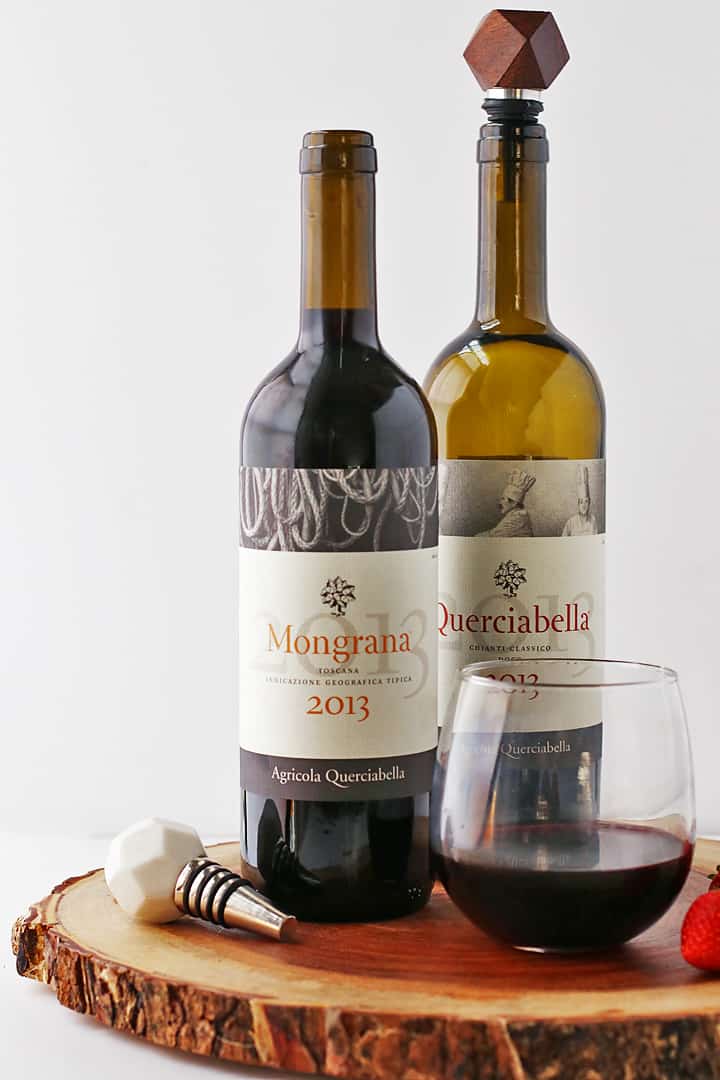 While Querciabella wants to be known for their sustainable and ethical practices (which are remarkable and worth noting!), it's equally important to acknowledge the quality of their wines. From hand-picking their grapes to 16-20 months of fermentation, Querciabella is intentional and deliberate in their wine-making process. And you can taste it in the wine! I've had both the Chianti Classico and the Mongrana which I found both decadently smooth and complex AND perfect for our special occasion.
Vegan Valentine's Day Menu
With a good bottle of wine picked out, we can now turn our attention towards the main course. I don't know about you but when I think a decadent meal and fancy wine, my mind goes right to pasta.
For this meal, I choose my Aglio et olio or Spaghetti with Olive Oil and Garlic. This pasta dish relies on the simple flavors of fine olive oil and roasted garlic for delicious and sophisticated pasta. Along with the Aglio et olio, I'd serve my vegan Kale Caesar Salad for some extra zest and those fresh greens.
And after a fine glass of wine and a simple-yet-sexy pasta meal, it's time to turn towards dessert. Let's finally talk about this vegan Molten Lava Cake.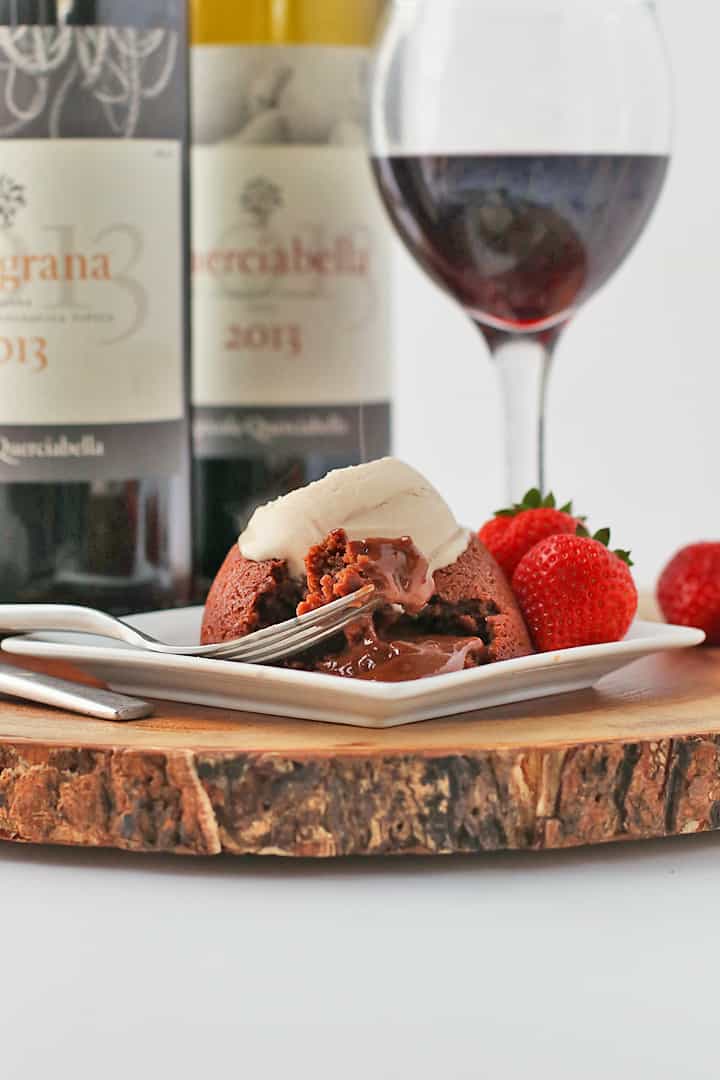 How to Make Vegan Chocolate Lava Cake
This vegan Molten Lava Cake is pretty simple to make.
Traditionally it's a cake that relies heavily on eggs. For this recipe, I use two different kinds of egg replacers. The aquafaba (or brine from a can of chickpeas) replaces the whole eggs. This does not get whipped up into a meringue, as most aquafaba recipes would have you do, but used straight from the can. The consistency is very similar to beaten eggs.
I also use chickpea flour to replace the egg yolks. When combined with just a little bit of water, you get a thick egg yolk-like consistency that is high and protein and will bake very similar to eggs.
The combination of these two egg replacers gives you the texture just as you remember from a molten lava cake- rich, dark, decadent and chocolatey that oozes gooey deliciousness from the inside out.
Don't believe me? Try it yourself.
Serving and Storing Vegan Chocolate Lava Cake
This cake should be served immediately after baking for the chocolate lava effect. If you want to make the batter in advance, prepare the batter and divide it between two ramekins. Cover and let the batter sit in the refrigerator for up to 4 hours. When you are ready to serve, simply preheat the oven, bake the cakes for 12-14 minutes and serve hot.
Serve with coconut whipped cream or non-dairy vanilla ice cream.
This vegan chocolate cake does not store well. It should be eaten the same day.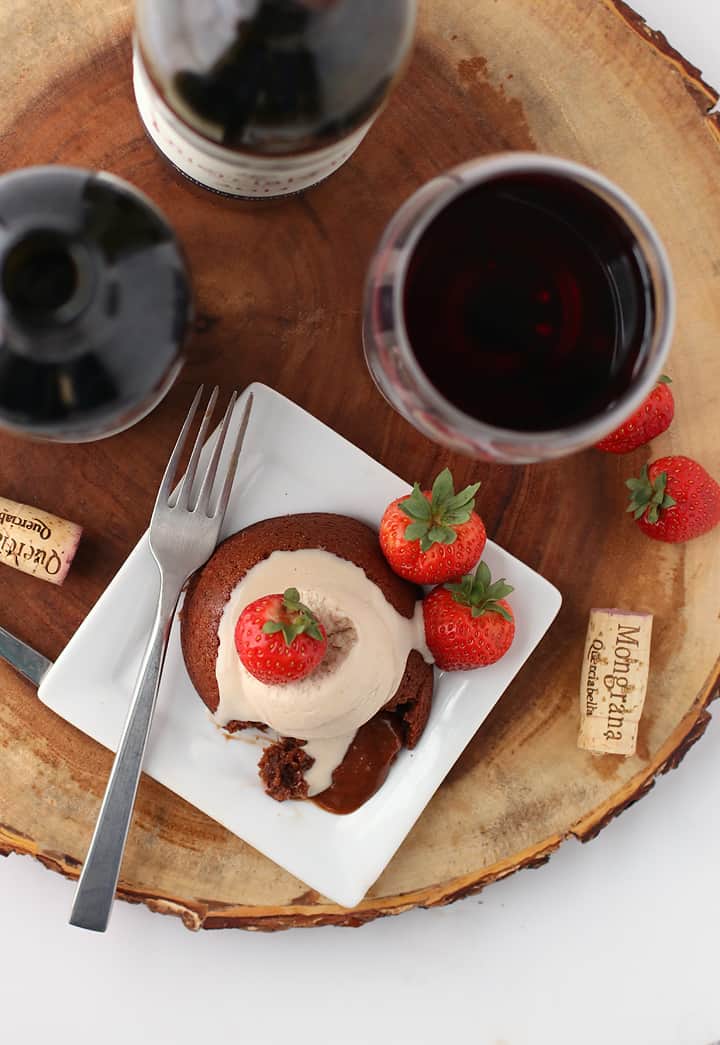 Find Querciabella wines near you or ask your local grocery store to start carrying Querciabella to help spread the word about this incredibly-tasting and respectfully-sourced wine. 

Vegan Molten Lava Cake
This vegan molten lava cake is unbelievably decadent and surprisingly simple to make. In under 30 minutes, you could be cutting into one of these cakes yourself.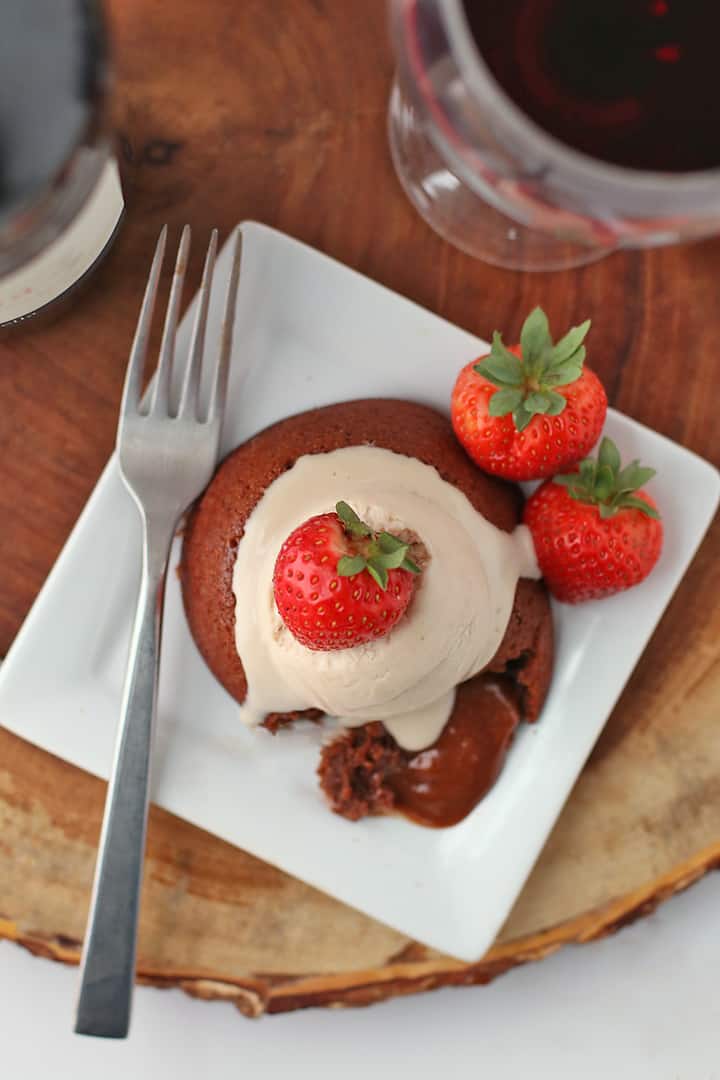 Course:
Dessert
Cuisine:
French
Keyword:
Vegan Molten Lava Cake
Servings
:
2
people
Calories
: 472 kcal
Author
:
Sarah McMinn
Ingredients
Instructions
Preheat the oven to 425 degrees F. Spray 2 (6 oz) ramekins with oil and set aside.

In a double boiler or a microwave, gently heat vegan chocolate and butter, stirring occasionally, until completely melted. Set aside.

In a separate bowl combine chickpea flour and water until thick and gooey. Stir in aquafaba and vanilla extract. Add chickpea flour/aquafaba mixture to chocolate/butter and stir to combine.

Sift in flour, powdered sugar, and baking powder. Gently fold in the dry ingredients until a thick uniform batter has formed.

Divide batter evenly between the two ramekins and bake for 12-14 minutes until the edges are firm but the middle is still soft. Remove from oven and let set 1 minute before flipping over onto two plates. Serve immediately with your choice of non-dairy ice cream and berries.
Recipe Notes
Chickpea flour has a strong taste when raw which you will notice if you try the batter unbaked. Don't worry, when baked you won't taste the chickpea flour at all!
Nutrition Facts
Vegan Molten Lava Cake
Amount Per Serving
Calories 472
Calories from Fat 252
% Daily Value*
Fat 28g43%
Sodium 194mg8%
Potassium 190mg5%
Carbohydrates 111g37%
Protein 6g12%
Vitamin A 1070IU21%
Calcium 71mg7%
Iron 3.5mg19%
* Percent Daily Values are based on a 2000 calorie diet.
If you give this recipe recipe a try, snap a photo and share it on Instagram. Make sure to tag
@mydarlingvegan
so I can see your creations!