The BEST Vegan Pumpkin Pancakes
Start your morning off with these perfect vegan pumpkin pancakes. Seasonally spiced, light, and fluffy, no one will believe these sweet pancakes are egg-free.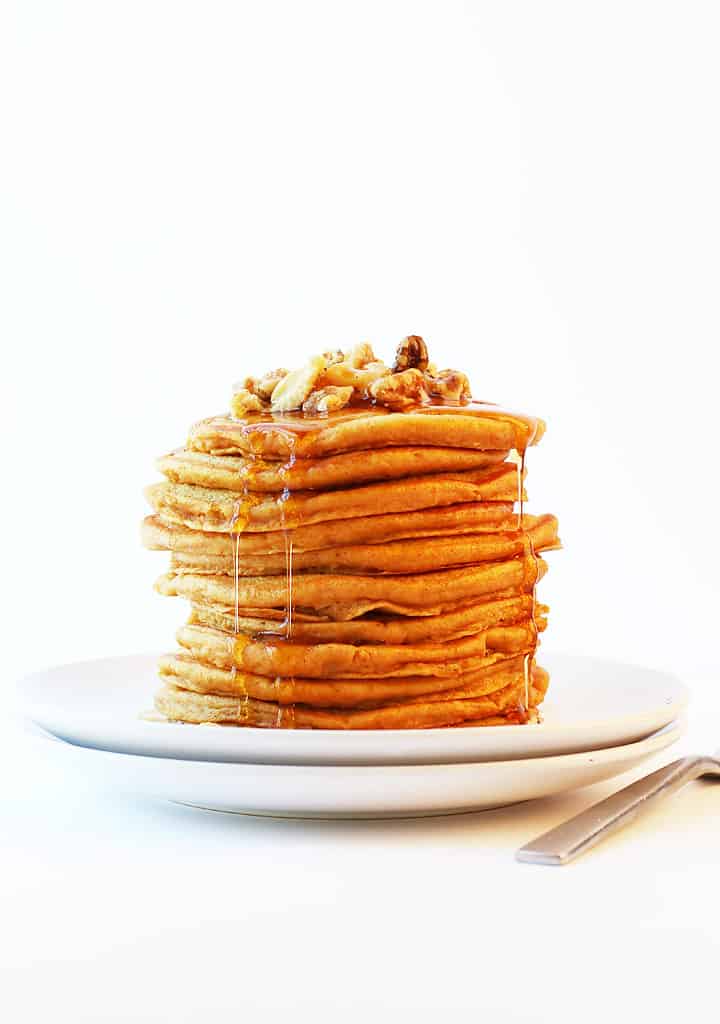 This post contains affiliate links. For more information read my privacy policy. 
It's pancake time again!
And this morning we have a sticky, sweet, towering stack of vegan pumpkin pancakes. Perfectly spiced with cinnamon and nutmeg, this breakfast screams fall. Who's ready to douse them in maple syrup and dig in?
I am! I am!
October is my most favorite time of year. These past few weekends I've wanted nothing more than to cozy up near a fire with a good book, a chai tea latte, and everything pumpkin. This, of course, isn't actually what my weekends look like. It's much more of managing kid tantrums, taking rainy walks to the park, and cleaning up after epic craft projects.
But one can dream.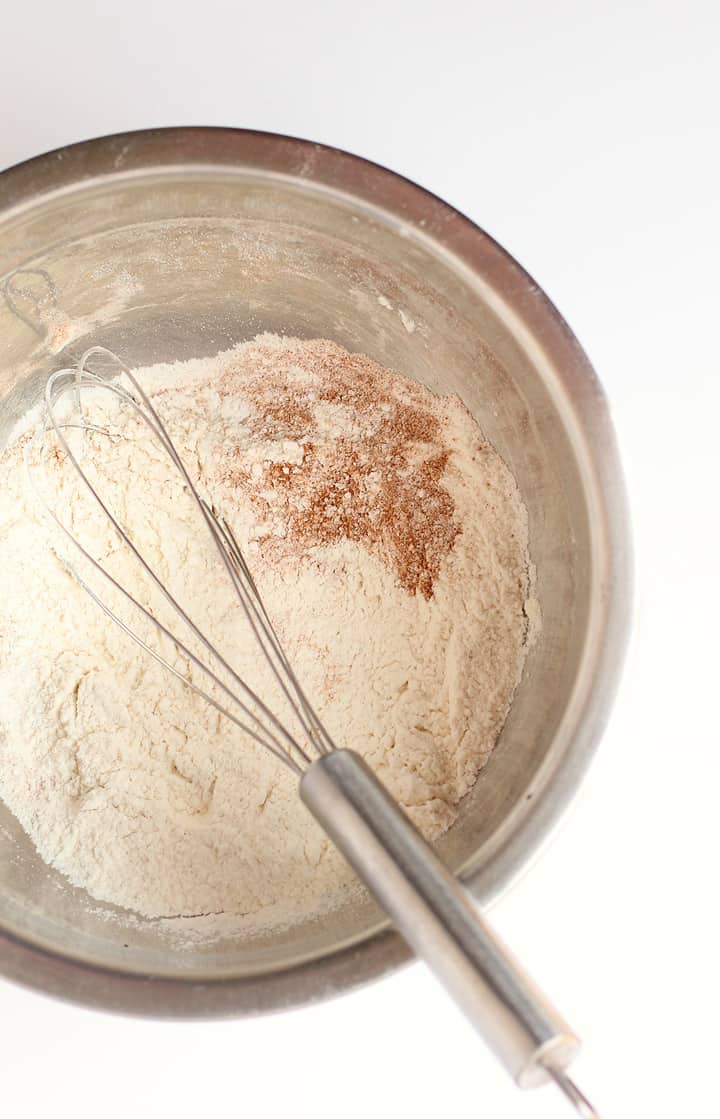 Despite how the weekends play out, every weekend should start the same way – with these vegan pumpkin pancakes.
I love this pumpkin pancake recipe because:
there are no strange or hard-to-find egg replacers. It relies simply on the binding powers of the liquids and the rising powers of baking powder.
it doesn't use refined sugar. It's sweetened with maple syrup, folks!
they have a perfect golden crust with a soft and fluffy middle.
this recipe is nearly fool-proof. I've even been teaching my 6-year-old how to make these pancakes and it turns out perfect every time!
they have the BEST pumpkin and spice flavors that makes any morning festively seasonal.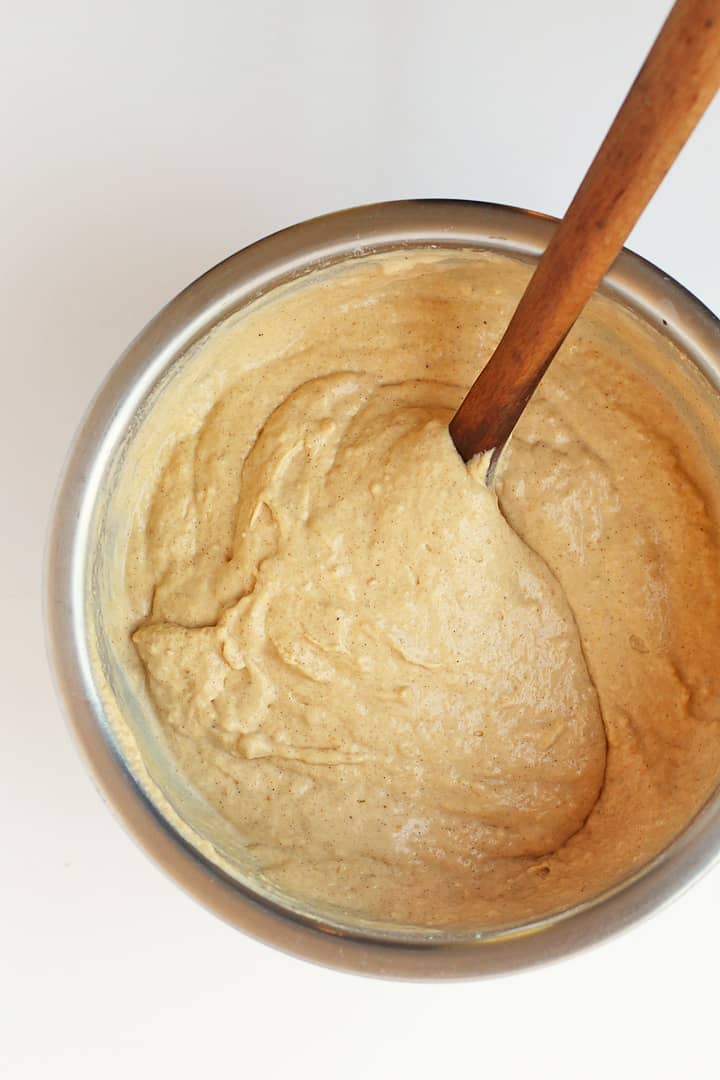 How to make perfect vegan pumpkin pancakes
Step One: Make the "Buttermilk"
Vegan buttermilk gives these pancakes the perfect taste and rise, making them deliciously moist and tender. And making vegan buttermilk is super easy! To make vegan buttermilk, mix together soy milk and apple cider vinegar. Once it's mixed, set it aside. After about five minutes the soy milk/apple cider vinegar will be thick and curdled with a slightly tangy taste – just like buttermilk.
This step is key to getting the perfect egg-free pancakes.
Does it have to be soy milk?
I am often asked if other milk will work when making vegan buttermilk. While I've had good results with oat and cashew milk, I have always had the best results with soy. I recommend soy but if you can't do soy, go for something equally thick and rich.
Step Two: Combining the ingredients
In a bowl, combine your dry ingredients. That's your flour, baking powder, salt, and spices.
Transfer your curdled milk into a separate bowl and add the remaining wet ingredients to it. That's the water, pumpkin puree, coconut oil, maple syrup, and vanilla extra.
Fold the wet ingredients into the dry, mixing gently, until a thick uniform batter has formed.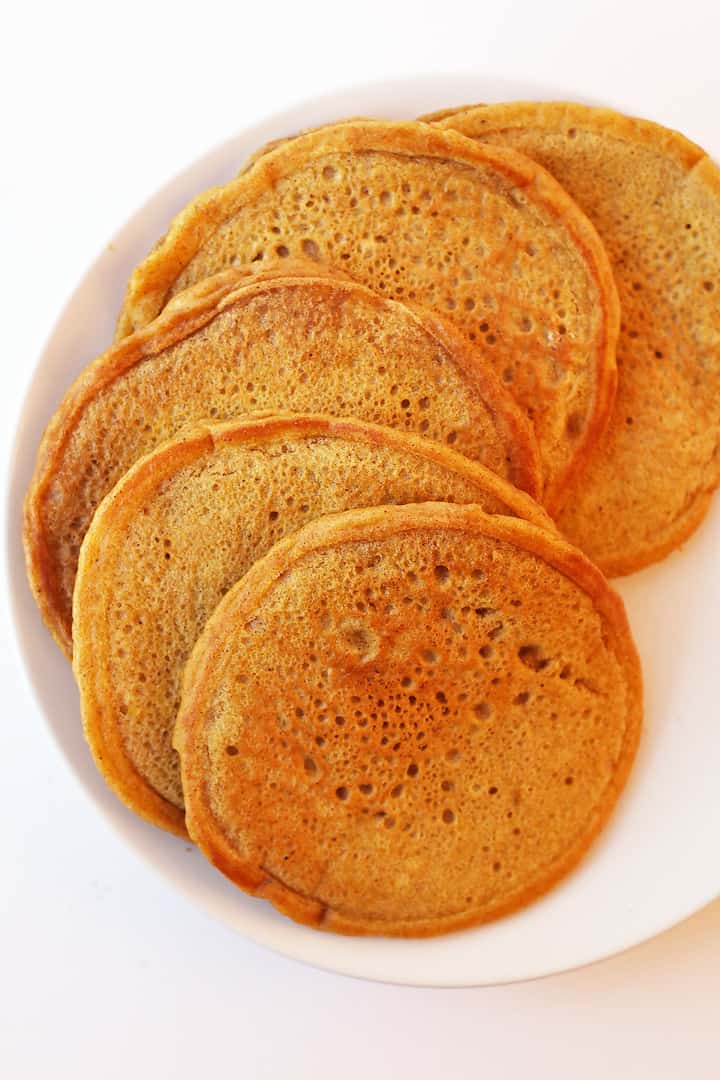 Step three: Cooking the Pancakes
Once your pancake batter is made, it's time to cook it!
Getting an even cook on your pancakes is crucial. You want to get both sides of the pancakes lightly golden and crispy while making sure that the center is cooked. This can be difficult so it's important to be able to get your temperature just right. I have found that setting my electric griddle to 375F has given me the best results.
While an electric griddle is not completely necessary for pancakes, I highly recommend one. Electric griddles are fairly cheap. This is the one I use: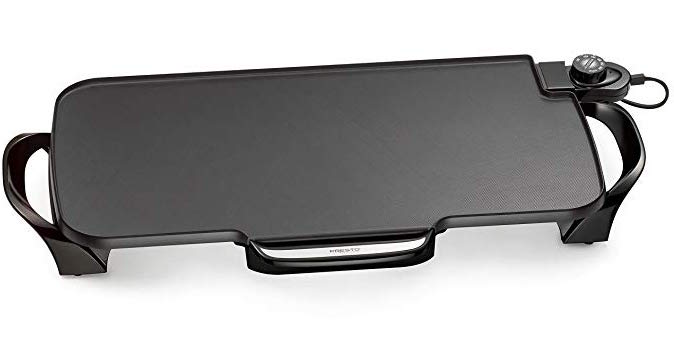 which is under $40 on Amazon and it's something I use nearly weekly!
With the electric griddle, I can make these pancakes in 2 batches pancake (rather than a couple at a time) and get the luxury of setting the temperature to exactly what I want. That means not having to worry about the pancakes burning or cooking unevenly. However, if you don't have an electric griddle, you can do this on a skillet. It may involve trial and error in terms of getting the right temperature.
Make sure to generously spray your preheated griddle and pour about 1/4 cup of batter onto the griddle per pancake, leaving about 2 inches between each one. Cook the pancakes until they start to bubble, flip and cook the remaining side until the pancake has risen slightly. This should take 3 to 4 minutes per side.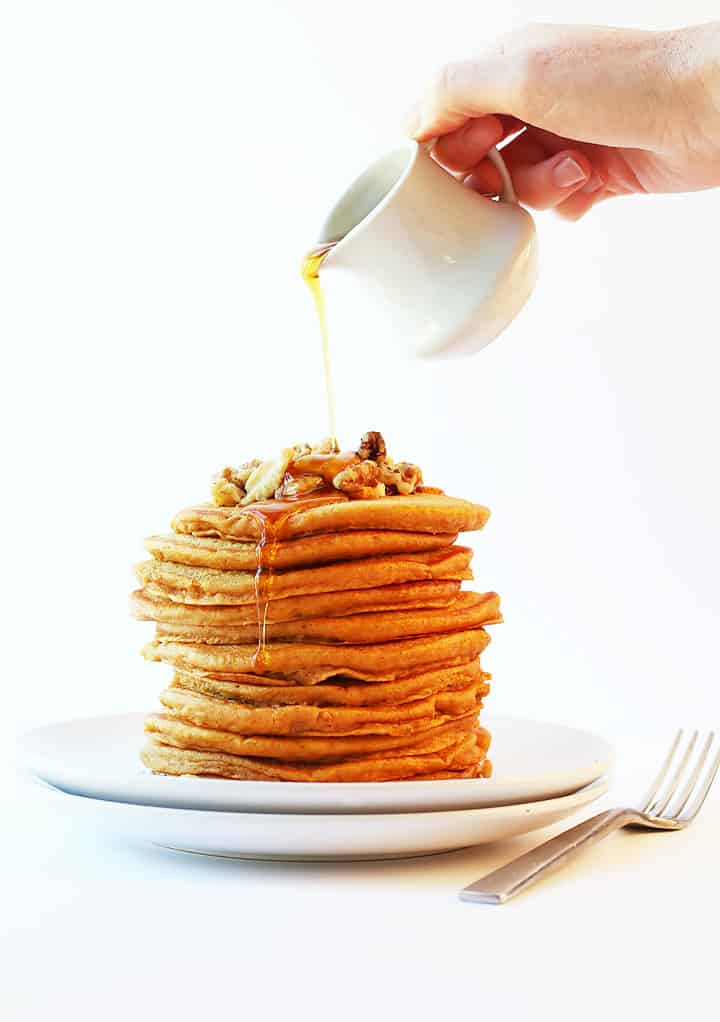 Tips and tricks for perfect pumpkin pancakes
Take care that these pancakes are not over-mixed. When pancakes are over-mixed, gluten gets overworked and becomes tough and gummy. When mixing, a few small lumps are always okay. The less you mix, the more tender and delicate the texture of the pancake will be.
Make sure the griddle is preheated and spray between each batch. This is important in getting that golden crispy outside. When the batter hits the hot oiled griddle, it should immediately start to form a crust which gives the pancake it's perfect texture while also preventing it from spreading.
Serving and Storing vegan pumpkin pancakes
Serve the pancakes immediately with candied nuts and maple syrup.
If you do have leftover pancakes, you can tightly wrap them in plastic wrap and store them in the refrigerator for 2-3 days. Gently reheat them in the oven or microwave to enjoy.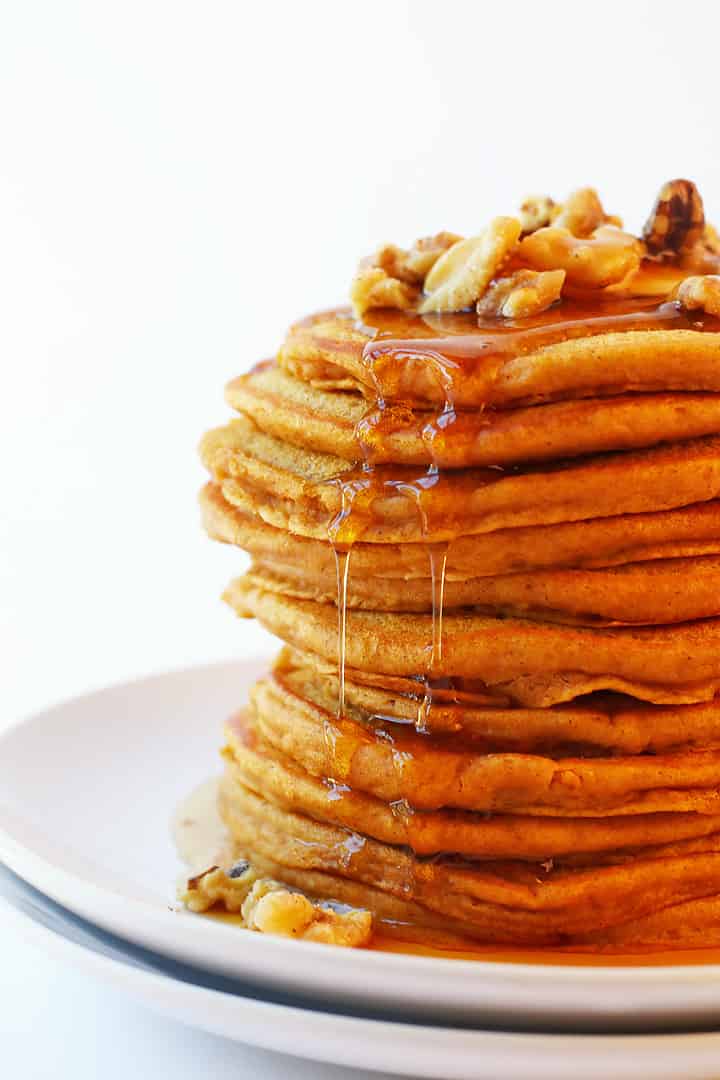 Vegan Pumpkin Pancakes
Start your morning off with these perfect vegan pumpkin pancakes. Seasonally spiced, light, and fluffy, no one will believe this sweet breakfast is vegan.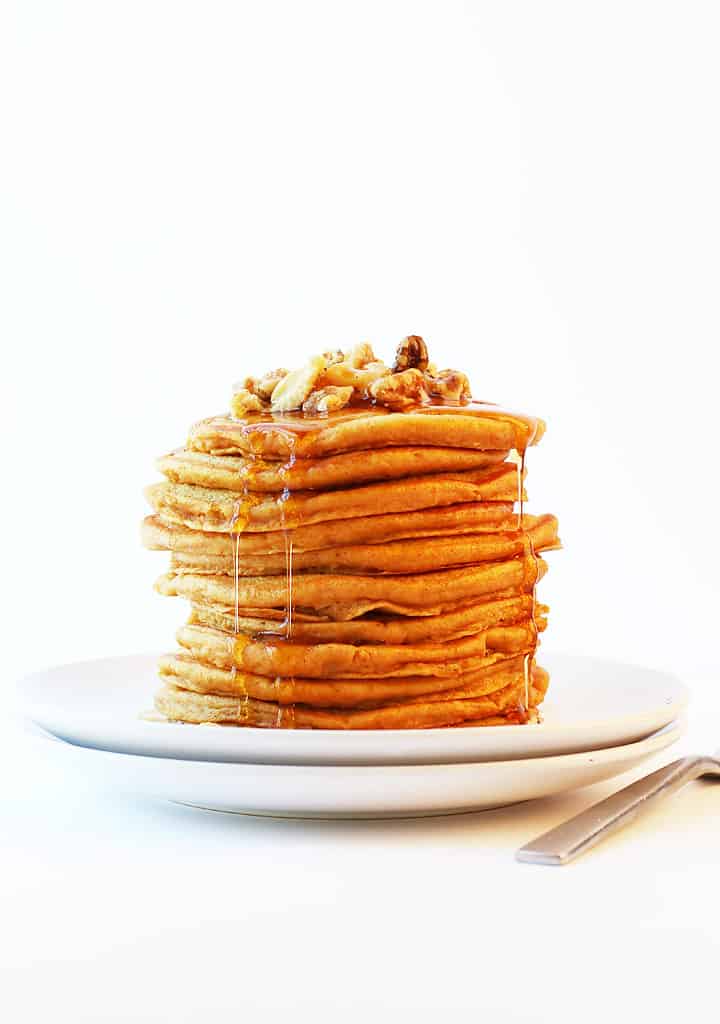 Course:
Breakfast
Cuisine:
Vegan
Keyword:
Vegan Pumpkin Pancakes
Servings
:
16
pancakes
Calories
: 115 kcal
Author
:
Sarah McMinn
Ingredients
Instructions
Preheat a pancake griddle to 375.​

In a small bowl combine soy milk and apple cider vinegar. Whisk together and set aside to let curdle. In a separate bowl stir together the flour, baking powder, spices, and salt.

Once soy milk is curdled, whisk in melted coconut oil, water, pumpkin puree, maple syrup, and vanilla extract. Add the wet ingredients to the dry and whisk together until most the lumps are gone.

Spray pancake griddle with cooking spray. With an ice cream scoop or 1/4 measuring cup, pour batter on the griddle. It should spread into about a 5" circle. Repeat until the griddle is filled.

When pancakes begin to bubble on the top (about 3 minutes), gently flip it over and bake on the other side until pancake has risen to about double the height.

Remove pancakes and respray griddle before panfrying the 2nd batch. Repeat until all the batter is gone. Serve with maple syrup and candied nuts of choice.
Nutrition Facts
Vegan Pumpkin Pancakes
Amount Per Serving
Calories 115
Calories from Fat 36
% Daily Value*
Fat 4g6%
Sodium 86mg4%
Potassium 169mg5%
Carbohydrates 17g6%
Protein 2g4%
Vitamin A 1280IU26%
Vitamin C 2mg2%
Calcium 84mg8%
Iron 1.1mg6%
* Percent Daily Values are based on a 2000 calorie diet.
If you give this recipe recipe a try, snap a photo and share it on Instagram. Make sure to tag
@mydarlingvegan
so I can see your creations!