Vegan Nachos with Homemade Queso
These Homemade Vegan Nachos are made with easy guacamole, vegan queso, and all the fixings for a delicious gluten-free party dish. You won't be able to get enough!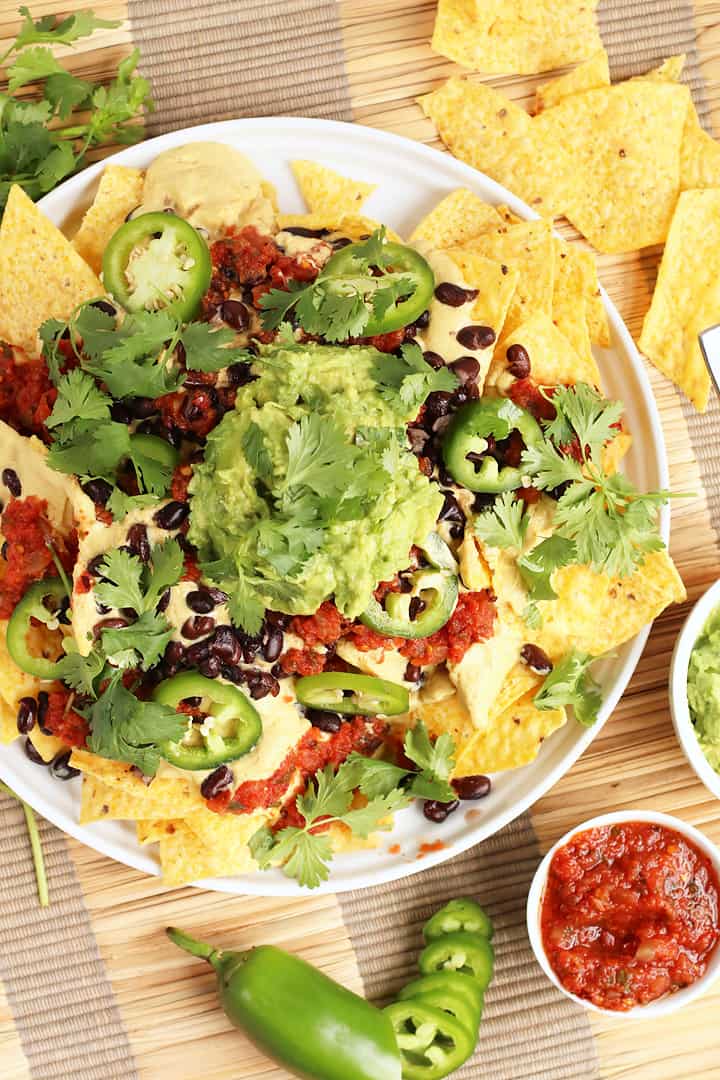 This post contains affiliate links. For more information please see my privacy policy.
Originally published 7/5/2019. Last updated on 10/12/2019
I spend a lot of time at home.
Between running an Airbnb out of my house and working for myself as a food blogger, my two jobs keep me on a very short tether. The amount of time I spend at home can turn even the most home-bodied person (which I am not, by the way) craving the outside world and human interaction something fierce.
In the fall this will change. Most significantly my kids will (finally!) be in school and my blogging schedule will shift to a normal 9-5. I will also start getting my kids every other weekend, rather than just seeing them during the week. This means my time with the littles will be less management and more adventures. I CANNOT wait for this schedule change.
This small change has made a world of difference.
But we aren't here to talk about the difficulties of an extrovert working for herself. Well apparently I am but you are here for another reason. You are here because you saw something about these pile 'em high homemade vegan nachos and you wanted to get your hands on some.
Am I right?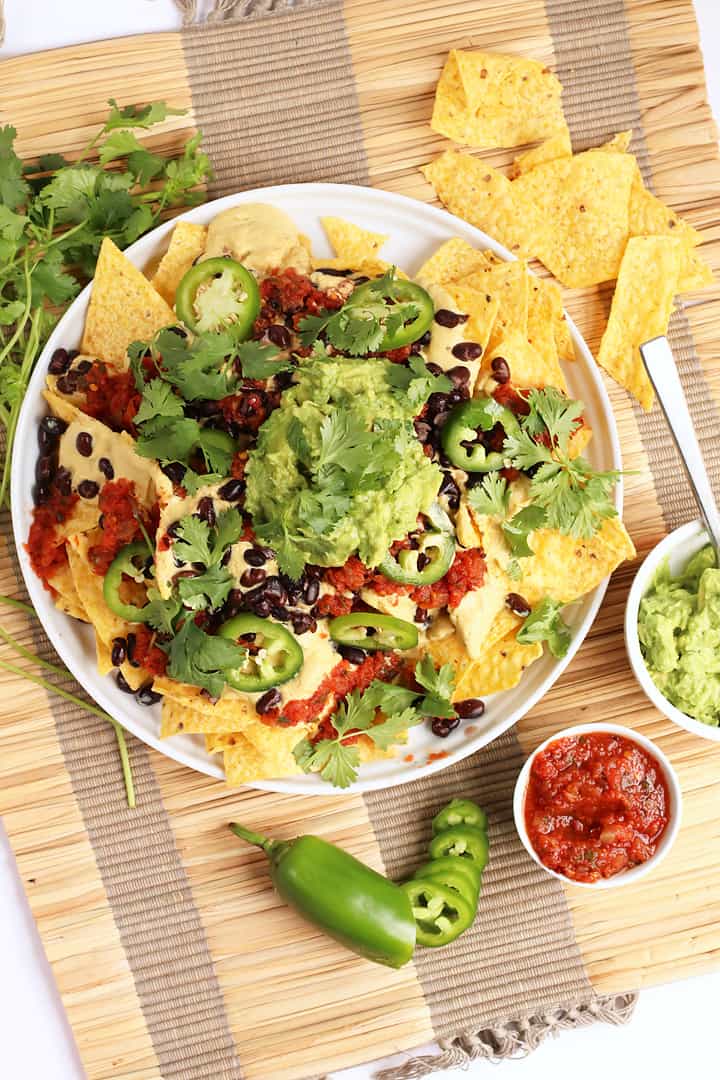 Ingredients for Homemade Vegan Nachos
These fully loaded vegan nachos require a handful of ingredients. While I do recommend making the components of these nachos at home for a fresher taste, several of them can be bought at the store when you're in a hurry.
The ingredients you will need are: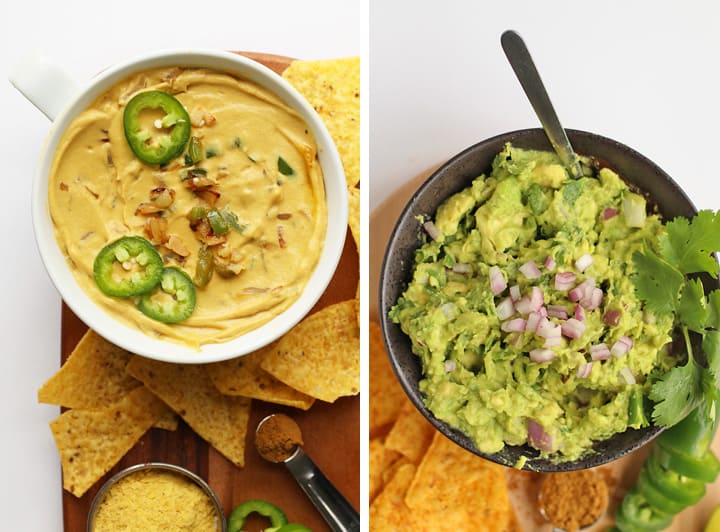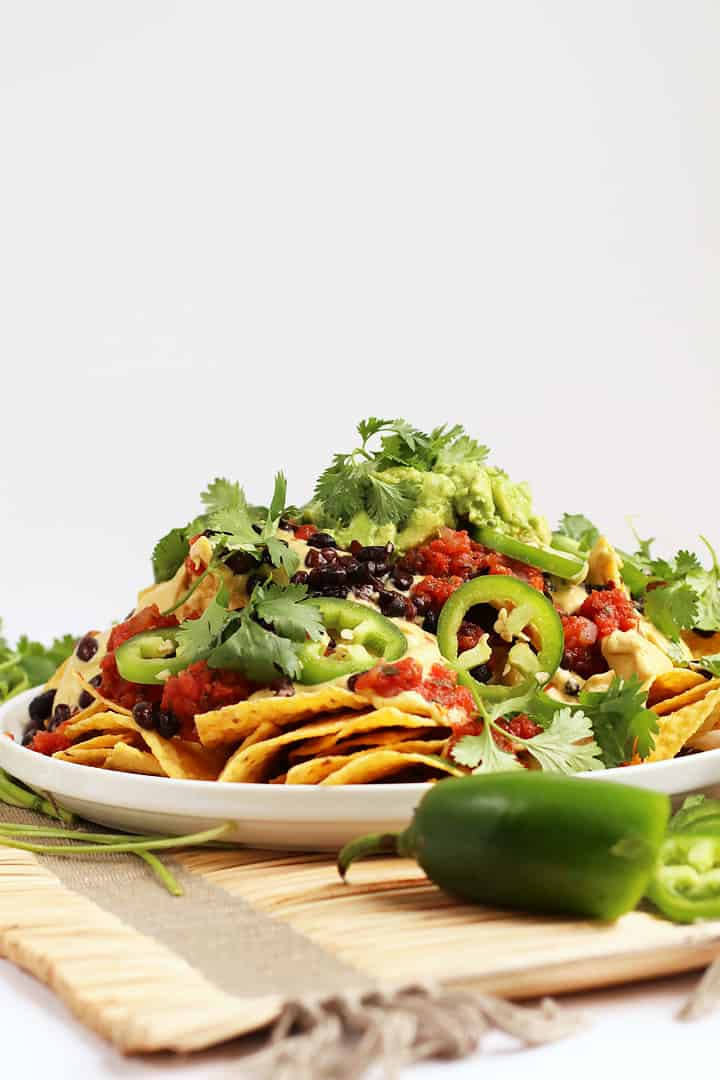 How to Make Fully Loaded Vegan Nachos
Okay let's talk about these nachos. These nachos have three make-ahead components. They are:
Let's look at these a bit closer.
Cheesy Queso
I think you're going to love this cheesy queso as much as I do. The base of this queso is made with one of my favorite creamy vegetables, cauliflower. Similar to my Fettuccine Alfredo, the cauliflower is steamed and blended with spices and flavor to create a cheesy, creamy, oh-so-good queso that takes these vegan nachos to the next level.
Easy Guacamole
This homemade guacamole recipe is the only one you'll ever need to know. So often guacamole is made complicated, with lots of added ingredients but the perfect (and most authentic) guacamoles have only a few ingredients: avocado, lime, cilantro, garlic, and salt. For these vegan nachos, I do not recommend using store-bought guacamole.
Pico de Gallo
While fresh is always best, this is the one component that wouldn't compromise the nachos too much if you went the store-bought direction. Whichever way you go, make sure to pile it high with pico de gallo.
As long as you have those three parts down, anything else goes!
And the result? Impressively vegan nachos slathered in fresh vegetables, cheesy sauce, and TONS of flavor for a party appetizer that will have people licking the plate and begging for more.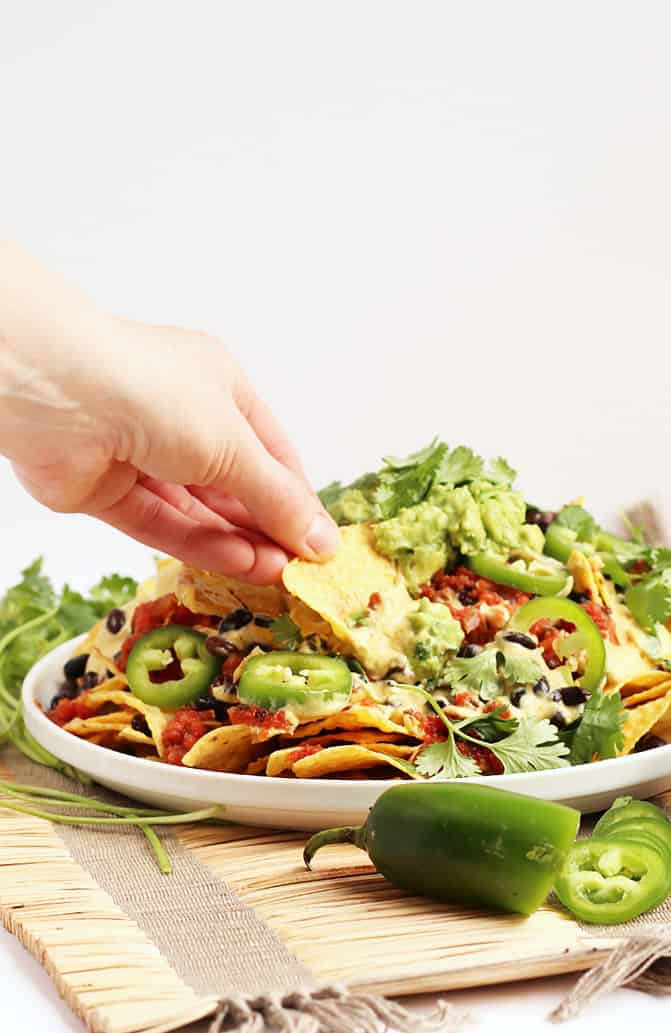 Assembling Vegan Nachos
To assemble we are going to do a bit of layering.
Start by placing half the chips on a large serving platter. Evenly top with 1/2 of your vegan queso. Layer the remaining chips on top and add queso, pico de gallo, beans. Top with herbs, jalapeño slices, and guacamole.
---
Serving and Storing Homemade Vegan Nachos
Once assembled, these homemade nachos should be served immediately. Serve them with homemade quesadillas or tortilla soup.
For heartier nachos, try adding seasoned jackfruit and vegan taco meat.
If you have extra, store the leftovers separately. The pico de gallo and vegan queso can be stored in the refrigerator for up to 5 days. The guacamole can be stored for up to 2 days.
That's it! Everything you need to know about making the perfect vegan nachos. Now let's take a look at the recipe card below.