A culinary fusion of Italian and Vietnamese classics, this vegan Banh Mi Pizza is made with quick pickled cucumbers and carrots, seasoned tofu, and creamy Banh mi sauce.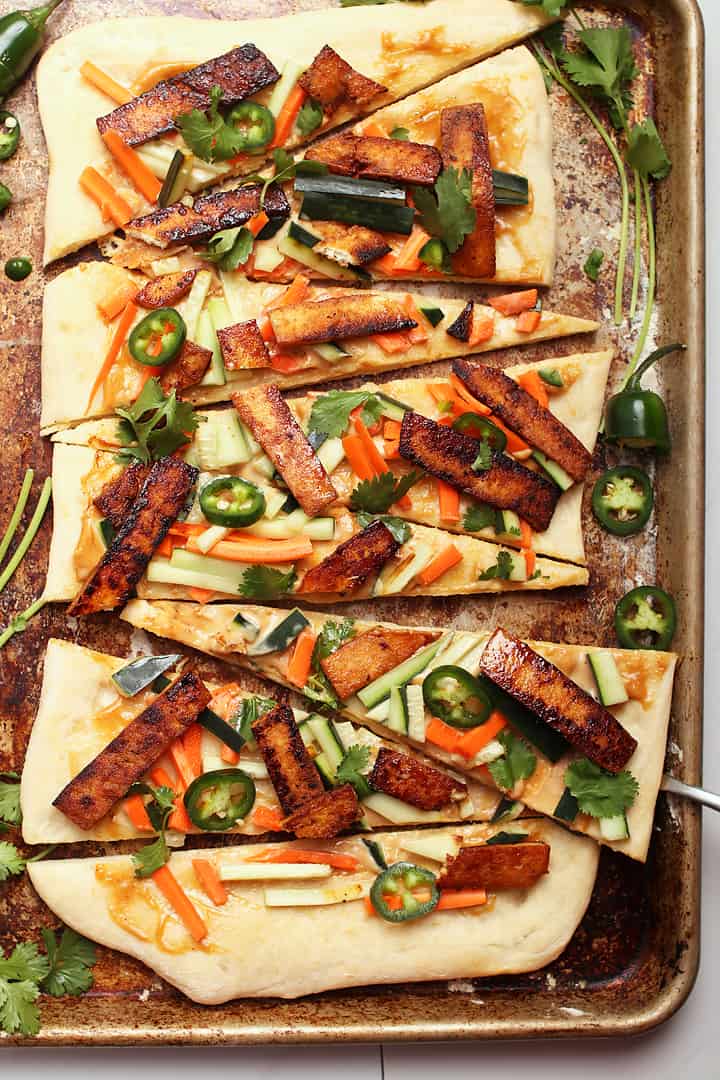 This post was originally published 3/10/2014. Last updated on April 23, 2019
This post contains affiliate links. For more information, please see my privacy policy.

It's time for some pizza, friends!
And not just any pizza. I've got one of my favorite pizza recipes today. It's vegan Banh mi pizza! A sweet and savory pizza made with marinated and sautéed tofu, quick pickled vegetables, and creamy Banh mi sauce all over an artisan pizza crust.
I think you're going to love this recipe!
What is Banh mi?
Classicly Banh mi is made in the form of a sandwich. It is popular street food in Vietnam and one of the best fusion cuisines I know. A blend of Vietnamese and French foods, a Banh mi sandwich combines Vietnamese meats and vegetables with the French baguette and wonderful creamy condiments for a sandwich that will amaze you.
For our Banh mi pizza, all we need to do is swap out our French baguette for an artisan pizza crust and we have a Vietnamese/Italian/French fusion meal that is so so good!
Typically Banh mi is made with beef, but we're not going to let that stop us from making delicious vegan banh mi pizza.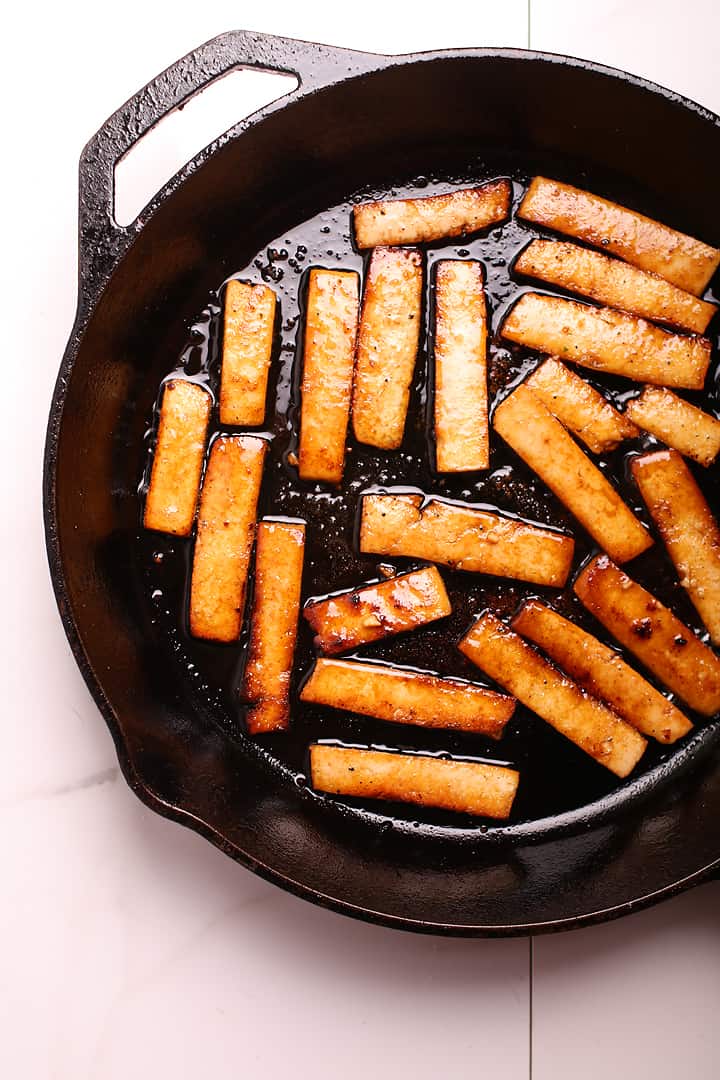 Best meat substitute for vegan Banh mi
My favorite meat substitute for a banh mi is tofu. It's thick, chewy, and will take on any flavors you give it. If you don't like tofu,  try swapping it out for tempeh or jackfruit for other variations of this delicious vegan pizza.
How to make vegan Banh mi
Step one – prepare the tofu
The first step is swapping out the Vietnamese meat for marinated tofu. I used extra firm tofu that is pressed and marinated in a mixture of soy sauce, sesame oil, hoisin sauce, and rice vinegar for a classic Vietnamese taste. Let the flavors soak into the tofu then cut into 1/4″ slices and pan-fried it in hot oil for that chewy, crispy texture.
Step two – make the quick pickled vegetables
The next step in making your vegan Banh mi is whipping up a batch of quick pickled vegetables (which already happen to be vegan, of course!). For this recipe, I omitted the daikon because they can be difficult to find and I like to keep my recipes as simple as possible. However, if you can find daikon at your local grocery store, feel free to add that in with the carrots and the cucumber for a more authentic vegetable mix.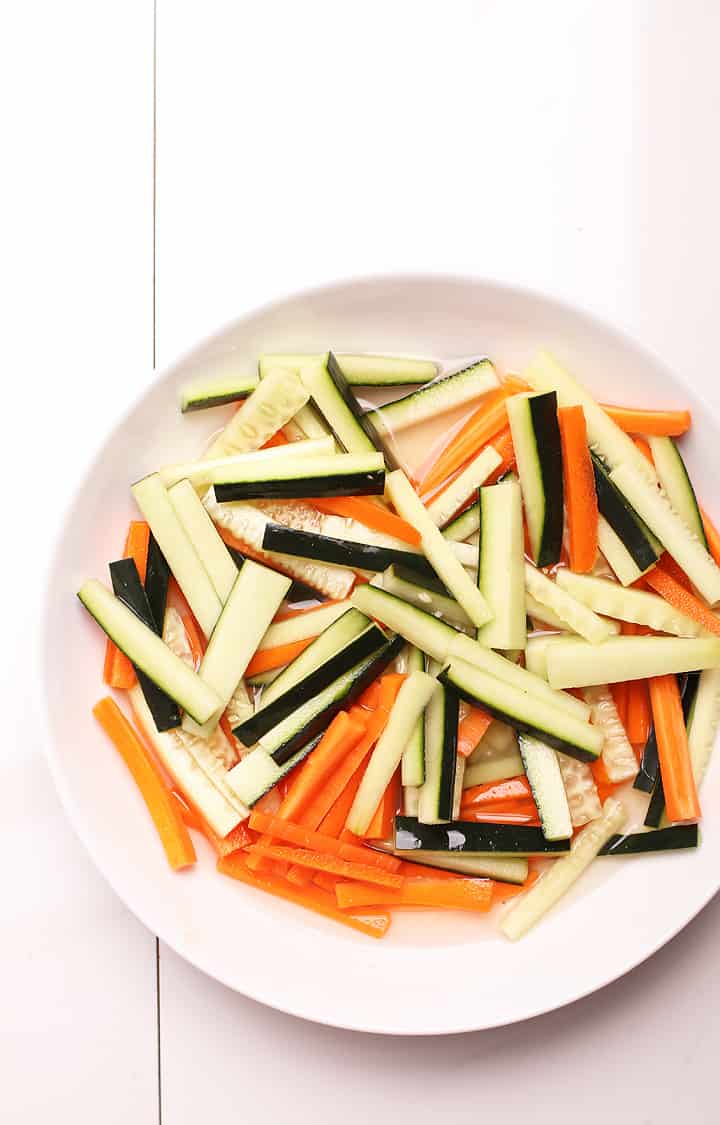 Step three – make the creamy Banh mi sauce
Lastly, we make our creamy Banh mi sauce. As I said earlier, the Bahn mi fusion brings together Vietnamese flavors with French condiments. A combination of vegan mayonnaise, soy sauce, hoisin sauce, and sriracha or jalapeños are whipped up into a spicy, tangy, creamy, and oh-so-delicious sauce that will have you licking your fingers for more.
The secret is in the sauce, my friends!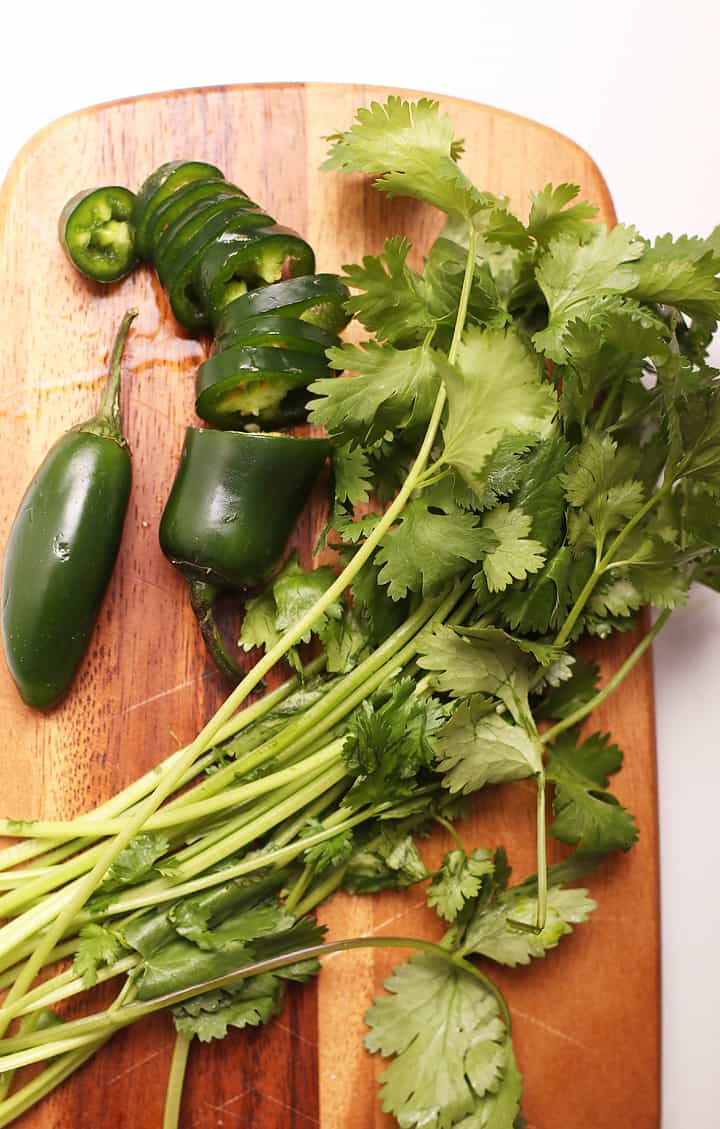 Step four – assemble the pizza
For the recipe, the crust gets baked separately. Stretch out the crust and bake it in a hot oven for about 15 minutes, until the edges are lightly brown. Once the crust is out of the oven, slather it in Banh mi sauce and top it with quick pickled vegetables, sautéed tofu, jalapeños, and cilantro.
Serve immediately.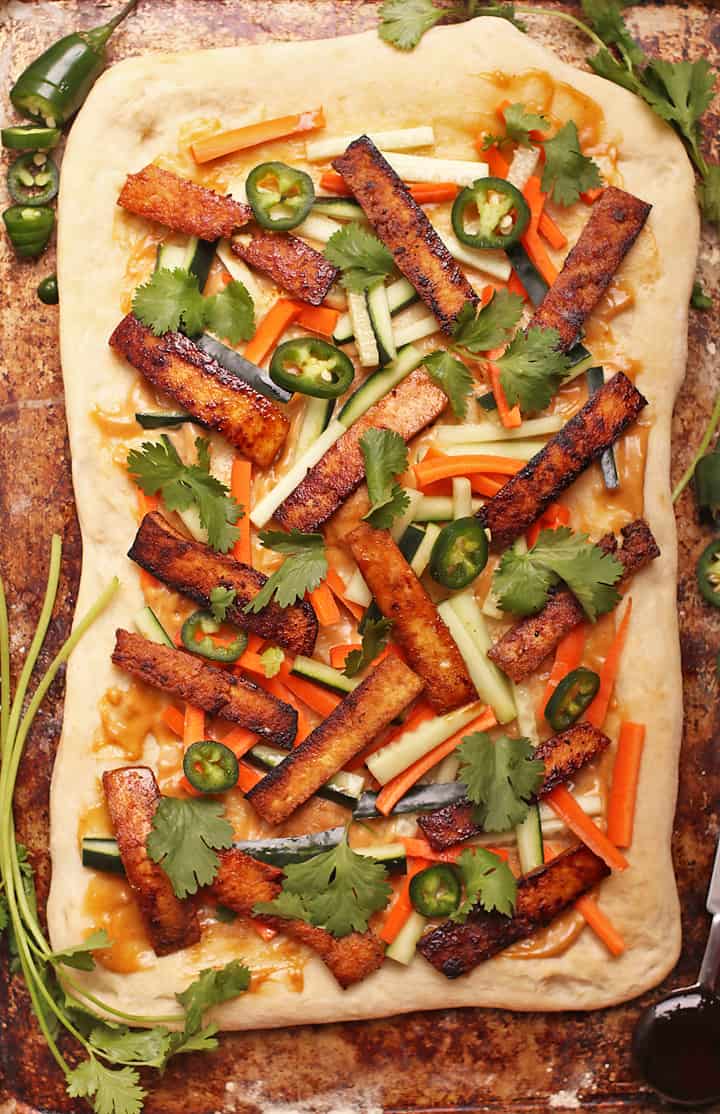 Tips for making the perfect Banh Mi
Getting perfect chewy tofu is key. This tofu can marinade up to overnight for a bolder flavored meat substitute
The components of this sandwich can be made in advance. The tofu, sauce, and quick pickled cabbage can rest in the refrigerator for 1-2 days before serving. When ready to serve, just cook up to tofu and assemble the pizza.
This pizza should be served shortly after assembling. Otherwise, the bread will start to get soggy
Store uneaten pickled vegetables and Banh mi sauce in the refrigerator for up to 7 days.
More vegan pizza recipes
Do you love pizza as much as I do? Here are a few more of my favorite pizza recipes:
But before you head off, let's check out the recipe for this vegan Banh mi pizza below.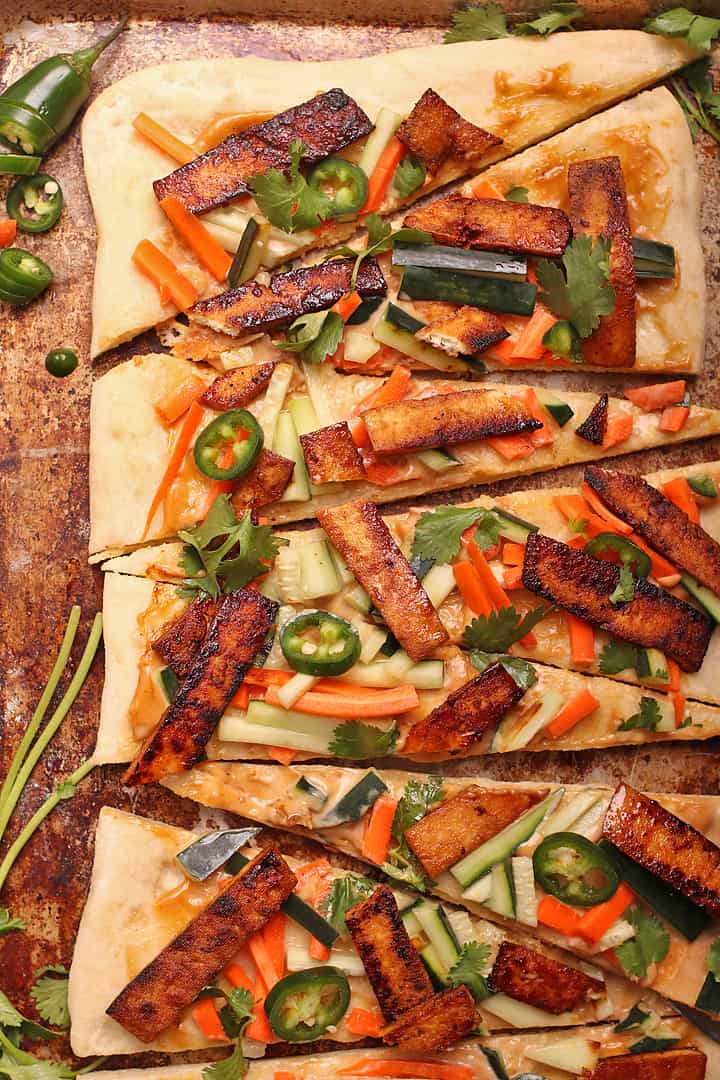 Vegan Banh Mi Pizza
A culinary fusion of Italian and Vietnamese classics, this vegan Banh Mi Pizza is made with quick pickled cucumbers and carrots and seasoned tofu.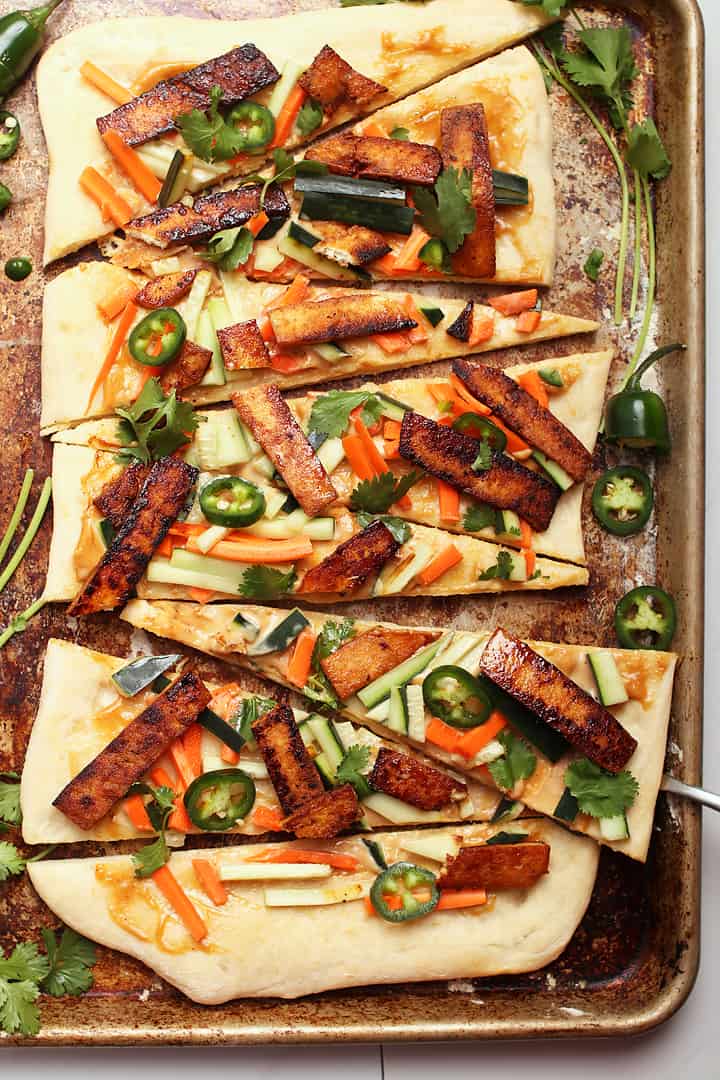 Course:
Main Course
Cuisine:
Pizza, Vegan
Keyword:
Vegan Banh Mi
Servings
:
4
people
Calories
: 189 kcal
Author
:
Sarah McMinn
Ingredients
1 Pizza Crust (homemade or store bought)
Toppings
Fresh cilantro
Jalapeño peppers, diced
Instructions
Prepare the tofu marinade in a large, shallow dish. Slice the tofu into 1/4" slices and place it in the marinade so that it is completely submerged. Marinate the tofu for at least 1 hour.

Combine the ingredients for the pickled vegetables, submerging the carrots and cucumbers completely. Cover and refrigerate for 30 minutes.

Preheat the oven to 425F. Lightly brush the pizza dough with olive oil and bake on pizza stone for 12-15 minutes until lightly golden.

While the pizza crust is baking, heat the oil in a skillet and panfry the marinated tofu until darkened and crispy, about 5 minutes per side.

Whisk together the ingredients for the Creamy Banh Mi Sauce. Set aside.

Remove the crust from oven. Cover in an even layer of sauce. Add pickled vegetables, pan-fried tofu, and remaining toppings.
Nutrition Facts
Vegan Banh Mi Pizza
Amount Per Serving
Calories 189
Calories from Fat 108
% Daily Value*
Fat 12g18%
Sodium 1001mg44%
Potassium 90mg3%
Carbohydrates 15g5%
Protein 1g2%
Vitamin A 2550IU51%
Vitamin C 0.9mg1%
Calcium 16mg2%
Iron 0.3mg2%
* Percent Daily Values are based on a 2000 calorie diet.
If you give this recipe recipe a try, snap a photo and share it on Instagram. Make sure to tag
@mydarlingvegan
so I can see your creations!