Hawaiian Teriyaki Tofu Skewers
Sweet and savory Hawaiian Teriyaki Tofu Skewers made with marinated tofu, pineapple chunks, and bell peppers. Grilled or baked, these delicious skewers are vegan, gluten-free, and 100% DELICIOUS!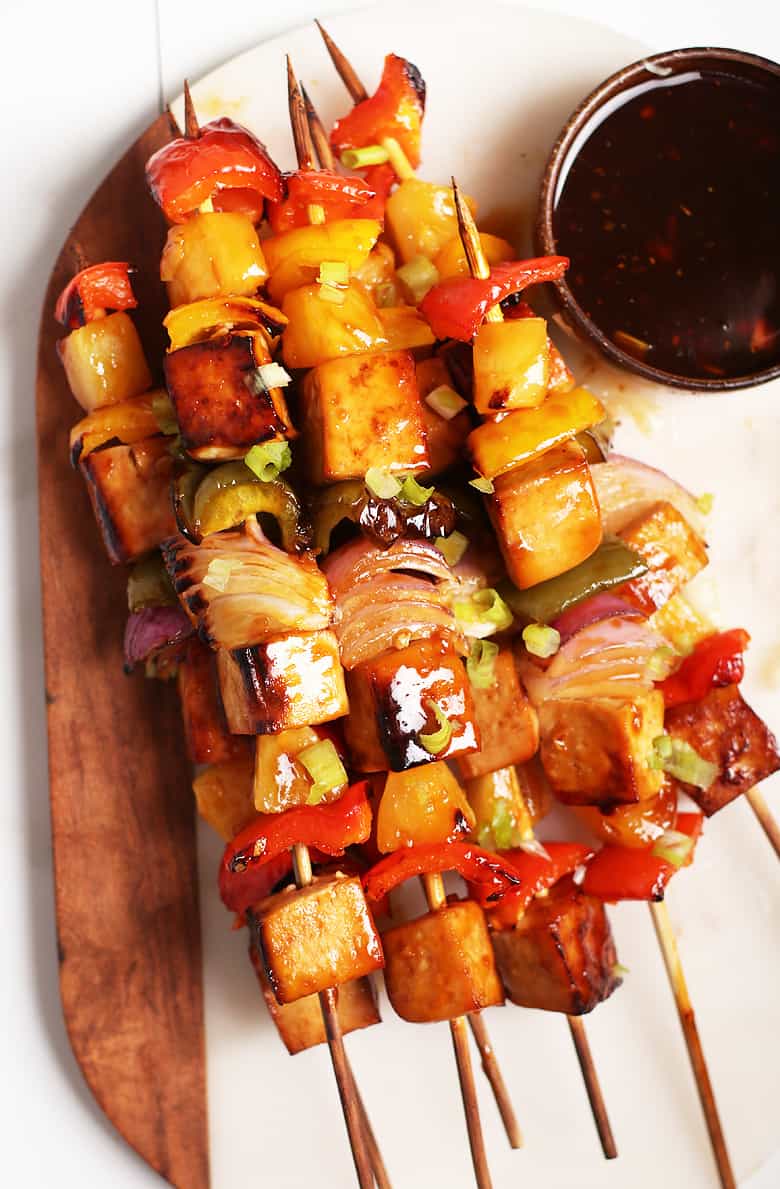 This post contains affiliate links. For more information, please see my privacy policy.
Who's been eating from their grill a lot over the past few weeks?
I have! Most nights we're either grilling up a Beyond Burger, Portobello Steak, or some kind of kebab. There is something so quintessential about outdoor cooking in the summertime and I'm loving every moment of it!
In fact, so far this summer has been outdoor bliss. This being the first summer in 4 years that we've had access to our backyard, we are spending most of our days out there. By early evening, I start heating up some coals for the grill while I sip on a glass of rosé and watch the kids practice their newly acquired biking skills. By dinner time, exhausted and happy, we sit down to eat a lovely outdoor meal.
Ah, isn't summer the best?!
If you agree with anything I just said, then I think you're going to love these Hawaiian Teriyaki Tofu Skewers. Made with Teriyaki marinated tofu, a rainbow of bell peppers, fresh pineapple, and red onions, these sweet and savory kebabs make the perfect addition to your backyard BBQs and summertime dinners.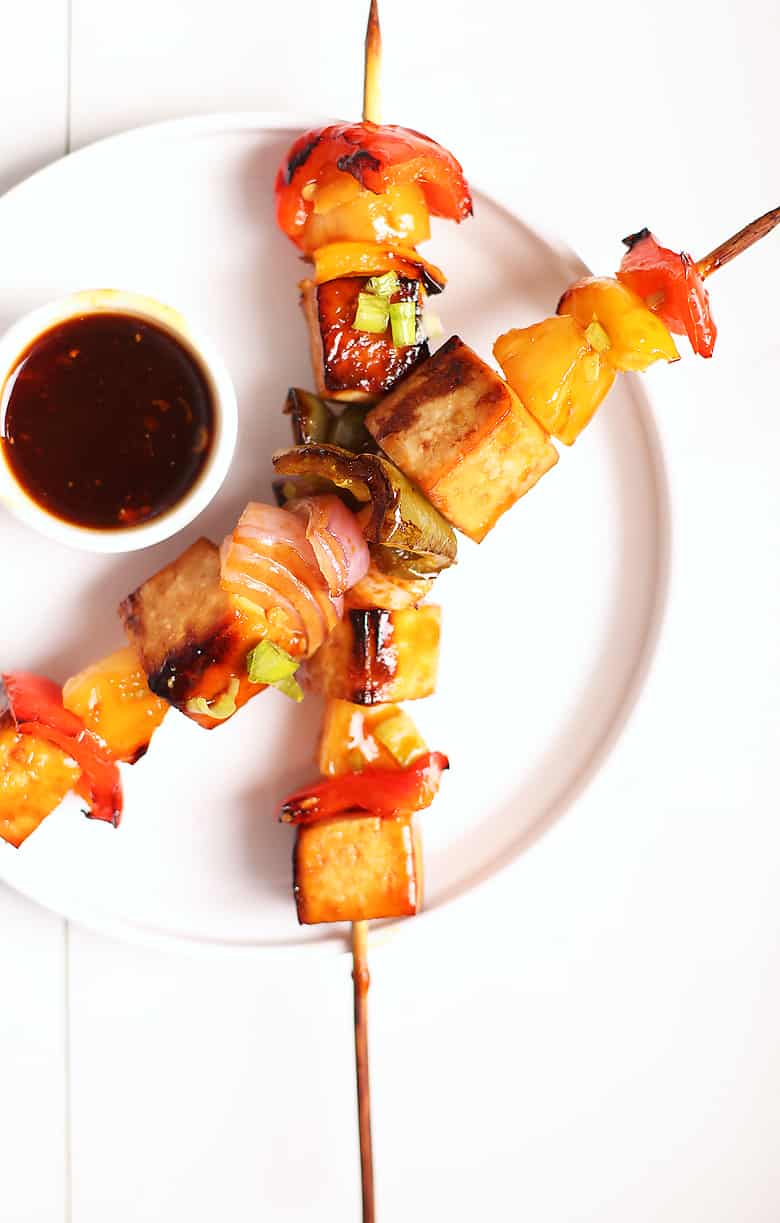 How to make Teriyaki Tofu Skewers
A good tofu skewer requires a few basic things – perfectly prepared tofu and delicious finger-licking-good sauce. Once you've got those components down, it's just a matter of adding your favorite veggies and grilling it to perfection!
Step One: Prepare the Tofu
A few things to keep in mind when making tofu skewers
Use high-protein extra-firm tofu. This particular tofu does not need to be pressed, but if you can only find water-packed tofu, make sure to thoroughly press out the water with a tofu press.  Softer tofu will crumble and not give you the same chewy texture that makes this Teriyaki tofu so so good.
Cut the tofu into 1″ cubes. If the tofu is too small, it could fall off the skewer when grilling.
Marinade the tofu for at least one hour. However, this tofu is best when they can be marinated overnight. To marinate it, place the tofu in a shallow container or large ziplock bag. Add the marinade, cover, and place in the refrigerator.
Cook the tofu until the edges become slightly charred. This develops a nice skin on the tofu for best flavor and texture.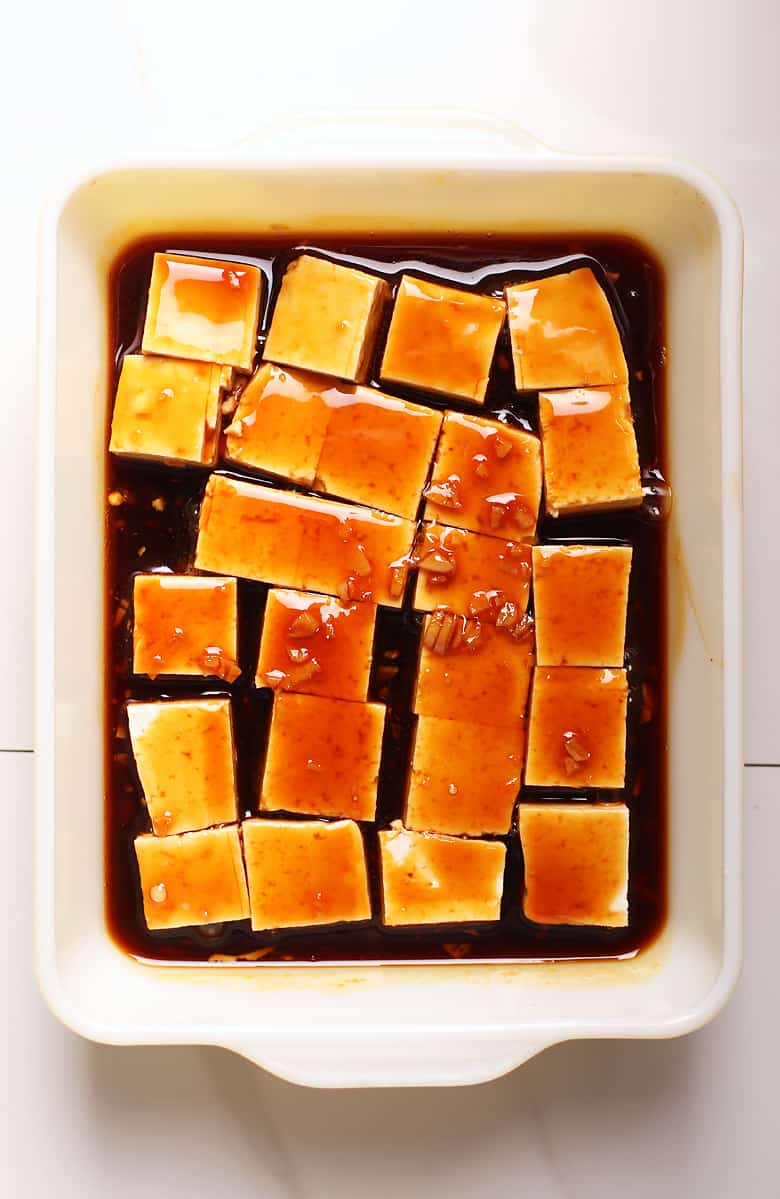 Next, we need to make a finger-licking-good sauce. For these tofu kebabs, I decided to make a variation of my Teriyaki Sauce
Step Two: Make the Teriyaki Sauce
Teriyaki sauce originated in Japan and is made by combining soy sauce with a sweetener (in this case maple syrup), citrus or vinegar (pineapple juice), garlic, and ginger. There are different variations of Teriyaki Sauce but I like to keep mine simple and straight-forward.
To make the teriyaki sauce, combine the ingredients in a small saucepan. While the sauce is cooking, whisk together equal parts cornstarch and water until it forms a slurry. Stir it into the sauce and bring it all to a boil. Stir continuously for 1-2 minutes until the sauce begins to thicken. Remove from heat and set aside.
Salty, sweet, and gingery, it's so good!
Uses for Teriyaki Sauce
Beyond these tofu skewers, this Teriyaki Sauce is perfect for my Teriyaki Lettuce Wraps, a marinated tofu steak, or even a simple vegetable stir fry.
Once you've mastered the art of homemade Teriyaki sauce, you won't ever need to buy it at the store again. Homemade Teriyaki sauce is more versatile, much fresher, and way more affordable. It's a win-win-win!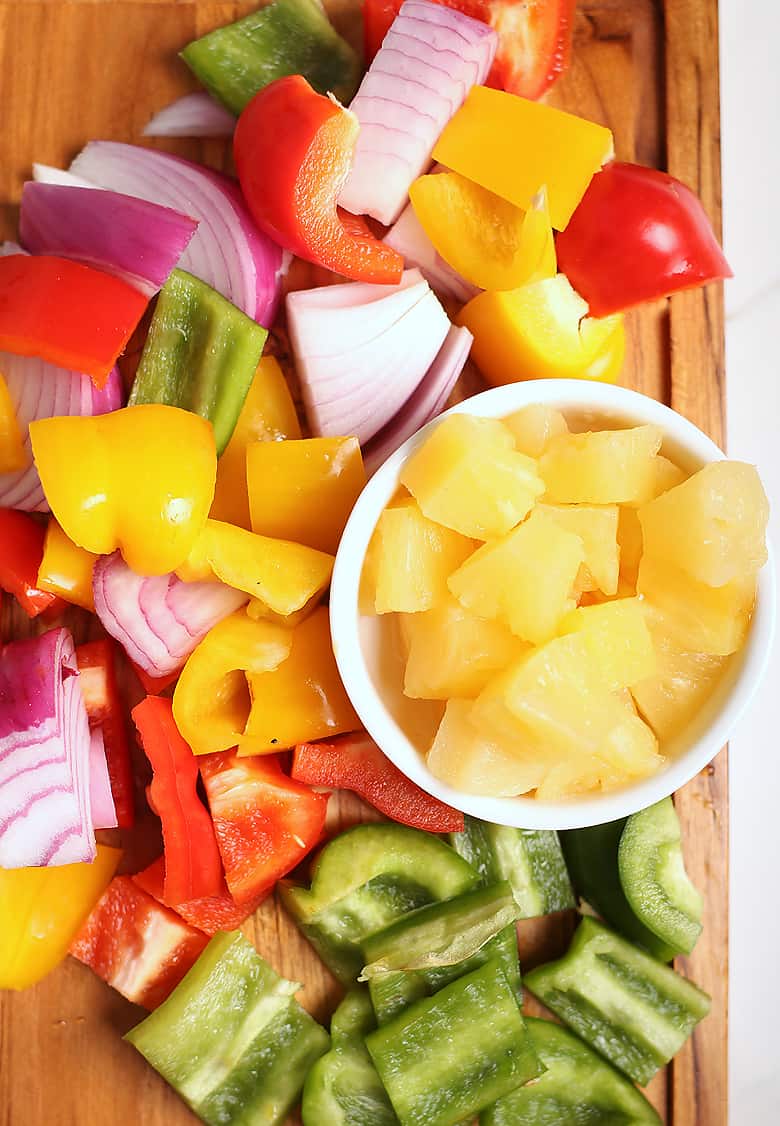 Step Three – Prepare the Vegetables
While the tofu marinades, now we can prepare the vegetables. Chop the bell peppers so that the pieces are about 1″ squares. Cut the onions into thick wedges. Because all the vegetables will shrink as they cook, aim for chopping slightly larger pieces.
For this recipe, I use canned pineapple since I also use the juice in the Teriyaki Sauce. The downside is that canned pineapple pieces tend to be a bit small. If you prefer, use fresh pineapple and cut it into pieces slightly bigger than 1 inch around.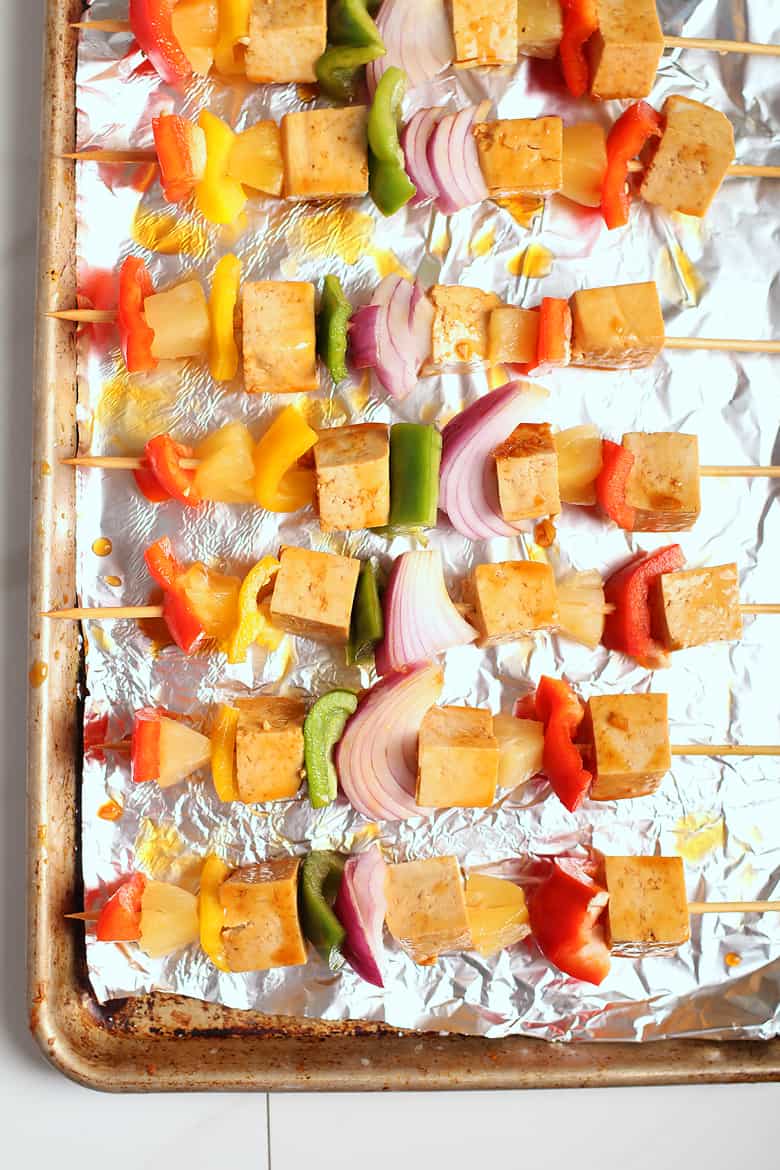 Step Four – Assemble and Cook
Once your tofu is ready, you can assemble your skewers. Each skewer should have 3 pieces of tofu, 3-4 pieces of bell pepper, and 1-2 pieces of pineapple to evenly divide into eight kebabs.
Baked vs. Grilled Kabobs
You can either bake or grill these tofu skewers. In the summer, I always choose to grill because a) you get to cook outside and b) you don't have to heat up your house with a hot oven. To grill them, place them on a preheated grill for 10-15 minutes, flipping once. They are done when the vegetables and tofu are slightly charred around the edges.
If you want to bake the kebabs, preheat your oven to 450 F. Brush a light layer of olive oil over the vegetables and bake for 25-30 minutes, flipping every 10 minutes.
Once these skewers are done, brush the reserved Teriyaki sauce over the entire skewers until they are sweet and saucy.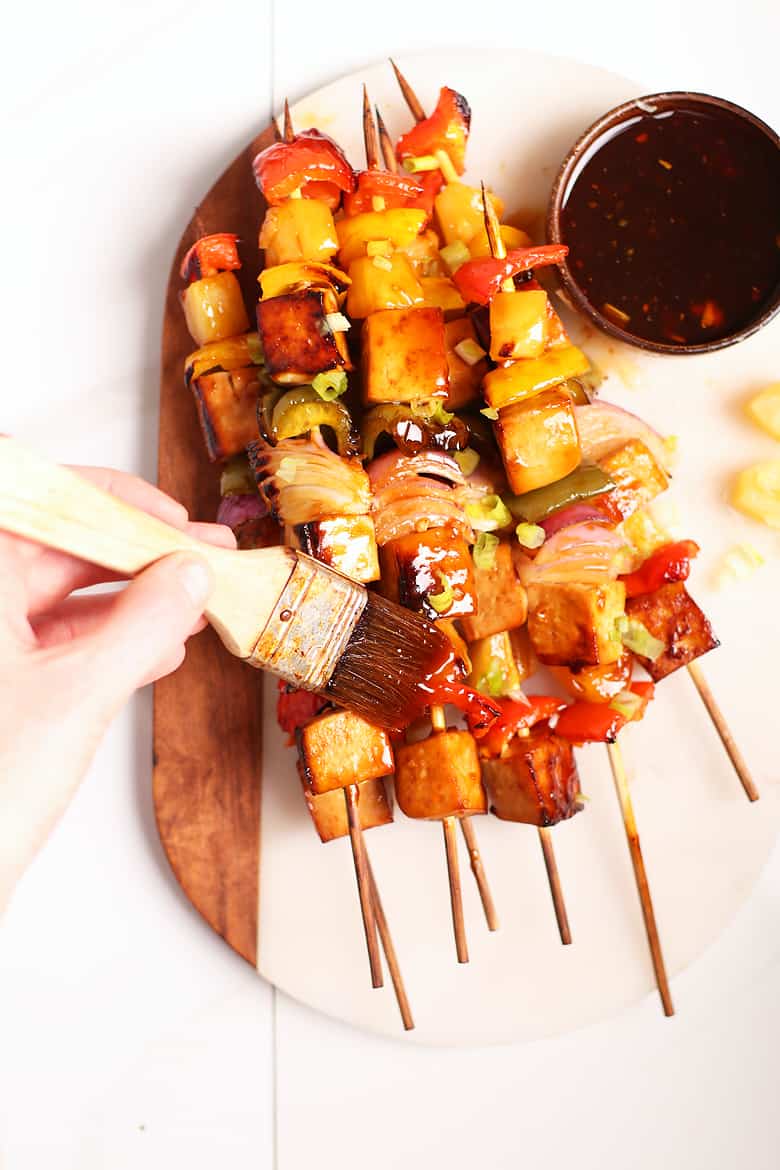 Serving and Storing
These Teriyaki Tofu Skewers are best served right away. Brush a generous layer of reserved Teriyaki Sauce over them before serving.
Store leftover skewers in an airtight container in the refrigerator. To reheat, gently reheat on the stove or in the oven.
Extra Teriyaki Sauce can be stored in the refrigerator for up to 2 weeks.
The tofu can be marinated up to 48 hours in advance.
Serve these tofu skewers over a bed of rice or quinoa.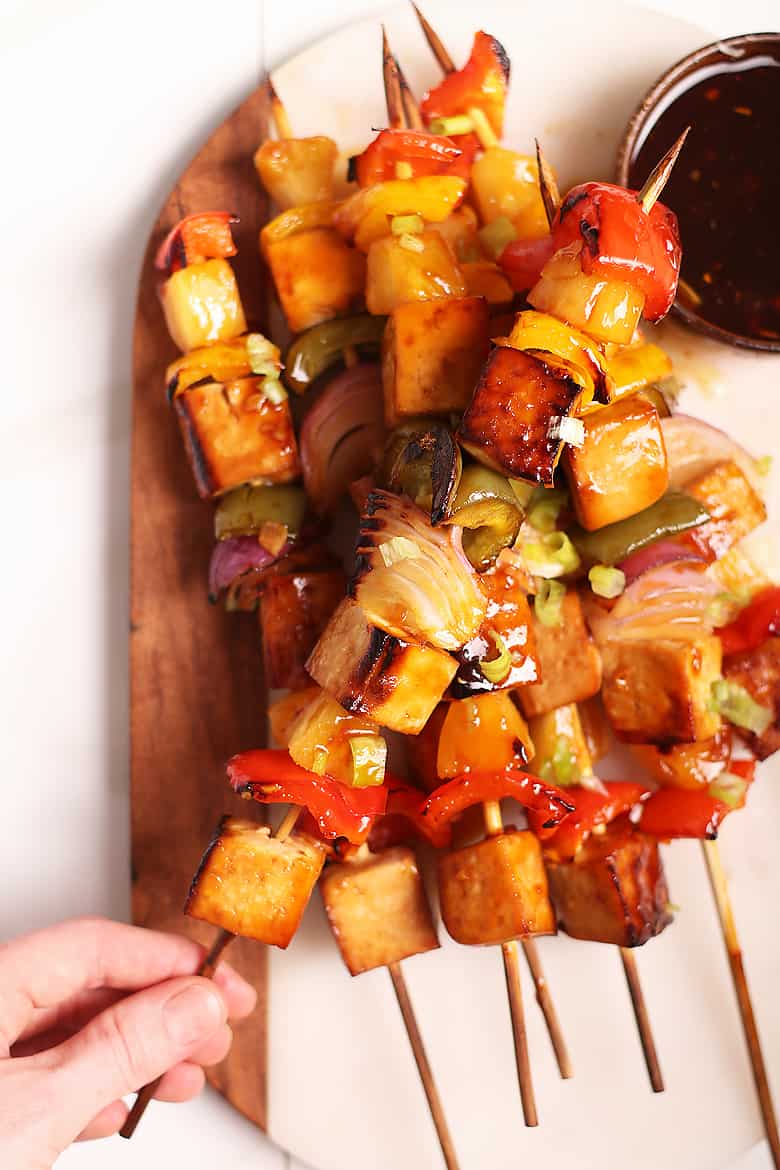 More Tofu Skewer Recipes
Tofu skewers are one of the best parts of summer. Don't just stop at these Teriyaki Tofu Kebabs. Check out some of my other favorite tofu kebabs below:
More Summer BBQ Recipes
And, let's add a few more things to the grill. Beyond the Beyond Burger, here are a few of my favorite vegan entrees to grill up:
So, now that we've got that covered, let's heat up the grill and get some Teriyaki Tofu Skewers grilling!
Rainbow Teriyaki Tofu Skewers
Sweet and savory Rainbow Teriyaki Tofu Skewers made with marinated tofu, pineapple chunks, and bell peppers. Grilled or baked, these delicious skewers are vegan, gluten-free, and 100% DELICIOUS!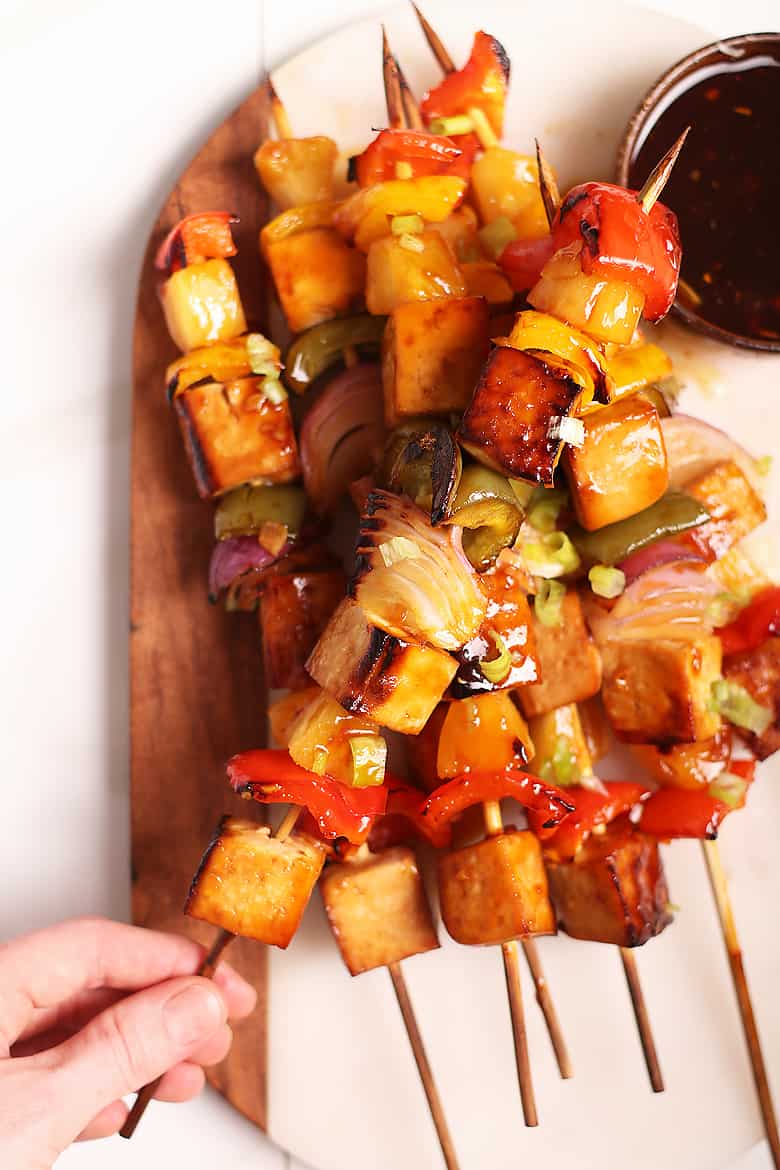 Course:
Main Course
Cuisine:
Vegan
Keyword:
Teriyaki Tofu
Servings
:
8
skewers
Calories
: 54 kcal
Author
:
Sarah McMinn
Ingredients
Teriyaki Sauce
1/2

cup

soy sauce (use Tamari Sauce for gluten-free)

1/4

cup

maple syrup

1/4

cup

pineapple juice

2

cloves garlic, minced

1

tsp. freshly grated ginger

1

tbsp cornstarch

1

tbsp water
Tofu Skewers
16 oz

extra firm tofu

1/2

large red onion

1/2

red bell pepper

1/2

green bell pepper

1/2

yellow bell pepper

1

(8 oz) can pineapple chunks
Instructions
To make the Teriyaki Sauce, combine the soy sauce, maple syrup, pineapple juice, garlic, and ginger in a small saucepot. Place it over medium heat. In a small bowl, make a slurry with the water and cornstarch, whisking together until the cornstarch is completely dissolved. Slowly pour the cornstarch mixture into the saucepan, stirring continuously. Bring to a boil and boil for 2 minutes, until the sauce begins to thicken. Remove it from heat and set aside.

Cut the tofu into 1x1" cubes. Place in a shallow container. Pour the Teriyaki Sauce over the tofu so that the tofu is completely submerged. Place in the refrigerator and let marinate for 1 hour. Reserve the marinade when the tofu is done.

Preheat the oven to 450F. Line a baking sheet with foil and set aside.

Fill your skewers with tofu, onions, bell peppers, and pineapple. There should be enough tofu for 8 skewers if you place 3 pieces of tofu per skewer. Bake for 25-30 minutes, flipping every 10 minutes until edges are charred and sauce is sizzling. Remove from the oven. Brush with reserved marinade and serve immediately.
Recipe Notes
If you are grilling your skewers, preheat the grill. Grill the skewers for about 10 minutes, flipping once, until the vegetables begin to char on the edges. Remove from heat and brush with extra marinade. 
Nutrition Facts
Rainbow Teriyaki Tofu Skewers
Amount Per Serving
Calories 54
Calories from Fat 9
% Daily Value*
Fat 1g2%
Sodium 812mg35%
Potassium 117mg3%
Carbohydrates 12g4%
Protein 2g4%
Vitamin A 275IU6%
Vitamin C 30.6mg37%
Calcium 17mg2%
Iron 0.5mg3%
* Percent Daily Values are based on a 2000 calorie diet.
If you give this recipe recipe a try, snap a photo and share it on Instagram. Make sure to tag
@mydarlingvegan
so I can see your creations!