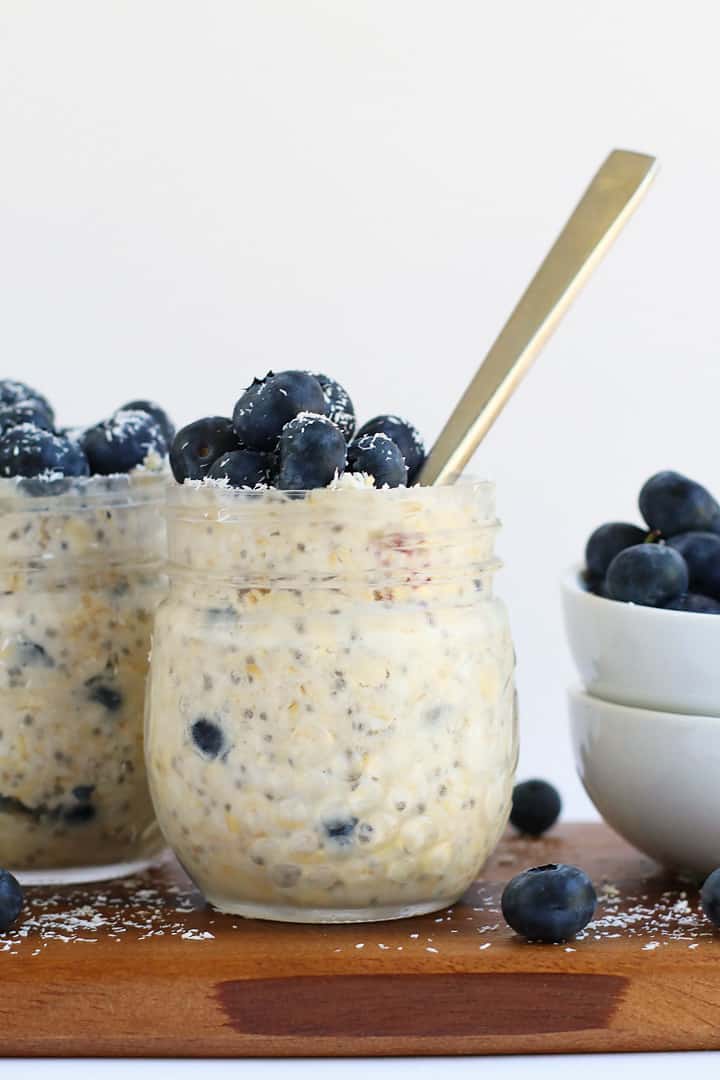 These Blueberry Overnight Oats are made with a blend of coconut and almond milk for a sweet, refreshing, and creamy grab-n-go breakfast. Whipped together in just 5 minutes!
This post contains affiliate links. For more information please see my privacy policy.
I'm giving up coffee for the next 3 weeks.
For the past year and a half, shortly after my divorce was finalized, I started dealing with some minor health issues that, I believe, were stress-induced. Trying to get to the bottom of these health concerns have taken me down more rabbit holes than I can count. I have been to primary doctors, dermatologists, and naturopaths. I have gone on extreme elimination diets, quite drinking, changed my birth control, taken a pharmacy of herbs and supplements, and taken up yoga and meditation.
Despite everything I've tried, I have not found the answers. And so, after all that, I decided to make the ultimate sacrifice…coffee.
The truth is, I have a bit of a coffee problem. Most days I substitute black coffee for breakfast which, turns out, is terrible for someone already dealing with the chronic stress of post-divorce life/single parenting. So along with my commitment to give up coffee, I'm also making a commitment to eat breakfast EVERY DAY. In order to make this happen I have been relying on 3 simple breakfasts:
And today I bring you a recipe for my current favorite breakfast: Blueberry Overnight Oats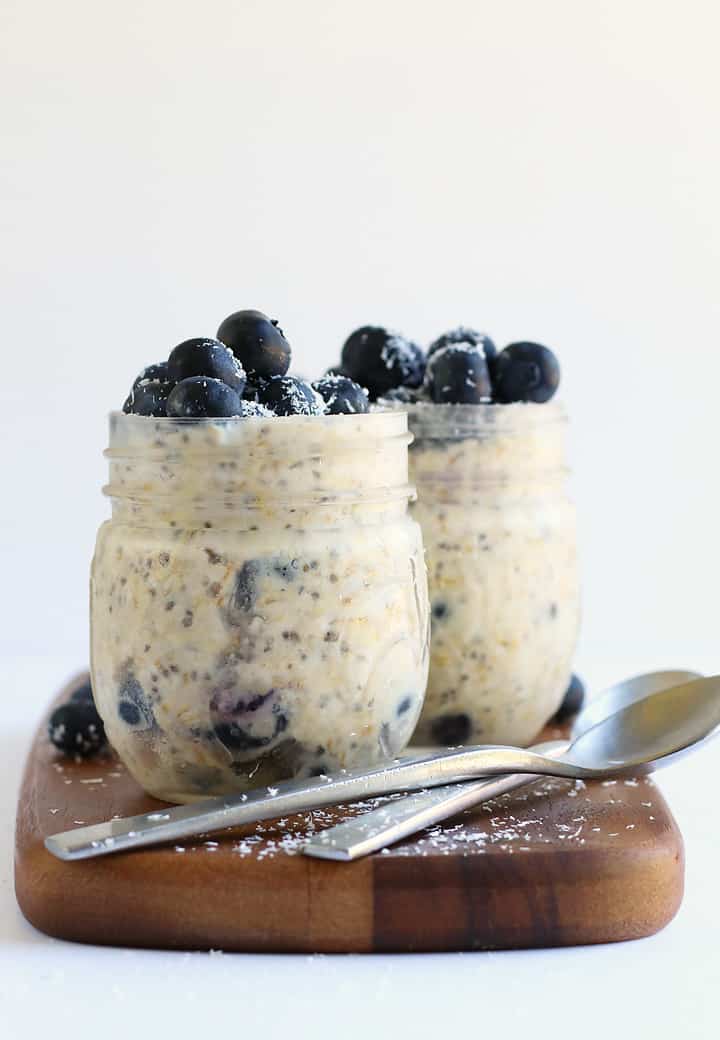 These Blueberry Overnight Oats are rich, creamy, and filled with fresh berries. It's truly like eating dessert for breakfast. And, better yet, there's no prep time! Just mix them up the night before (this takes 5 minutes) and store them in easy grab-n-go airtight containers for easy breakfasts throughout the week.
---
INGREDIENTS FOR VEGAN OVERNIGHT OATS
The ingredients for these vegan overnight oats are very straight-forward. You probably already have them on hand. All you will need is:
Old Fashioned Oats
Coconut Milk
Almond Milk
Maple Syrup
Chia Seeds
Vanilla Extract
Blueberries
and Salt!
That's it! Under 10 ingredients for a super satisfying grab-n-go breakfast.
---
BEST OATS FOR OVERNIGHT OATMEAL
When I make my vegan overnight oats, I choose extra-thick old fashioned oats. You want oats that will keep their shape overnight so that you have a full-bodied texture. Old fashioned oats will also work, although, for super chunky granola, I do recommend an extra thick cut.
If you are gluten-free, make sure to look for a gluten-free thick cut. This is the brand that I recommend.
Wait, aren't all oats gluten-free?
Unfortunately not. Most oats are rolled in flour during the process or are cross-contaminated by sharing the same equipment as wheat products. If you are strictly gluten-free, make sure to find the oats that are labeled as such.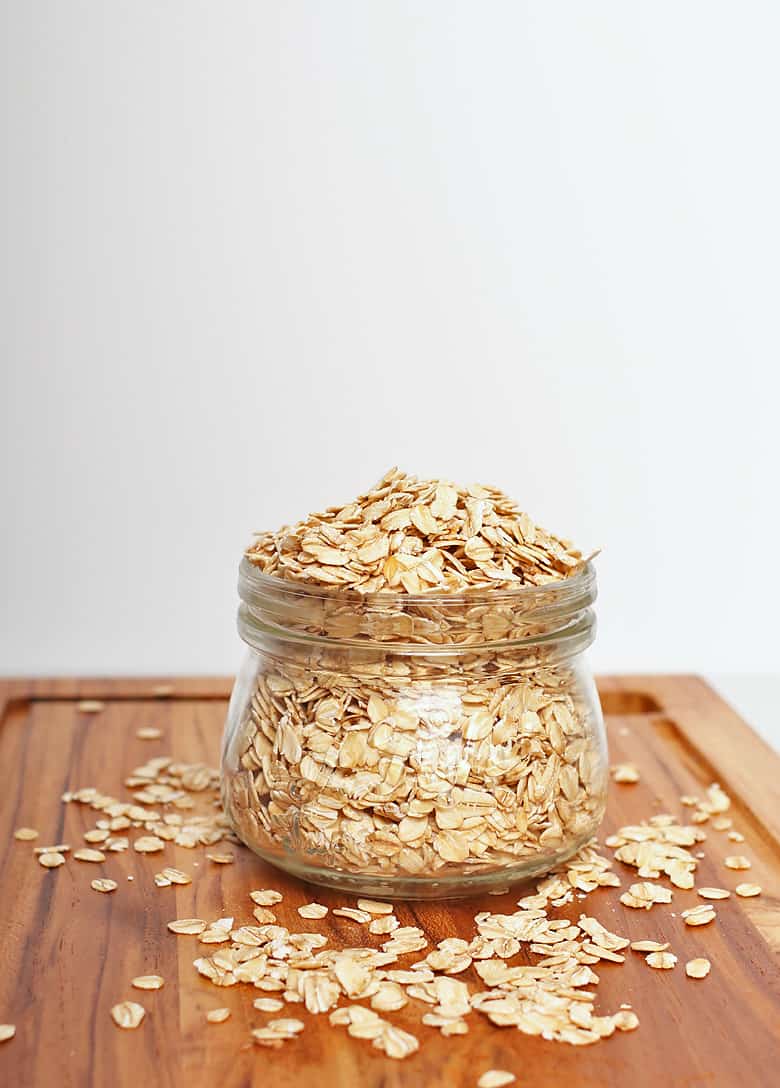 HOW TO MAKE OVERNIGHT OATS
You can make overnight oats in just 5 minutes in 4 easy steps for a quick grab-n-go breakfast all week long.
Step one – Combine the wet ingredients in a large bowl
Step two – Fold in the rolled oats
Step three – Transfer to overnight oats jars, cover, and refrigerator.
Step four – Grab-n-go!
---
HOW TO MAKE PERFECT VEGAN OVERNIGHT OATS
Oats – To keep these oats cleanse-approved, I used gluten-free rolled oats. Because most oats are coated in flour, you'll want to make sure to find oats labeled as gluten-free. Look for thick-cut oats which keep their shape and texture better. You can swap in steel-cut oats which add extra health benefits. To do that, you'll want to double the liquid in this recipe.
Sweetener – For a sweetener, I typically use maple syrup. Maple syrup adds a complex flavor without overly sweetening the oats (like some unrefined sweeteners can do). Unlike other sweeteners, maple syrup also provides a few healthful vitamins and minerals as well as antioxidants.
Mixins – For texture, I add chia seeds which are considered a superfood for being high in antioxidants and fiber as well as providing energy boosters and natural mood enhancers. You can also add coconut, flax seeds, or cacao nibs for a delightful texture with additional health benefits.
Vegan Overnight Oats are fairly versatile. I recommend you play around a bit with this recipe once you've got it down to try different variations.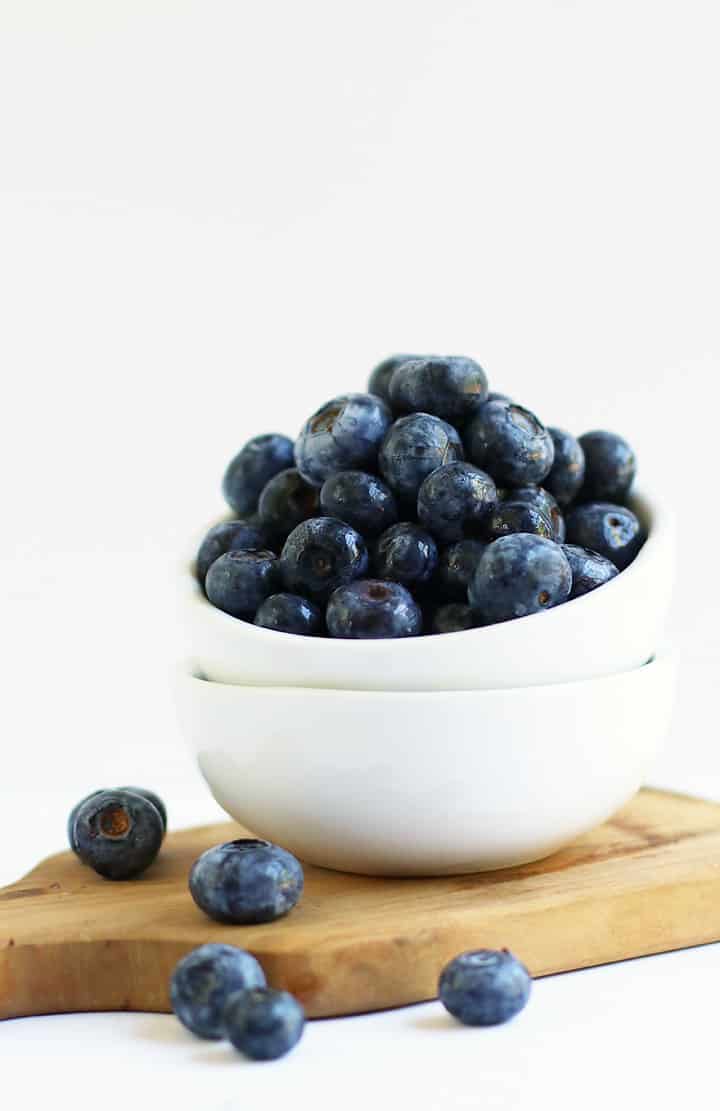 MORE VEGAN OVERNIGHT OATS RECIPES
If you love filling and convenient breakfasts, that you should make sure to check out these other vegan overnight oats recipes. Here are a few of my favorites:
Get this year started off right with a good wholesome breakfast amidst the chaos of the mornings.
I know that giving up coffee may not find me the answers I seek, but making the change to eat breakfast, rather than substituting it with coffee, will have lasting beneficial effects. And to that, I lift up my empty coffee mug and say, "Cheers!"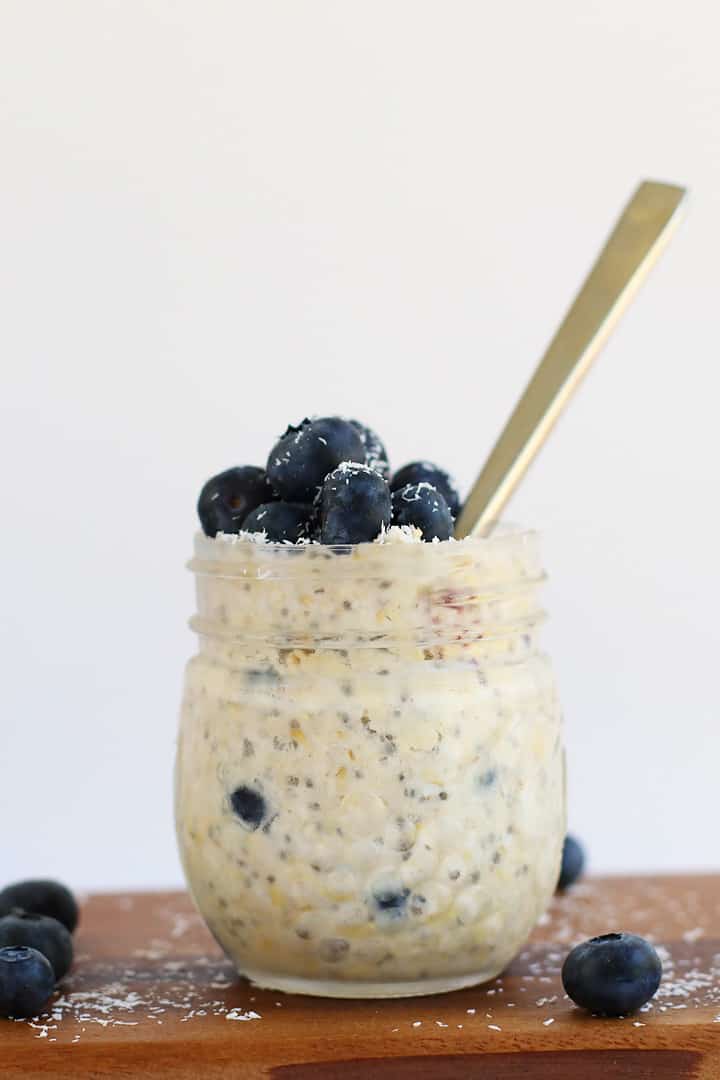 Blueberry Overnight Oats
These Blueberry Overnight Oats are made with a blend of coconut and almond milk for a sweet, refreshing, and creamy grab-n-go breakfast.
Course:
Breakfast
Cuisine:
American
Keyword:
Blueberry Overnight Oats
Servings
:
2
Calories
: 377 kcal
Author
:
Sarah McMinn
Ingredients
Additional Toppings (optional)
fresh blueberries
chia seeds
Instructions
Combine oats, milk, chia seeds, vanilla extract, salt and maple syrup in a large bowl. Stir together until well combined.
Fold in fresh blueberries.

Transfer to two 8 ounce mason jars, cover, and refrigerate at least 4 hours or overnight.

When ready, top with desired toppings and enjoy!
Nutrition Facts
Blueberry Overnight Oats
Amount Per Serving
Calories 377
Calories from Fat 153
% Daily Value*
Fat 17g26%
Sodium 93mg4%
Potassium 374mg11%
Carbohydrates 49g16%
Protein 8g16%
Vitamin A 40IU1%
Vitamin C 7.8mg9%
Calcium 155mg16%
Iron 4.2mg23%
* Percent Daily Values are based on a 2000 calorie diet.
If you give this recipe recipe a try, snap a photo and share it on Instagram. Make sure to tag
@mydarlingvegan
so I can see your creations!