Vegan Snickerdoodle Ice Cream
This vegan snickerdoodle ice cream is made with a sweet cinnamon coconut ice cream base and gluten-free snickerdoodle cookie mix-ins for a delightful and decadent dessert.
This post is sponsored by Enjoy Life Foods. The thoughts and opinions are 100% mine.
This post contains affiliate links. For more information please see my privacy policy.
Oh, hey there!
Today on My Darling Vegan we are going to talk about 2 of my favorite topics: mindfulness and ice cream. Specifically, vegan Snickerdoodle Ice Cream, but we will get to that in a minute.
Let's start with mindfulness.
I'm going through a season in life where mindful mastery is key. With the difficulties of single parenting combined with summer (aka, no school for the littles) and a career that is eager to take off yet demands more than the 2 days I can give it right now, I find myself often frustrated, short-fused, and waiting for the next season of life. What a wasted life one would be that was always waiting for the next big thing and missing all the tiny joys right in front of it.
So rather than focusing on what I want to change, I focus on what I already have. For me, that is two darling children who crack me up and bring me joy and, for better or worse, want to spend every waking minute with me. A career that I love and have worked very hard for and will be there when I am able dive into it fully into it the first time. I have my health, my home, and my family. This might not be the case tomorrow. And so today, I want to embrace it, difficulties and all, as many gifts that deserve gratitude.
I practice mindfulness in many ways.
Yoga and meditation
Grounding exercises
Journaling
Unplugging from technology
Listening with an open heart
When I am consistently practicing mindfulness I find that each day is full of incredible opportunity, beauty, and hope. 
Now, that other thing we were going to talk about…ah, yes, vegan snickerdoodle ice cream.
The other secret to true contentment.
Nah, I'm not going to try and relate the two. Today is just sharing with you a little bit about what's on my mind and what's in my kitchen.
This Snickerdoodle Ice Cream is one of my favorites. It is made with a simple coconut milk based that is mixed with cinnamon for a creamy and delicious ice cream. Then soft chewy snickerdoodles cookie bites are mixed in for the ultimate frozen dessert.
For this recipe I used Enjoy Life's Soft Baked Snickerdoodle Cookies. For those of you who aren't familiar, Enjoy Life Foods is a wonderful company that produces some of the best allergy-free snacks and sweets. A few years ago they became the first gluten-free company to receive non-GMO status for 100% of it's products. And despite the fact that their snacks are always dairy, egg, gluten, and soy FREE, their taste is never compromised. Check out all their salty and sweet snacks here.
And so foor today, focus on the good things, practice mindfulness, and eat ice cream.
That's about all you need to enjoy life.
Vegan Snickerdoodle Ice Cream
This vegan snickerdoodle ice cream is made with a sweet cinnamon coconut ice cream base and gluten-free snickerdoodle cookie mix-ins for a delightful and decadent dessert.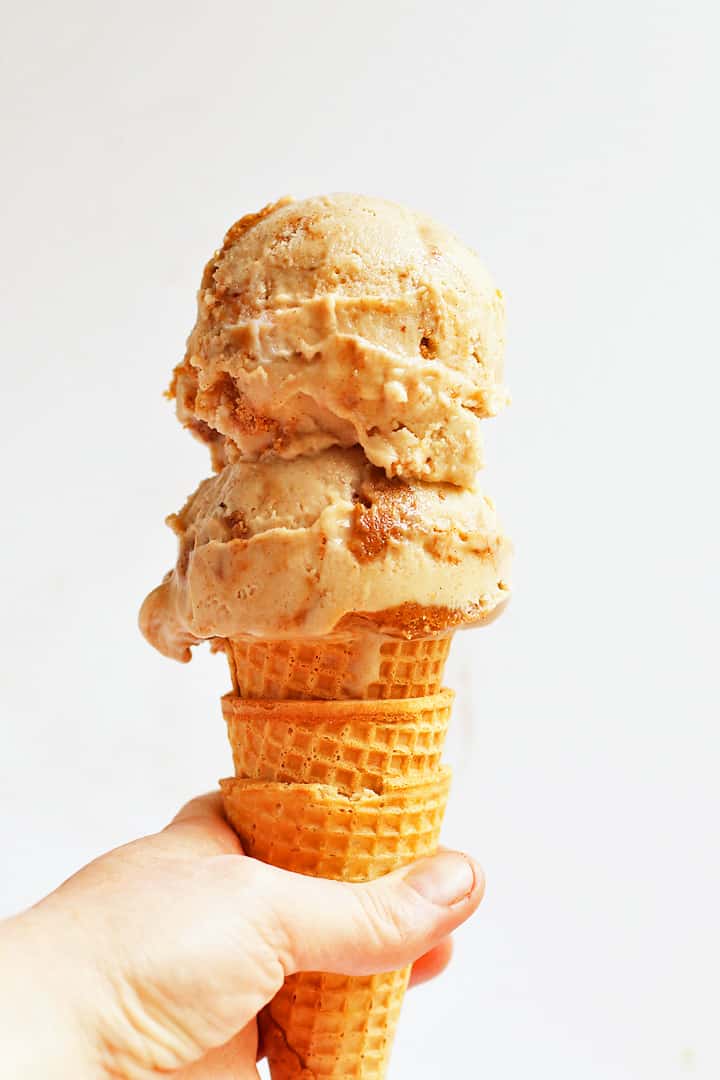 Course:
Dessert
Cuisine:
American
Keyword:
Snickerdoodle Ice Cream
Servings
:
4
cups
Calories
: 158 kcal
Author
:
Sarah McMinn
Ingredients
Instructions
Place the bowl of your ice cream maker in the freezer the night before.
To make the ice cream base, whisk together ½ cup of coconut milk and cornstarch. Set aside. Place a sauce pan over medium heat and add remaining coconut milk, sugars, and salt, stirring until the sugar has completely dissolved. Add milk/cornstarch mixture and bring to a boil, stirring frequently. Once coconut milk is boiling, stir continuously for 2 minutes, until ice cream base is thick and cornstarch is completely cooked. Remove from heat and add the vanilla and cinnamon.
Transfer ice cream base to a shallow container and chill for at least 2 hours. For best results, this should be made the night before.
Churn the ice cream according to manufacturer's instructions. Once it is thick and creamy and resembles soft serve, add 1/2 the chopped Snickerdoodles. Churn for 30 seconds more.
In a small loaf pan or similar sized container place about 1/2 of the ice cream and smooth down. Layer with remaining snickerdoodles and top with remaining ice cream. Return to freezer for another 2 hours.
Thaw 10 minutes before serving, if necessary.
Nutrition Facts
Vegan Snickerdoodle Ice Cream
Amount Per Serving
Calories 158
% Daily Value*
Sodium 6mg0%
Potassium 24mg1%
Carbohydrates 39g13%
Calcium 25mg3%
Iron 0.2mg1%
* Percent Daily Values are based on a 2000 calorie diet.
If you give this recipe recipe a try, snap a photo and share it on Instagram. Make sure to tag
@mydarlingvegan
so I can see your creations!