Classic Vegan Pumpkin Pie Recipe
This classic vegan pumpkin pie is so creamy and rich, no one will believe it's vegan. The filling can be made in a blender for a quick and easy fall dessert the whole family will love.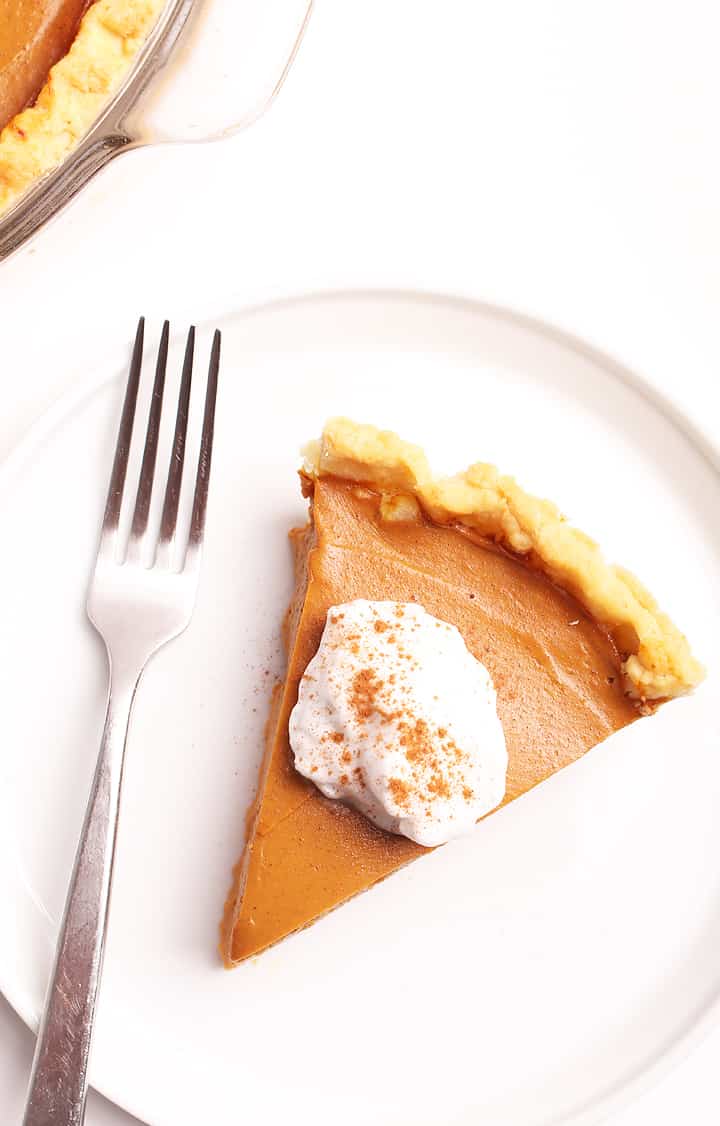 This post contains affiliate links. For more information please see my privacy policy. 
So now that we've got our Thanksgiving entrée covered, let's talk about the NEXT most important component of our holiday meal – dessert! Yes, after nearly 7 years of blogging, I finally have the perfect Thanksgiving dessert for you.
It's a classic vegan pumpkin pie!
I've been making a variation of this Pumpkin Pie for 12 years. The first year I made this pie I was newly vegan (like a month new) and I didn't yet know the difference between regular and silken tofu (we will get into that momentarily). What resulted was a chunky pumpkin and tofu pie that DID NOT impress.
While that was not a pie I felt good about serving, I did learn a lesson and I have never made that tofu mistake since. Now I've been perfecting this pumpkin pie recipe for the past decade and friends, I think you're going to love it.
This pumpkin pie is so rich and creamy with the perfect custard texture that no one at your holiday table will believe this dessert is vegan!
Let's take a closer look, shall we?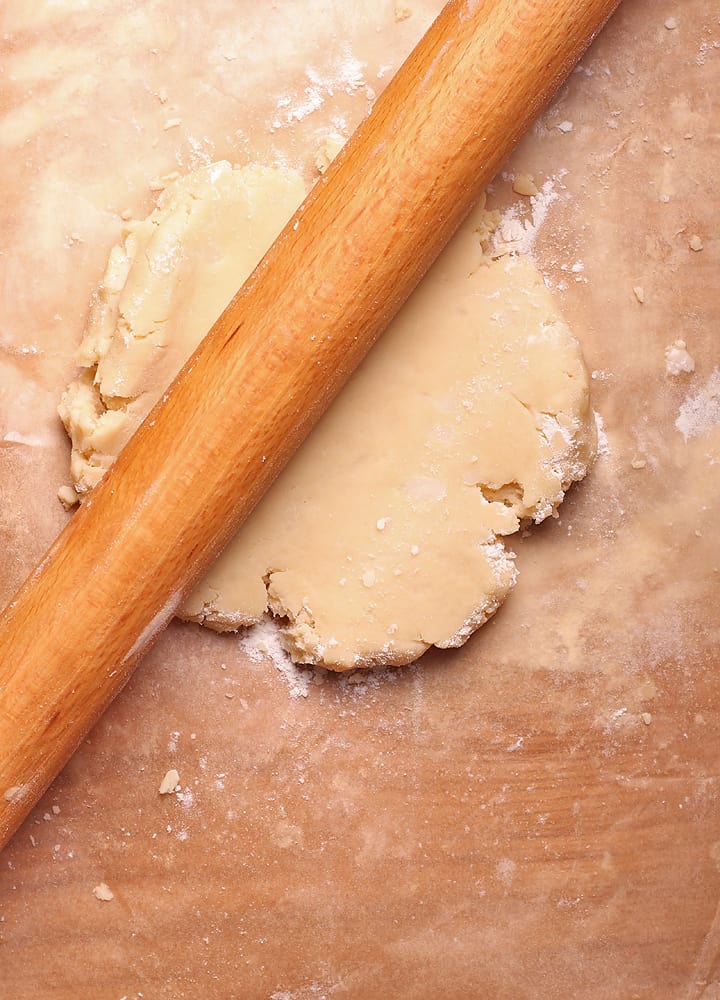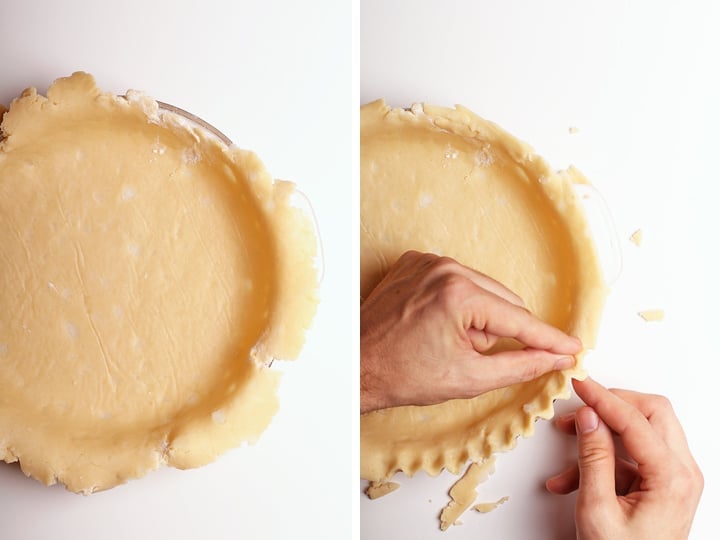 A good pumpkin pie starts with the perfect pie crust.
Tips for making the perfect pie crust.
First of all, let me say, there is NO shame in buying pie crust. Most well-stocked grocery stores carry vegan frozen pie crust and most of the time that is what I opt for. If you go the pre-made pie crust route, the rest of this pie comes together in about 10 minutes!
For those of you making your own pie crusts, there are a few tricks I've learned:
Have an even mix of vegan butter and coconut oil. By combining the two, you will get the perfect combination of buttery flavor and flaky texture. Do remember: both your butter and coconut oil should be chilled before using!
Add just enough water to allow your pie crust to come together. We don't want overly moist crusts. Wetter pie crusts are easier to work with, but the drier it is, the flakier (aka, more delicious) your pie crust will be.
Chill your pie crust twice. The first chill allows for the dough to harden just enough to be rolled out. If you chill it for too long, you may need to warm the dough up by kneading it between your hands. The second chill allows the fats to re-firm up. This prevents the butter and coconut oil from melting too quickly in the oven so that your pie crust keeps its beautiful structure.
If you are struggling with making your pie crust pretty. Don't worry. Rustic is always a lovely look and tastes exactly the same.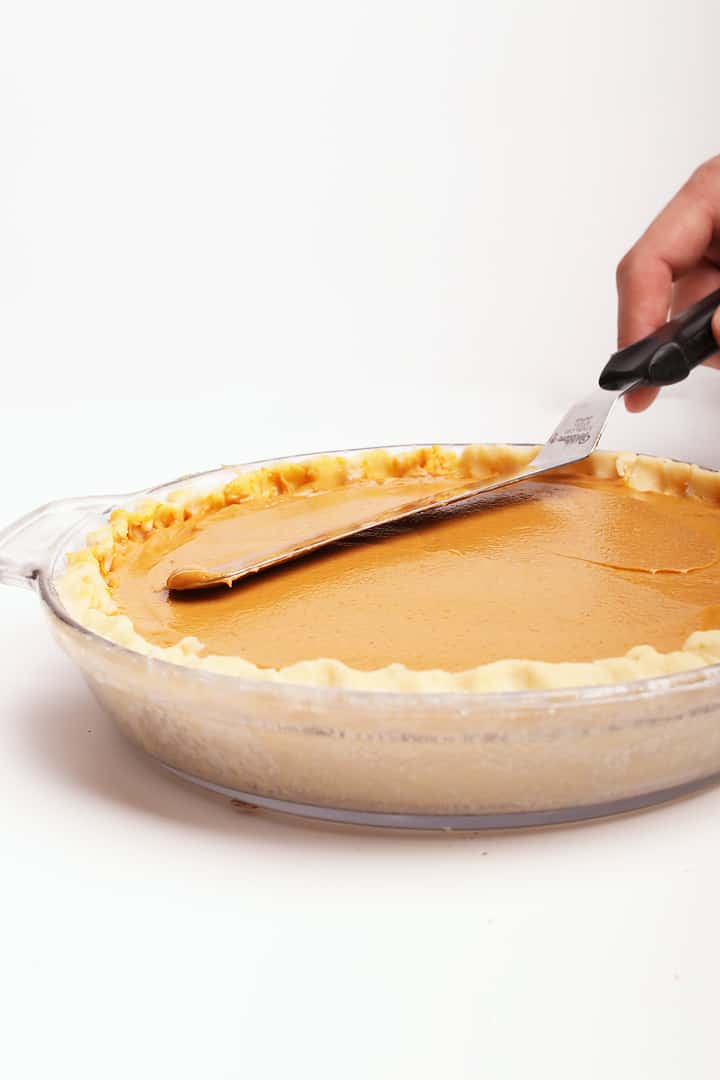 With our pie crust chilling, let's take a look at the filling.
How to make VEGAN pumpkin pie.
First, we need to choose the best egg replacer for pumpkin pie. I have tried a handful of different replacements, but since we are making a custard, I found that silken tofu was the best option. With silken tofu, we can make a pie that is identical in texture to its egg-filled counterpart with no strange added tastes.
Silken tofu vs regular tofu.
As I mentioned earlier, getting the right tofu is paramount.
Silken tofu, unlike regular tofu, is a shelf stable product found usually in the international food aisle at most well-stocked grocery store. If you can't find it, you can buy it here.  Silken tofu has a creamier consistency than regular tofu making it a great egg replacement for custards, puddings, and cream pies.
Like regular tofu, silken tofu comes in soft, medium, firm, and extra firm. For this recipe, I recommend using extra-firm.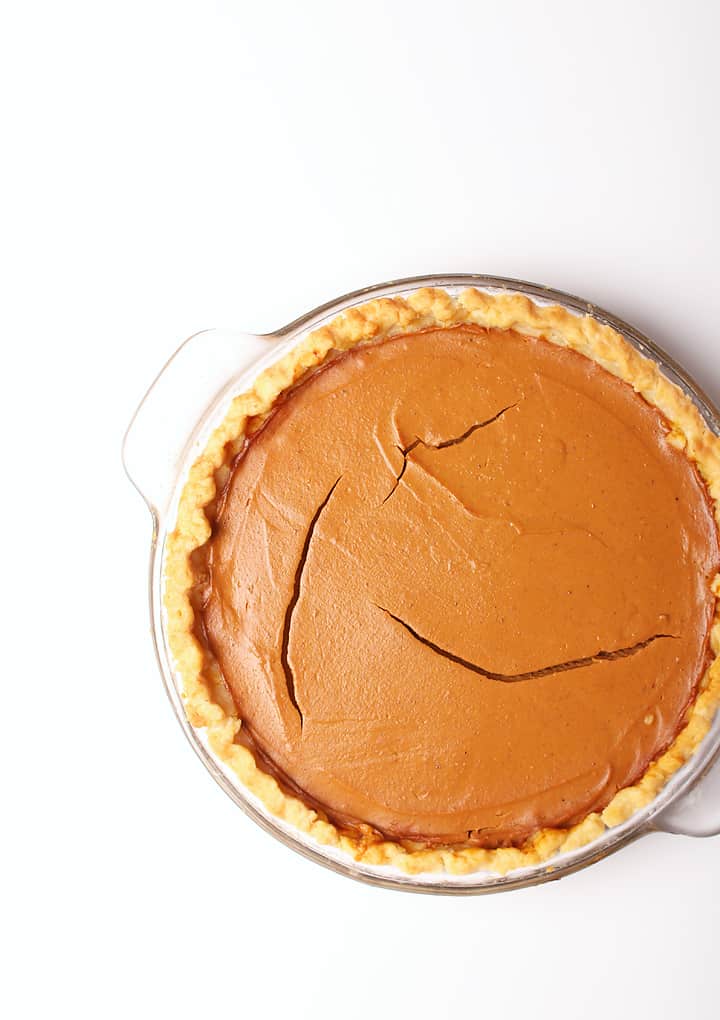 Assembling the pumpkin pie
Once you have your tofu, the rest of this pie filling is incredibly easy. The ingredients get blended together until they are silky smooth. At that point, they are poured into your prepared pie crust.
Tips for baking the perfect vegan pumpkin pie
Baking any kind of custard can be difficult. Like cheesecake, pumpkin pie must bake evenly and slowly. To do this:
Ensure that you are not baking above 350. Anything higher will bake your pie too quickly and, thus, unevenly.
Put a water bath at the bottom of your oven. You can do this by filling a sheet pan with water and placing it on the bottom rack. The steam provides a slower and even bake.
When checking for doneness, you want your pie to be slightly wobbly. Give it a little shake and see how it feels. If it's too wobbly, the pie isn't set and will be too soft. If it has no wobble at all, the pie is overcooked and won't have the custard-like, melt-in-your-mouth feel.
Let the pie cool completely at room temperature before transferring it to the refrigerator to chill. This prevents the pie from cracking. Chill the pie for at least 4 hours. This pie is best when chilled overnight.

Serving and storing vegan pie
This pumpkin pie should be served cold with coconut whipped cream. Leftover pie can be wrapped in saran wrap and placed in the refrigerator for up to 5 days. You can also freeze any uneaten pie to be enjoyed for up to 2 months.
Serve this pie with your favorite holiday recipes for a classic dessert that no one will believe is vegan!
Ready to make some pie? Check out the recipe below.


Vegan Pumpkin Pie
This classic vegan pumpkin pie is so creamy and rich, no one will believe it's vegan. The filling can be made in a blender for a quick and easy fall dessert the whole family will love.
Course:
Dessert
Cuisine:
Vegan
Keyword:
Vegan Pumpkin Pie
Servings
:
8
people
Calories
: 294 kcal
Author
:
Sarah McMinn
Ingredients
Pie Crust
1 1/4

cup

All-purpose flour

1

tsp sugar

1/2

tsp salt

5

tbsp non-dairy butter

1/4

cup

coconut oil, solid

2-3

tbsp ice water
Instructions
Start by making your pie crust. Spray a 9" pie pan with cooking spray and set aside. ​

In a small bowl, combine the flour, sugar, and salt. Cut the butter and coconut oil in small pieces - about 1 tablespoon in size - and add to the dry ingredients. Using your hands or a pastry cutter, press the butter and coconut oil into the flour until the fats are evenly distributed and the dough resembles small pea-size pieces.

Dribble 1 tablespoon of ice water over the flour mixer and kneed together with your hands. Add water as necessary. You want a fairly dry dough (this creates the flakiness) but that has enough moisture to roll out and shape.

When you have the right consistency, wrap the dough in plastic wrap and refrigerate for at least 30 minutes. When the dough is firm, roll out onto a piece of floured parchment paper until your dough is about 1/8" thick and you have a circle about 12" across.

Placing your hand underneath the parchment paper, gently flip the crust into the pie pan. Peel off the parchment paper and press the crust evenly into the pie pan, trimming any edges that hang over. Place in the refrigerator and let chill for at least 1 hour.

Preheat the oven to 350F. Place a baking sheet on the bottom rack and fill it with water. This creates steam which will allow the pumpkin pie to bake more evenly.

In a powerful blender or food processor, combine all the ingredients for the pumpkin pie filling. Blend until completely smooth. Pour the pumpkin pie filling into your pie crust, spread evenly with an offset spatula, and bake, uncovered, for 45 minutes.

At 45 minutes, check for doneness. The pie should be mostly firm and the pie crust should be golden brown. If there is still a lot of jiggle to the pie, bake it for another 10 minutes before checking again.

Remove from oven and let cool completely at room temperature before transferring to the refrigerator to continue chilling. The pie should set for 4 hours but best overnight.

Serve with coconut whipped cream.
Recipe Notes
Leftover pie can be wrapped in saran wrap and placed in the refrigerator for up to 5 days. You can also freeze any uneaten pie to be enjoyed for up to 2 months.
Nutrition Facts
Vegan Pumpkin Pie
Amount Per Serving
Calories 294
Calories from Fat 126
% Daily Value*
Fat 14g22%
Sodium 352mg15%
Potassium 81mg2%
Carbohydrates 37g12%
Protein 3g6%
Vitamin A 30IU1%
Calcium 21mg2%
Iron 1.2mg7%
* Percent Daily Values are based on a 2000 calorie diet.
If you give this recipe recipe a try, snap a photo and share it on Instagram. Make sure to tag
@mydarlingvegan
so I can see your creations!