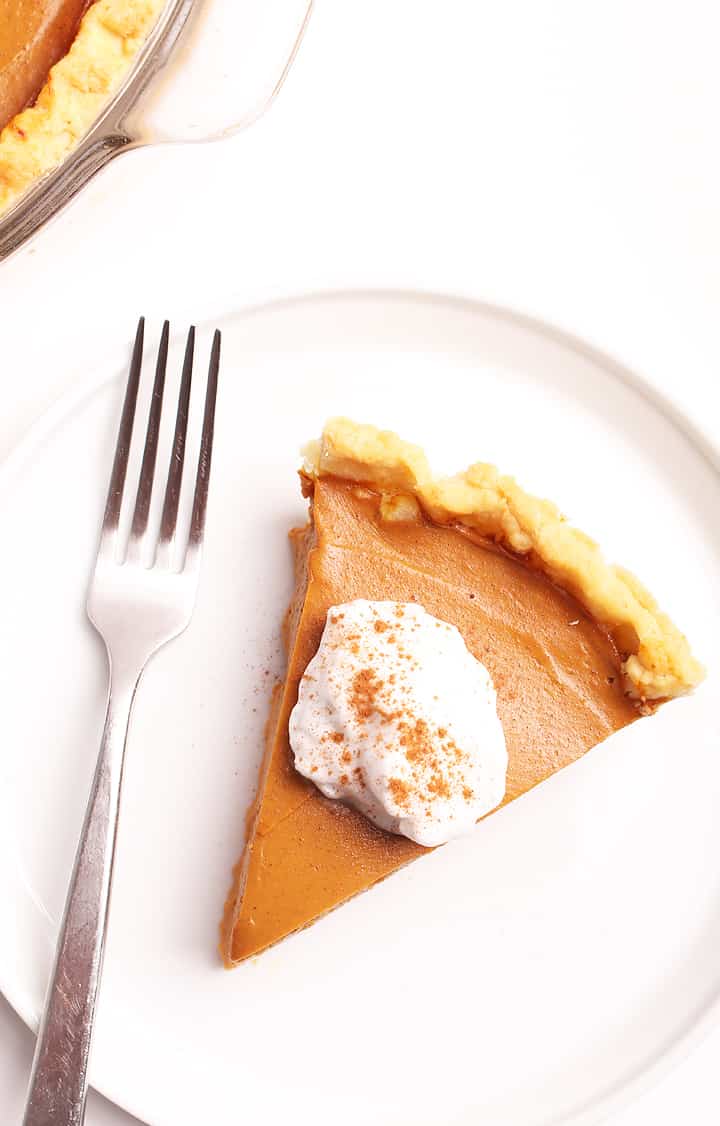 Course:
Dessert
Cuisine:
Vegan
Servings
:
8
people
Calories
: 294 kcal
Author
:
Sarah McMinn
Pie Crust
1 1/4

cup

All-purpose flour

1

tsp sugar

1/2

tsp salt

5

tbsp non-dairy butter

1/4

cup

coconut oil, solid

2-3

tbsp ice water
Start by making your pie crust. Spray a 9" pie pan with cooking spray and set aside. ​

In a small bowl, combine the flour, sugar, and salt. Cut the butter and coconut oil in small pieces - about 1 tablespoon in size - and add to the dry ingredients. Using your hands or a pastry cutter, press the butter and coconut oil into the flour until the fats are evenly distributed and the dough resembles small pea-size pieces.  

Dribble 1 tablespoon of ice water over the flour mixer and kneed together with your hands. Add water as necessary. You want a fairly dry dough (this creates the flakiness) but that has enough moisture to roll out and shape. 

When you have the right consistency, wrap the dough in plastic wrap and refrigerate for at least 30 minutes.  When the dough is firm, roll out onto a piece of floured parchment paper until your dough is about 1/8" thick and you have a circle about 12" across. 

Placing your hand underneath the parchment paper, gently flip the crust into the pie pan. Peel off the parchment paper and press the crust evenly into the pie pan, trimming any edges that hang over. Place in the refrigerator and let chill for at least 1 hour. 

Preheat the oven to 350F. Place a baking sheet on the bottom rack and fill it with water. This creates steam which will allow the pumpkin pie to bake more evenly. 

In a powerful blender or food processor, combine all the ingredients for the pumpkin pie filling. Blend until completely smooth. Pour the pumpkin pie filling into your pie crust, spread evenly with an offset spatula, and bake, uncovered, for 45 minutes.

At 45 minutes, check for doneness. The pie should be mostly firm and the pie crust should be golden brown. If there is still a lot of jiggle to the pie, bake it for another 10 minutes before checking again. 

Remove from the oven and let cool completely at room temperature before transferring to the refrigerator to continue chilling. The pie should set for 4 hours but best overnight. 

Serve with coconut whipped cream. 
Serving and Storing - Chill the pie for at least 4 hours. This pie is best when chilled overnight. This pumpkin pie should be served cold with coconut whipped cream. Serve this pie with your favorite holiday recipes for a classic dessert that no one will believe is vegan! Wrap leftover pie in plastic wrap and store in the refrigerator for up to 5 days or the freezer for up to 2 months.
Recipe Tips.
Put a water bath at the bottom of your oven. You can do this by filling a sheet pan with water and placing it on the bottom rack. The steam provides a slower and even bake.
When checking for doneness, you want your pie to be slightly wobbly. Give it a little shake and see how it feels. If it's too wobbly, the pie isn't set and will be too soft. If it has no wobble at all, the pie is overcooked and won't have the custard-like, melt-in-your-mouth feel.
Let the pie cool completely at room temperature before transferring it to the refrigerator to chill. This prevents the pie from cracking. Chill the pie for at least 4 hours. This pie is best when chilled overnight.
Calories Per Serving:
294
% Daily Value