Easy Vegan Pumpkin Cheesecake
Rich and creamy vegan Pumpkin Cheesecake made with a gingersnap crust and topped with toasted pecans for the perfect vegan Thanksgiving dessert.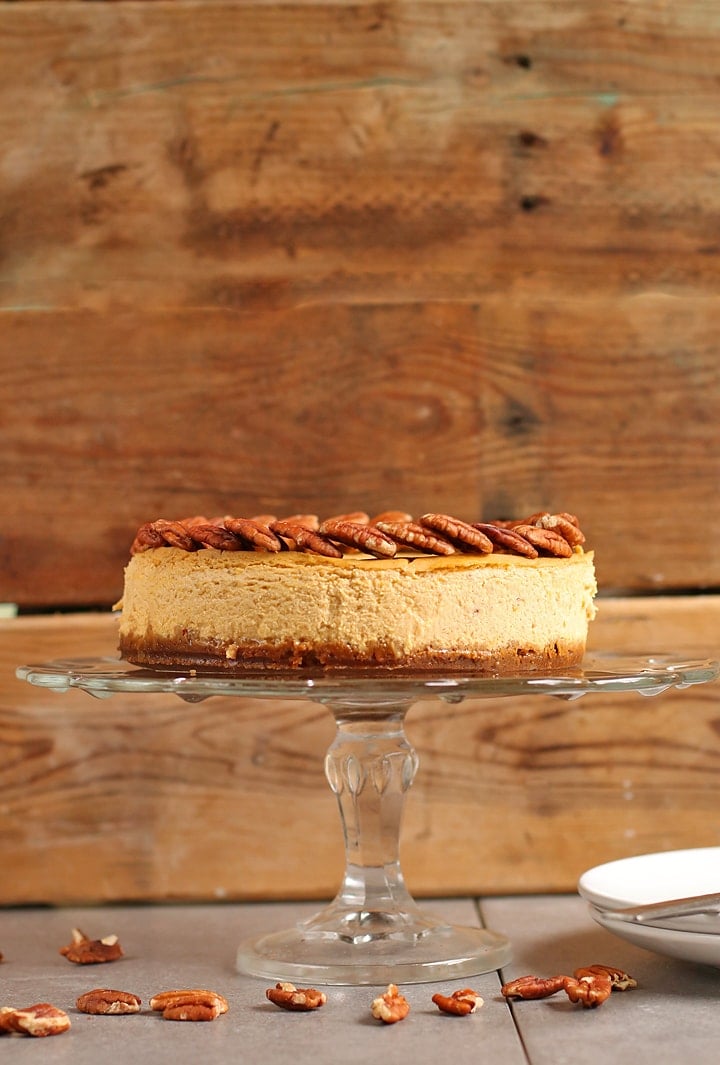 This post contains affiliate links. For more information read my privacy policy.
Are you ready to hear something awesome?
This year, for the first time in the 11 years that I've been vegan, I'm going to be attending an ALL VEGAN Thanksgiving. Over the past decade I've been to all kinds of Thanksgivings. Thanksgivings at the in-laws (when I was married), ones at my parents house, some meals in my friend's houses, and even one in the airport while traveling abroad. In all those years, in all those homes, I have always had to celebrate the holiday of gratitude and thanksgiving while in grief over the beautiful creatures that had to die for the inconsequential holiday experience.
This year, that's all going to change.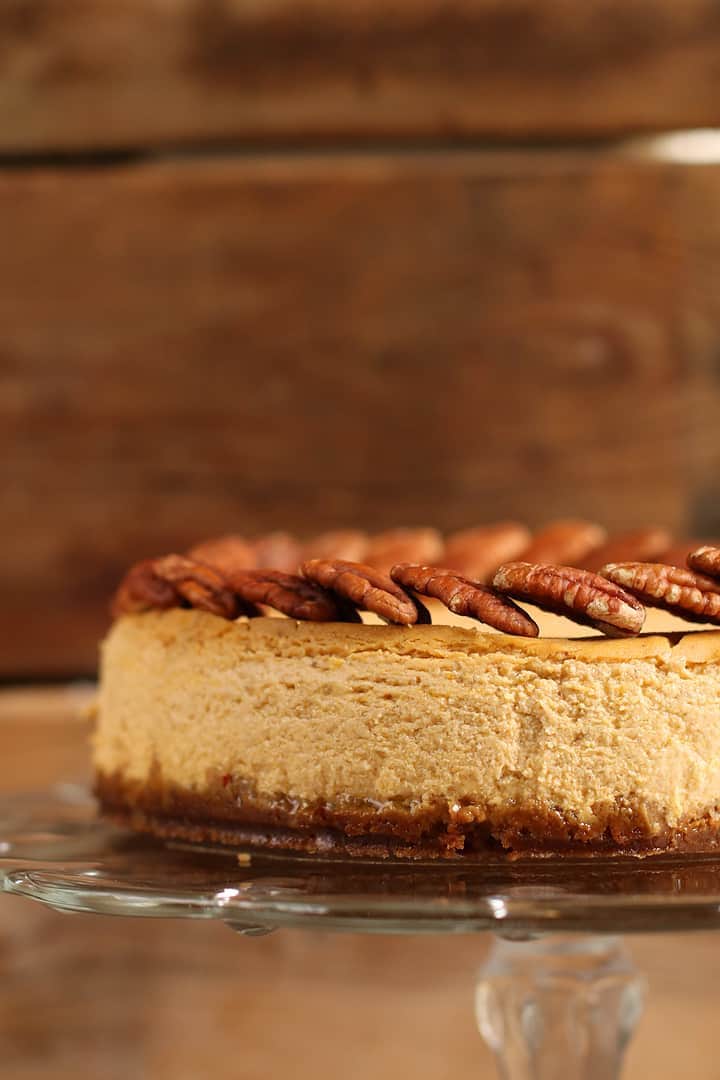 This year, as I celebrate the harvest of the season, my dear friends and family, and immense gratitude for life's good adventures, I get to do it in away that aligns with some of my deepest values of how we should live and eat.
And because I'm the vegan expert in the family, my mom has asked me to plan the menu that we will all contribute to this year's Thanksgiving.
For my family's first vegan Thanksgiving, I'm thinking:

And of course, this classic vegan pumpkin cheesecake for dessert.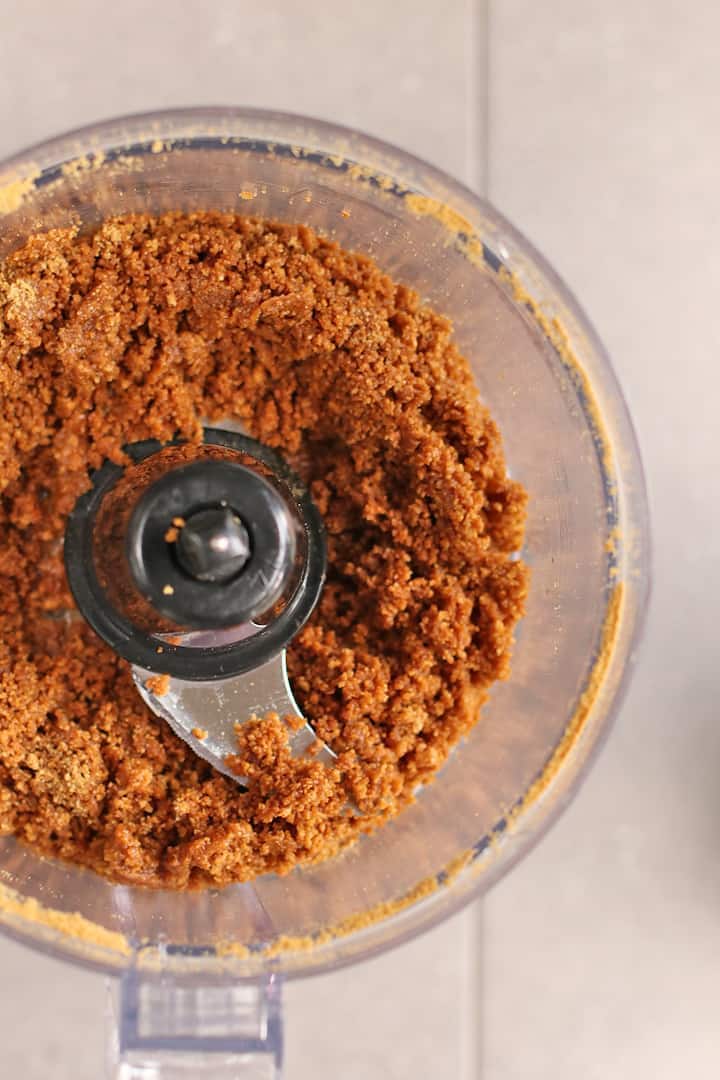 This vegan pumpkin cheesecake is a variation of the cheesecake I've been bringing the last few years to my Thanksgiving gatherings. What makes this cheesecake so incredible – besides the creamy pumpkin cheesecake filling that is spiced to perfection and baked into the smoothest, silkiest custard – is the gingersnap crust. For the crust I use just two simple ingredients (vegan gingersnaps and vegan butter) for the perfect spicy ginger zing and a dessert you'll be dreaming about for months after the holidays.
I will be talking a lot about Thanksgiving in the upcoming weeks on My Darling Vegan. I have many recipes coming your way such as individual pot pies, an apple and hazelnut stuffing, and my favorite garlicky green beans. I'm also will be doing a Q and A Thanksgiving podcast in a few weeks where I'll be answering all your holiday related questions; a "How to Survive the Holidays as a Vegan" guide of sorts. If you have any particular questions, please write them in and I will do my best to include them into the podcast.
But, since life is short, before we get to any of that, let's start with dessert.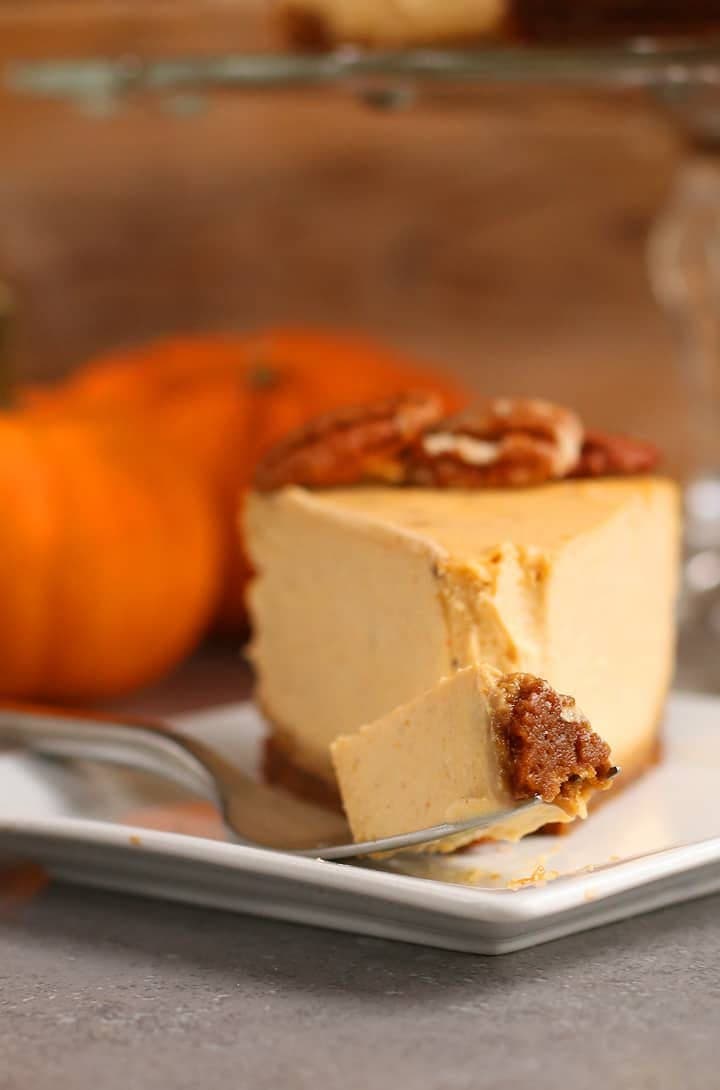 Vegan Pumpkin Cheesecake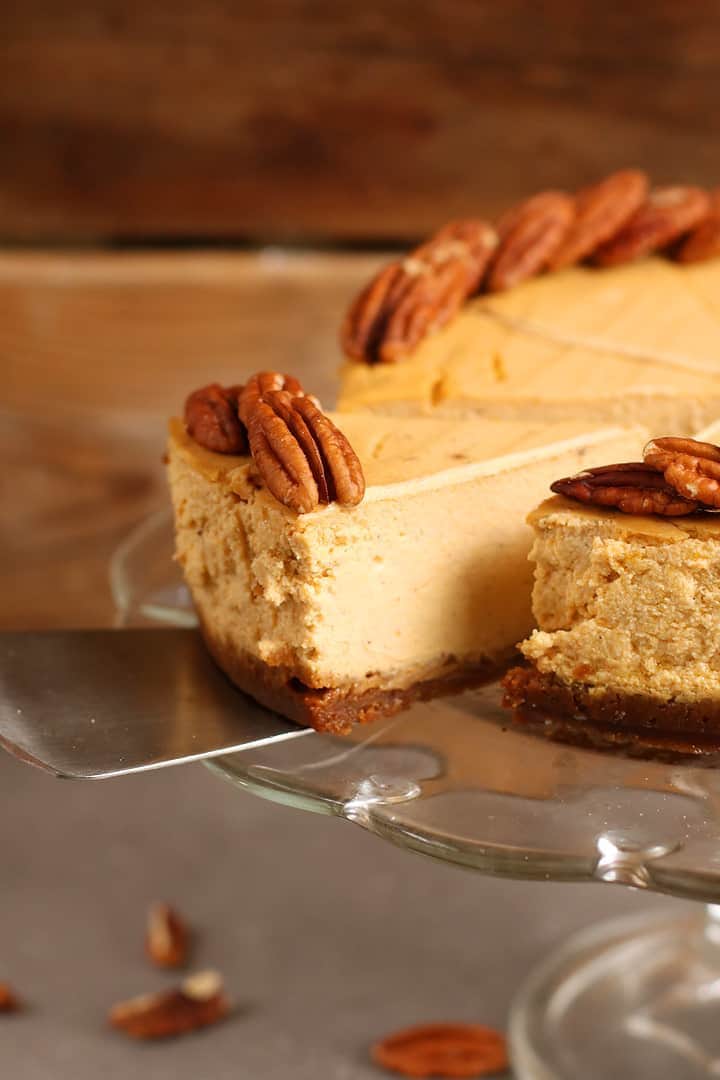 Rich and creamy vegan Pumpkin Cheesecake made with a gingersnap crust and topped with toasted pecans for the perfect vegan Thanksgiving dessert.
Course:
Dessert
Cuisine:
American, French
Keyword:
Vegan Pumpkin Cheesecake
Servings
:
12
servings
Calories
: 399 kcal
Author
:
Sarah McMinn
Ingredients
Instructions
Preheat the oven to 350 degrees F. Line a 9" springform cake pan with parchment paper and spray the bottoms and sides thoroughly. Set aside.

To make the crust, pulse the gingersnap cookies in a food processor to a uniform crumb. Once cookies are broken down, slowly add melted butter and process until well combined. Crust should stick together when pressed between your fingers. Transfer crust onto the prepared cake pan, evenly pressing the crust down around the bottom of the pan with your fingers, and set aside.

Clean out your food processor and then combine cream cheese and granulated sugar, blending until smooth and well combined.

Add pumpkin, tofu, and sour cream and blend again, scraping down the sides as necessary. Add flour, spices, and vanilla and blend until combined.

Pour cheesecake batter into prepared pan. Place on a baking sheet in the lower rack of your oven. Add 1/2" of water to the baking sheet to give it steam. This will allow the cheesecake to bake uniformly.

Bake for 60-75 minutes. Check for doneness after 60. The cheesecake will be wobbly, but start pulling away from the sides and cracking a little on the top when it's done. Remove from oven and let cool for 60 minutes before putting in the refrigerator to chill for at least 4 hours.

Serve chilled with pecans or coconut whipped cream.
Nutrition Facts
Vegan Pumpkin Cheesecake
Amount Per Serving
Calories 399
Calories from Fat 216
% Daily Value*
Fat 24g37%
Sodium 384mg17%
Potassium 116mg3%
Carbohydrates 44g15%
Protein 6g12%
Vitamin A 280IU6%
Calcium 62mg6%
Iron 2.2mg12%
* Percent Daily Values are based on a 2000 calorie diet.
If you give this recipe recipe a try, snap a photo and share it on Instagram. Make sure to tag
@mydarlingvegan
so I can see your creations!