Classic Vegan French Toast
This Classic Vegan French Toast is even better without eggs. Made with chickpea flour and soy milk, this vegan brunch recipe will certainly impress your family and friends.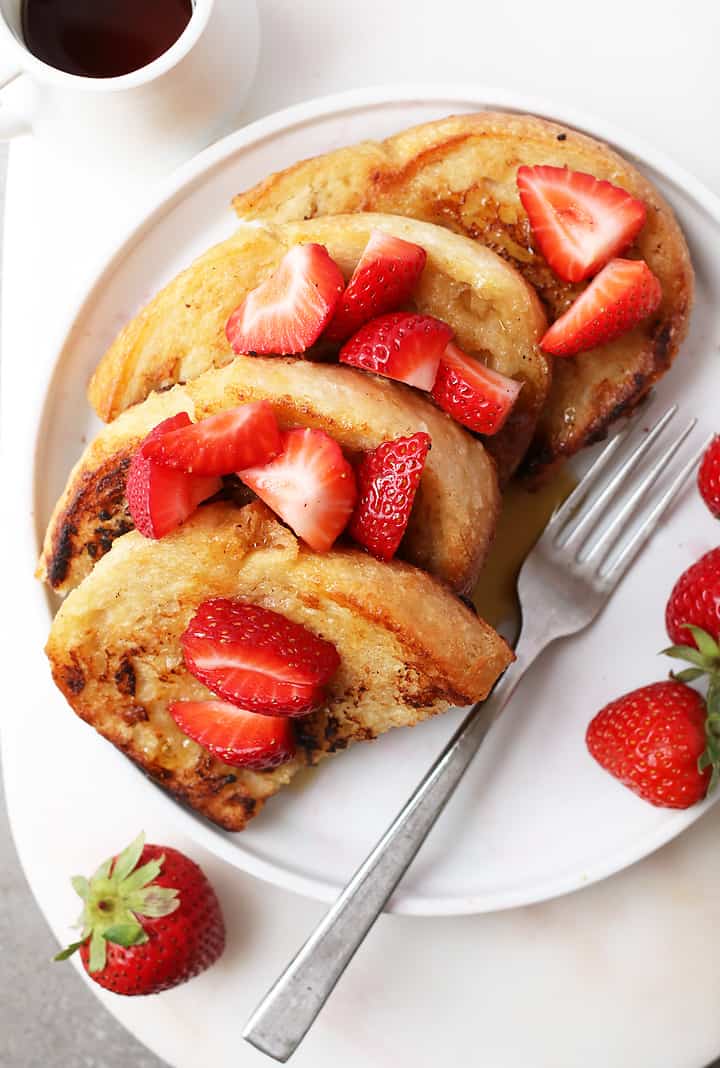 This post contains affiliate links. For more information read my privacy policy.
Originally published 9/8/2012. Last Updated 10/10/2018
It's time again to rummage through the posts in the archives and find one that is in desperate need of a make-over.
Oh, look! I found it.
Classic vegan french toast – a recipe that dates back to 2012!
Time to give it a little TLC.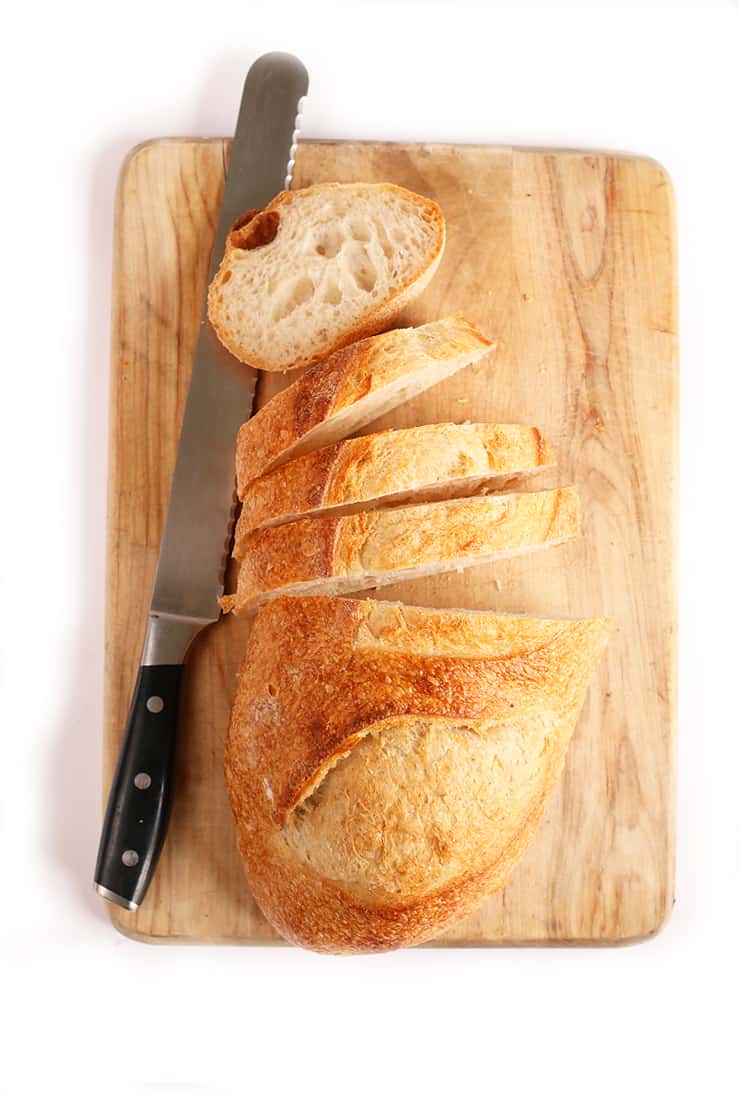 I love this vegan french toast recipe.
Unfortunately, this cannot be said about all the recipes that were created in my first year of blogging. There were many mistakes as I learned the art and business of food blogging. So many mistakes. But this French Toast recipe wasn't one of them. It simply had poorly shot pictures that made the toast look unappetizing and then, perhaps, fortunately, got lost in the migration nightmare of 2015.
Besides, at the time I was writing a blog that was read by roughly 8 people a month and so this French Toast got buried and lost for years.
Until today…
What is French Toast?
Typically French toast is made by dipping bread into a custard made of eggs and milk. The custard absorbs into the bread and then is fried in oil or butter for a delicate and delicious breakfast. I mean, a custard-coated, slightly sweetened, maple syrup-doused fried breakfast.
What's not to like?
How to make VEGAN French toast
Step One: Find the Perfect Egg Substitute
With the custard playing such a significant role in the flavor and texture of French toast,  finding the perfect egg substitute that mixes with the milk and creates the custard-coating is essential. After a quick look through my Guide to Replacing Eggs in Nearly Everything I was left with several options:
Chia Seeds
Silk Tofu
Agar Powder
Flax Seeds
and Chickpea Flour, for the win
I went with the chickpea egg for this recipe because:
It has no added taste
It's easy to find
It has no added texture
and creates the perfect custard-like consistency when blended together with milk
Just look at this cinnamon-spiced egg-like custard!
Step Two: Cook the French Toast
Once your French toast is completely coated in your chickpea flour custard, it's time to cook it!
When cooking French Toast you are trying to get both sides of the toast browned while making sure that the center is cooked. This can be difficult so it's important to be able to get your temperature just right. I have found that setting my electric griddle to 350F has given me the best results.
While an electric griddle is not completely necessary for French toast, I highly recommend one. Electric griddles are fairly cheap. This is the one I use: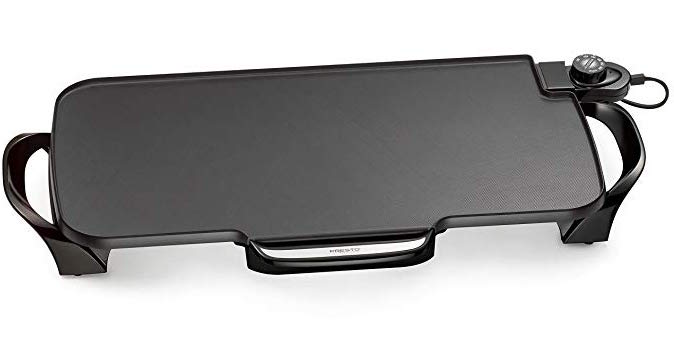 Which is under $40 on Amazon and it's something I use nearly weekly.
With the electric griddle, I can make all the French toast (or pancakes) at once (rather than in batches) and get the luxury of setting the temperature to exactly what I want. That means not having to worry about the French toast burning. However, if you don't have an electric griddle, you can do this on a skillet. It may involve trial and error in terms of getting the right temperature.
When the French toast is placed on the griddle, it should immediately sizzle. This fries the custard and creates a delicate crust around the French toast. The toast cooks 3 to 4 minutes per side until they are golden brown with dark flecks and soft and chewy in the middle.
Sound easy? It is!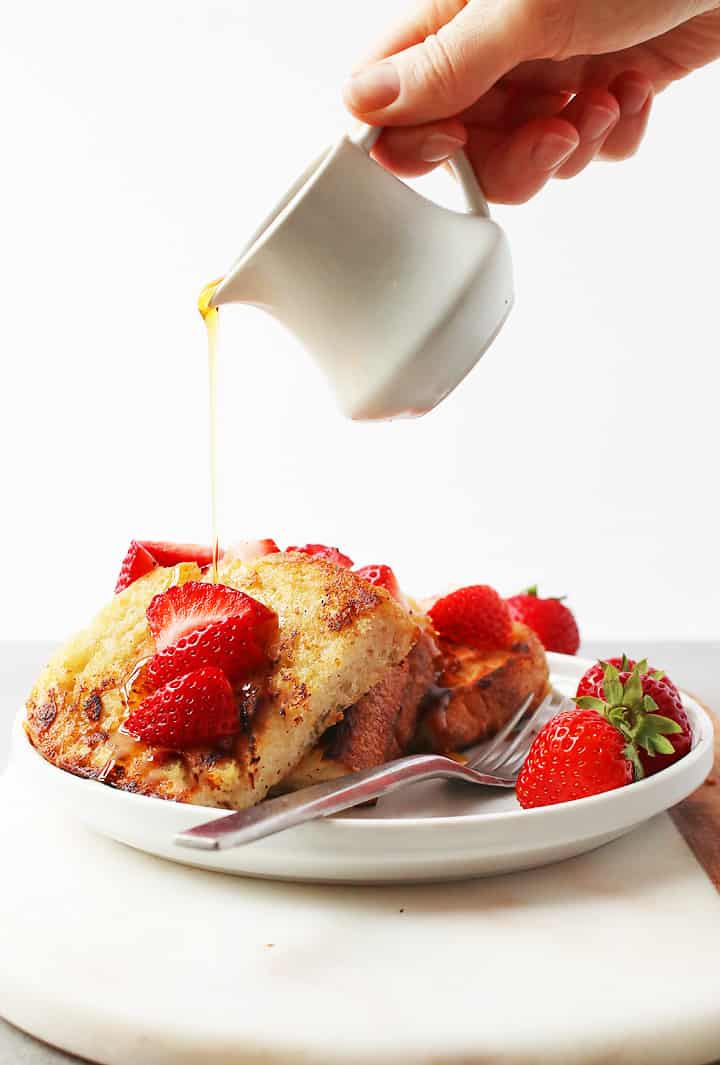 Serving the French Toast
The French Toast should be served immediately. If it sets too long, it will get cold and soggy.  Serve it with fresh berries, coconut whipped cream, and maple syrup.
Serve this French Toast as part of your Easter or Mother's Day brunch along with some vegan scrambled eggs and a Bloody Mary.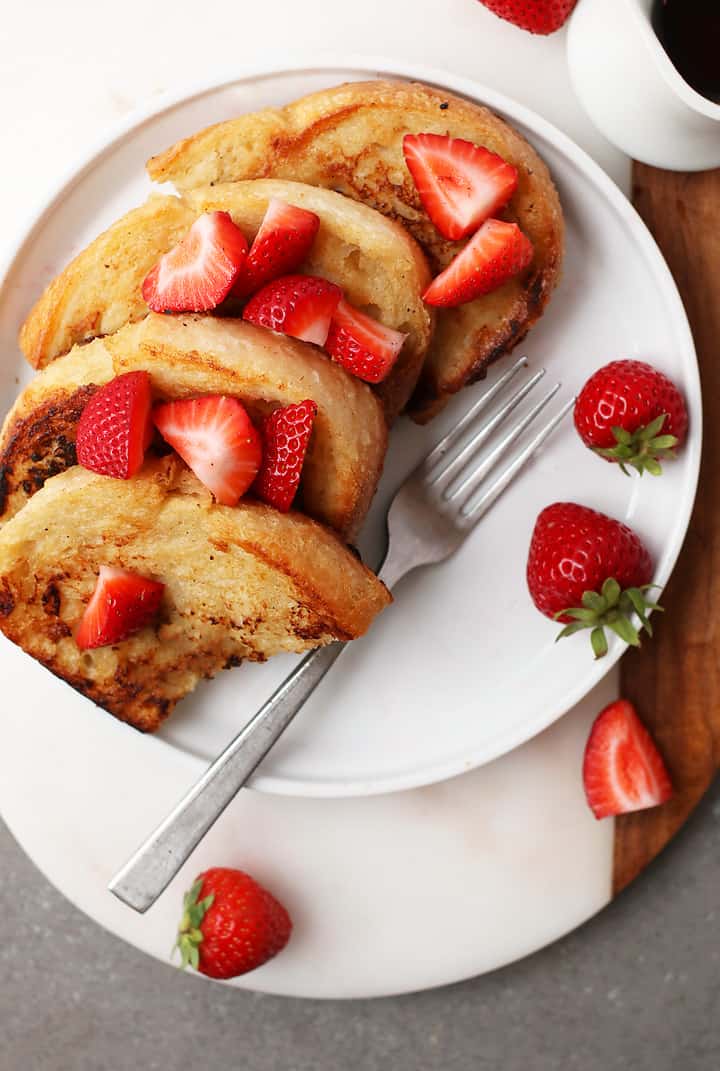 Tips and tricks for making the perfect vegan French Toast
It's good for your bread to be a little bit stale. This helps the French Toast hold together when dipped in the custard. You can either buy French bread and let it sit for a day or two or lightly toast your bread before submerging it in the custard.
I do recommend chickpea flour for this recipe. However, if you can't find chickpea flour at your grocery store, you can pick some up online. Otherwise, a flax egg works great for this recipe as well.
This recipe works best when cooked on a griddle. This ensures an even and consistent bake giving the French toast the lightly crispy crust with a soft and chewy middle.
Top your French toast with fresh berries, coconut whipped cream, and maple syrup.
For more flavor, try my Vanilla Spice French Toast.
That's it! Your step-by-step guide to making the perfect vegan French toast. Now let's take a look at the recipe below.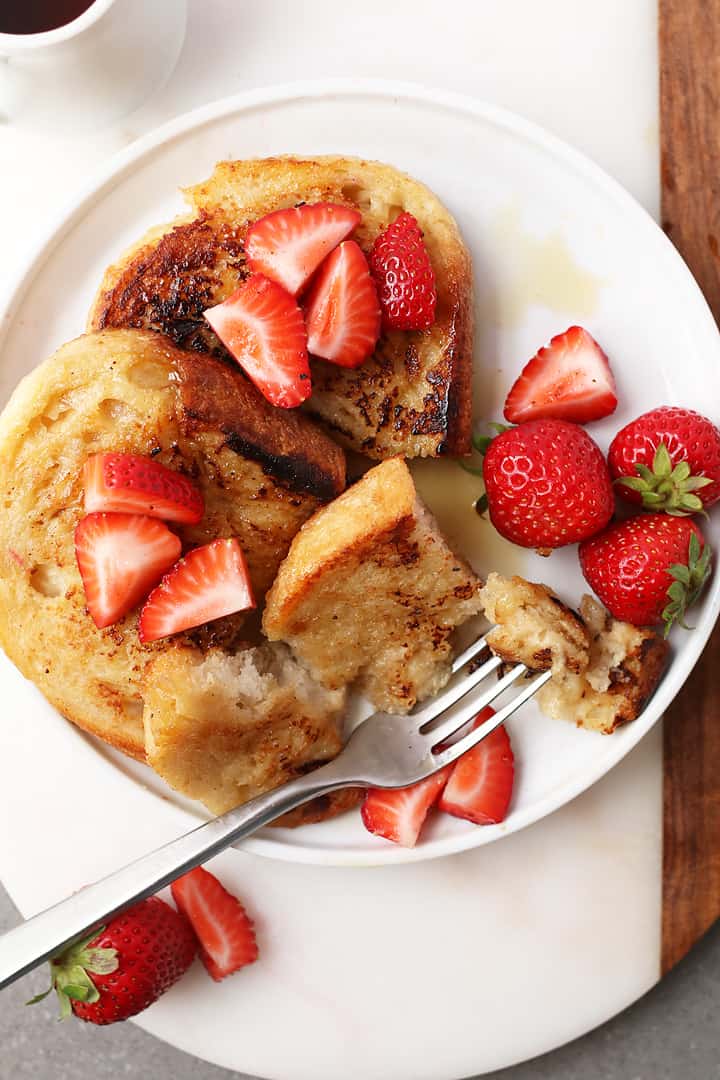 Classic Vegan French Toast
This Classic Vegan French Toast is made even better without eggs. Made with chickpea flour and soy milk, this vegan brunch recipe will certainly impress.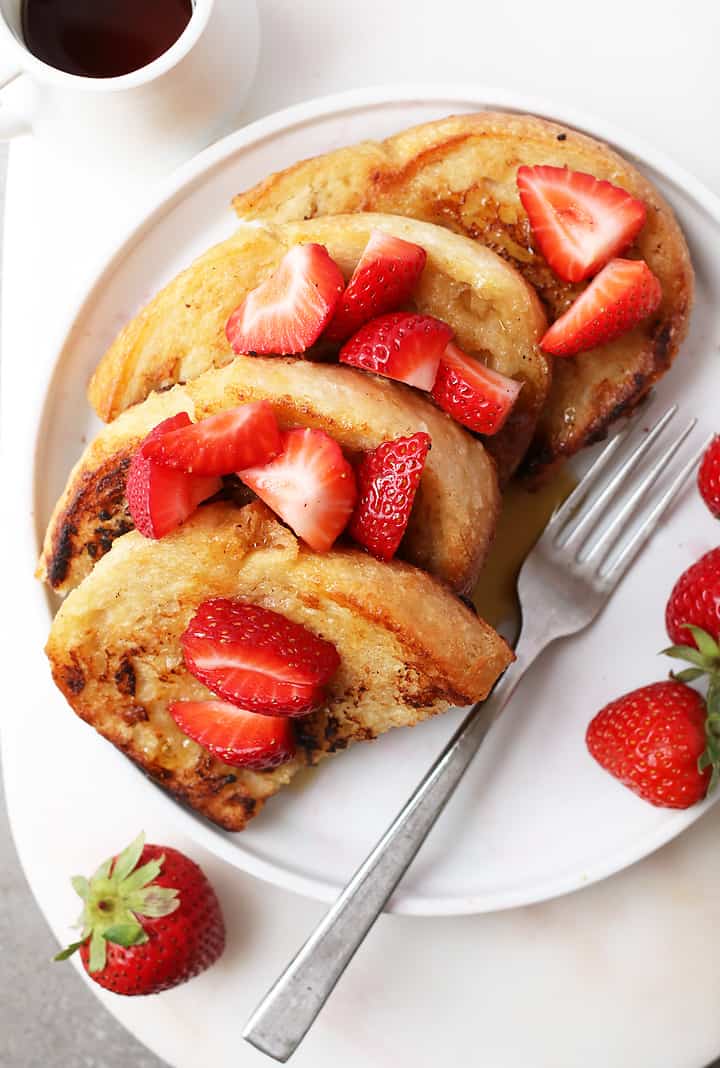 Course:
Breakfast
Cuisine:
Vegan
Keyword:
Vegan French Toast
Servings
:
6
people
Calories
: 300 kcal
Author
:
Sarah McMinn
Ingredients
Instructions
Preheat a griddle to 350 F. Add 1 tablespoon of vegan butter or coconut oil to the griddle and let it melt.

In a blender combining chickpea flour, soy milk, vanilla, and cinnamon until the chickpea flour has dissolved completely. Pour into a shallow dish and place sliced bread in the batter so that one side of the bread is completely submerged. Allow the batter to soak into the bread, 15-20 seconds, flip and soak for another 15 seconds.

Once griddle is preheated - it should sizzle with a drop of water - place soaked bread, 2-3 pieces at a time, onto griddle. Cook about 3-4 minutes per side, until golden brown and speckled. Remove from heat and set aside.

Top with maple syrup, and fresh fruit and serve immediately.
Nutrition Facts
Classic Vegan French Toast
Amount Per Serving
Calories 300
Calories from Fat 63
% Daily Value*
Fat 7g11%
Sodium 376mg16%
Potassium 241mg7%
Carbohydrates 46g15%
Protein 11g22%
Vitamin A 250IU5%
Vitamin C 5mg6%
Calcium 122mg12%
Iron 3.1mg17%
* Percent Daily Values are based on a 2000 calorie diet.
If you give this recipe recipe a try, snap a photo and share it on Instagram. Make sure to tag
@mydarlingvegan
so I can see your creations!