11 of the best vegan curry recipes all in one place! From Yellow "Chicken" Curry to Green Thai Curry, there is a recipe for everyone. Most recipes made in 30 minutes, all recipes gluten-free for quick and delicious weeknight meals.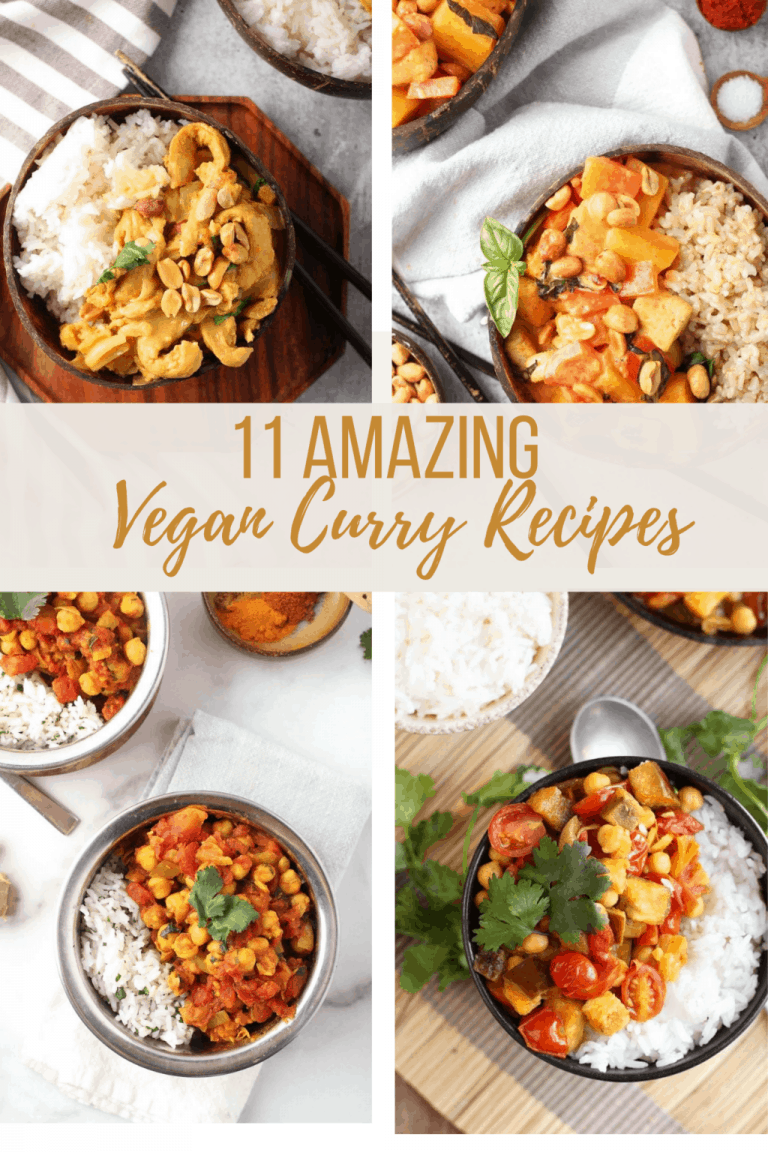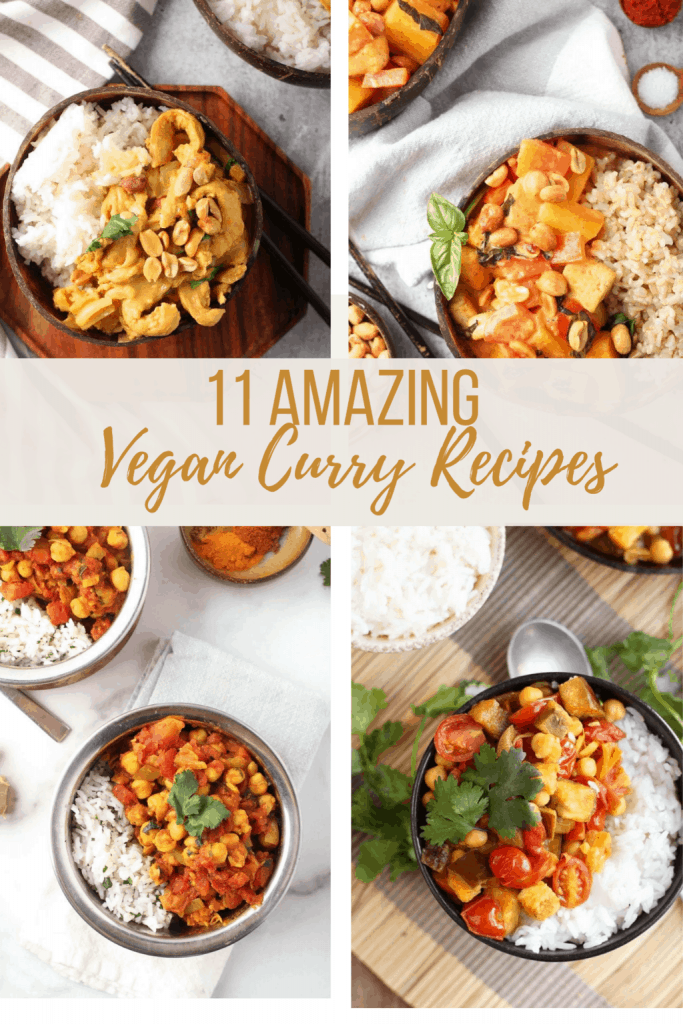 Disclosure: This post may contain affiliate links.
If you know anything about me, then you know I LOVE LOVE LOVE curry. Give me all the curries and I am one happy gal. Perhaps, that's why you'll find so many vegan curry recipes on my blog.
While there are many differences between Indian and Thai, curry of any kind is among my favorite food. And that is why I am back today rounding up my favorite vegan Thai and Indian curries from around the internet.
These recipes are:
rich and creamy
packed with protein
hearty and wholesome
spiced to PERFECTION
If you're on the fence about vegan curry, these recipes will change your mind.
---
Serving And Storing
Serving – Curry is best when it is served hot from the skillet over freshly made rice, cauliflower rice, or flatbread. Serve it with fresh herbs and spices.
Storing – Typically, you can store leftover curry in the fridge for 3-5 days or the freezer for up to 4 months. Make sure it cools completely before transferring it into freezer safe containers. To reheat, let the curry thaw completely at room temperature before gently reheating over the stovetop or in the microwave.
Tips And Tricks
When a recipe calls for herbs, ginger, or garlic, always use fresh. Rather than powdered spices, fresh add so much additional flavor to curry dishes that can't be beat.
Make the rice fresh when you serve the curry. If you want to make the curry the day before serving, you can, just make the rice when you intend to serve the curry. Rice tastes best fresh and often doesn't store well.
For a grain-free alternative, serve these curry dishes over cauliflower rice
Curries are generally very versatile. Feel free to taste and adjust seasonins liberally to your liking.
---
Frequently Asked Questions
Can I make curry in advance?
For sure! Often times curry is better on day two, after the flavors have been able to marinate for a bit. You can prepare most curry up to 3 days in advance and store it in an airtight container in the refrigerator. However, do not make the rice until you are ready to serve.
What is the difference between Indian and Thai curry?
While both curries contain vegetables and protein cooked in a thick rich sauce, Indian curry uses a mixture of dry spices such as cumin and turmeric and is cooked in a tomato sauce that is typically less heavy and rich. Thai curry, on the other hand, uses a curry paste and is made with fresh ingredients cooked together in a coconut milk sauce. Read more about the difference between the two types of curry.
Is curry spicy
Typically Thai curry is spicier than Indian curry but in all recipes, the spice can be adjusted. If you are concerned with spice, start with a small amount and taste and adjust as you go.
---
Vegan Curry Recipes
Here are 11 of my favorite vegan curry recipes.
This is a blend of Thai and Indian curry recipes that are all vegan, gluten-free, easy to make, and FULL of FLAVOR. If you are a curry skeptic, these delicous recipes will change your mind!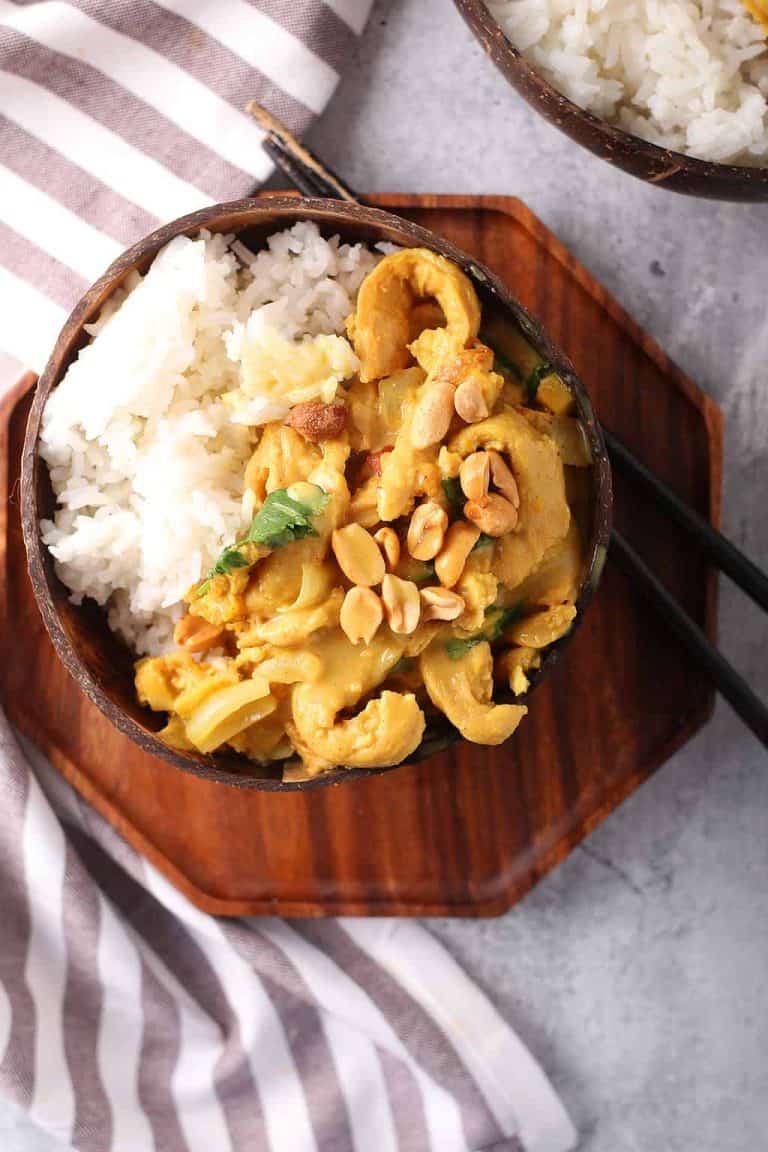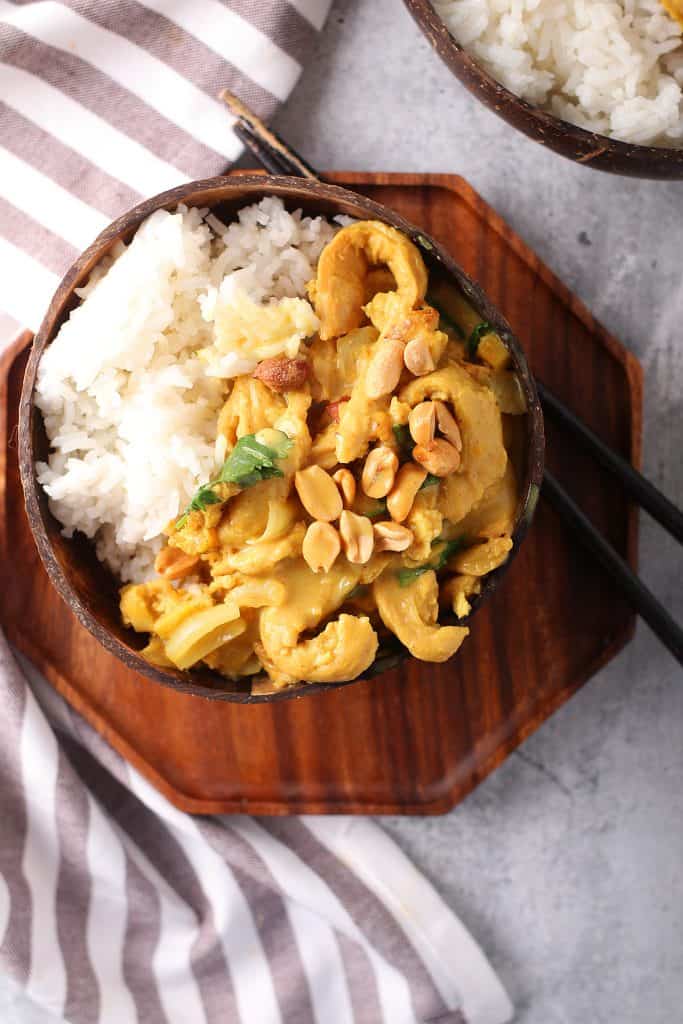 Vegan Yellow Curry w/ Soy Curls Chicken
Enjoy this delicious and easy Vegan Yellow Curry tonight! This recipe uses soy curls for an incredible chicken replacement that 100% vegan! Made in just one pot in under 30 minutes for a better-than-takeout family dinner.
Recipe »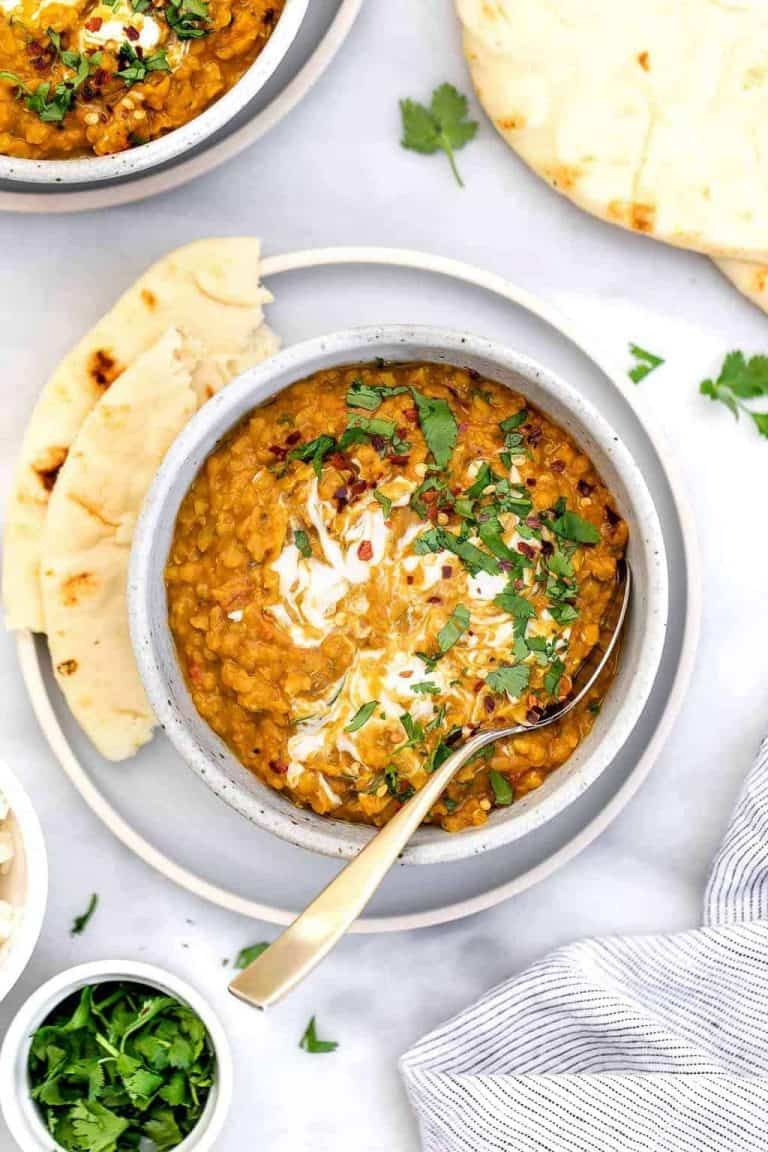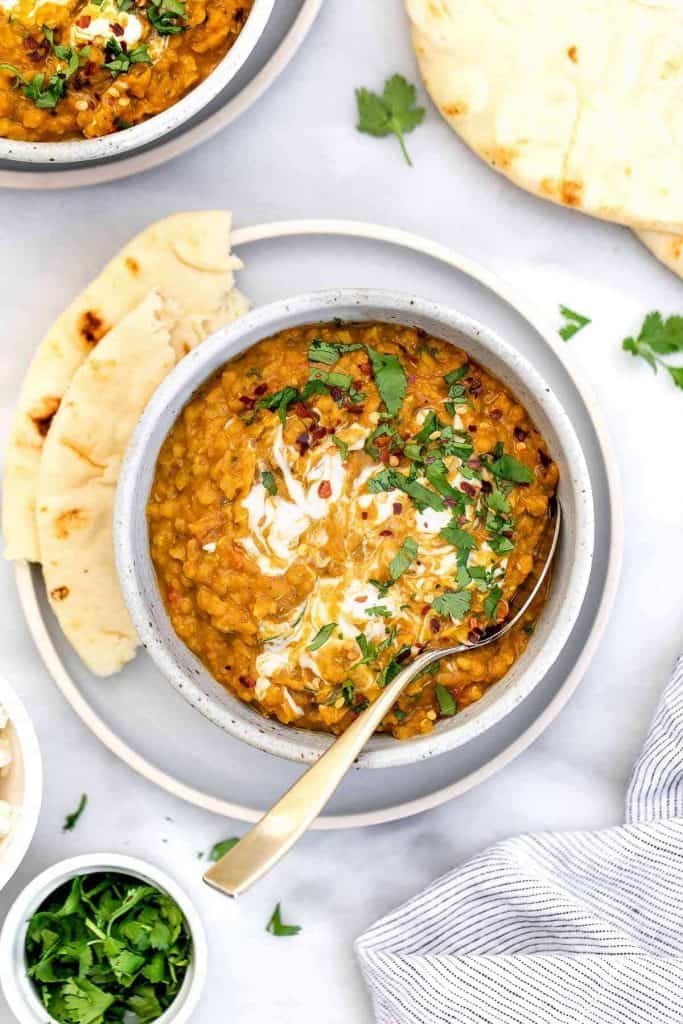 Red Lentil Curry
Photo Credit: Eat with Clarity
You're going to love this one pot red lentil curry recipe. It is full of flavor and easy to make for a delicious and healthy vegan and gluten free. Make it in just about 30 minutes!
Recipe »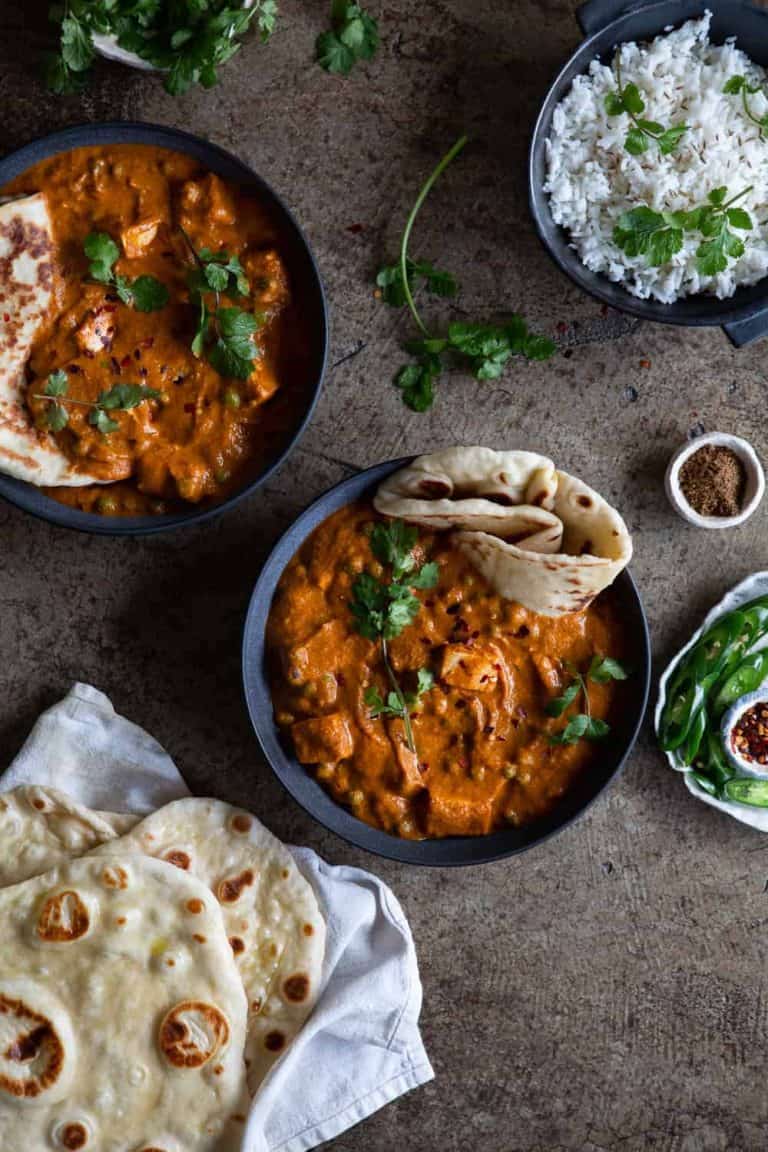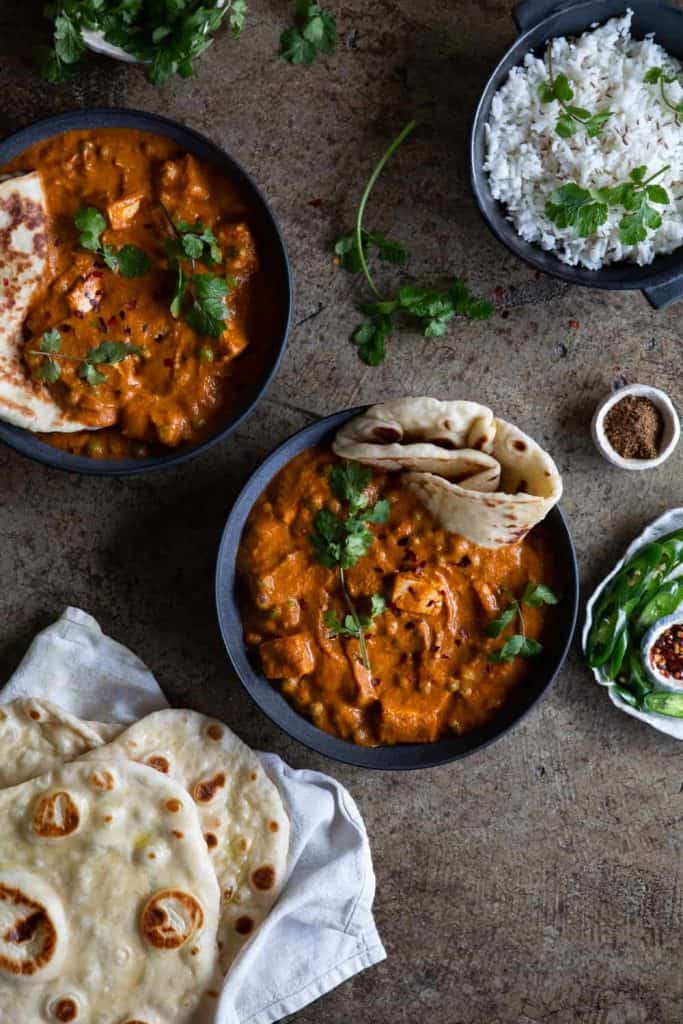 Vegan Matar Paneer
Photo Credit: The Minimalist Vegans
This vegan Matar Paneer is amazing! It's made with tofu "cheese" and green peas cooked in an ultra rich and creamy sauce. A delicious vegan and gluten free meal that can be made in 45 minutes.
Recipe »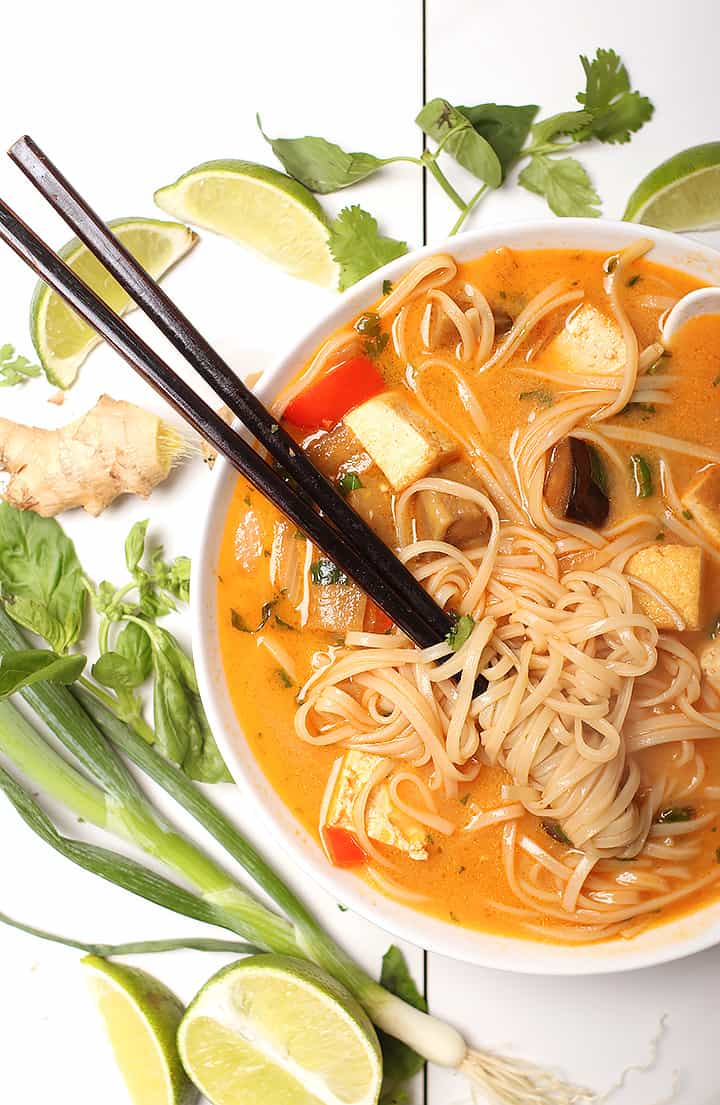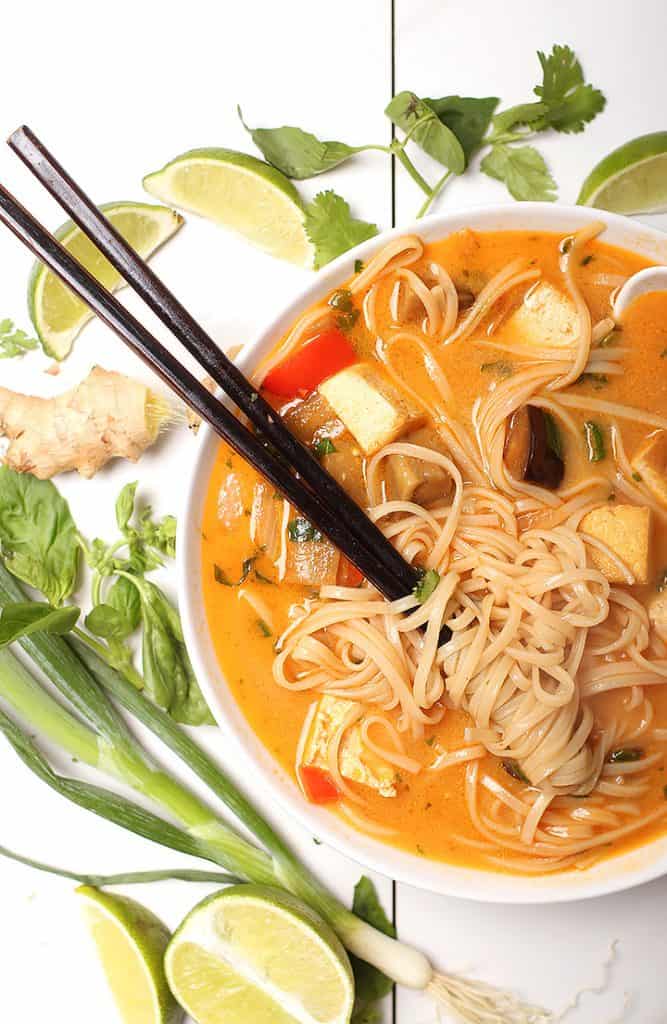 Thai Noodle Soup with Tofu
You're going to love this rich and creamy Thai Noodle Soup with tofu and eggplant. A hearty and delicious Thai soup for the perfect vegan and gluten-free meal. Made in just 30 minutes!
Recipe »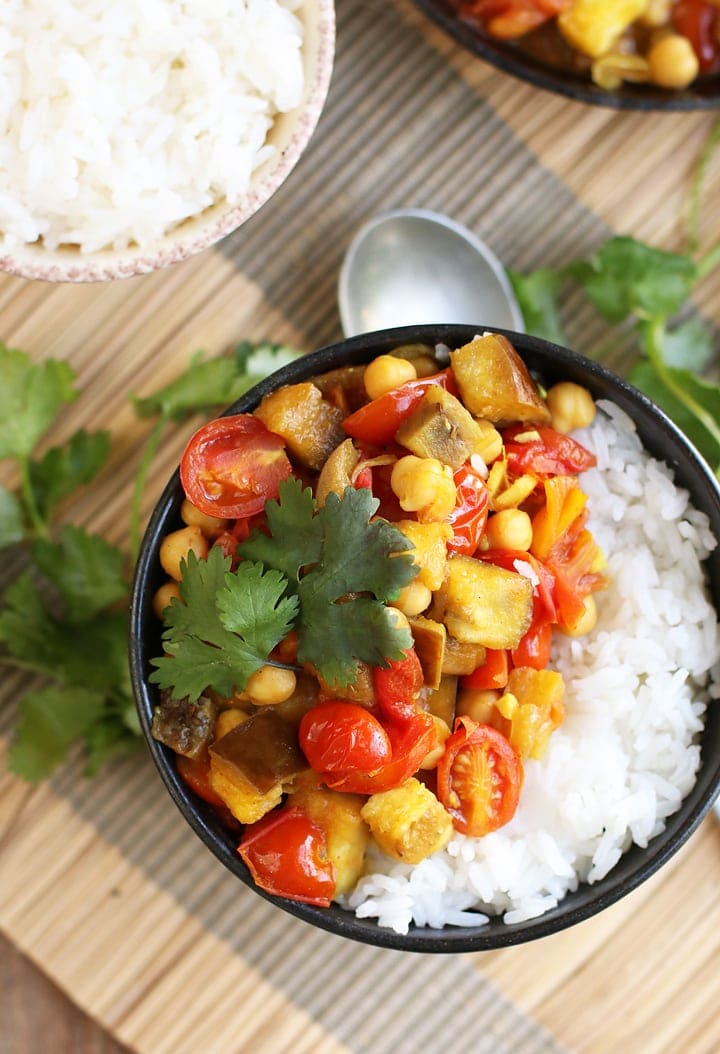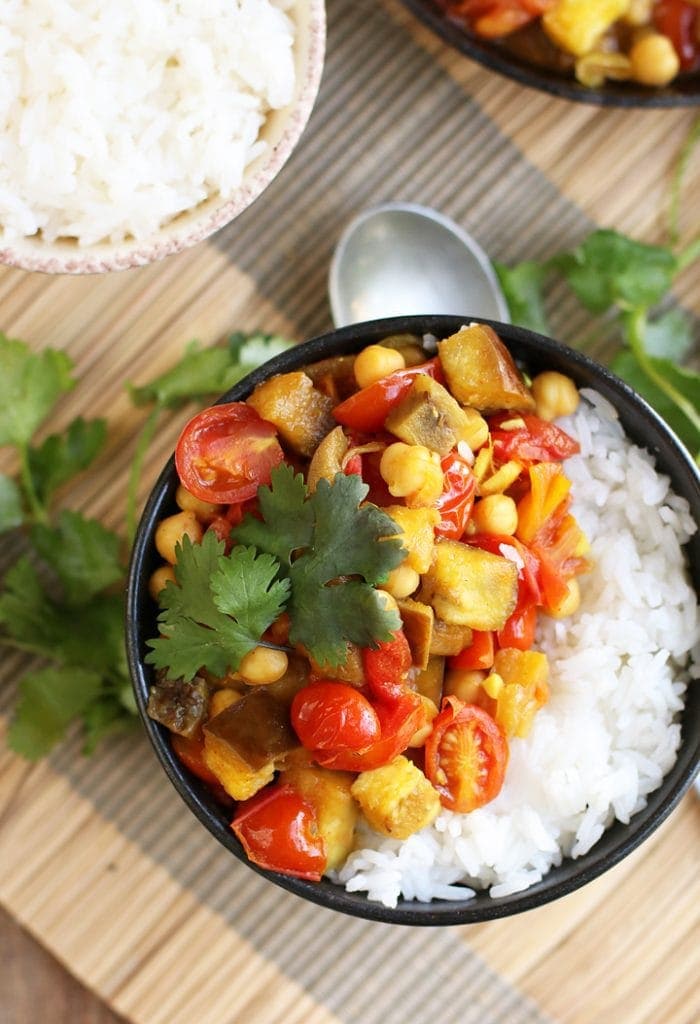 Eggplant Chickpea Curry
A delicious vegan and gluten-free Indian Eggplant Chickpea Curry that can be made in under 30 minutes for an easy healthy weeknight meal.
Recipe »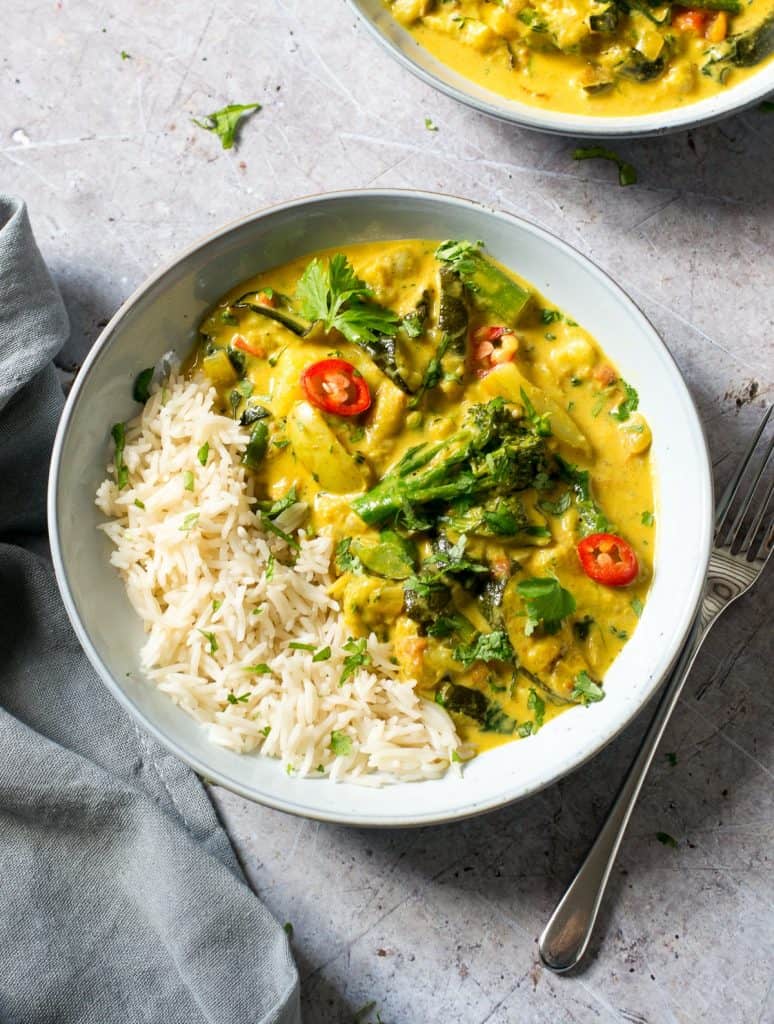 Creamy Courgette Curry
Photo Credit: The Veggie Space
This delicious zucchini curry is filled with veggies and fresh herbs all cooked together in a creamy coconut sauce for a quick and easy vegan and gluten-free dinner.
Recipe »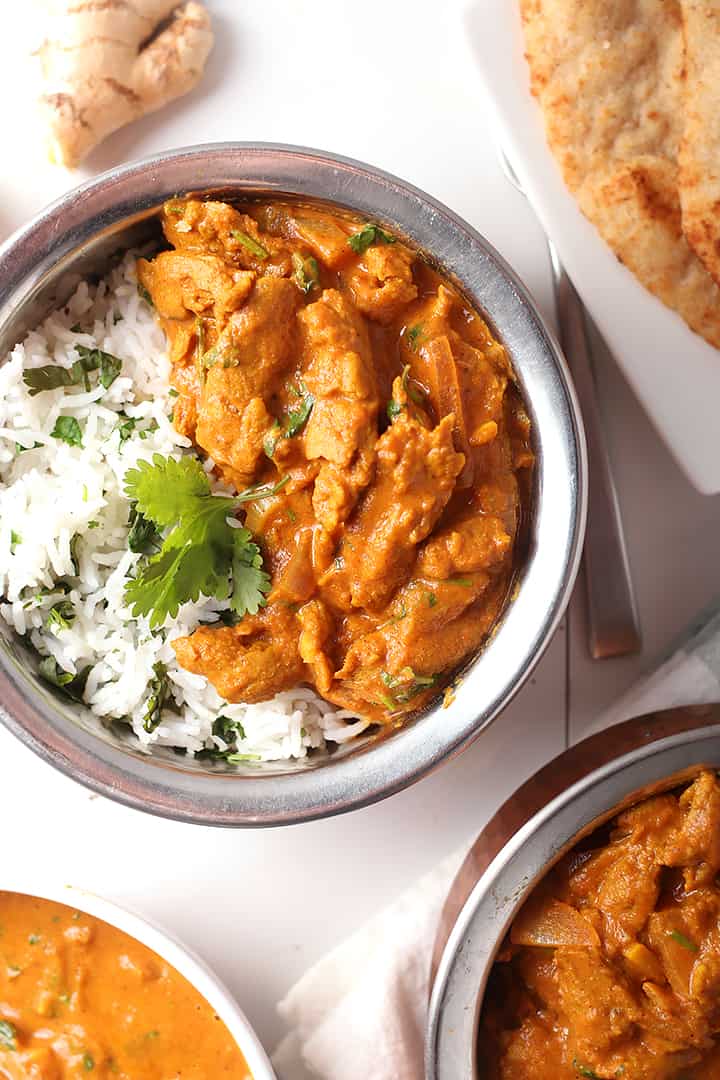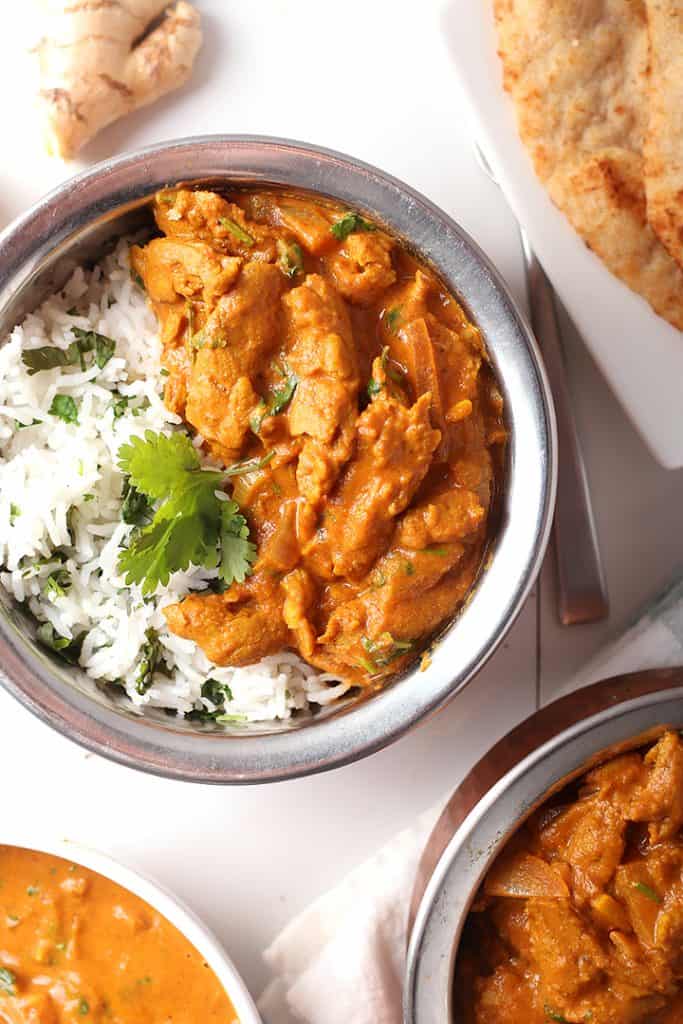 Vegan Tikka Masala with Soy Curls
Amazing Vegan Tikka Masala! It's an Indian-spiced masala sauce stewed with marinated soy curls and served over cilantro rice for a delicious vegan and gluten-free meal. Serve it with homemade naan and salad.
Recipe »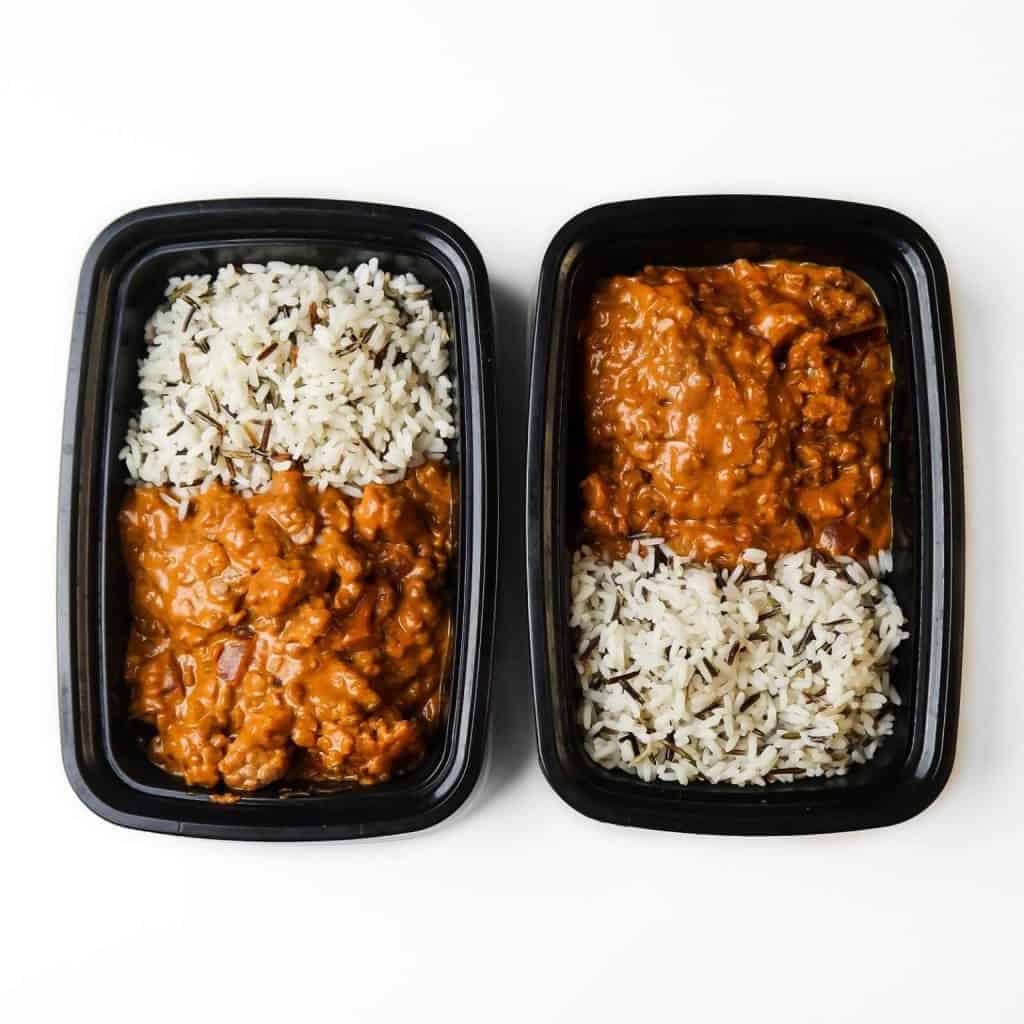 Red Lentil and Cauliflower Curry
Photo Credit: Sarah's Vegan Guide
You're going to love this vegan lentil cauliflower curry! It is rich, creamy, and full of flavor. Packed with plant-based protein and vegetables for a quick and easy lunch or dinner.
Recipe »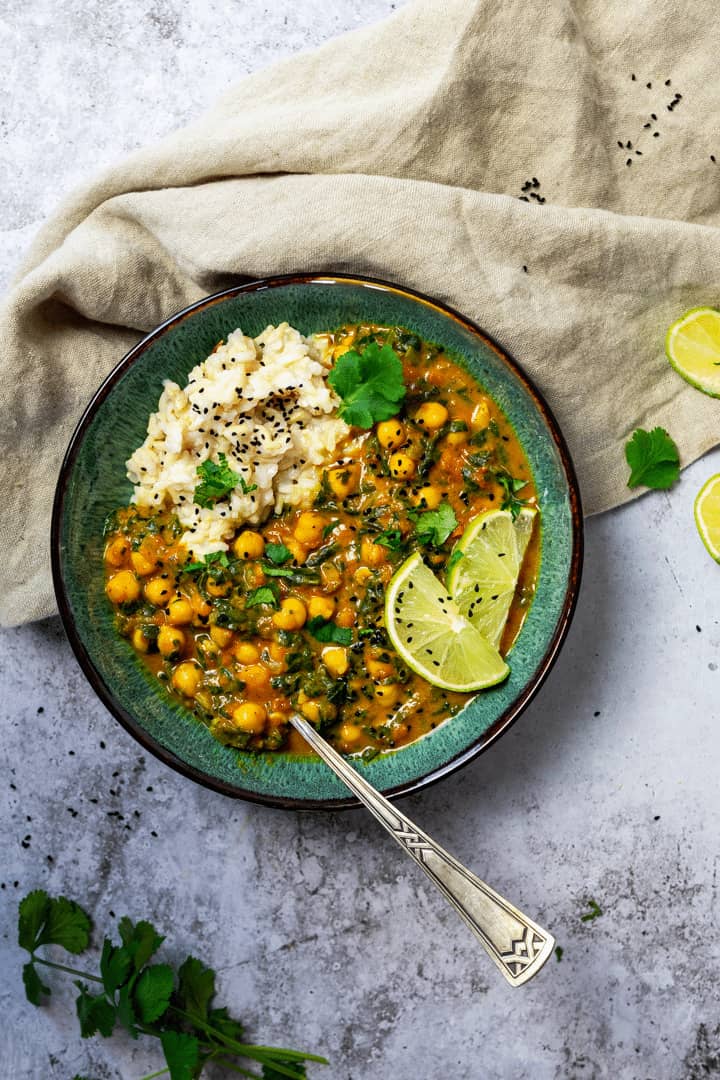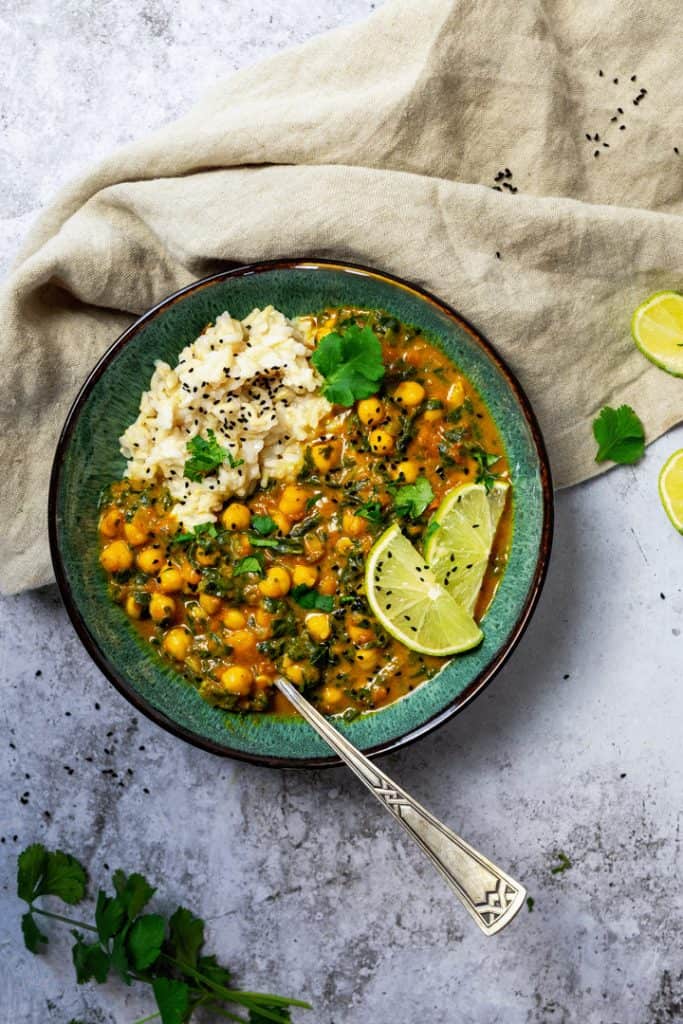 Creamy Vegan Chickpea Curry
Photo Credit: VeEatCookBake
Vegan chickpea curry is an all-time favorite. It's quick and easy to make and yet hearty and full of flavor. Made with a handful of simple to find ingredients, this delicious curry meal is perfect for vegan and omnivores alike!
Recipe »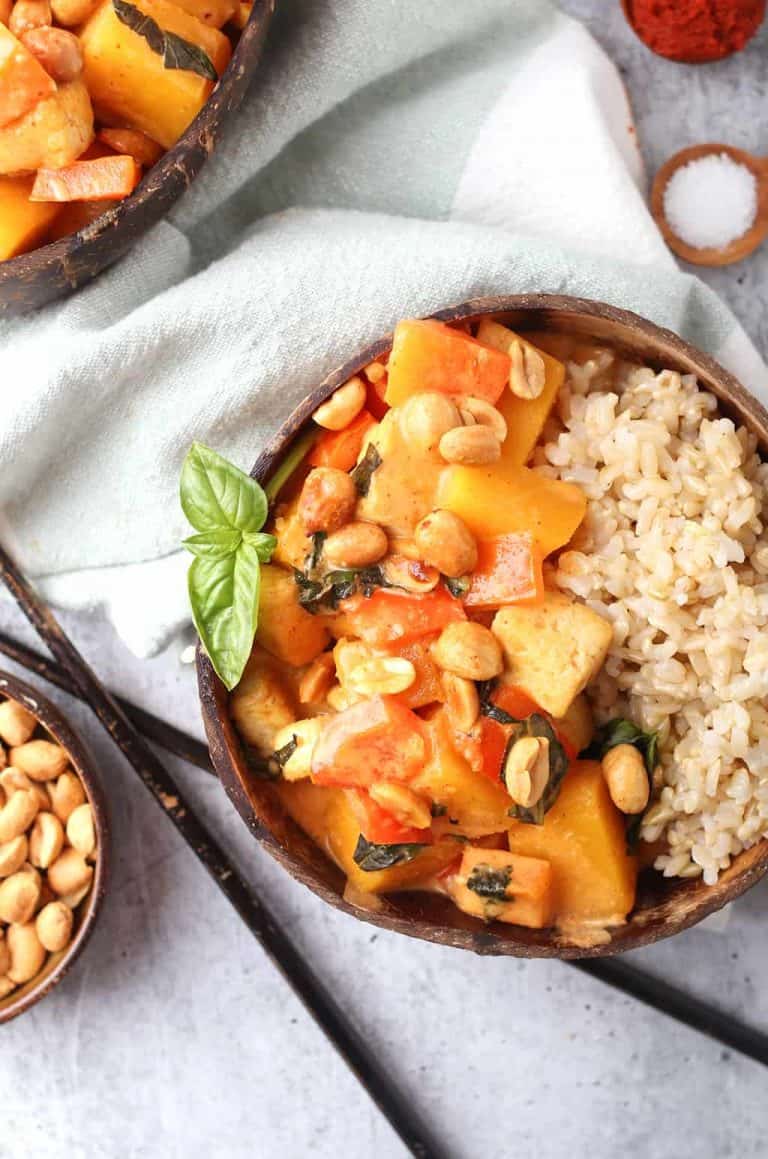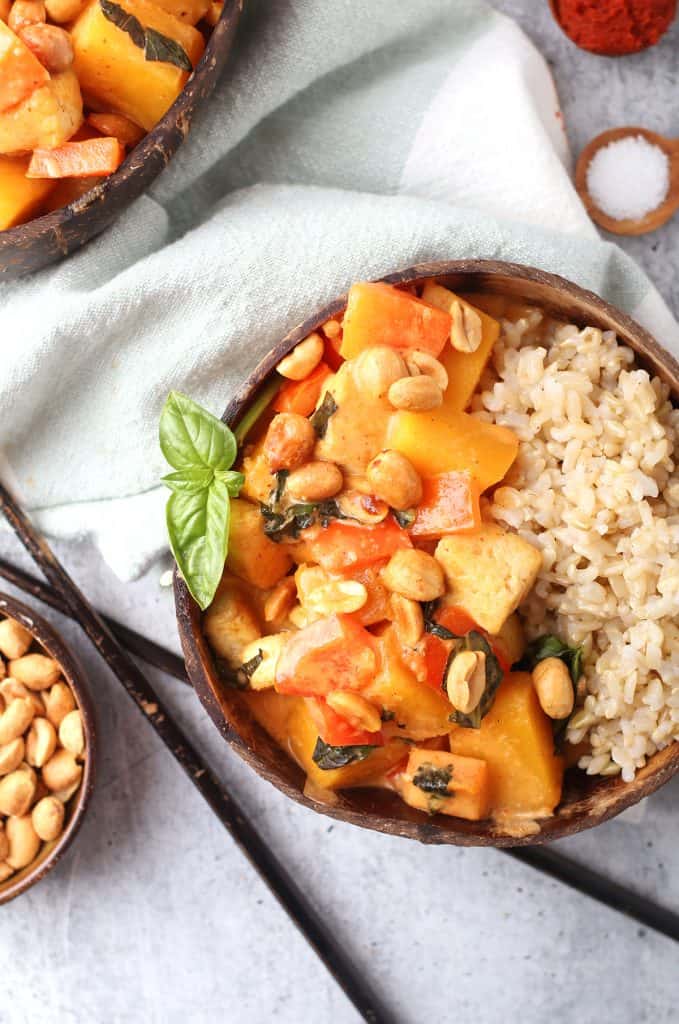 Vegan Pumpkin Curry
Get your pumpkin fix on with this Thai Pumpkin Curry. It is filled with fresh pumpkin, tofu, and red bell peppers and served with rice for a delicious and easy meal any day of the week.
Recipe »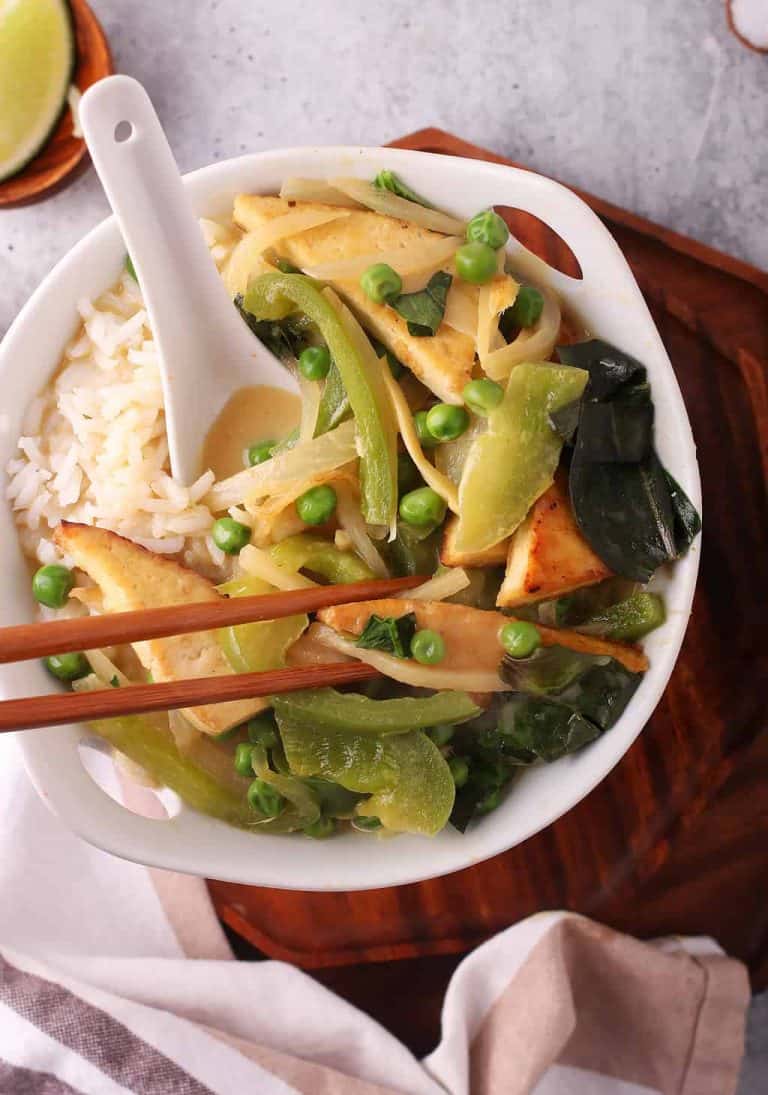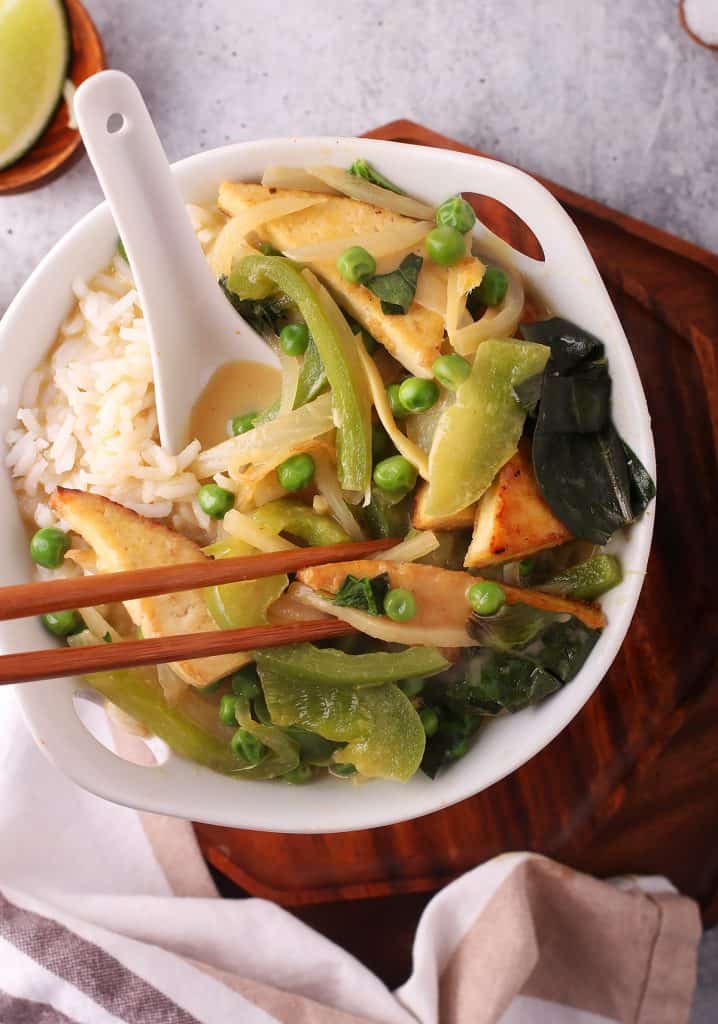 Vegan Thai Green Curry
This Thai Green Curry is filled with fresh green vegetables and pan-fried tofu for an easy healthy and delicious weeknight meal. Vegan and Gluten-free; made in under 30 minutes
Recipe »
More Vegan Recipe Roundups
That's it! 11 incredible vegan curry recipes. Now let's get cooking!
If you give one of these recipes recipe a try, snap a photo and share it on Instagram. Make sure to tag
@mydarlingvegan
so I can see your creations!