Triple Chocolate Pistachio Cookies
Enjoy all the decadence with these Triple Chocolate Pistachio Cookies made with Orgain Creamy Chocolate Fudge Protein Powder. Made in under 30 minutes! 
This post is sponsored by Orgain. All opinions are 100% mine
This post contains affiliate links. For more information read my privacy policy.
I'll be the first to admit that during the holiday season I am not the healthiest person.
Starting on Thanksgiving Day until New Year's Day, I like to indulge. During the rest of the year, I stick to a mostly whole foods diet limiting gluten, processed sugar, alcohol, and caffeine. But then as soon as Thanksgiving hits, I have that little voice screaming, "Indulge!" and that is exactly what I do. It's Christmas Cookies and Gingerbread Bundt Cakes from here on out.
However, as I get older and healthier the holiday season begins to take a toll on me. Too much decadence and I begin to feel sluggish. My pants start fitting tighter, I get winded with my normal yoga routine, and I feel constantly dehydrated. Usually by the time that New Year's Eve rolls around, I cannot wait to begin my 30 day cleanse. To prevent that from happening this year I'm trying a new concept: moderation while finding healthier ways to indulge in some of my favorite foods.
Enter these Triple Chocolate Pistachio Cookies.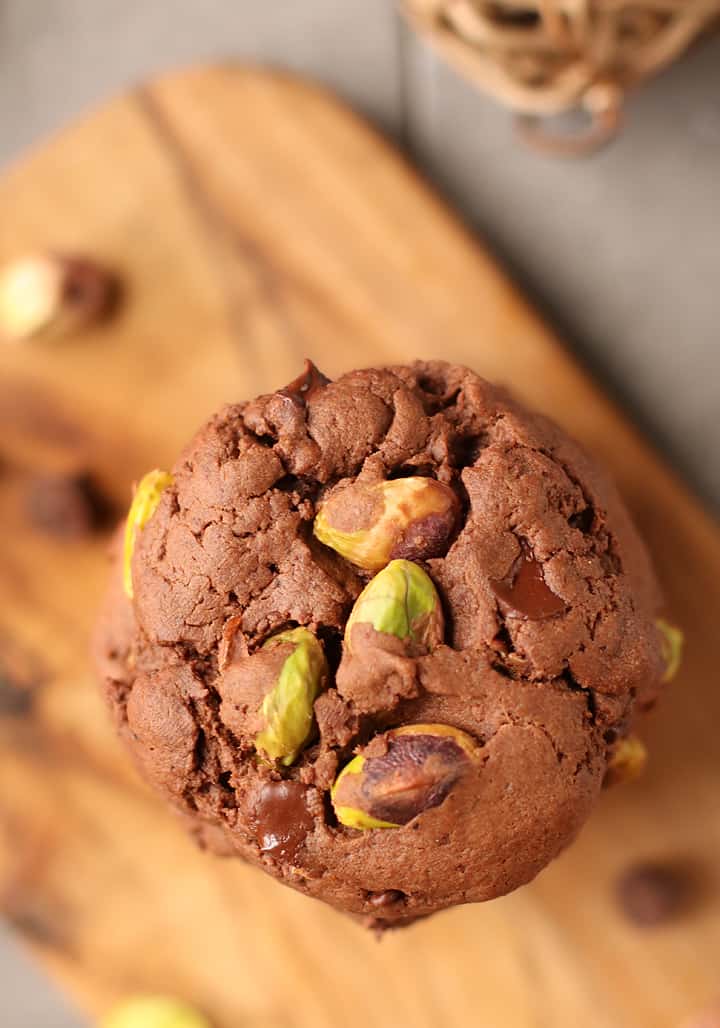 I took a classic chocolate fudge cookie and made a few alterations to make these cookies a delicious AND beneficial snack this holiday season.
Ingredients in these Triple Chocolate Pistachio Cookies
The ingredients in these cookies are simple and straight-forward. You will need:
What is Orgain Protein Powder?
Orgain is a company committed to making wholesome protein snacks, drinks, and powders that are high in natural proteins, and lower in sugar.
Committed to using the highest quality ingredients, all Orgain products are gluten-free, soy-free, non-GMO, and free of all artificial colors, flavors, and preservatives. Their plant-based protein powder is one of my favorites on the market because it doesn't have the gritty, artificially sweetened aftertaste is deliciously flavored, and contains 21 grams of protein per serving!
By adding 1/2 cup of Creamy Chocolate Fudge Protein Powder into these cookies, they become the perfect midday pick-me-up snack with a boost of energy that can carry you through the rest of your day.
More health benefits of these vegan chocolate fudge cookies
To add more benefit to these cookies, I substituted granulated sugar for maple syrup.
Benefits of Maple Syrup
Maple syrup, while still sugar that ought to be used in moderation, is preferable to granulated sugar as it contains higher levels of antioxidants and nutrients and, because of it's natural sweetness, can be used more sparingly. In addition to the protein powder and sweetener of choice, I also swapped out vegan butter for coconut oil.
Benefits of Coconut oil
reduces inflammation and arthritis
boosts the immune system
improves memory and brain function
improves digestion
provides extra energy and endurance
Now that's a win-win kind of cookie!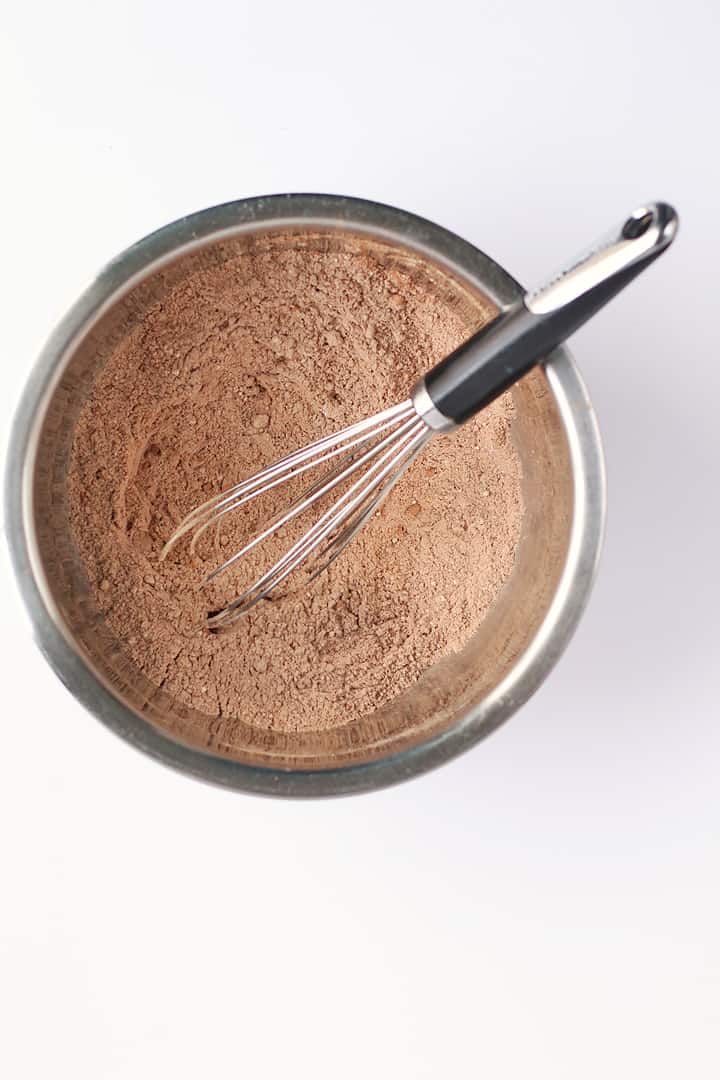 How to make vegan chocolate fudge cookies:
These vegan chocolate fudge cookies are a mix between my Chocolate Crinkle Cookies and Classic Chocolate Chip Cookies. They have a similar texture to that of the chocolate chip cookie with a little of the crinkle's fudgy chewiness. Then packed with chocolate chips and pistachios, there is a burst of chocolate in every bite.
And the great news is they are no harder to make than any of my other cookies.
Step One – Mix together the dry ingredients.
That's the flour, cocoa powder, Orgain protein powder, baking powder, and salt.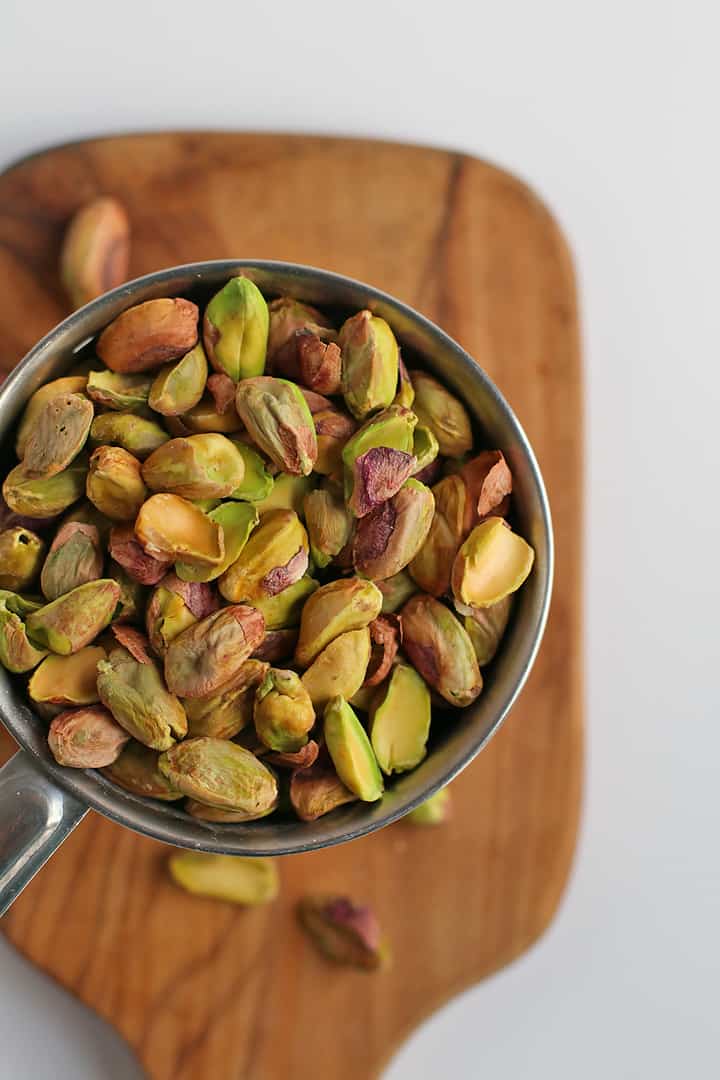 Step two – Combine the wet ingredients
In a separate bowl combine the melted coconut oil, apple sauce, maple syrup, and vanilla extract. The applesauce acts as the binder (egg replacer). You can't taste the applesauce but if you would prefer a different kind of egg replacer, check out my complete guide on replacing eggs to get a few more ideas.
Add the wet ingredients to the dry ingredients until they are just combined. Be careful not to overmix or the dough will become gummy and dense. Fold in the pistachios and chocolate chips, mixing until they are incorporated.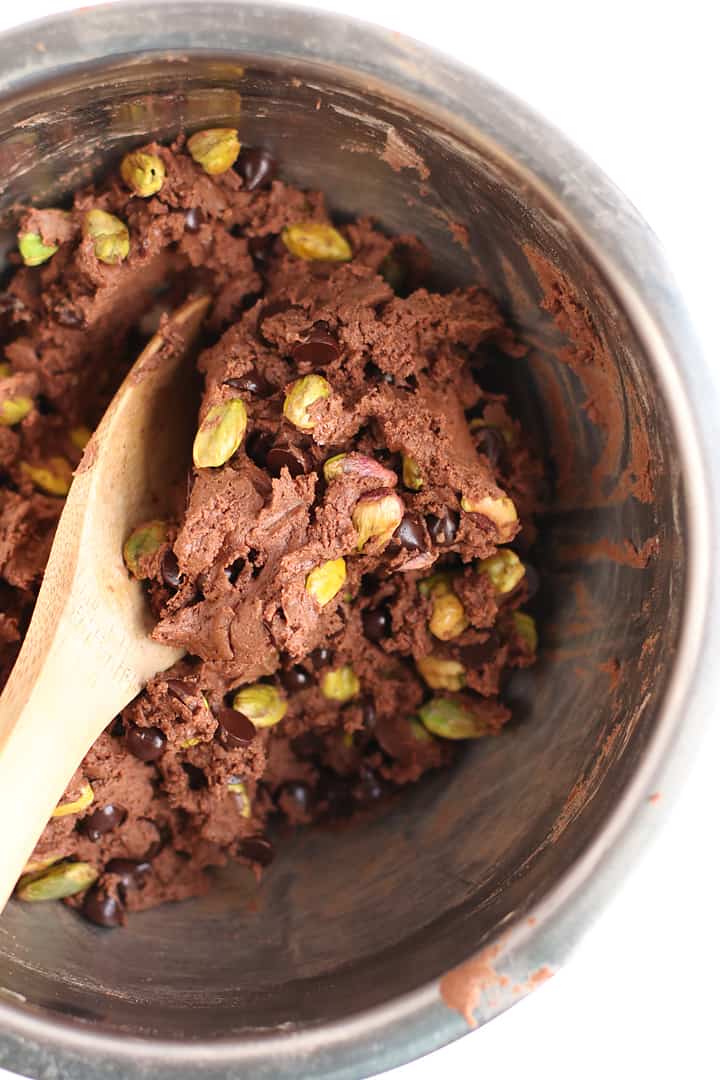 Step three – scoop and bake
I prefer using a small cookie scoop for this part. Cookie scoops allow all the cookies to be even with minimal mess. Scoop the cookies onto the tray, about a dozen per tray, and press down slightly before placing them in the oven.
Bake the cookies for about 10 minutes. Remove from the oven when the edges have just started to set and the centers are still slightly underdone. This is key for the chewiness of these vegan chocolate cookies. Once they have cooled about 5 minutes on the baking sheet, they can be transferred to a wire cooling rack to cool completely.
That's it! So easy.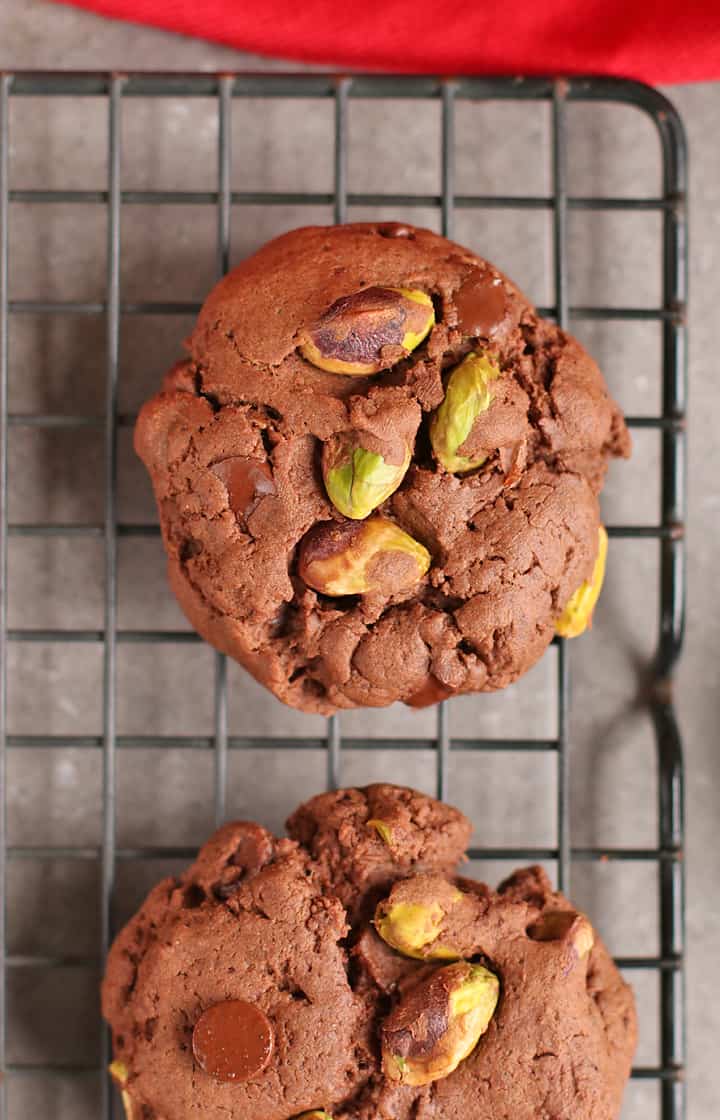 Tips and Tricks for making the PERFECT vegan chocoate fudge cookie:
These Triple Chocolate Pistachio Cookies are fairly straight forward. In fact, they are nearly fool-proof. Here are a few things to keep in mind when making these cookies.
Do not overmix the dough. Overmixing encourages the gluten to develop making your cookies gummy and dense.
Pull cookies out when they are slightly underdone. I found 10 minutes to be the perfect baking time. They will continue to harden as they cool, giving you a crispy outside with a deliciously fudgy and chewy center.
Once cookies are completely cool, they can be stored in an airtight container at room temperature for up to 5 days. Raw dough can also be frozen for up to 2 months.
If you only want to make only a few at a time, you can store the remaining dough in the freezer. To do this, roll all the dough into balls. Place them on a baking sheet in the freezer to freeze all the way through. Once frozen, transfer your cookie dough into a large ziplock bag and return to the freezer. You can store the cookies this way for up to 2 months. When you're ready to bake, remove from freezer and bake!
In the end, you'll have a fudge-y, brownie-like cookie that is sweet and salty, filled with chocolate and pistachios, plus little protein for the holiday energy boost you need!
More Vegan Christmas Cookie Recipes
Here are a few of my favorite vegan Christmas recipes:
Get all of my Christmas cookie recipes here.