3-Ingredient Vegan Chocolate Truffles
Make your Christmas chocolates at home with this simple 3-ingredient Vegan Chocolate Truffle recipe. A rich and decadent chocolate ganache base covered in a crisp chocolate coating, these truffles make the perfect DIY holiday gift.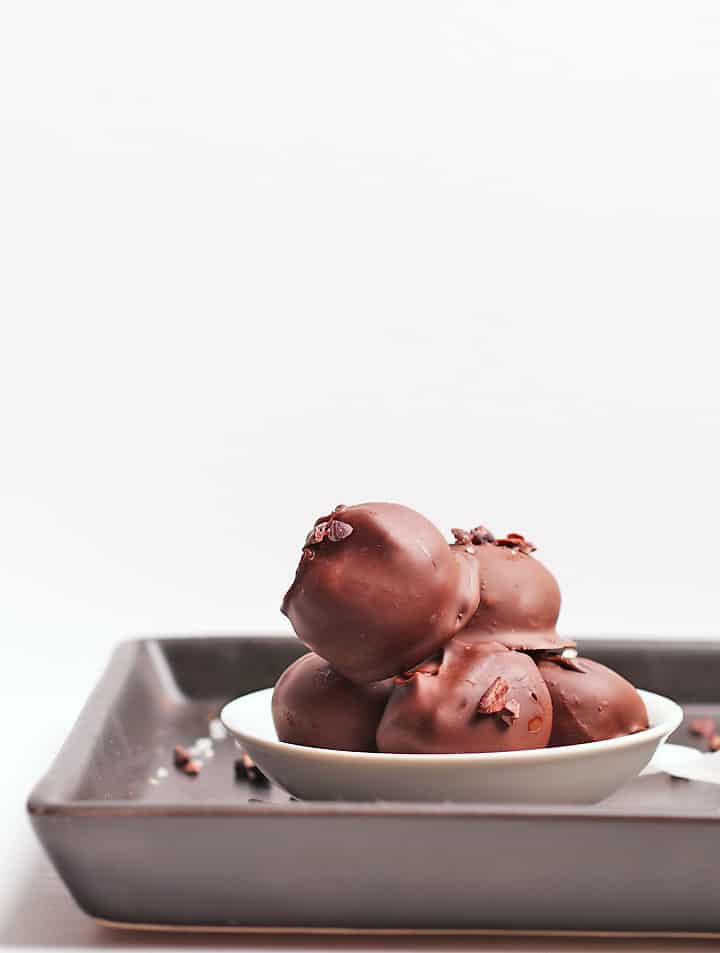 This post contains affiliate links. For more information read my privacy policy. 
Happy Monday, friends!
We are knee-deep in Christmas baking now. This month started off with a remake of one of YOUR favorite cookies from my archives, these Red Velvet Crinkle Cookies. We then chowed down on some Eggnog Cheesecake Thumbprint Cookies. Now, with our bellies and freezers full, I bring you another one of my favorite Christmas sweet treats. Another recipe from the archives of this old blog, these 3-Ingredient Vegan Chocolate Truffles.
Rich and decadent chocolate ganache on the inside covered in a perfectly crisp chocolate coating and with a variety of flavor options, these vegan truffles make the perfect DIY Christmas gift or treat to serve at all your holiday gatherings.
Let's take a closer look!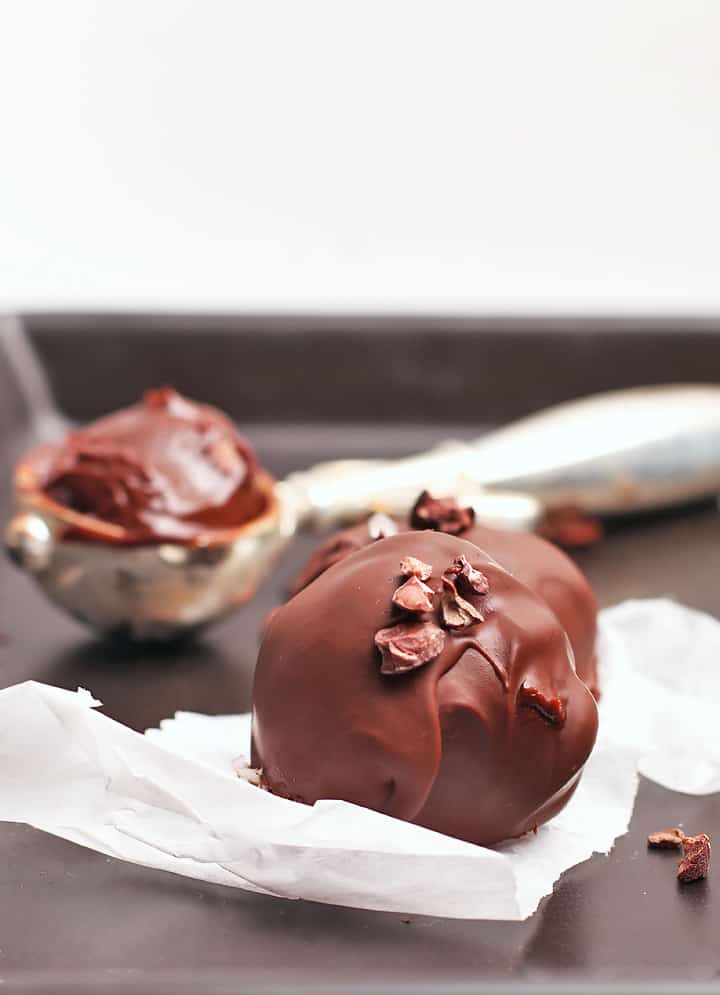 I've been making these Chocolate Truffles for years. Flavoring them in a variety of different ways – Orange, Peppermint, and Turkish Coffee being my go-to's – I have found these are the perfect homemade gift for friends and family during the holiday season. They are decadent, delicious, and (surprisingly) pretty easy to make. Yay!
How to make Vegan Chocolate Truffles
These delicious vegan chocolate truffles are made with a base of rich and creamy chocolate ganache. Creating the perfect ganache is key to this recipe.
What is vegan chocolate ganache?
I'm glad you asked! Classic chocolate ganache is a combination of chocolate and cream that can be used as a glaze, a filling for cakes and tarts, or rolled into chocolate truffles. The ratio of chocolate and cream depending on how you use the ganache.
Since ganache is made of just two ingredients, cream (or in this case coconut milk) and chocolate, it is important to get quality chocolate. It should be high in cocoa percentage (at least 70%), bittersweet or semi-sweet, and should be made with few, high-quality ingredients. Your choice in chocolate will greatly impact the taste and texture of the ganache.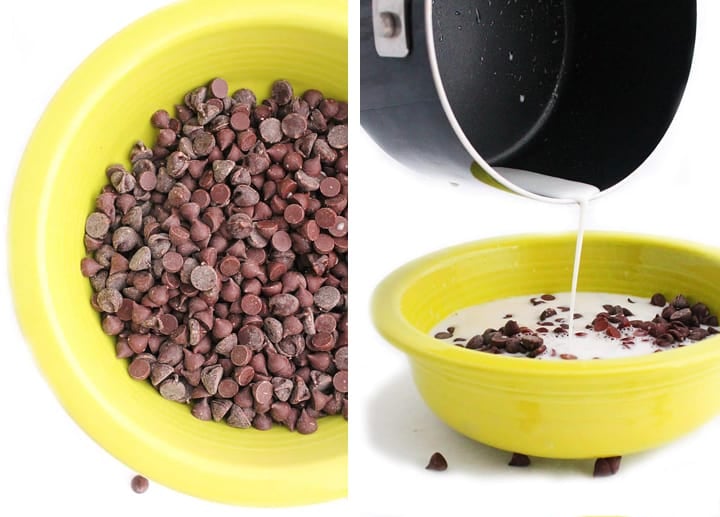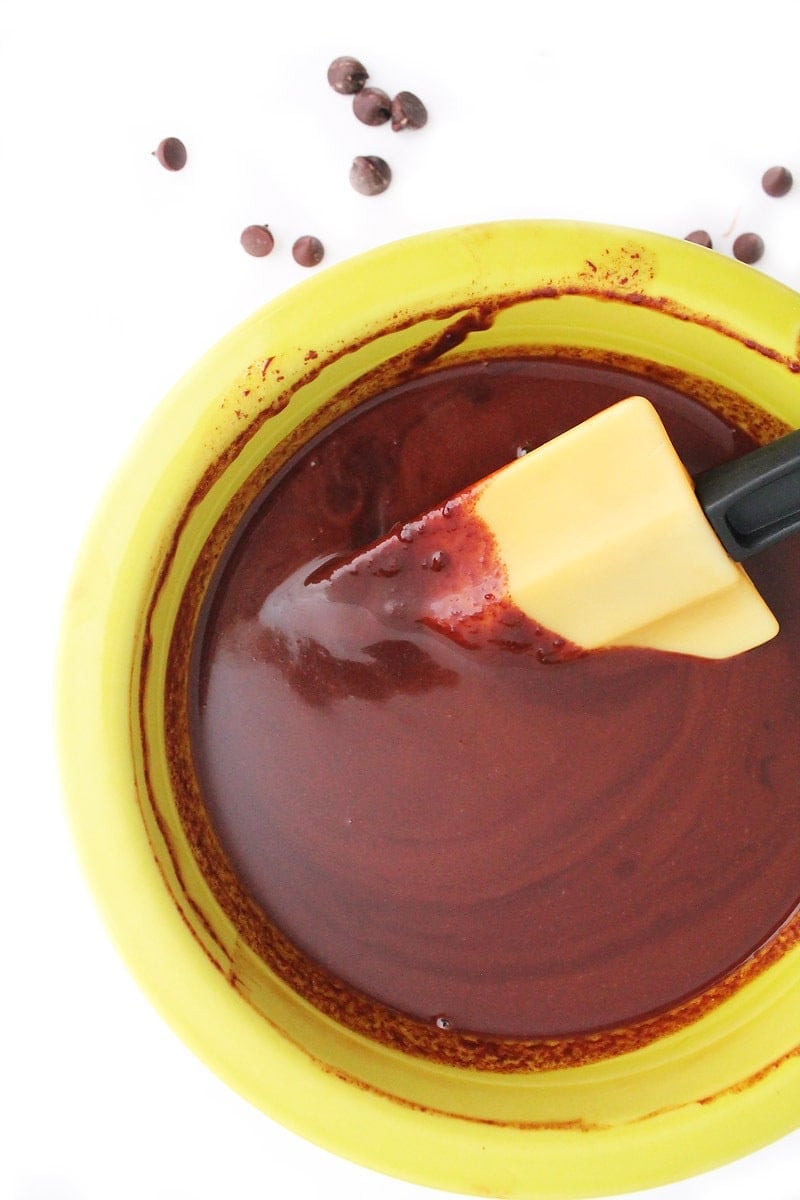 To make the vegan chocolate ganache:
Place the chocolate chunks in a shallow bowl. In a small saucepan, gently heat coconut milk to a scald. Basically, you are looking for a thin skin to form on top of the milk. Bubbles will be starting below the surface, but you do not want it to get to the point that they are breaking through. This will burn the chocolate.
Quickly removed the milk from the heat and pour evenly over the chocolate chips. With a rubber spatula, gently stir together the ganache in a folding motion, from top to bottom. This will take about 2-3 minutes. At first, it will look lumpy but keep up with the gentle folding. Eventually, it will come together. Once this happens the ganache will get dark brown and very smooth. Be careful not to over mix. The least amount of agitation to the chocolate, the better.
Now we need to let the chocolate set. Once it's evenly mixed, cover the ganache and let it sit for at least 6 hours (overnight is best) until the chocolate is thick and moldable.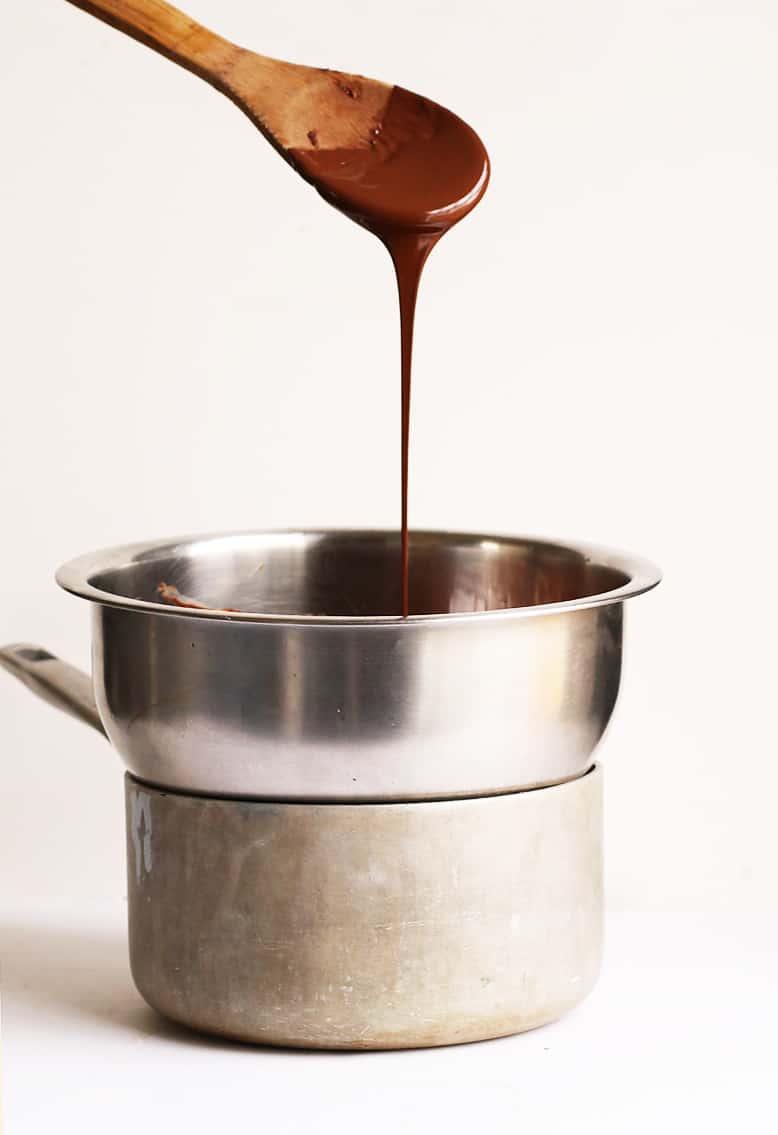 Step Two: Roll out the truffles
One the ganache is set, it's time to shape the truffles. Using a small scoop, scoop out the truffles and place them on a parchment-lined paper. Once all the ganache has been scooped into truffles, place the baking sheet in the freezer and let the truffles freeze for at least two hours.
Step Three – Melt the Chocolate
In a double boiler – which you can make with a sauce pot and a metal bowl (see picture above) gently heat the remaining chocolate with 1 tablespoon of coconut oil. Do not stir the chocolate more than necessary – this will agitate it. Just let the steam slowly melt the chocolate so that it is shiny and pourable.
Check out this video for the perfect chocolate melting techniques.
Step Four – Dip the Truffles
When the truffles are frozen and the chocolate is melted, insert a toothpick into the truffle and dip it completely in the melted chocolate. Let the excess chocolate drip off and transfer it back to a parchment-lined baking sheet. Repeat with all the truffles until they are all coated in chocolate. While the chocolate is still a little wet, top with desired toppings.
Let the chocolate set completely before serving.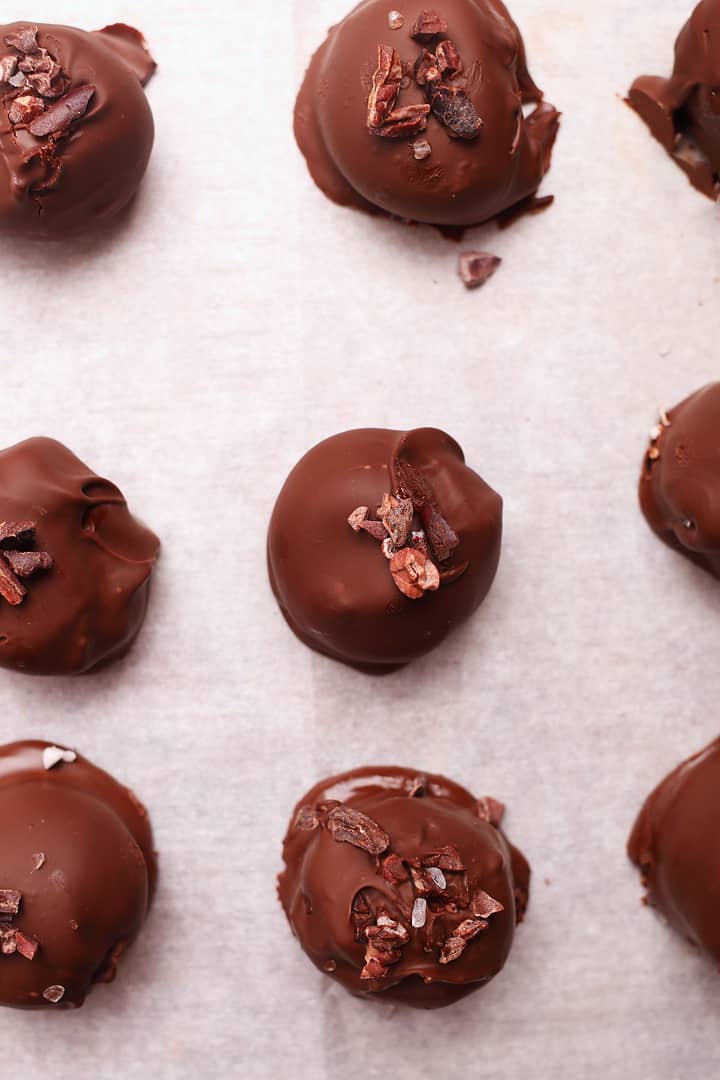 Tips and tricks for the perfect chocolate truffles
Working with chocolate can be a bit challenging. Here are a few tips to make your truffle making easier.
Don't over-mix the chocolate at any point. Chocolate does not want to be messed with much. When mixing the ganache and chocolate, mix it only as much as necessary. Gentle heat will do most of the work itself.
Don't burn the chocolate. When melting the chocolate in the double boiler, make sure that the chocolate is only melting from the steam in the pot. Too much heat will burn the chocolate immediately.
Make sure your truffles are completely frozen before dipping them. If they are not, they will start to fall apart in the chocolate making your chocolate cold and clumpy.
Don't refrigerate set chocolate. Once the truffles are dipped, the chocolate should set at room temperature. Refrigeration can cause condensation and the chocolate will become wet and lose its flavor.
Flavor them as you please (there are a few suggestions below) and top them when the chocolate is still a bit wet so that the toppings stay on your truffles
Store in an airtight container at room temperature for up to 7 days.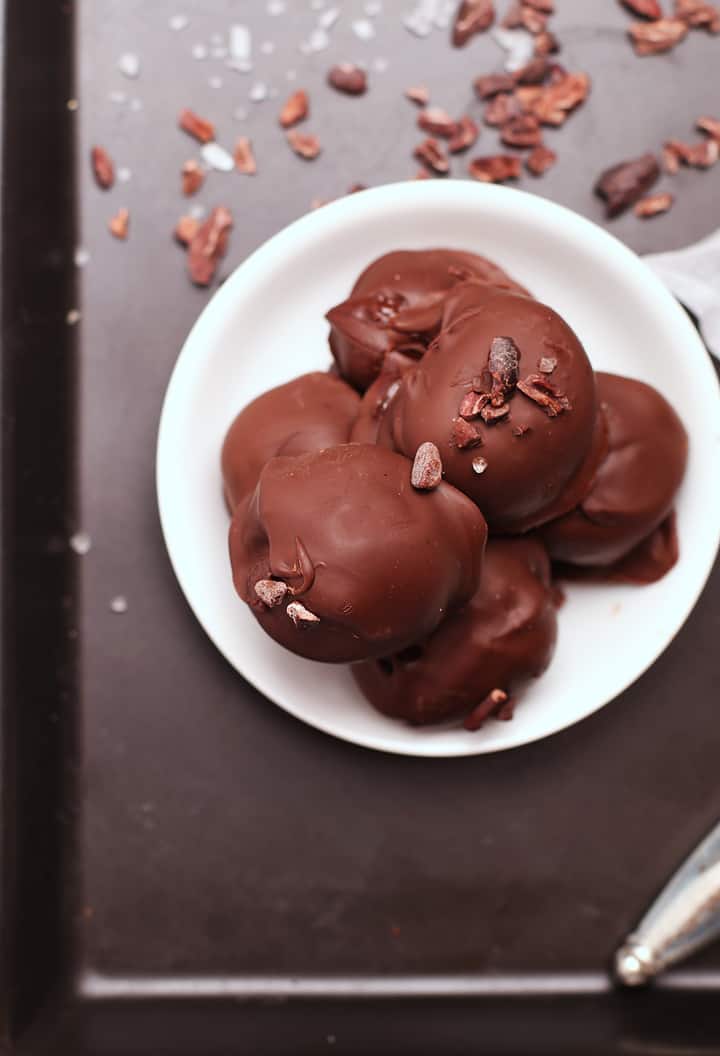 How to serve vegan truffles:
Vegan truffles are a wonderful homemade holiday gift. I love to grab a handful of these gift boxes and give them to my friends and family during the holiday season. Truffles are also a nice treat to bring out during holiday gatherings. Whether it's decorating the Christmas treat or having a holiday cocktail party, a plate of truffles and cookies are always a welcome tradition.
Ready to get started on making a batch of these 3-ingredient vegan chocolate truffles? Let's check out the recipe below.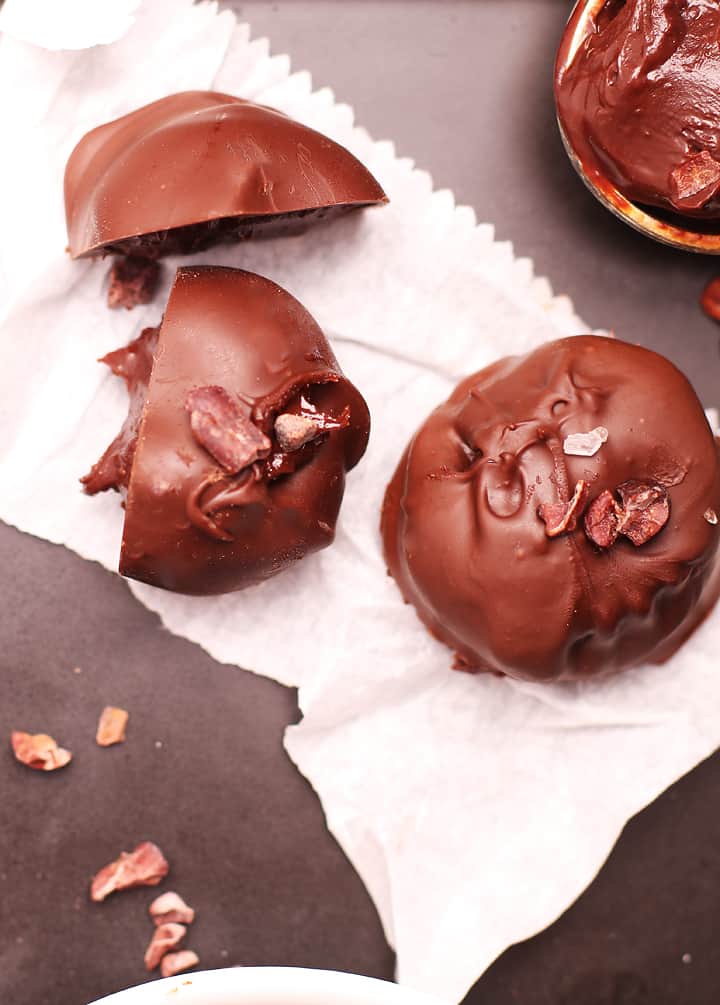 3-Ingredient Vegan Chocolate Truffles
Make your Christmas chocolates at home with this simple 3-ingredient Vegan Chocolate Truffle recipe. A rich and decadent chocolate ganache base covered in a crisp chocolate coating, these truffles make the perfect DIY gift.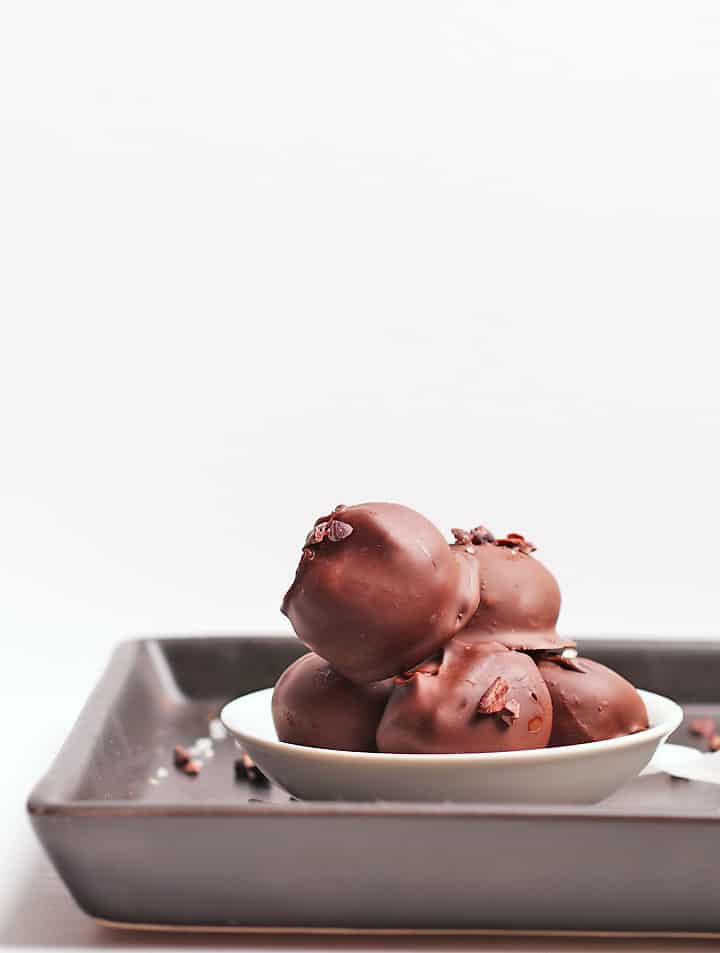 Course:
Dessert
Cuisine:
Vegan
Keyword:
Vegan Chocolate Truffles
Servings
:
24
truffles
Calories
: 156 kcal
Author
:
Sarah McMinn
Ingredients
Instructions
First, make the chocolate ganache. Place 12 ounces of vegan chocolate chips in a medium bowl and set aside.

In a small saucepan heat the coconut milk to a scald (just before boiling point). A skin will form over the top and the sides will begin to simmer. Remove hot cream and pour immediately over the chocolate chips. Cover for 3 minutes. Remove lid and stir together with a spatula until the chocolate and cream come together to create a homogeneous thick sauce. Do not over mix! Cover and allow ganache to set up at least six hours or overnight.

When the ganache is hard, roll mounded teaspoon size balls and place on a baking sheet lined with parchment paper or a silicone baking mat. Freeze for at least 2 hours.

In a double boiler, gently melt the chocolate and coconut oil until smooth. Insert a toothpick into a frozen truffle and dip into the chocolate. Allow excess chocolate to drip off before placing truffle back on parchment-covered baking sheet to harden. Repeat until all the truffles are dipped.

Let cool at room temperature until the outside chocolate is completely set. Store in an airtight container at room temperature for up to 7 days.
Recipe Notes
For Flavor Variations, add the following to the chocolate chips before adding the coconut milk:
Chocolate Orange: 1 tsp. orange extract. 
Top finished truffles with a pinch of orange zest.
Chocolate Peppermint: 1/2 tsp peppermint extract.
Top with crushed peppermint candy.
Turkish Coffee: 1 tbsp instant coffee or finely ground regular coffee + 1/4 tsp cardamom.
Top each truffle with a coffee bean.
Nutrition Facts
3-Ingredient Vegan Chocolate Truffles
Amount Per Serving
Calories 156
Calories from Fat 99
% Daily Value*
Fat 11g17%
Potassium 10mg0%
Carbohydrates 17g6%
Protein 1g2%
Vitamin C 0.1mg0%
Calcium 38mg4%
Iron 2.2mg12%
* Percent Daily Values are based on a 2000 calorie diet.
If you give this recipe recipe a try, snap a photo and share it on Instagram. Make sure to tag
@mydarlingvegan
so I can see your creations!