Vegan Eggnog Thumbprint Cookies
A spiced butter cookie filled with creamy eggnog-flavored cheesecake, these vegan Eggnog Thumbprint Cookies are the ultimate holiday cookie. Sure to impress!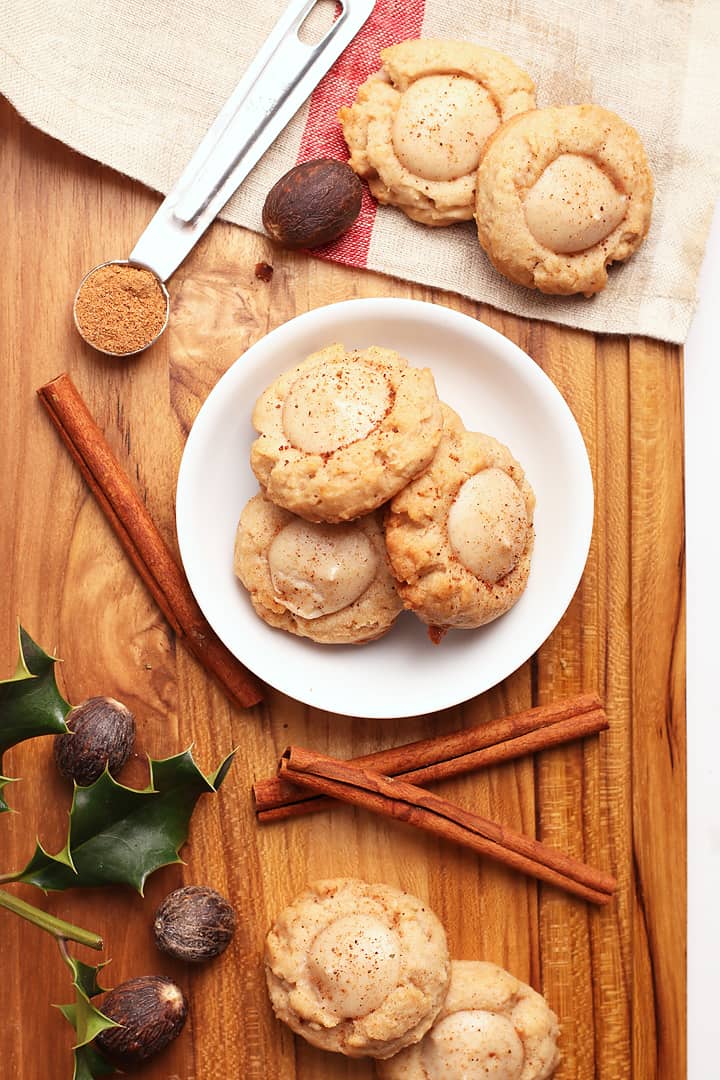 This post contains affiliate links. For more information please see my privacy policy.
This post is sponsored by Go Veggies. All thoughts and opinions are, as always, my own.
This post was originally published 12/7/13. Last updated 12/5/2018
My-oh-my, am I excited about this recipe.
I've been sitting on it for several weeks now and today I finally get to share it with you. What is making me so excited? Why it's vegan Eggnog Cheesecake Thumbprint Cookies! And just in time for holiday baking season. These thumbprint cookies are the ultimate Christmas cookie – a spicy and buttery shortbread cookie filled with vegan eggnog cheesecake and topped with cinnamon and nutmeg. Starting to see why I'm so excited?
Yes, it's starting to feel a whole lot like Christmas.
Let's take a closer look at these cookies, shall we?
How to make Vegan Thumbprint Cookies
These Eggnog Thumbprint Cookies may sound complicated but they are surprisingly and wonderfully easy to make!
Let's break it down.
Step One: Make the Eggnog Cheesecake
Because we are using a small amount of cheesecake in each cookie, it doesn't need to set like a traditional cheesecake. That makes our job even easier! All we need for the cheesecake filling is some vegan eggnog, sugar, spices, and cream cheese.
For the cream cheese, I use my vegan cream cheese of choice: Go Veggie. Go Veggie's cream cheese is made from coconut for a non-GMO, no cholesterol, vegan alternative. I love Go Veggie, a company dedicated to promoting healthier lifestyles by providing delicious plant-based cheese alternatives. Their cheeses have more calcium, equal protein, less fat and fewer calories compared to dairy cheese. Their mission – to help cheese lovers enjoy all their favorite cheesy foods and feel great about it.
And the taste?
Well, it's my favorite plant-based cream cheese on the market and my cream cheese of choice for these Eggnog Cheesecake Cookies.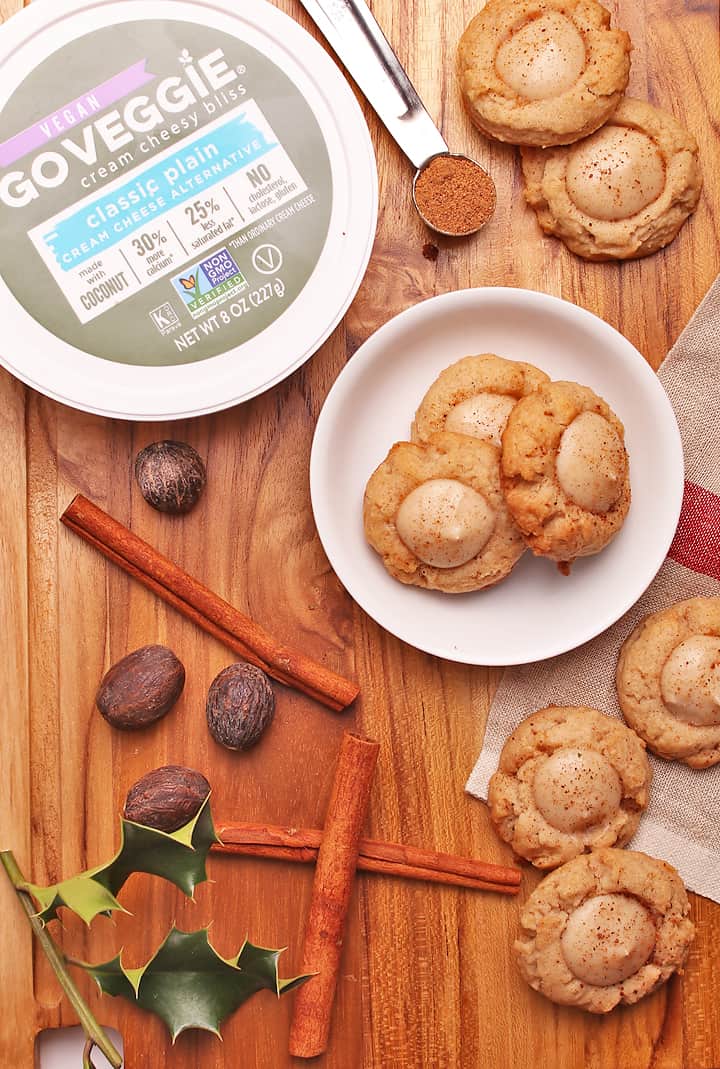 Step Two- Make the Spiced Butter Cookies
Once we mix together our ingredients for the eggnog cheesecake, we can place it in the refrigerator and let it chill while we work on those spiced butter cookies. These cookies are your basic cookie:
Cream the butter and sugar together.
Once it's light and fluffy, add the apple sauce (this acts as our binder – aka, egg replacer).  You can't taste the apple sauce but if you would prefer a different kind of egg replacer, check out my complete guide on replacing eggs to get a few more ideas.
Add the flour and spices and mix until it just comes together.
Once we have our dough, it's time for the best part! Shaping the cookies.
I have found that a good small cookie scoop is very useful for thumbprint cookies. We want a small round cookie and a cookie scoop makes this much easier. The round cookies get placed on a parchment-lined baking sheet. Once all the dough is shaped, it's time to turn them into thumbprint cookies. This simply means making a small indentation in the center of the cookie with your thumb.
So easy!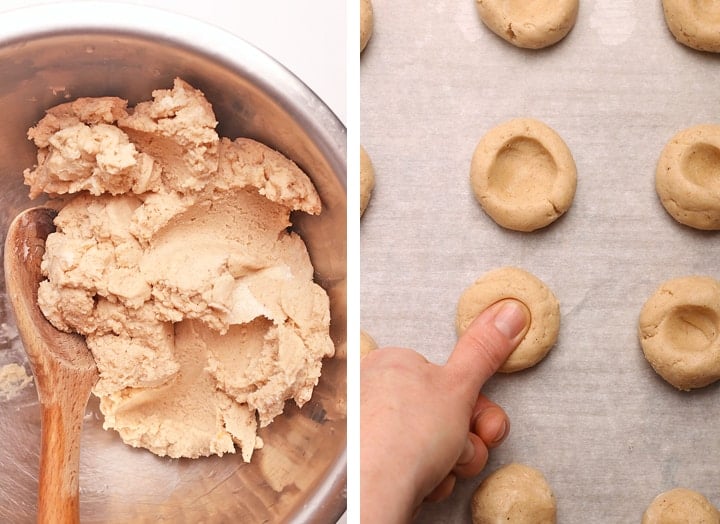 Step Three – Bake the Cookies
Before we fill the cookies with the eggnog cheesecake, we are going to par-bake them. The filling naturally gets baked quicker than the cookies, so we want to give the cookies about 10 minutes in the oven to get golden brown before filling them. Once they come out of the oven, gently re-indent the centers (as they will puff up a bit as they bake), let them cool for 5 minutes, and then pipe in your filling, creating a nice rounded top on each cookie.
With the cookies filled, they can go back in the oven. Eight minutes later and you've got yourself some incredibly delicious and perfectly festive Eggnog Cheesecake Thumbprint Cookies.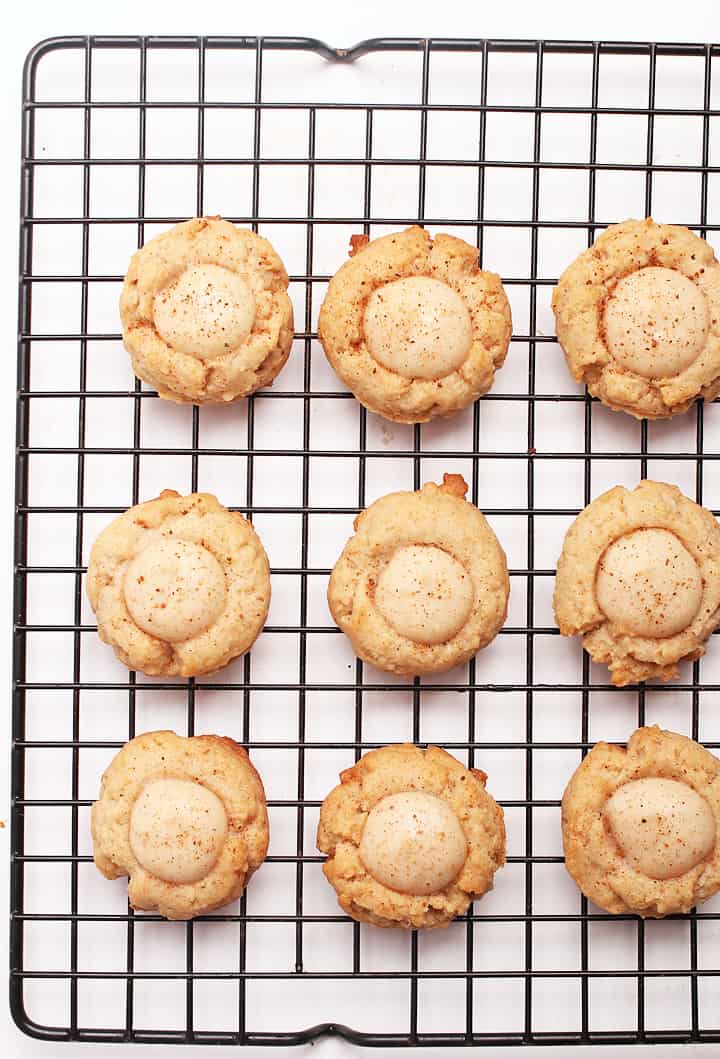 Tips and Tricks for making the PERFECT Eggnog Thumbprint Cookies
Do not over-mix the cookies. Mix until the ingredients are just combined so that we have a flaky shortbread-like cookie
Let the cookies cool about 5 minutes before filling them up with cheesecake filling for the second bake. This allows the cookies to get crispy before adding moisture.
Let the cookies cool completely before storing. These cookies are best eaten the same day.
The best option for storing these cookies is freezing unused dough and cheesecake separately. To do this, freeze the cookies on baking sheets (with indentations). Once completely frozen, transfer to a large zip lock bag. The filling can be kept in the refrigerator for up to 10 days or the freezer for up to 1 month. For the freshest cookies, assemble as you need them.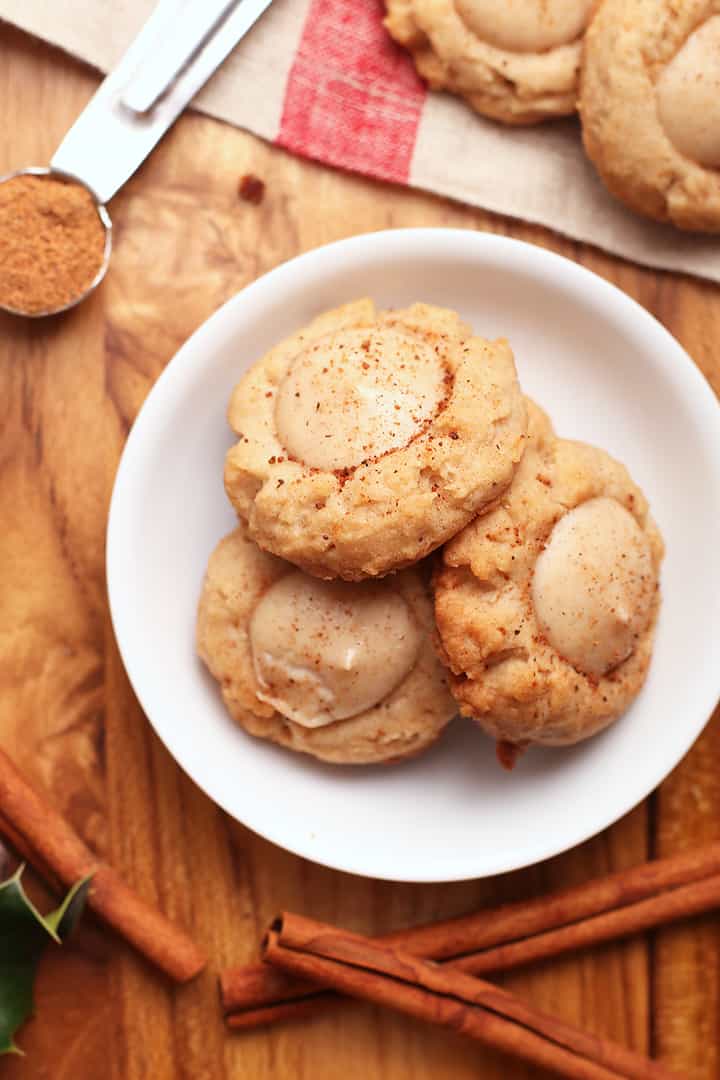 Serve these Eggnog Thumbprint Cookies along with some vegan eggnog or hot cocoa at your next holiday gathering for sweet festive treats that are certain to impress.
Get all my Christmas Cookie recipes here.
Now, are you ready to start baking? Let's check out the recipe below.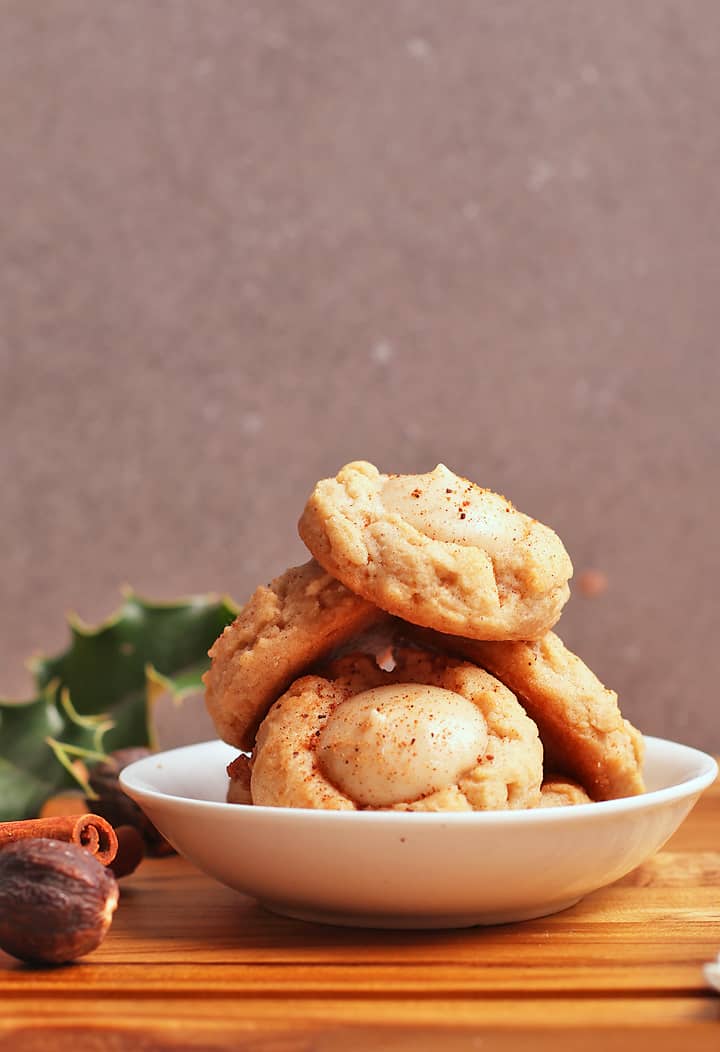 Eggnog Cheesecake Thumbprint Cookies
A buttery spiced shortbread filled with creamy eggnog-flavored cheesecake, these vegan Eggnog Thumbprint Cookies are the ultimate holiday cookie. Sure to impress!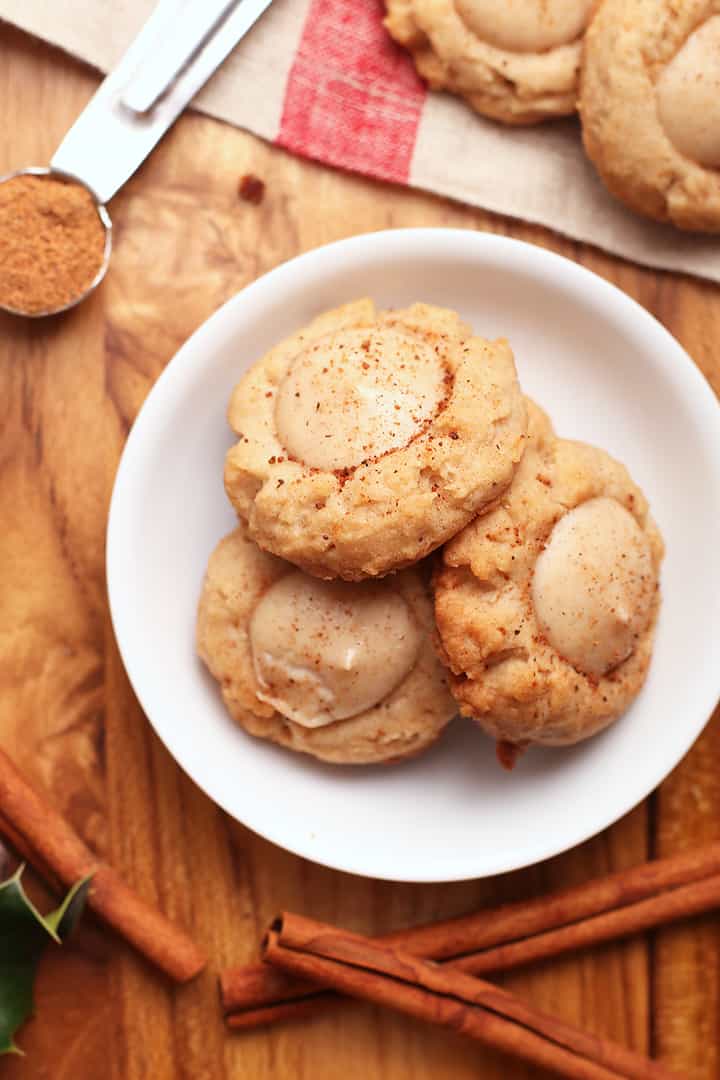 Course:
Dessert
Cuisine:
Vegan
Keyword:
Eggnog Thumbprint Cookies
Servings
:
30
cookies
Calories
: 112 kcal
Author
:
Sarah McMinn
Ingredients
Eggnog Cheesecake Filling
Instructions
Start by making the eggnog cheesecake filling. In a stand-up mixer with the paddle attachment beat the cream cheese until light and fluffy, scraping down the sides as needed. Add powdered sugar and spices and mix until smooth, about 3 minutes. With the mixer running, slowly pour in holiday nog. Beat until smooth. Transfer to small bowl and chill for at least 30 minutes.

Preheat the oven to 350 degrees F. Line two baking sheets with parchment paper and set aside.

In a small bowl combine flour, baking powder, salt, and spices. Set aside.

Using your stand up mixer, cream together vegan butter and granulated sugar until light and fluffy, about 3 minutes. Add applesauce and beat until smooth. Add the flour mixture in three batches, scraping down the sides in between. Mix until all flour is hydrated and the dough is uniform.

Using a small cookies scoop, scoop cookies and roll them into balls and place them on the prepared baking sheet. Make a teaspoon-sized indentation in the center with your thumb.

Bake for 10 minutes until the edges are slightly golden. Remove from oven and make indentations again. Fill the center of each cookie with 1 rounded teaspoon of cream cheese filling so that it's slightly mounded. Bake for an additional 8-10 minutes, until cheesecake filling has firmed up. Remove from oven, transfer cookies back to a wire rack and allow to cool completely.

Sprinkle with cinnamon and serve or store in an airtight container in the refrigerator for up to 5 days.
Nutrition Facts
Eggnog Cheesecake Thumbprint Cookies
Amount Per Serving
Calories 112
Calories from Fat 63
% Daily Value*
Fat 7g11%
Sodium 110mg5%
Potassium 19mg1%
Carbohydrates 11g4%
Protein 1g2%
Vitamin A 290IU6%
Calcium 11mg1%
Iron 0.5mg3%
* Percent Daily Values are based on a 2000 calorie diet.
If you give this recipe recipe a try, snap a photo and share it on Instagram. Make sure to tag
@mydarlingvegan
so I can see your creations!