Chocolate Pumpkin Fudge (Vegan!)
Delicious pumpkin fudge! A double layer of fudge made with whole food ingredients and sweetened only with dates for a festive vegan, gluten-free, and refined sugar-free treat. 

This post contains affiliate links. For more information, see my privacy policy.
This post was originally published on 11/23/2012. Last updated on 9/11/2019
It's almost Halloween!
And that means, let's take a look at some candy recipes. When I first started this blog in 2012, it was a dessert-centric blog with a large focus on candy. After just graduating from a Baking and Patisserie program, I was eager to start veganizing my favorite desserts and confections. Over the years, I have become a much more health-conscious eater and as a result, this blog has morphed into a healthy eating blog.
But why not find a middle ground between sweet confections and healthy eating?
That's just what I have for you today! It's a sweet and decadent holiday fudge recipe that is made with whole, natural foods and sweetened purely from dates. It's a decadent treat that you can feel great about feeding your kids! Now that's a win-win.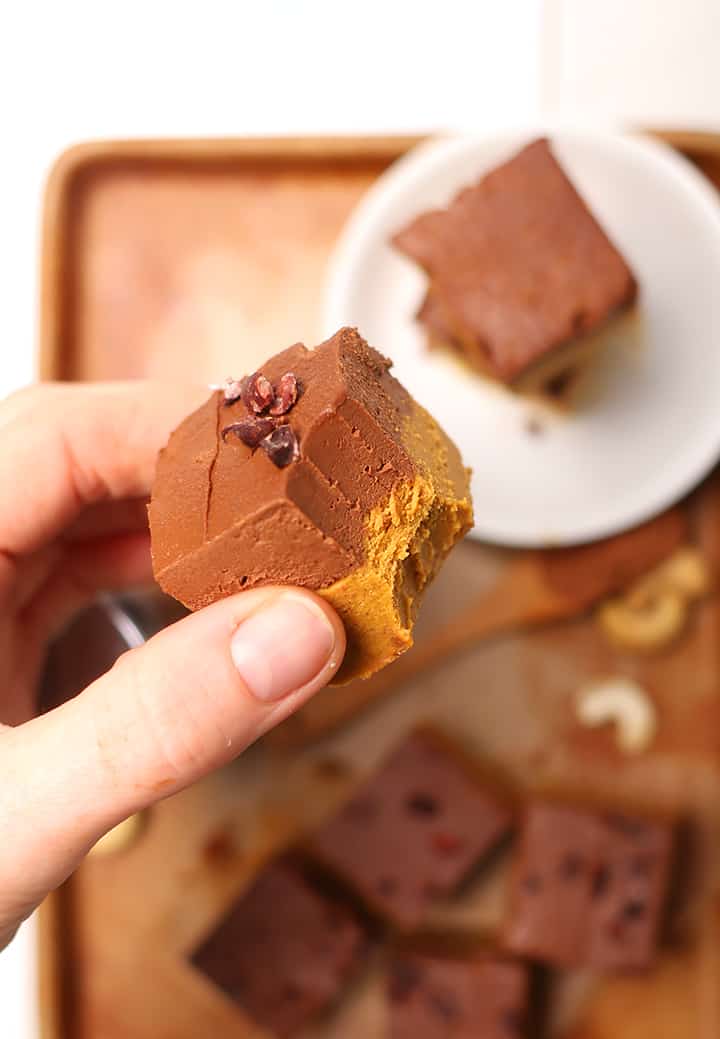 Why I love this vegan pumpkin fudge recipe
This pumpkin fudge is amazing! It is made with just a handful of ingredients (plus salt and vanilla) and can be thrown together in about 10 minutes. Beyond that it is:
incredibly creamy and decadent.
made with easy to find ingredients that you probably already have on hand.
sweetened with dates for a healthier fudge alternative.
the perfect fall treat that you can feel great about feeding your kids!
But don't just take my word for it. See for yourself!

Ingredients for this pumpkin freezer fudge
The ingredients for this vegan fudge are simple. You will need:
Cashews
Medjool Dates
Pumpkin Puree
Coconut Oil
Cocoa Powder
Vanilla Extract
Spices
What are Medjool Dates?
Whenever I use a recipe that calls for Medjool dates, I am often asked to clarify. Medjool dates are a fresh fruit rather than typical dates you buy in bulk. This means you'll typically find them in the produce section at the grocery store. Because they are not dried or processed like typical dates, they have a rich, caramel-like taste with a delicately soft texture.
Medjool dates are one of my favorite fruit sweetener options as they are unprocessed, high in fiber, and add a deliciously creamy texture to any recipe. If you can't find them at your local grocery store, you can pick some up online here.

How to make pumpkin freezer fudge
Making this vegan fudge is super straight-forward. Beyond your ingredients, you will need a high-quality food processor or high-powered blender for this recipe.
Best Food Processor for Freezer Fudge
If you are looking for a food processor, this is the one I recommend. Having a high-quality food processor is SUPER important when making raw desserts (and plant-based eating in general). This one is one of the finest. It has a powerful motor and comes with several different attachments making it one of the most versatile kitchen appliances.
You can check it out here on Amazon. It's a bit pricier than other food processors, but it will last a lifetime! This food processor breaks down the fudge to be ultra-smooth and creamy!
Step one – Make the pumpkin layer
The first step in making this vegan fudge is to make the pumpkin fudge layer. Place all the ingredients in your food processor or high-powered blender and blend until completely smooth.
*If you don't have a high-powered blender or food processor, you can soak the cashews in hot water for 1 hour prior to blending to get them to cream up better.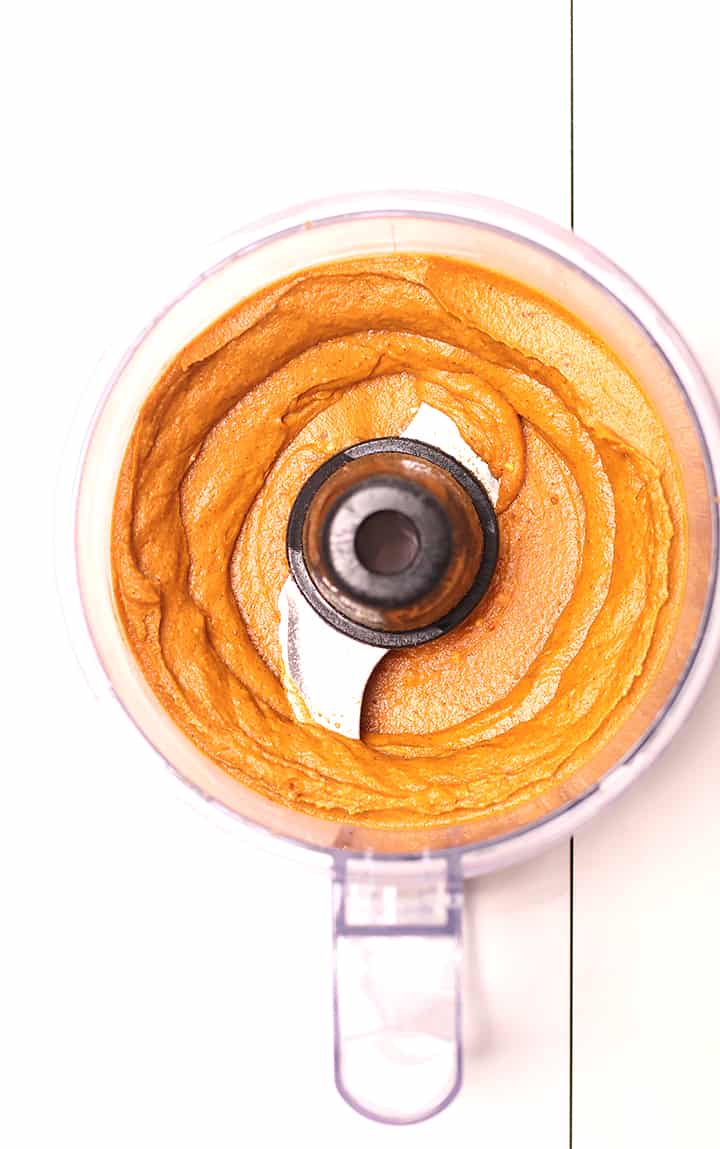 Step two – Make the chocolate layer
Clean out the food processor and add the chocolate fudge ingredients. Process until completely smooth and then spoon the chocolate fudge over the top of the pumpkin fudge. Tap the loaf pan a few times on the counter to release any air bubbles and place the fudge in the freezer to set up for at least 2 hours.
Optional: If you want to add cacao nibs, sea salt, or peanuts, add them to the chocolate layer now so that they harden into the fudge.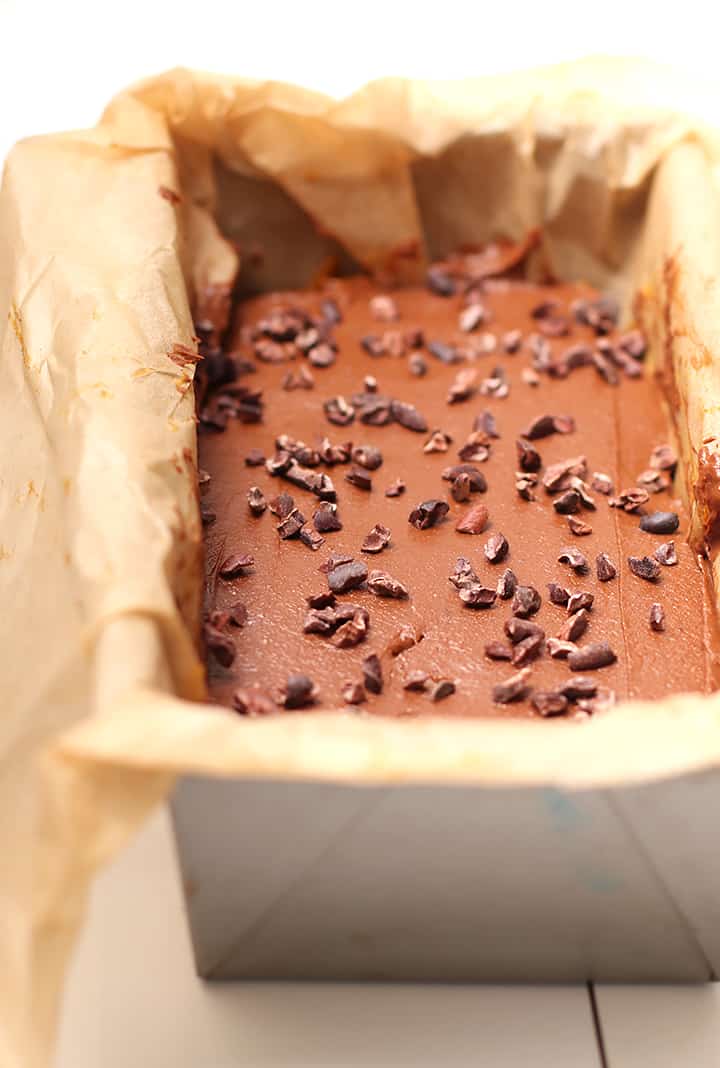 Tips and tricks
Working with confections can be a bit challenging. Here are a few tips to make your vegan fudge making easier.
Make sure to get your fudge layers completely smooth. This is best done in a VitaMix or similarly high-powered blender.
Make sure your coconut oil is completely melted. This provides a liquid to the fudge that makes it blend smoothly. As it sets up in the freezer, the coconut oil will solidify and provide fudgy texture.
Make sure your truffles are completely frozen before cutting them. Cut them into 12 pieces with a hot, sharp knife.
Don't refrigerate fudge. This fudge should be stored in the freezer until ready to eat. When ready, let thaw 5-10 minutes before eating.
Flavor them as you please and top them when the chocolate is still a bit wet so that the toppings stay on your fudge
Store in an airtight container in the freezer for up to 2 months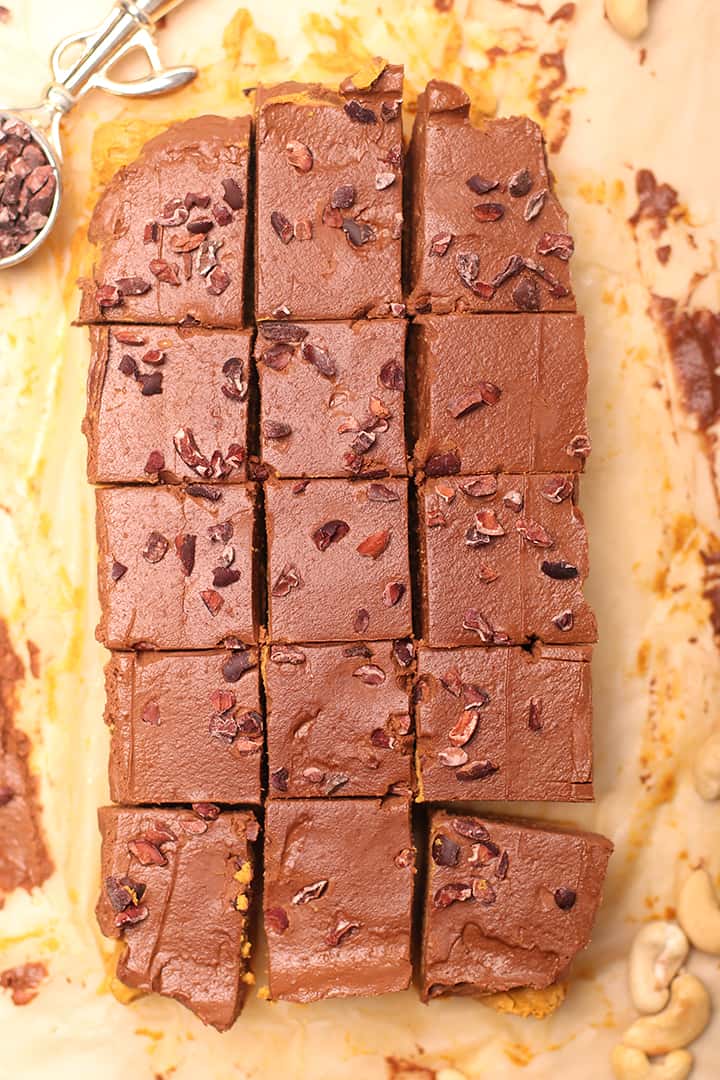 More Vegan Candy Recipes
With Halloween just a few days away, let's take a look at some of my other favorite vegan candy recipes:
But before you head off to check out these delicious candies, let's take a look at this pumpkin fudge recipe below!
Vegan Pumpkin Fudge
Delicious pumpkin fudge! A double layer of fudge made with whole food ingredients and sweetened only with dates for a festive vegan, gluten-free, and refined sugar-free treat. 
If you give this recipe recipe a try, snap a photo and share it on Instagram. Make sure to tag
@mydarlingvegan
so I can see your creations!