Garlicky Brown Rice Pilaf with Shiitake Mushrooms
Enjoy this hearty and rich garlicky brown rice pilaf. Made with pine nuts and shiitake mushrooms for a delicious vegan side to your favorite weeknight meals.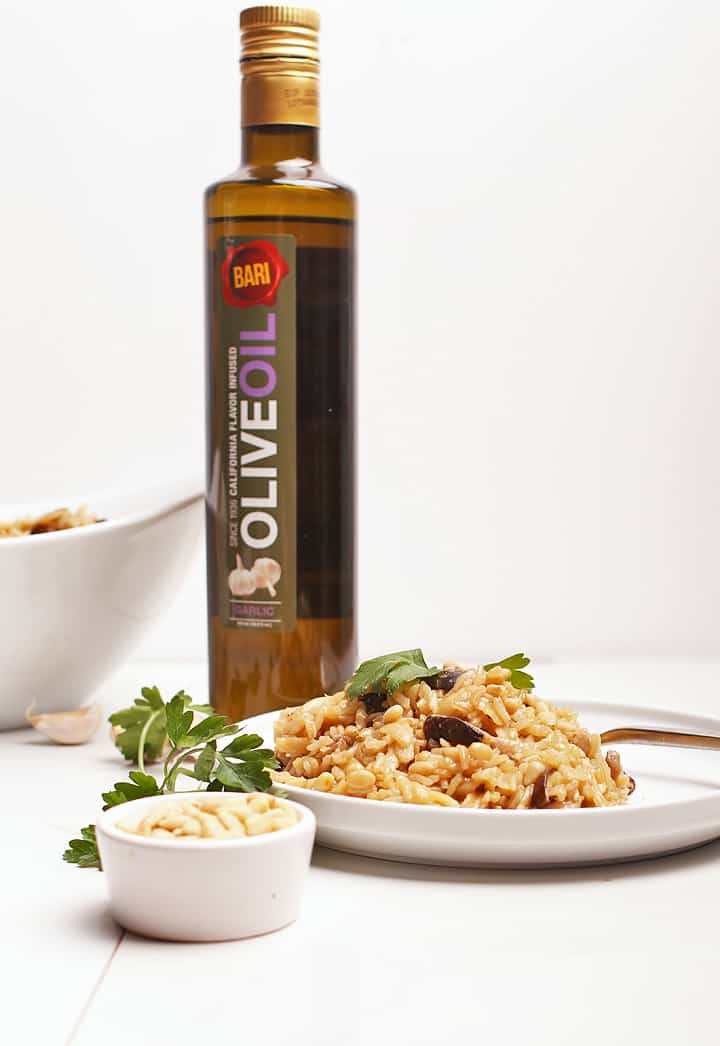 This is a sponsored post on behalf of Bari Olive Oil Co. All opinions are 100% mine.
This post contains affiliate links. For more information please see my privacy policy.
The day has come.
After 7+ years of blogging, I am finally sharing with you one of my favorite rice dishes: Garlicky Rice Pilaf. I'm not sure why it's taken so long to share this simple and wholesome side dish; I suppose sometimes I forget that the easiest recipes still need recipes. In fact, some of my most popular recipes are among my simplest such as this creamy tomato soup and of course, these perfect vegan pancakes.
And so, without further ado, let's dig into some brown rice pilaf!
I think you're going to love this vegan rice pilaf. It is filled with flavor and is super easy to make. Best of all, this recipe is kid-approved by some of the pickiest eaters I know. It's a meal your family will love AND you can feel great about feeding them.
Let's take a closer look, shall we?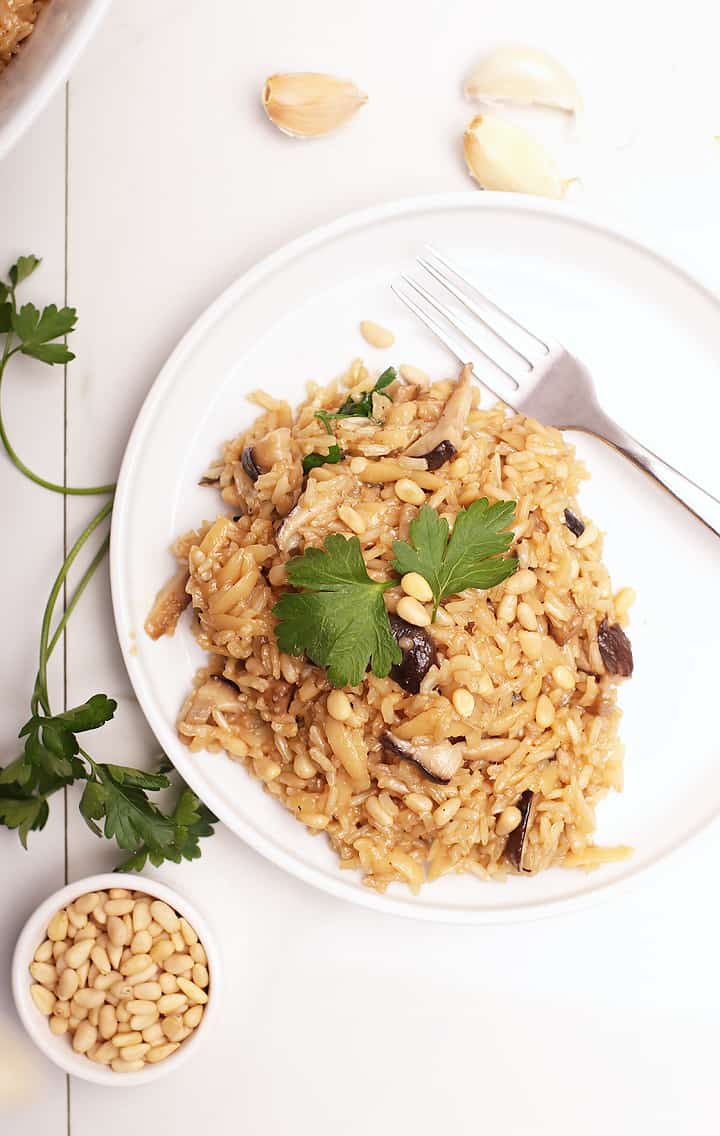 What is rice pilaf?
Rice pilaf is a method of cooking rice in spices and vegetables that allows the grains to be distinctive and fluffy. The process is done by first heating up butter or oil in a large skillet along with common spices such as onion and garlic. The rice is then added to the pan and covered in oil which ensures that the rice pieces do not stick to one another. Once the rice is coated in oil and slightly toasted, it is cooked over low heat with vegetable stock until all the oil has absorbed.
Similar to risotto, rice pilaf is simply a method that allows you to get a creamy distinctive rice texture that makes a delicious side dish to cauliflower steaks, portobello steaks, or a variety of other plant-based proteins.
---
The best rice for rice pilaf?
Rice pilaf requires long grain rice such as jasmine or basmati. I prefer using brown rice because it has more protein and is much lower on the glycemic index than white rice. Brown rice also has great benefits such as being anti-inflammatory and high in important minerals such as magnesium and manganese.
For these reasons (and more), I almost always choose brown basmati rice for my garlic rice pilaf.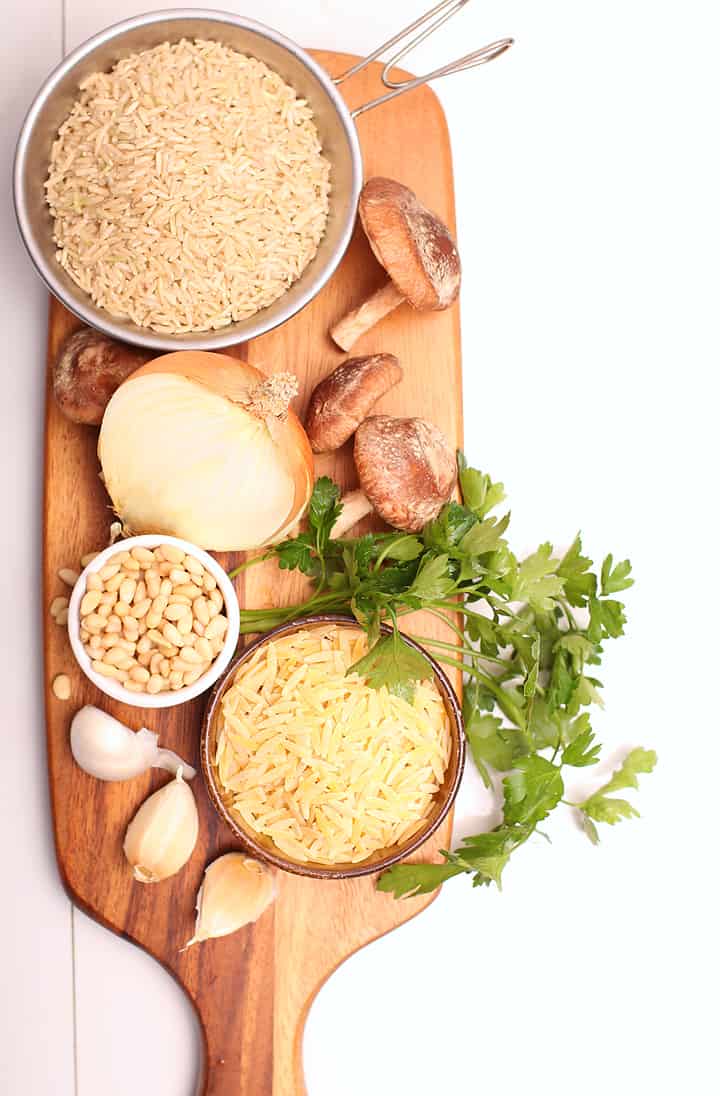 Oil vs. Butter
Pilaf is most often made with butter, however, I prefer olive oil for several reasons. For one, finding high-quality vegan butter can be challenging. But more importantly, olive oil is a healthier fat with a savory flavor that accompanies this pilaf well.
Because this rice pilaf relies on so few ingredients, it is important that we use the highest quality. For that reason, when choosing an olive oil to provide the foundation of this dish, I turn to Bari Olive Oil Co.
Bari Olive Oil Co. is a California-based company that has been making high-quality olive oil for over 80 years. They are a family run company that is dedicated to producing the highest-quality products available. All their olives are grown in California, supporting local growers and organic small-batch processing, ensuring that their promise of high-quality is never compromised.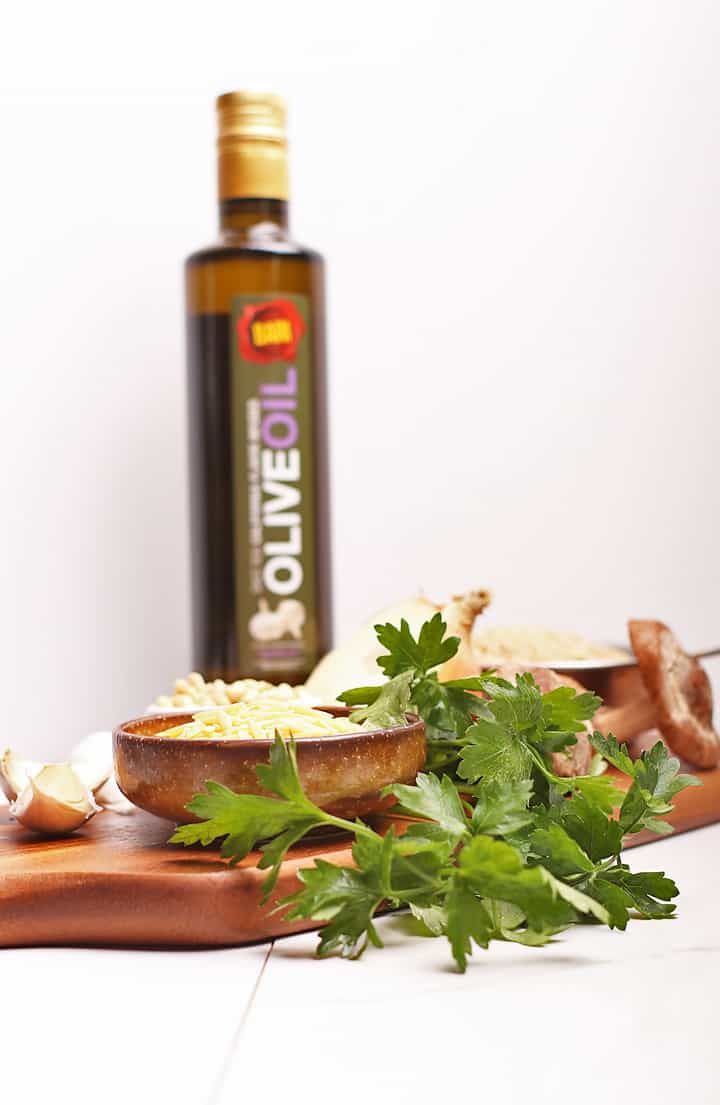 Bari Olive Oil Co. not only has award-winning premium olive oil. They offer a huge array of products. For this recipe, I used Bari's Garlic-Infused Olive Oil. This delicious olive oil brings out the savory and peppery flavors of olive oil as well as the garlic in this rice pilaf making it extra garlicky and awesome.
This Garlic Olive Oil also makes the base for an incredible vinaigrette or a delicious dipping sauce for your artisan bread.
Bari's products are found throughout stores in California. But, fear not all you non-California dwelling readers. You can find all their incredible products online, too. So, go ahead and do a little shopping – perhaps some last-minute gifts for this Mother's Day – and fill your cupboards with these beautiful, high-quality oils and vinegar.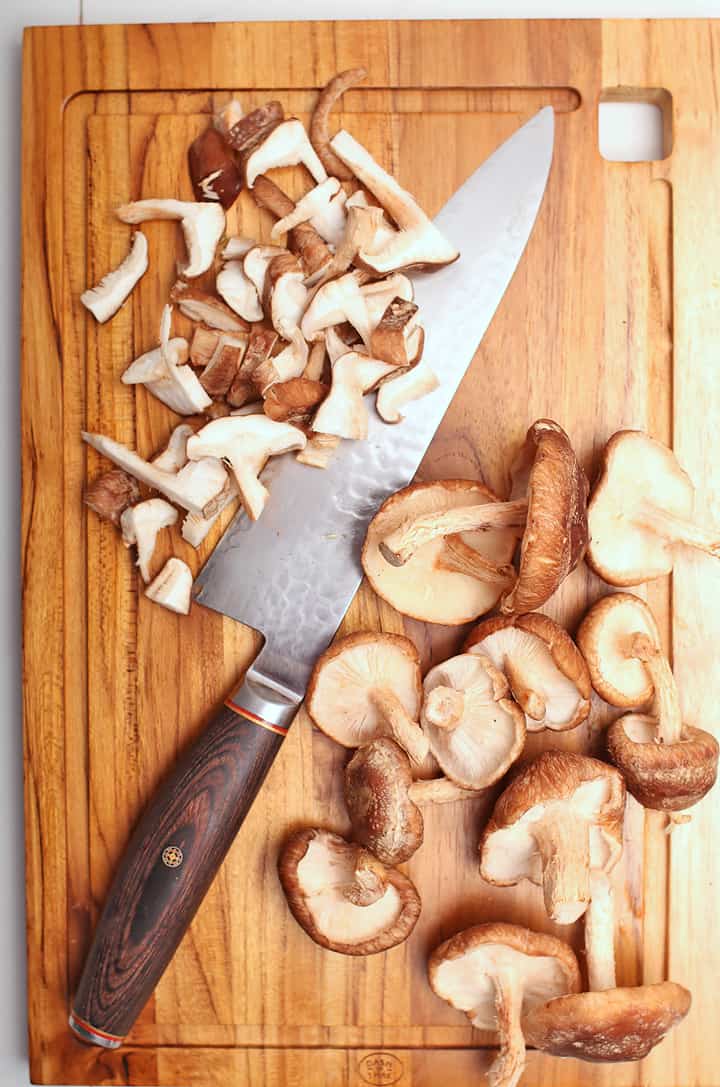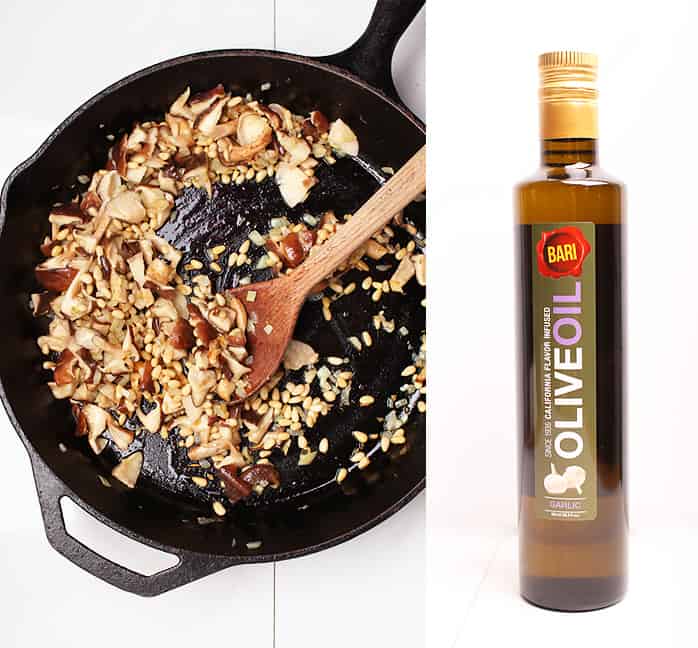 How to make vegan rice pilaf
Making rice pilaf is pretty straight forward.
The first step is to sautéeing the onions and garlic. They get sautéed in olive oil until they are translucent and fragrant. This takes about 3 minutes. Once the aroma of the onions has filled your kitchen, add the mushrooms and pinenuts and continue to sauté for 5 more minutes until the mushrooms have reduced in size and the pine nuts are lightly toasted.
Now it's time to add the rice. In order to get fluffy rice with distinct grains, we must first pearl the rice. This simply means, adding it to the sauté pan and stirring it until it is fully coated in olive oil. This will keep the grains from clumping together. Once the rice is coated, add the vegetable broth and bring to a boil.
Reduce heat to a simmer, cover, and cook for about 35 minutes until all the liquid has absorbed. Once the rice is done, remove it from heat and fluff it with a fork. This is also a key step to preventing the rice from clumping together by releasing the steam. Cover it again and let it rest 10 minutes before serving.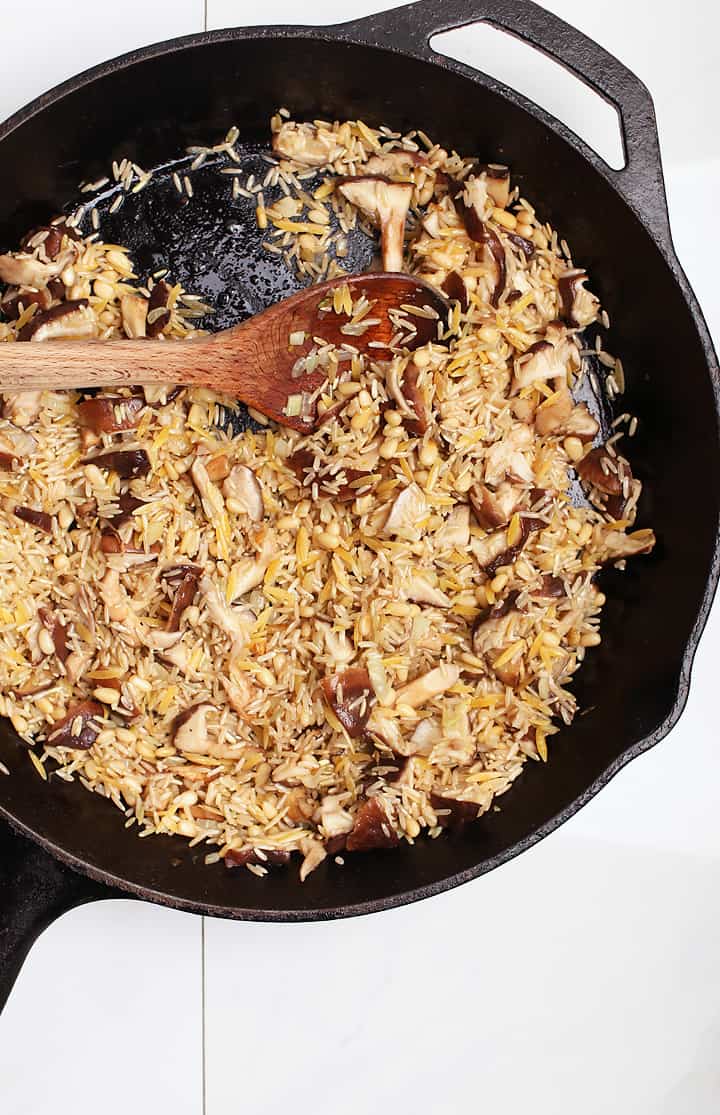 Serving and Storing
Once the rice is done, make sure to fluff it with a fork before serving. This prevents the rice from sticking together.
Serve rice as a side to cauliflower steaks, portobello steaks, or grilled tofu steaks.
Leftover pilaf can be stored in the refrigerator for up to 3 days. To serve, gently reheat over the stovetop with 1-2 tablespoons of water.
This recipe serves 6. It can be cut in half for smaller families.
That's all you need to know about making rice pilaf. Make sure to grab a bottle of Bari's Garlic Olive Oil and take a look at the recipe below!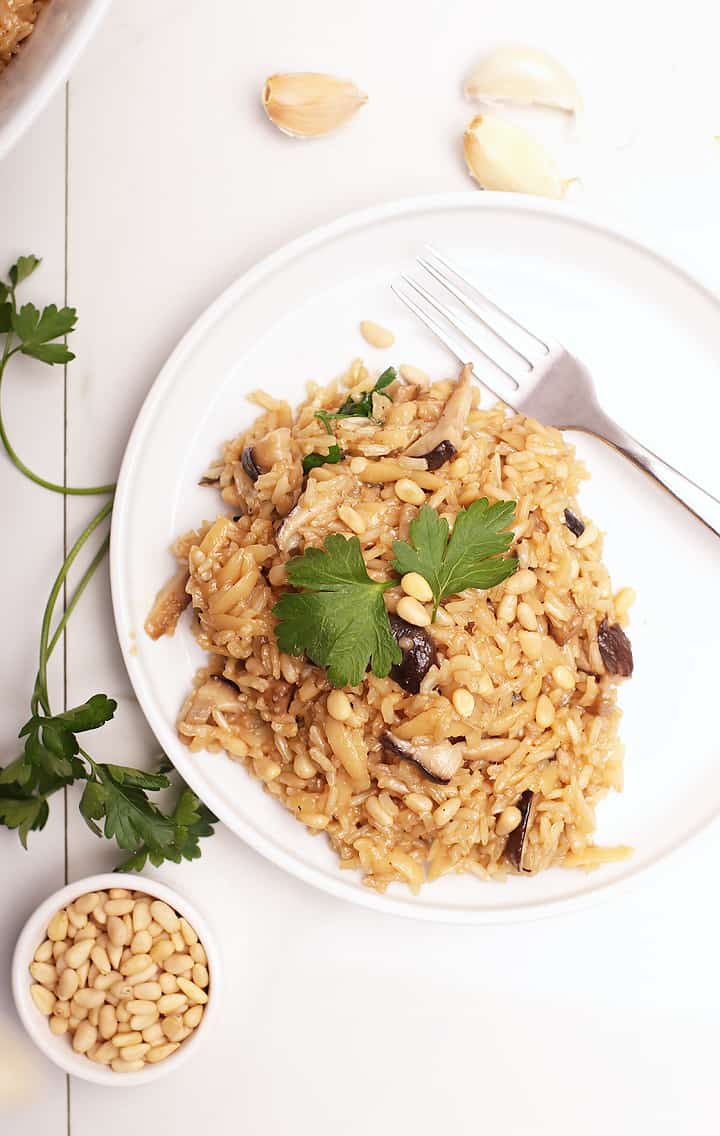 Garlic Rice Pilaf with Shiitake Mushrooms
Hearty garlic rice pilaf. Made with pine nuts and shiitake mushrooms for a delicious vegan side to your favorite weeknight meals.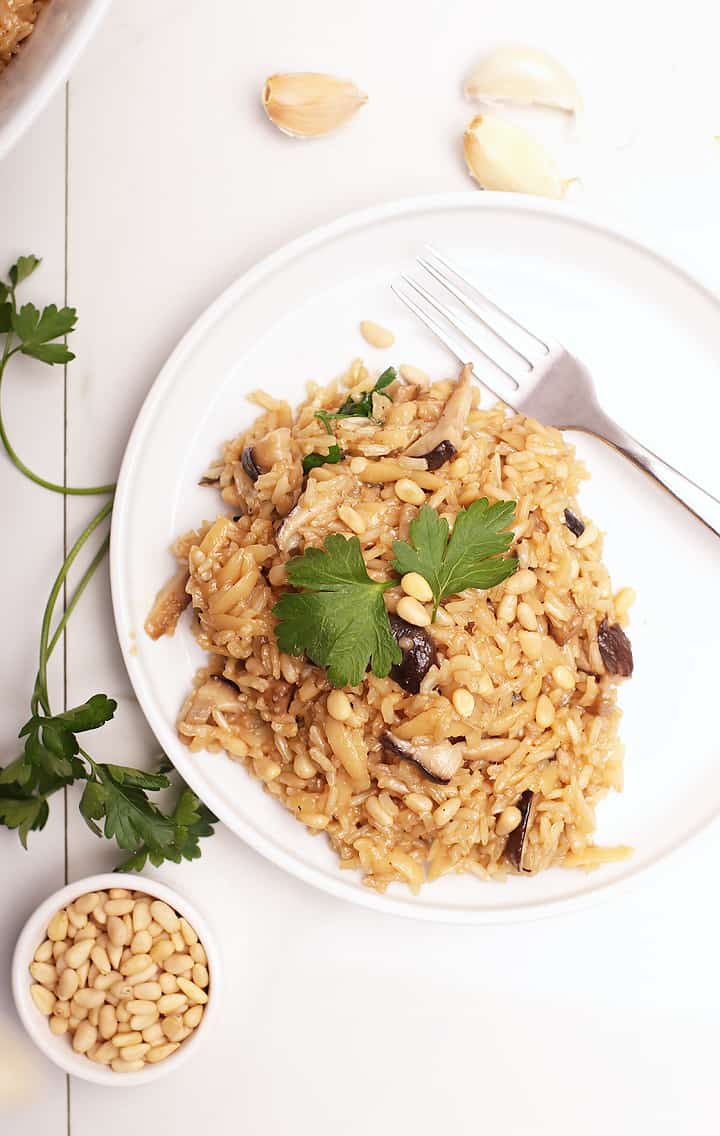 Course:
Side Dish
Cuisine:
Vegan
Keyword:
Rice Pilaf
Servings
:
6
people
Calories
: 210 kcal
Author
:
Sarah McMinn
Ingredients
Instructions
In a large saucepan (with lid) heat up garlic-infused olive oil over medium heat. Add minced onions and garlic and sauté for 3-4 minutes, until onions are translucent and fragrant.

Add chopped mushrooms and pine nuts and sauté for another 5 minutes until pine nuts are toasted and mushrooms have decreased in size about 50%


Stir in dried rice and orzo until the rice is fully coated with olive oil. Add vegetable broth and cover. Bring to a boil and reduce heat to a simmer. Simmer for about 30 minutes, until all the liquid has absorbed into the rice.

Remove from heat, fluff with a fork, and cover for an additional 10 minutes to let the pilaf set up before serving. Stir in pepper and serve.
Nutrition Facts
Garlic Rice Pilaf with Shiitake Mushrooms
Amount Per Serving
Calories 210
Calories from Fat 117
% Daily Value*
Fat 13g20%
Sodium 398mg17%
Potassium 234mg7%
Carbohydrates 20g7%
Protein 4g8%
Vitamin A 210IU4%
Vitamin C 1.2mg1%
Calcium 12mg1%
Iron 1mg6%
* Percent Daily Values are based on a 2000 calorie diet.
If you give this recipe recipe a try, snap a photo and share it on Instagram. Make sure to tag
@mydarlingvegan
so I can see your creations!