Enjoy this vegan and gluten-free vegan Tuna Salad. Made with tempeh and filled with fresh vegetables and herbs for a light and refreshing any-time-of-day snack.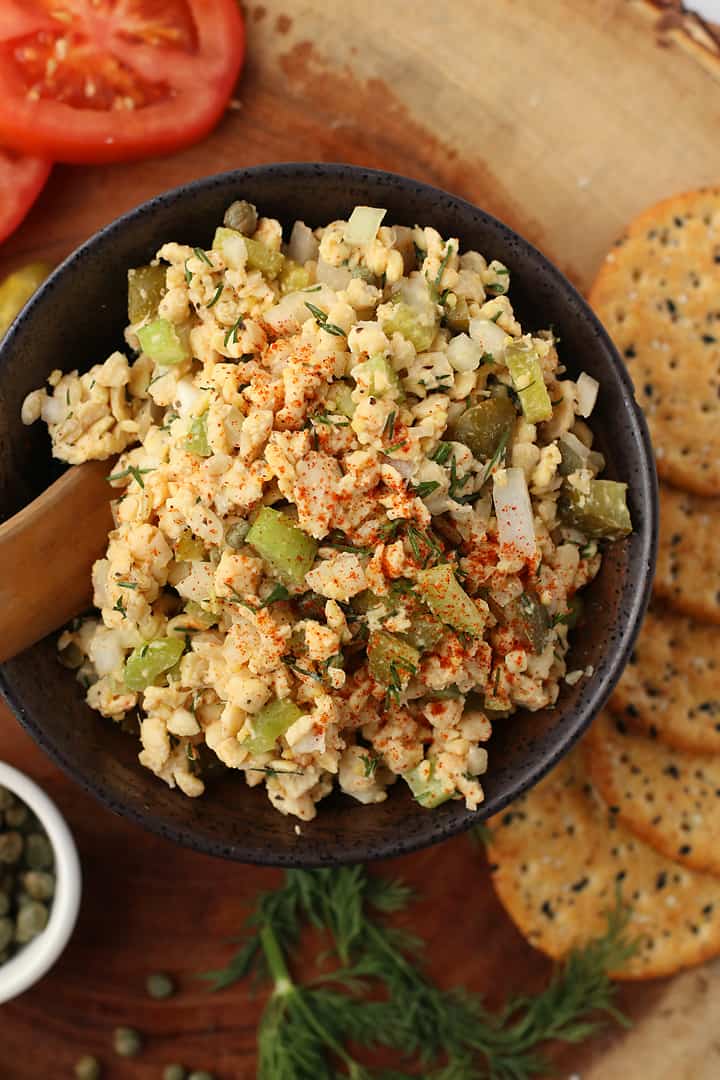 I'm baaaaack!
Did you miss me? I sure missed you. Although I did have five glorious days driving down highway 101 seeing some of the most beautiful parts of Oregon and Northern California. We camped along the way, explored new beaches, discovered hidden gems in the towns surrounding the redwoods, and gave big full hugs to the 1000 year old trees in the National Redwoods Forest. Oh, and I celebrated another trip around the sun. It was pure bliss and much needed respite. 
Now, with new energy and exhilaration, I am back with all kinds of spring time recipes to share with you. We're starting off with an adaptation of one of my oldest recipes from the blog: revisited and revised Vegan Tuna Salad.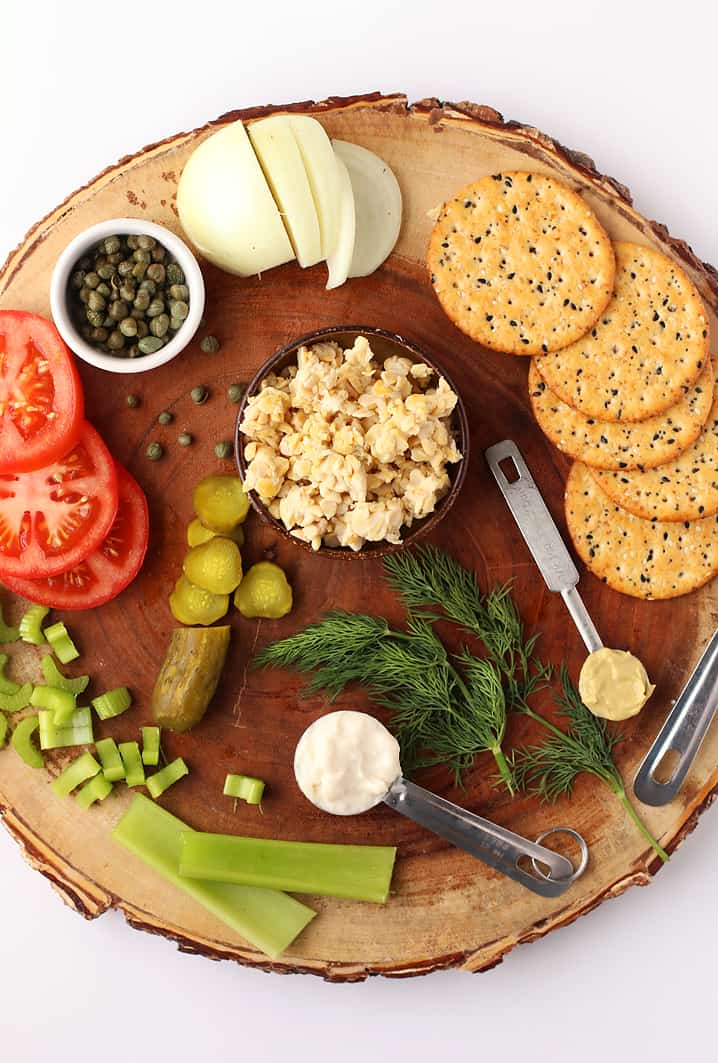 For years I've been playing around with vegan tuna salad recipes. Trying different bases like tofu, chickpeas, jackfruit and a carrot/walnut mixture which is the base for this raw tuna salad, I have been busy trying to replicate what used to be one of my favorite salads as a child. Through my experimenting, I've determined that my favorite base for this salad is tempeh. I love the nutty heartiness of tempeh which, while it significantly deviates from the texture of tuna, provides a perfect consistency for this salad. Tempeh is also known for adapting flavors which allows this tempeh tuna salad to taste just like the herbs, spices, and vegetables packed into it.
Another reason to choose tempeh for this salad is the many health benefits. Loaded with protein and fiber, a serving of this salad provides you with a lunch that will fills you up and energizes you throughout the day. In comparison to tofu, tempeh is the less processed soy option, contains less fat, and is filled with more vitamins and minerals.
Tempeh for the win!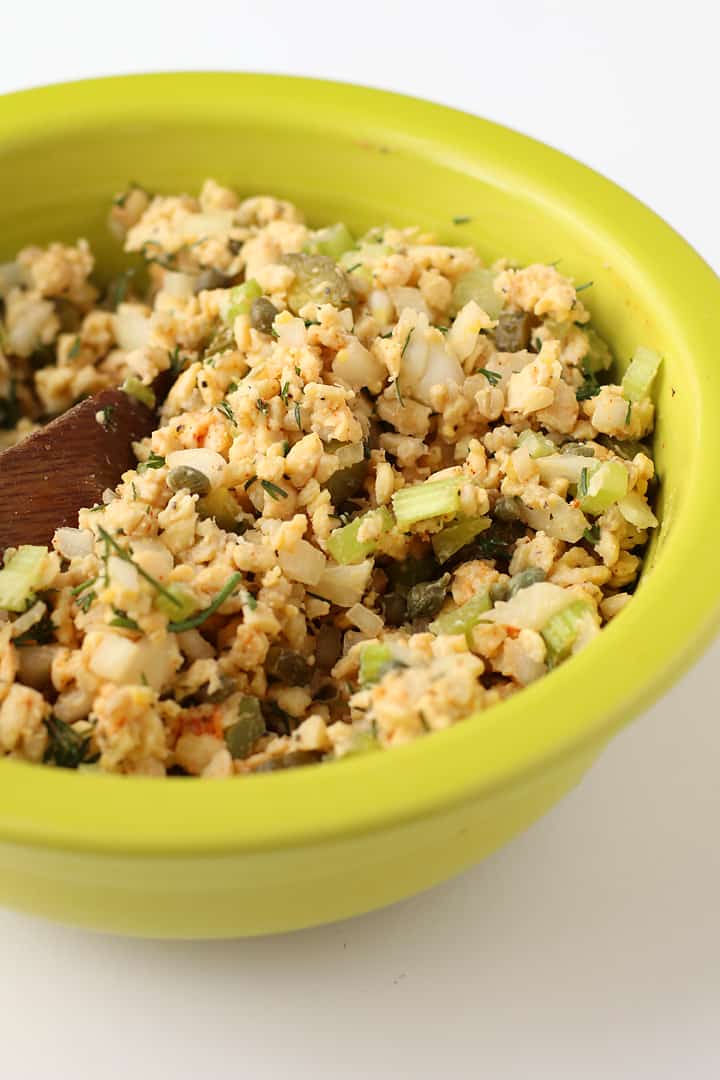 However, if you are looking for a soy-free option, I recommend trying chickpeas, runner-up for my favorite plant-based tuna substitute. Substituting chickpeas is super simple. Step one: drain and rinse them thoroughly. Step two: put them in a bowl and mash them until only a few large pieces remain (no boiling needed!). Step three: Add your remaining ingredients and…
voila…vegan tuna salad (with a soy free option)!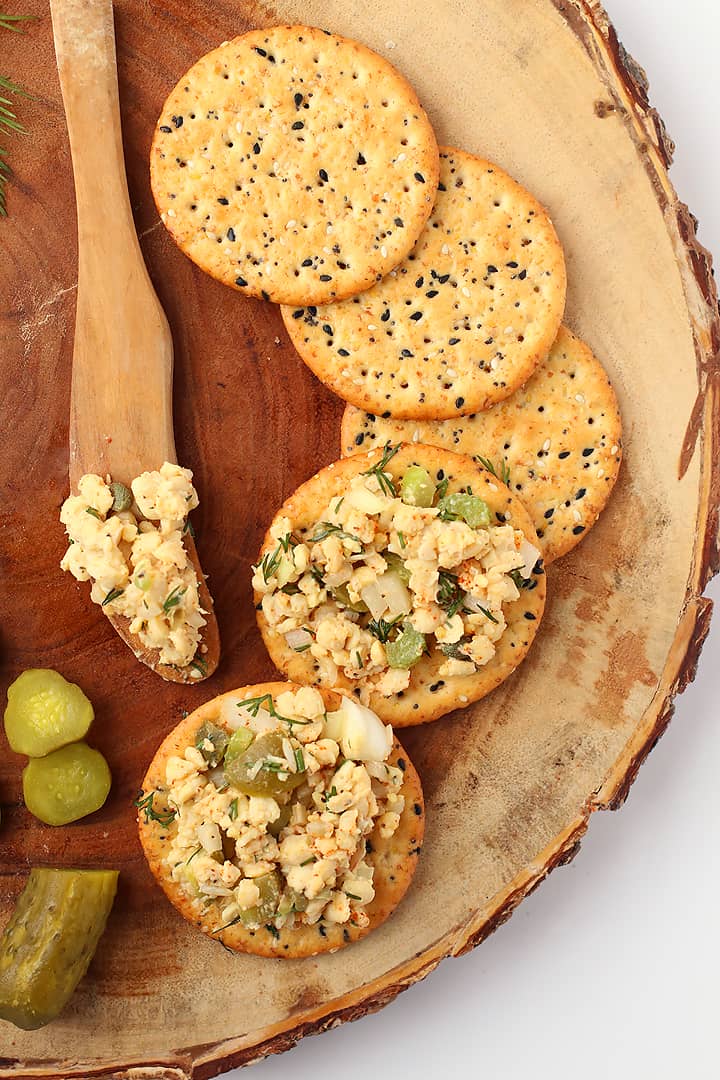 If you give this recipe a try, let us know! Tell us what you thought in the comments below. Or snap a photo and share it on Instagram. Tag @mydarlingvegan so I can see your creations!
Ready to get started? Let's go!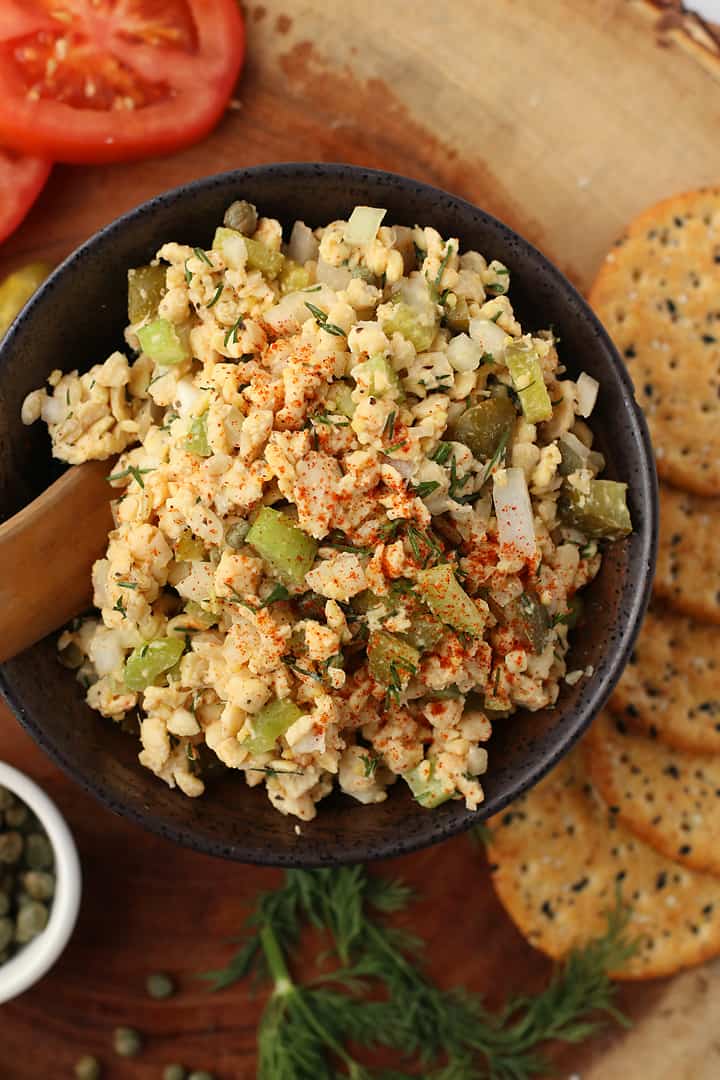 Vegan Tuna Salad
Enjoy this vegan and gluten-free vegan Tuna Salad. Made with tempeh and filled with fresh vegetables and herbs for a light and refreshing any-time-of-day snack.
Keyword:
Vegan Tuna Salad
Ingredients
8

ounces

tempeh

1/4

cup

white onions,

diced

1/4

cup

celery,

diced

2

tbsp

dill pickle,

diced

2

tbsp

fresh dill,

minced

1

tbsp

capers

1

tbsp

vegan mayonaise

2

tsp

spicy mustard

2

tsp

lemon juice

pinch of

cayenne

salt and pepper,

to taste
Instructions
Boil the tempeh in a medium-sized pot for twenty minutes. Once tempeh is tender, drain the water and let tempeh cool for 5 minutes.

While tempeh is boiling, chopped all your vegetables and herbs. Set aside.

Place cooled tempeh in a medium bowl and smash it with a fork or other mashing utensil until tempeh is mostly broken apart with some larger pieces in tact. Add the remaining ingredients and stir together.

Serve on toast or with crackers and vegetables. Store in an airtight container in your refrigerator for up to 3 days.
Recipe Notes
Don't skip the boiling step. Boiling removes the slightly bitter taste found in tempeh and helps soften and moisten the tempeh which allowing it to better absorb flavors.
Looking for a soy-free option, sub tempeh with a can of chickpeas. You can skip the boiling step and go straight to mashing. 
Nutrition Facts
Vegan Tuna Salad
Amount Per Serving
Calories 141
Calories from Fat 72
% Daily Value*
Total Fat 8g 12%
Cholesterol 1mg 0%
Sodium 185mg 8%
Potassium 264mg 8%
Total Carbohydrates 7g 2%
Protein 10g 20%
* Percent Daily Values are based on a 2000 calorie diet.
This post contains affiliate links.