Cranberry Orange Pound Cake
A sweet and tart Christmas dessert, this vegan Cranberry Orange Pound Cake is bursting with holiday flavors. Serve it at your next holiday party or bring it as a hostess gift. It's a hit every time!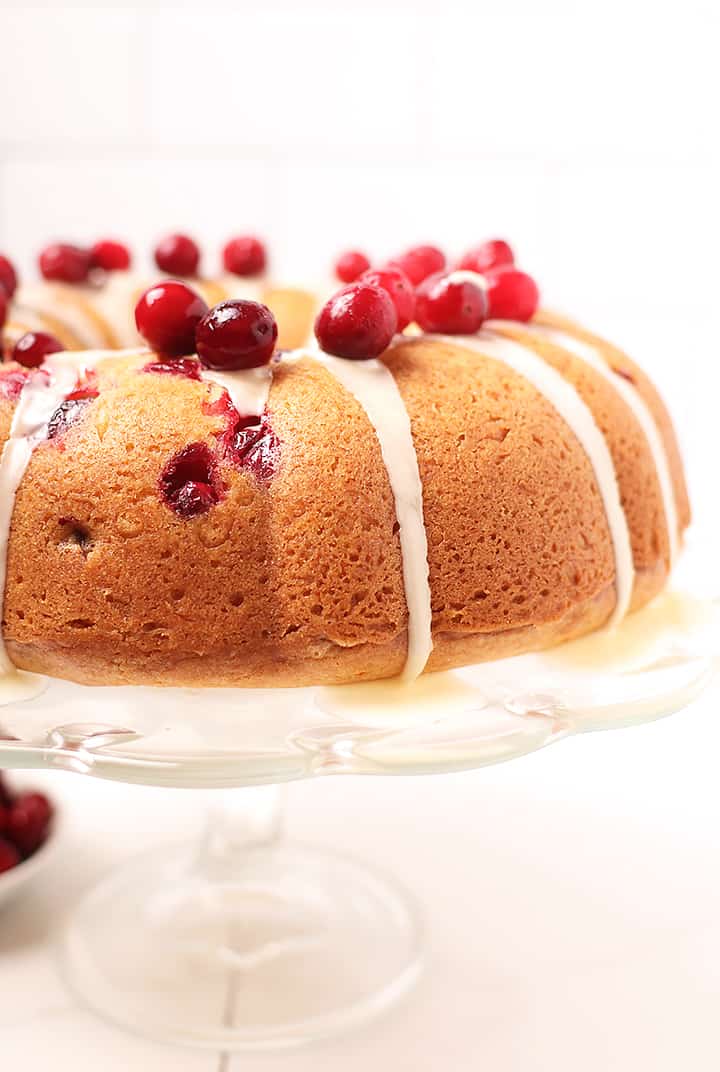 This post contains affiliate links. For more information read my privacy policy.
This post was originally published on 12/4/2013. Last updated on 10/17/2019
Christmas is almost here, friends!
Are you ready? Have you made your batches of Crinkle Cookies and Homemade Eggnog yet? Have you picked out all the presents for your loved ones? (If not, make sure to check out my vegan gift guide!). And have you watched all the Christmas movies yet?
I don't know about you, but I LOVE Christmas. I love everything about it. The parties, the decorations, the food, the music, and, of course, the baking. I've been baking up a storm and my freezer is getting full. But it's worth it and if you give this vegan orange pound cake a try, you'll see what I'm talking about.
Let's take a closer look.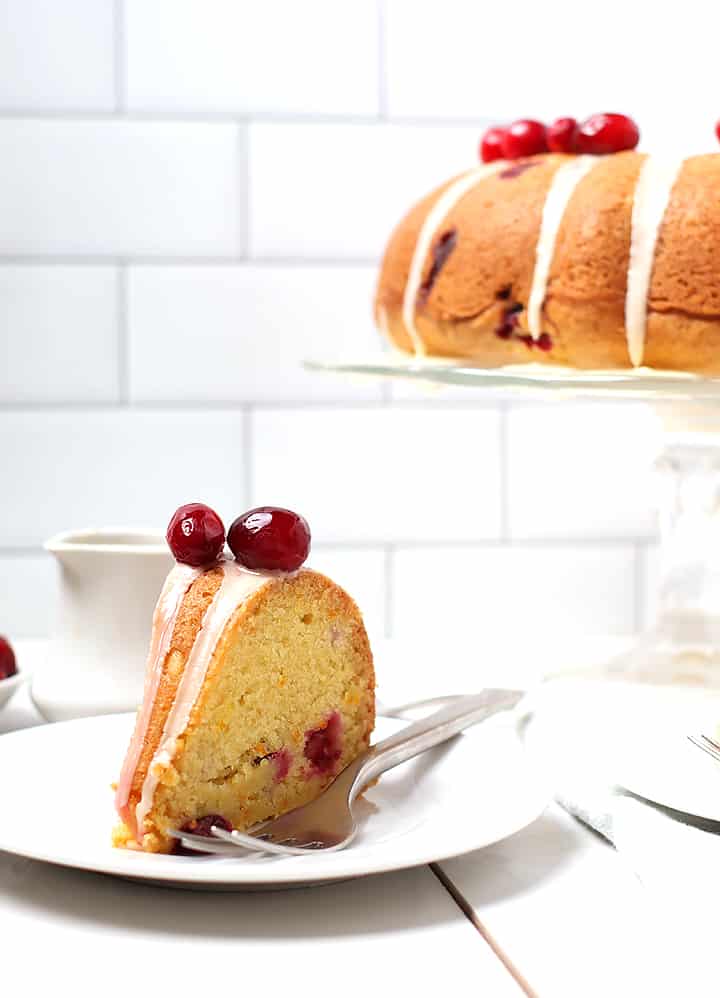 WHAT IS A POUND CAKE?
Traditionally pound cake is made from combining equal parts butter, flour, sugar, and eggs. Over time the ingredients in a pound cake have gotten more complex. It is now common to add extracts (such as lemon or vanilla) and/or fruit, swap out some of the butter for sour cream, and even add a few teaspoons of baking powder to make the cake lighter and less dense.
My modern take on a pound cake has made many of these adjustments.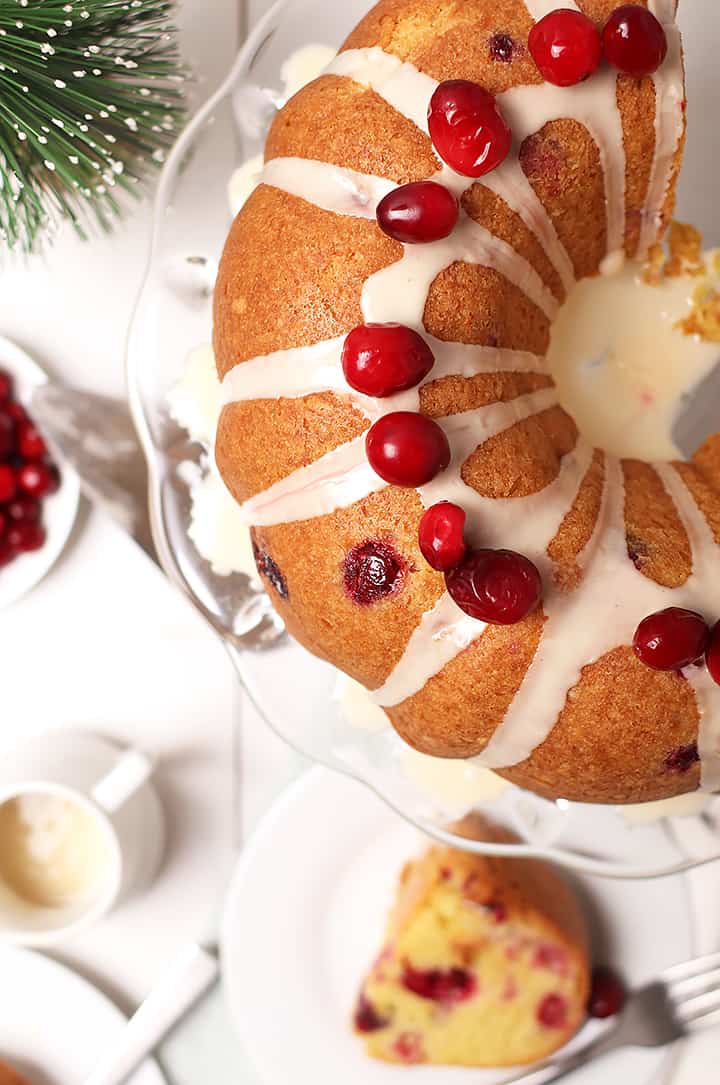 PERFECT EGG REPLACER FOR VEGAN POUND CAKE
Since traditional pound cake is made with a pound of eggs, we need to find the best egg replacer for this recipe. Eggs typically work both as a binder and a leavener in pound cake and originally my vegan pound cake relied on commercial egg replacers which I now prefer NOT to use because they a) can be hard to find and b) are made with all kinds of unpronounceable ingredients, and c) can be vastly different from each other, reacting to a recipe differently and leading to too much variation in the end result.
Now my egg replacer of choice for vegan pound cake is a combination of sour cream and baking powder. Together these ingredients work as a binder and leavener, keeping the cake moist and light.
BEST NON-DAIRY BUTTER FOR VEGAN POUND CAKE
As always, when working with such few ingredients, especially when the butter is a key ingredient, it's important that we use the highest quality. For that reason, I suggest using Miyoko's cultured vegan butter for this recipe. This award-winning vegan butter is truly the best vegan butter on the market. Its taste and texture is identical to dairy-based butter and will give you the complete melt-in-your-mouth feel of these cookies.
If you can't find Miyoko's butter at your local grocery stores, I would suggest Earth Balance as the next best alternative. Or you could just pick up a copy of her cookbook, and make your own incredible vegan butter.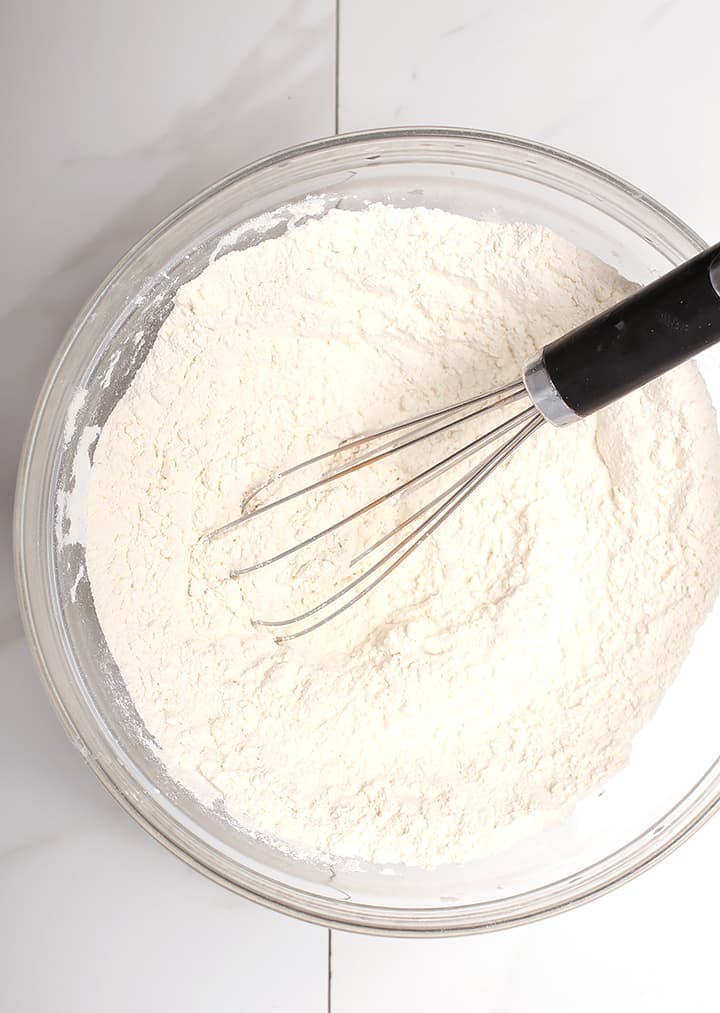 HOW TO MAKE ORANGE POUND CAKE
In one bowl, mix together the dry ingredients. That's the flour, baking powder, baking soda, and salt. Next, the vegan butter, sugar, and orange zest and extract get beat in a stand-up mixer.
LET'S PAUSE FOR A MOMENT AND TALK ABOUT STAND-UP MIXERS.
If you don't have a stand-up mixer in your kitchen, I highly recommend one. I have had mine for 15 years. I use in nearly weekly and it's never once given me a problem. It makes baking SO much easier and it comes with so many attachments, I can make meringues, bread, and cakes by flipping a switch.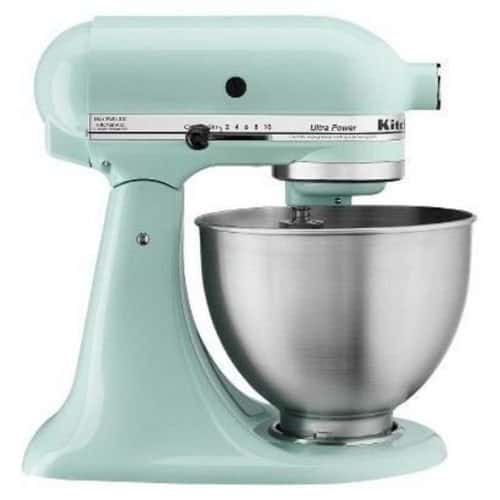 Because it's almost Christmas, now might be the time to add a Stand-Up Mixer to your wish list. This is the one I use and, as I said, I absolutely love it!
Once the butter and sugar are beat, we slowly add the sour cream. At this point, the batter might curdle a bit and that's okay. It will come back together when the flour is added. Next, we are going to finish the cake by alternating the dry and wet ingredients into the batter.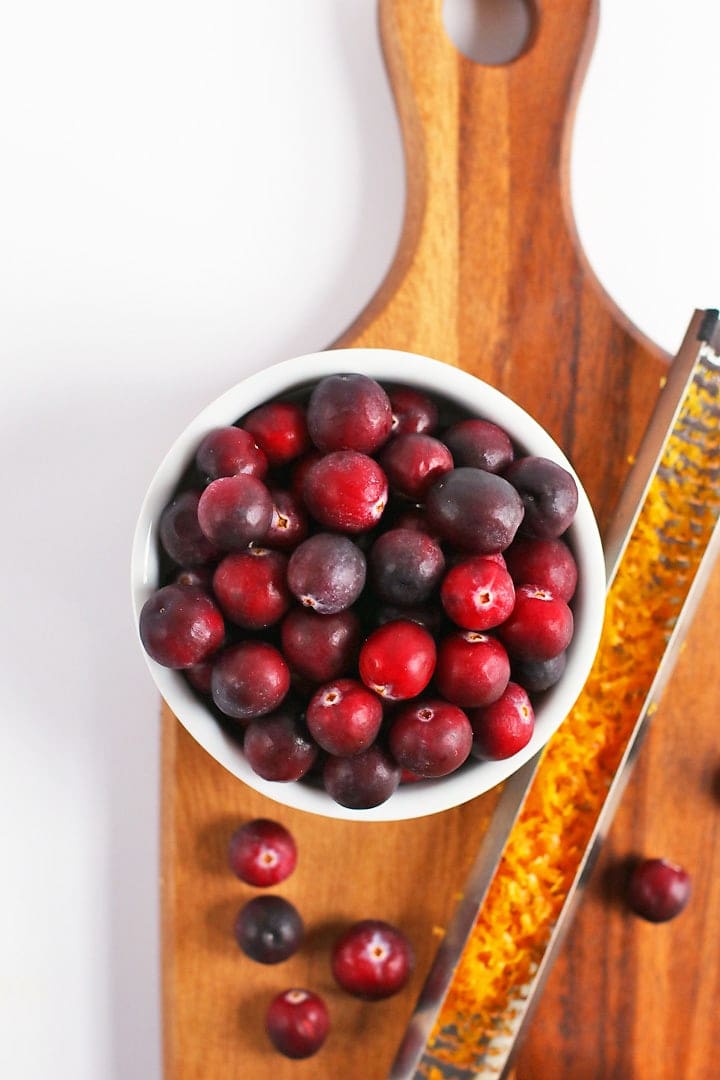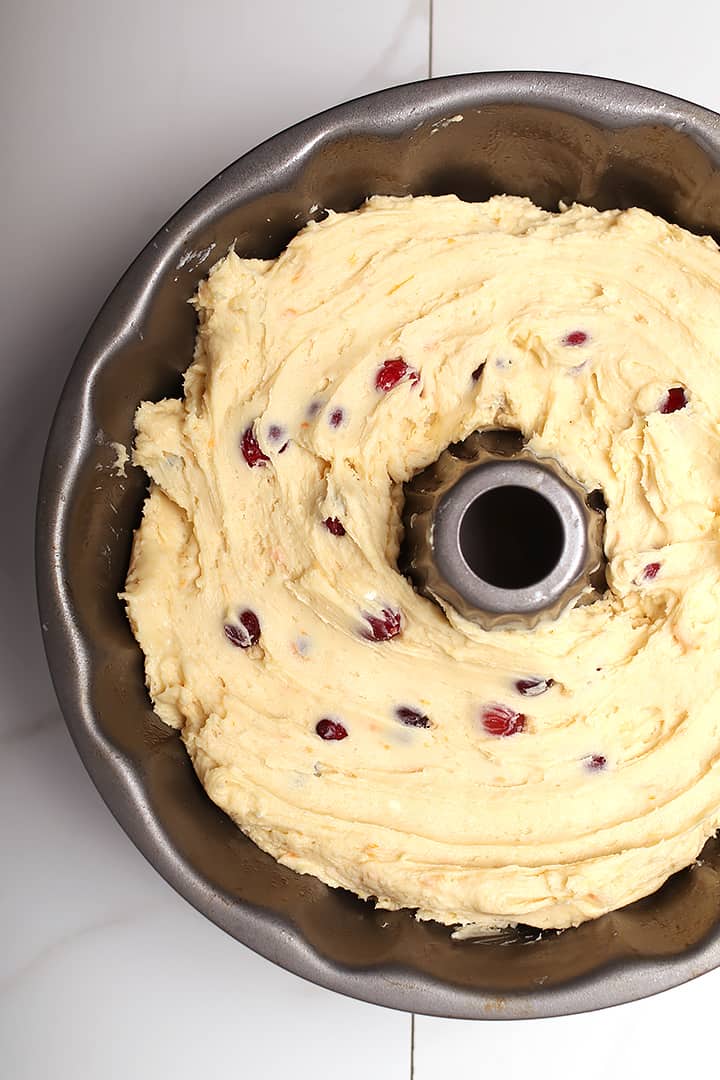 WHY ALTERNATE WET AND DRY INGREDIENTS?
Good question! By alternating we are making sure the batter stays as tender as possible. By adding all the liquid ingredients first, the butter would start to separate from everything. Yet, adding all the dry ingredients first would cause the batter to get thick and require over-mixing in order for it so even out. And, as we know, over-mixing results in a gummy glutenous texture – not what we're looking for in a pound cake.
So with a lightly mixed batter, we can pour it into a prepared bundt pan and bake!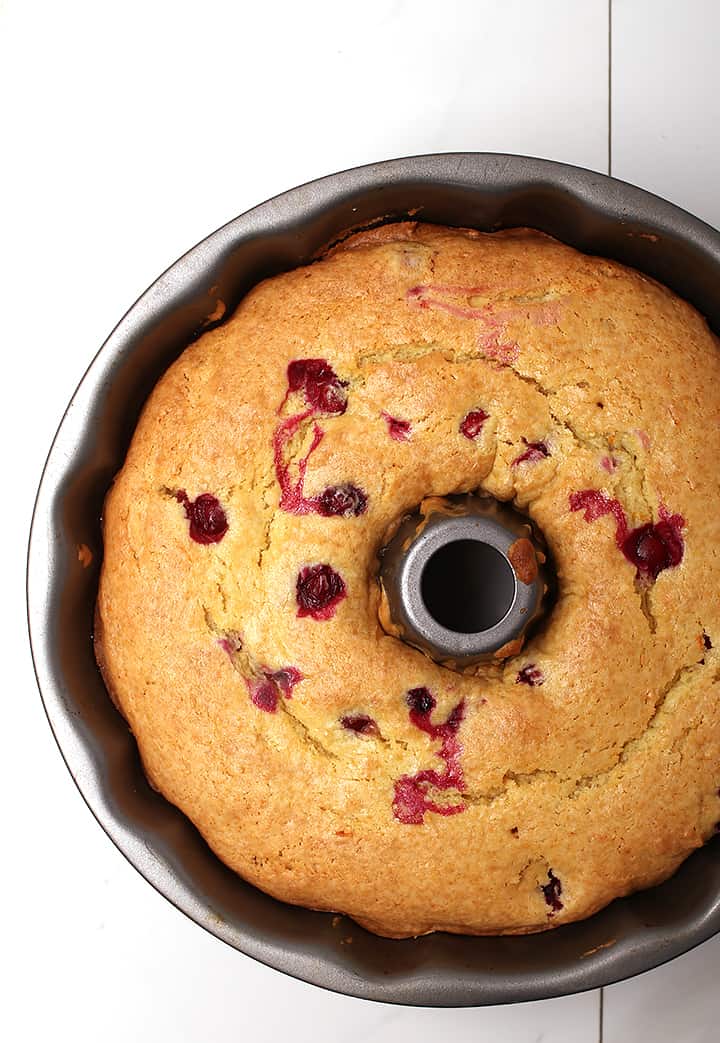 TIPS AND TRICKS FOR THE PERFECT VEGAN POUND CAKE
Don't over-mix the batter. By alternating the dries and wets into the batter, we are ensuring the batter does not get over-mixed and gummy.
Generously spray your loaf pan. We do not want any of this delicious cake sticking to its edges.
Bake until a toothpick inserted in the middle comes out clean. If the cake starts to get dark around the edges, you can cover it with tin foil to bake the last 10 minutes.
Let the cake cool at least 30 minutes in the loaf pan before turning it onto a wire cooling rack to cool completely. Let the pound cake cool completely before pouring on the glaze. Otherwise, the glaze will melt off.
Pound cake can be stored, tightly wrapped, at room temperature. You can also freeze this pound cake for up to 2 months. Take it out the day before to let it thaw.
Want variation? Make my Lemon Poppy Seed Pound Cake by swapping out the orange juice/zest with lemon. Omit the cranberries and add 1 1/2 tbsp of poppy seeds to the dry ingredients.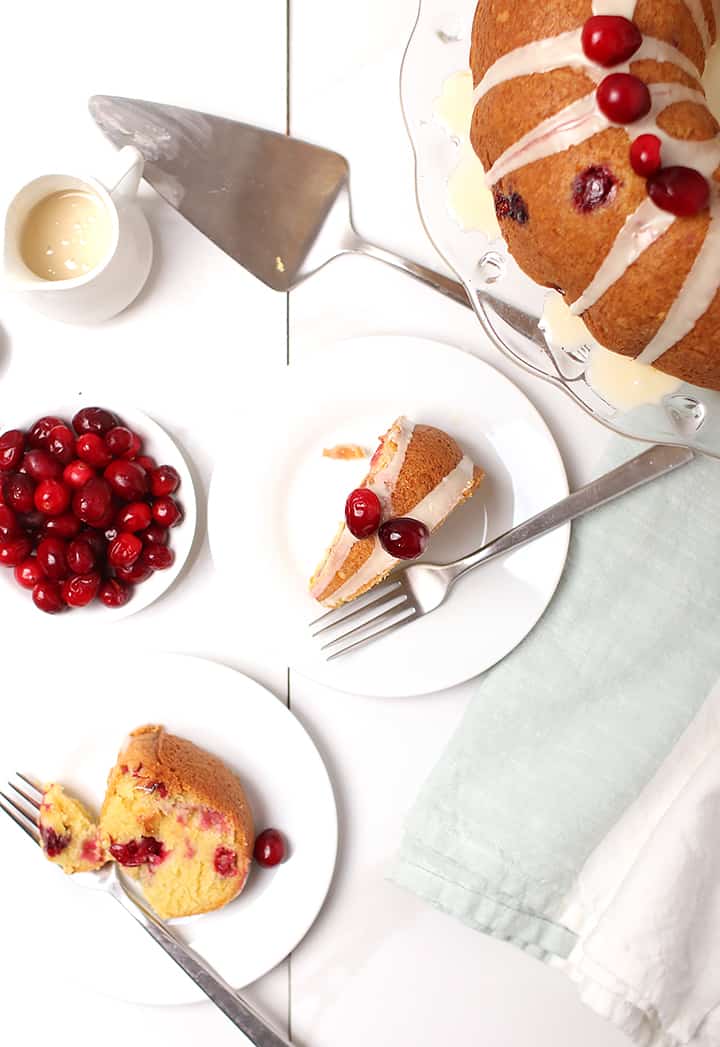 CAN THIS VEGAN POUND CAKE BE MADE IN ADVANCE?
Yes! This Orange Pound Cake makes the perfect holiday gifts and can be made in advance. To do this, bake the pound cake according to the instructions. Once the pound cake is cool, wrap it tightly in plastic wrap and place it in the freezer. These pound cakes can be frozen for up to 2 months.
When ready to gift or serve, let the pound cake thaw at room temperature for 3-4 hours.
MORE VEGAN CAKE RECIPES
The baking is never done. With Christmas just around the corner, let's take a look at some of my other favorite cake recipes:
But before you go check those out, let's take a look at this chocolate espresso cake below!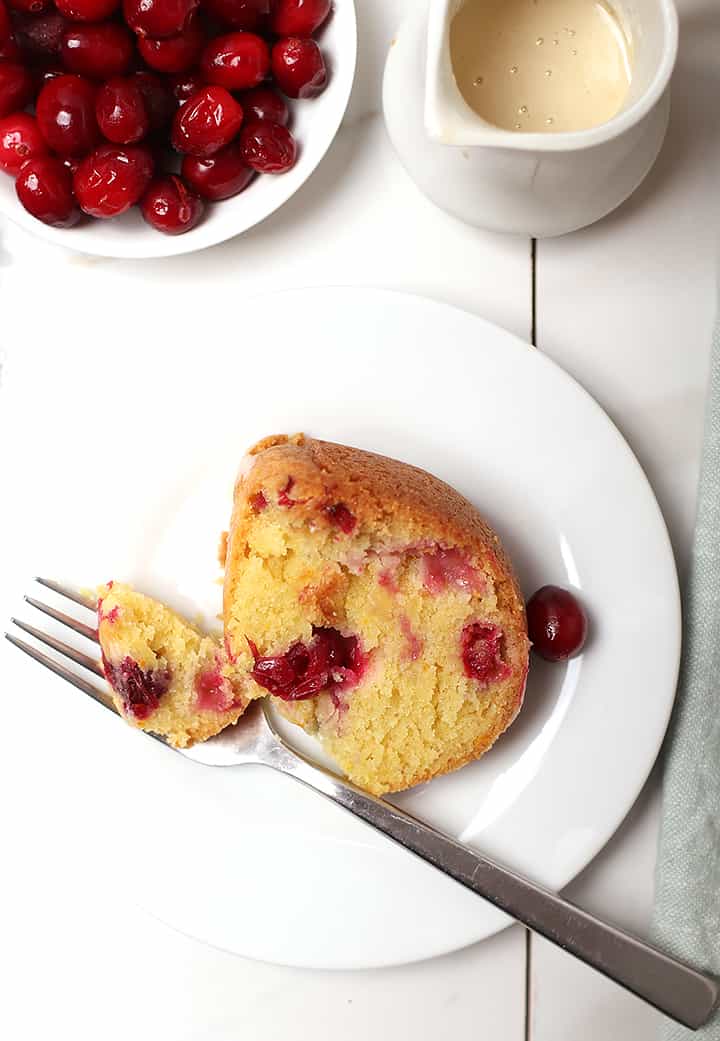 Orange Cranberry Pound Cake
A sweet and tart Christmas dessert, this vegan Cranberry Orange Pound Cake is bursting with holiday flavors. Serve it at your next holiday party or bring it as a hostess gift. It's a hit every time!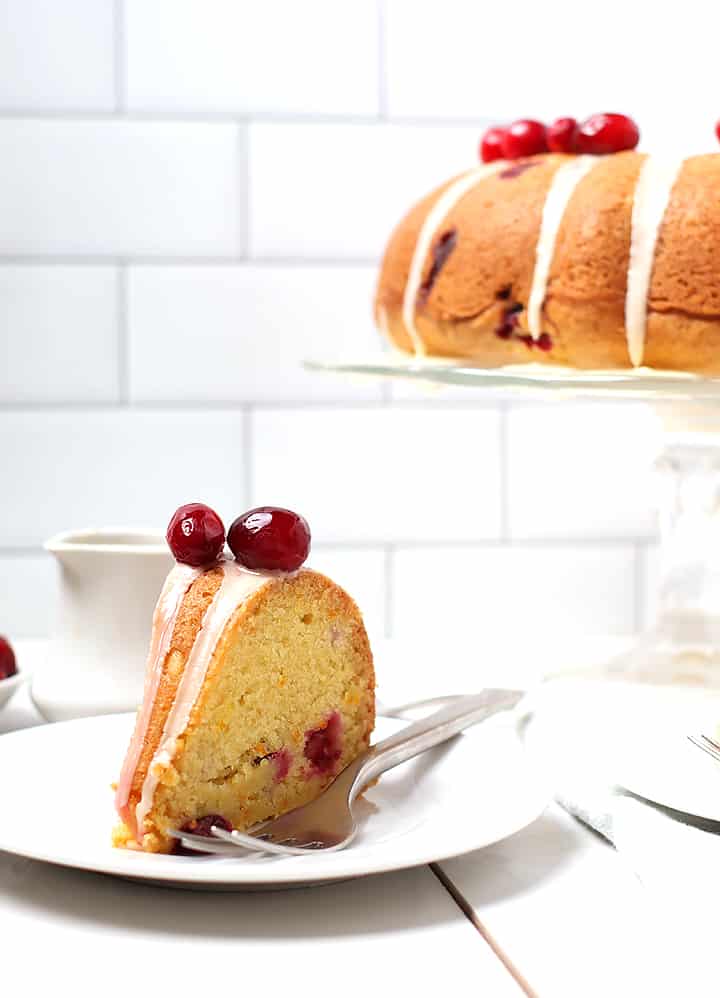 Course:
bread, Dessert
Cuisine:
Vegan
Keyword:
Orange Pound Cake
Servings
:
16
people
Calories
: 357 kcal
Author
:
My Darling Vegan
Ingredients
Cranberry Orange Poundcake
2 3/4

cups

all-purpose flour

1

tbsp baking powder

1

tsp baking soda

1 1/2

tsp salt

1

cup

vegan butter, I use Earth Balance Buttery Sticks

1 1/2

cup

granulated sugar

2

tbsp finely grated orange zest

1/2

tsp orange extract

1/2

cup

vegan sour cream

1

cup

chickpea flour

1

cup

water

1/4

cup

vegetable oil

2

tbsp orange juice

1 1/2

cup

frozen cranberries
Orange Glaze
1 1/2

cup

powdered sugar

2-3

tbsp orange juice
Instructions
Preheat the oven to 350 degrees Fahrenheit. Spray a 10" bundt pan and set aside.
Combine flour, baking powder, baking soda, and salt in a small bowl.
In a stand-up mixer, using the paddle attachment, beat together the vegan butter and sugar until light and fluffy. Add orange zest, orange extract, and vegan sour cream and beat until combined, scraping down the sides of the bowl as necessary.
In a blender combine chickpea flour with water until thick and creamy. With the mixer running add chickpea flour/water to the butter/sugar mixture in 4 batches, scraping down the sides in between each addition.
Combine oil and orange juice. Alternating wet and dry ingredients, add flour mixture and oil to the batter in three batches until just mixed.
Transfer into prepared bundt (or loaf) pan(s) and bake for 50-60 minutes, until a knife inserted in the middle comes out clean.
Let cake cool in the pan for 20 minutes then flip onto a cooling rack to cool completely.
To make Orange Glaze, whisk together powdered sugar and orange juice until it reaches a thick but pourable consistency. Top cake just before serving.
Nutrition Facts
Orange Cranberry Pound Cake
Amount Per Serving
Calories 357
Calories from Fat 126
% Daily Value*
Fat 14g22%
Sodium 430mg19%
Potassium 174mg5%
Carbohydrates 53g18%
Protein 4g8%
Vitamin A 550IU11%
Vitamin C 2.1mg3%
Calcium 39mg4%
Iron 1.4mg8%
* Percent Daily Values are based on a 2000 calorie diet.
If you give this recipe recipe a try, snap a photo and share it on Instagram. Make sure to tag
@mydarlingvegan
so I can see your creations!