Get all your holiday shopping done here with My Darling Vegan's Vegan Holiday Gift Guide with gifts for the chef, him & her, and even the pets.

Happy December, my friends!
I'm over here scratching my head trying to figure out what happened to 2017. I mean, wasn't it just February? Didn't baseball season just start? Weren't we all just enjoying our summer vacations?
Okay, okay. Before I get too worked up, I need to acknowledge that 2017 is not yet over. We still have one month to go and it's one of the best – December! Some of you may know that before I had kids I was a bit of a grinch about Christmas. The holiday season felt like living inside a big commercial that would ultimately, always, leave me depressed. Then I had kids and some of that magic around Christmas – the magic that I remember as a kid myself – the trees and lights and baking and songs started coming back and every year the magic gets stronger and stronger.  While gift giving it's not a part of the holiday I particularly want to highlight, I do want to acknowledge the goodness around showing love through simple and intentional gifts. So I've compiled a vegan holiday gift guide to help you show love and compassion this most wonderful time of year.
For the Chef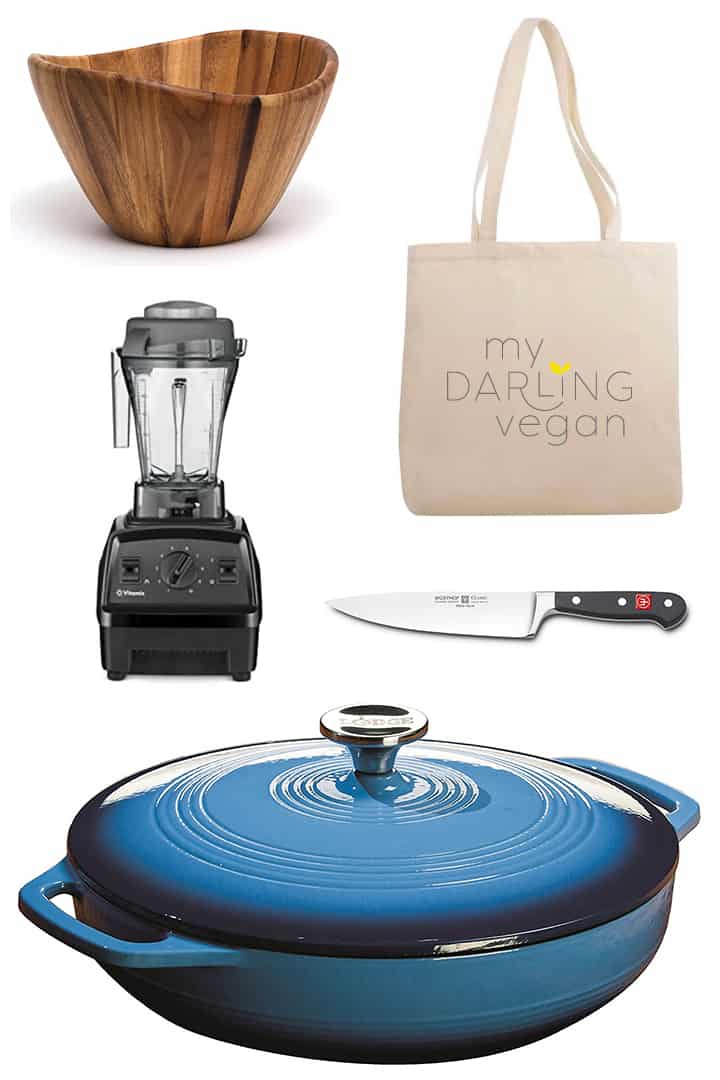 The last couple years have brought with them a number of incredible vegan cookbooks that would make perfect gifts. Some of my recommendations for all-around good cookbooks are Vegan Richa's Everyday Kitchen, The Superfun Times Vegan Holiday Cookbook, Oh She Glows Everyday, and Minimalist Baker's Everyday Cooking.
Two of my favorite kitchen gadgets for around $50 are my Vegetable Spiralizer, perfect for creating a beautiful vegetable spiral for salads, zoodles (I hate that word), and garnish, and my Immersion Blender which I use for just about everything – pureeing soup, mashed potatoes, whipped dessert, you name it!
Some of my favorite kitchen recommendations for around $100 are the Air Fryer, Cast Iron Dutch Oven, Instant Pot, and a good quality knife. The Air Fryer can create healthier alternatives to fried foods while keeping the crispy crunchy texture we've come to love. I mean, it can do incredible things. The Instant Pot does it all. It's a pressure cooking, slow cooker, steamer, rice cooker, and more. In fact, it's 9 kitchen gadgets in one! And then, you can never go wrong with a good quality knife. Mine is my most used kitchen utensil by far.
And if you really want to splurge, I can't recommend the Vitamix enough. I use mine every day for smoothies, soups, nut-based cheeses, sauces, etc. I also love my KitchenAid Stand Up Mixer. It's the perfect for the baker who loves to make cakes, cookies, and breads. You can get it with several different attachments allowing it to become one of the most versatile kitchen gadgets you have.
Support local businesses with these adorable and sustainably made kitchen magnets. How cute are they?! Or grab a My Darling Vegan re-usable grocery bag which not only cuts down on paper or plastic, but supports yours truly. And then there are these adorable linen aprons. I mean, what's not to love?
Or bring character to the table with one of these beautiful wooden bowls and Root Wood Platters. I love their rustic charm!
For Her
Finding the right vegan boot can be challenging but I have a couple of favorites. This faux-leather ankle boot (pictured above) is one of the best. It comes in black and light brown. Also check out Moo Shoes for all kinds of other options. Everything you'll find at MooShoes is 100% vegan
I love the brand Matt & Nat for vegan bags, wallets, backpacks, and every other bag you can imagine. Like Moo Shoes, everything you'll find at Matt & Nat is vegan. Check out this handbag (pictured above) for an idea of what you can get there.  While you're there, check out these wallets too!
There are so many awesome vegan accessories you can get for here. I love everything by CrobinsonDesign, especially this adorable necklace.  Again, another great way to support local small businesses. I'm also loving this vegan leather watch for anyone who still wears watches.
I mentioned this one awhile back, but I love this faux-leather jacket. I've been wearing my all fall and it's keeps me warm and cozy. For more wintery type jacket, check out PETA's list of down-free cold-weather jackets.
As far as makeup and skin care, it can be hard to find good quality vegan options. I recently learned about BeautyCounter which is a skin care/make up line that is all vegan. You can read a thorough review over here. Or you can give a gift that lasts a year by buying a vegan beauty subscription box through Petit Vour which sends sample products to your home every month, allowing you to check out a variety of vegan options.
For Him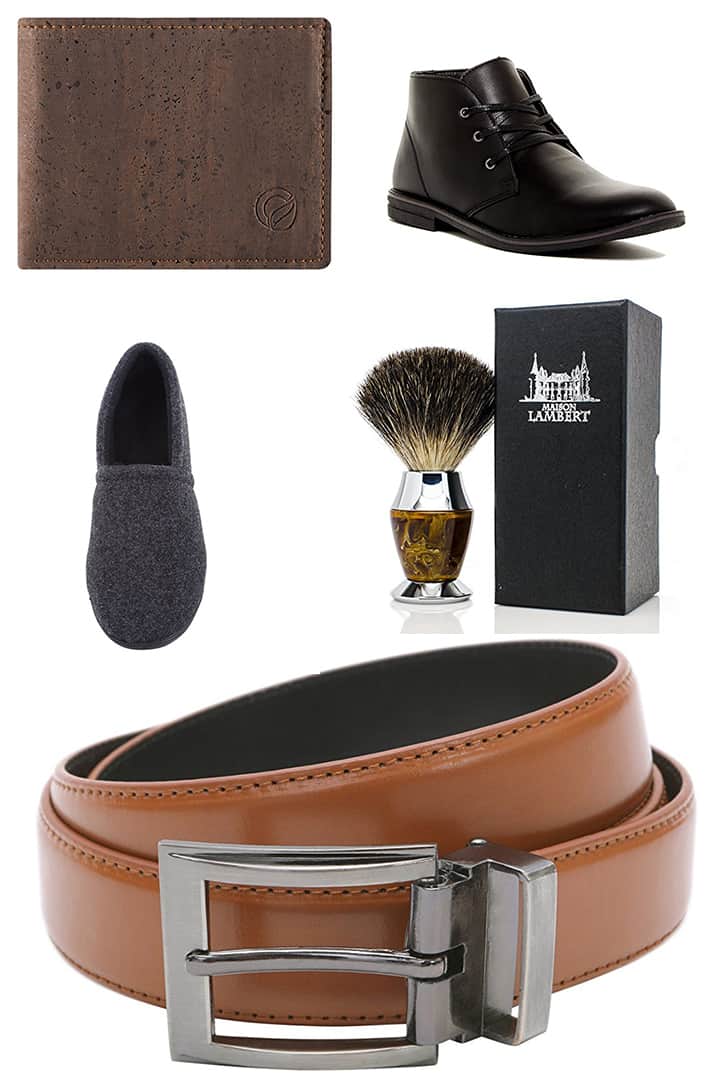 I love the practicalness of a good vegan leather belt. The Vegan Collection has a whole line of faux-leather belts ranging in style and color. I especially like this reversible belt. Another great place to find vegan belts is over at Moo Shoes which also carries a large collection.
I'm not a male but if I were one, I would absolutely love a pair of these Vegan Chukka Boots. They are made with faux-leather for a simple yet sophisticated boot that can go with many different styles. Also, they are on a crazy sale right now over on Amazon – 33% off!
For an inexpensive (perhaps stocking) gift, check out these faux-wool slippers.
You can find vegan wallets many places. I am particularly fond of the durable cork one pictured above. For more traditional faux-leather wallets, both Matt and Nat and Moo Shoes have some incredible options. I'm also a big fan of this one right here.
There are so many things to keep in mind as a vegan and shaving is no exception. That's why this shaving kit makes a nice gift. It comes with a wooden shaving bowl, organic shaving soap, and a badger brush which is all 100% vegan, hypoallergenic and 90% organic!
For the Pets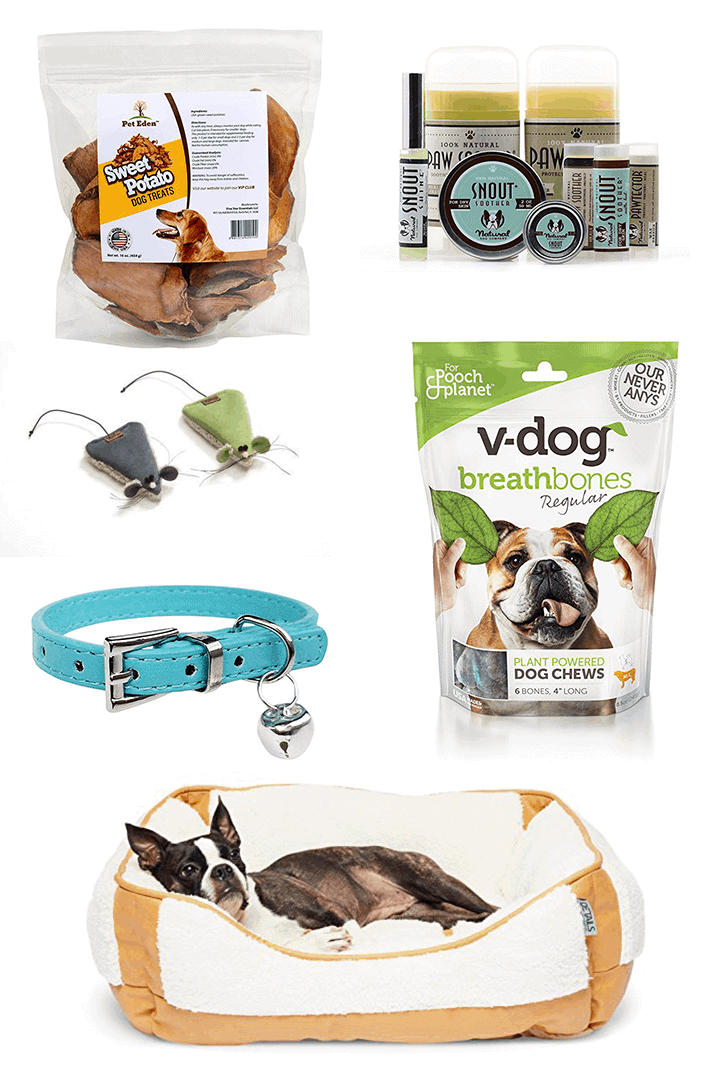 Get your dog or cat the most comfortable and sturdy pet bed with this sherpa pillow and faux-leather vegan dog bed. It comes in a variety of shapes, colors, and sizes perfect for any cats and dog
There are all kinds of vegan treats to give both dogs and cats. Some of my favorites are V-Dog Vegan Breathbones (which is really a gift for your dog and you), these chewy sweet potato dog treats, or these hard-to-find vegan cat treats.
Faux-leather collars for your dog and cat are the perfect way to give a little love to your furry friend. Here's an inexpensive option with a lot of variety. You can also find faux-leather leashes for your dog here.
Give your cat a little love with these eco-friendly organic mouse toys filled with catnip for hours of entertainment. Check out all the dog and cat toys at Eco Dogs and Cats.
Keep your dog comfortable with this Snout Set and Pawdecure Pack. This pack contains snout and paw soother to prevent chapped, crusty, and damaged skin, and PawTector which is a wax barrier that protect paws from heat, cold, sand, and snow. All products are organic, vegan, and made in the United States.
Thanks for stopping by and checking out my vegan gift guide. Happy December, everyone.
This post contains affiliate links. 
Written by My Darling Vegan