Buffalo Cauliflower Wings
Get your snack on with these spicy buffalo cauliflower wings - coated, breaded, baked, and dipped in homemade buffalo sauce. Served with homemade vegan ranch dressing for an incredible plant-based snack.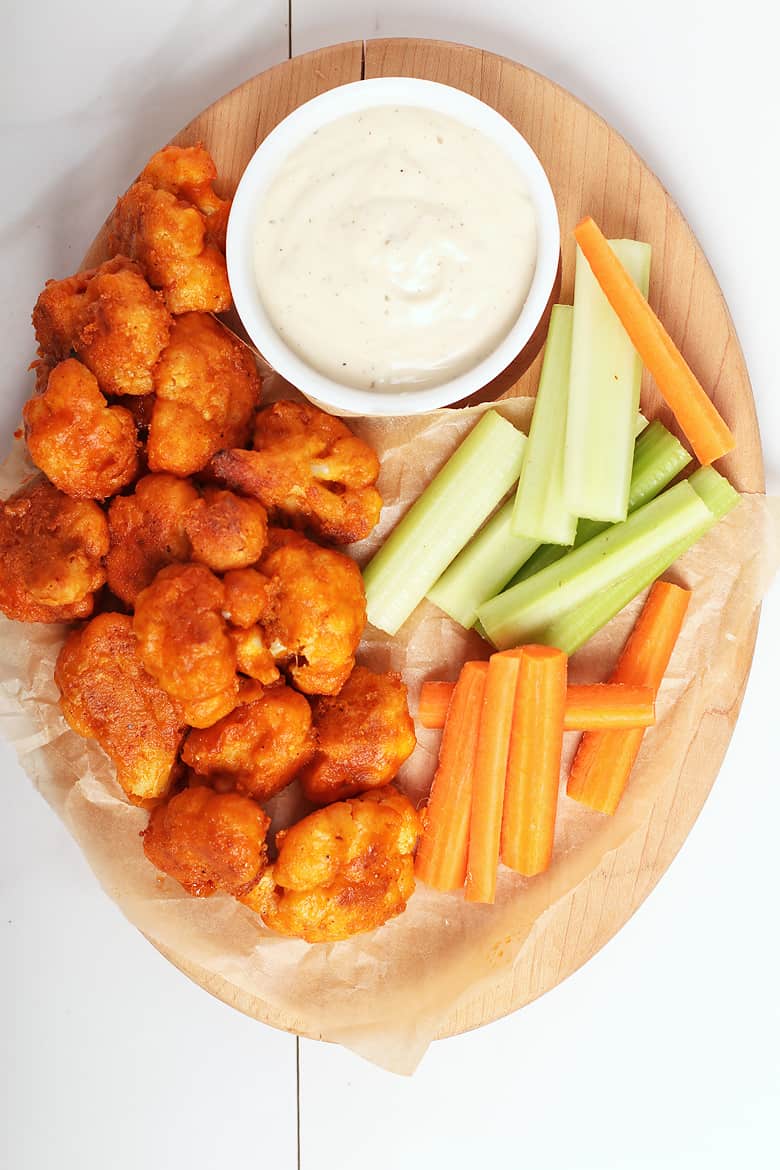 Course:
Appetizer
Cuisine:
Vegan
Servings
:
4
people
Calories
: 257 kcal
Author
:
Sarah McMinn
Preheat oven to 450 F. Pour 2-3 tablespoons of avocado oil into a heavy bottom baking dish or large cast-iron skillet and place it in the oven while it preheats.​

In a shallow mixing bowl, combine chickpea flour and water, whisking together until thick and gooey. This will act as your binder between the cauliflower and flour mixture. In a large ziplock bag mix together flour, spices, salt, and pepper. 

Dip each floret into the chickpea flour mixture until completely submerged.  Once coated, place 4-5 florets at a time in the flour mixture. Seal the ziplock bag and shake until florets are completely coated. Place the battered cauliflower in the baking dish and repeat until all the cauliflower is covered.

Bake for 10 minutes. Pull out of the oven, flip cauliflower over and return to the oven for an additional 10 minutes. 

While cauliflower is baking, make your sauce. Place all the ingredients in a small saucepan and cook over medium-low heat until the butter has melted. Remove from heat and set aside to let cool. 

Once cauliflower is ready, remove from the oven. Coat cauliflower with Buffalo Sauce completely and return to the oven for an additional 10 minutes until cauliflower is crispy on the outside.

Remove from oven and let cool 10 minutes before serving with homemade ranch dressing, carrots, and celery. 
Serving and Storing - Let the cauliflower wings cool about 10 minutes and then serve immediately. They will eventually lose their crispiness if you let them sit too long. Cauliflower wings are traditionally served with blue cheese or ranch dressing as well as celery and carrots. You can enjoy cauliflower wings on there own, as part of a spread for the big game, in a sandwich, or tossed with Romaine lettuce for a delicious salad. Unfortunately, these cauliflower wings do not store well. They should be eaten the same day
Calories Per Serving:
257
% Daily Value