Delicious Korean BBQ bowls filled with cabbage slaw, spicy pan-fried tofu, and sautéed broccoli and carrots, this weeknight meal is hearty and delicious. Vegan and Gluten-free!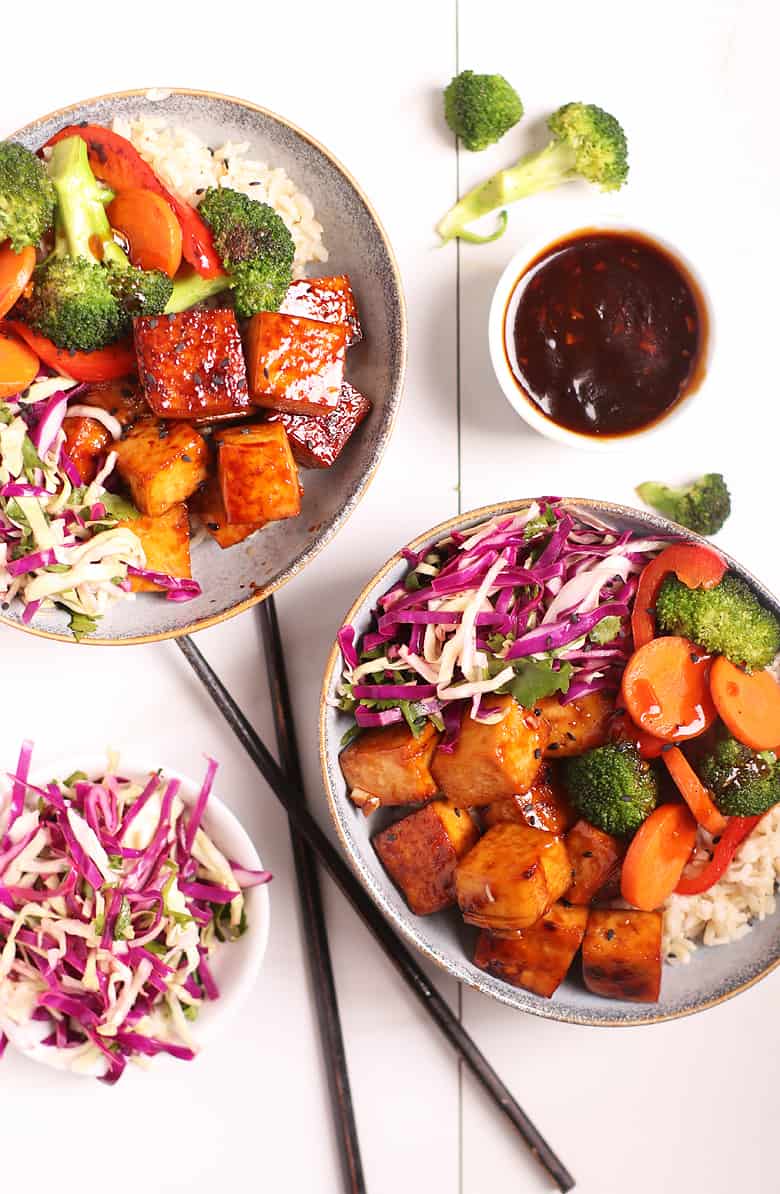 This post contains affiliate links. For more information see my privacy policy.
This post was originally published 01/13/2014. Last updated 6/22/2019
Who is LOVING summer? I am! I am!
It's been a busy one for sure. July was filled with several trips. We started with a family vacation in Central Oregon. It was 8 adults and 6 children in one house. Needless to say, there was never a dull moment. Later in the month, I took a weekend trip to the Oregon Coast with my sister and our kids – another fantastic summer weekend. This past week my partner and I snuck in a quick camping trip to Silverfalls with the kids and for a few short days we are back at home before we head out again, this time to…Disneyland! But don't tell the kids; It's a surprise.
But, I don't want to leave you without a new recipe this Monday. Well, I shouldn't say new. This recipe is actually an oldie that was in need of some sprucing up. I tweaked the recipe for a new and improved spin on the vegan Korean BBQ Bowl.
Originally, this Korean Bowl was inspired by a dish at one of my favorite Portland restaurants and I think you're going to love it, too. It's filled with sweet and sticky Korean BBQ tofu, sautéed broccoli and peppers, and a cilantro-lime slaw for the perfect blend of sweet, citrus, and savory.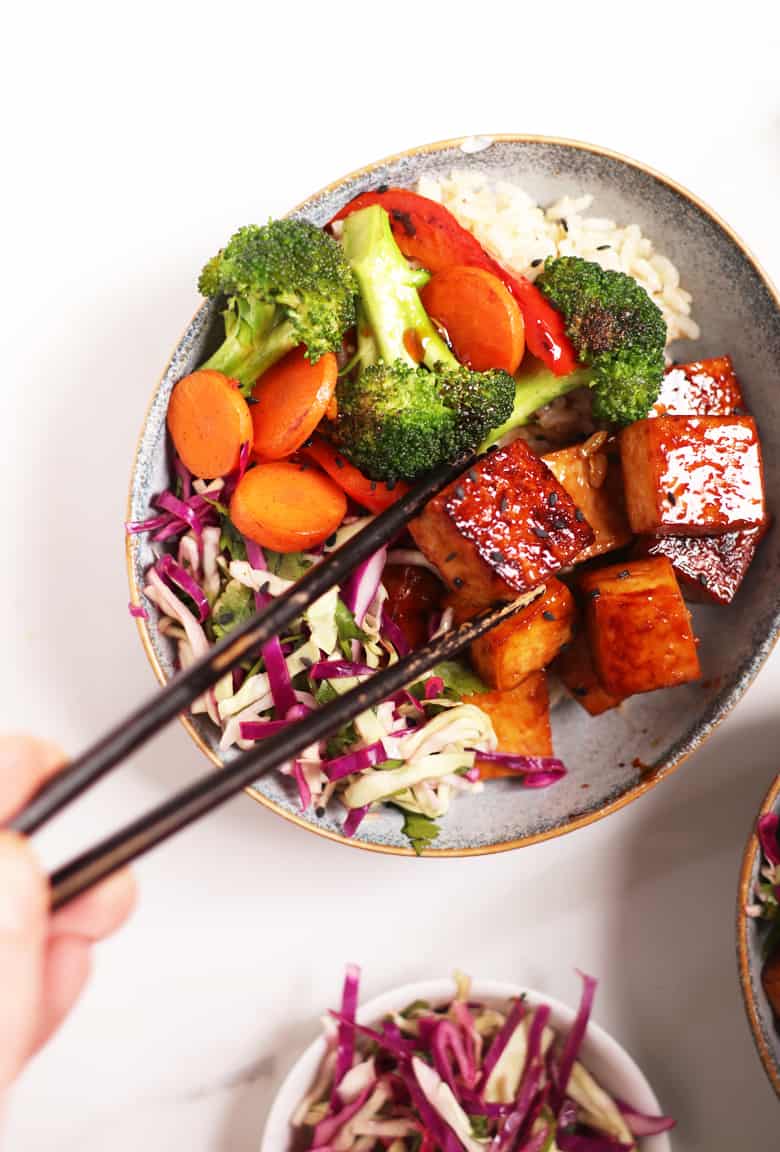 What is Korean BBQ?
Traditionally Korean BBQ is a method of marinating and grilling meat. The BBQ marinade is made up of a mixture of soy sauce, sugar, sesame oil, garlic, and pepper. In my recipe, I also add ginger and hot sauce for extra flavor. And, of course, in lieu of meat, I used a plant-based substitute that is MADE FOR MARINADE: tofu.
For best results, the tofu should marinade for at least an hour but can marinate overnight.
---
Best Tofu for Korean BBQ
For this recipe, look for extra-firm tofu that is not water-packed, such as Trader Joe's High-Protein Tofu or Super Firm or Sprouted Tofu. These types of tofu do not have excess water and do not need to be pressed.
If you have to use water-packed tofu make sure to press as much water as you can out of it first by using a tofu press or a weighted, towel-lined cutting board. Press the tofu for at least 1 hour.
---
Grilling vs. Pan-frying
As I mentioned, Korean BBQ is typically grilled. The instructions for this recipe are to pan-fry the tofu since everything else is done in the kitchen. However, if you want to grill the tofu, you can simply skewer it onto kabobs and place it over a hot grill for about 10 minutes. When it's done, simply toss the tofu with the extra marinade and serve.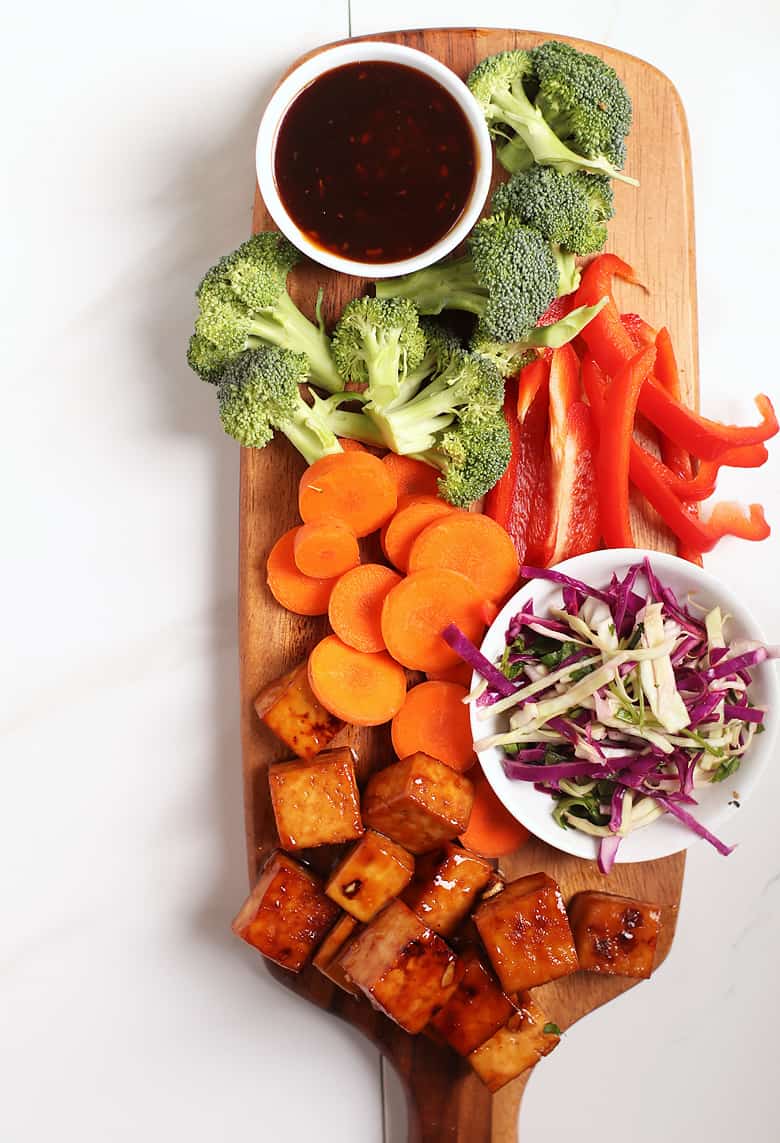 How to make Korean BBQ Bowls
Making these Korean BBQ Bowls requires assembling a few components all at once. In addition to cooking the rice, you will need to make the tofu, cilantro cabbage slaw, and sautéed vegetables.
But don't worry. It's all quite easy. Just follow these steps below.
Step one – Marinade the tofu
Whisk together the marinade ingredients in a small bowl. Cut the tofu into 1″ cubes and place the cubes in a shallow dish. Top with the marinade so that the tofu is completely submerged.
You can also marinate the tofu in a large ziplock bag. To do this, place the tofu and marinade in a bag, zip it tightly, and shake the tofu until it is completely coated. Place in the refrigerator while preparing the remaining components of this meal.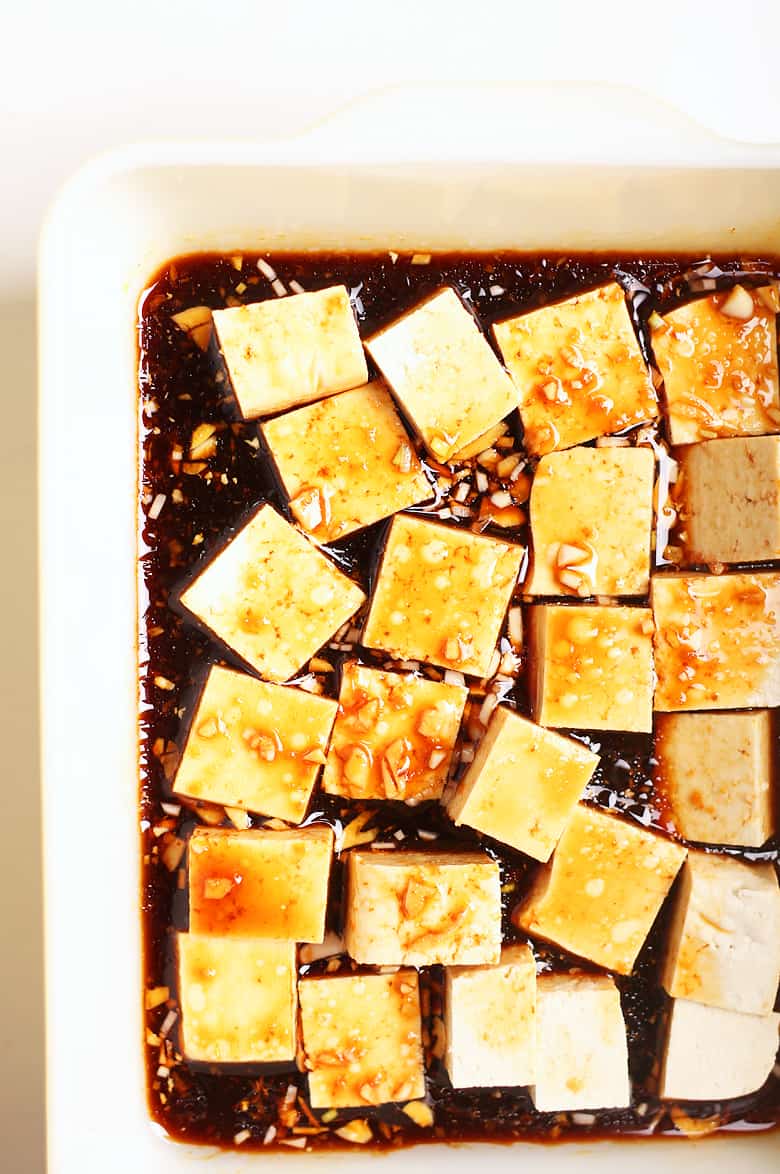 Step two – Make the slaw
Next, let's make the slaw. To do this, thinly slice the cabbage and place it in a bowl. For the best results, I use my mandoline slicer. Add the remaining ingredients and stir them all together. Place in the refrigerator to let the flavors soak into the cabbage.
The longer the slaw sits, the more flavorful it becomes.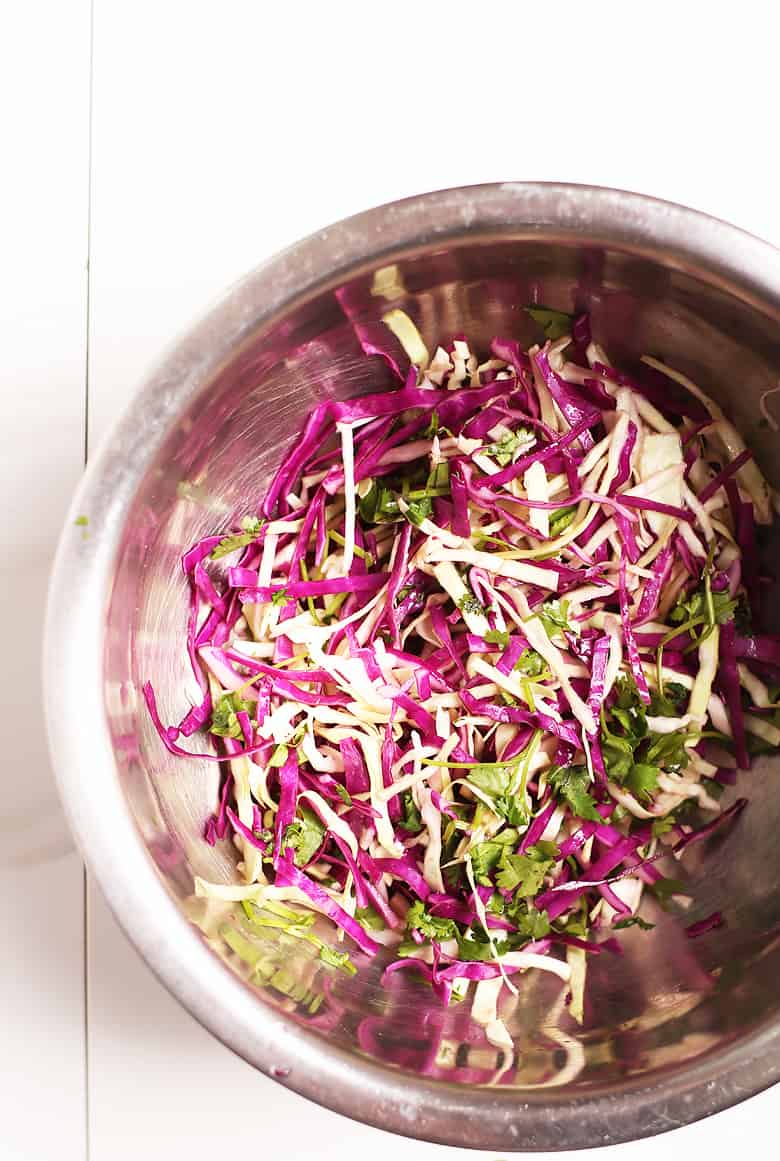 Step three – Stir fry the vegetables
Heat oil in a large sauté pan and place over medium-high heat. Add the broccoli, peppers, and carrots, and sauté for about 7 minutes until vegetables are tender and lightly charred.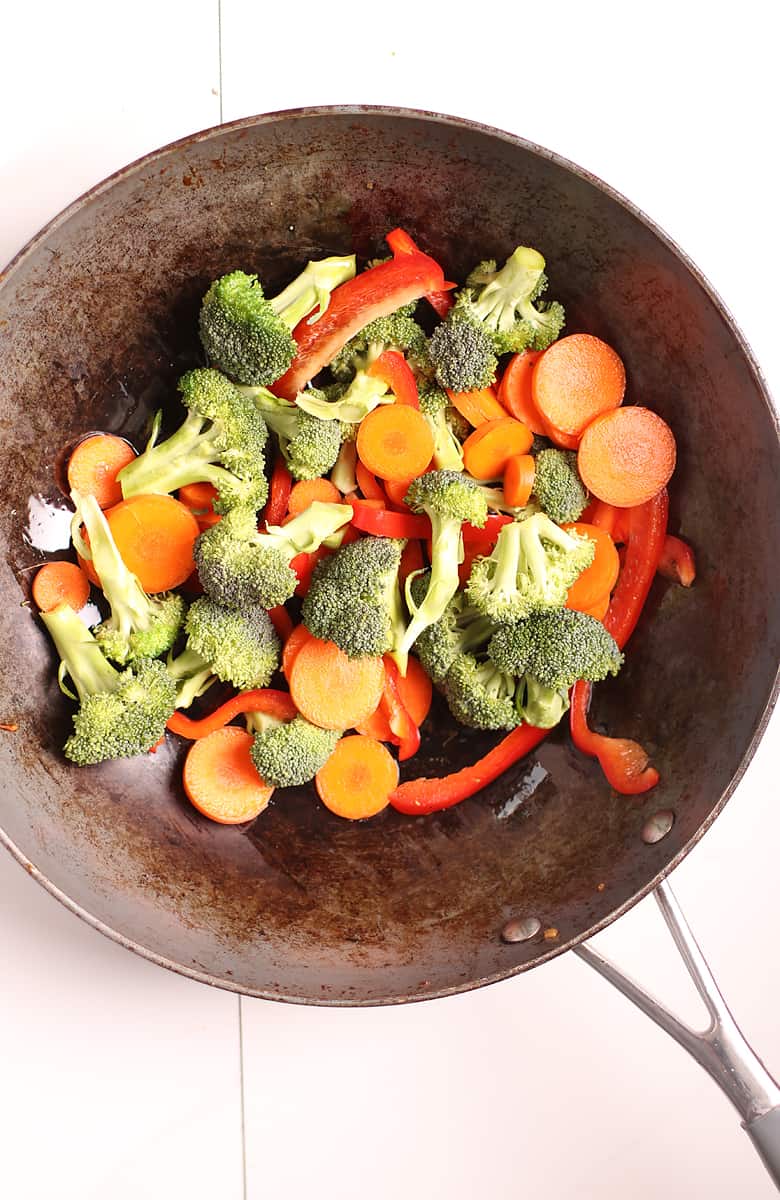 Step four – Pan-fry the tofu
Remove the veggies from the sauté pan and add 1 more tablespoon of oil. With a slotted spoon, remove the marinated tofu, RESERVING THE MARINADE, and sauté the tofu for 5-8 minutes. It should sizzle when it hits the pan. Stir the tofu often so that all sides brown. When the tofu is cooked on all sides, add 1/4 cup of the marinade and let it simmer with the tofu until the marinade has cooked down.
Once the marinade has absorbed, remove tofu from heat. It's time to assemble the bowls!
---
Serving and Storing
To assemble the bowls, place a scoop of rice at the bottom of the bowl. Evenly divide the tofu, vegetables, and slaw between 4 bowls. Add additional toppings: cilantro, hot sauce, jalapeños, and extra marinade.
Serve these bowls immediately.
Store leftovers in separate containers. Store leftover cabbage slaw and tofu in the refrigerator for 5 days and leftover marinade in the refrigerator for 7 days.
---
Variations of Korean BBQ Bowls
Don't like tofu? Use tempeh, mushrooms, or grilled eggplant instead. Marinate the protein or vegetables for at least one hour and pan-fry until they are slightly charred on the sides.
For a grain-free option, substitute the rice for a bed of lettuce or cauliflower rice.
For more heat, serve with hot sauce and jalapeños.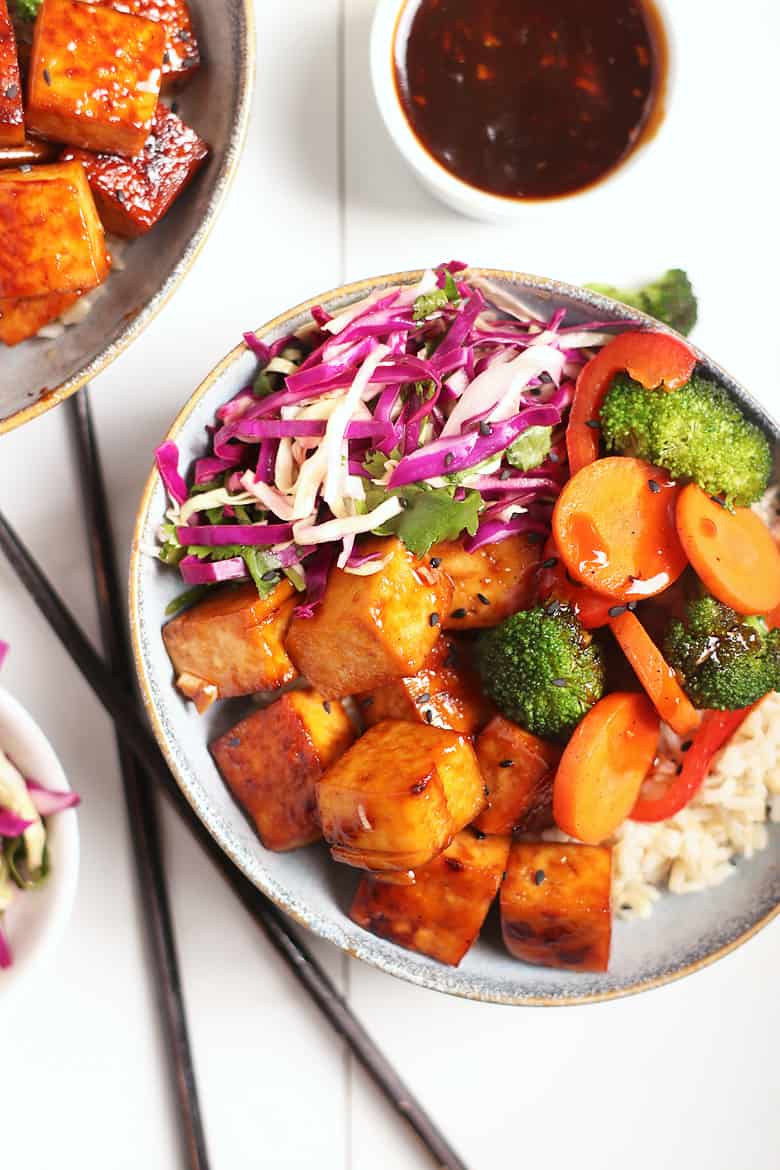 Do you love vegan bowls and BBQ as much as I do? Then you should check out these recipes below:
---
More Vegan Bowl Recipes
---
More BBQ Recipes
But before you go, let's take another look at these Korean BBQ Bowls.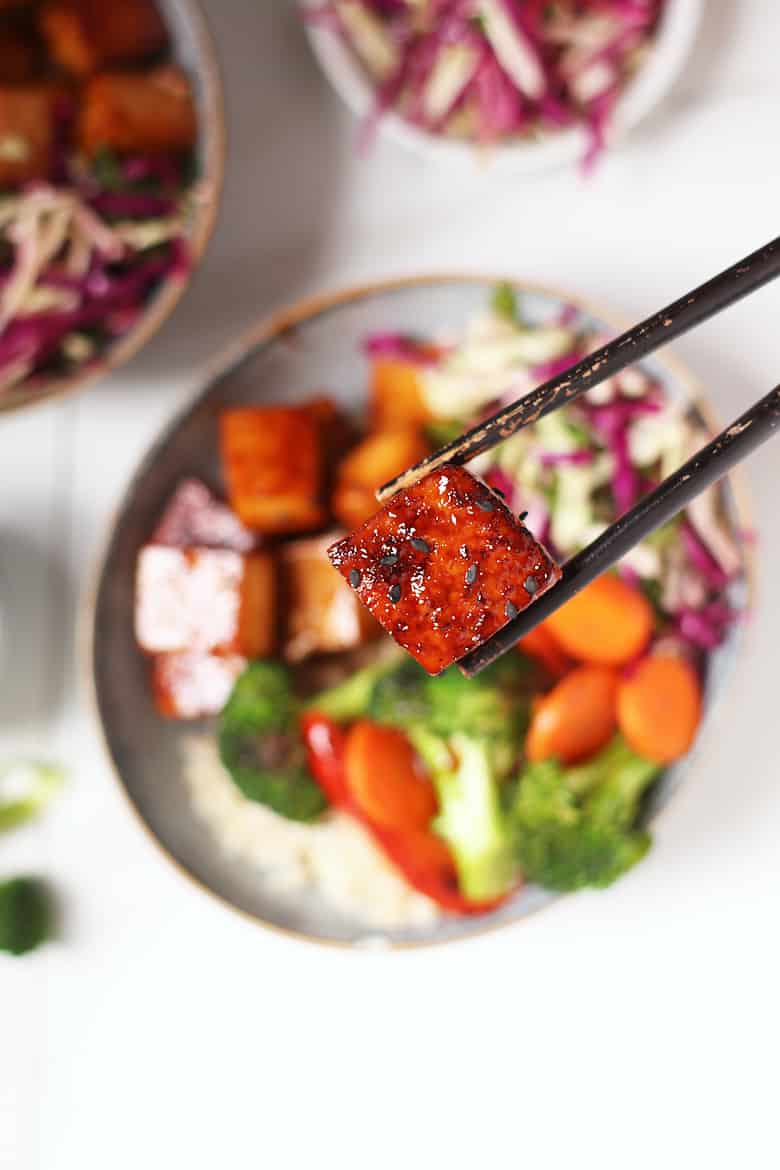 Vegan Korean BBQ Bowl
A delicious Korean BBQ bowl filled with cabbage slaw, spicy pan-fried tofu, and sautéed broccoli and carrots, this weeknight meal is hearty and delicious. Vegan and Gluten-free!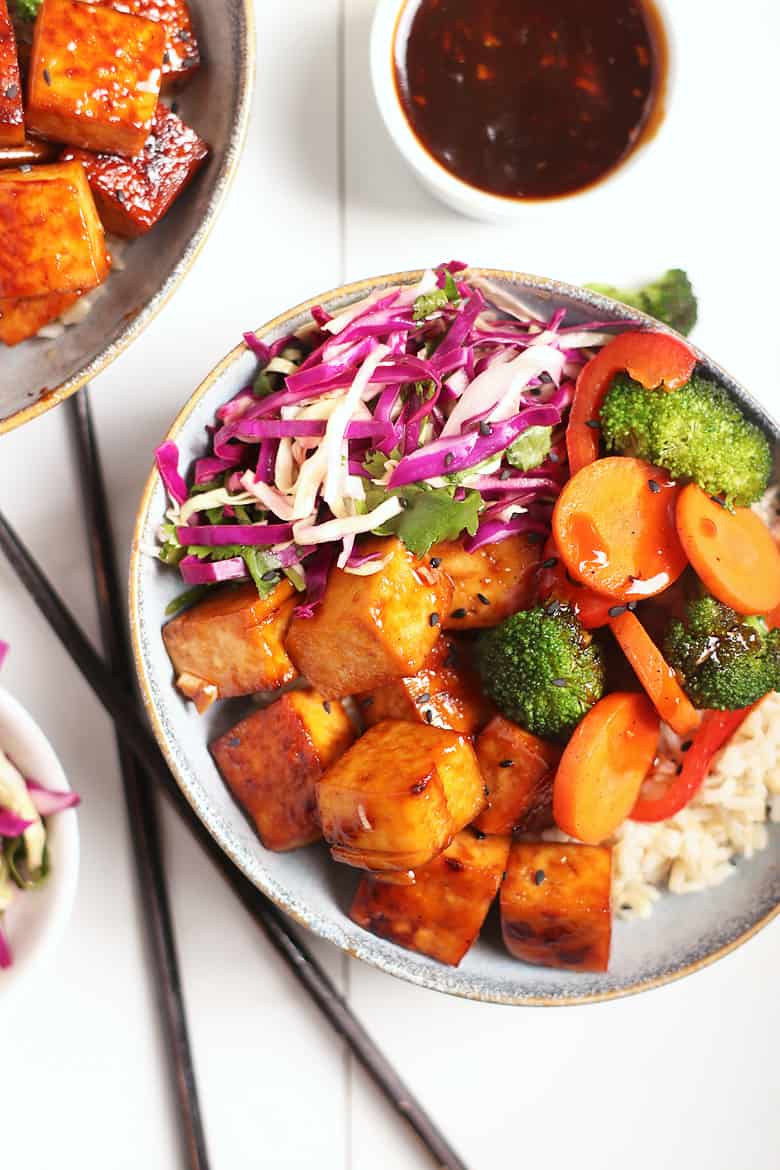 Course:
Main Course
Cuisine:
Vegan
Keyword:
Vegan Korean Bowl
Servings
:
4
servings
Calories
: 342 kcal
Author
:
Sarah McMinn
Ingredients
You will need
1

cup

cooked brown rice

16

ounces extra-firm tofu, cut into 1/2" cubes

2

tbsp. sesame oil

2

cups

broccoli, chopped

2

large carrot, thinly sliced

1

red bell pepper
Cilantro Lime Slaw, recipe below
Barbecue Marinade, recipe below
Cilantro Lime Slaw
1 1/2

cups

mixed red and white cabbage, shredded

2

tbsp fresh cilantro, minced

1

tbsp fresh lime juice

1/4

tsp salt
Instructions
Combine all the ingredients for Barbecue Marinade in a shallow dish. Add cubed tofu, making sure it's fully submerged and let it marinate for at least one hour.

Meanwhile, mix together the ingredients for Cilantro Lime Slaw in a small bowl. Refrigerate until ready to use.

Add rice and 2 cups of water to a small saucepot. Bring to a boil. Cover and reduce heat to a simmer and simmer for 40 minutes or until all the water has absorbed.

Heat up 1 tablespoon of sesame oil in a sauté pan. Add carrots, broccoli, and bell pepper and sauté for 5 minutes over medium heat until vegetables are tender. Remove and set aside.

In the same pan, heat up the remaining tablespoon of sesame oil. Remove tofu from Barbecue Marinade with a slotted spoon, reserving the marinade, and sauté for 5-10 minutes until the tofu has begun to brown. Add 1/4 cup of marinade to the tofu, stirring to combine. Cook until all the marinade has absorbed. Remove from heat.

To assemble, place rice at the bottom of three bowls. Add tofu, carrots, broccoli, and slaw. Top with extra marinade, sesame seeds, and cilantro. Serve immediately.
Nutrition Facts
Vegan Korean BBQ Bowl
Amount Per Serving
Calories 342
Calories from Fat 27
% Daily Value*
Fat 3g5%
Sodium 3373mg147%
Potassium 710mg20%
Carbohydrates 68g23%
Protein 12g24%
Vitamin A 5740IU115%
Vitamin C 104.9mg127%
Calcium 123mg12%
Iron 3.1mg17%
* Percent Daily Values are based on a 2000 calorie diet.
Recipe Notes
Store leftovers in separate containers. Store leftover cabbage slaw and tofu in the refrigerator for 5 days and leftover marinade in the refrigerator for 7 days.
If you give this recipe recipe a try, snap a photo and share it on Instagram. Make sure to tag
@mydarlingvegan
so I can see your creations!