Blueberry Coconut Smoothie Bowl
This Blueberry Smoothie Bowl is filled with superfoods like coconut, blueberries, and chia seeds for a refreshing and healing start to your day. Make it in just 5 minutes for a quick and simple breakfast.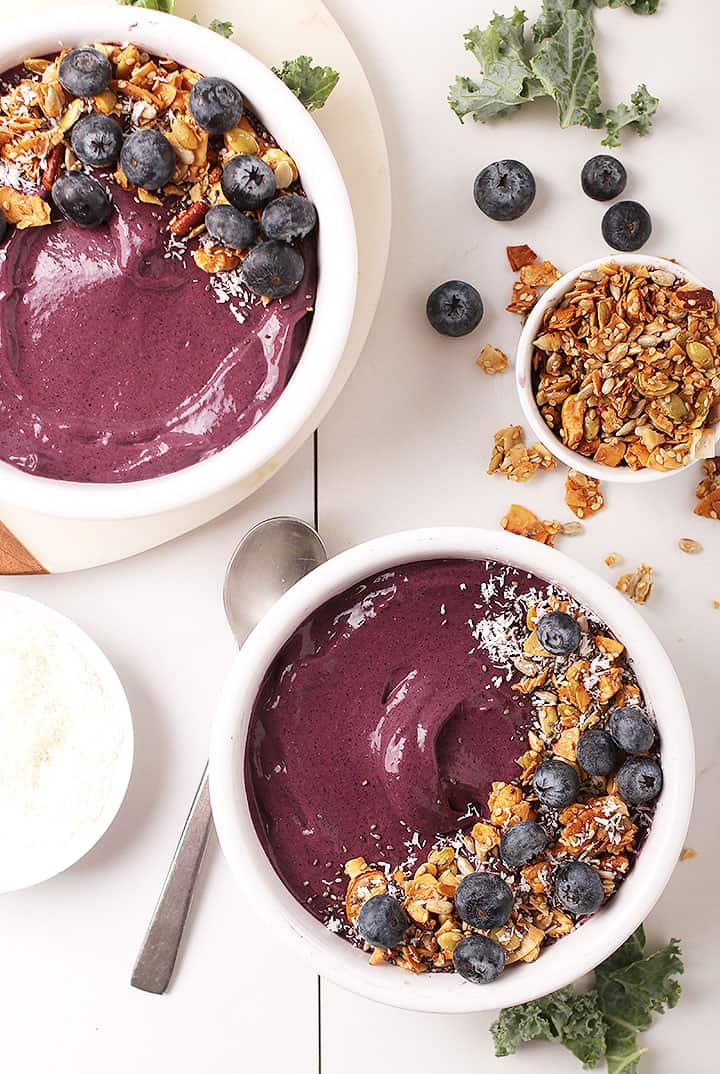 This post contains affiliate links. For more information read my privacy policy.
This post is sponsored by A Taste of Thai. All opinions are mine. 
As I've mentioned earlier, I am going to be over here cleansing for the next month, and I hope you are ready to join along. I'm super excited about a month of Buddha bowls, curries, Keto-friendly pizzas, and even cleanse-approved desserts.
But before we get too ahead of ourselves, let's start this week with the most important meal of the day. And so, I bring you breakfast in the form of a delicious, superfood-packed, green blueberry and coconut smoothie bowl.
Ready to take a closer look? Let's go!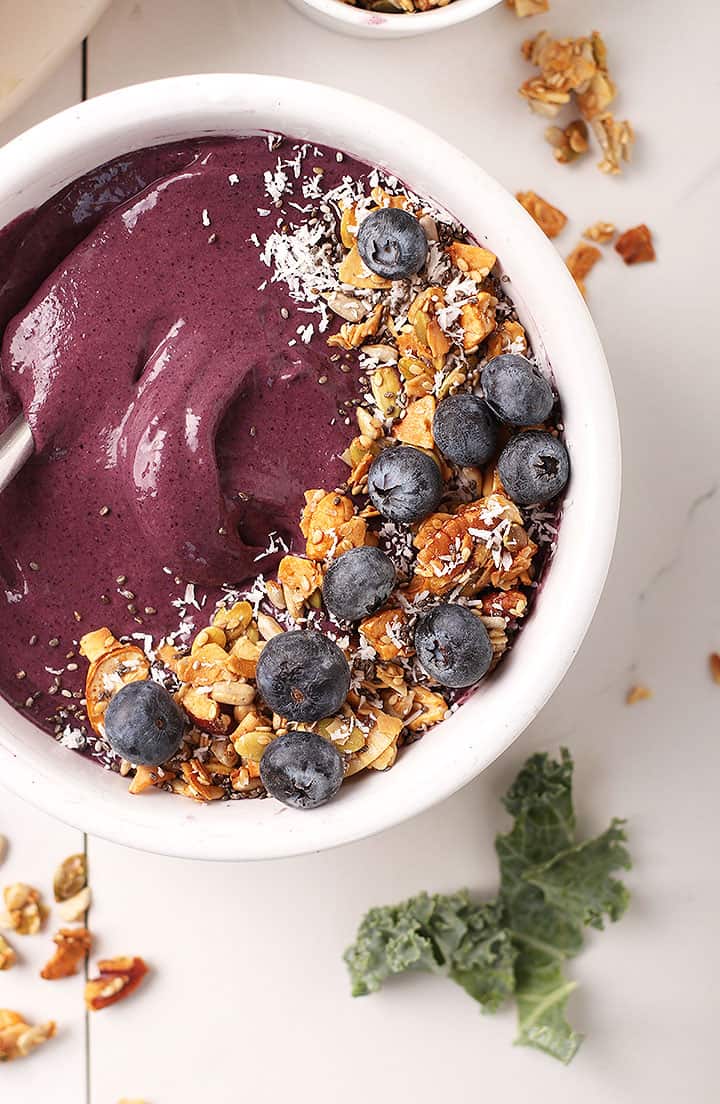 WHAT IS A SMOOTHIE BOWL?
A smoothie bowl is a thick smoothie (think soft serve ice cream) made with a base of fruits, veggies, and other healthy mix-ins such as a variety of superfoods, supplement powders, and non-dairy milk or yogurt. Because of its thick consistency, it is served in a bowl and eaten with a spoon. Smoothie bowls are often topped with a variety of fruits, nuts, seeds, and granola.
HOW TO MAKE A VEGAN SMOOTHIE BOWL
As you might imagine, smoothie bowls are super simple to make!
To make a smoothie bowl, simply blend the ingredients together in a blender until you have a thick, creamy consistency. Scoop it into a bowl, add your favorite toppings, and enjoy it with a spoon! So easy!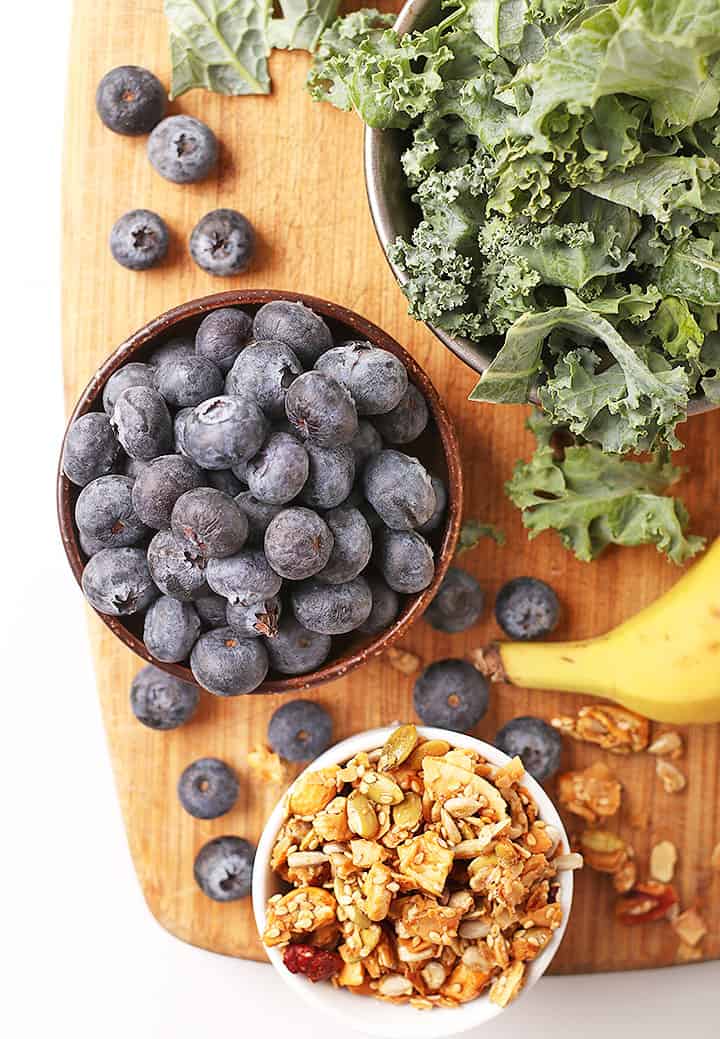 INGREDIENTS FOR A SMOOTHIE BOWL
With so much variety, there are endless combinations of smoothie bowls. Common ingredients include:
FRUITS AND VEGETABLES
You can add a variety of fruits and greens to your smoothie base. A few of my favorite ingredients are:
Bananas
Mango
Berries
Spinach
Kale
Do make sure that you are using frozen fruit at the base of your smoothie bowl. Frozen fruit provides ice cream-like consistency. When smoothie bowls aren't properly chilled, the texture can get thick and slimy.
SUPERFOOD ADD-INS
You can also add a variety of superfoods for a healthy boost. A few of my favorite superfoods to add are:
These all have incredible benefits for your mood, energy, heart, and overall health.
TOPPINGS
Smoothie bowls are then topped with all the goods. I'm talking:
With endless variations, you can experiment with a different smoothie bowl every day for a fully satisfying breakfast.

Best Non-Dairy Milk for Smoothie Bowl
For this coconut blueberry smoothie bowl, there is really only one option for non-dairy milk: coconut milk. And when it comes to the best coconut milk on the market, I always go with A Taste of Thai.
A Taste of Thai knows how to make Thai food and that is why their coconut milk is considered the best on the market. Their coconut milk is made with no added ingredients or preservatives for a milk that is rich, creamy, full of flavor and body, and the PERFECT coconut milk for not only curries, soups, and desserts, but also this wholesome, flavor-packed Blueberry Smoothie Bowl.
When I make my coconut smoothie bowls I tend to go for full-fat coconut milk, but for a lighter option, try A Taste of Thai's Lite Coconut Milk which is made with over 50% LESS fat and calories!
And you will be thrilled to know that 95% of A Taste of Thai products are vegan and gluten-free!  Find their products online or in the international aisle of major supermarket chains across the country. Stock up on both regular and lite to keep your meals exciting and wholesome.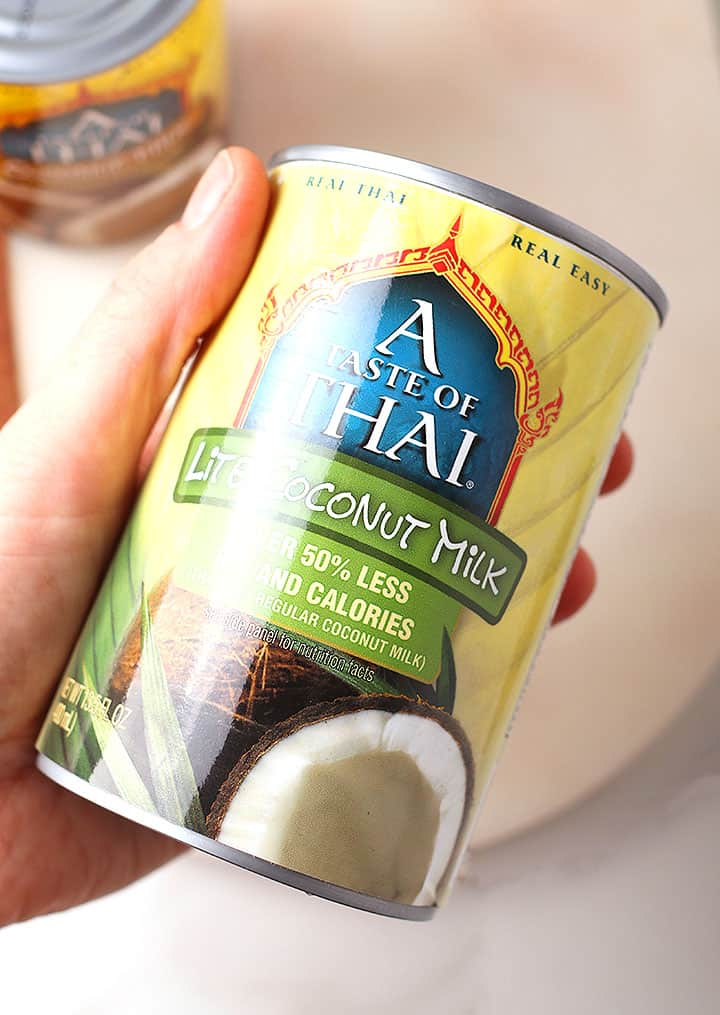 Health Benefits of Blueberry Smoothie Bowl
Because it's the 30 Day Cleanse and we are all trying to get healthy after the holiday decadence, I made sure that this Blueberry Smoothie Bowl contains some of the best foods on the planet for overall health. It includes blueberries, coconut, chia seeds, kale, and hemp hearts, all deliciously combined into a smoothie bowl you won't be able to stop eating.
Among the many health benefits of these added superfoods, are:
Boosts immune system 
Improves digestion
Protects again cancer
Combats age
Boosts the brain 
Promotes healthy skin, hair, and nail
Encourages weight loss
Detoxifies
Beyond all those incredible benefits, these superfood ingredients are filled with protein, healthy fats, and important vitamins, and minerals.
That's what I'd call a good meal!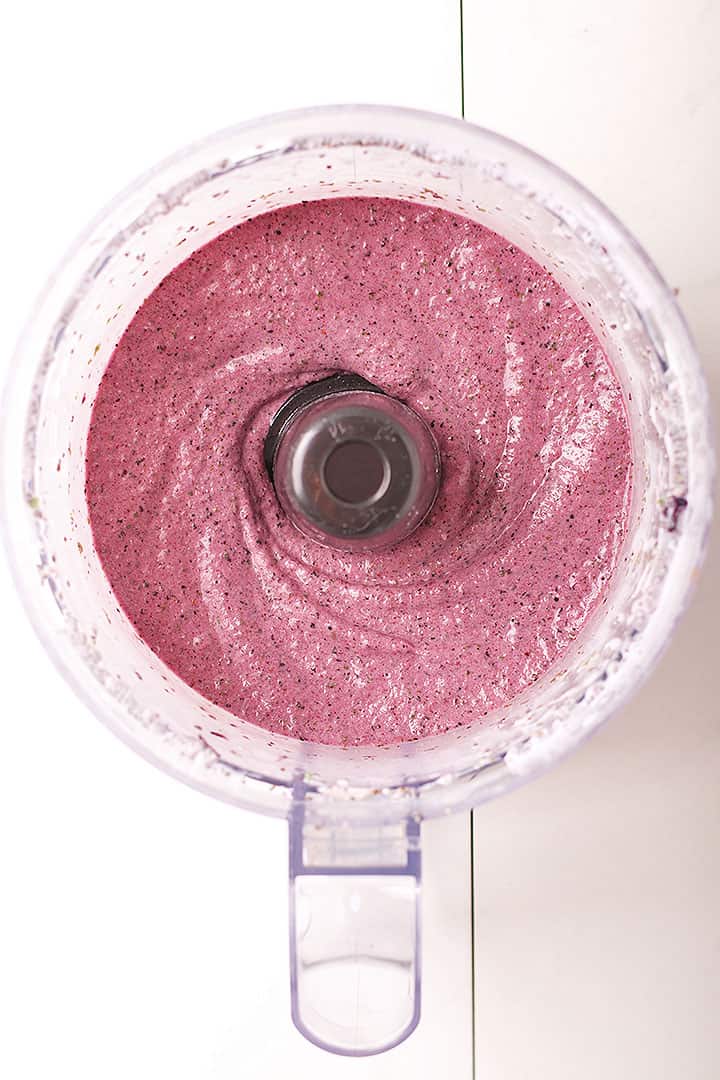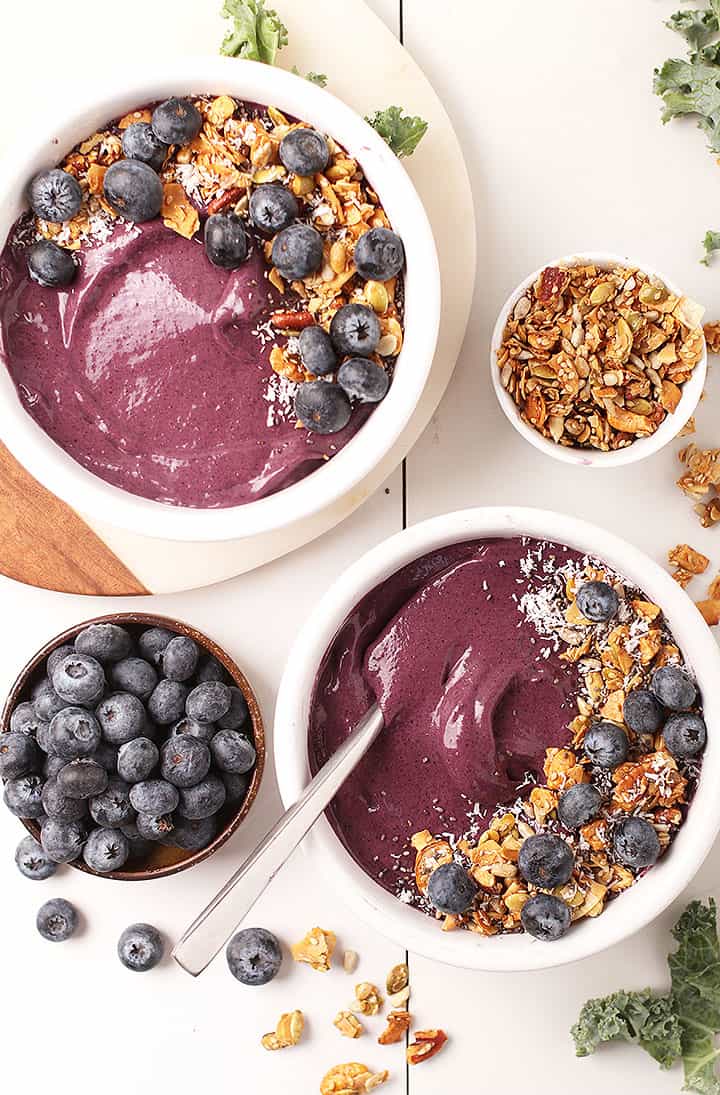 TIPS FOR MAKING THE BEST VEGAN SMOOTHIE BOWL
Make sure your bananas and blueberries are completely frozen to ensure the right ice cream-like consistency. To freeze the bananas, peel and chop ripe bananas into 1″ pieces. Freeze in a single layer on a baking sheet. When frozen all the way through transfer the banana pieces to a ziplock bag. Return to the freezer and store for up to three months. When ready to use, just toss them in your blender with the rest of your smoothie ingredients.
Make sure to blend your ingredients until they are completely smooth. If your smoothie bowl is too thick, add additional coconut milk, 2 tablespoons at a time, until you have a pourable consistency.
Eat your Blueberry Smoothie Bowl immediately! Eat with a spoon or omit the toppings, add another 1/2 cup of milk, and enjoy through a straw!
Do you have any leftover smoothie? Freeze it in popsicle molds for a healthy midday snack!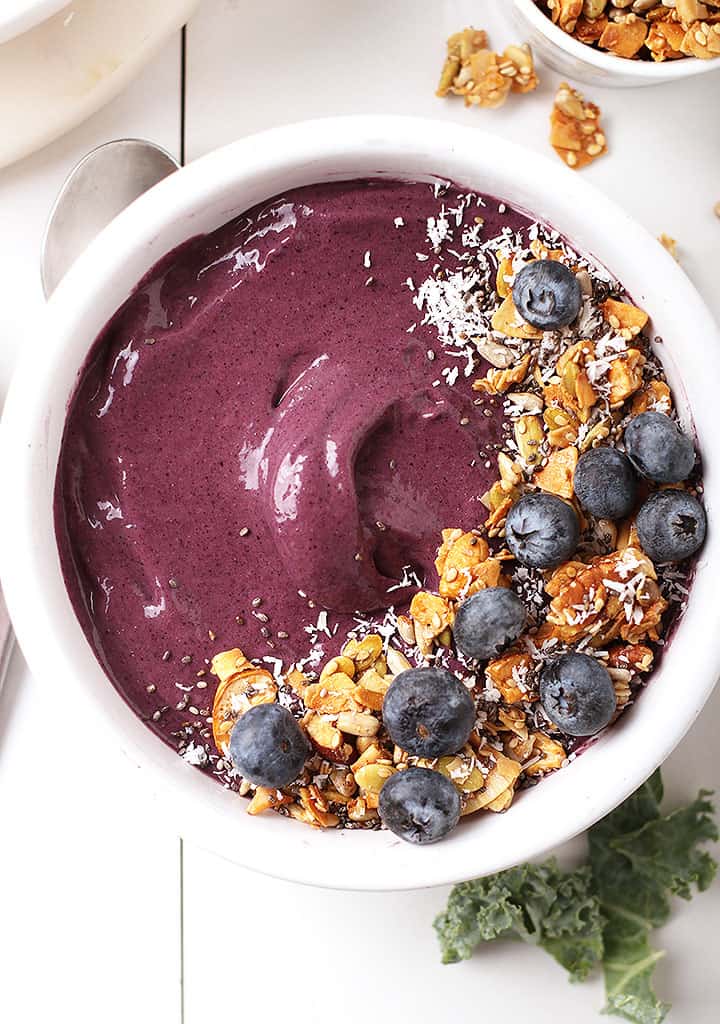 This Blueberry Smoothie Bowl can be made in 5 minutes for a quick and delicious breakfast. So what are you waiting for? Start your week off right with the healing powers of this vegan blueberry smoothie bowl.
Your mind and body will thank you!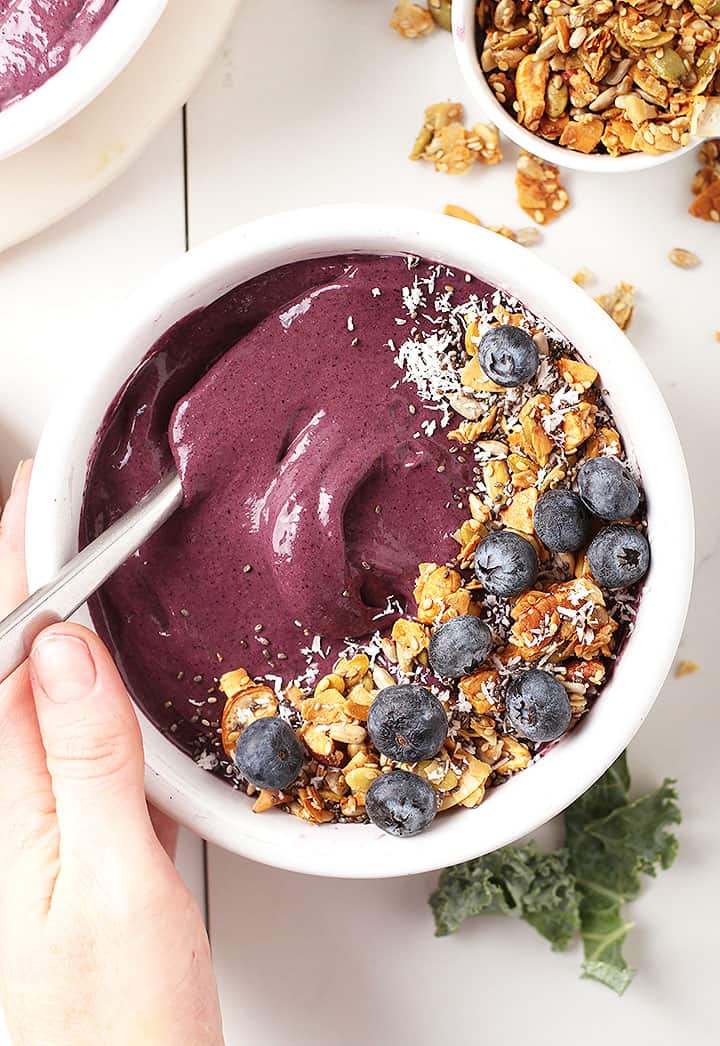 Blueberry Coconut Smoothie Bowl
A Blueberry Smoothie Bowl filled with the most delicious superfoods for the perfect way to start your day. Hearty and refreshing, this vegan smoothie bowl can be made in just 5 minutes.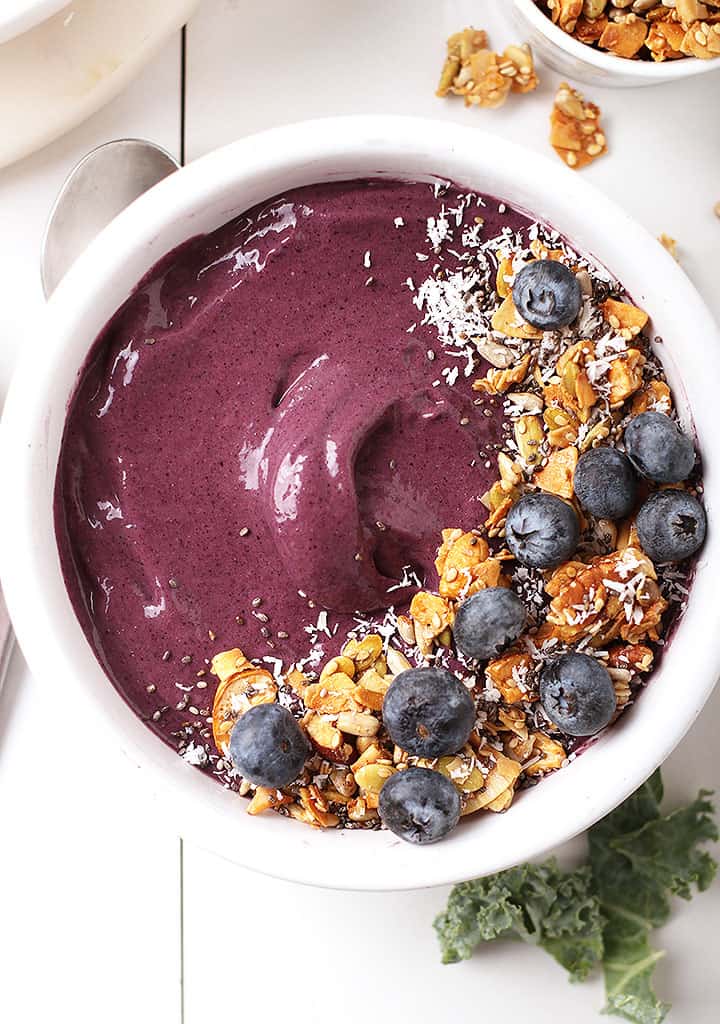 Course:
Breakfast
Cuisine:
American
Keyword:
Blueberry Smoothie Bowl
Servings
:
2
Calories
: 400.52 kcal
Author
:
Sarah McMinn
Ingredients
Blueberry Coconut Smoothie
Toppings
fresh blueberries
chia seeds
Instructions
Place all the smoothie ingredients in a blender or food processor and blend until completely smooth. The smoothie should be thick, similar in texture to soft-serve ice cream.

Pour into two bowls and top with desired toppings. Serve immediately.
Recipe Notes
 If the smoothie is too thin, you can add up to a cup more of frozen blueberries. If it is too thick, add a little more coconut milk, up to 1/4 cup. 
Nutrition Facts
Blueberry Coconut Smoothie Bowl
Amount Per Serving
Calories 400.52
Calories from Fat 134
% Daily Value*
Fat 14.88g23%
Sodium 17.84mg1%
Potassium 743.74mg21%
Carbohydrates 59.34g20%
Protein 13.85g28%
Vitamin A 3598.66IU72%
Vitamin C 61.23mg74%
Calcium 180.71mg18%
Iron 5.16mg29%
* Percent Daily Values are based on a 2000 calorie diet.
If you give this recipe recipe a try, snap a photo and share it on Instagram. Make sure to tag
@mydarlingvegan
so I can see your creations!