Baked Vegan Apple Cider Donuts
Packed with cinnamon, nutmeg, and allspice, these vegan Baked Apple Cider Donuts are a perfect way to welcome in the fall. Made in just 25 minutes for a delicious treat.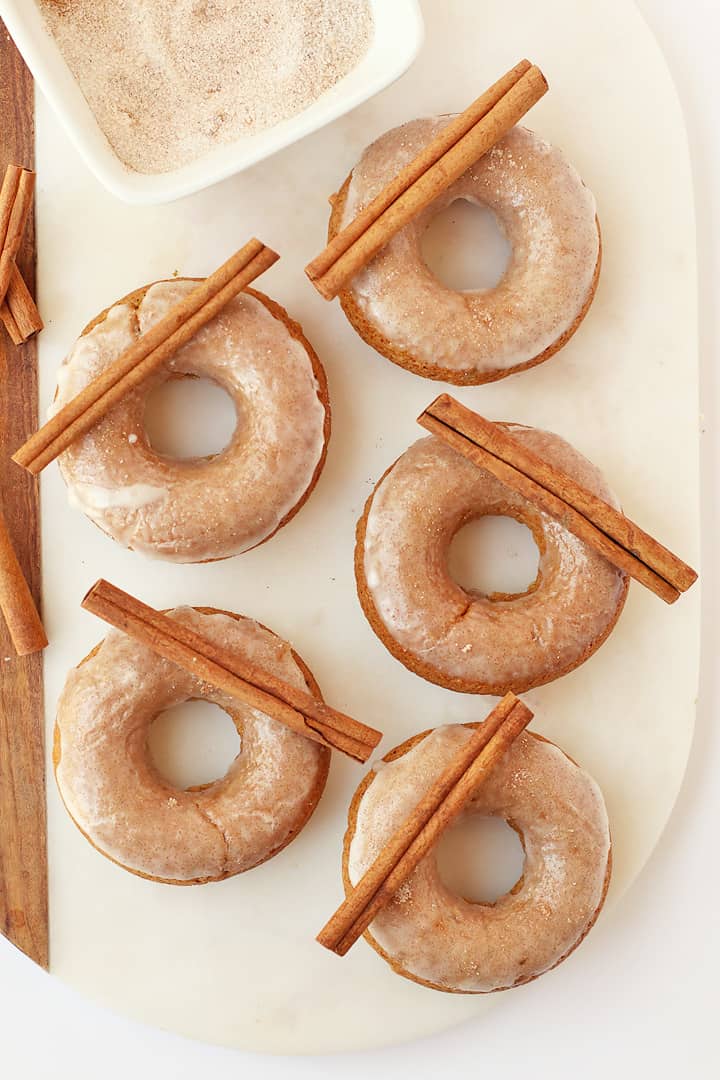 This post contains affiliate links. For more information read my privacy policy.
Originally published 9/15/2013. Last updated on 9/12/2018
It's Apple Cider Donut time!
Have I mentioned how much I love fall?
With the kids finishing the first month of school, temperatures beginning to drop, and the days getting noticeably shorter, I couldn't be more excited. Fall is both a wonderfully nostalgic time for me, as I reflect on past years and old family traditions, while simultaneously representing new beginnings and fresh starts. There is a world of potential ahead of us!
So, for the next few months, you will find me over here in pure bliss.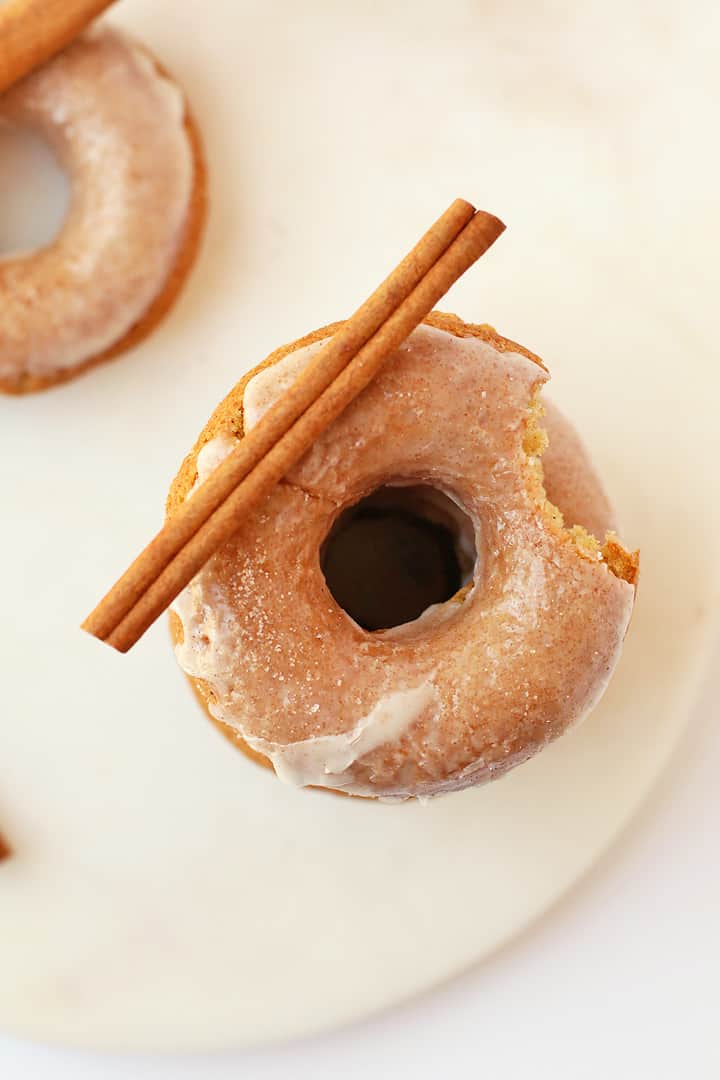 But before I get too lost in the glory of it all, where were we?
Oh right, Apple Cider Donuts!
These Apple Cider Donuts are actually one of the very first recipes I made for My Darling Vegan. Way back in 2013, when my life looked drastically different, I first whipped up a batch. Despite the inconsistency of life, these donuts have been a constant. And you guys have loved them, too!
So I figured it was time to give them a little makeover.
How to make homemade baked donuts
Making baked doughnuts is incredibly easy and satisfying. However, in order to make our own homemade vegan baked donuts, we first need to get ourselves a donut pan.
This is the one I use.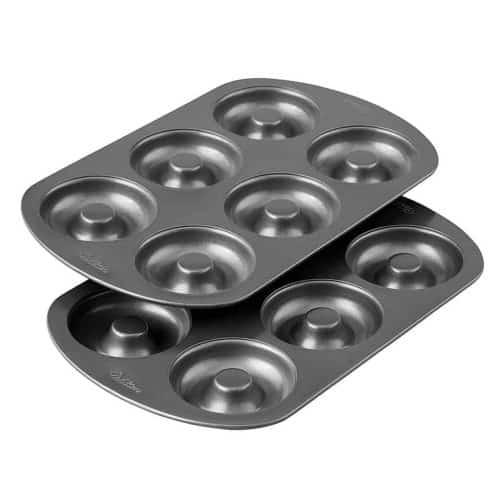 I love my donut pan because it is:
Totally affordable. Just $13.50 for 2 on Amazon.
And, more importantly, a kitchen tool I use ALL THE TIME. With a donut pan, you can make all the baked donuts you want this fall, such as:
And, of course, these Apple Cider Donuts
So grab one today. I don't want you missing out on donut season!
How to make Apple Cider Donuts:
These apple cider donuts are so straight-forward it's nearly impossible to get them wrong. The process is simple. Let's take a step-by-step look.
Step one – Make the batter
First, mix your dry ingredients together. Add the wet to the dry and mix until just combined. You don't want to over mix or your doughnut will become tough rather than tender.
Step two – Pipe your batter into your prepared donut pan.
The batter will be soft, so a piping bag is the best option here. If you don't have one, you can make a makeshift piping bag by pouring your batter into a ziplock bag, cutting off the tip, and piping from there.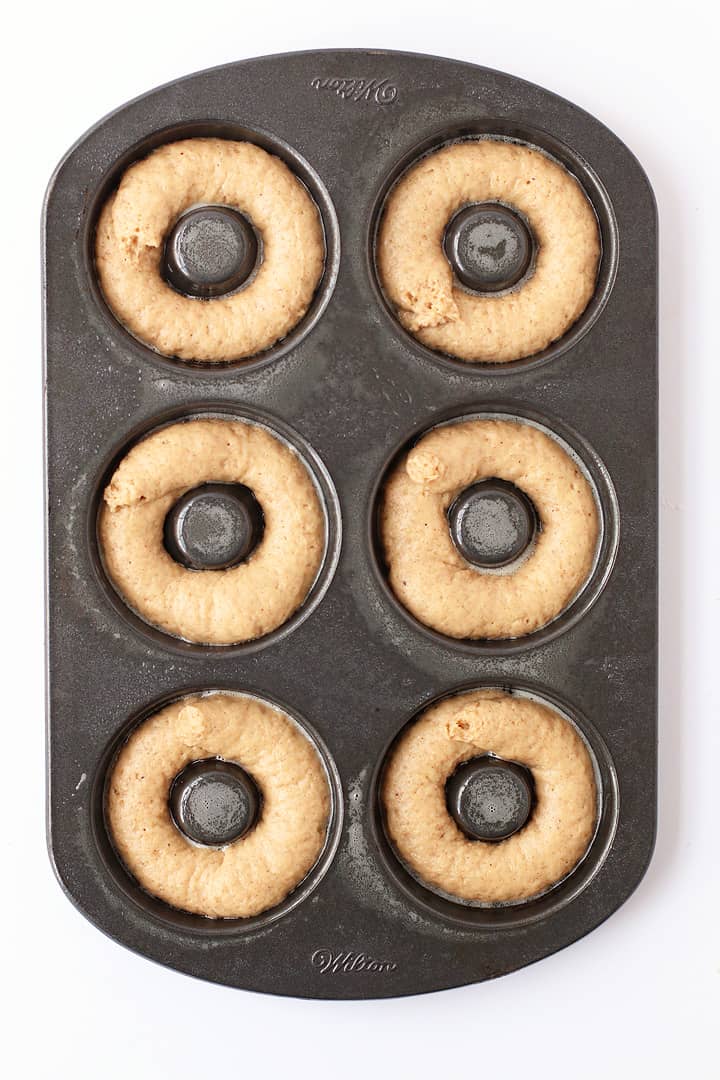 Step three – bake the donuts
Bake the donuts for just about 8-10 minutes. When done the dough should spring back when gently pressed.
Once the donuts are ready, pull them out of the oven and flip them onto a wire cooling rack. Let cool 10 minutes before dipping them into your glaze and sprinkling them with cinnamon sugar. This cooling time is necessary otherwise the donuts might crumble and the glaze will definitely melt off.
How easy was that?!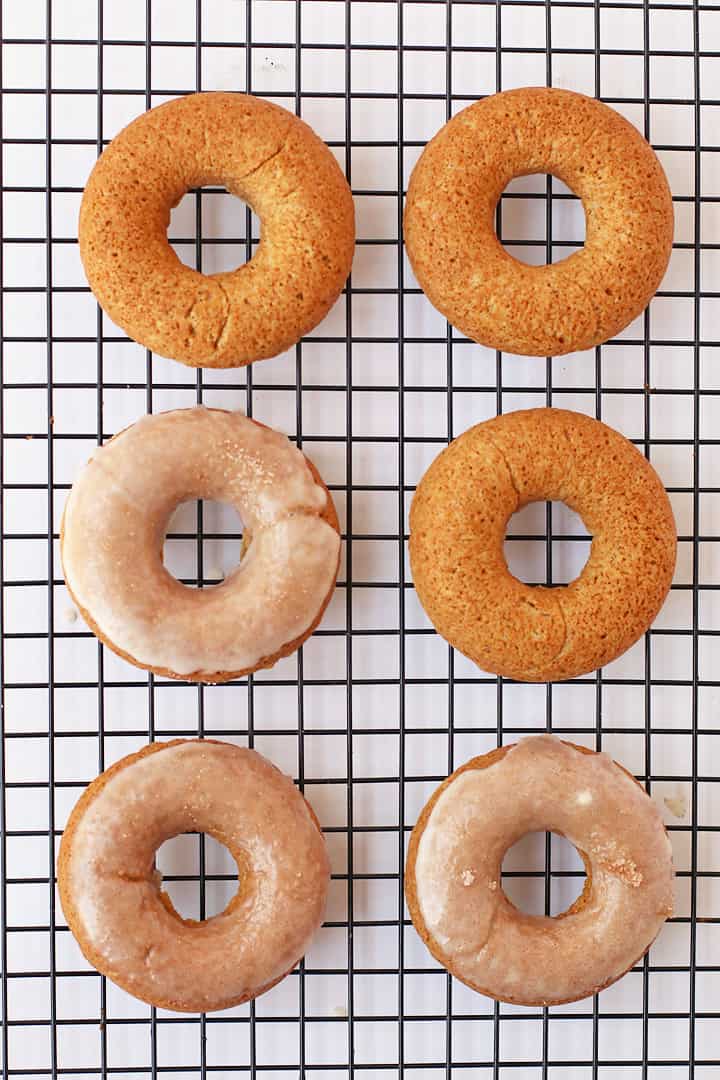 Tips for making the perfect vegan baked donuts
Generously spray the donut pan before piping in the batter to ensure the donuts do not stick to the pan.
For cleanest results, pipe in the batter with a piping bag.
Let the donuts rest in the pan for 10 minutes before flipping them onto a wire cooling rack. Let donuts cool completely before dipping them in the glaze to prevent the glaze from melting.
Donuts can be eaten immediately or stored in an airtight container at room temperature for up to 4 days.
Enjoy these donuts with a homemade Chai Latte.
Not only are these Apple Cider Donuts nearly fail-proof. They are also delicious, tender, and incredibly quick to throw together.
They can be made in just about 20 minutes for a soft and tender donut that is filled with apple and cinnamon flavors, making it the perfect treat to start off this fall.
So, let's get baking!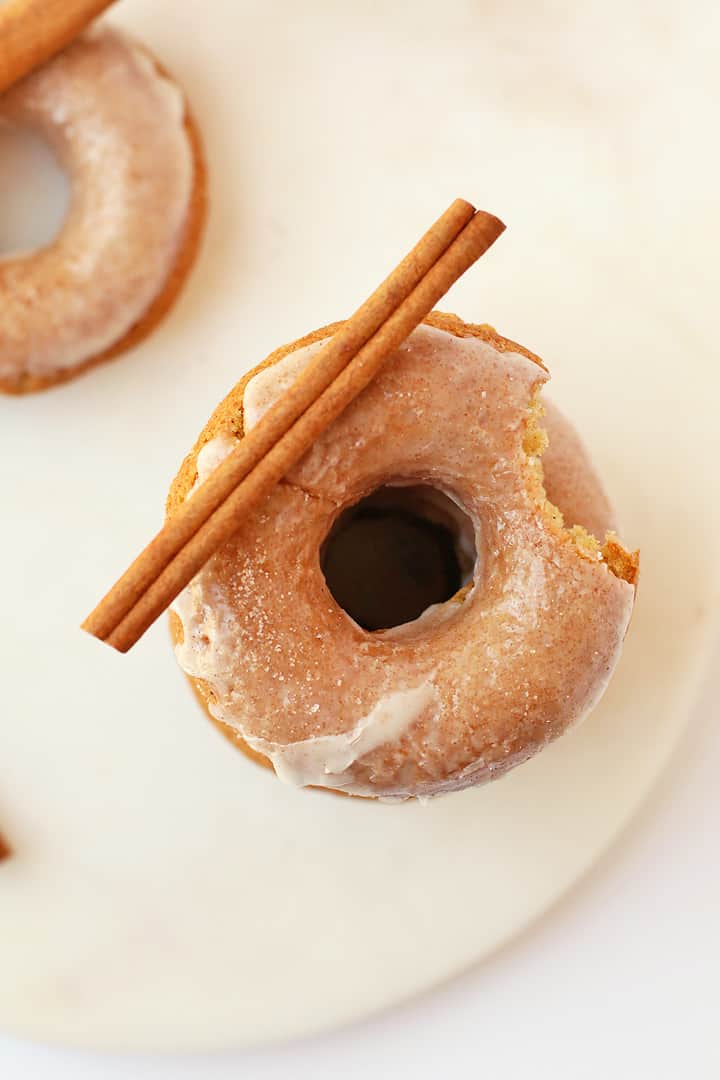 Baked Apple Cider Doughnuts
Packed with cinnamon, nutmeg, and allspice, these vegan Baked Apple Cider Doughnuts are a perfect way to welcome in the fall. Made in just 20 minutes for the perfect autumnal treat.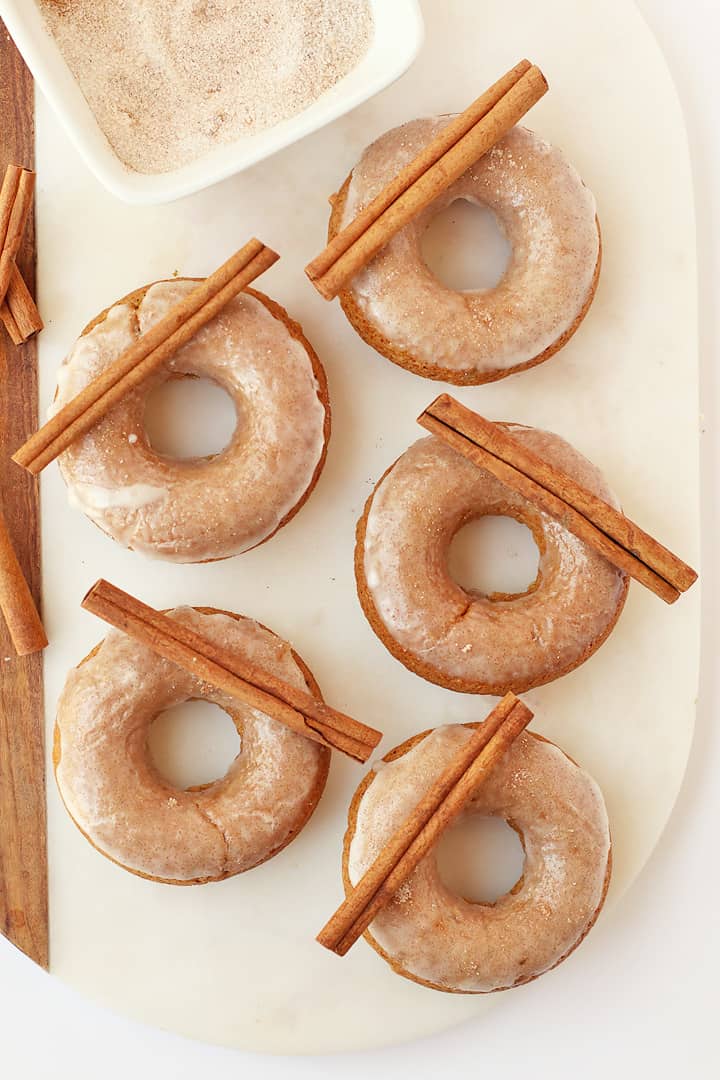 Course:
Breakfast
Cuisine:
Vegan
Keyword:
Baked Apple Cider Doughnuts
Servings
:
6
doughnuts
Calories
: 237 kcal
Author
:
Sarah McMinn
Ingredients
Apple Cider Glaze
1/2

cup

powdered sugar

1

tbsp apple cider
Instructions
Preheat the oven to 350 degrees Fahrenheit. Spray a donut pan and set aside.

In a small bowl combine flour, baking powder, baking soda, spices, and salt. In a separate bowl whisk together maple syrup, apple cider, apple sauce, coconut oil, and vanilla extract. Add wet ingredients to dry and mix until just combined.
Spoon or pipe batter into the prepared donut pan, filling each mold about 3/4 full.
Bake for 8-10 minutes, until the donuts springs back when gently pressed. Remove from oven and let cool in pan for a few minutes before transferring doughnuts onto a cooling rack to cool completely.

To make the glaze, whisk together powdered sugar and apple cider in a small shallow bowl. In a separate bowl, combine ingredients for cinnamon sugar topping.

Once doughnuts have cooled, dip the tops of each doughnut into the glaze. Immediately sprinkle with cinnamon sugar.
Let glaze harden and enjoy!
Nutrition Facts
Baked Apple Cider Doughnuts
Amount Per Serving
Calories 237
Calories from Fat 18
% Daily Value*
Fat 2g3%
Sodium 276mg12%
Potassium 214mg6%
Carbohydrates 51g17%
Protein 2g4%
Calcium 97mg10%
Iron 1.2mg7%
* Percent Daily Values are based on a 2000 calorie diet.
If you give these donuts a try, let us know what you think in the comments below. Or snap a photo and share it on Instagram. Make sure to tag @mydarlingvegan so I can see your creations!