Enjoy these quick and simple vegan quinoa salads for a hearty and wholesome meal or side dish. From Southwest to Thai Peanut, there is a quinoa salad recipe for everyone.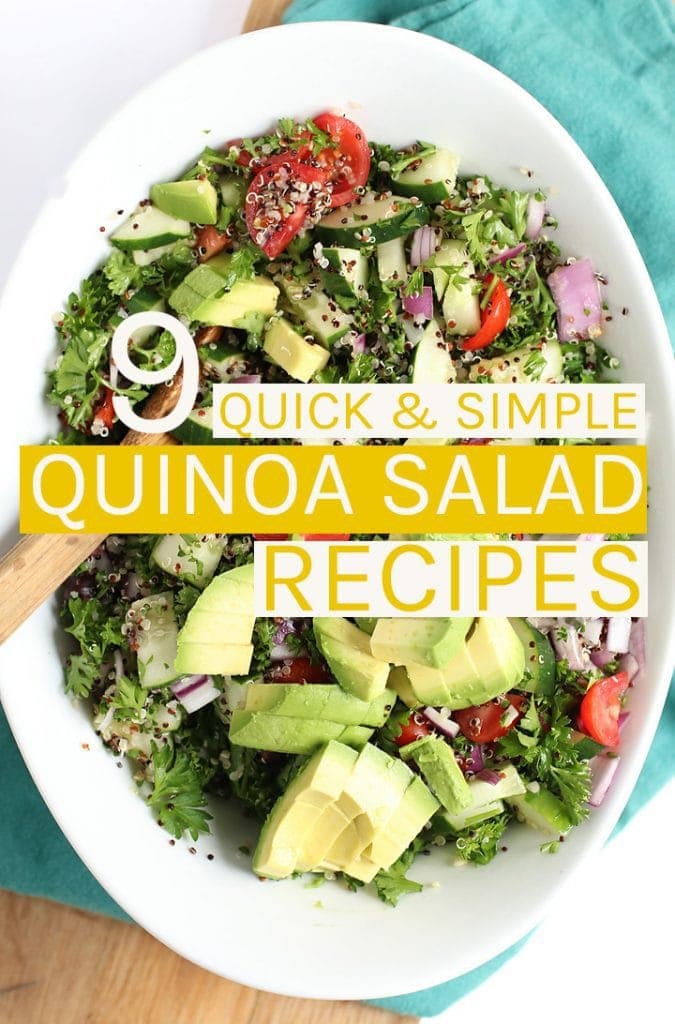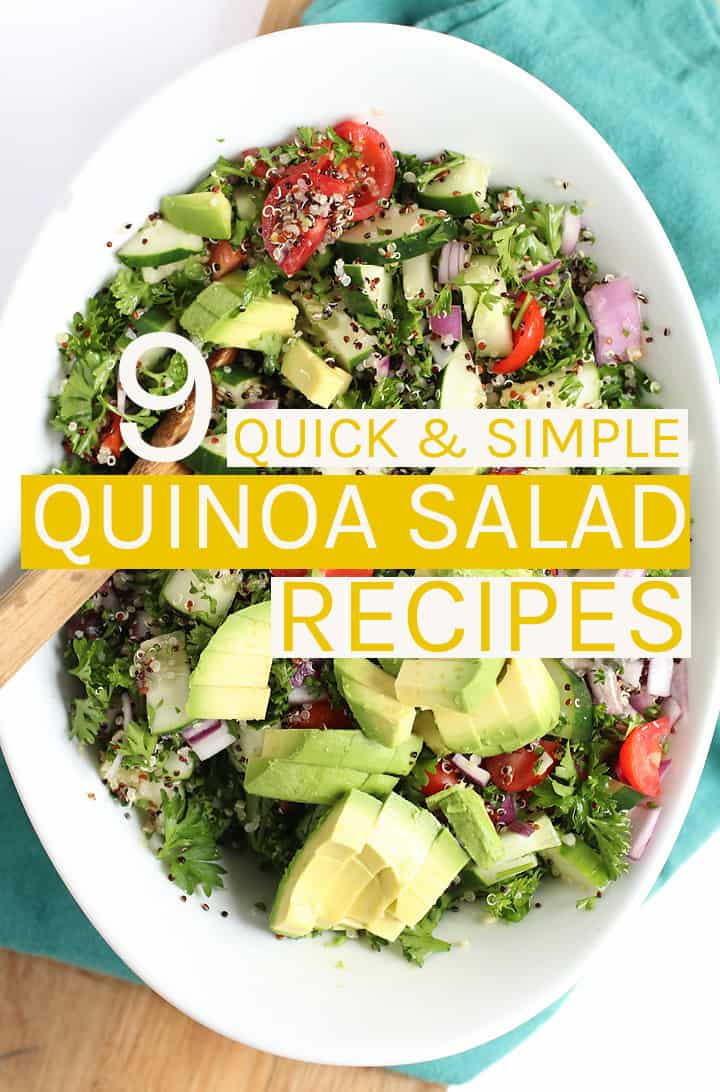 Disclosure: This post may contain affiliate links.
I love a good quinoa salad.
Quinoa salads are my go-to when it comes to potlucks and shared meals because they are so versatile and hearty enough to be a meal on their own. They are also one of my favorite light summer meals because they are packed with protein (quinoa is one of the few plant-based foods that contain all 9 essential amino acids) nutrients, flavor, and so much more.
Today I've rounded up 9 of the best quinoa salad recipes for you to keep on hand this summer. From Thai Peanut to a fresh Mediterranean salad, I am sure you will find a few quinoa salad recipes worth trying.
But before we get started, let's take a closer look at quinoa.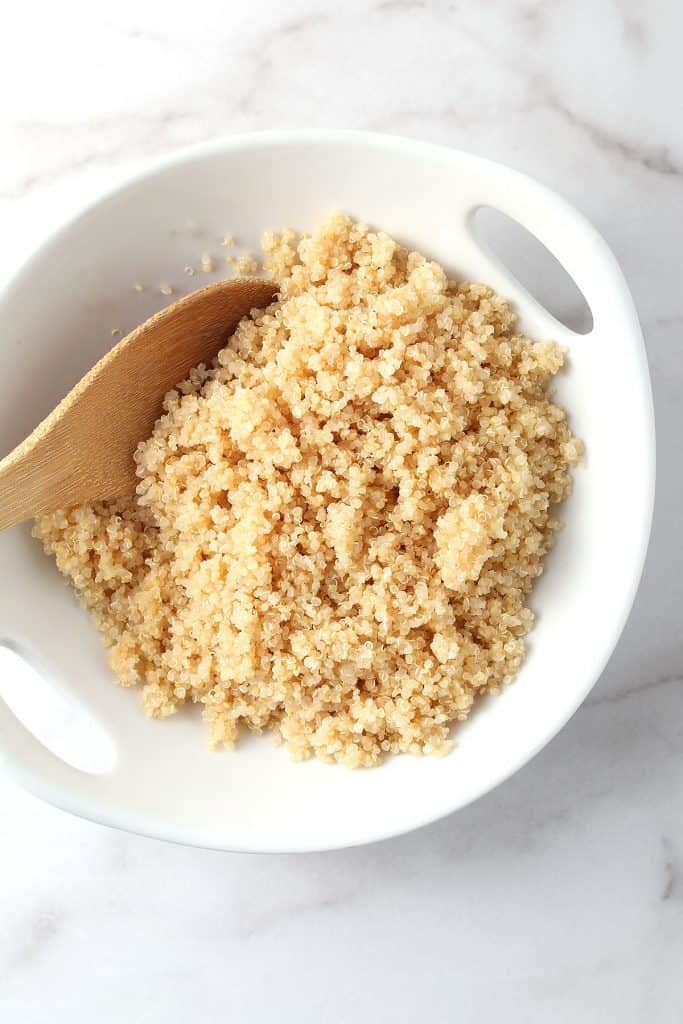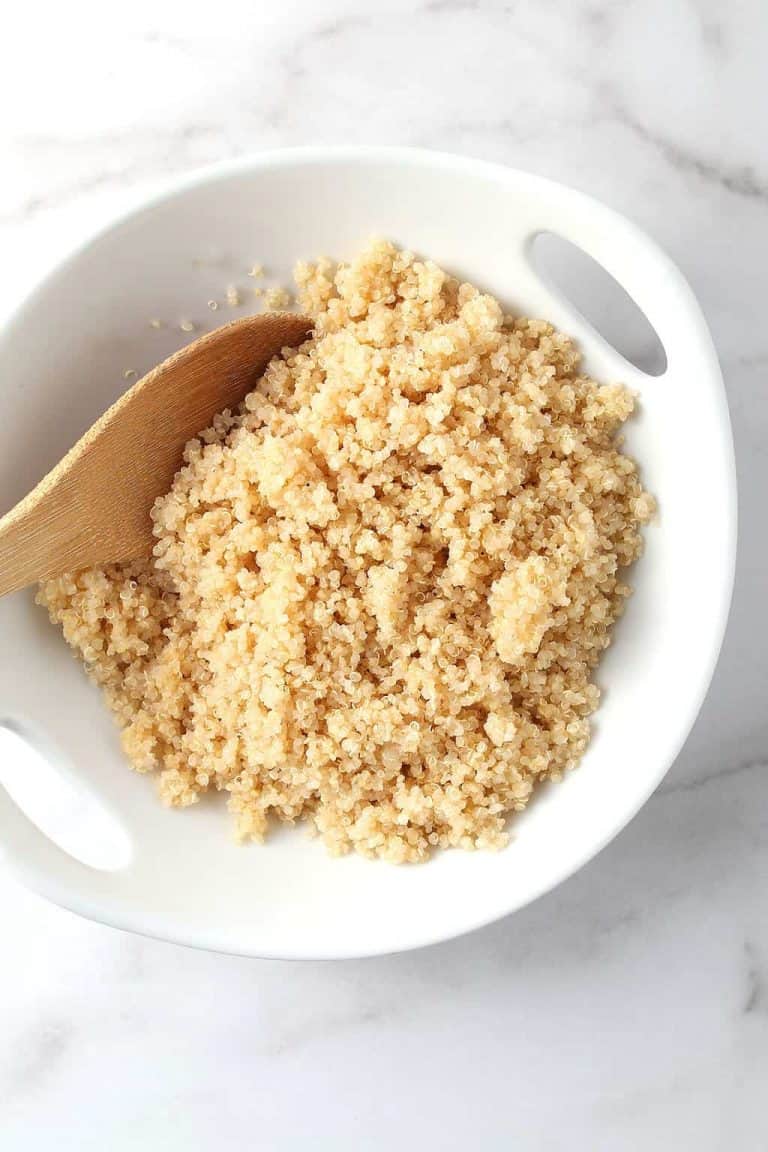 What is Quinoa?
Quinoa originated in the northwestern corner of South America and has been around for three to four thousand years as a popular food in this region. It wasn't until the 21st century that quinoa became commonly consumed around the world, most notably in North American and Europe.
While quinoa is grown, cooked, and served as a grain, this amazing superfood food is actually the seed from a flowering plant in the amaranth family. Similar to couscous or rice in texture, it can often be swapped out for these grains in any meal.
---
How to Cook Quinoa
Cooking quinoa is similar to cooking rice.
To begin, quinoa should always be first rinsed in a fine-mesh sieve until water runs clear. This is key for getting a clean, nutty flavor. Otherwise, quinoa can sometimes taste dirty and gritty.
Once it's rinsed, drain the water and transfer it to a sauce pot. Add 2 parts water for every 1 part quinoa and bring to a boil. Cover, reduce heat to a simmer and cook until the water is completely absorbed about 20 minutes. Remove from heat and let it set an additional 5 minutes before uncovering and fluffing with a fork.
Once the quinoa is cooked, transfer it to a shallow bowl and place it in the refrigerator for at least 30 minutes. It's important to let to quinoa cool down before adding the remaining salad ingredients.
---
Benefits of Quinoa
Here are some of the reasons quinoa is considered a superfood.
One serving has 8 grams of protein and 5 grams of fiber.
It also contains a healthy amount of important vitamins and minerals such as zinc, magnesium, folate, iron, and so much more.
It's one of the few plant-based foods that naturally contains omega-3 fatty acids.
Quinoa has all NINE essential amino acids, making it a complete protein.
It is very high in antioxidants.
And that's not all! Read more about quinoa's amazing benefits.
---
Is Quinoa Gluten-Free?
Yes! Quinoa is naturally gluten-free, making it a great dish for people who, like me, need to limit their gluten. Additionally, it makes the perfect party dish that everyone, despite their dietary restrictions, can enjoy it.
---
Vegan Quinoa Salad Recipes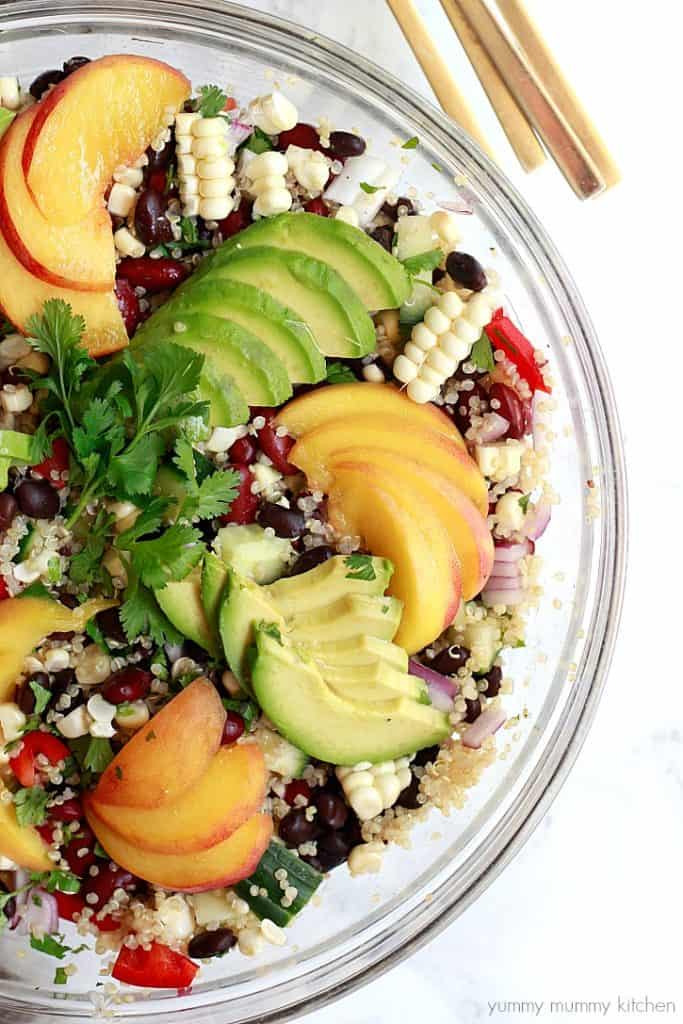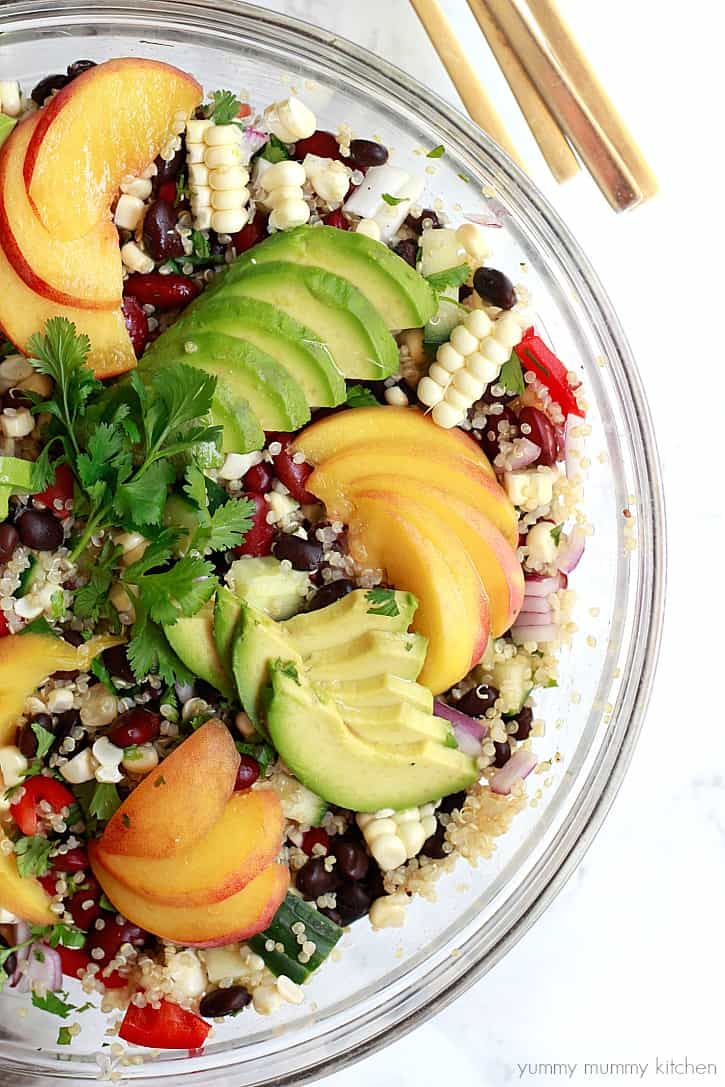 Vegan Quinoa Salad with Avocado, Beans, Corn, and Peaches
Photo Credit: Yummy Mummy Kitchen
One of the best vegan quinoa salads around, this recipe is bursting with fresh summery ingredients and Tex-Mex flavors. It's perfect for parties or meal prep lunches at home.
Recipe »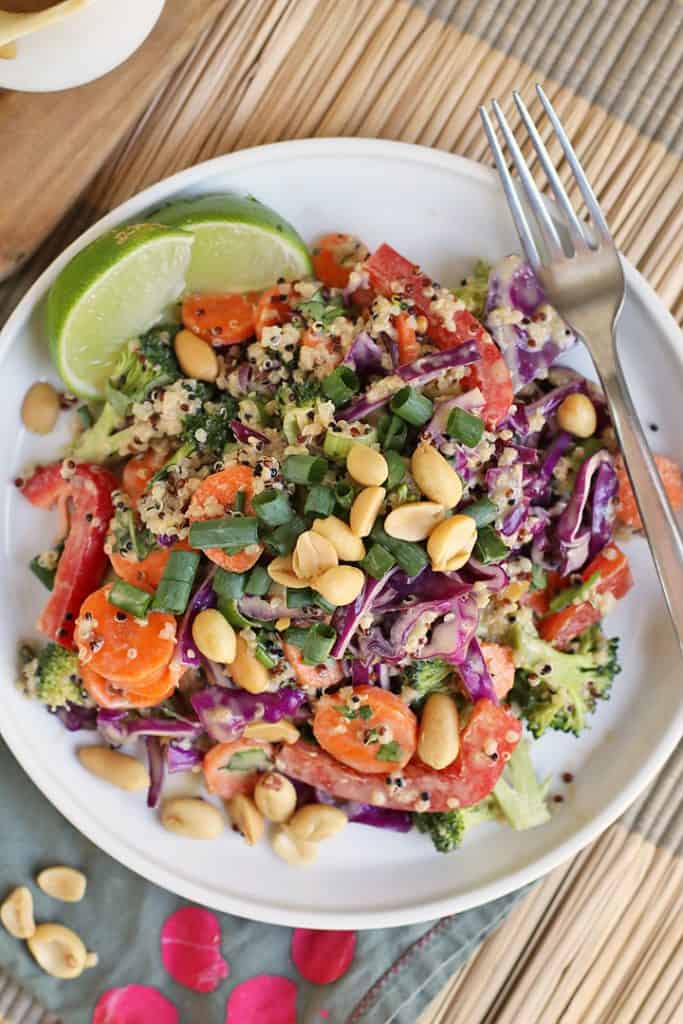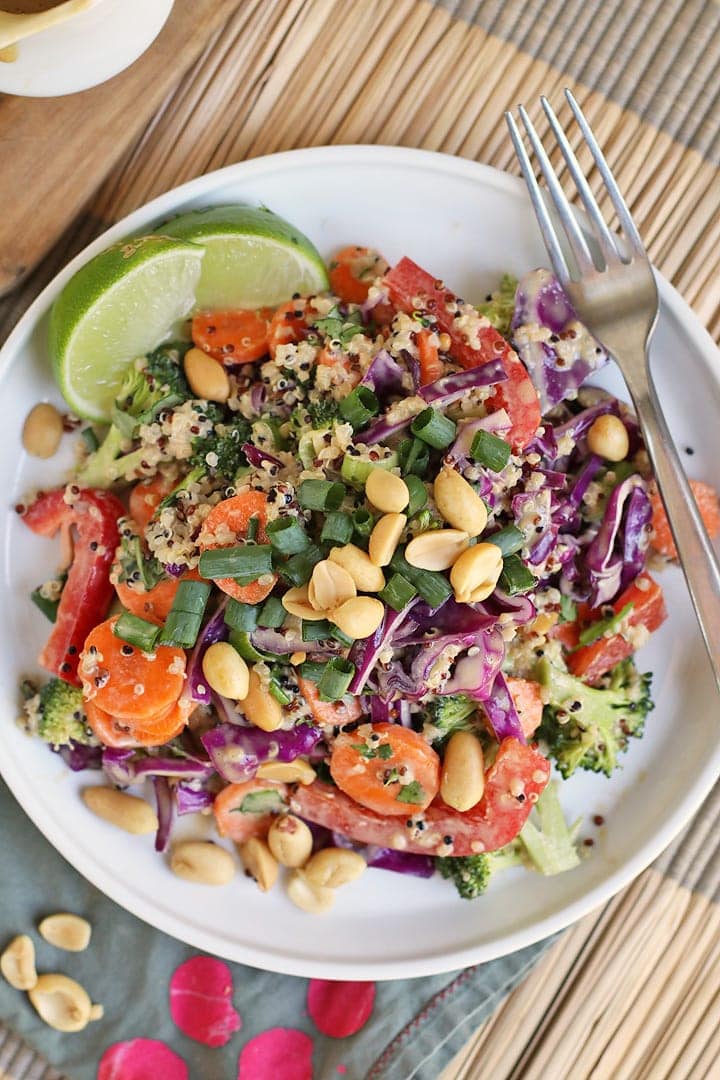 Thai Quinoa Salad
This Thai Quinoa Salad is made with tri-color quinoa, fresh vegetables, and spicy peanut sauce for a delicious and healthy vegan and gluten-free meal.
Recipe »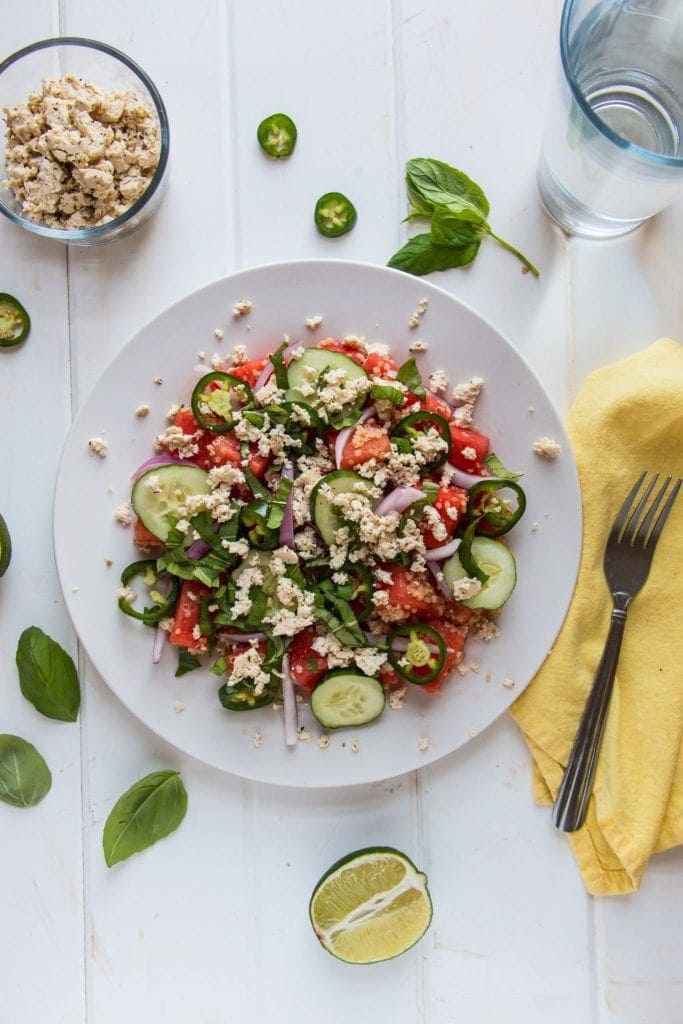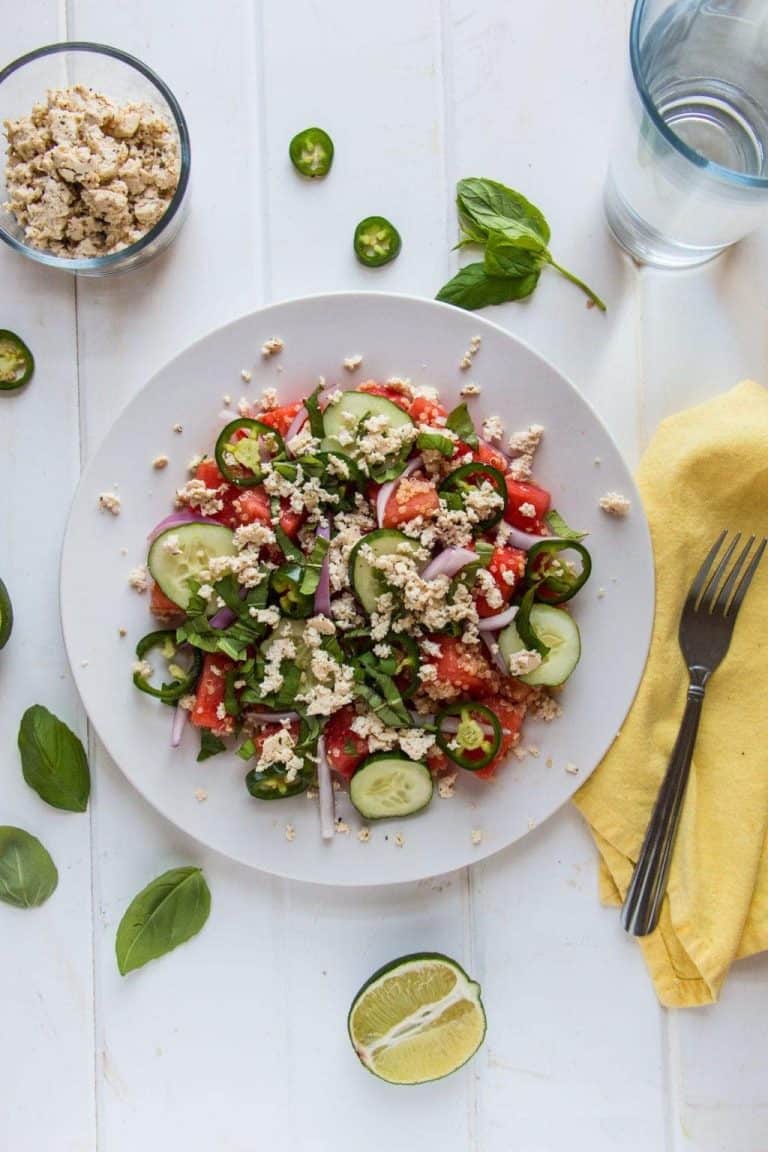 Watermelon Salad with Herbed Tofu Feta
Photo Credit: The Nut-Free Vegan
This spicy and delicious Watermelon Salad with Quinoa and Herbed Tofu Feta is the perfect meal for a hot Summer afternoon.
Recipe »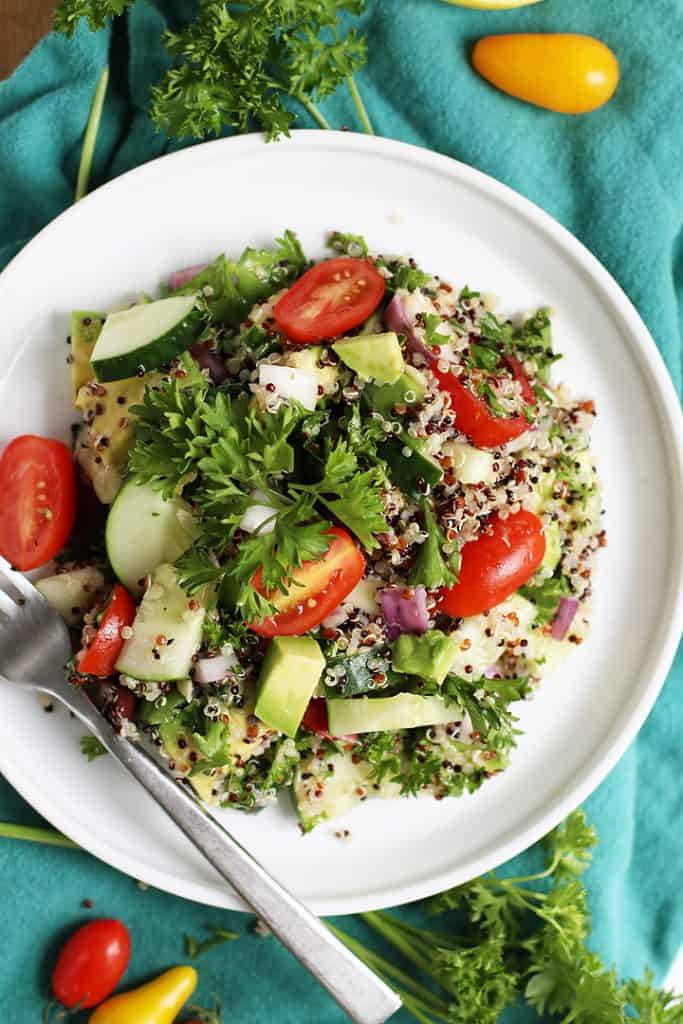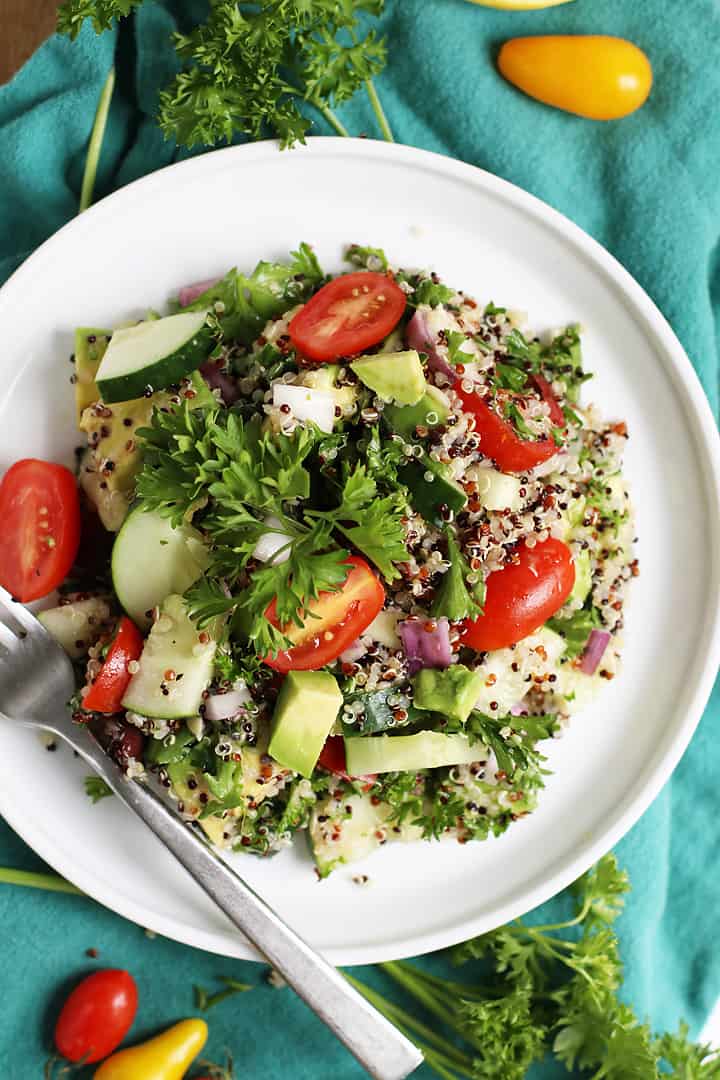 Mediterranean Quinoa Salad
This Mediterranean Quinoa Salad is made with fresh herbs and vegetables and topped with a lemon dressing for a refreshing and hearty summertime salad.
Recipe »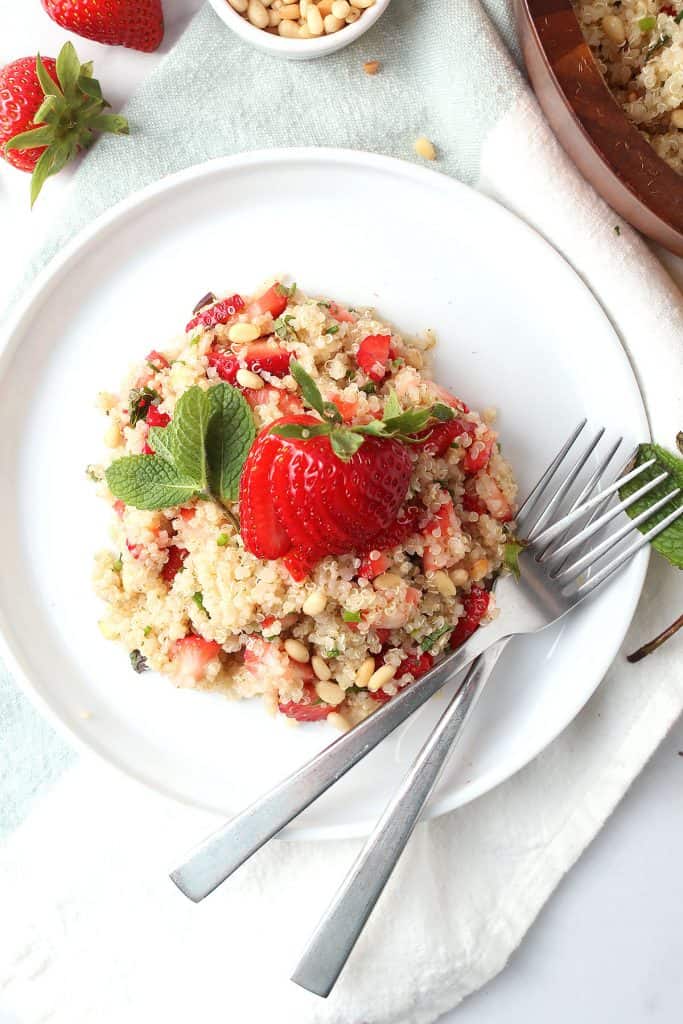 Vegan Quinoa Salad with Strawberries and Lemon Vinaigrette
You're going to love this delicious Strawberry Mint Vegan Quinoa Salad. It is tossed with homemade Lemon Vinaigrette for a simple and refreshing cool summer salad. Serve it at your next vegan potluck or BBQ.
Recipe »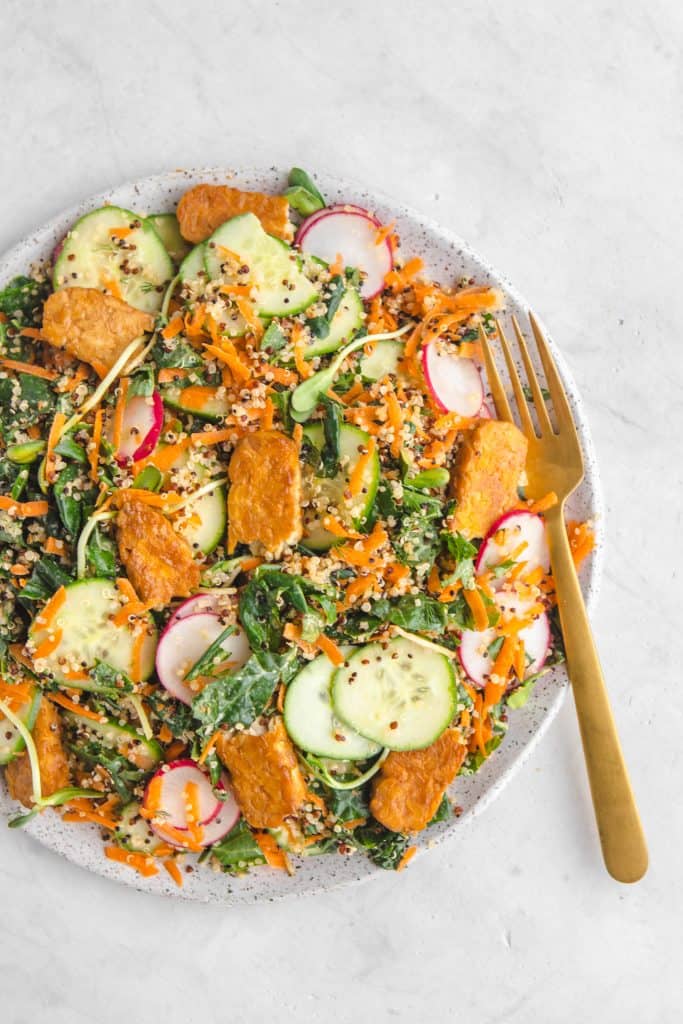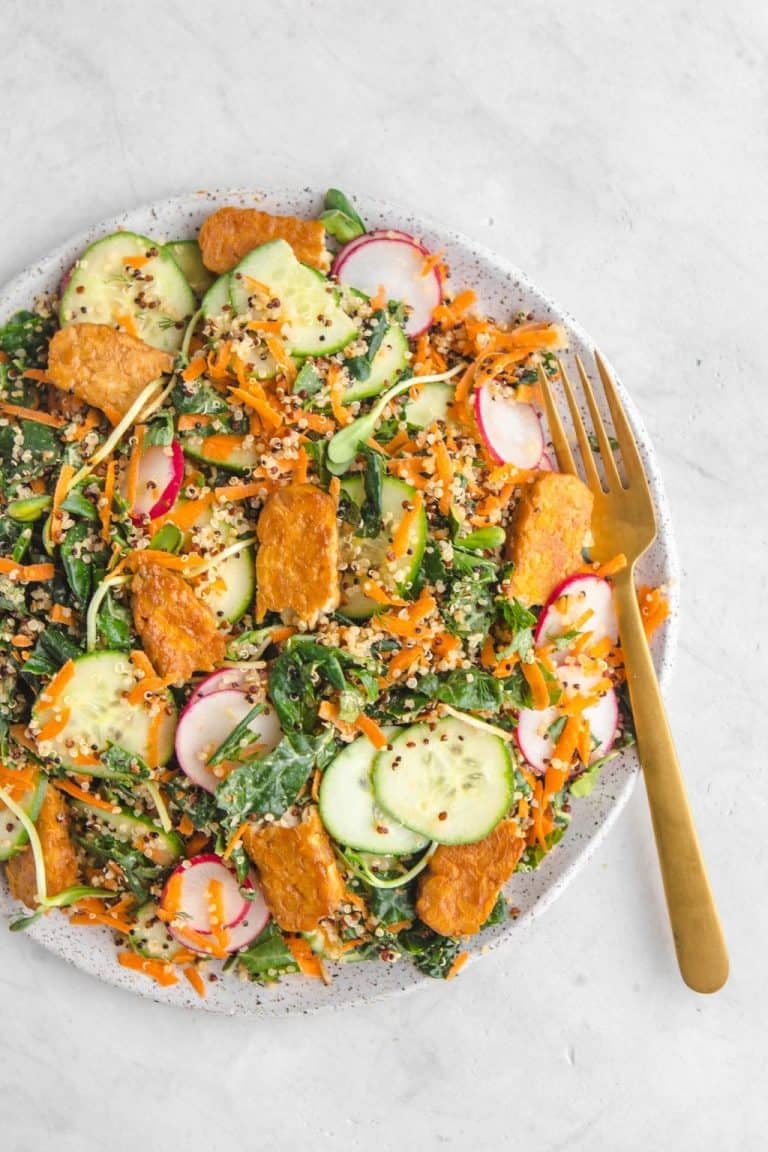 Kale and Quinoa Salad w/ Mustard Tempeh
Photo Credit: From My Bowl
This Vegan Kale & Quinoa Salad with Maple Mustard Tempeh is packed with healthy veggies, plant based protein, and tastes absolutely delicious!
Recipe »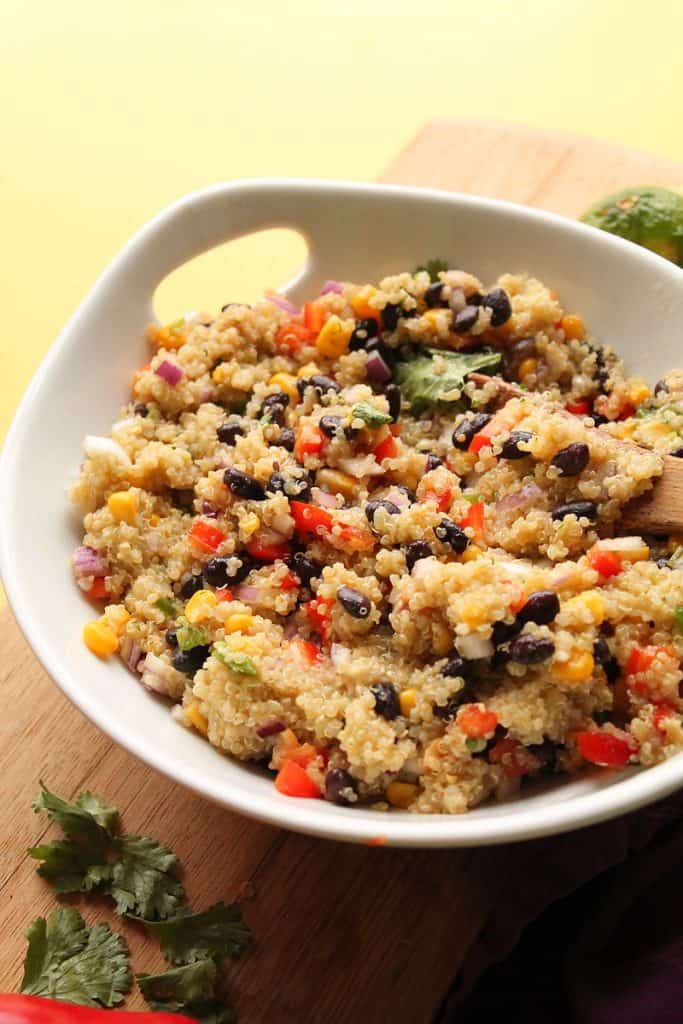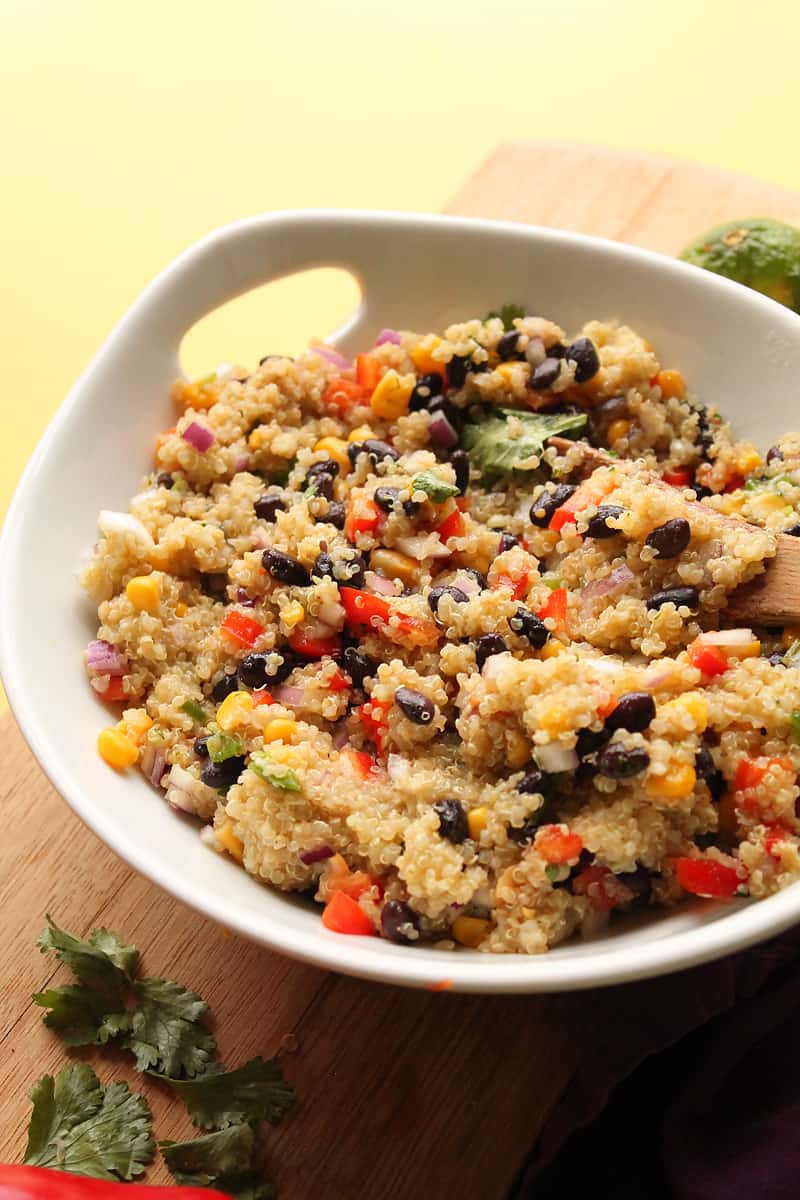 Southwest Quinoa Salad
Deliciously fresh, perfect for eating hot or cold, this vegan Southwest Quinoa Salad makes a perfectly packable lunch or a tasty side all year round. As a bonus, you can get this yummy dish on the table in just 30 minutes.
Recipe »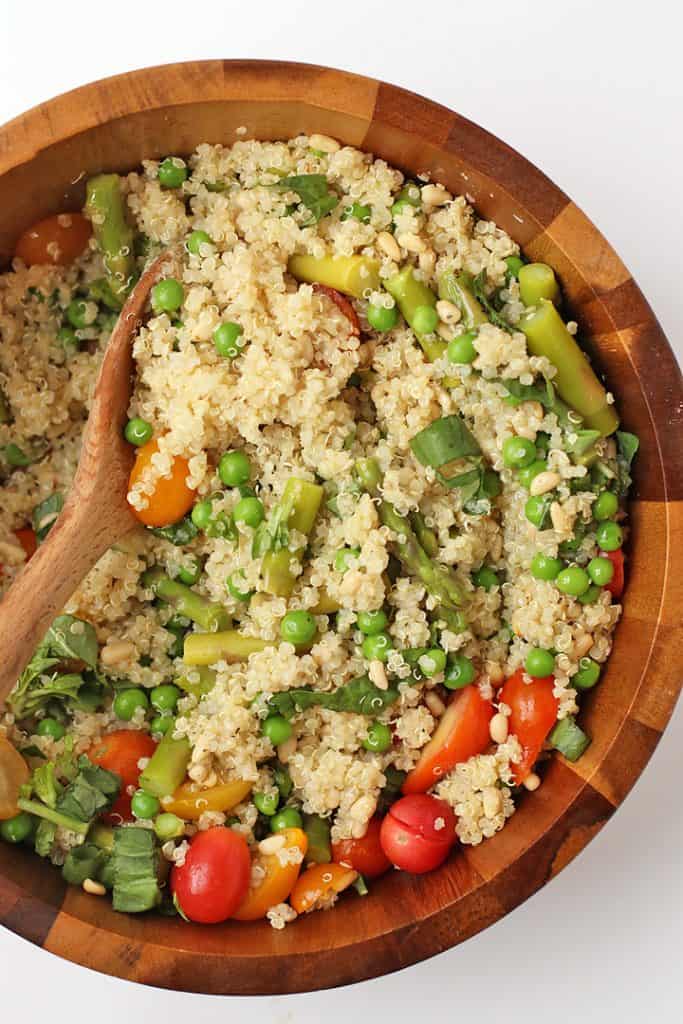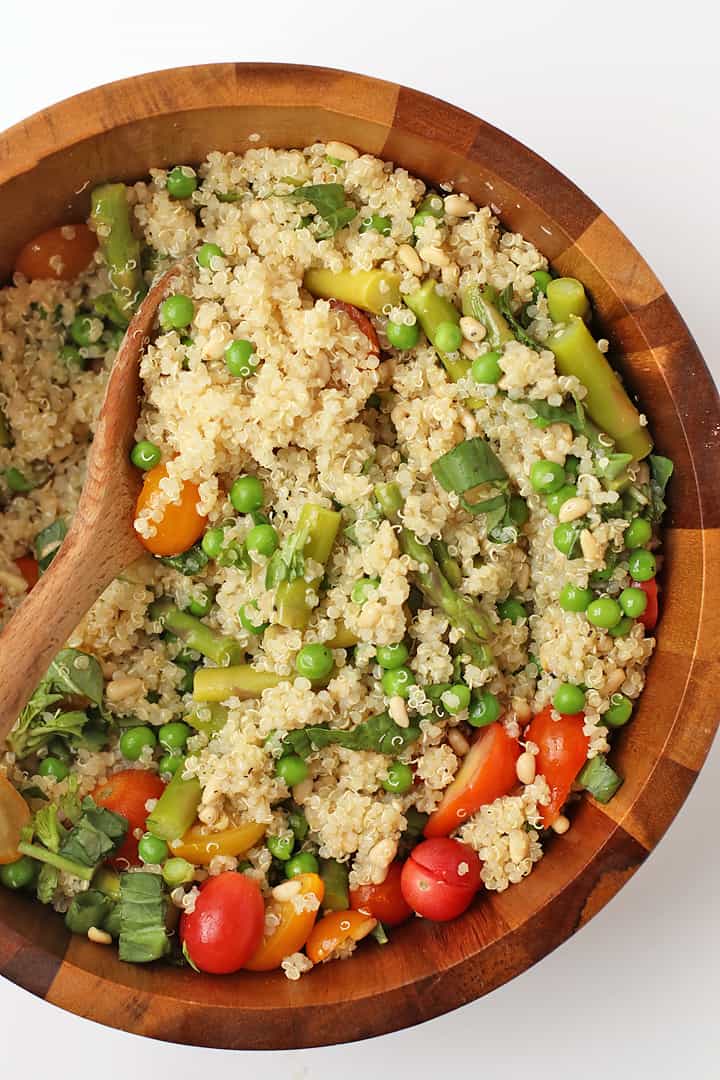 Vegan Quinoa Salad
This easy vegan quinoa salad is mixed with asparagus, peas, and fresh basil then tossed in a lemony vinaigrette for a quick and simple springtime salad. Made in just 30 minutes.
Recipe »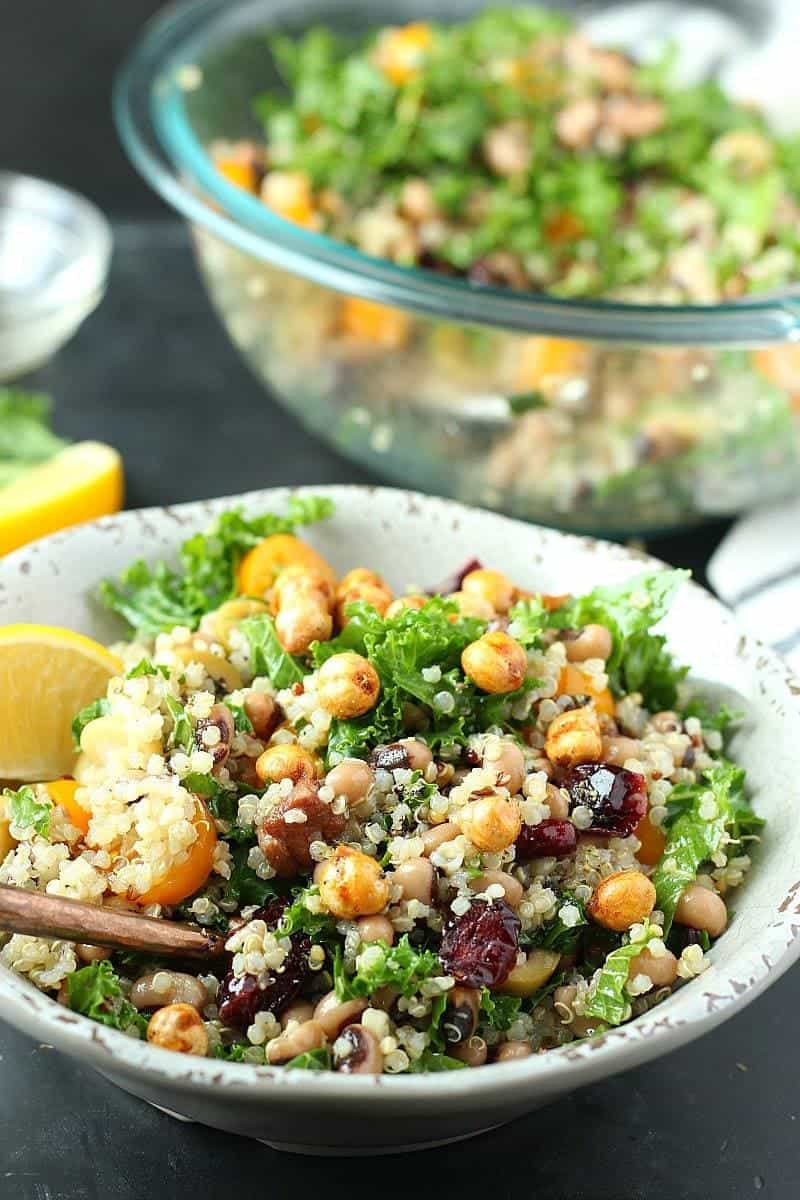 Black-Eyed Pea Quinoa Kale Salad
Photo Credit: Garden in the Kitchen
MEGA nourishing Black-Eyed Pea Salad with powerhouse ingredients such as quinoa and kale, topped with roasted chickpeas for that crunchiness finish and lightly seasoned with a flavorful avocado oil and oregano dressing!


Recipe »
More Vegan Recipe Roundups
Looking for more? Make sure to check out some of my other popular vegan recipe roundups below.
Written by My Darling Vegan
If you give one of these recipes recipe a try, snap a photo and share it on Instagram. Make sure to tag
@mydarlingvegan
so I can see your creations!